smARTbeats returns to WTMD this Saturday, July 8, during the weekly children's music program Young At Heart. On this month's smARTbeats segment, Young At Heart host Lisa Mathews sits down for a chat with Bomani. A seasoned performer, teaching artist, Director of Poetry Events for the Busboys and Poets restaurants, CBS Radio personality, and head audio-engineer for Urban-Intalek Studios, Bomani describes himself as a poet with a Hip Hop style.
During the segment, you'll get a taste of Baba Bomani's Hip Hop poetry as well as hear about his experience in the classroom. The artist teaches creative writing and prose through the exciting world of Hip Hop songwriting. By first creating a fearless, supportive and collaborative environment, he instructs children to use elements of creative writing including simile, metaphor, and rhyme to structure a song written in the pattern of a well-written essay. "Young people need to have freedom to develop an idea out loud without self-doubt and to not fear right or wrong answers," Bomani says.
"At the beginning of a residency, there are three writing rules I give students: Artists don't make mistakes, they make discoveries; Do not edit in your head; The only wrong answer is a blank answer."
"One of the reasons I love group creative-writing sessions is because the conversations that go on in a group setting are the same internal conversations that go on in a writer's head. Showing that process to young people in a physical way, where they are acting out how ideas are communicated — 'what about this idea, what about that idea, we should take this back, we should add that in there!' — helps them to better understand complicated topics."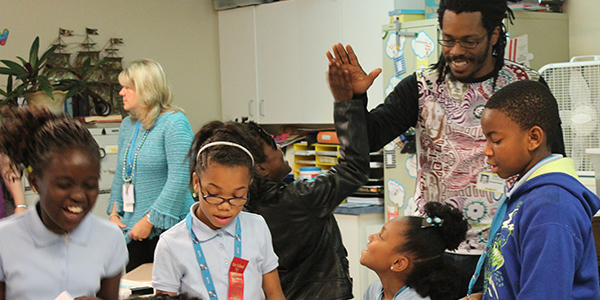 Young At Heart airs weekly from 7 to 8 am on Saturdays, featuring music that appeals to parents and children alike. Previous shows have featured music by Wilco, David Bowie, Andrew & Polly, Weezer, and others.
Hear YA teaching artist and composer Bomani online now!
Young Audiences of Maryland is excited to offer a new and innovative program from one of our roster artists, Alden Phelps, called Singing, Reading & Writing Songs: an Interactive Assembly. Alden Phelps' new assembly combines the inspiration and fun of a live concert with an extended hands-on time for students to participate in songwriting.
It's a show and it's a workshop: Silly Songster Alden Phelps plays guitar and sings his original children's songs, then leads students step by step as they design their own musical couplets in teams. This hands-on experience is designed for an entire school grade to enjoy together.
Why is this program so special?
Not only does this program combine the best aspects of an assembly and a classroom workshop, but it also uses a thoroughly engaging inspiration for writing: magnetic words. By physically manipulating magnetic words, roadblocks that inhibit participation (spelling, handwriting, etc.) are removed; new vocabulary is expanded and stimulated; students at different levels can engage meaningfully and achieve writing success in activities that build language skills. Guided exercises, along with teacher support, help students try their hand at lyric writing. Most importantly, it's a whole lot of fun! The assembly ends as students transform Alden's opening song into their own original creation. This Interactive Assembly is designed for up to 100 students or one full grade. The assembly is 45 minutes long and is suited for grades 3-5.
How does it work?
Alden sets up 25 magnetic easels in your gym (or suitable space) and 50 of his original boxes of magnetic nouns, verbs, adjectives, prepositions, and rhymes. The program begins with Alden singing an original silly song for the students. He then explains his songwriting technique and breaks down the lyrics to the songs' chorus on two large magnetic boards. Students are invited up to get creative and rewrite Alden's rhyming couplet.
In the second half of the program, all the students move to the magnetic easels and continue to get creative, rewriting Alden's lyrics. Alden circulates through the room, helping students and celebrating their successes by singing along with their newly created lyrics.
The differentiation is built in: basic & special needs students succeed by plugging in verbs, nouns, and rhymes, and the supplied dry-erase magnets allow advanced students to push their writing beyond Alden's selection of words.
Common Core Connections: CCSS.ELA-Literacy.L   CCSS.ELA-Literacy.RF
100% Participation!
Alden has spent months developing this new Interactive Assembly, and in its initial performances, every single student in the room participated every time! And not just participated, but gleefully dove in to write their own song lyrics!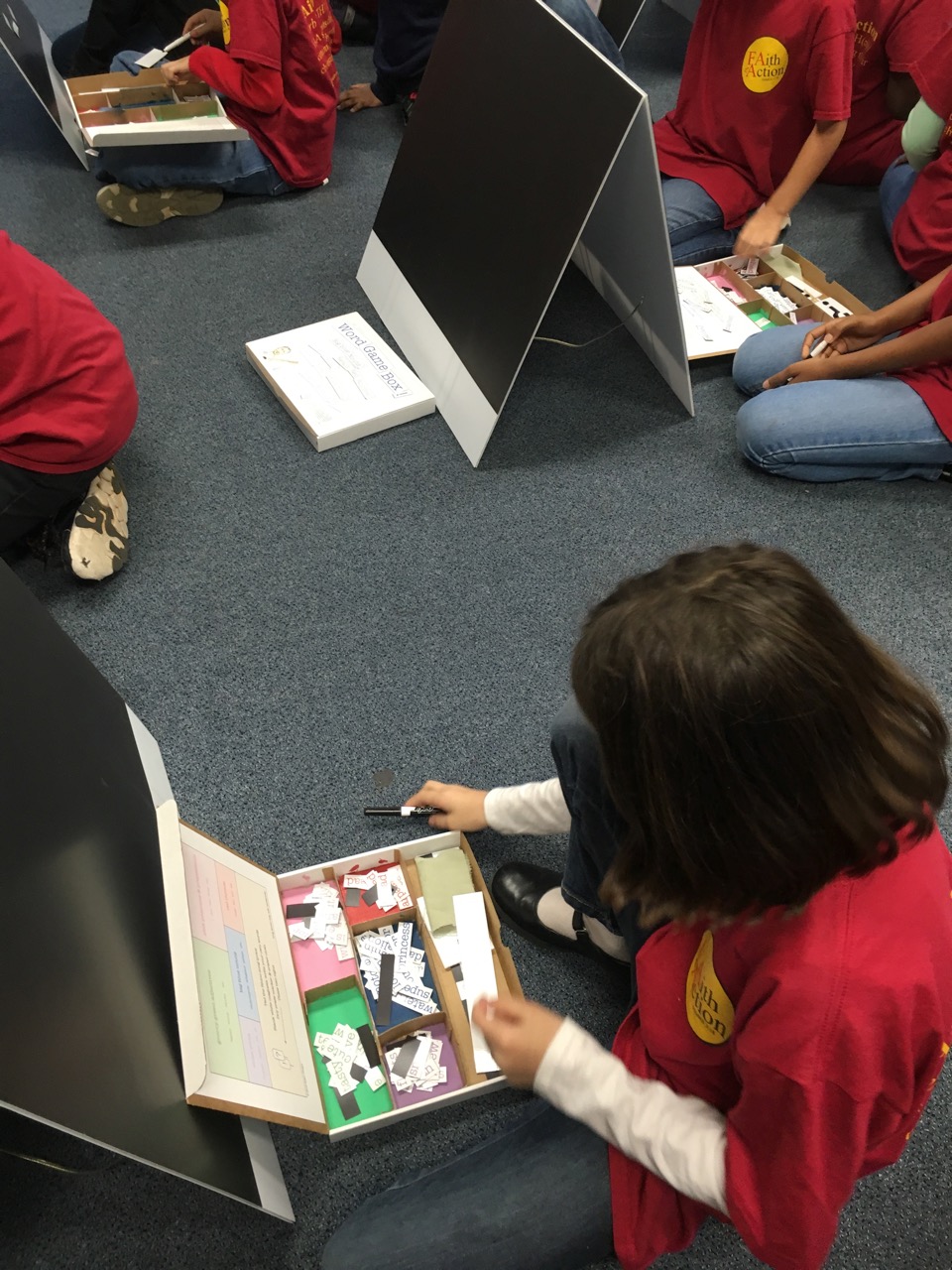 Mr. Phelps did an excellent job getting even my least interested students involved in this program!  Some of my students who hate to sing REALLY enjoyed this program!! The students were singing their song lyrics for the rest of the day. I highly recommend this program at any school!!"   –Frederick Adventist Academy, March 2016
Every single kid that participated LOVED IT!"   –Sandymount Elementary School

Alden's rapport with the kids and level of enthusiasm is contagious! It all channels our students' focus and involvement in the content he delivers."   –Thunder Hill Elementary School
Q: Who is this Interactive Assembly for?
A: Singing, Reading & Writing Songs: an Interactive Assembly is designed for grades: 3-5, up to 100 students, or one whole grade.
 Q: What about K – grade 2?
A: I'm working on adapting this for beginning readers using magnetic rebus. I think it's a great idea!
 Q: What about a longer version of this like a residency?
A: I'm working on it! I hope very soon this will be a multi-day residency too!
By Alden Phelps, Young Audiences artist and musician
My work as a teaching artist focuses on collaborative songwriting with children. The goal of my recent residency at Triadelphia Ridge Elementary School was to teach seven different classes of third and fourth graders how to create parodies of current pop songs that show their knowledge of science and history.
Teaching musical parodies is a great way for students to learn because it's an opportunity to share their knowledge in a creative way. Students synthesize their knowledge of specific subjects with poetry in a song. There are several layers of learning going on, including using their knowledge of the curriculum, organizing ideas, and employing multiple Language Arts skills.
I worked directly with Triadelphia's teachers to strategize how to address their needs through music by discussing their most recent units and the related curriculum standards. My customized arts-integrated residency addressed what the teachers wanted to focus on, namely a third grade unit on earth science and a fourth grade unit on Maryland history. The goal is always to reinforce what students have already learned through this new artistic skill.
The advantage to using current pop songs such as "Shake it Off" or "All About that Bass" is that the kids recognize the tunes immediately. I do background work to make sure all the songs will work in this unique collaborative project. Students always express an immense level of enthusiasm whenever I walk in with a list of handpicked songs they could use for their parody. For example, Mrs. Russell's third grade class chose the hit "Call Me Maybe" by Carly Rae Jepson for their parody about weather patterns. In the end, their song was titled "Save My Granny," and it describes several different extreme weather patterns in a clever and funny way.
I began by teaching the children basic elements to songwriting and composing. We did this by counting the number of lyrics, verses, and choruses of their song choice. Through this analysis, we discussed each song's use of patterns, syllables, rhythms, and accents. I then divided the children up into writing teams so that they could begin building the verses of their songs. This activity is always a great teaching moment because it challenges students to collaborate, share, and compromise with one another while being creative. I spent time with each writing team and coached them through the creative process. While they worked independently, I provided them with rhyming dictionaries and was surprised by how quickly they dug into those books! Rhyming at that level is a fairly difficult skill for children to master in such a short period of time.
The writing process is always satisfying to me because I get to witness students discover a whole new world of words they may not have even realized existed. I often came across students who struggled to find rhyming options with difficult words. But then, just like that, a kid would blurt out the perfect lyric that would fit. A line would just tumble out of their mouth and I'd shout "Yes! That's it!" In response, they would light up with excitement knowing that they had the answer within them all along, they just had to let it out.
In one of my classes, there was a child who consistently struggled with behavioral issues. During this residency, he collaborated well with others and even wrote a clever lyric which became the opening line of the parody. Collaborating with the team was a huge step for him.
As final preparation before each group was to perform their parodies for the school, students typed up each song's verses with the teachers, practiced singing their lyrics, and made final tweaks to the lyrics, changing a word here and there. Before their eyes, songs emerged–there's always electricity in the air when a class suddenly realizes what they've achieved. The Triadelphia students were so proud of their final products and knew that they had created something clever and unique.
Because children spend so much time with their peers in schools, I believe that it's important for them to interact with many different kinds of people, including artists. Artists are a unique breed–if nothing else we have a different perspective on the world, and through the arts, anyone can see through different eyes. Creativity is a way of seeing life from different directions and a way to find a thread connecting disparate ideas. The way artists go about solving problems and finding meaning is important for children to experience. It gives them opportunities to see through new eyes, and speak with a new language.
Learn more about Alden and his programs for schools at yamd.org. Read the full lyrics of the parodies Triadelphia Elementary students wrote by visiting aldenphelps.com.

By Bomani, Young Audiences teaching artist and Hip Hop poet
Before my recent residency with fourth-graders at Scholars K-8 in Baltimore County began, the teachers I worked with–Mrs. Brumbalow, Ms. Barnes, and Ms. Hicks–had prepared the students for my arrival. When I walked through the door on the first day, the students recognized me and treated me like a rock star, so I knew I had to make a meaningful impact.
At the beginning of a residency, there are three writing rules I give students:
Artists don't make mistakes, they make discoveries.
Do not edit in your head.
The only wrong answer is a blank answer.
Students are oftentimes drilled to memorize answers in order to score highly on assignments. Sometimes they become paralyzed with fear when asked their opinion, so I try to loosen them up to think creatively. Young people need to have freedom to develop an idea out loud without self-doubt and to not fear right or wrong answers.
I worked with the Scholars K-8 teachers to create a series of Hip Hop writing workshops to strengthen students' comprehension skills. In the two weeks I was at the school, students wrote songs about the writing process, how to count money and use decimals, as well as climate and how humans affect the environment.
The initial challenge was getting students excited about writing. They were energized by Hip Hop poetry writing because it's a style of music they admire beyond the school setting.
Once they got used to the idea that we weren't looking for one correct answer, they felt free to say what they were thinking. There was one student in particular whose reading and comprehension skills were not where they should have been for his grade level. One of his teachers revealed that this residency was one of the few opportunities where he felt confident enough to answer questions because he could take his time and work through his ideas out loud. Each day he was fighting through the door for the front seat, and his self-esteem was boosted each time he answered a question.
During an exercise, we discussed the music video "Me, Myself, and I" by De La Soul which includes symbolism about self-acceptance. The light bulb went off for many students, who immediately related to trying to fit in or be cool. They realized that at some point, you have to validate yourself without caring about the opinion of others. To see them react to that song, and have students come in the next day writing lines I didn't assign, was a very powerful feeling. They were using art to reflect their realities and project their hopes for the future.
There was one point during the residency that I had to put my "teacher" foot down when a student became disruptive while we were writing the chorus of a song. Students that age can struggle with differentiating positive and negative attention, but when we got down to the last line, that student raised his hand and offered a new idea to our brainstorming session. The line was exactly what we needed and the whole class recognized him for it. To be validated like that after being reprimanded showed him that we wanted him to participate and be a part of the team, but in a constructive way.
This residency strengthened their class bonds by allowing students to collaborate and recognize each other's talent. Even students who often had problems dealing with their classmates or paying attention were invested. They appreciated each other's creativity and when they were put into groups to write on their own, they just took off.
One of the main complaints I get from young people is that they aren't understood. My response is always that they need to improve their communication. The ability to speak, write, and create art in a way that others can comprehend is something students latch onto, and they internalized the techniques I gave them. We would brainstorm an idea, flesh out a paragraph on this idea, and then break the paragraph into a rhyme.  While writing the song, they formulated introductory and supporting paragraphs. Before they knew it, they had completed an essay. The process made them realize how much they want this skill. One student gave me a poster she made outside of class time with an anagram for my name. Her classmates loved it so much they all signed it and gave it to me. I still don't think I've come down from that high.
Learn more about Bomani and his programs for schools at yamd.org.