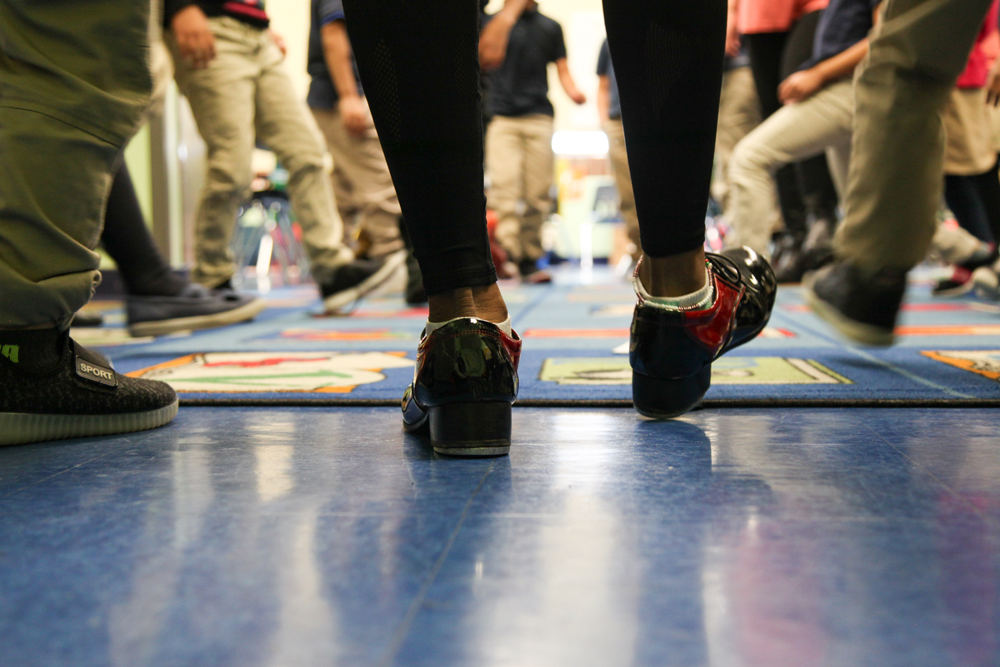 When Quynn Johnson steps into the Pre-K and Kindergarten classrooms at Margaret Brent Elementary School in Baltimore City, she is met with hugs and big, bright smiles. The students love that they've been learning to tap with the artist and they've been waiting patiently for her to return. "What do I do?" the artist asks. "You make music with your feet and you keep a steady beat!" the students respond.
Quynn is a multi-award-winning performing artist, choreographer, author, and the co-director of SOLE Defined, a percussive dance company. Though she has performed tap dance for national and international audiences, on this morning, she is captivating our state's youngest learners—not on a stage, but in a classroom—through rhythm, imagination, and dance. Already a professional teaching artist on the Young Audiences roster, Quynn is now training to also become a Maryland Wolf Trap Artist. 
As the Maryland regional affiliate of Wolf Trap, Young Audiences is proud to be expanding access to the arts for Maryland's youngest students during the critical early learning years. 
High-quality early childhood education is absolutely essential to giving children the best possible start in school and in life. Decades of practice and research prove that integrating the arts into classroom experiences contributes to greater academic achievement and social/emotional development for our youngest students. The creative collaboration between teachers and artists in the Wolf Trap residency builds foundations and fuels momentum in arts-integrated early learning classrooms.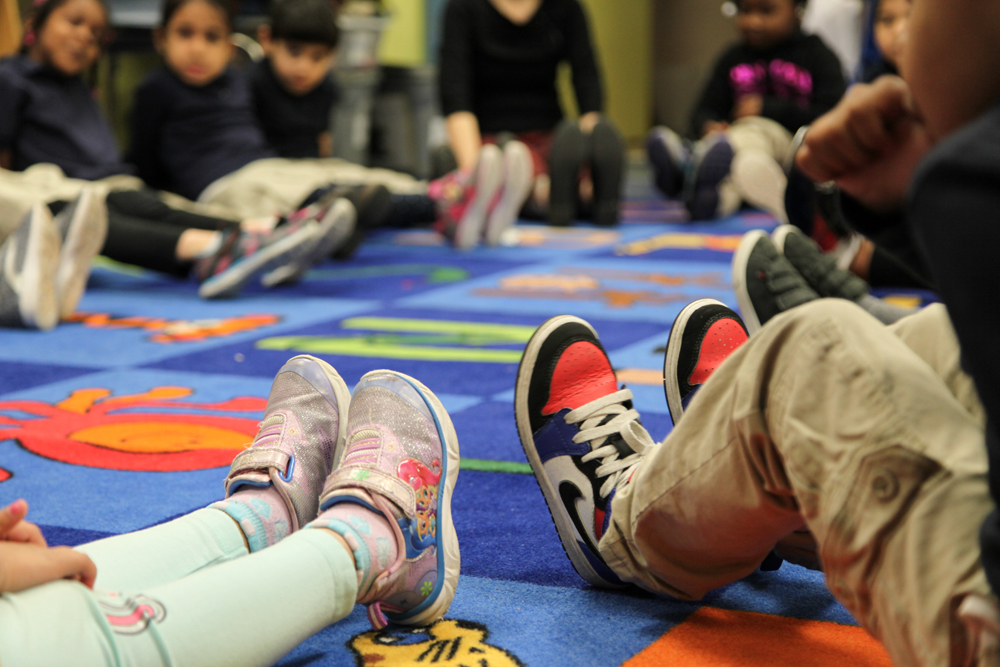 The children sing along with the artist to the tune of Frère Jacques, "I am ready, You are, too, Eyes on the teacher, We're going to learn." Everyone knows the song and everyone is excited to sing it—first in English, then in Spanish.
Estoy listo
Estás tambien
Ojos en la profe
Vamos a aprender
Quynn made up the song while teaching in the Summer Arts & Learning Academy last summer, but now sings it with students in lower elementary grades at every school she visits. Mrs. Jager, the Kindergarten teacher, likes it, too. She uses "I am ready" as a transition song all the time—and her students will remind her if she forgets!
The artist is not only here to teach the young students how to tap, she is here to build the teachers' skills and knowledge and demonstrate how to integrate the art form into their lessons throughout the year. This embedded professional development is something that distinguishes the Wolf Trap Early Learning Residency from other artist residencies.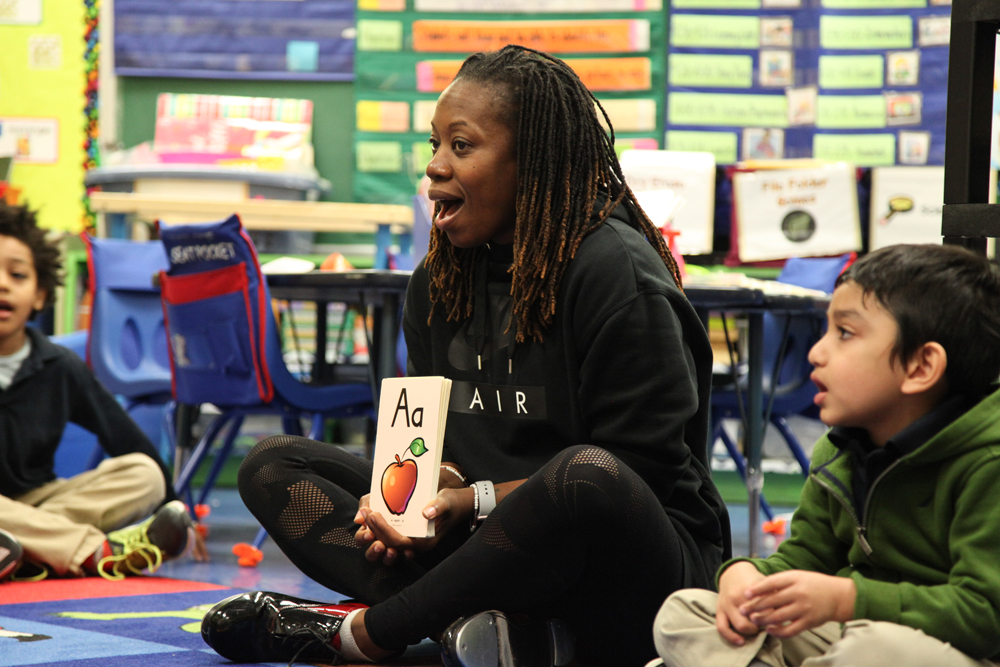 As Quynn leads the students in an exercise stomping out beats, another skill is being fortified. They are identifying patterns and practicing word sounds like "Apple, apple, ah, ah, ah," and "Bat, bat, buh, buh, buh." The classroom teachers and the artist work together to tailor the residency to each particular classroom—deciding how refined the dance movements should be for each age group and which literacy skills to focus on.
"The process is pretty new and different to me but I like it," said Quynn. The artist pays particular attention to teach the elements of her art form that educators will feel comfortable utilizing in the future—and not just off the cuff, but with some artistic integrity. "I think the embedded PD portion is a great way to keep the teachers involved and shows them how it doesn't have to be its own lesson but can be incorporated within what they're already doing. I never want them to feel like it's unreachable."
By the end of Quynn's residency in the Pre-K and Kindergarten classrooms, the students know how to keep a steady beat on their feet, and they remember a beat pattern and two basic tap steps. And the teachers can connect the art form to literacy—leading students to sound out words and sounds with their feet. "They both felt great and comfortable with everything we did in class and I could hear them using it after our time was over." They were ready.
Eighty-five percent of brain development occurs during the first five years of a child's life. Participation in the arts encourages positive growth in a child's emotional, physical, intellectual, creative, and social development. As the Maryland affiliate of the Wolf Trap Institute for Early Learning Through the Arts, Young Audiences expands access to the arts for Maryland's youngest students during the critical early learning years. Bring a Maryland Wolf Trap 16-Session Residency into your school.
Categorized:

News

Tagged:

artist-in-residence, arts integration, Baltimore City Public Schools, dance, early learning, kindergarten, literacy, Margaret Brent Elementary Middle School, Maryland Wolf Trap, pre-kindergarten, professional development, professional development for educators, Quynn Johnson, roster artist, tap dance, teaching artist, Wolf Trap
smARTbeats returns to WTMD on Saturday, June 14 during the weekly children's program Young At Heart! On this month's segment, host Lisa Mathews talks with the multi-talented Khaleshia Thorpe-Price. Khaleshia is a musician, actor, and Young Audiences teaching artist with a contagious and explosive energy for the arts that fills students with creativity and excitement.
For over 15 years, she has facilitated residencies and workshops for children and adults for many arts organizations including Wolf Trap, Arena Stage, Young Playwrights' Theater, Young Audiences of Maryland, Folger Shakespeare Library, Shakespeare Theater Company, and M-NCPP. In classrooms across Maryland, DC, and Virginia, Khaleshia helps students create and perform original plays with props and visual aids.  In addition to teaching, you can find Khaleshia directing performances in the Folger Shakespeare Children's Festival and serving as a dramaturge for the Young Playwrights Theater Festival.
The artist not only co-wrote A Journey with Jazz, an interactive performance experience for young audiences, for the Wolf Trap Institute for Early Learning through the Arts, she performs in the production with the Wolf Trap Jazz Trio. "In my classes I love to use music to unify my students, to build ensemble and community," Khaleshia said. "The language of music has a way of speaking to my students and pulling us all together. I begin and end all of my classes with some type of music."
Young At Heart airs weekly on 89.7 WTMD from 7 to 8 am on Saturdays, featuring music that appeals to parents and children alike. Previous shows have featured music by Wilco, David Bowie, Andrew & Polly, Weezer, and others.
Tune into 89.7 WTMD this Saturday at 7 am as YA teaching artist, actor and musician Khaleshia Thorpe-Price joins host Lisa Mathews in the studio!
Categorized:

Artist Spotlight, smARTbeats on WTMD, Spotlight

Tagged:

actor, arts integration, drama, Music, radio, smARTbeats, teaching artist, theatre, Wolf Trap, WTMD, Young At Heart