The Bloomberg Arts Internship program is coming to Baltimore this summer, placing 25 Baltimore City rising seniors in paid internships at 14 local arts and cultural institutions. Students will participate in a rigorous six-week program, providing crucial college and career readiness preparation through hands-on, real world workplace experiences and professional development.
Managed by Young Audiences/Arts for Learning and the Greater Baltimore Cultural Alliance (GBCA), the program includes work at an arts organization, visits to arts and cultural organizations, and professional development training. The Baltimore Bloomberg Arts Internship Program runs June 20-August 4, with Baltimore being the third city to host the program along with New York City and Philadelphia.
Participating institutions include performing arts centers focusing on dance and music, art museums, libraries as well as film festivals and television studios. The organizations welcoming Bloomberg Arts Interns include:
Baltimore Center Stage
Baltimore Museum of Art
Baltimore Symphony Orchestra
Center for Innovation, Research and Creativity in the Arts (CIRCA) – UMBC
Dance & BMore
Everyman Theatre
Hippodrome Foundation, Inc.
Maryland Film Festival
Maryland Institute College of Art (MICA)
Maryland Public Television
Peabody Institute of The Johns Hopkins University
Port Discovery Children's Museum
The Reginald F. Lewis Museum of Maryland African-American History & Culture
Sheridan Libraries and University Museums, Johns Hopkins University
"Through our arts internship program, we're working to change how the next generation of employees and leaders perceive cultural institutions' contributions to a city's workforce, economy, and identity," said Patricia E. Harris, CEO of Bloomberg Philanthropies. "As part of the program, interns will develop critical workforce skills at select non-profit cultural organizations, meet with professionals in the field, and attend career and college readiness workshops as part of their summer experience. We are delighted to expand this program to Baltimore."
The 25 Bloomberg Arts Internships interns were selected through a multi-step application and interview process. They will work with arts organizations three days a week, go on field trips to cultural institutions once a week, and engage in professional development trainings once a week. Through the internships and trainings, students will develop organizational work plans, begin their college applications, write analyses of art performances, and complete final projects on their experiences. Internship focuses vary across organizations to include production, education, development, community engagement, artist engagement, video, music, administration and more.
"The arts have the power to transform lives and the futures of students in our community," said Stacie Sanders Evans, Young Audiences Executive Director. "Through their generous investment in Baltimore, it is clear that Bloomberg Philanthropies not only agrees, but also can see the vibrant, growing community of artists and organizations that make this city unique. We're thrilled to coordinate this wonderful opportunity, providing Baltimore students with experiences showing the arts as a viable career pathway and passion. We can not wait to see how this program impacts the ideas and dreams of these interns."
"GBCA is excited to be part of this new project," said Jeannie Howe, GBCA Executive Director. "The Bloomberg Arts Internships will help young people develop workforce and college preparation skills, and support an equitable pipeline for talented young people interested in careers in arts and culture. The cohort in turn, many of whom are of color, will help strengthen the equity and inclusion of Baltimore's wonderful and diverse arts organizations."
Baltimore Bloomberg Arts Interns come from schools across the city, including REACH! Partnership School, Baltimore City College, Western High School, Ben Franklin High School, Patterson High School, Baltimore School for the Arts, City Neighbors Charter School, Baltimore Design School, Digital Harbor High School, Bard High School Early College, and Mergenthaler Vocational Technical High School.
Categorized:

Bloomberg Arts Internship, News, Press Releases, Summer Learning

Tagged:

Baltimore, Baltimore City, Baltimore City College, Baltimore City Public Schools, Baltimore Design School, Baltimore School for the Arts, Bard High School Early College, Ben Franklin High School, Bloomberg Arts Internship, City Neighbors Charter School, Digital Harbor High School, high school, high school students, Interns, Mayor Catherine Pugh, Mergenthaler Vocational Technical High School, Patterson High School, REACH! Partnership School, summer internship, Western High School
At the oldest public all-girls high school in the United States, students recently had the opportunity to work with fiber artist Pam Negrin to stitch the likenesses of important, black, female scientists onto one collaborative work of art. Along with partner teacher Jennifer Becker, and with help from both the science and graphic design departments, Pam worked with Western High School students on the large project from conception to realization.
"Many of these women truly were 'hidden figures' and one of the scientists, Stephanie Hill, was a Western alumna!"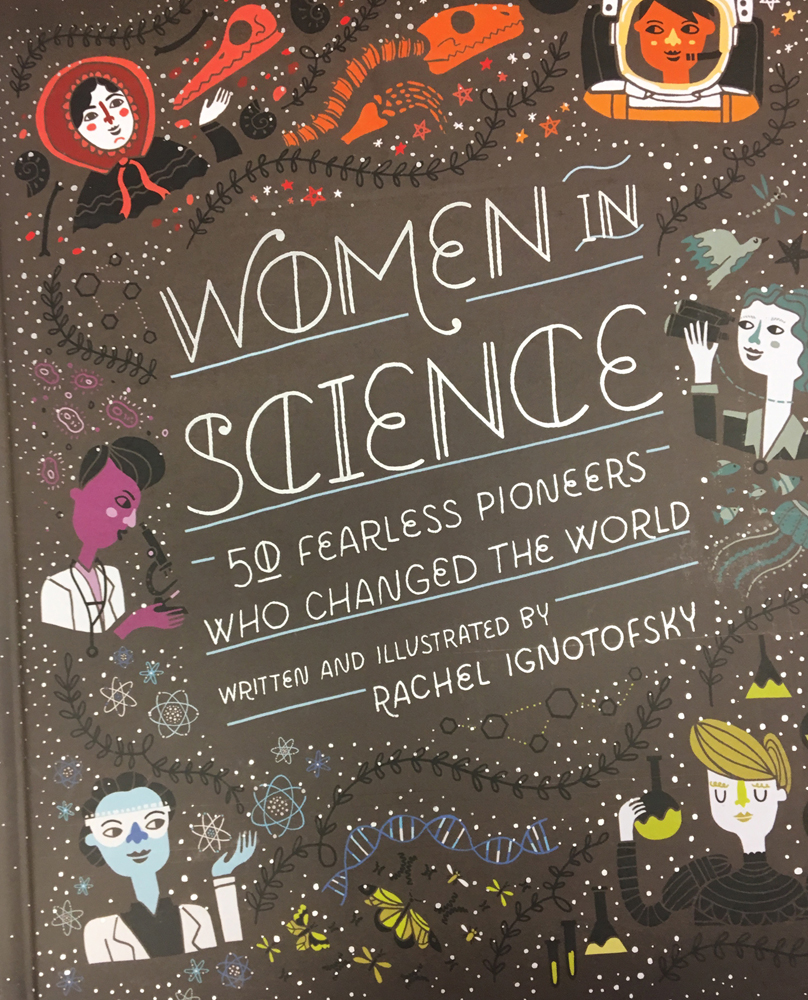 Drawing inspiration from the New York Times best-selling book, Women in Science, the group of students and teachers approached the project with reverence. "We lovingly call it our 'Women in Science Mural'," Mrs. Becker says of the artwork depicting portraits of women who paved the way for her students. "Many of these women truly were 'hidden figures' and one of the scientists, Stephanie Hill, is a Western alumna!"
Three different classes participated in this exciting project. "First, Western's lead science teacher, Ms. Washington, came up with a list of 25 women who have made important contributions in STEM fields," Mrs. Becker explained. "Graphic design students were tasked to research each of the 25 scientists, then collaborated with another group of students in a fine art class to turn these women into beautiful embroidered portraits."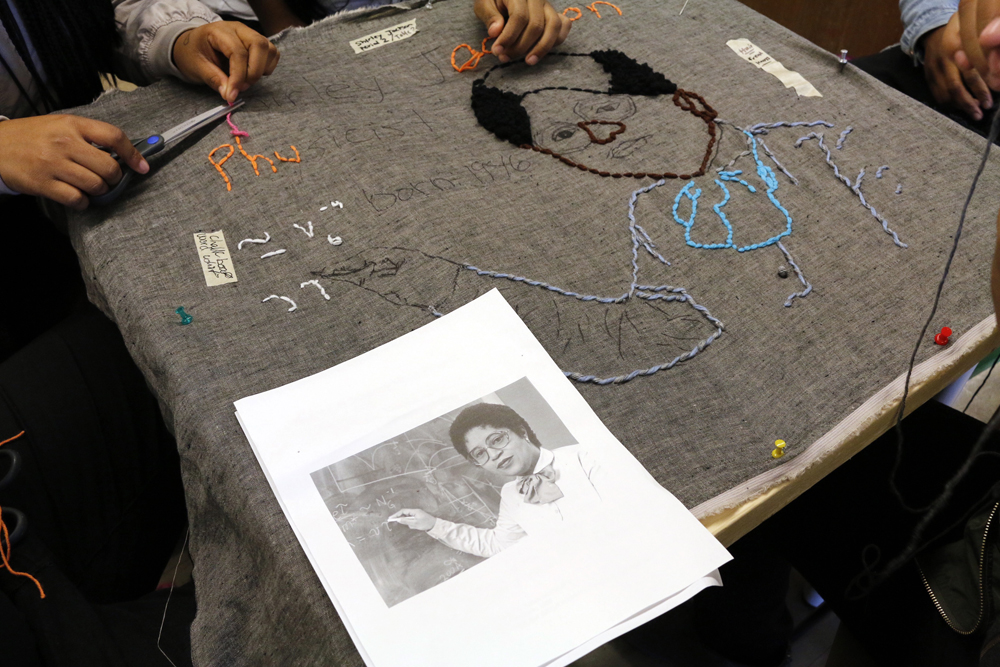 Pam taught the students how to project drawings onto fabric to create their own patterns. They learned various embroidery stitches to create different textures for hair, clothes, skin, and even a stitch for teeth! "Pam Negrin's residency was the highlight of our year. The students are eager to see their finished artwork on permanent display in the Science department."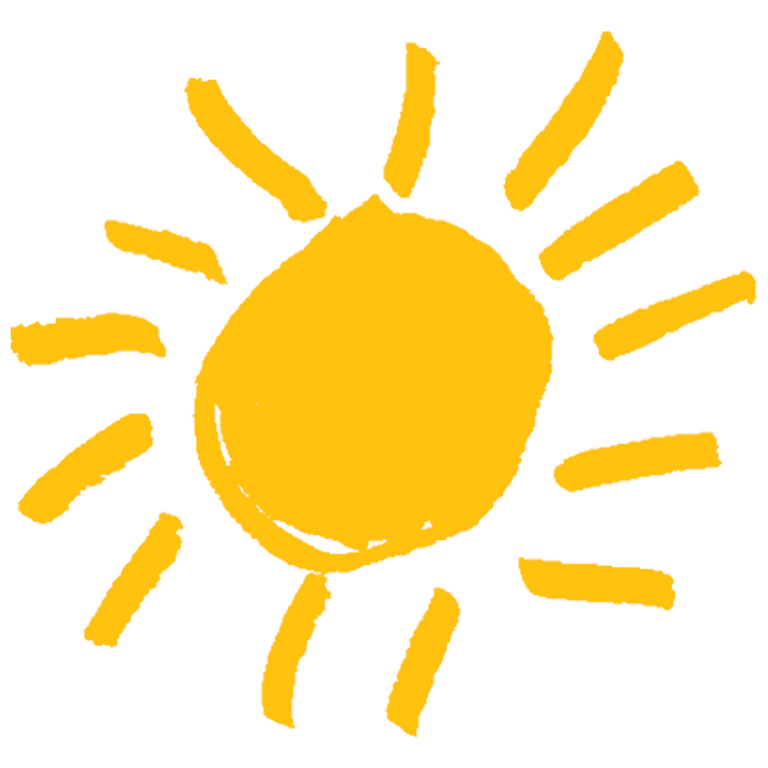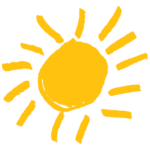 Pam Negrin's artwork includes embroidery, appliqué, drawing, collage, improvisational quilting, printmaking and sculpture. Her residencies transform classrooms into creative and collaborative handwork studios where students create something beautiful together. Schedule one of Pam's residencies for your classroom.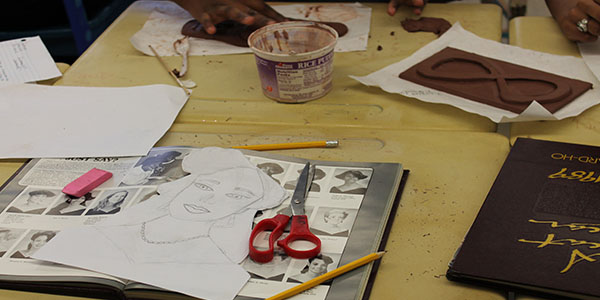 By Juernene Bass, Western High School alumna
I was very excited to take time away from work to be a part of a Young Audiences clay mural residency at my alma mater, Western High School, in October. Being a proud alumna from the Class of 1975, the program was a great example of our school motto, "Lucem Accepimus, Lucem Demus," meaning: "We have received light, let us give forth light." The mural project connected alumnae and current students with the rich history of our school. We had the chance to share our experiences and look back to historic articles, yearbooks, and artwork to create a piece that we could share with the whole Western community.
During the course of the project I was able to spend quality time interacting with my sister Westernites, grades nine through 12, as we learned from Young Audiences ceramic artist Amanda Pellerin how to create a clay mural depicting Western's 170-year-long history of rigorous studies in arts, sciences, literature, drama, and fashion.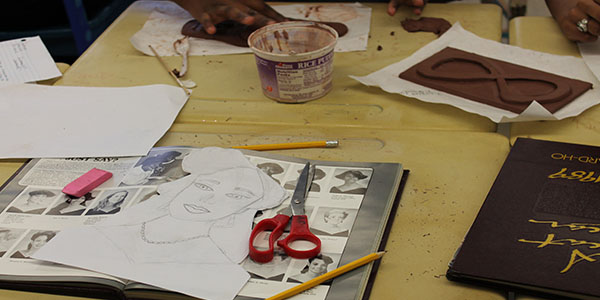 Amanda invited me to share my memories of Western during the 1970s with the current students. They found my reflections to be interesting, humorous, and sometimes unbelievable. I shared how Western taught me the academics that prepared me for college, the skills I needed to succeed in the workforce, and what studies I am using today to progress in my career.
As I mingled with the students and got to know them one-on-one, I learned that Western students are very creative and artistic. They were also knowledgeable about Western's history, and many expressed great pride in attending the school. They used their imaginations and pulled their ideas together with the decades of historical facts and traced, drew, carved, and painted the clay pieces to form a magnificent treasure. Clay tiles depicted the different school buildings to illustrate the school's various locations in Baltimore City over the years. Other clay pieces showed girls playing basketball, reading books, and graduating in cap and gown.
The clay mural project brought multiple classes of students and teachers together, giving them the opportunity to share their ideas and creativity while learning more about working with clay, Western, and each other. It allowed the students a chance to experience an art form which they may not have been exposed to before for lack of materials and time. I am sure the students enjoyed sharing this experience with one another.
Many sincere thanks to everyone who made this happen!
Read more about this project from a student participant, Nadine, who wrote a reflection of the project in January.
By Nadine Elsigal, senior at Western High School
As a senior at Western High School I had the privilege of being involved in a clay mural project with Young Audiences artist Amanda Pellerin in October. Working with Ms. Amanda during the residency was such a pleasure because clay is a medium I don't often get to use in my art classes at Western. This project was new territory for me since most of my school projects are created digitally and working with clay was an opportunity to get more hands-on. I feel that art is a crucial element to a person's development that is often overlooked, but projects like the mural we created with Ms. Amanda really gave back to the students and allowed us a chance to create. Art is a big part of my life and I plan to pursue it as my career. This residency was also a chance for me to learn about Young Audiences, an organization that shares my belief in the importance of the arts in learning.
Seniors from both my graphic design class and a history class worked with several Western alumnae and Ms. Amanda throughout the project. We decided to create a visual timeline of our school's history to celebrate Western's 170th anniversary this year. I knew little about our school's rich history at the start of the project. We worked as a team to delve into past yearbooks and brainstorm with alumnae to decide on the imagery we would include in the final piece.
I decided to recreate our senior class T-shirt design in my clay tile to represent current Western students. Including a symbol of our class in the mural was a chance to leave behind a piece of the Class of 2014 within an artwork that will hang at our school for years to come.
View all three pieces of the finished mural, as well as photos of its creation, online. 
As hard as it is to choose my favorite part of the residency, I think I enjoyed hanging the finished mural the most. There isn't a better feeling than seeing work you have created put on display. It made me realize that I had done it–I overcame the challenges of the project and created something that current and future students will enjoy. I feel proud to have been a part of this residency and to have successfully completed such a large project that can be shared by my school community.
At the start of the residency I was excited–I thought the project would be fun and a great opportunity to leave our mark on Western. Now that the mural is complete and installed I feel accomplished. As I finish my last year at Western, I will graduate knowing that I added to my school's long history.
Learn more about Amanda Pellerin and her residency and teacher professional development program offerings online!