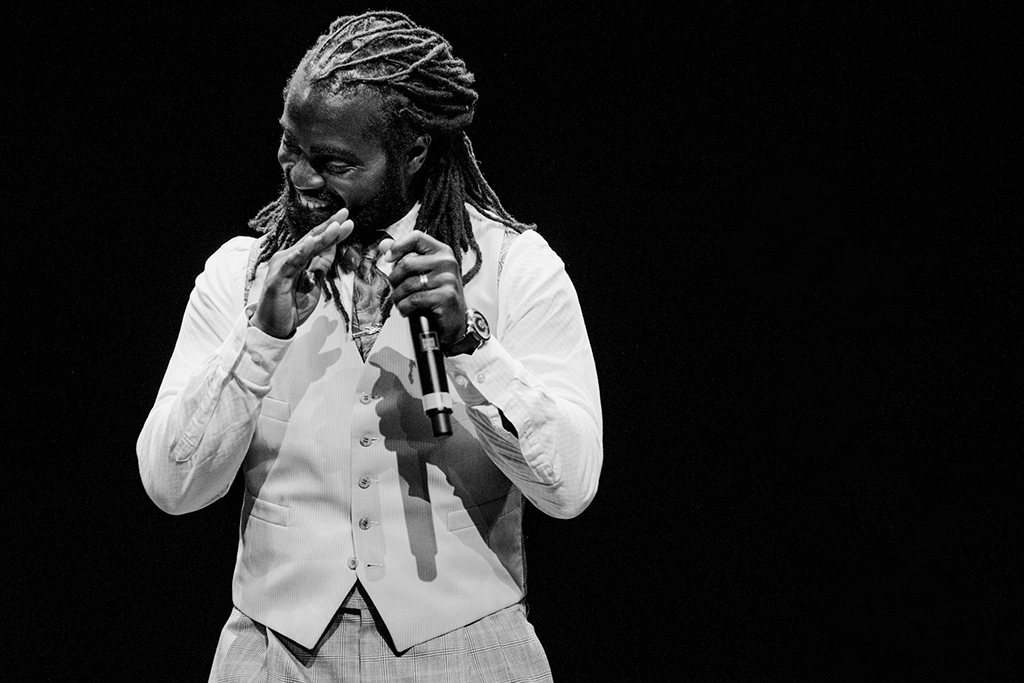 smARTbeats is back this Saturday, January 13 on WTMD during the weekly children's program Young At Heart! On this month's segment, host Lisa Mathews sits down for a chat with Hip Hop performer, YA teaching artist, and Maryland Wolf Trap Artist, Jamaal "Mr. Root" Collier.
A dynamic and engaging Hip Hop artist, Jamaal has been working with Young Audiences/Arts for Learning since 2007, has served on its artist roster since 2013, and was named Artist of the Year for 2016. His energy and passion for the arts is boundless, and show in the volume of work he does, not only offering assemblies and long-term residencies in schools, but also providing professional development for teachers.
By incorporating rapping, vocal percussion, and dynamic stage presence, Jamaal articulates his passionate appreciation for his artistry every time he teaches and performs.
During the segment, you'll hear how the artist, who is also half of the family-friendly beatboxing duo Baby Beats, invites students to learn, listen, and participate.
"(Mr. Root's program) was a true testament of how you can take learning and make it fun," said Ms. Hines, Principal of Villa Maria School after the artists' residency. "He was able to get some of the most resistant kids engaged."
Jamaal uses rapping, freestyling, and beatboxing to appeal to a variety of learners. His students craft rhyming couplets and non-traditional quatrains to analyze and summarize their course content, gaining a deeper understanding of lesson material through elements of Hip Hop.
Take a look for yourself:
Staci Taustine, Fifth Grade Teacher at F.L. Templeton Preparatory Academy said that through her class' residency with Mr. Root, students didn't just advance academically, but socially.
"My students learned how to be vulnerable with one another, brave enough to share their feelings, and empowered to use their voices to express everything they learned," she said. "Each and every one of my students came away with a unique perspective on who they are as individuals."
Jamaal's passion for the arts is clear, as is the impact it has had on his life. "Our life without the arts can be so empty," he has said. Thankfully, the artist shares the power of art, music, and rhyme with students and their teachers across the state of Maryland every day.
Young At Heart airs weekly from 7 to 8 am on Saturdays, featuring music that appeals to parents and children alike. Previous shows have featured music by Wilco, David Bowie, Andrew & Polly, Weezer, and others.
Hear Jamaal "Mr. Root" Collier online now:
In February's smART Tip, Young Audiences beatboxer Max Bent shares the basics of vocal percussion and how it can connect to other subjects, such as fraction units in math. Press play below!
[youtube http://youtu.be/5WEcbnQWcAM]
smART Tips is a monthly video series sharing tips for educators who are interested in new, creative ways to use the arts in their classroom with students. See all smART Tips to date here. Interested in a specific topic? Let us know!
Earlier this week, Young Audiences roster theatre ensemble Single Carrot Theatre joined our celebration of National and Maryland YA Week with a dramatic reading of the gubernatorial proclamation. Today, Hip Hop musician and teaching artist Jamaal "Mr. Root" Collier is helping us close out the week on a high note with a musical interpretation of the proclamation. Warning: Be prepared to have this catchy beat stuck in your head all day!
[youtube http://youtu.be/KtE5TZKTsG0]
Thank you to Jamaal and Single Carrot for lending their talents to our recognition of Maryland YA Week 2014 and providing two examples of how our roster of more than 110 teaching artists infuse the arts, creativity, and fun into learning and inspire and engage nearly 170,000 students and educators across Maryland each year.
Although YA Week ends tomorrow, Young Audiences and our artist and school partners will continue our work of increasing access to valuable arts experiences in all Maryland schools throughout the year. We agree with Jamaal: Let's celebrate the arts all the time!
If you believe, like we do, that learning in and through the arts gives students opportunities to imagine, create, and realize their full potential, stay up-to-date with Young Audiences news by checking back in with our blog and following us on Facebook and Twitter. You can also sign up for our monthly enewsletter here.
See all Maryland YA Week posts here.
Learn more about Jamaal's arts-in-education programs for schools here, and Single Carrot's assembly program here.