Bringing photographer Christina Delgado to Cross Country Elementary Middle School in Baltimore City this spring for a self portrait residency was supposed to be one of the highlights of the school year. Last year, when Kristine Buls, the lead science teacher at the school, responded to a call to work with the artist, she knew the opportunity would be just right for her students. In her previous life, Ms. Buls worked as a photographer, so the thought of getting cameras into her students' hands was irresistible. It had to happen! At the time, of course, no one imagined that by spring, working together in a classroom would not be possible.
As it did around the globe, the COVID-19 pandemic sent the Cross Country students into a starkly different way of living and learning. "I was really upset when I realized we weren't coming back to school," said Ms. Buls. The artist residency that had been planned was special. Exelon, the energy provider and parent company of BGE, commissioned the project and would display the finished Cross Country student photographs and mixed media pieces as a permanent installation within their Chicago headquarters. It was a big deal—one that the school faculty and staff, Christina Delgado, and the students and their families had all been looking forward to.
Could the adults in our students' lives be resourceful and creative, proactive, and flexible–not just to ensure that children's basic needs are met, but that their whole selves are nurtured—even in times of crisis? The answer is yes. Ms. Buls said that she was met universally and enthusiastically with support. "It means so much that they're using actual cameras instead of cell phones. It's a very different experience and most of them haven't had that. And the fact that we could morph this experience from in-person to virtual… I think it's gonna be different, but I think it's gonna be great!"
The public health crisis could have halted any dreams of working on the project, but this was an opportunity too special to let slip away. With so much already being taken from students because of COVID-19, Principal Stanfield and Young Audiences thought it was more important than ever to create this work during this unique moment in history. "This has been a big undertaking and I wouldn't have been able to do it without the efforts and guidance of Katherine Dilworth from Young Audiences and Kristine Buls—there have been many successes along with many moments of learning and adjusting," said Christina Delgado. "This experience has played a pivotal role in my teaching/teaching artist career."
Christina reworked her in-person lessons so that they could be delivered virtually and the school district got the students the equipment they needed to complete the project. "I was elated that through this experience, Cross Country was able to purchase 50 cameras for their school," said the artist. "It has always been a dream of mine to leave cameras for students and teachers so that the work can continue."
"Parents have been really, really excited about participating," said Ms. Buls. "I think the school closures and social distancing has been really difficult on the kids. They feel special—they're getting a camera! And I think it's gonna be special, too, because of the time they're doing this in. They're recording history."
Some big ideas are meant to be shared. It is through partnership and collaboration that the big ideas grow roots and become an integral part of something even bigger. In 2015, Pat Cruz, YA's then-chief innovation officer, and educator Mary Kate Bransford had a dream. What if every kindergarten classroom in Prince Georges County Public Schools (PGCPS) had an arts-integrated environmental literacy program?
Their big idea brought together twenty teachers and five teaching artists to write a five-day lesson plan that both met environmental literacy and visual art criteria and explored themes like habitat restoration, local ecosystems, the life cycle of plants, and the lifecycle of animals for a brand new program: Growing Up Green. The program, a partnership between Young Audiences and the Prince Georges County Office of Environmental Literacy, would be piloted in 17 schools in the district in the 2015-16 school year.
That first year resulted in the creation of five separate 5-day arts-integrated environmental literacy lessons. Teaching artists worked side by side with kindergarten teachers all five days of the program with the goal of handing off that role to each individual school's art teacher in future years. To prepare teachers, Kristina Berdan, Young Audiences Education Director, trained teacher ambassadors, kindergarten lead teachers, and art/music teachers to use the arts as a teaching tool in their classrooms. "I used to think art was a product of a lesson," said one kindergarten teacher in Prince George's County Public Schools after being trained in arts integration through Growing Up Green. "Now I think art is the process to achieve the objective."
The team constantly listened, assessed, reflected, and revised, resulting in a comprehensive catalog of resources for teachers and the refinement of, in the second year, four unique residencies instead of the initial five, and then in its third year, one: Fiber artist Pam Negrin's The Lifecycle of Plants. Kindergarteners and their teachers explored nature with their real-life senses—looking, smelling, touching—to not just learn about our natural world, but experience it. Classrooms across the district were outfitted with custom-made embroidery tables where students could gather and stitch their observations, building with and learning from one another. "We think with our hands and when students are immersed in a lesson together, they begin to make their own connections," said Pam. From sharing what they learned during the school day at home to internalizing and remembering more information, the effects on learning were so profound that once-resistant teachers embraced learning through arts integration and extended it into other content areas.
Growing Up Green combines the arts and time outdoors with making connections between humans and the environment and brainstorming solutions. "The program gets kids outside and thinking about the bigger picture and the combination of all the elements of the program supports the district's goals," said James Roberson, PGCPS Instructional Specialist for Environmental Literacy. And after the lessons have ended, classes are left with beautiful embroidered tapestries they can share with the school community. "The tapestries are a great way to showcase what they've learned."
Our state was the first in the nation to approve an environmental graduation requirement for all Maryland students. In 2011, the school board created Environmental Literacy Standards that would support the growth of the planet's next generation of stewards. Prince George's County Public Schools is intentionally integrating these standards into the PreK-12 curriculum, and through Growing Up Green, they are successfully reaching the county's youngest students. This is the first year that PGCPS is running Growing Up Green without Young Audiences' support. "Young Audiences has been an outstanding partner over the last four years," said Roberson. 
"I'm really impressed by how different teachers have taken what they learned and run with it," said Jhanna Levin, PGCPS Environmental Literacy Outreach Teacher. As a result of Growing Up Green, teachers in the district's Autism Program, for instance, have embraced the art of embroidery, the fine motor skills it develops, and the calm it inspires. "It soothes the kids in a way they weren't expecting." Levin, new to the department, has taken the reigns of Growing Up Green and nurtured the development of teachers new to the program as well as veteran educators. She is constantly checking in and helping the teachers to do what works best for them.
She is holding a training session this coming January for lead kindergarten teachers to explore additional arts integration techniques for classrooms and it's not just new teachers who are looking forward to it. "We're talking about turning T-shirts into yarn and using dance for the observational piece," said Levin. James Roberson added, "We're really excited about what Jhanna brings to the program."
Growing Up Green was a tiny seed that with research and tremendous effort and love, Young Audiences was able to sow. Through the amazing partnership we've had with PGCPS, we've seen the program evolve and take shape in a way that both works best for the district and stays true to the vision of Growing Up Green at its conception. We are extremely proud to see the district take charge and continue nurturing and developing this incredible program. Levin said, "There are teachers who have done this for three years now and they say, 'Just give us the materials. We've got this.'"
Written by Barbara Krebs,
Young Audiences volunteer and Sunburst Society member
The thing I like most about Young Audiences' Impact Breakfast is that I never know what new insight I will take away from it. Sometimes I go home and think about the things I heard and saw, and something takes root and grows from my pondering. Other years it hits me immediately with, um, impact. This year's Impact Breakfast was of the second variety.
It started with the music. Because the day began with rain, award-winning Folk singer and guitarist Letitia VanSant welcomed guests with her songs in the lobby of the Vollmer Center, and not outside, like planned. She played and sang softly, setting a mood of serenity. Ahh, yes, very pleasant as I sipped my coffee. And then as I started looking at Maura Dwyer's handmade crankie, a wooden box containing an illustrated scroll that reveals a moving picture story as it is slowly wound by the artist, a very different style of music was unleashed–ragtime! Now that gets the blood pumping!
The guitarist's intimate melodies were quickly drowned out. Assessing the situation–and the weather, YA staff and board members moved the duo's entire set-up where they belonged all along–just outside, at the entrance of the building. And that improvisation really worked, as Letitia's musical style and the moving panorama that accompanied her songs connected naturally to the park-like setting surrounding the Vollmer Center. You can't control the weather, but you can spring into action when it changes for the better!
After listening to her a while, I wandered back into the building to take in some more ragtime and to look over the student works displayed downstairs. And that's when one of the accompanying quotes struck me. Labeled "What Students Have to Say," a 6th-grade improvisational theatre major stated, "My favorite major is improv because of how we can laugh and be silly. We can be anything because it is based on your imagination. In your imagination you can be anything and see anything." Exactly!
More improvisation followed as Mama Rashida and WombWork Productions performed. With Virtues as the theme and a backdrop listing a huge variety of positive qualities, she prompted the audience to participate in a call-and-response activity, shouting out "gratitude" and "unity" and "creativity" as we swayed in our seats and responded, "yeah, yeah!"
When it was time to hear Femi "The Drifish" Lawal speak, I have to admit I was particularly happy to hear from him. That's because I have been fortunate enough to have had the opportunity to observe him in action in the classroom, at Art Crawl and at introductory "house" parties that showcase what YA does. In all of these settings, he's a master at getting both kids and adults involved.
So I was both surprised and amused to hear him admit to "winging it" before he began working with Young Audiences. But what did not surprise me was to learn how his involvement with Young Audiences helped him hone and master his teaching style. He knew he was already positively impacting young lives in the classroom, but with YA's assistance, he learned techniques that extended what he could offer and bring out in the kids.
As a person who enjoys contradictions, I thought about the nature of improvisation. Yes, it is about doing things without previous preparation. Yes, it is about responding to whatever circumstance comes your way. And yes, it is about reacting to your imagination as the 6th grader said.
But… it is also about the preparation, oddly enough. When you prepare fertile ground for your imagination to take you places, you become increasingly comfortable with the journey, and you find new and creative ways to respond to real-world situations. When you learn classroom techniques that allow children to explore their worlds in different ways, you discover the power of improv paired with preparation. How it helps them rap their way to mathematical formulas, dance their way to literature themes and draw their way to social justice.
So at this year's Impact Breakfast, I learned that preparing for improvisation is not quite the oxymoron it appears to be. Because no matter how prepared you are, you need to be able to improvise when the moment calls for it. And no matter how stellar you are at winging it, preparation makes it easier to soar on those improv wings.
Visit our Flickr page to see more images from Young Audiences' annual Impact Breakfast.
An inaugural Arts Integration Conference held at the Chesapeake Arts Center (CAC) showcased the strength and excellence of the Arts Empowered Minds Initiative (AEMI)'s collective knowledge and resources. Over the course of the day, Anne Arundel County Public Schools (AACPS) educators and CAC artists participated together in classes, learning to integrate three different art forms into other academic areas.
"This was actually the first time we brought these two groups together and—WOW—what amazing things happened!"
"CAC is a fantastic arts hub next door to all 12 AEMI schools, but there isn't always time for teachers to experience all it has to offer," said Hana Morford, YA Education Director, Statewide Initiatives. "Our goal for the day was to create synergy between the amazing CAC artists and AACPS teachers—giving them space to work together and learn from one another through the arts. This was actually the first time we brought these two groups together and—WOW—what amazing things happened!"
The teachers and artists rotated in groups throughout the workshops, spending equal time weaving and stitching with Katherine Dilworth, a Young Audiences fiber artist; learning the elements of dance with Lacey Sheppard, Arts Integration Teacher Specialist; and forming clay vessels with CAC artist Cami Ascher. Then, in the afternoon, the teachers worked in their school teams to write an arts-integrated lesson plan that connected to one of the three art forms. During this time, CAC artists were able to get a taste of arts integration and develop ideas on how they might integrate their art form with some of the teachers' content areas.
As they engaged in the various art forms, ah-has and ideas filled the classrooms. Katherine Dilworth guided participants first in a weaving project using sturdy paper plates and colorful yarn, and later, in stitching. She shared finished samples with the teachers that focused on math and on literacy—incorporating felt and even beads into the designs. Her excitement was contagious. Working with burlap, needle, and thread, one history teacher imagined the possibility of students stitching constitutional amendments.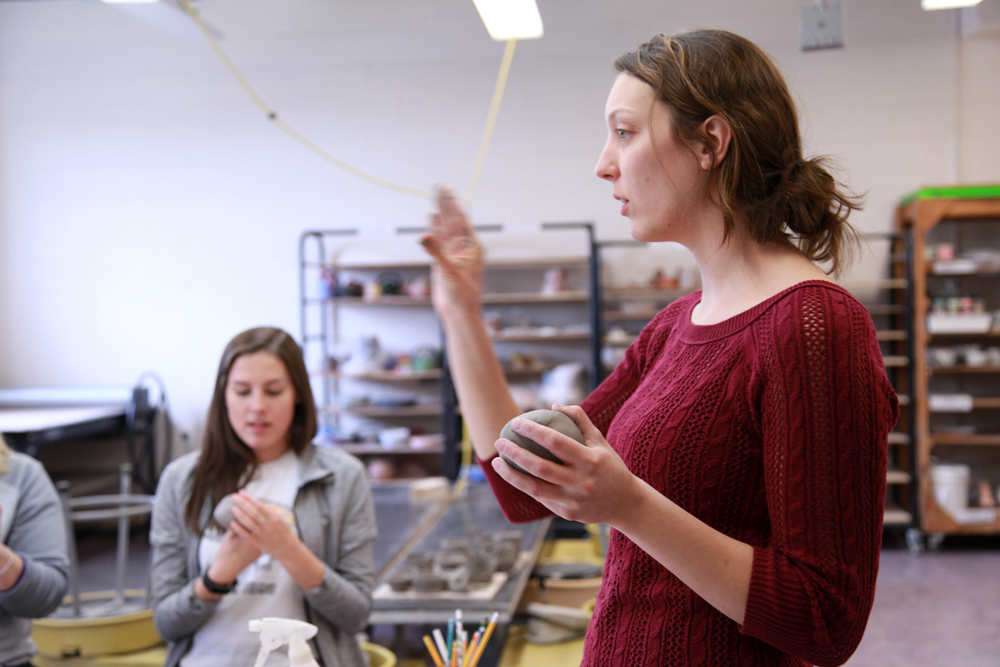 Teachers got their hands messy learning clay building techniques with Cami Ascher in the CAC's ceramics studio. They rolled long snakes and coiled them into different shapes. They transformed balls of clay into pots and funny characters with big eyeballs. And they learned how to "scratch and attach" to create a strong bond between formed pieces of the material. Cami had lots of advice for the group: which clays to use if they have/don't have access to a kiln, how to minimize mess, and how to preserve a project if more than a class period is needed to complete it.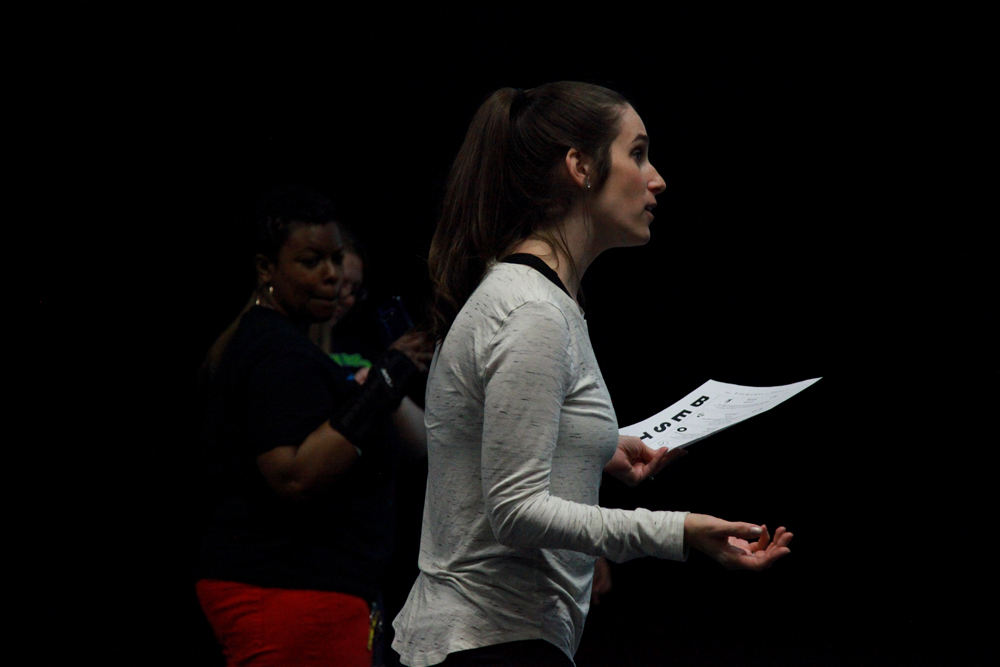 Lacey Sheppard divided participants into two groups for her workshop, each choreographing and performing an original dance for the other. They thought carefully about BEST: Body, Energy, Space, and Time—the elements of dance. Some stepped out of their comfort zones while others felt right at home in the limelight, but they all enjoyed the exercise in movement and the connections they could make through the art form to other classroom lessons.
One participant gained so much from the professional development workshops, she sent a note of appreciation the next day. "I just wanted to share that yesterday's PD was by far the best PD I have ever been to," she said. "I loved how you had us in groups that stayed together through the day. I am so excited to bring back new ideas to my school. Thank you so so much!"
Hana added, "It was so beautiful to see the AEMI community begin to take shape between teachers and artists!" And it is a community, we know, that will create so many opportunities in Northern Anne Arundel County. That is the power of the Arts Empowered Minds Initiative.
Learn more about the Arts Empowered Minds Initiative, its collective impact partners and the community it serves by visiting artsempoweredminds.org.
Categorized:

Arts Empowered Minds, News

Tagged:

AACPS, AEMI, Anne Arundel County, Anne Arundel County Public Schools, Arts Empowered Minds, Arts Empowered Minds Initiative, arts integration, CAC, Cami Ascher, ceramics, Chesapeake Arts Center, clay, community, dance, fiber, Katherine Dilworth, Lacey Sheppard, PD, professional development, visual arts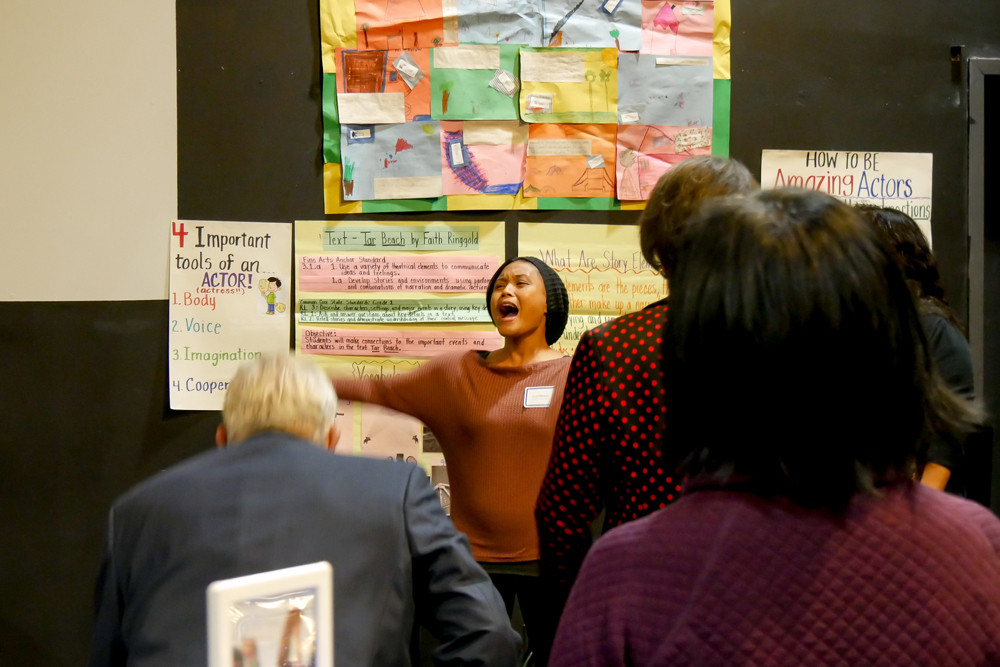 Written by Barbara Krebs,
Young Audiences volunteer and Sunburst Society member
A few weeks ago, I was happy to attend Young Audiences' third Art Crawl, held this year at the Single Carrot Theatre adjacent to YA's offices.
For those of you who have not attended this annual event, I highly encourage you to do so. First of all, you'll get to party with a group of fun, interesting, entertaining and dedicated folks. Secondly, you'll get to enjoy the learning environment presented to the kids who attend YA's Summer Arts & Learning Academy (SALA). And by that, I mean you'll act, play music and create artwork, which helps you understand your reading assignment or your math homework. And finally, you get to nosh on great hors-d'oeuvres and sip handcrafted cocktails created by some of YA's board members!
As always, I find myself splitting my time between talking to people I've met in the past, and meeting new folks who have interesting stories to tell. This time was no different. Balancing a plate of delicious appetizers from Copper Kitchen and a glass of wine provided by North Charles Fine Wine & Spirits, my husband and I soon found an empty spot at a table and introduced ourselves to Cori Daniel and Carlotta Williams. Turns out they were actually a teaching artist/teacher team who would later explore the book, Tar Beach, a story by artist Faith Ringgold recalling the dream adventure of a young girl flying high above her neighborhood in 1939 Harlem.
No matter the genre, the goal is making sure the children stay focused on the subject matter, sneakily presented as a lot of fun.
But I didn't know this yet. What I did find out though was how long they had been teaching, what they taught, and I got to observe their obvious enthusiasm for the children and learning. Their animated conversation about their SALA classroom was fascinating, as were their fond memories of inspiring kids to learn while the children used their imaginations to improve their reading scores.
Oh, did I just use inspire, imagine and improve in one sentence? Yes, I did, and that is, of course, no accident. Having witnessed teachers and children in action in several of SALA's classrooms this summer, and getting a chance to actually engage in it myself during Art Crawl is to truly understand how those three words create an arts-integrated learning environment that SALA uses to stem summer learning loss and bridge the Inspiration Gap.
In SALA's five-week summer classrooms, kids use a wide variety of art techniques to help them master core subjects – whether it's textile art to illustrate a story they are studying or rapping their multiplication tables or dancing to show character development. No matter the genre, the goal is making sure the children stay focused on the subject matter, sneakily presented as a lot of fun.
And so it was. In the segment taught by the second-grade teacher and teaching artist I had just met, we warmed up with some dance movements to highlight acting concepts. Then we looked at the pictures in the book and explained what we saw in them. Finally, we paired off and used our imaginations to explore a special place for us – one that made us feel warm and welcomed.
Next up was a math segment, guided by teaching artist Nadia Rea Morales and teacher Jose Hernandez. With a chart in the room illustrating ones as yellow, tens as red, and hundreds as blue, I created a Piet Mondrian "masterpiece."  The focus was to teach second-graders their ones, tens, and hundreds places and the relationships between digits and their place value. My own memory of learning such things was of boring, rote exercises that left me cold. Here, I hadn't had so much fun with scissors and construction paper in ages. And to think – I was learning math!
I ended the evening with teaching artist Christina Cook, who was surrounded by a variety of percussion instruments. As she demonstrated how these were used to sound out the syllables in words, I noticed how she was combining both math and vocabulary – a certain number of syllables to express a phrase, as she beat the rhythm on her drum.  She then handed out instruments and instructed us to follow along.
In addition, she said she used this technique to help the pre-K kids she taught to express their emotions. At first, she told us that the students mostly stuck to "happy" or "sad," but soon she noticed that, as the kids gained confidence with the percussion pieces, their emotional range expanded, too. Now they were "curious" and "frustrated" and "ecstatic." She admitted that she was impressed with the varying emotions the kids conveyed as well as the fact that they already had the vocabulary to communicate it. They had only needed the little nudge the music gave them to open up and express themselves more fully.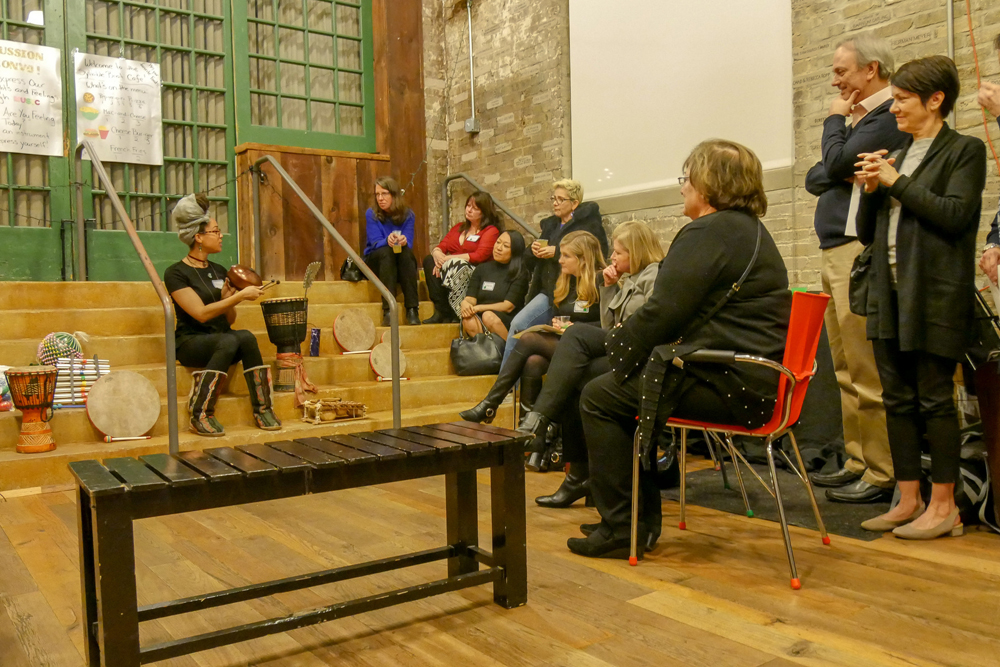 I have to admit – Inspire, Imagine, Improve is a mantra I can really get behind. Because each time I've attended Art Crawl, I come away inspired by all the people who donate time, expertise and/or money to make SALA a reality for 2,100 elementary school-age kids.  I can only imagine how much harder it would be for the children and their teachers if this summer program didn't exist. And I know that Young Audiences' aim to improve test scores and access to arts-integrated learning is something I'm behind 100 percent.
Wouldn't you like a little Inspire, Imagine, Improve in your life?  Come join us next year and I think you'll find your own stories of imagination that inspire you to improve. Until then, Happy Holidays!
It was a summer filled with activity, singing, dancing, reading, creating, and sunshine. We witnessed the excitement of mastering new skills and discovering new talents. We felt the calm of classrooms illuminated with only the rays of light peeking in from behind drawn shades, students enveloped in peace, quietly drawing, ink and graphite on white paper.
When families initially enrolled their children in our Summer Arts and Learning Academy, we asked them why their child was interested in participating. Many stated that their children were creative and hoped that through the program, they'd be able to enhance their skills. Others emphasized the integrated academics or latent benefits of the arts. Some registrants celebrated the availability of the arts and educational summer program, as these opportunities are limited in Baltimore City.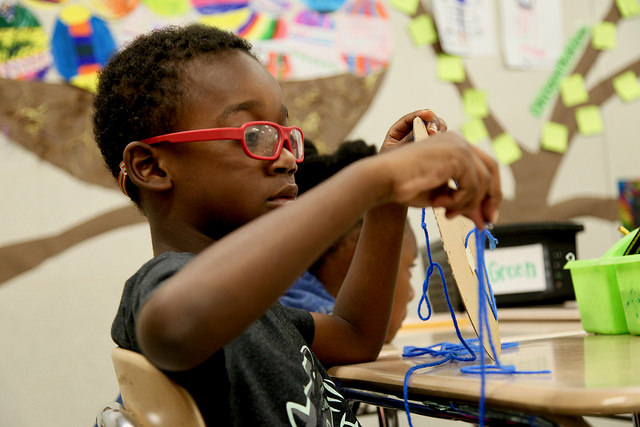 Did our Summer Arts and Learning Academy live up to families' expectations? Culmination ceremonies came to a close, classrooms were disassembled and packed up for next year, and students prepared for their next summer adventures. We asked parents and families if they'd give us feedback about their experience by filling out a survey. Their responses poured in- 413 of them to be exact. We discovered that in Summer Arts and Learning Academy, parents watched their children not only learn, but grow and thrive artistically, emotionally, and academically.
When asked about any positive changes they noticed in their kids, one parent replied, "An eagerness to attend school. IN THE SUMMER! Who knew?!"
87% of families who completed surveys told us that their child found something new that he or she has fun doing. "My son began to enjoy sewing and dancing," one parent told us. Another let us know that her grandson was very proud of the work he did in ceramics class. "He usually gives me all of his drawings and art projects, but he kept his claywork for himself."
Even when one particular art form grabbed a student's interest above all others, the children in Summer Arts and Learning Academy developed a deeper appreciation of and openness to all art. Students discovered that flexibility leads to new passions, discovery, and opportunity. "I learned that I am exceptionally good at ceramics. I knew I would like it but I didn't know I would actually be good at it," a rising sixth grader told us. "She was disappointed that the Coldstream Park site didn't offer theatre for older kids," her dad explained. "We're working on 'rolling with it,' though, and she ended up really loving African Dance and Ceramics. She would never have known, otherwise."
Parents told us that their kids were excited to get to the academy every morning, on time. When families reunited in the afternoons, kids would talk and talk about everything they did that day. When asked about any positive changes they noticed in their kids, one parent replied, "An eagerness to attend school. IN THE SUMMER! Who knew?!"
Upwards of 80% of parents who responded told us that they noticed an increase in their child's reading and math skills. With this strengthening of skills, their children became more confident. Of one student who enjoys writing poetry, we were told, "she will now actually share her writing with others." Many families reported their children not only enjoying reading but choosing to read books over watching television. Still others described students proudly reading on their own and teaching younger siblings what they had learned.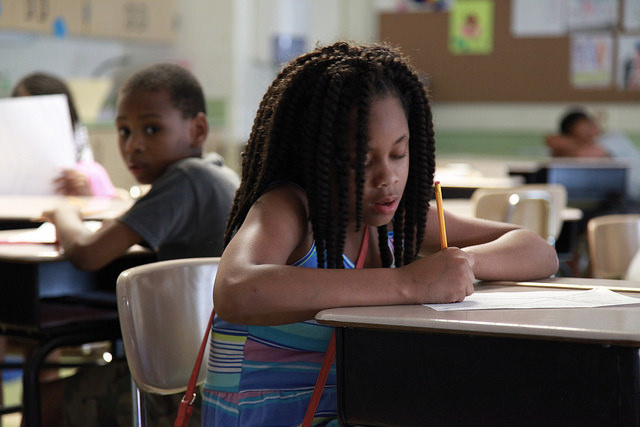 The positive changes parents noticed in their children exemplified 21st Century Skills, a set of higher order skills that have been identified by educators and business leaders as being critical to a person's success in careers, in college, and as a citizen. These are skills that typically cannot be measured through standardized testing and include critical thinking, collaboration, communication, and creativity.
Through Summer Arts and Learning Academy, students were introduced to many new ways of thinking, seeing, and expression. They learned to look at things from different perspectives through the eyes artists, characters in literature, and through new friends, which made their own experiences more joyful and meaningful. Children embraced their curiosity, asking questions, exploring, and researching independently. "My daughter is better able to integrate her love of arts (fun) with learning (not as much fun) and see ways to make learning something that's both fun and something she can accomplish," one mom told us.
Families described their students as being more social, friendly, outgoing, and connected. One student told her mom that she "enjoys being a loving and caring friend." Another student "wants to take care of the neighborhood." Students discovered that they liked working in groups and parents thought their children were now better able to deal with conflict. Through collaboration, the kids learned how to communicate, compromise, and achieve a common goal. They learned to 'roll with it', an enviable and necessary skill for 21st century children and adults alike.
Written by Barbara Krebs,
Young Audiences volunteer and Sunburst Society member
Seedfolks. Bizz Buzz. These are just a couple of the new things I learned about when I visited the Summer Arts and Learning Academy at Thomas Jefferson Elementary/Middle School in Baltimore.
And learning through the arts is the whole point of this summer academy, now in its third year of operation. Young Audiences/Arts for Learning, in partnership with Baltimore City Public Schools, operates four of these academies at schools throughout the district as part of a system-wide arts-integrated strategy to reduce summer learning loss in literacy and math. Approximately 1,144 kindergartners through fifth graders take advantage of this free, fun-filled educational opportunity. 
My first stop was to meet Site Director Kristin Taylor who manages the program at Thomas Jefferson. As we headed to the first classroom of fifth graders, she enthusiastically filled me in on the size of this particular academy (280 students), its average daily attendance (250 students), and the benefits provided at every site to help parents and kids (after-school care until 6:00 pm and free breakfasts and lunches served every day to each student).
As we walked through the halls, student-created posters, snippets of conversations, and the sounds of music offered glimpses of the learning that was taking place.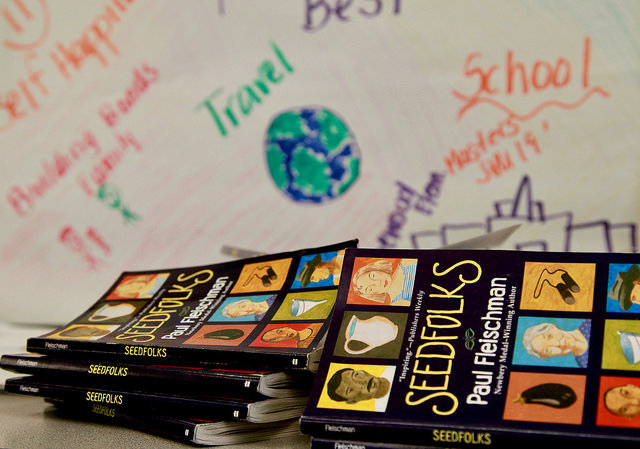 I entered the fifth-grade classroom of Ms. Paige and visual artist Mama Sallah just in time to watch a production of a chapter from Seedfolks, a book that shows how a neighborhood is transformed as people from different cultures interact in a garden. After the first group performed, I got a chance to ask Kenaya, one of the student actresses, about the book.  She explained to me that each chapter of the book focused on a different character. The classroom had been divided into groups, each assigned to act out a different chapter of the book. These groups were to then silently act out what the narrator was reading.  
Kenaya's group focused on Kim, a Vietnamese girl from the first chapter. The story starts with the girl staring at a portrait of her father. While one student narrated, others acted out the parts of Kim, the father's portrait, and even more characters as the action moved into the garden Kim had planted.
I enjoyed watching their attention to the story and how each child handled their role, whether it was bending down to dig in the "dirt" or, like the young man playing the role of the portrait, staring silently into space, giving no indication that he was anything other than a photograph frozen in time. These were serious actors, hard at work.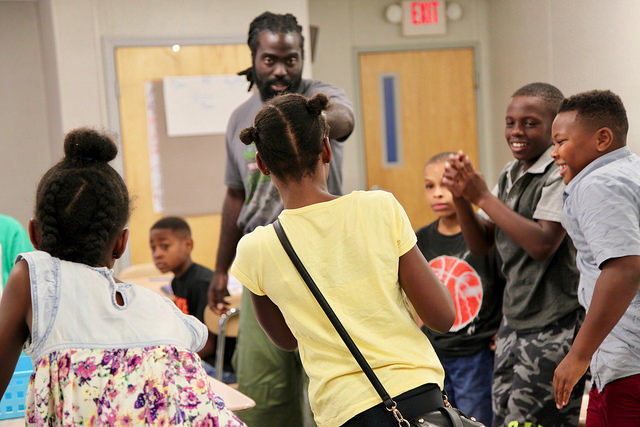 The next classroom was quite a contrast. Ms. Chase and hip hop musician Jamaal "Mr. Root" Collier were teaching math to a mixed classroom of fourth and fifth graders, and I had arrived in time to witness a game of Bizz Buzz. The children formed a large circle in the room, then took turns doing math calculations in their heads, making sure their answer was either a multiple of three or five. Emotional sounds quickly filled the room: Squeals of excitement for the game, celebratory cheers as someone answered correctly, silence filled with tension and pressure as someone struggled to find the right number, and supportive classmates whispering, "You can do it!" and "You got this!"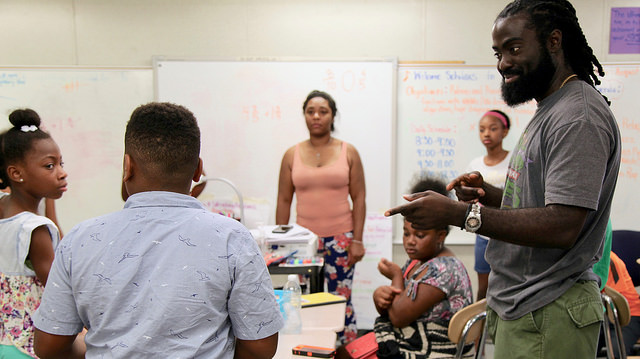 I have to admit I never did quite get the idea of when you yelled, "Buzz!" or "Bizz!" instead of a number, so I guess I'm going to have to admit that I am NOT as smart as a fifth grader. Luckily, they are!
The next classroom was filled with third graders who were also working on math. However this time the class focused on word problems and measurements. Without the drama of Bizz Buzz, this classroom was much quieter with children working at their desks. As I wandered around the room, one outgoing and cheerful girl, Mikhia, came up to me.  I probably looked a little lost because she explained to me what was going on – how they were learning about different cultures.  I asked her if she liked the Academy, and she grinned broadly and nodded her head, yes.  
"What do you like about it?"
"The teachers," she answered without hesitation.
"What do you like about them?"
"They are nice, loving, and helpful.  I'm learning so much this summer!"
The last classroom I visited was composed of first graders.  I noticed a colorful picture on one boy's desk of a volcano with a person going up the side of it and asked him about it.  "Who's that?" I asked, pointing to the person.  
"That's me," Donald answered.
At that point, we were interrupted as it was time to line up for lunch.  But before he left, I got another opportunity to ask him about his work. "Why are you walking up the side of the volcano?" I asked. He seemed a little confused but answered gamely, "I'm not walking, I'm flying."  
"Oh," and now it was my turn to be a little confused.  "You must be very powerful to fly."  
By now the girl in line behind him decided she had to help this poor confused person. Explaining patiently but emphatically, she corrected me. "It's not powerful. It's imagination!" At which point, I learned that their classroom was focusing on stories that dealt with imagination. So, yes, flying makes perfect sense. I'd rather fly over a volcano than walk up it, too!
As the children headed off to lunch, I thought about my first morning at Young Audience's Summer Arts and Learning Academy and all the kindergarten through fifth-grade pros who had guided me through the learning process. I realized I had learned a lot, too.  
For example, I learned that reading and acting out the story is a powerful way to concentrate on both the characters and the narration. I learned that math can be extremely riveting and exciting. I learned that different cultures can guide your math skills. And I learned that I need to let my imagination soar. But most importantly, I learned that combining arts with learning is fun – and effective – and that's why the kids love it.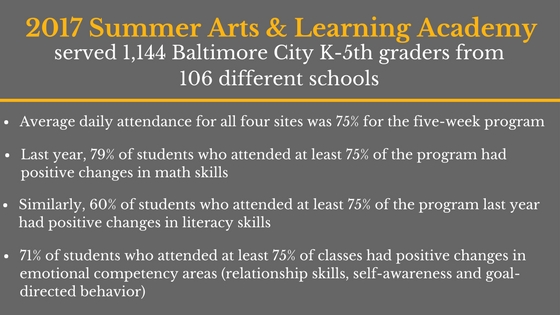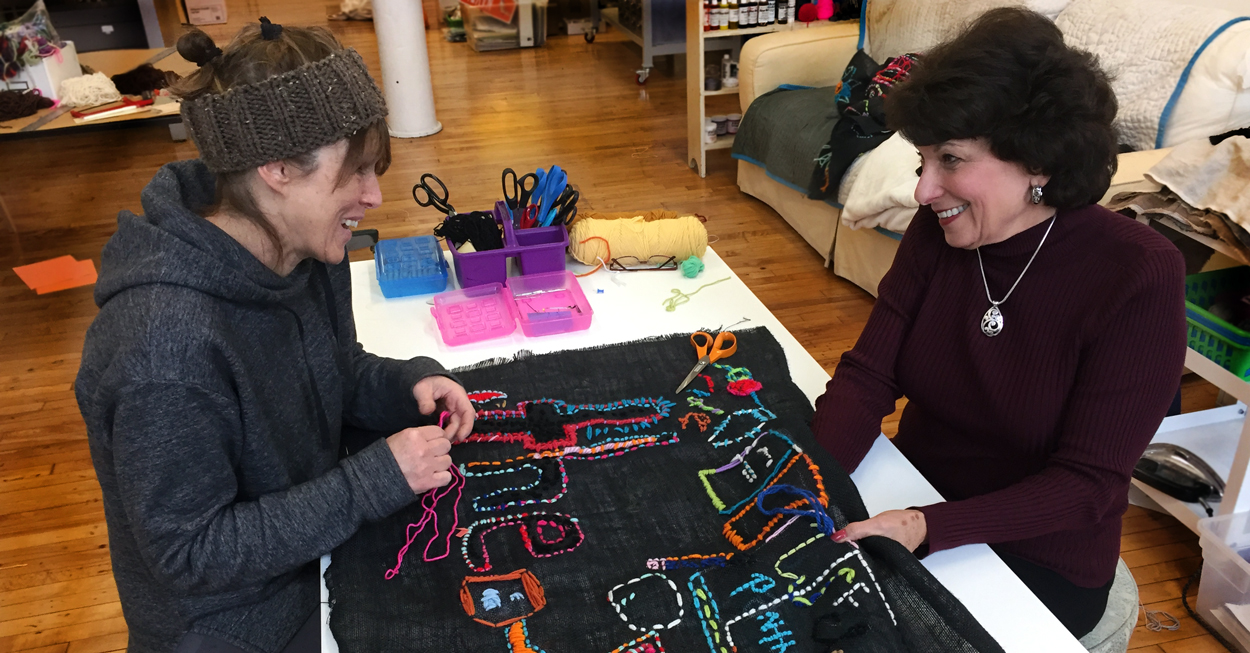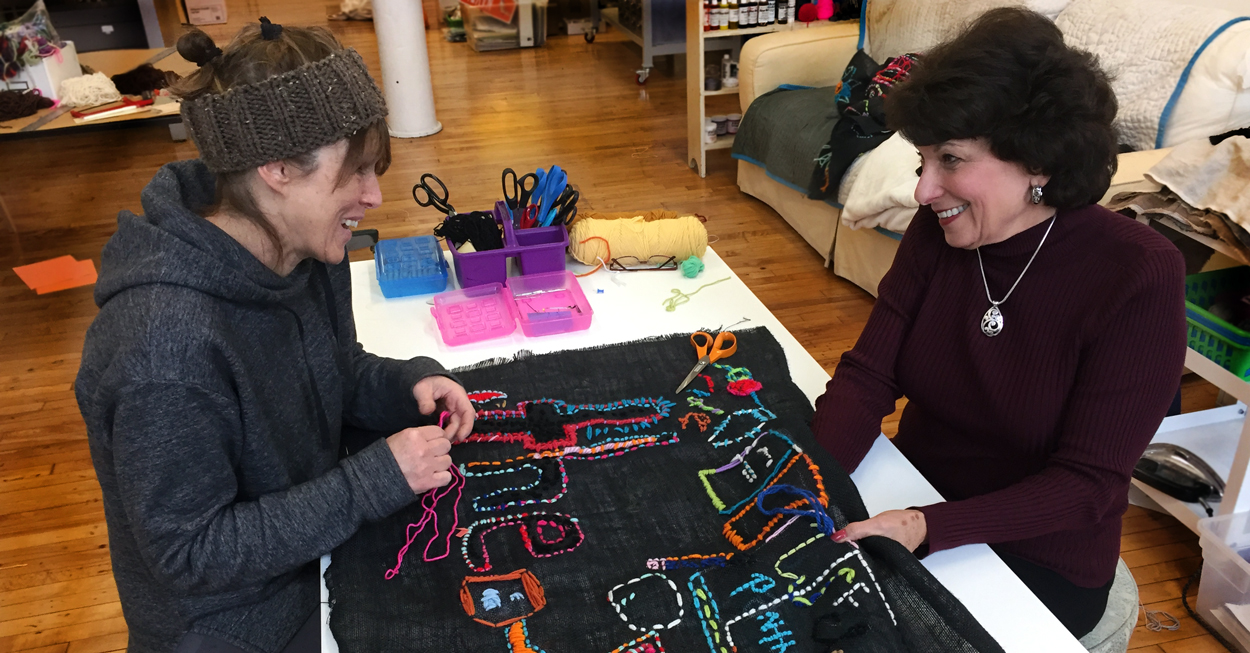 Co-written by Barbara Kesler, an active Young Audiences board member, volunteer, and retired Baltimore County Public Schools teacher and YA Visual Artist Pam Negrin. During Barbara's 39-year teaching career, she instructed third through sixth-grade students and spent the last 23 years at Franklin Elementary where she taught fifth graders in all subjects.
After attending a Young Audiences informational "Impact Breakfast," six of my friends and I were intrigued by visual artist Pam Negrin's embroidery and weaving with students. Pam's residencies transform classrooms into collaborative handwork studios, with countless ways to connect textile art with core subjects.
We learned that Pam's hours of preparation, finishing work, and providing one-on-one attention in a classroom of 25-30 students was challenging. With just one teacher and one teaching artist, the need for more hands, heads, and hearts presented a natural opportunity for volunteering with Pam.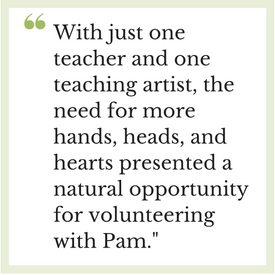 Our volunteering experience happened both in the classrooms and at Pam's studio. Throughout the experience, new friendships have developed and inspirations shared. Meeting at Pam's studio, we help while learning; rolling yarn, threading needles, and helping finish collaborative projects. In the classroom, our presence helps individual children feel successful in their completed works—sometimes by giving extra help with a new skill, sometimes by organizing materials, and other times just by listening while they work!
During a Spring residency at Commodore John Rodgers Elementary in Baltimore City, two English Language Arts third-grade classes were exploring character traits of a recently read Judy Blume novel. Expanding this textual element to their own character traits, the children designed self-portraits. The designs started on paper and were then embroidered onto fabric. Pam instructed them to explore color values, textures, and shapes.
Three volunteers accompanied Pam to the school to assist the very enthusiastic children in creating their self-portraits. The results were amazing.
One particularly shy boy proudly presented his self-portrait and said, "I did it!" Another told us how he was teaching his poorly behaved six-year-old cousin to 'draw with yarn.' "It calms him down, and we all need that!" he proclaimed. Another student told us that he had taken over the household chore of mending torn clothing for his brothers and sister. "No one else in my house knows how to use a needle like me."
Children were working together at sewing tables, chatting amicably about the novel that they were reading in class, their sports activities, and their weekend plans. All were engaged in a very peaceful and friendly manner, helping each other when necessary. No doubt presenting their finished projects to their families on Mother's Day was a beautiful culmination of this artistic endeavor. And it left three very happy volunteers with a feeling of purpose in assisting these youngsters in a meaningful project that will surely be an unforgettable experience.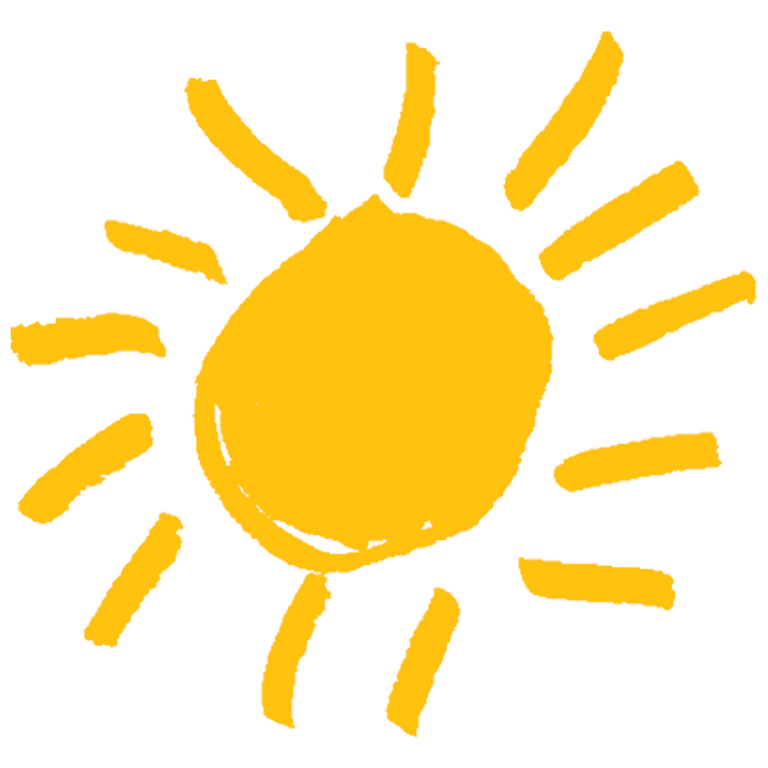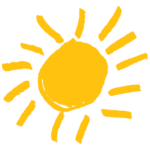 You can get involved, too!
At Young Audiences, we constantly see the arts inspire, engage and change lives. We are reminded of this power every day through our work providing more than 7,000 arts learning experiences a year to children in Maryland classrooms. And the benefit extends beyond the children, impacting the providers, observers, supporters and, yes, volunteers.  Learn more about how you can get involved with Young Audiences through volunteering.
By Christina Delgado, Young Audiences photographer and visual artist
Digital photography is an art form that provides instant gratification. You can see your progress faster than you would with painting, drawing, or ceramics. Because of the age we live in, people are multimedia-driven and our society works efficiently with cell phones, computers, and the internet. I find that digital photography is yet another way technology has changed our approach to a task, and I believe it integrates well into education. Technology can give relevance to the art of photography, while also lowering a barrier. Easy-to-use digital cameras allow students to see themselves as artists and to express themselves creatively. This is something I wanted to teach my second- to fifth-grade students at Moravia Park Elementary when I began my residency with teacher partner and good friend, Cicely Jones, at the school in January.
I worked with students who were a part of the school's P.R.I.D.E. program, which supports students with social and emotional learning differences. I started by giving students an overview of cameras and portrait photography. I wanted to teach them how to effectively take pictures and understand a photo's ability to communicate feelings and ideas. Children aren't always aware of how they are surrounded by photography every day. When they are looking at magazines or billboards, those are photographs! Getting them to understand how this art form is relevant to their everyday lives was important to their development throughout this residency.
The project I assigned students was based on a book of famous portraits that I found in a local bookstore. It showed all kinds of unique examples of portraiture, including Oprah, President Obama, and Billie Holiday. These pieces not only showed portraits of the individuals, but it also mapped out a collage of drawings, symbols, and words explaining what was important to each subject.
I had students build something similar so that they could share their own perspectives. Collaging items from magazines with their own photographs helped them define their sense of identity as they pieced the parts together. Their collages focused upon various aspects of their worlds, including interests, hobbies, and what makes them feel safe.
Some students really connected with each other through this project. One student, Trevor*, took the initiative to help another student who was having trouble focusing by sitting down with him, helping him cut out images, and discussing the project. Together, they were able to complete the work on the project for that day.
With Cicely and our faculty team, we came up with an idea that would give the students some independence. We provided disposable cameras to each of the students so that they could create images on their own time. This allowed the students to share a more well-rounded view of who they were. Giving them that responsibility really made a difference. Students felt important because they were expected to do something at a higher level–it was a very special moment.
Ultimately, the whole experience was wonderful and I appreciated the fact that Cicely brought me in to be a part of their team. During the final residency meeting, I got emotional after hearing what Cicely had to say about the improvement she had seen in her students during the residency. There were less behavioral issues and attendance was up. Hearing that positive change validated what I do. Sometimes it's easy for artists to feel like the things they do go unseen, but this experience had an enormous impact upon the students I met. They were coming to school and they were staying positive and being productive. As children grow up, there are moments in their lives that they will never forget. I think these memories will go far.
Learn more about Christina's photography residency programs for schools at yamd.org.
*Student names have been changed to protect their privacy. 
In our December smART Tip, Young Audiences visual artist Christina Delgado shares how to organize a photo scavenger hunt for students that can easily be tailored to connect with any subject or unit. Learn how to get started with this fun activity in the short video below.
[youtube http://youtu.be/rWIGPp_NTOs?list=PLUssR-3GtBZfiKXpU72zQAkgXh3wBcBzQ]
smART Tips is a monthly video series sharing tips for educators who are interested in new, creative ways to use the arts in their classroom with students. See all smART Tips to date here. Interested in a specific topic? Let us know!