It's been almost a year since we announced our partnership with WTMD to feature YA teaching artists on their family-favorite Saturday morning radio show Young At Heart! Since May 6, 2017, host Lisa Mathews—YA teaching artist and lead singer of Grammy-nominated children's band Milkshake—has invited eleven top-notch, talented YA roster musicians to date into the studio to chat on a monthly segment called smARTbeats. Listeners have learned about the artists' professional work outside of schools, arts integration, and heard how they've reached students through art in the classroom.
"Listening to music is great, but making music is transformative." –Alden Phelps
Some of the featured artists have talked about the guidance they've received and diligence and artistic discipline they learned from parents, peers, or mentors. Some have revealed the inspiration they've found through their own small children. All have shared with listeners the energy, kindness, and expertise that they bring into every Maryland classroom they visit.
"If we never spoke a word, we could communicate through music." –Devin Walker
From memories of touring with the one-and-only Mr. Ray Charles, reaching audiences around the world in Spanish, English, and through poetry, taking a musical journey to outer space, to finding out not just how artists inspire children every day in Maryland classrooms, but hearing what motivates, energizes, and inspires them, getting to know these fantastic teaching artists has been a real treat for Saturday mornings!
"There's power in words, build or destroy, so watch what you say." –Femi the Drifish
And just in case you prefer to sleep in on the weekends, we've compiled WTMD's Soundcloud links here for you to enjoy any time of day or night!
Young At Heart airs weekly from 7 to 8 am on Saturdays, featuring music that appeals to parents and children alike. Previous shows have featured music by Wilco, David Bowie, Andrew & Polly, Weezer, and others.
smARTbeats returns to WTMD this Saturday, February 10 during the weekly children's program Young At Heart! On this month's segment, hostLisa Mathews sits down for a chat with the original "Drumcussionist," Young Audiences teaching artist Uncle Devin. Tune in and you'll hear why The Uncle Devin Show has been called "pure edutainment at its finest."
Devin Walker has been playing percussion for more than 25 years with groups ranging from Fertile Ground to the Great Dizzie Gillespie, and has gained national acclaim as a leader in the children's music industry with his unique musical style, real percussion instruments, and the latest in electronic drums.
"I realized I wasn't just there to perform music, I was there to teach."
In schools, the artist teaches children that percussion instruments are an essential part of history and the human experience. He uses different musical instruments, along with his award-winning book, "The ABC's of Percussion with Music CD," to help students understand how sounds made by percussion instruments were used to communicate. "If we never spoke a word, we could communicate through music," said Devin.
The musician didn't begin his career performing for children, but spending time with the young kids in his life certainly helped to steer him on that course. Devin's niece loved his music so much that she once took recordings of her uncle reciting stories along with music to school so she could share them with her class. The children loved listening to their friend's 'Uncle Devin.' "Soon enough, people began to refer to me with that title and that's how the name came about."
They weren't the only kids that his music and stories stuck with. After performing in a school in Baltimore, he received a phone call from a friend. He suddenly heard his friend's daughter on the line, reciting some of the same concepts he had shared with the school children earlier that day. She had been in the audience! "I thought, she's got it! That was a wonderful moment because I realized I wasn't just there to perform music, I was there to teach."
Young At Heart airs weekly from 7 to 8 am on Saturdays, featuring music that appeals to parents and children alike. Previous shows have featured music by Wilco, David Bowie, Andrew & Polly, Weezer, and others.
Listen to Uncle Devin online now!
Young Audiences' roster of artists continues to grow to encompass new artists, ensembles, and art forms, from slam poets to improvisers to Capoeira masters.
We'll be regularly posting interviews with our artists, giving them a chance to share more about themselves and their experiences bringing their Young Audiences programs to schools. 
How did you first hear about Young Audiences?  What made you decide to become a roster artist?
I first heard about Young Audiences at a children's artist conference in Brooklyn, New York. Someone had mentioned the opportunities that the arts-in-education network provides for teaching artists. What attracted me to Young Audiences was the opportunity to learn how to apply and incorporate my music into educational settings for children. Learning about Young Audiences stood out to me because it brought me back to my own childhood memories. I can still distinctly remember performing artists coming into my elementary school when I was child. If you could believe it, to this day, I can still recite many of the concepts I learned from the artistic educators then.
When you were young and those artistic experiences influenced your educational development, did you know that you would pursue a similar career?
I knew that music would be in my future, but I have to admit, I did not think about it from the standpoint of becoming a children's artist just yet. The idea did not come to me until about 8 or 9 years ago as I told my young nephews and nieces bedtime stories. If you recite the same stories often enough, you have to come up with creative ways to keep children engaged. That's when I started to recite the storybooks to music and this sparked the idea of recording it. My niece took those recordings into her school so she could share them with friends and classmates. Her friends loved it so much and they began to pick up on the name "Uncle Devin." Soon enough, people began to refer to me with that title and that's how the name came about. So really, it was my nieces, nephews, and family who helped me come up with the idea to work with children's music!
You are already a professional artists. What specifically made you choose to join Young Audiences as a roster artist?
I needed professional development in certain areas of my work. I wanted to grasp Young Audiences' process of curriculum development, arts integration, and I needed to learn how to run a workshop or assembly properly. After hearing other roster artists speak about their experiences with Young Audiences, I began to realize that the organization was a top-notch educational network that not only provides artistic services to schools, but also trains artists to provide these opportunities for the schools. A lot of artists may want to take on this process themselves, but I did not have the desire to establish relationships with schools on my own time when I knew could do it through Young Audiences! It's a win-win situation for everyone and Young Audiences is the perfect environment for me to learn and share my artistry.
Did you feel like the training you completed with Young Audiences made a big difference in your work?
Absolutely! Without a doubt. It was like I was a little kid back in school again at Young Audiences' Teaching Artist Institute (TAI). I had to re-learn concepts and the curriculum. Through training at TAI, I walked away having learned that when you give school presentations and assemblies, it's all about the artist, but when you create a school residency, it's all about the students. I could not hide behind my artistry when it came to working with children–I had to know the curriculum and the standards as well. It's been a great opportunity for me to learn how to teach and give back by sharing my passion for music.
What has been the most memorable part of the programs you have brought to students with Young Audiences? Do you have a favorite memory from a program?
I have so many, but I'll share two great ones. One day as I was packing up my equipment after a great program in a Baltimore school, a little girl came up to me and hugged my leg. She said "Uncle Devin, I don't want you to leave!" The teacher walked up to us and said "That's what makes this worth it." I smiled back and responded, "Yes, it does."
Another great moment that stands out to me is when I performed at another school in Baltimore. This situation was unique because I didn't know that my good friend's daughter attended this school and I didn't find out until afterward with a surprise. Later that evening, my friend, the young girl's daughter called me, and over the speaker phone her daughter began to recite some of the concepts she had learned earlier that day during the program. I thought, she's got it! That was a wonderful moment because I realized I wasn't just there to perform music, I was there to teach.
How does your art form help connect students to what they are learning in school?
One: Communication. Percussion was one of the first forms of communication that human beings utilized. To be able to show children how to use drums as a communication tool is a very unique way to relate to what they're learning in school.
Two: Mathematics. I have a song I do called "Count Our Numbers" where we count to five using four different languages. It blends different areas of their studies involving language, mathematics, and music.
Three: Working together. I help children figure out their role in a collaborative team while building musical pieces. It takes a family to build a piece of music together collectively.
Why do you believe percussion specifically is important for every student to have access to?
The heart beat. Everyone has their own beat. It's about understanding that everyone is unique. Drumming is something that you do every day and many don't even realize it. It's in the pace of our walk, the number of times we blink our eyes, or the way we tap our fingers on a table. People naturally make rhythms everyday and it's an ongoing process. I believe that percussion is so important to society because it is directly connected to our natural rhythms of life. Once we understand it, drumming can enhance our quality of life individually and with one another. I have a new book coming out called "ABCs of Percussion," that describes one percussion instrument per letter of the alphabet and includes a music CD that will allow the reader to hear each instrument.
How do the lessons and skills you teach students about or through your art form apply to and affect their everyday life outside of the classroom? 
Outside of the classroom, music helps connects people to culture. Music enriches children's lives. If we never spoke a word, we could communicate through music. Music brings people together and it never sets us apart. 
What is the most rewarding aspect of being a Young Audience roster artist?
I wish that everyone could experience the feeling of standing before 100 to 200 young people and knowing that you have their undivided attention. Being able to see the smiles that your art form brings to their faces is an indescribable feeling. Knowing that I am touching the next generation and providing children with a positive experience is far more fulfilling than I could ever have expected or describe. Being a children's artist is essential to developing the type of peaceful world we want to live in. We need more resources and we need more artists. You can never have too many artists. We really need more people to consider carrying on this tradition of teaching through the arts with their skills. The world continues to create a cultural change through music and I am so happy to be a part of it.
Learn more about Uncle Devin's offerings through Young Audiences.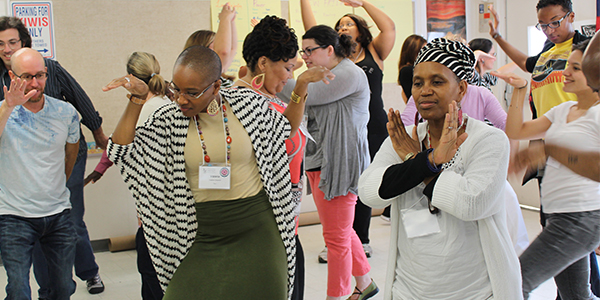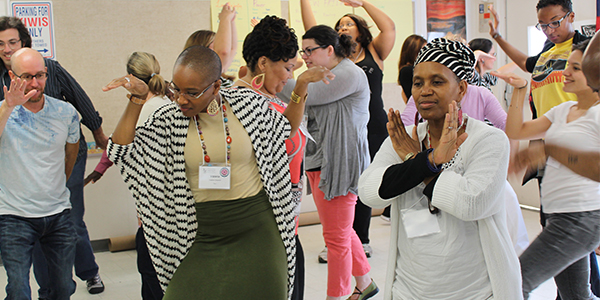 The 2014-2015 Teaching Artist Institute (TAI) Seminar is already underway, but we wanted to share some reflections from artists who have graduated from the program. Here's what they had to say about the experience:
As a full-time preservationist of acoustic Delta Blues from the 1920s and 1930s, I must make my history of Blues show academically relevant to the curriculums of Maryland and Virginia schools. I completed the TAI training program in 2009, and the course completely transformed my understanding of how I can support the current teaching standards in schools with my music programs.

As Young Audiences knows better than anyone, all the arts are under tremendous pressure to prove their relevance to school systems that are struggling to meet national testing standards in different disciplines. What I learned from my TAI training is that the arts serve a valuable role in preparing students with the 21st Century thinking skills they need for their future success in our rapidly changing world.

By creating a residency with a language arts teacher as my partner, I was able to use songwriting to teach students figurative writing skills. Without the TAI training, my school music programs would not be as academically relevant to the school's goals. This connection is critical for the arts to survive in our schools, not as a reward for difficult academic work, but as a means to help students meet their academic goals.

The TAI program is well-run by dedicated educators and artists. It is challenging, rigorous, and exposes artists, teaching artists, and professional educators to each other's thinking styles. This program deserves support, and I hope it continues to transform serious performing artists into skilled teaching artists.
– Curtis Blues, Blues Musician, Exploring Math and Music by Making a One String Guitar
I had never thought of myself as an educator, at least not in the traditional sense. Musically, there is always an underlying truth or teachable moment I try to impart. However, now I needed to do so in a structured, educational format. Although the curriculum was challenging, I am ever so grateful for having gone through the process. The fellowship with the teachers and other artists truly cannot be measured. As an artist, mentally you have to re-wire your brain to remember that it is not about you or a performance; it is about what the children learn and take away from the experience. A few months later I had the opportunity to return to the school for a musical performance for a general assembly. My class was so excited to see me and the feeling was more than mutual. For that reason alone, it was a journey worth taking.
– Uncle Devin, Musician and "Drumcussionist," Uncle Devin's World of Percussion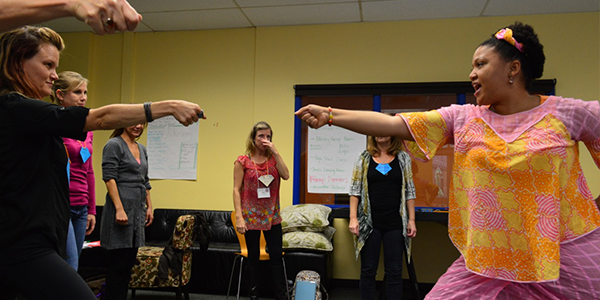 TAI gave me such an appreciation for the life of the classroom teacher. Not only did I learn how to plan and sequence a project into realistic, meaningful lesson plans, I learned a whole new vocabulary and some best practices of a strong teacher as well. Field testing my lessons with my teaching partner gave me real world practice in collaboration, classroom management, solid preparation and flexibility.

TAI is also a rare opportunity to work and learn side-by-side with artists from other disciplines. I met so many energetic, thoughtful, creative people who are not only committed to their art, but also to making a difference in the lives of children. It was incredibly valuable to me to be stretched and out of my comfort zone. As a visual artist, I found that experiences in music, dance and drama helped me move out of my head and in to my body. I learned that this whole body engagement is something that I want to bring to students when I lead them in the visual arts.

On the last day of TAI we were asked to say one word that summed up our experience. My word was "ALIVE." That pretty much says it all.
– Pam Negrin, Visual Artist, Transformative Textiles: Weaving Together Math, Literacy and History and
Collaborative Stitching: Connecting and Inventing with Needle and Thread
TAI is an amazing opportunity where artists, educators, and staff truly collaborate to help process, define, and designate the importance of art in the classroom. I loved the guided lessons, hands on experience, and being around such amazing, talented individuals. I feel like this experience helped to shine a new light on my own experiences as a classroom teacher and now a teaching artist.
– Bridget Cavaiola and Michael Harris, Baltimore Improv Group, Life is Improvised!
The staff and artists who coached us through TAI opened a whole new level of integrated content, planning, and instructional skills to us. The opportunity to develop new programming for excited young artists, alongside engaged education professionals in so many unique environments has grown our vision as an organization. This fall, three more team members will begin TAI. Best professional development around!
– Matt Barinholtz, FutureMakers, It's Alive: Kinetic Creature Lab!
I really felt like I was re-energized in my way of thinking and the facilitators brought a plethora of knowledge to the table. I appreciated their ability to listen, answer questions, and make the experience fun, interactive and simply enjoyable.
– Valerie Branch, Modern Dancer, Exploring, Creating, and Dancing with our Friends!
The following content first appeared in the December 2013 edition of Uncle Devin's Drum Beat Newsletter:
For four days in November, it was my pleasure to conduct an artist-in-residence program with a first grade class at Germantown Elementary School in Annapolis. The program was my field test that I am required to complete as a student of the Teaching Artist Institute (TAI), developed by Young Audiences, the Arts Education in Maryland Schools Alliance (AEMS), and the Maryland State Arts Council (MSAC).
TAI is a comprehensive professional development program for teaching artists that builds the artists' capacity to contribute to student learning in and through the arts. The program trains teaching artists in the use and understanding of the state curriculum and the Common Core Standards, as well as arts integration strategies to assist the artist in engaging teachers and students.
Through TAI, I was paired with Judith Pirela, a first grade teacher at Germantown Elementary School and, for four days (at least 45 minutes per class), I went into her class to test my residency plan entitled, "The World of Percussion!" After developing my residency plan, I then had to develop four separate lesson plans. My four days of lessons taught children how:
To classify classroom instruments by sight and sound, such as wood blocks, triangles, rhythm sticks, maracas, guiros, jingle bells, sand blocks, cymbals, tambourines, and hand drums;
To compare musical sounds (i.e. fast/slow, loud/quiet, long/short, high/low);
Different cultures created codes to communicate through beats and rhythms; and
To make their own percussion instruments.
It was great working with Ms. Pirela, her students, and all of the staff at Germantown Elementary School. I want to also thank TAI Music Specialist Sue Trainor, who guided me through the entire process and provided me with excellent feedback. The TAI program ends on February 1, 2014 with a Program Evaluation and Reflection event, at which time I hope to become one of the newest graduates of TAI.
Read the rest of Uncle Devin's December enewsletter here. You can learn more about Uncle Devin on Young Audiences' website and at www.theuncledevinshow.com.