Teaching a subject through a new art form feels less daunting after not only seeing a successful idea modeled in a classroom setting, but actually participating in the learning as a student. At Community Arts: Connecting Neighborhoods and Classrooms, the 13th Annual Arts Integration Conference at UMBC, academic teachers were given the opportunity to see and do in a number of classrooms on campus.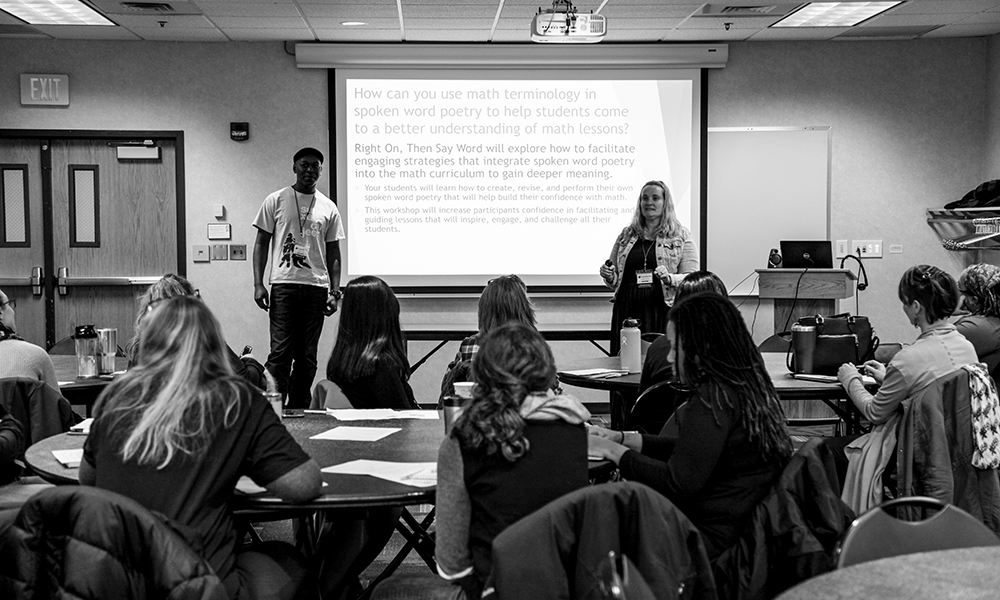 Workshop participants learned, for example, the art storytelling with Laura Wexler of  The Stoop Storytelling Series, how to connect ELA and STEAM with designing and building kinetic sculptures with FutureMakers, and ways to integrate theatre standards with language arts standards.
Participants in one class learned how to teach mathematics through wring poetry. Teachers of grade levels ranging from Pre-K through adult learners convened to learn from North County High School (NCHS) Algebra teacher Ashley Russell and Young Audiences roster artist and spoken word poet Femi the Drifish. Their workshop Right On, Then Say Word: Poetic Mathematics was developed through a lesson they have been successfully co-teaching since the 2017-18 school year.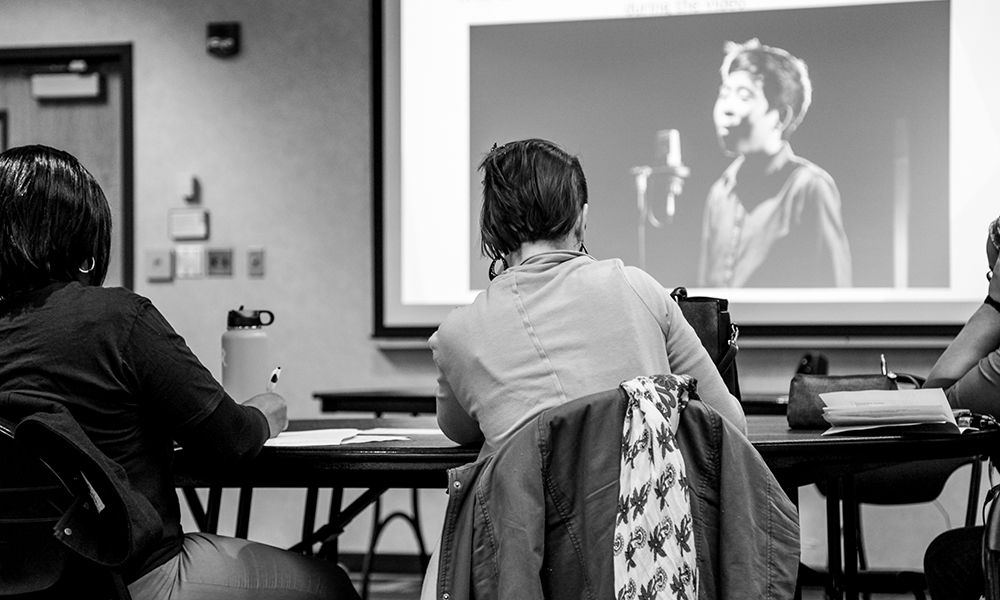 The pair shared their collective experience working with students and showed examples of student work and performances. Femi (his students address him as Mr. Fish) gave the teachers a small taste of his signature style and shared other arts-integrated lessons he's taught over the years, encouraging them to think about the intersection of language and math in word problems and popular mnemonic devices like PEMDAS (Please Excuse My Dear Aunt Sally).
At the end of the hour, the teachers had not only enjoyed their time, they learned to create, revise, and perform their own spoken word poetry using mathematical terms. They felt confident that they could use poetry to teach material in their own classrooms. And their students will most certainly enjoy the challenge, pride, creative thinking, and accomplishment that comes from learning through this art form.
You can read more about their partnership in the classroom and how students learn Algebra through the practice of writing and performing slam poetry here.
In 2017, North County High School Math Department Chair Amy Goodman began working to bring arts integration to all of the school's 9th grade Algebra 1 classes. Thanks to the Arts Empowered Minds Initiative, these students have studied with a variety of professional teaching artists. In addition to Femi the DriFish, Algebra 1 students have worked with TAHIRA, Skher Brown, and Kevin Martin. Since beginning this effort, the school's Algebra I PARCC scores have shown double-digit gains (not to mention, students nurtured their creative sides exploring storytelling, learning to play steel drums, expressing themselves through poetry, and practicing the art of Capoeira Angola).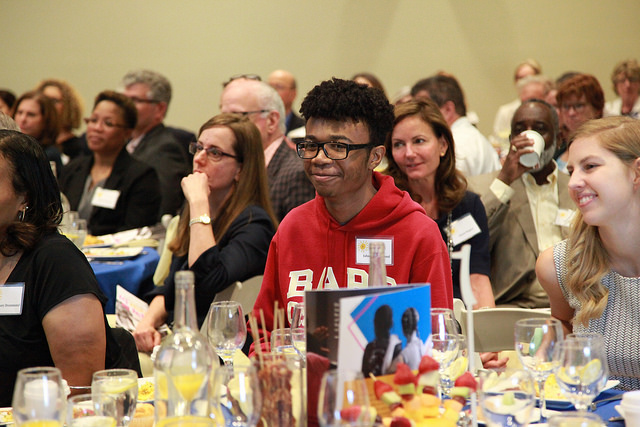 Written by Jahsol Drummond
The 2017 Bloomberg Arts Intern and Filmmaker delivered the following speech at Young Audiences' annual Impact Breakfast earlier this month.
My name is Jahsol Drummond. I am eighteen and currently a senior at Bard High School Early College.  I have attended Baltimore City Public Schools since kindergarten and I have never been a big fan. I was always told I was a good kid but my grades never really reflected that. From early on I was put in a box. Once I got to middle school, classes were separated and labeled 31 through 34. We all knew that groups 31 and 32 were supposed to be for the smart kids and 33 and 34 were for the "dumb" ones. I was in 33, and the stigma of feeling lesser set in, but I was also just glad I wasn't in 34.  
When I didn't get good grades in middle school, I couldn't get into a good high school, and a cycle began. This is the problem. In middle school, a composite score based on the grades you earn determines where you can go to high school. Once kids get behind in their education here in the city, they get derailed and there isn't much help to get you caught up. Luckily, I found Bard High School Early College, a school with college-level expectations that encourages its students to think. Bard gives kids who haven't done well in the current system a second chance and (I think) a better education than any other city school can provide.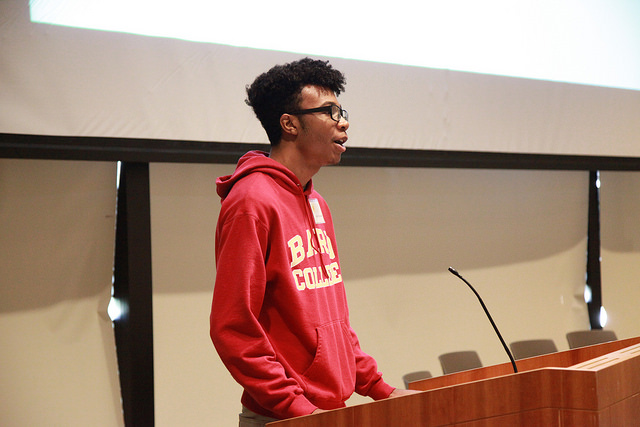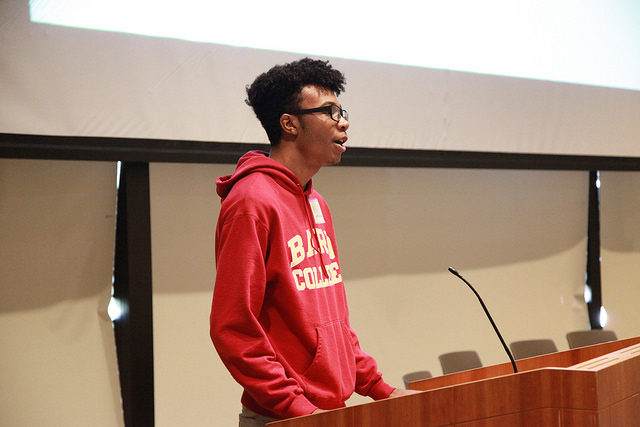 I first learned about the Bloomberg Arts Internship from Bard's guidance counselor. This program, which is managed by Young Audiences, matches students with arts and cultural organizations for a paid internship over the summer. I wanted to be a filmmaker, but I wasn't sure how to go about it.
So, I was excited when I was accepted into the program and Young Audiences matched me with Tim Nohe, who is the Director for the Center for Innovative Research in the Creative Arts (CIRCA) at UMBC and a filmmaker. We clicked instantly. We saw that we had a common interest in using film to communicate perspectives.
On the first day, Tim and I hit the ground running. He taught me how to use the camera, and how to use editing software. My first project was to film interviews with the arts staff at the university. I was involved throughout the entire production process: from researching the artist, to formulating the questions, filming the interviews, and editing the footage. Tim believed in me and over my six weeks at CIRCA, I was exposed to the world of professional filmmaking and working with people to create pieces of work that I cared about. I made something I was proud of and a spark ignited. That first-hand experience helped me get involved in the local industry and I came away feeling like I had earned the title of filmmaker.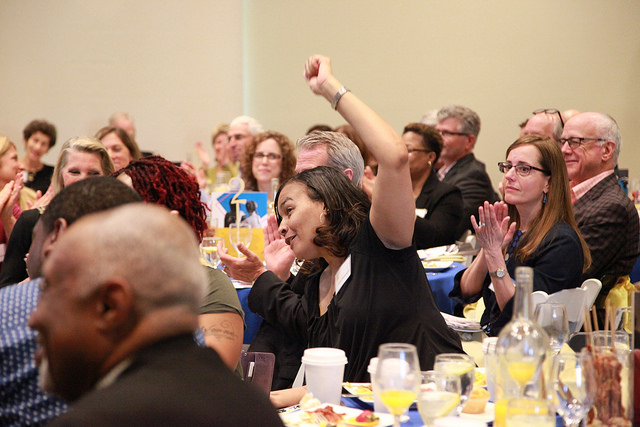 On top of connecting me with a great worksite, Young Audiences helped me and my fellow interns apply to college. We spent time working on our college essays and doing extensive research on the colleges we wanted to attend for the next fall. Today, I'm graduating from Bard with an Associates degree and I will be attending Bard College at Simon's Rock in Massachusetts on a full-ride scholarship and with all of my current credits carried over.
At the end of the summer, Young Audiences required me and the 24 other Bloomberg Interns to present what we learned in a public presentation in front of hundreds of people. I had the opportunity to show what I had learned by producing my own video for my presentation. I was really pleased with how it turned out, and there were leaders in the city's arts and cultural industry who were impressed with my work too.
My dream is to communicate the problems in our educational system through film, and now that I have finished the program, I know that I can do this. I hope my films inspire a spark within others to make a change. I now know enough to trust my spark to guide my work, and Young Audiences hiring me to film all three of YA's summer programs this year means that others believe I have it in me, too. My career has only just begun, and it's already so exciting. Thank you to Young Audiences and Bloomberg for opening this world up to me, and a special thanks to Tim for showing me the way.
Co-authored by Barbara Krebs, a Young Audiences volunteer and Sunburst Society member.
We grow up in the United States hearing that we get what we pay for. Such is the case with investments in the greater good. That's one of the many reasons we're so passionate about teaching in and through the arts. From our country's youngest students to our aging seniors, the entire population benefits in both the short- and long-term from the arts, whether it be emotionally, socially, or intellectually.
Non-profit arts organizations like us work hard to both generate sustainable programming and seek support from private and corporate funders so that we may fulfill our mission to positively impact the greatest number of Maryland children with the highest quality arts-integrated educational programming. Federal funding may only be a piece of our funding picture, but it is an important one.
We are excited and proud that the National Endowment for the Arts awarded Young Audiences of Maryland $90,000– one of only seven total Collective Impact Grants awarded nationwide– for the Arts Empowered Minds Initiative (AEMI) in Northern Anne Arundel County! The Arts Empowered Minds Initiative utilizes arts integration programming to boost achievement, parental involvement, student engagement, and empathy. Programming includes in-school arts integration, out-of-school arts programming, and professional development for teachers. In addition, the program will partner with community organizations to create family engagement opportunities, such as providing family passes to the new Maker Space at Chesapeake Arts Center.
The program is the culmination of the work of many groups and individuals seeking to build a movement for increased equity through the arts in their community. With funding from the NEA in 2016, we built partnerships with Anne Arundel County Public Schools (AACPS), Chesapeake Arts Center (CAC), Arts Education in Maryland Schools Alliance (AEMS), Arts Council of Anne Arundel County, and University of Maryland – Baltimore County (UMBC). Together, we have already provided professional development to over 100 teachers, and delivered high-quality arts-in-education programs to nearly 2,500 students at six schools.
"This second grant from the NEA will allow us to both deepen and expand our reach and maximize existing resources to ultimately bring the impact of arts integration to almost every student in Northern Anne Arundel County," Stacie Sanders Evans, Executive Director of Young Audiences explained. The Arts Empowered Minds Initiative will expand from six schools to all 12 public schools in Northern Anne Arundel County and impact more than 7,000 students in grades pre-k through 12.
To be clear, it's not the NEA's budget that is proposed to be cut; it's the NEA itself that is on the line. It's important to think about this as it impacts local communities and groups. And, should the NEA be eliminated, it will impact our community. When vital, far-reaching, and life-altering programs are at risk, we must speak up. And it's surprisingly simple and quick to let your voice be heard.  Identify your legislators. Email your senator. Call your representative. Write a letter.
Take 2 minutes now to contact your members of Congress and join the #SAVEtheNEA campaign. Involved citizens can and do make a difference.  Please, join us in the fight to keep the arts alive and accessible in our nation, state, and community. We get what we pay for. And, when we invest wisely, what we get is more than we could have ever even hoped for.