Thomas Jefferson Elementary Middle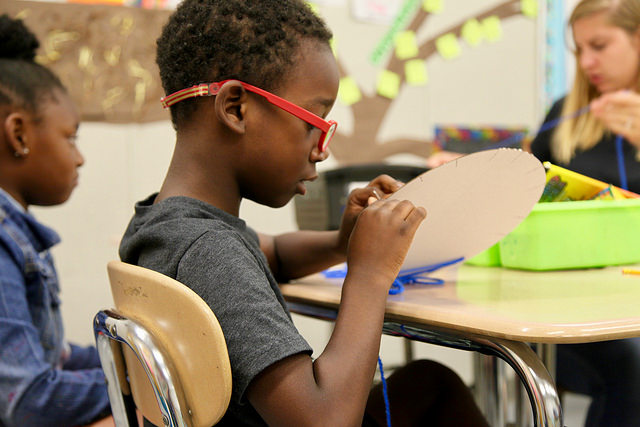 Thomas Jefferson Elementary Middle
    Written by Jaime Clough,
2nd Grade Teacher at Margaret Brent Elementary Middle School and
Summer Arts & Learning Academy Classroom Teacher
"This hit, that ice cold, Michelle Pfeiffer, that white gold." As soon as I heard the music echo into the buzzing auditorium, I knew it was time. Katherine Dilworth, my artist partner, and I put on our old lady gardener hats, fluffed our red feather boas, and strutted through the crowd of children gathered for the first day of Summer Arts & Learning Academy (SALA) at Thomas Jefferson Elementary Middle School. Waving and pointing to our new 1st and 2nd graders, we introduced ourselves as not just teachers, but people. We pulled out our best, but simultaneously horrible moves, and leaned into making ourselves look as silly and approachable as possible. It was fun, it was full of life, and we created it.
This scene, this first real moment of SALA, is a small snapshot of what the entire summer felt like for us as teachers working with Young Audiences. Neither Katherine nor I had ever worked at the Summer Arts and Learning Academy before and we were a bit hesitant about what fully integrating the arts into each lesson would look like, especially in dealing with Common Core math. Coming into this program, I had just completed my third year as a Baltimore City Public School teacher. I was less concerned with management, and more concerned with how to plan arts experiences all day, every day. Katherine has taught many residencies all over Maryland with Young Audiences, so she was more concerned with the management piece than with planning content. Young Audiences did a beautiful job of pairing us together because our strengths complemented each other perfectly and we filled in the gaps for each other seamlessly. Looking back, one of the massive assets of the SALA program is that teachers and artists work together so that the best of both art and content is intertwined beautifully into each students' day.
Another huge asset to SALA is the freedom we had in planning our content to help our students enjoy their experience through art. We had a variety of types of art involved in each day, from movements associated with how a plant grows to full projects like weaving flowers based on patterns to create a "community garden" like in our story City Green.
One of my favorite projects that we planned and implemented was a math lesson that focused on symmetry. Our math skill that day was understanding the value of the equals sign and how to make true number sentences. As a hook strategy to help students understand this concept, we let our class choose magazine photos that we had cut in half. Then, we taught them about symmetry and allowed them to try to create the second half of their picture so that both sides had equal patterns, lines, and shapes. Not only did this art connection engage our students so that they were excited once math started, but it gave them confidence and helped them understand much more clearly what it means for something (like a math equation) to "look equal."
Lessons and experiences like these projects enriched our students' understanding and knowledge in a way that I did not expect. This summer, I was able to clearly see how differently an arts-integrated classroom functions compared to a non-arts-integrated classroom. In an arts-rich class, students are more engaged, they have fun, they are more willing to take risks, and they come to see each other not just as students capable of learning, but as whole people capable of creating incredible things. On that first day of SALA, we were introduced to our students not just as teachers, but as whole people. Because of this, we were able to build more trusting and holistic relationships with them. This experience changed the way that I will teach, always, and I hope that it changed how my students feel about school and learning.
If you are a K-12 certified academic teacher interested in teaching in our 2018 Summer Arts and Learning Academy, email us at [email protected]. Professional artists interested in using their knowledge and expertise to transform the lives and education of City School students should visit Summer Arts Corps to learn about our paid training program. 
Thomas Jefferson Elementary Middle
Written by Barbara Krebs,
Young Audiences volunteer and Sunburst Society member
Seedfolks. Bizz Buzz. These are just a couple of the new things I learned about when I visited the Summer Arts and Learning Academy at Thomas Jefferson Elementary/Middle School in Baltimore.
And learning through the arts is the whole point of this summer academy, now in its third year of operation. Young Audiences/Arts for Learning, in partnership with Baltimore City Public Schools, operates four of these academies at schools throughout the district as part of a system-wide arts-integrated strategy to reduce summer learning loss in literacy and math. Approximately 1,144 kindergartners through fifth graders take advantage of this free, fun-filled educational opportunity. 
My first stop was to meet Site Director Kristin Taylor who manages the program at Thomas Jefferson. As we headed to the first classroom of fifth graders, she enthusiastically filled me in on the size of this particular academy (280 students), its average daily attendance (250 students), and the benefits provided at every site to help parents and kids (after-school care until 6:00 pm and free breakfasts and lunches served every day to each student).
As we walked through the halls, student-created posters, snippets of conversations, and the sounds of music offered glimpses of the learning that was taking place.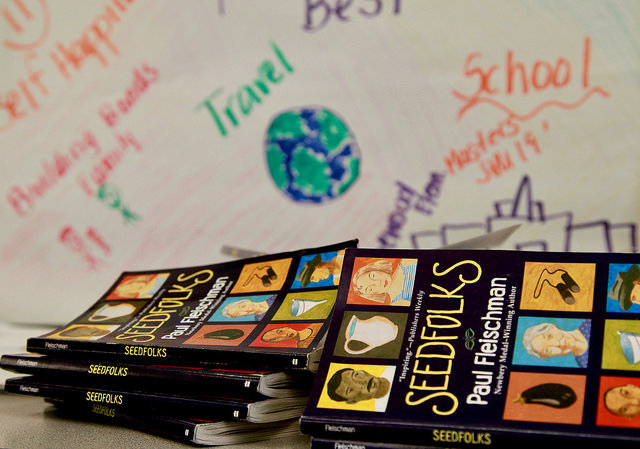 I entered the fifth-grade classroom of Ms. Paige and visual artist Mama Sallah just in time to watch a production of a chapter from Seedfolks, a book that shows how a neighborhood is transformed as people from different cultures interact in a garden. After the first group performed, I got a chance to ask Kenaya, one of the student actresses, about the book.  She explained to me that each chapter of the book focused on a different character. The classroom had been divided into groups, each assigned to act out a different chapter of the book. These groups were to then silently act out what the narrator was reading.  
Kenaya's group focused on Kim, a Vietnamese girl from the first chapter. The story starts with the girl staring at a portrait of her father. While one student narrated, others acted out the parts of Kim, the father's portrait, and even more characters as the action moved into the garden Kim had planted.
I enjoyed watching their attention to the story and how each child handled their role, whether it was bending down to dig in the "dirt" or, like the young man playing the role of the portrait, staring silently into space, giving no indication that he was anything other than a photograph frozen in time. These were serious actors, hard at work.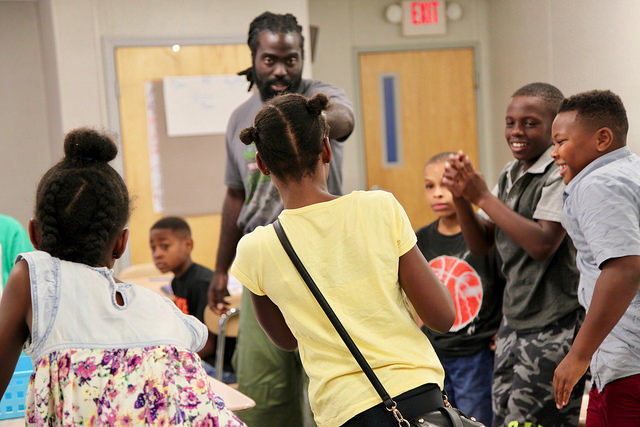 The next classroom was quite a contrast. Ms. Chase and hip hop musician Jamaal "Mr. Root" Collier were teaching math to a mixed classroom of fourth and fifth graders, and I had arrived in time to witness a game of Bizz Buzz. The children formed a large circle in the room, then took turns doing math calculations in their heads, making sure their answer was either a multiple of three or five. Emotional sounds quickly filled the room: Squeals of excitement for the game, celebratory cheers as someone answered correctly, silence filled with tension and pressure as someone struggled to find the right number, and supportive classmates whispering, "You can do it!" and "You got this!"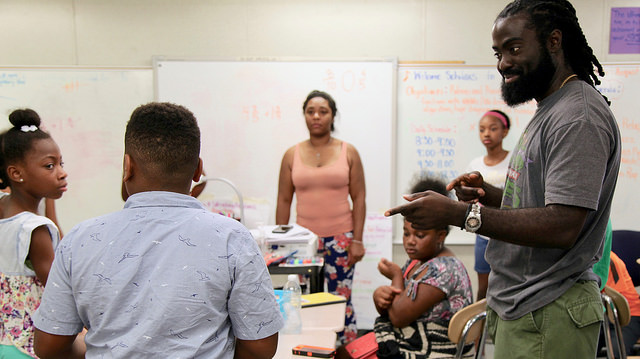 I have to admit I never did quite get the idea of when you yelled, "Buzz!" or "Bizz!" instead of a number, so I guess I'm going to have to admit that I am NOT as smart as a fifth grader. Luckily, they are!
The next classroom was filled with third graders who were also working on math. However this time the class focused on word problems and measurements. Without the drama of Bizz Buzz, this classroom was much quieter with children working at their desks. As I wandered around the room, one outgoing and cheerful girl, Mikhia, came up to me.  I probably looked a little lost because she explained to me what was going on – how they were learning about different cultures.  I asked her if she liked the Academy, and she grinned broadly and nodded her head, yes.  
"What do you like about it?"
"The teachers," she answered without hesitation.
"What do you like about them?"
"They are nice, loving, and helpful.  I'm learning so much this summer!"
The last classroom I visited was composed of first graders.  I noticed a colorful picture on one boy's desk of a volcano with a person going up the side of it and asked him about it.  "Who's that?" I asked, pointing to the person.  
"That's me," Donald answered.
At that point, we were interrupted as it was time to line up for lunch.  But before he left, I got another opportunity to ask him about his work. "Why are you walking up the side of the volcano?" I asked. He seemed a little confused but answered gamely, "I'm not walking, I'm flying."  
"Oh," and now it was my turn to be a little confused.  "You must be very powerful to fly."  
By now the girl in line behind him decided she had to help this poor confused person. Explaining patiently but emphatically, she corrected me. "It's not powerful. It's imagination!" At which point, I learned that their classroom was focusing on stories that dealt with imagination. So, yes, flying makes perfect sense. I'd rather fly over a volcano than walk up it, too!
As the children headed off to lunch, I thought about my first morning at Young Audience's Summer Arts and Learning Academy and all the kindergarten through fifth-grade pros who had guided me through the learning process. I realized I had learned a lot, too.  
For example, I learned that reading and acting out the story is a powerful way to concentrate on both the characters and the narration. I learned that math can be extremely riveting and exciting. I learned that different cultures can guide your math skills. And I learned that I need to let my imagination soar. But most importantly, I learned that combining arts with learning is fun – and effective – and that's why the kids love it.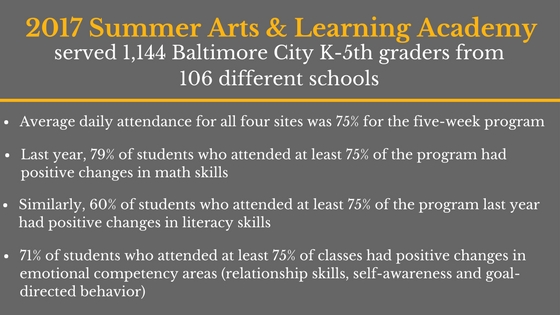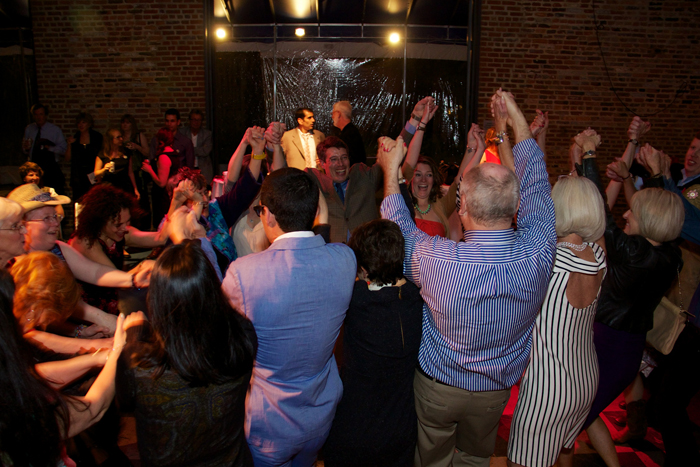 Thomas Jefferson Elementary Middle
Taste the Arts X:
An evening of performance and culinary art!
Friday, May 6 at the Hippodrome Theatre in Baltimore
The lineup for our 10th annual Taste the Arts Fundraising Gala is set! We've put together another fantastic evening featuring award-winning artists and top culinary talent in Baltimore.
The best part? When you buy your ticket, you support Young Audiences' programs and mission to bring high quality, low-cost arts experiences to Maryland schoolchildren! Last year we delivered arts experiences to 183,153 students in Maryland. With your ticket purchase, we can keep it up – and do even more.
At Taste the Arts, we'll transform all three levels of The Hippodrome Theatre into a celebration of the arts through live performances and interactive arts experiences, with food and drink served on all three floors. Here's a taste of what to expect:
Taste delicacies from 25 restaurants:
Absolutely Perfect Catering
Alma Cocina Latina
Argosy Café
Baltimore Waffle Company
Blackwater Distilling
Blue Pit BBQ
Brio Tuscan Grille
Charm City Cakes
Charmington's
Chiapparelli's
Clavel
Gertrude's
Golden West Café
Heavy Seas Alehouse
La Cuchara
Maggie's Farm
Mother's
Teavolve
The Charmery
The Food Market
The Hipp Cafe
The Local Oyster
The Oceanaire
The Scratch Mill Kitchen
Tio Pepe
Wine from Noble Vintners
Beer from Union Craft Brewing
On the menu from Clavel is Cochinita Pibil, a traditional Mexican slow-roasted pork dish, with a side of Hex Ferments special slaw. The tapas-inspired menu from La Cuchara features Charred Broccoli Pintxo and Pickled Mushroom Pintxo. The Local Oyster will be shucking out sustainably farm-raised raw oysters. Maggie's Farm is serving chicken liver pate with fig jam on baguette and Heavy Seas Alehouse brings it home with Smoked Brisket Mac & Cheese. On the sweet side, Baltimore Waffle Co. will serve up Belgian Liege Waffles and Gertrude's presents a twist on a Baltimore classic with its Berger Cookie Cheesecake. Local winery, Noble Vintners, has graciously donated wine, and Union Craft will be on hand, offering their award-winning brews!
Don't miss 9 live performances and interactive art demonstrations, including: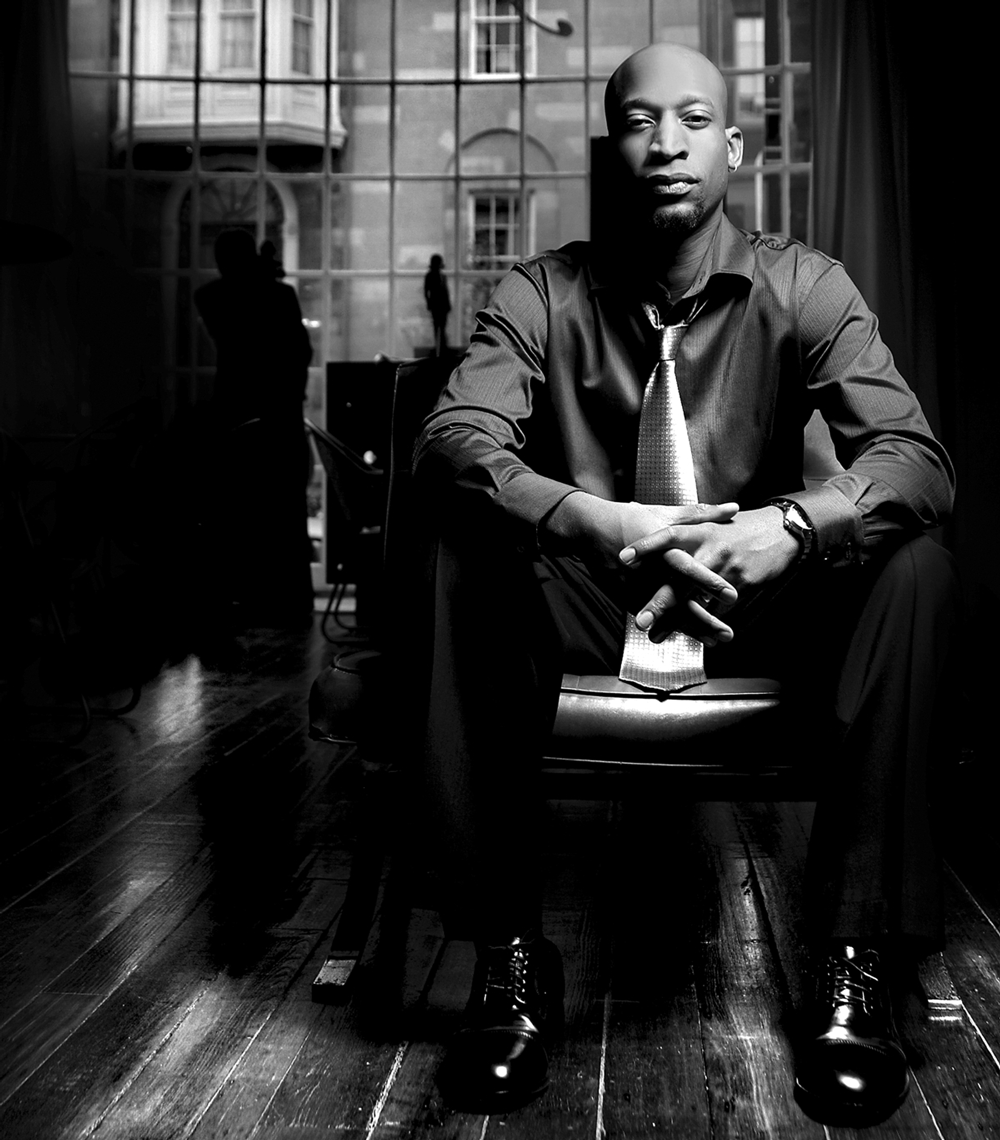 A collaborative music production composed and directed by Wendel Patrick, YA Artist and 2015 Baker Artist Award Winner, and performed by Peabody Institute musicians Jahi Alexander, Blair Skinner, Louna Dekker-Vargas, and Yoshi Horiguchi and YA artists Max Bent, Wendel Patrick, and Jamaal Collier—2016 Artist of the Year.
I don't want to give away TOO much. But at Taste the Arts, I'll be working with an arrangement from one of my favorite hip hop producers." —Wendel Patrick, 2015 Baker Artist Award Winner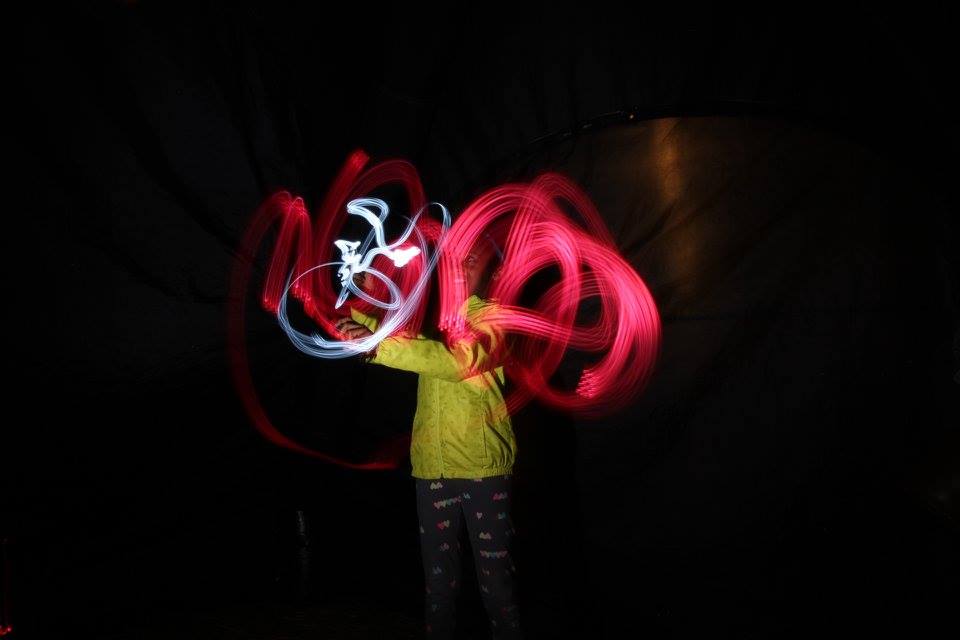 Interactive "light painting" with maker-educators FutureMakers (fresh from Light City!)
Get ready for light painting with LED brushes at Taste the Arts! You'll even be able to email your creation home!" —Matt Barinholtz, FutureMakers

Indian classical dance performance by NRITYA
I have had the opportunity to be a performer at several Taste the Arts over the years, and I am excited to be a part of the 10th Taste the Arts gala," she said. "When my students perform with me at the gala, it is a wonderful experience for them as they get to showcase their talent and culture through their performance to the guests. It is almost as if they are cultural ambassadors." —Lakshmi Swaminathan, NRITYA, as quoted in the article "Tasty fundraiser hits the Hippodrome" on Avenue News.com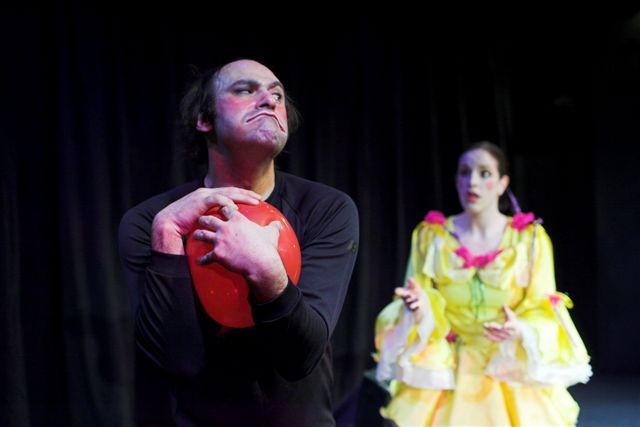 Pantomime theatre from DC's award-winning Synetic Theater
The Magic Balloon is a series of hilarious sketches synthesizing music, ballet, clowning, and audience participation. At Taste the Arts, you'll discover the art of acting without words and open the door to your imagination. 'Balloon' tells a wonderful story of a traveling actor and his magical trunk of tricks and toys." —Tori Bertocci, Synetic Theater
Plus:
Acoustic roots and blues music by Curtis Blues
Screen painting with John Iampieri
Performances by Thomas Jefferson Elementary/Middle School's String Ensemble and Kindergarten ballet dancers
Kevin Martin of Rockcreek Steel Drums performing with students from the Holistic Life Afterschool Program at Robert W. Coleman Elementary School
Taste the Arts also includes a live and silent auction with one-of-a-kind items and experiences and an awards ceremony honoring Maryland's arts-in-education leaders, including 2016 Artist of the Year Jamaal Collier, who has more than a decade of professional experience facilitating Hip Hop workshops and live performances across the state.
"I'm thankful to have an effect on kids' lives and for the effect they have on me. Every human has talent. YA helped me to build skill within that talent. I have become a better artist because of YA." —Jamaal Collier, 2016 Artist of the Year
Tickets are only $100 and ensure high-quality art experiences for Maryland schoolchildren. We're expecting hundreds of artists, educators, and arts supporters in attendance and hope to raise $150,000. Get your tickets now!
—
Can't make it to Taste the Arts?
You can still be part of our fundraising efforts by bidding on some fantastic items in our online auction—happening now through Thursday, May 5. There are still a bunch of great items available with low or no bids, and several new items were just added this week!
Categorized:

News

Tagged:

Baltimore City, Curtis Blues, dance, FutureMakers, Hip Hop, Jamaal Collier, John Iampieri, Kevin Gift, Kevin Martin, Max Bent, Music, NRITYA, Peabody Institute, percussion, Rockcreek Steel Drums, steel drum, Synetic Theater, Taste the Arts, theatre, Thomas Jefferson Elementary Middle, visual art, Wendel Patrick
Thomas Jefferson Elementary Middle

By Dr. Sherrie Norwitz, Instrumental String Music Teacher, Thomas Jefferson Elementary Middle
Art and aesthetics are crucial to the foundation of society. Arts education provides children the opportunity to be exposed to–and develop their own–appreciation of beauty in their world. Art is a way to transmit the values of the society. Through the arts, children learn about their community, helping to provide them with a context for their lives within their communities, and become active participants in helping to create their communities. Arts experiences open doors to children, allowing them to say, "I am touched by this. I am a part of this beauty. I created this. I shared my creation. This has meaning to me."
Sequential education in the arts is a crucial component in a child's education. Learning about and through the arts gives students ownership of skills and knowledge to become active participants in society through creative expression and communication.
It is important to me for students to experience the integration of the arts across the curriculum and the varying natural connections that are inherent between the arts and their core curriculum subjects. This arts integration approach supports the learning of core curriculum subjects, reaches a wide-range of learners, provides authentic real world experiences that directly involve students in the act of creating, provides opportunities for collaboration, and supports the development of 21st Century Skills through the Common Core and Career Ready Standards.
Through our partnerships with Arts Every Day and Young Audiences, our school community is finding its way in creating a comprehensive arts integration program. With the support of our principal, Ms. Henry, we feel that we have a very strong foundation for our program's growth and development.
This year we began by extending the arts-integrated approach to learning beyond the artist-in-residence program which we had previously brought to our students. Working with Young Audiences, we created a Resident Teaching Artist position for the year to allow for the continued presence of a teaching artist within our school. Our Resident Teaching Artist, Young Audiences artist Kwame Opare, performed with his ensemble, DishiBem G.R.O.W. during school-wide assemblies, and provided workshops to fifth- through eighth-grade students. Kwame also provided our teachers professional development in arts integration to help answer their questions, provide guidance, calm apprehensions, and worked with teachers during collaborative teaching days to bring arts integration directly to the students in their classrooms.
Partnering with Young Audiences to provide such a variety of programs throughout the year ensured that we incorporated arts integration best practices and included all of our grade levels–preschool to grade 8–in these art experiences. Being an International Baccalaureate School (IB) also helped support our way forward in the interdisciplinary learning of arts integration.
Arts integration and arts-enhanced learning is happening in many ways in different classes. Among our activities, students have drawn Grecian vases as part of their Ancient Civilizations unit, they have dramatized stories through dance, applied music notation to learning fractions, used music to help understand number columns, made connections between literature and music while dancing "The Nutcracker," and created a paper Freedom Quilt.
We have developed a rhythm of arts integration at Thomas Jefferson. We are working to create an environment where everywhere you look, the arts are happening, where the arts are for everyone at the school and where connections with the arts can be made throughout a student's day. Having a sense of continuity of arts experiences helps create a feeling of expectation of such experiences for both students and teachers. There is a developing sense school-wide that the arts and arts integration "is what we do." We look to have the arts not as "special" but as a continuing presence in our daily school life, where learning can take place through the arts. There is something for everyone–for students in all grades covering a variety of subjects, and for teachers to feel supported with our teaching artists and our partnerships with Arts Every Day and Young Audiences.
Artistic energy invigorates the school environment, developing our professional skills as teachers and invigorating learning for students.
Thomas Jefferson Elementary Middle School is an IB World School, an Arts Every Day School, and a Maryland Green School. Learn more online here.