Written by Barbara Krebs,
Young Audiences volunteer and Sunburst Society member
As a pair of dancers performed, a group of elementary school children sat, crisscross applesauce, watching their every move. Valerie Branch, a dancer and choreographer with Young Audiences had been working with the Belle Grove Elementary students in an artist residency made possible through the Arts Empowered Minds Initiative (AEMI). When the last notes faded away, Valerie asked the children what they had observed.
"They love each other," one child offered.
"They share," another chimed in.
Then she asked the kids to explain what dancing techniques they had witnessed. "Negative space," "weight sharing," and "weight bearing" were some of the answers shouted out.
Next, she gathered a group of her second-grade students to pair off with each other to demonstrate some of those concepts. Once the children had done so, half of the students were instructed to use a frozen pose in a high, medium, or low position. The rest were to react to whatever their partner had created. With the new poses in place, she asked the other children in the assembly to discuss what they saw and how the partners had related to one another.
And, in true arts integration form, this exercise was not just about learning dance terminology and positions, but was tied to lessons at the school. This particular one was used in conjunction with a poetry-writing assignment in which the children described themselves through the creation of "I am" poems. Later, choreography was added to illustrate their autobiographical poetry.
Such was the back-and-forth learning that observers witnessed at the Arts Empowered Minds Announcement Event and Celebration on Friday, March 8. The group of educators, politicians, state and local arts administrators, and volunteers gathered at the school was celebrating a $100,000 grant from the National Endowment for the Arts (NEA), which will be used to expand arts integration and teacher professional development in Northern Anne Arundel County.
This is the third time that the NEA has awarded Young Audiences, the program's managing partner, a grant for AEMI. This collaborative partnership between a wide array of arts and education organizations throughout Anne Arundel County seeks to "address the disparity in arts access–and associated gaps in student achievement–between students in Northern Anne Arundel County and the rest of the county."
Now in its third year, AEMI has already racked up an impressive set of statistics. But even better than the numbers are the inspiring stories that teachers and administrators had to share during the event. Brittany Roger, a teaching artist with a scientific illustration background, spoke of bringing exotic animals (Madagascar hissing cockroaches, iguanas, corn snakes) to the classroom and allowing children to explore the creatures through sight, sound, touch, and smell. Afterward, the students draw and sketch the animals based on their observations.
Amy Goodman, who heads the math department at North County High School, told of her department's initial skepticism about linking arts and math together. But as the teachers learned arts integration techniques and applied them in the classroom, they began to see students who had been turned off or struggling with math begin to make connections that helped them grasp the concepts they needed to learn.
And so, step by step, AEMI partners create opportunities for children to learn through the arts. Step by step, the Initiative changes minds about the importance of integrating the arts with reading, 'riting and 'rithmetic. And, step by step, it makes converts of those who witness how the arts engage young minds and help them stay, not only focused on their education, but truly inspired to learn.
Learn more about the Arts Empowered Minds Initiative, its collective impact partners and the community it serves by visiting artsempoweredminds.org.
Categorized:

Arts Empowered Minds

Tagged:

AACPS, AEMI, Anne Arundel County, Anne Arundel County Public Schools, arts ed, arts education, Arts Empowered Minds, Arts Empowered Minds Initiative, arts integration, Belle Grove Elementary, Brittany Roger, dance, FutureMakers, Matt Barinholtz, Modern Dance, National Endowment for the Arts, NEA, Northern Anne Arundel County, poetry, The Drawing Zoo, Valerie Branch, Valerie Branch Dance Ensemble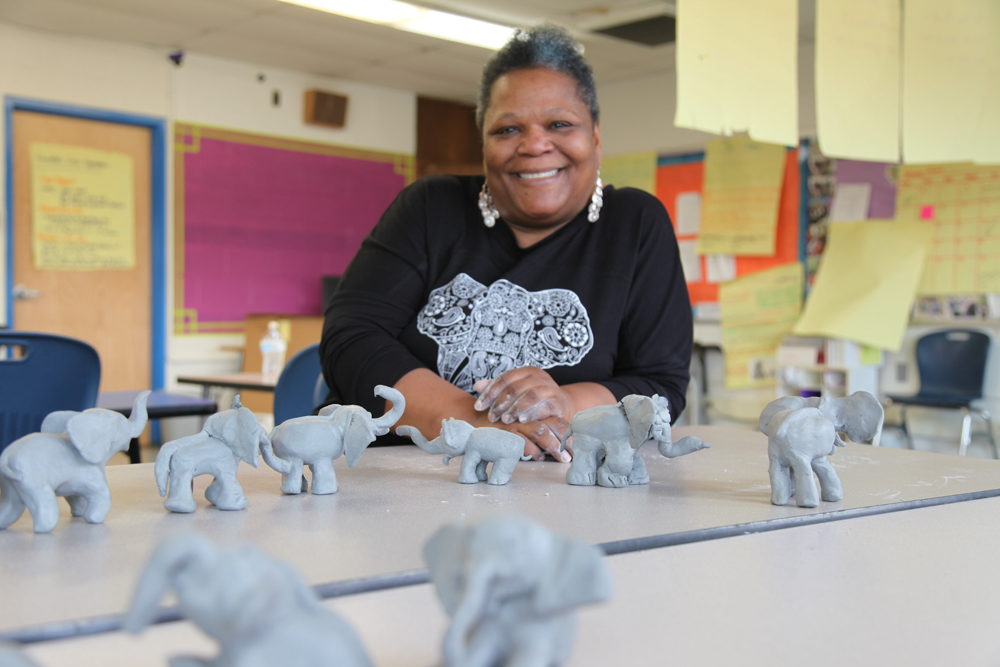 Teaching artists are expertly trained to deliver and coordinate unique, age-appropriate, and high-quality lessons alongside classroom teachers at the Teaching Artist Institute (TAI). The program is a partnership between Young Audiences, the Arts Education in Maryland Schools Alliance (AEMS), and the Maryland State Arts Council (MSAC) that turns professional artists into teaching artists and offers experienced teaching artists new strategies for everything from classroom management to designing artist-in-residence lessons.
"You might find yourself 'shocked' at how much electricity comes from the marriage of art and education!"
The positive effects of arts-integrated curricula in individual classrooms, and on teachers, students, and families are numerous and extraordinary. Teaching core subjects through the arts can increase student engagement and understanding. It can direct a classroom culture toward tolerance and empathy and it can even rejuvenate teachers and bring joy and anticipation to the faculty!

"Through its audacity, its abstractions, its "aliveness," art activates parts of the brain that any teacher or employer should want to turn on," notes Drew Anderson, a veteran school teacher and YA roster artist. "You might find yourself "shocked" at how much electricity comes from the marriage of art and education!"

Teachers, families, and artists of all ages got a small taste of several teaching artists' lessons during an afternoon at Southwest Baltimore Charter School. Participants spent their time exploring new skills and practicing old ones with: Performing artist and YA roster artist, Drew Anderson; Illustrator and new YA roster artist, Maura Dwyer; Illustrator, animal rescuer and new YA roster artist, Brittany Roger; Actor, Michael Hartwell; Actor, Tori Bertocci; Actor, Dave LaSalle; Actor, Cori Daniel; and Ceramicist and new YA roster artist, Mama Sallah.
They sculpted clay, interpreted music through movement and acting, sketched and learned about reptiles with a live chameleon, created collage utilizing different design elements, and learned awesome animal facts through improvisational theatre. One young participant was overheard telling her friend about Cori Daniel's acting workshop, "It was so cool! We told stories with Ms. Cori without actually saying any words!" We can't wait to hear about the wonderful classroom experiences and learning opportunities these teaching artists help to create!

TAI is proud to be helping build a community of artists, teachers, and leaders who are committed to transforming education through the arts. Artists interested in designing lesson plans or teaching artist-in-residence programs should apply to this rigorous and renowned program. There are many things about TAI that make this professional development course unlike any other including mentorship from a designated teacher partner and from a master teaching artist in your art form. Not to mention, graduates of TAI have the opportunity to be considered for both the Maryland State Arts Council Artist in Residence Roster, and the Young Audiences/Arts for Learning Teaching Artist Roster!
For more information about the Teaching Artist Institute including videos, pricing and how to apply, click here. Read what artists are saying about the program on our testimonials page.
Categorized:

News

Tagged:

Arts Education in Maryland Schools Alliance, Brittany Roger, Cori Daniel, Dave LaSalle, Drew Anderson, Mama Sallah, Maryland State Arts Council, Maura Dwyer, Michael Hartwell, professional development, professional development for artists, Southwest Baltimore Charter school, TAI, TAI Seminar, The Drawing Zoo, Tori Bertocci, workshops