Written by Barbara Krebs,
Young Audiences volunteer and Sunburst Society member
Excited. Proud. Love. These are the three words that I heard repeatedly as I attended the unveiling of the mural that sixth-grade students from Brooklyn Park Middle School created. Though these are not words typically linked with a middle school science project, they help illustrate the magic that is produced when you combine science education with an arts-integrated approach to learning.
The collaboration between their science class and a professional teaching artist from Young Audiences, in partnership with Arts Empowered Minds Initiative (AEMI), resulted in a 10-foot science-themed mural, titled "Brooklyn Park Middle Students Research Cells and Viruses." As explained in the program, the mural "illustrates the dynamic, multifaceted interactions occurring thousands of times a day between cells, viruses, and living things."
I wasn't sure what to expect as I entered MedStar Harbor Hospital's Baum Auditorium in South Baltimore, but I immediately felt welcomed as a saxophone quartet from Brooklyn Park Middle played classical music. Their melodies formed a soothing backdrop to the animated conversations between medical personnel, artists, educators, politicians, parents, students, and others who had gathered for the event. A delightful spread of food – chicken satay, veggie trays, fruit and cheese platters, and even cupcakes for the kids – provided by the catering arm of the hospital, Morrison Healthcare, ensured that no one would walk away without all their senses satisfied.
But I digress.  As the reception wound to a close, the formal program began. First up, Stacie Sanders Evans, the President and CEO of Young Audiences. Reaching for a hospital analogy, she spoke of Young Audiences' facilitating role behind the scenes as the "spinal cord" or "backbone" that makes the arts-integrated learning possible in area schools. She described how Young Audiences partners with schools and other organizations like AEMI and the Arts Council of Anne Arundel County (who helped fund this project) to pair core curriculum teachers with professional teaching artists to enhance learning experiences in Maryland classrooms. Rather than rote learning, students explore academic subjects in any number of hands-on, arts-oriented ways.
Next was Dr. Stuart Levine, President and Chief Medical Officer of MedStar Harbor Hospital. He told the young student artists just how meaningful their creation would be to the hospital, saying that it would be proudly displayed in MedStar's Emergency Department lobby. He talked about the VIPs in the room – the sixth graders – who had created this mural. He told them, "When community members come in for care, when they're sick, when they are at their moment of need, they're going to come into a place that has this incredibly hopeful work on the wall that's made with love by the kids of their community."
Then Dr. George Arlotto, Superintendent of Anne Arundel County Public Schools, spoke, stressing, "People who don't even know you love you; people who don't know you are proud of you." This was the legacy that, even as young tweens, they were creating for their community.
Following Dr. Arlotto, the two teachers who guided the kids through the process spoke. Lisa Radike, the Brooklyn Park Middle school science teacher, recalled that this process helped the kids learn more than just the science of cells, it also helped them "learn how to get along, how to work together." Amanda Pellerin is the Young Audiences artist who taught them to mold clay, shape it into the cells and viruses they were studying, and then assemble an entire mural from all the different parts they had imagined and created. As she looked proudly onto the students, she made sure they understood the significance of what they had done. "You now have artwork that is on permanent display– and you're not even out of sixth-grade yet!"
Finally, it was time for the unveiling of the mural. As the students and their teachers surrounded the mural, people leaned forward in their seats, many creeping to the front with cell phones to capture the much-anticipated moment. After a few more remarks from one of the students who reiterated the theme of how creating the artwork had required them to put aside differences and work together, the veil was cast off and everyone could finally see the finished artwork.  
Brightly colored cells wiggled and squirmed their way across the surface. And like a visiting rock star, the mural sat "patiently" as a host of people came up to be photographed with it.
As the event wound down, I finally managed to talk to one of the students, asking simply, "How long did it take all of you to create this?" His answer pulled me out of my adult world of man-hours and Outlook schedules. "About 10 classes."
There it is simply. It's about the classes. It's about what you learn in the classes. It's about how the classes are taught. It's about the knowledge you retain from the classes. And though my own knowledge of sixth-grade biology is but a dim memory, it didn't take a Jonas Salk knowledge of cells to clearly see how wonderful this evening was. That these kids were excited about science. That the folks in attendance were proud of what the middle schoolers had learned and created. And that everyone loved the intersection of science and art.
smARTbeats returns to WTMD this Saturday, February 10 during the weekly children's program Young At Heart! On this month's segment, hostLisa Mathews sits down for a chat with the original "Drumcussionist," Young Audiences teaching artist Uncle Devin. Tune in and you'll hear why The Uncle Devin Show has been called "pure edutainment at its finest."
Devin Walker has been playing percussion for more than 25 years with groups ranging from Fertile Ground to the Great Dizzie Gillespie, and has gained national acclaim as a leader in the children's music industry with his unique musical style, real percussion instruments, and the latest in electronic drums.
"I realized I wasn't just there to perform music, I was there to teach."
In schools, the artist teaches children that percussion instruments are an essential part of history and the human experience. He uses different musical instruments, along with his award-winning book, "The ABC's of Percussion with Music CD," to help students understand how sounds made by percussion instruments were used to communicate. "If we never spoke a word, we could communicate through music," said Devin.
The musician didn't begin his career performing for children, but spending time with the young kids in his life certainly helped to steer him on that course. Devin's niece loved his music so much that she once took recordings of her uncle reciting stories along with music to school so she could share them with her class. The children loved listening to their friend's 'Uncle Devin.' "Soon enough, people began to refer to me with that title and that's how the name came about."
They weren't the only kids that his music and stories stuck with. After performing in a school in Baltimore, he received a phone call from a friend. He suddenly heard his friend's daughter on the line, reciting some of the same concepts he had shared with the school children earlier that day. She had been in the audience! "I thought, she's got it! That was a wonderful moment because I realized I wasn't just there to perform music, I was there to teach."
Young At Heart airs weekly from 7 to 8 am on Saturdays, featuring music that appeals to parents and children alike. Previous shows have featured music by Wilco, David Bowie, Andrew & Polly, Weezer, and others.
Listen to Uncle Devin online now!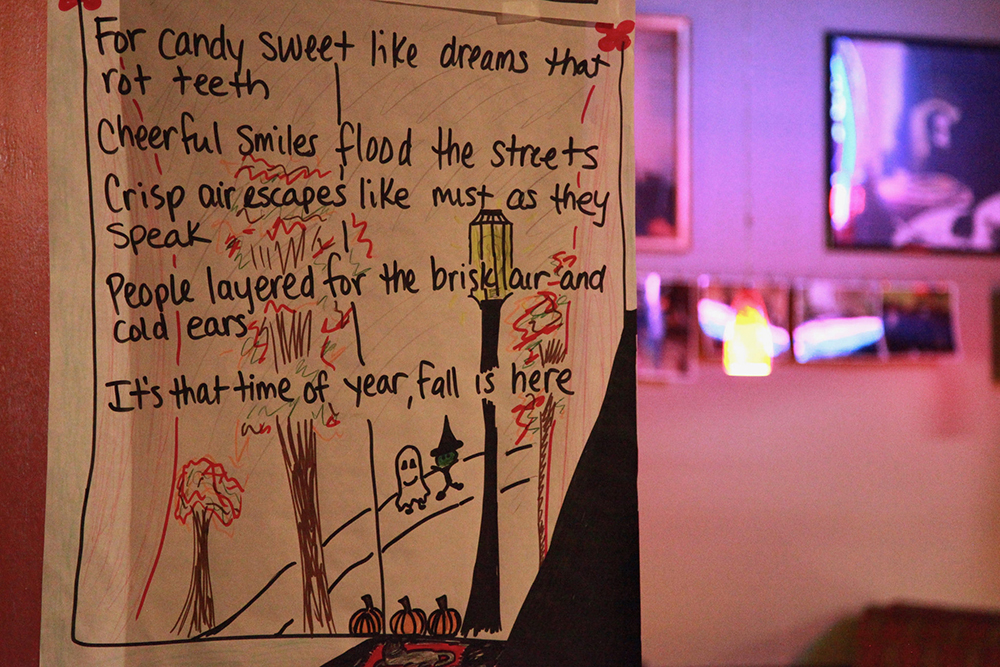 Written by Barbara Krebs,
Young Audiences volunteer and Sunburst Society member
On Friday, November 17, Young Audiences hosted its second annual Art Crawl at City Neighbors High School, an arts-integrated public charter school in Baltimore City. Approximately 75 attendees filled the school's stylish café, mingling among lush booths, comfy couches, ambient lighting, and in the glow of neon signs. As the group noshed on delicious hors-d'oeuvres and drinks provided by Flavor, Union, and Noble Vintners, Young Audiences President & CEO Stacie Sanders Evans welcomed the crowd, "Every person in this room played a role in closing the inspiration gap this summer." The inspiration gap, she explained, is the difference between what we know the best conditions are for learning and what kids actually get these days in school. "Thanks to you, we reached 825 MORE young people last summer and expanded our summer programs to include middle and high school students."
She presented a short video highlighting Young Audiences' Summer Arts & Learning Academy, talked about the impact on the students that it serves, and shared the organization's plans for the future. This year, Young Audiences brought their Summer Arts & Learning Academy to four Baltimore-area schools, serving more than 1,100 students over a 5-week period.  Next year, the goal is to double this achievement by expanding to eight academies with an enrollment of 2,200 students.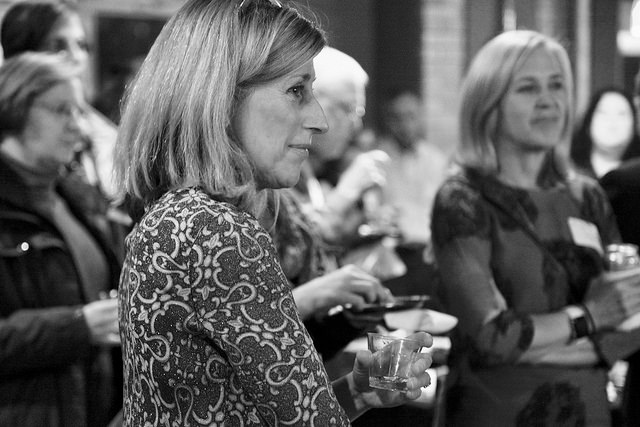 You couldn't help but feel proud of what Young Audiences has accomplished in stemming summer learning loss. With the help of dedicated artists and academic teachers, children who regularly attended the Academy not only avoided summer learning loss in reading and math, but in many cases made significant gains over their national peers in standardized testing. The findings showed potentially groundbreaking progress in tackling summer learning loss, a chronic challenge facing public schools.
That sense of pride was especially felt among the attendees who, either through corporate or private donorship, provided funding to bridge the gap between the City School system's budget and the actual cost of the Academy. I had been fortunate enough to observe one Summer Arts & Learning Academy over the summer and was delighted by how many guests shared their own stories of Academy site visits. And on this evening, we had the pleasure of experiencing the Academy not just as observers, but from the perspective of students.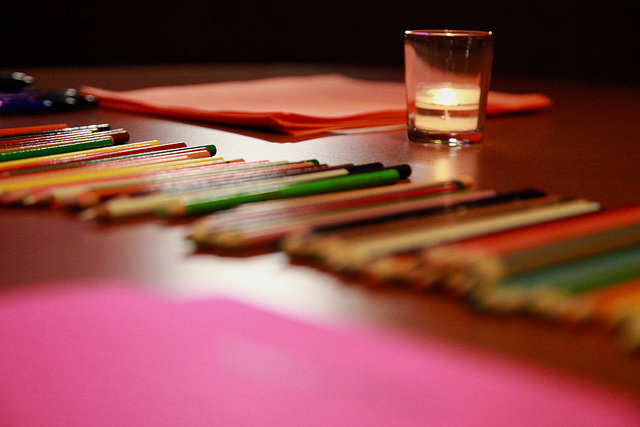 We were divided into groups before departing on our journey to experience learning with Young Audiences. At three arts-integrated learning stations set up throughout the school, artist-teacher partners invited attendees to step into the shoes of students and learn academic content through the use of various art forms. Of course, since it was an art crawl for adults, there were cocktails to enjoy as well!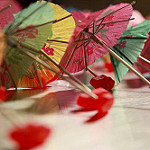 One Fish, Two Fish, Red Fish, Blue Fish
Lemonade, vodka, and Blue Curaçao garnished with a Swedish fish
Concocted by Board Chairman and Sunburst Society Member Randy Osteen and Stephanie Felix
We took our seats in the library where paper, markers, glue sticks and googly eyes had been set out on tables. Fiber artist Kathrine Dilworth and her teacher-partner, Jaime Clough, explained they had worked with first graders in the Summer Arts & Learning Academy to reinforce math skills.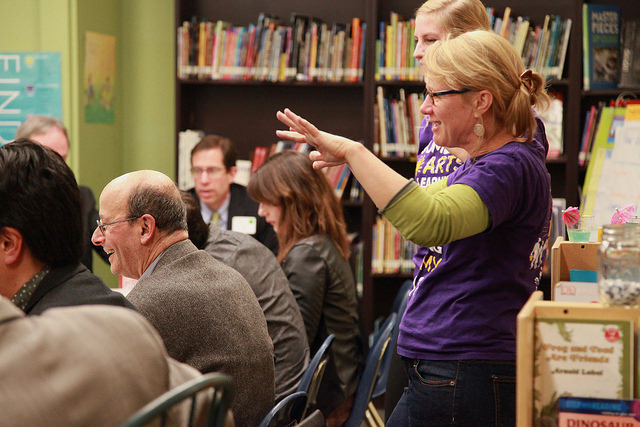 We were instructed to draw a monster, name it, and then partner with someone to create a mathematical word problem, as this is a difficult skill for six-year-olds.  So after Pink Plush (my furry pink monster) was completed, the gentleman across the table handed me his monster, Curley, and I wrote the following, "If you subtract Curley's eyes (3) from Pink Plush's (4), you are left with one eye."  The teacher smiled and encouraged me with a cheery, "Perfect!" I can picture her having done that many times this summer.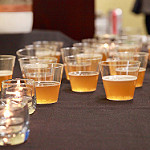 S.T.E.A.M.
Belgian-style amber ale and Grand Marnier
Concocted by Board Secretary and Sunburst Society Member Tea and Kevin Carnell
You've heard of STEM, haven't you – Science, Technology, Engineering, and Math?  Well, when you add the Arts, you get STEAM!  In the music room, after grabbing our next cocktail, we met percussionist Jason Armstrong Baker who taught us the basics of beatboxing.  After demonstrating how to get Siri, Apple's virtual assistant, to beatbox for you – one incredulous person asked, "Seriously?" to which another wit deadpanned, "No, Siri!" (you gotta love this crowd) – we went through a couple of patterns to master the skill.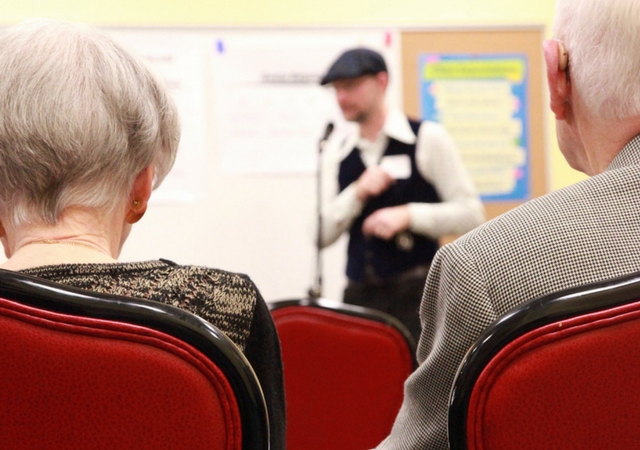 Convinced we were ready (really?), he turned the floor over to classroom teacher Shana Smith who had assisted third graders with their multiplication tables.  After picking a card (the 5 of hearts), which was our factor (in this case, rhythm size), and after a roll of the die (3), which determined our group size (in this case, the number of times the rhythm was repeated), we had our multiplication problem, 5 x 3.  Thus prepared, we broke into a stuttering chorus of BttKt, BttKt, BttKt – our answer, 15!
Poetic License
Dark Rum, lime, bitters, mint, and a splash of Prosecco
Concocted byVice Chairman of the Board and Sunburst Society Member Alan Hoff and Trisha Frick
Moving back into the room in which we had begun the evening, we grabbed our cocktail and gathered around tables as Femi the DriFish, a slam poet, and his teacher-partner, Erin Inouye, explained how they used the book Seedfolks as a basis for their lessons.
Using the example of "Through My Window," we were asked to write our own poems to illustrate what we see through our window. Just as the pair had done with the fourth and fifth graders they led this summer, they offered several ways to accomplish this. A green sheet provided partial sentences with blanks left for the author to fill (think Mad Libs). Some participants were handed blank pink sheets of paper on which to pen a poem from scratch (a few brave souls chose this). For those feeling intimidated by the written word, colored markers and a blank white sheet were provided on which we could draw our window scenes.
After completing our poems, we were invited into a circle to share them. And folks from each group (pink, green and white) did so. Particularly sweet was a gentleman who drew his poem, explaining that the trees were still green, not because they hadn't changed colors yet, but because he left for work before the sun rose and got home after it set.  So the last time he saw his trees, they were still leafy and green – a detail he might have felt hesitant to explain in writing, but that came flowing from him through his artwork!
At the end of the evening the groups reunited for a few more snacks and conversation. And what struck me as I talked with these people was their shared passion for both the arts and education. One woman, Sharon Button, had actually been the Executive Director of a Young Audiences affiliate in Buffalo, NY in the 1970s. At the time she was a workforce of only one, but toiled tirelessly to secure funding for arts-integrated programs long before the term was in fashion.
Another gentleman who had worked with Young Audiences affiliates in other states had this to say, "Young Audiences in Maryland is one of the most highly respected groups, both in this city and among its peers."
I can believe it.  The energy, passion, creativity, imagination, and sheer fun that Young Audiences exhibits makes me very proud to be associated with it. I have been fortunate to meet teachers and artists who blend academic subjects and art to reach school children. And I have been doubly blessed by being able to contribute monetarily to this amazing organization as a Sunburst Society member.
If you believe, as Young Audiences does, that the arts transform lives, and that every student should have the opportunity to imagine, create, and realize their full potential through the arts, then I urge you to join us in supporting this amazing organization. And then next year, join us at the Art Crawl and discover the magic that happens when arts, education, and handcrafted cocktails are combined.
Find more photos from Young Audiences' 2nd annual Art Crawl can be found on our Flickr page. 
Categorized:

News

Tagged:

art crawl, arts integration, arts-in-education, Baltimore City, Baltimore City Public Schools, creative learning, Femi the Drifish, Jason Baker, Katherine Dilworth, Maryland, Music, STEAM, Summer Arts Academy, Summer Arts and Learning Academy, summer learning, summer learning loss, summer learning slide, teaching artists
smartbeats is back this Saturday, November 4, during the weekly children's music program Young At Heart on WTMD. On this month's smARTbeats segment, Young At Heart host Lisa Mathews sits down for a chat with professional spoken word artist, slam poet, highly-animated and engaging frontman, and YA teaching artist Femi the Drifish.
Best known as one half of the spoken word/Hip Hop-influenced duo, THE 5th L, Femi uses his artistry to encourage listeners to discover their own unique voices and identities. The Drifish also partners with University of Maryland's Violence Prevention Program, using his words to address matters such as violence and bullying in our communities. He extends this experience, his skillful construction and delivery of words as art, along with compassion, patience, and high expectations to the classroom.
Femi the Drifish worked with our middle school students in Language Arts," said Christa Huber, the Arts Integration Coach at Patterson Park Public Charter School. "A great thing about that residency was the response we received from students who typically are not comfortable with performing in front of people. By their culminating performance, those students, in particular, were the ones to stand up and share their poetry with strength.
The artist teaches children to confidently use body language coupled with creative writing to convey emotions, communicate, and connect with others. He works with students to identify the similarities and differences between poetry, Hip Hop, and spoken word–or slam–poetry, then encourages them to try writing their own original poetry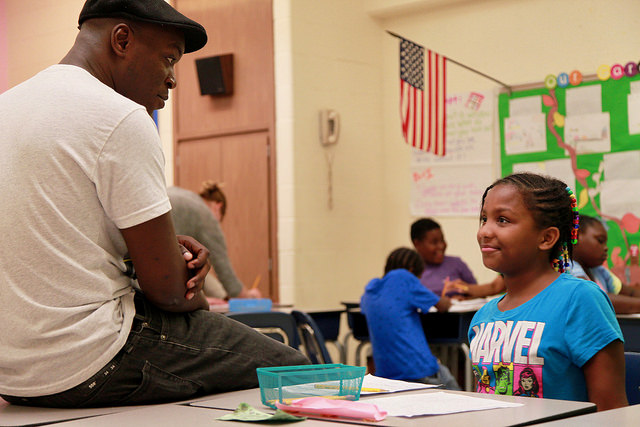 Ken'Niya, a former Summer Arts & Learning Academy student declared "Mr. Fish" to be her favorite teacher from the program in summer 2015. "He helped me a lot through my writing by giving me examples and showing me his awesome poems. The most challenging and rewarding thing I did in the Academy was my poem I am Baltimore," said the student. "It was emotional because of what was going on my city. I wanted to quit and switch classes but I realized I was the oldest in the class and the younger kids were having the same problem. So I told myself if you quit, they will too. So I pushed myself and everyone else, and made sure we were organized and ready to perform."
This is the kind of guidance that makes Femi the Drifish shine. Whether students are processing their feelings after an emotional event, confronting their worries or disagreements with friends, or looking forward to a world of firsts: first high school, first love, first dance, first goal, one thing is certain, when Mr. Fish is in the classroom, students will find the courage to share their voices and be heard.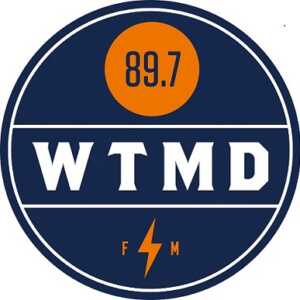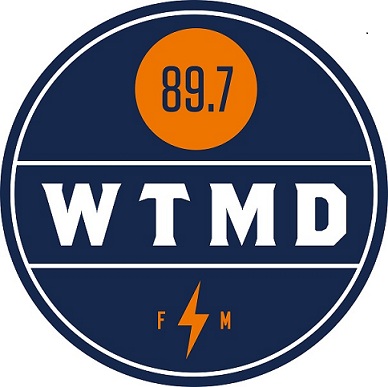 Young At Heart airs weekly from 7 to 8 am on Saturdays, featuring music that appeals to parents and children alike. Previous shows have featured music by Wilco, David Bowie, Andrew & Polly, Weezer, and others.
Hear YA teaching artist and musician Femi the Drifish online now!
smARTbeats returns to WTMD Saturday, October 14, during the weekly children's music program Young At Heart. On this month's smARTbeats segment, Young At Heart host Lisa Mathews sits down for a chat with beatboxer and YA teaching artist Max Bent. Performing for adults and the Pre-K set alike, the artist treats his audiences to a mix of original songs, fun covers, and interactive rhythmic games sure to get you up and moving.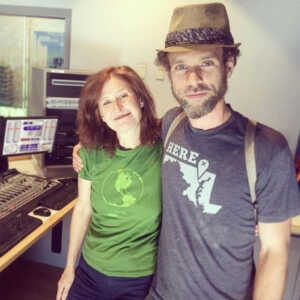 Max started beatboxing at the age of eight, imitating with his mouth what he heard on the radio. Since then, Max's love for the beat has taken him on many exciting journeys and a never-ending search for sounds that surprise him. His experience as a teacher has helped him transition into his work as a teaching artist.
During the segment, you'll hear how the artist, who is also half of the family-friendly beatboxing duo Baby Beats, challenges students and teachers alike to learn by making music. A former science teacher, Max is able to combine his artistic talent with his educational background to make strong connections to specific units and standards in the curriculum with irresistible enthusiasm and energy.
He works not only with kids, but with educators, leading professional development classes to show teachers how music, and, more specifically, beatboxing can be used as a tool to teach fractions and challenging them to think outside the box in their own lesson planning.
Give it a try and see: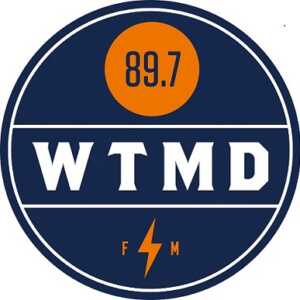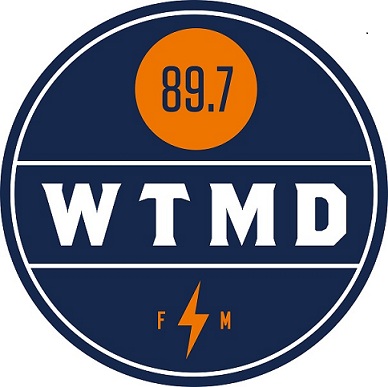 Young At Heart airs weekly from 7 to 8 am on Saturdays, featuring music that appeals to parents and children alike. Previous shows have featured music by Wilco, David Bowie, Andrew & Polly, Weezer, and others.
Hear YA teaching artist and beatboxer Max Bent online now!
smARTbeats returns to WTMD Saturday, September 9, during the weekly children's music program Young At Heart. On this month's smARTbeats segment, Young At Heart host Lisa Mathews sits down for a chat with artist, songwriter, musician, and YA teaching artist Alden Phelps. A graduate of Maryland Institute College of Art (MICA), Alden co-founded Open Space Arts Center in 1989 and has written and performed countless stage plays, musicals, and puppet productions. Listen in and discover what many Maryland children already know: When Alden Phelps is in the building, there will soon be laughter roaring and silly songs echoing through the halls!
The artist is known for bringing far-fetched and funny scenarios to life through his songs, unexpected rhythms, and lively, interactive performances. He also has kids write songs to the tunes of popular music they already know and love. "Teaching musical parodies is a great way for students to learn because it's an opportunity to share their knowledge in a creative way," Alden explained. "Students synthesize their knowledge of specific subjects with poetry in a song. There are several layers of learning going on, including using their knowledge of the curriculum, organizing ideas, and employing multiple Language Arts skills."
Alden arms his students with the knowledge of the basic elements to songwriting and composing along with rhyming dictionaries and sets them to work. "The writing process is always satisfying to me because I get to witness students discover a whole new world of words they may not have even realized existed," the artist said.
"I often came across students who struggled to find rhyming options with difficult words. But then, just like that, a kid would blurt out the perfect lyric that would fit. A line would just tumble out of their mouth and I'd shout "Yes! That's it!" In response, they would light up with excitement knowing that they had the answer within them all along, they just had to let it out."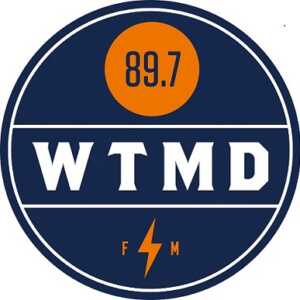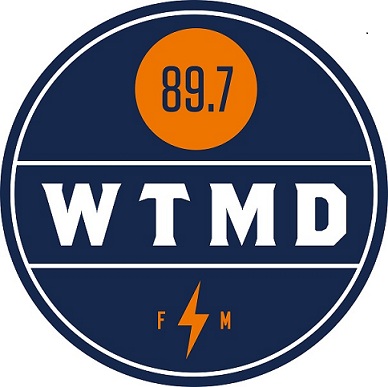 Young At Heart airs weekly from 7 to 8 am on Saturdays, featuring music that appeals to parents and children alike. Previous shows have featured music by Wilco, David Bowie, Andrew & Polly, Weezer, and others.
Hear YA teaching artist and musician Alden Phelps online now!
On this month's smARTbeats segment, Young At Heart host Lisa Mathews sits down with jazz vocalist, songwriter, and YA teaching artist Renée Georges. You'll hear about the artist's experience as a Raelette traveling the globe with Ray Charles and His Orchestra, as well as her work in schools where she shares her powerful voice and perspective with Maryland's children, and guides them on a journey through the history of Jazz.
Renèe's love of Jazz and interest in learning through music developed into a small family collaboration known as Kidz MusiQ Club. She had begun writing educational songs after her son was born to help kids have fun with essential concepts, such as reading, listening, and retention skills. The program she and her family created introduces kids to acoustic music and furthers an appreciation for jazz, all while learning about cool things like making healthy food choices and counting in Spanish. Renèe said, "When I was young, I used music methods, like making up songs about content, to help me study and remember things. Music is a great tool for retention. It improved my confidence and helped me become a better student."
"The arts are a great way to cultivate excellence, for the beauty that is found through the arts, translates into life."

In classrooms, Renée Georges unfolds the many facets of the music industry, presenting the field as a career option when it might not have been considered before. "For me, music was my path out of poverty. It also became a pathway for me to see the world since I was fortunate to sing and tour for six years with the late Ray Charles," the artist explained. "Now more than ever, students have broader opportunities to forge careers as entertainers, arts educators, or even in sound engineering and physics." Talking with Renée, kids realize that there are many paths related to music and the arts that are available to them.
She routinely advises students to be vigilant about copyrighting the work they create and to recognize that their work has value- a principle, she says, that would provide Ray Charles with a lucrative career for more than 50 years. "I first learned the value of copyrighting from my mother, who is also a singer/songwriter. She taught me the importance of protecting your work. My mother struggled as a single parent, but ownership fosters independence and can serve as a means to creating wealth. I like to help kids see that a little planning now can go a long way in setting up a career in the arts."
During a question and answer period after her assembly at the Mann Residential School earlier this year, Renèe told students that music was her way to deal with hardship and adversity. "Along with learning to play the piano, reading books, and reading and writing poetry, the arts provided a way to cope with challenges like poverty, discrimination, and tragedy." Moreover, she said, "The arts are a great way to cultivate excellence, for the beauty that is found through the arts, translates into life."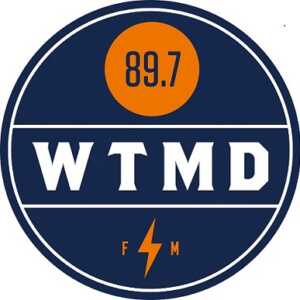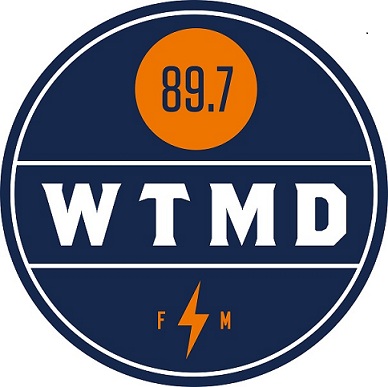 Young At Heart airs weekly from 7 to 8 am on Saturdays, featuring music that appeals to parents and children alike. Previous shows have featured music by Wilco, David Bowie, Andrew & Polly, Weezer, and others.
Hear YA teaching artist and vocalist Renèe Georges online now!
Categorized:

News, smARTbeats on WTMD

Tagged:

Jazz, Lisa Mathews, Maryland, Maryland Public Schools, Music, radio, Renee Georges, smARTbeats, teaching artists, WTMD
smARTbeats returns to WTMD this Saturday, July 8, during the weekly children's music program Young At Heart. On this month's smARTbeats segment, Young At Heart host Lisa Mathews sits down for a chat with Bomani. A seasoned performer, teaching artist, Director of Poetry Events for the Busboys and Poets restaurants, CBS Radio personality, and head audio-engineer for Urban-Intalek Studios, Bomani describes himself as a poet with a Hip Hop style.
During the segment, you'll get a taste of Baba Bomani's Hip Hop poetry as well as hear about his experience in the classroom. The artist teaches creative writing and prose through the exciting world of Hip Hop songwriting. By first creating a fearless, supportive and collaborative environment, he instructs children to use elements of creative writing including simile, metaphor, and rhyme to structure a song written in the pattern of a well-written essay. "Young people need to have freedom to develop an idea out loud without self-doubt and to not fear right or wrong answers," Bomani says.
"At the beginning of a residency, there are three writing rules I give students: Artists don't make mistakes, they make discoveries; Do not edit in your head; The only wrong answer is a blank answer."
"One of the reasons I love group creative-writing sessions is because the conversations that go on in a group setting are the same internal conversations that go on in a writer's head. Showing that process to young people in a physical way, where they are acting out how ideas are communicated — 'what about this idea, what about that idea, we should take this back, we should add that in there!' — helps them to better understand complicated topics."
Young At Heart airs weekly from 7 to 8 am on Saturdays, featuring music that appeals to parents and children alike. Previous shows have featured music by Wilco, David Bowie, Andrew & Polly, Weezer, and others.
Hear YA teaching artist and composer Bomani online now!
We all know that artists can change the world. The Summer Arts & Learning Academy is proof of that. The Teaching Artist Institute (TAI) helps give artists the tools they need to do it.
"Participating in TAI allowed me to look past what was most commonly done, embrace my artistic instincts, and focus on what really matters," said Maura Dwyer, one of the Teaching Artist Institute's newest graduates. "Instead of teaching students how to paint, I am teaching them how to think visually."
During the course of the programs, artists worked with classroom teachers to design arts-integrated and Common Core-aligned fine arts programs for schools. Each TAI team designs and implements an artist-in-residence program in which teachers gain arts skills and artists gain valuable teaching skills. Topics such as classroom management strategies, designing, writing, and teaching artist-in-residence lessons, and educator needs are covered, as well as opportunities for field testing and feedback.
Congratulations to the following artists and teacher partners who completed the TAI seminars in May 2017!
Next summer we are going to need even more qualified teaching artists to work at our academy. Apply to the Teaching Artist Institute by Friday June 9 to be trained and considered for summer 2018! New artists who successfully complete TAI, graduate from the program, and meet additional requirements, will not only be hired for our summer program, their tuition will be reimbursed!
At Young Audiences, we are transforming the lives and education of young people through the arts by connecting educators, professional artists, and communities. Our roster artists use music, dance, visual arts, and theater to bring classroom lessons to life and empower students to think creatively and engage in the learning of all subjects in different ways. All of this contributes to joyful, creative, and impactful learning experiences in schools. Together, we are sparking imagination, energizing classrooms and giving children the tools they need to build, collaborate and thrive.
We are thrilled to announce a new partnership with WTMD to feature YA teaching artists on their new radio show Young At Heart, airing Saturday mornings! Beginning May 6, host Lisa Mathews—YA teaching artist and lead singer of Grammy-nominated children's band Milkshake—will chat with YA roster musicians on a monthly segment called smARTbeats. Listeners will learn about the artists' work, arts integration, and how the arts can reach students in the classroom.
"For me, songwriting with young people is STILL an exuberant experience – focused and playful, challenging and collaborative – and deeply satisfying for me."
The series will begin with YA teaching artist and musician Sue Trainor. In the classroom, Sue teaches students to use songwriting as a tool to remember content. In the studio, her compositions are playful and fun – the kind of tunes that you can't help but smile when you hear, with the kind of lyrics you won't forget. "As a young person, I was captivated by the songwriting process. Musical jams with other kids were exuberant experiences," Sue says, "For me, songwriting with young people is STILL an exuberant experience – focused and playful, challenging and collaborative – and deeply satisfying for me."
"I'd like to think we're at our best when we're young at heart — when we have a youthful outlook on life no matter what our age," host Lisa Mathews told WTMD. "I still like to ride the roller coaster, jump in rain puddles and eat toasted marshmallows. So listening to songs about taking a trip into space or the wonders of rainbows or eating lots of grapes rocks my world, and I hope it makes listeners smile while they start their day together."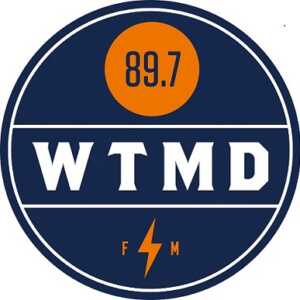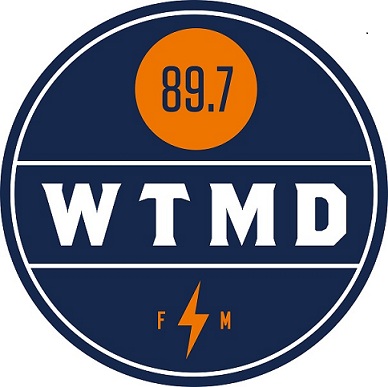 Young At Heart airs weekly from 7 to 8 am on Saturdays, featuring music that appeals to parents and children alike. Previous shows have featured music by Wilco, David Bowie, Andrew & Polly, Weezer, and others.
Hear YA teaching artist and songwriter Sue Trainor online now!
Categorized:

News, smARTbeats on WTMD

Tagged:

arts integration, Lisa Mathews, Milkshake, Music, radio, smARTbeats, songwriting, Sue Trainor, teaching artists, WTMD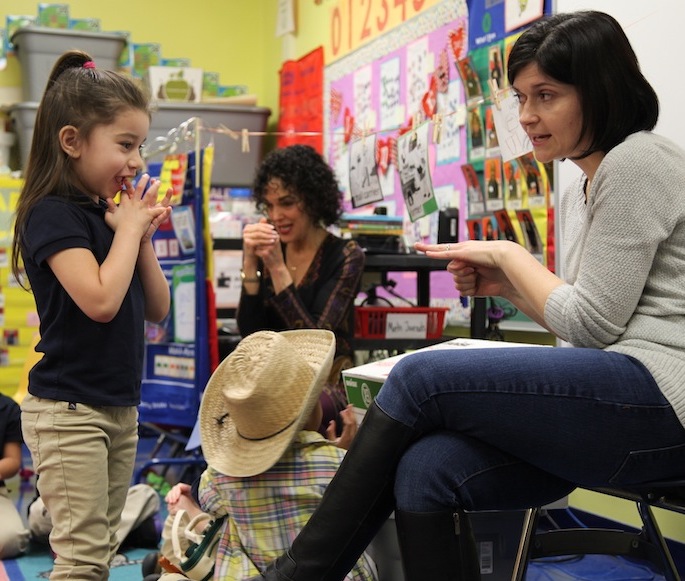 Unique and innovative arts-based strategies are captivating young audiences in Maryland classrooms. At Margaret Brent Elementary/Middle School in Baltimore City, the very youngest students are excited to connect to literature with actress and master teaching artist Katherine Lyons through movement and theater as part of a Maryland Wolf Trap residency.
Katherine creates what she describes as "hands-on, multi-sensory story experiences" by having children actively participate in the telling of the story. Physical motions are assigned to important objects and costumes help illustrate characters. To prepare for Katherine's arrival on this day, Pre-K teacher Mrs. Lee asked her students to draw what they think will happen in the story. They hung one prediction on a clothesline.
Now, at the front of the room, between Katherine and Mrs. Lee sits a 'story box' filled with clues describing the characters in the story. One by one, a student pulls from the box a tool or an article of clothing, then the class takes turns guessing who the clues belong to.
As each character is identified, one student hangs a picture representing the character on the clothesline and another student becomes the character. The students use each of their senses to connect to the story, made ever more lively through the introduction of gestures, chants, and props. "Costumes help bring the story to life," Mrs. Lee said. "The class is more interested and invested in story time when they get to use props and act it out."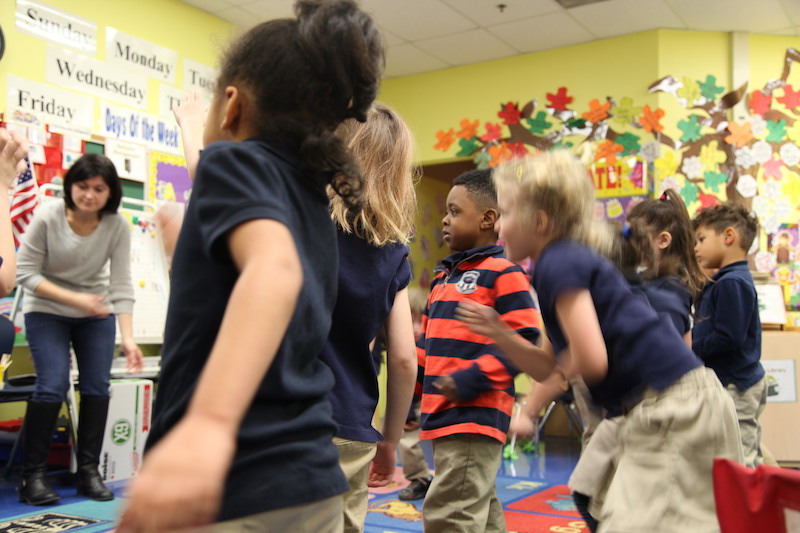 Once story time is completed, Katherine and Mrs. Lee begin planning lessons that they will co-teach. Every Wolf Trap program includes embedded professional development to build teachers' skills and confidence in arts integration techniques. Teaching artists work with classroom teachers to learn effective ways to engage students in participatory activities that involve all the senses and encourage critical thinking, creativity, communication, and collaboration. This ensures that the arts remain a strong part of the classroom teachers' lessons long after the residency ends.
Mrs. Lee plans to continue to use these new strategies during an instruction block that includes literacy, social studies and science, but she's excited to try them out in other areas of the curriculum as well. "I may use the story box with some counting stories and to help illustrate word problems in math!"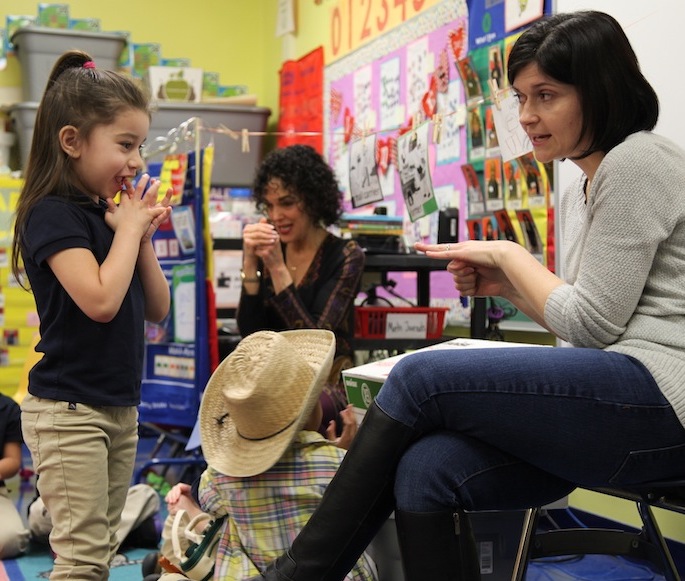 Eighty-five percent of brain development occurs during the first five years of a child's life. Participation in the arts encourages positive growth in a child's emotional, physical, intellectual, creative, and social development. As the Maryland affiliate of the Wolf Trap Institute for Early Learning Through the Arts, Young Audiences expands access to the arts for Maryland's youngest students during the critical early learning years. Bring a Maryland Wolf Trap 16-Session Residency into your school.

Categorized:

News

Tagged:

artist-in-residence, arts integration, arts-in-education, Baltimore City, Baltimore City Public Schools, creative learning, early learning, Katherine Lyons, Margaret Brent Elementary Middle School, Maryland Wolf Trap, movement, professional development, storytelling, teaching artists, theatre
Baltimore students in Young Audiences Summer & Learning Arts Academy Outperform Peers
Baltimore City Public Schools students who participated in a new arts-related summer academic program from Young Audiences avoided summer learning loss and, in many cases, gained ground on their national peers in standardized testing, according to evaluations released Tuesday. The new findings showed potentially groundbreaking progress in tackling summer learning loss, a chronic challenge facing public schools.
The results, confirmed in two separate studies involving nearly 800 students, are significant because summer learning loss – particularly among students at or below poverty level – is among the most difficult challenges facing the Baltimore school district and other high-poverty schools across the country. During summer, students typically fall below where they ended the previous grade, setting them back as they start a new school year. In fact, a 2013 National Summer Learning Association (NSLA) survey of 500 teachers found that 66 percent reported the need to spend three to four weeks re-teaching students course material at the beginning of the year. Another 24% reported the need to spend five to six weeks doing the same.
"City Schools has enjoyed a great partnership with Young Audiences, not only during the school year but also the past two summers," said Dr. Sonja Brookins Santelises, chief executive officer of Baltimore City Public Schools (City Schools). "During the summer, Young Audiences reinforces key math and reading concepts through the arts and creative activities – and we're pleased with the results we've seen. When students participate in summer learning programs that help them move ahead or reduce learning loss, they start the school year off stronger."
The Young Audiences Summer Arts & Learning Academy (SALA), run by the Baltimore-based arts-in-education nonprofit Young Audiences of Maryland in partnership with City Schools, was free for students and held at four sites across the city: Gardenville Elementary, Thomas Jefferson Elementary/Middle, William Pinderhughes Elementary, and Fort Worthington Elementary/Middle. Eighty-eight percent of the participating students were from high-poverty Title I schools.
"These results were a pleasant surprise given that we generally expect that students will lose ground over the summer," commented Dr. Marc L. Stein, Associate Professor at the Johns Hopkins University School of Education, who conducted a separate program evaluation for Young Audiences which looked at participating students' academic skill and social-emotional development. "The Young Audiences summer program combines many of the best practices of summer learning programs and appears to be a promising model. These findings deserve to be investigated more rigorously to find out how and for whom the program appears to be working."
"This is not your typical summer school program," said Stacie Evans, Executive Director of Young Audiences. "We taught literacy and math through the arts every day and instruction was collaboratively taught by teaching artists and teachers specifically trained in arts-integration methods. If you walked into one of our classrooms, you might have seen students using hip hop music to help solve word problems in math, or creating dances to summarize and sequence main events in a story."
The Baltimore City Public Schools evaluation found:
For math, statistically significant results showed that students in grades 3-5 who regularly attended (defined as attending at least 75% of the program) the SALA improved 1.8% percentile points in national student rankings on i-Ready standardized testing from the spring of 2016 to the fall of that year. That compares to a decrease of 2.8% percentile points for city schools students who did not attend any summer programming.
In reading, SALA students in grades 3-5 with regular attendance fell only .8% percentile points while students who did not attend any summer programming fell 2.1 percentile points upon returning to school in the fall.
Results for all grade 3-5 students regardless of attendance rate showed SALA attendees falling just .3% percentile points in math and .7% in reading. These were significantly smaller losses than students with no summer programming (down 2.8% in math, down 2.1% lost in reading).
In literacy, only 3% of the students in grades K-2 attending SALA did not meet their benchmark goal (the empirically derived target score that represents adequate reading progess1) on the standardized DIBELS assessment in the fall after returning to school compared to 8.1% of students not attending any summer programming not meeting the benchmark.
Young Audiences external program evaluation found:
79% of students who attended at least 75% of the program and who took pre- and post-tests had a positive change from the first to the last week of the program on a curriculum based measure of mathematics.
Approximately 60% of students who attended at least 75% of the program and who took pre- and post-test writing prompts showed positive change in their structure and content of their writing.
71% of students who attended 75% of the program and were administered pre- and post-assessments showed growth in at least one out of three social emotional competency areas over the course of the program. The social emotional competencies studied were relationship skills, self-awareness, and goal directed.
"The arts offer an extraordinary opportunity, particularly during the summer, to reignite the joy of learning and to set young people on the right course to start the school year strong. These impressive results from Young Audiences mirror findings of the landmark Wallace Foundation study showing that elementary school students with high levels of attendance in high-quality, voluntary summer learning programs can experience benefits in math and reading," commented Matthew Boulay PhD, National Summer Learning Association founder and interim CEO.
Eric Harrell, father of 9 year-old Academy participant, Aria Harrell, said "Before this academy, I could tell that my daughter was struggling in math. By using the arts she was able to learn math in a different way-a way that worked for her. She has so much more confidence in her math class."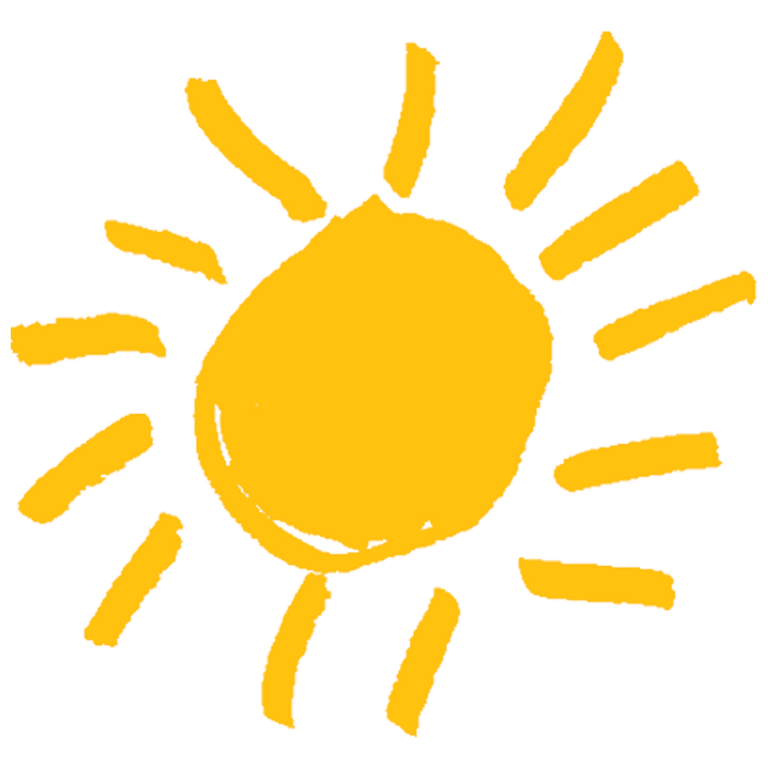 1 "Dibels Next Benchmark Goals and Composite Score, " Dynamic Measurement Group, Inc. (December 1, 2010). https://dibels.uoregon.edu/docs/DIBELSNextFormerBenchmarkGoals.pdf
Links to complete City Schools and Young Audiences Evaluations:

YAMD evaluation
Young Audiences' Summer Arts & Learning Academy is funded by Baltimore City Public Schools, The Abell Foundation, The Family League of Baltimore with the support of the Mayor and the City Council of Baltimore, The Alvin and Fanny B. Thalheimer Foundation and individual contributions to Young Audiences. All participants are students at a Title I Baltimore City Public School.
Categorized:

News, Press Releases, Summer Arts & Learning Academy, Summer Learning

Tagged:

arts integration, Baltimore City, Baltimore City Public Schools, ceramic art, creative learning, dance, fiber art, filmmaking, Hip Hop, movement, Music, National Summer Learning Association, painting, percussion, Piano, playwriting, poetry, singing, songwriting, sound production, spoken word poetry, STEAM, Summer Arts Academy, Summer Arts and Learning Academy, summer learning, summer learning loss, summer learning slide, summer slide, teaching artists, theatre, visual art