Arts Integration Episodes Will Air Weekly Through Partnership with
Baltimore City Public Schools
BALTIMORE – Young Audiences of Maryland, the Baltimore-based nonprofit delivering arts-integrated learning to Maryland students, is partnering with Baltimore City Public Schools to produce Arts & Learning Kids, a weekly series of TV broadcasts bringing engaging, arts-integrated classroom lessons directly into the homes of students and families while schools are closed.

The Arts & Learning Kids series launches Saturday, April 11 at 10:15am on the City Schools' Channel 77 and will air every weekend. Multiple curriculum-aligned episodes will be tailored to three grade bands: pre-k/kindergarten, 1st-2nd grade, and 3rd-5th grade. Baltimore City Public Schools is using Channel 77 to deliver educational content to support students and families during school closures. Click here to view the full schedule of programming.

Young Audiences will create new 30-minute episodes every week for all grade bands, starting with four Arts & Learning Kids programs that support Baltimore City Public Schools' Wit & Wisdom literacy curriculum and Eureka Math curriculum. Each episode will feature a Young Audiences teaching artist and an educator. For example, one episode shows songwriter Mary Fields working with teacher Kevin Older to write song lyrics that help them solve a word problem. In another episode, dancer Valerie Branch partners with educator Kristina Berdan to create choreography connected to the character traits of important civil rights leaders like Ruby Bridges. 
The Arts & Learning Kids videos will offer modified versions of the teaching artists' classroom activities, tailored for students learning at home and incorporating activities that could include their families. Episodes will encourage students to share their creation or performance with Young Audiences, which will make them available on social media and possibly include them in future episodes of Arts & Learning Kids. 
Check out one of the first episodes, focused on math:
Teaching artists are professional artists who work with classroom teachers and deliver hands-on, arts-infused learning experiences that support traditional academic content. 
Young Audiences suggested the Arts & Learning Kids programs to Baltimore City Public Schools, and is the only provider of education content for City Schools' Channel 77 programming beyond programming from Great Minds, the DC-based organization which created the Wit & Wisdom and Eureka Math curricula.
"Young Audiences has been a consistent and positive influence in our community and we look forward to continuing our partnership in creative, new ways as we implement the district's Continuity of Learning plan in response to school closures," said Janise Lane, Baltimore City Public Schools Executive Director of Teaching and Learning. "The Continuity of Learning plan is designed to continue learning while being as flexible as possible for our families; to continue the connections that matter – between teacher and student, family, and school; and to create a safe and nurturing virtual classroom community where everyone supports each other. To achieve these goals it is vital to provide alternate avenues for learning and connection and The Arts & Learning Kids show is a key component of that effort."
"Ensuring that students are engaged, learning and connected during this period of school closures is critical," said Stacie Sanders Evans, President and CEO of Young Audiences of Maryland. "Arts & Learning Kids will provide a consistent place for young people to visit — particularly those that do not have access to the internet for online learning — and to connect with dynamic artists and teachers. There they can explore literacy and math through a variety of art forms and be challenged to share their new knowledge with caregivers and parents who also need an opportunity to express and create."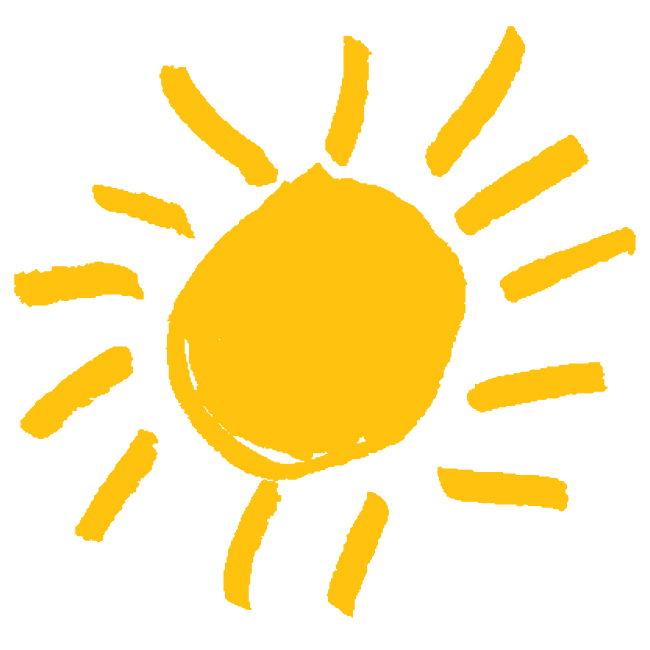 About Young Audiences/Arts for Learning:
Started in Baltimore in 1950, Young Audiences is the nation's largest arts-in-education provider. As the Maryland affiliate, Young Audiences/Arts for Learning (YA) is devoted to enriching the lives and education of Maryland's youth through educational and culturally diverse arts programs. Through Young Audiences, professional artists from all disciplines partner with leaders and schools for nearly 10,000 hands-on arts learning experiences that reach more than 190,000 Maryland students. Young Audiences envisions a Maryland where the arts are valued for their capacity to transform lives, and where every student is immersed in opportunities to imagine, to create, and to realize their full potential.
Written by Barbara Krebs,
Young Audiences volunteer and Sunburst Society member
Recently I toured Ireland, circumnavigating this gorgeous island from the Republic of Ireland, to Northern Ireland before returning to Dublin. If you have half a day, I'll be happy to tell you about everything I learned there, from Irish history to Irish dancing to Irish food to (ahh) Irish whiskey. But if you have only a few moments, then I'll just tell you about my biggest takeaway from this trip–passion.
So now you're thinking, "What does this have to do with Young Audiences?" In the great tradition of Irish storytelling, I will let you know how one starts in Ireland and ends up in Baltimore with passion as the theme.
My story starts with a tour guide in Northern Ireland named Garvin, who told us about his wonderful city, Derry. Following the itinerary map, I had been puzzled since I couldn't find it. This mystery was quickly cleared up as Garvin explained that Derry is the town's traditional Irish name but it had become Londonderry during British rule. But he was also quick to explain with a broad grin that what his city actually is, is Legen-Derry (Get it? "Legendary!").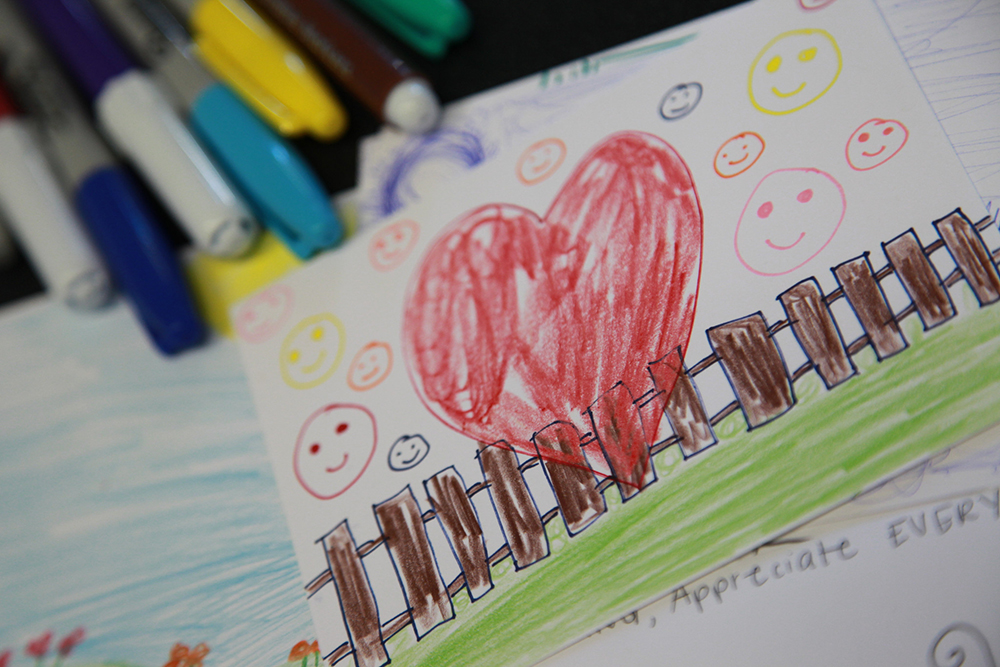 And thus began his tour of a city that he was obviously totally devoted to and passionate about. Today Derry is a wonderful city, with much to offer tourists–historic 17th fortification walls (the most intact in Ireland), Gothic-style cathedrals, a vibrant waterfront restaurant/bar scene and fascinating museums. But if, like me, you think of Derry during The Troubles, your memories will be very different, with scenes of bombed-out buses and civilian and British troop deaths.
But Garvin used that very history to make his point about his city being a wonderful place. He took us to Bogside, scene of infamous clashes between citizens and British military police, and said, matter-of-factly, "You would not be on a bus going here in the '70s, because it would be hijacked, turned on its side and burned out to use as a barricade to block the street against the British." This, while we looked out the bus windows at calm, clean streets.
I loved the beauty of Derry, its rich and troubled history, and yes, the passion of Garvin. And what struck me most forcefully was how many times he repeated, "I thank you for coming to visit my beautiful city. Please tell your friends and relatives what a wonderful place it is." And I knew then how deep his passion was for his flawed and scarred, yet fascinating city. And through him, I fell in love with it, too.
So now here's the connect with Young Audiences. I have witnessed the passion of Young Audiences artists like Femi the DriFish and their teacher partners who, despite challenging situations, work tirelessly to promote learning in their classrooms, using the innovative arts techniques taught by YA. I have seen deep passion in our principals who set aside hard-fought funds to bring the arts into the classrooms when others are choosing to cut these opportunities. I see this passion in the YA board, who includes my husband, who donate their limited time outside of work and family to ensure that more kids have opportunities. It is through them that I fell in love with Young Audiences, too.
I am pleased to announce that Garvin's passion for his birth city is contagious. With his example, I am happy to tell all who will listen that I am passionate about Young Audiences. I will tell folks about how fantastic Young Audiences is–and that includes you!
Wanna know more? Consider joining CEO Stacie Sanders Evans and a Young Audiences teaching artist on Thursday, December 5, 5:30-6:30 pm for a free, one-hour Meet YA Event. To register, please contact Erin Nolder via email or phone – erin@yamd.org or (410) 837-7577 ext. 105. All I ask is that afterward, like Garvin, you tell all your friends and relatives about the wonderful work that YA does.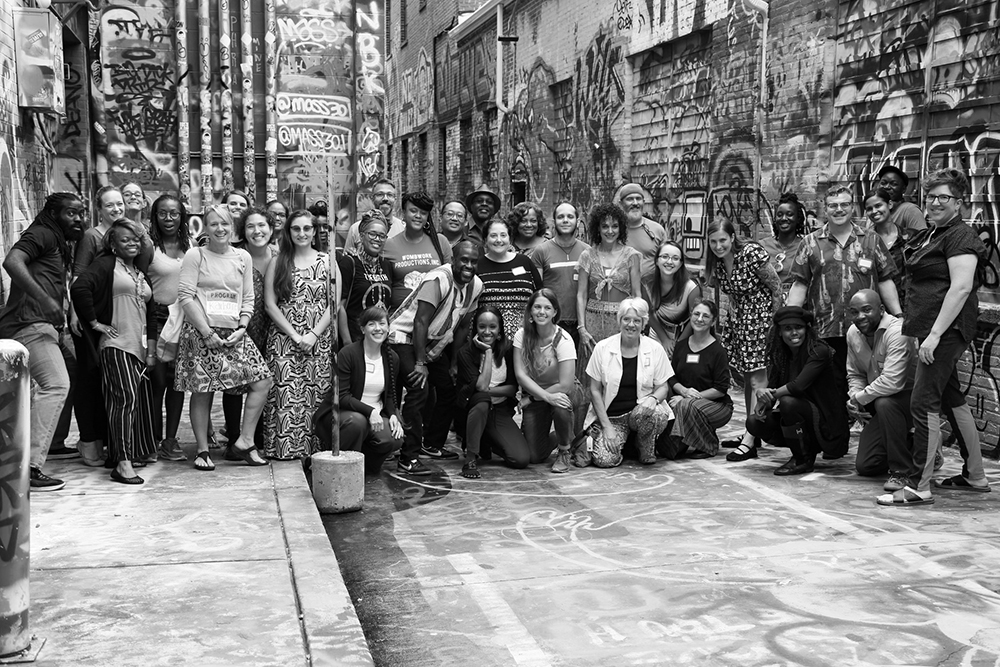 Written by Stacie Sanders Evans,
Chair, Young Audiences' National Residency Teaching Artist Credential
President & CEO, Young Audiences of Maryland
One of the things I admire about many of the artists I encounter is their ability to envision and create without constraint. Most of the time, I feel my ability to dream is tethered to my day to day constraints. Fortunately, I have the rare board of directors at Young Audiences of Maryland (YAMD) that isn't asking me why our copying budget is over by 10%. Instead, they are encouraging me to dream bigger dreams and actually discouraging me from worrying about how to pay for it. They want to help shoulder the burden of these constraints so I have enough moments to live in the delicious "what if" space.
"What if" moments have gotten Young Audiences to where it is today both locally and nationally. One "what if" moment just recently led to a successful pilot of the Young Audiences National Residency Teaching Artist Credential for exceptional teaching artists. Up until this pilot, unlike almost all other professions within education, there has been no nationally recognized credential for the field of teaching artistry. 
Twelve artists (featured below) from seven different states have completed a very rigorous application process and earned the National Residency Teaching Artist Credential to date. Let's applaud these amazing artists who took a chance with us and contributed to the larger idea of "what if" in an effort to help us test and refine a credentialing system.
Young Audiences formed in 1950 in Baltimore because of our founder, Nina Collier's, "what if" moment. Nina's question, "What if we bring musicians into our schools to perform?" ultimately led to the movement that created 32 Young Audiences affiliates across the United States and now benefits five million students annually. She had no idea the impact that question would have on children and artists.
In the '90s, YAMD's first paid executive director, Patricia Thomas, had another important "what if" moment: "What if artists are no longer limited to the auditoriums of our schools? What if they go into classrooms to give kids a chance to create in an art form?" Today, artists in partnership with Young Audiences, impact 230,000 hours of classroom learning in the arts every year, creating powerful moments for Maryland's young people. Thank goodness there were Nina Colliers in communities across our country who were creating the same kind of opportunities for more children.
Once Young Audiences saw the transformative power of our artists in classroom settings to inspire kids and we saw how high stakes testing was narrowing the curriculum and negatively impacting student engagement in the classroom, we asked another "what if."
"What if Young Audiences played a larger role in education and in our communities to bridge the gap between what we know the best conditions are for learning and what children actually receive in school? I call this the inspiration gap.
This "what if" led us to invest heavily in artist training (far beyond even our own roster of artists) and to create many more opportunities for artists to partner with academic teachers to use their art form to draw kids into learning in literacy, math, social studies, and science classes. This is known as arts integration, which could be learning fractions through the steel drum or about figurative language through writing and performing their own poems, or about the scientific method by writing rap songs.
Using the arts helps students connect to the academic content in meaningful ways–so the learning "sticks." Young Audiences' arts integration approach also requires students to "show what they know" through the arts by either performing or exhibiting. Students become more visible in this kind of classroom and it nurtures the sense that they matter. When you make the learning matter and students know that they matter–that is the secret sauce to bridging the inspiration gap.
Now school districts and foundations see us in a broader light, as an organization that can help improve educational outcomes for kids. These groups are investing nearly three million dollars in YAMD this year so we can address stubborn problems in education: preventing summer learning loss, increasing school readiness, and improving teacher practice.
Across the country, we have artists who are ready to bridge the inspiration gap, and there are even more who, with the right training and support, will soon be ready to join them. We believe the National Residency Teaching Artist Credential, along with a network of coordinated, affordable professional development opportunities, could lead to kids in all communities having greater access to a quality education–one that includes arts education and opportunities to learn in, through, and about the arts from the best professional artists in their community (even where there is no local Young Audiences affiliate).
Imagine a society where teaching artists are recognized for the valuable role they play in breathing creativity and possibility into our schools. Work which, in turn, draws kids back into learning. Imagine how many more kids would benefit if artists were able to choose teaching artistry as a profession because it was treated like other professions.
Many, many things are needed to realize this vision, and I believe a credentialing system–one that is developed in partnership with artists and educators with students at the center–is one important component in a larger ecosystem that needs attention. And I'm not alone. A national survey revealed that 94% of teaching artists want a credential like the one we are designing for the field. One reason artists support this idea is that, currently, since our field lacks a credential, there is no unified way for that expertise to be recognized or validated.
For example, dance and teaching artist Valerie Branch has performed with over 10 dance companies, choreographed over 100 dance works, has a Bachelors degree in Dance (Magna Cum Laude), and has led artist-in-residence programs in 150 schools. But as a teaching artist, she had no signifier of her expertise, excellence, or the value she brings to the classroom. The National Residency Teaching Artist Credential solves this problem.
We are still early in this "What if we created a National Residency Teaching Artist Credential?" moment. And we hope one day, after thoughtful adjustment and many discussions with different stakeholders (that includes you!), and in partnership with the many other national and local organizations that care about education, this credential could be something that the broader field will welcome.
Was there ever a time an artist closed the "inspiration gap" for you or a young person you love?  Let's make more moments like that for our young people. Wanna "what if" with Young Audiences around this idea? Let me know because it will take all of us–you, me, our friends, and our friends' friends–to turn this new"what if" into a reality.
2018 Young Audiences' National Residency Teaching Artist Credential Recipients
Valerie Branch, Young Audiences of Maryland
Melli Hoppe, Arts for Learning, the Indiana Affiliate of Young Audiences
Molly Johnson, Young Audiences of New Jersey and Eastern Pennsylvania
Laura Marchese, Young Audiences of New Jersey and Eastern Pennsylvania
Ray McNiece, Center for Arts-Inspired Learning, the NE Ohio Affiliate of Young Audiences
Emma Parker, Center for Arts-Inspired Learning, the NE Ohio Affiliate of Young Audiences
Malke Rosenfeld, Arts for Learning, the Indiana Affiliate of Young Audiences
Chris Sheard, Young Audiences of Louisiana
2019 Young Audiences' National Residency Teaching Artist Credential Recipients:
Carrie Sue Ayvar, Arts for Learning / Miami
Harlan Brownlee, Kansas City Young Audiences
Quynn Johnson, Young Audiences of Maryland
Brittany Roger, Young Audiences of Maryland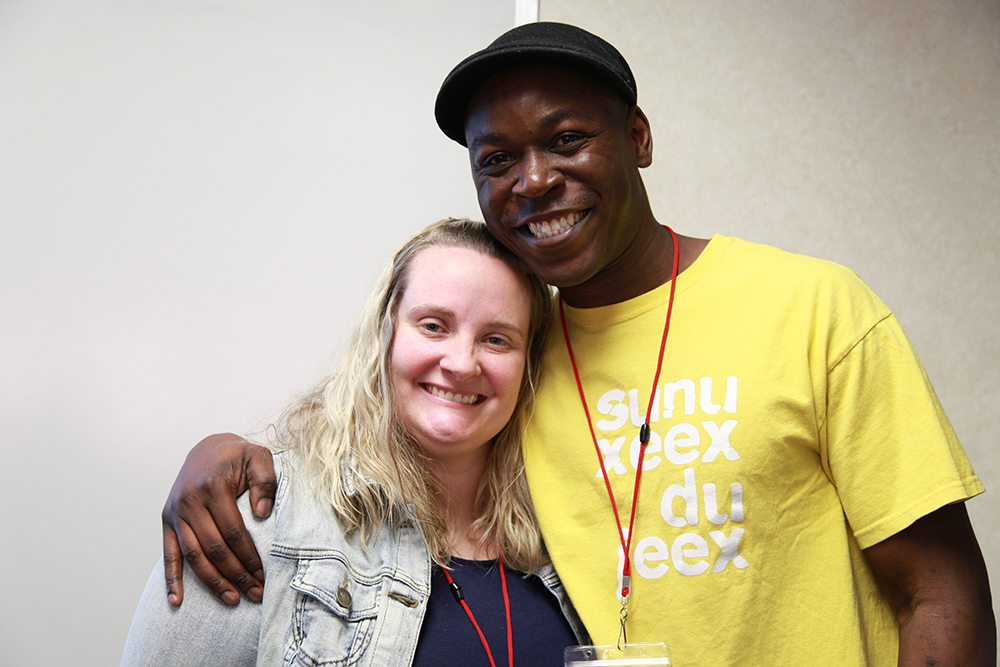 Teaching a subject through a new art form feels less daunting after not only seeing a successful idea modeled in a classroom setting, but actually participating in the learning as a student. At Community Arts: Connecting Neighborhoods and Classrooms, the 13th Annual Arts Integration Conference at UMBC, academic teachers were given the opportunity to see and do in a number of classrooms on campus.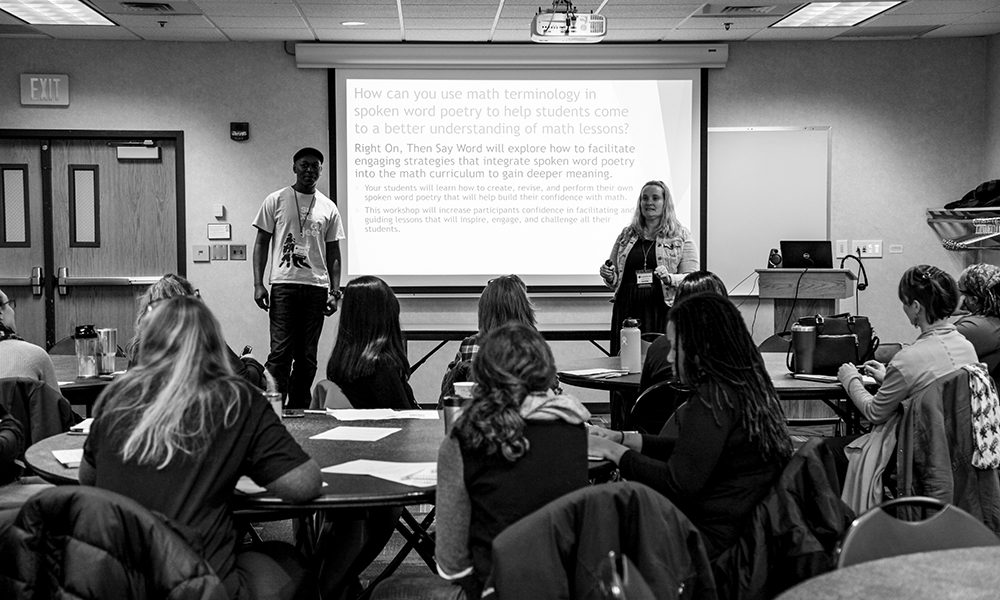 Workshop participants learned, for example, the art storytelling with Laura Wexler of  The Stoop Storytelling Series, how to connect ELA and STEAM with designing and building kinetic sculptures with FutureMakers, and ways to integrate theatre standards with language arts standards.
Participants in one class learned how to teach mathematics through wring poetry. Teachers of grade levels ranging from Pre-K through adult learners convened to learn from North County High School (NCHS) Algebra teacher Ashley Russell and Young Audiences roster artist and spoken word poet Femi the Drifish. Their workshop Right On, Then Say Word: Poetic Mathematics was developed through a lesson they have been successfully co-teaching since the 2017-18 school year.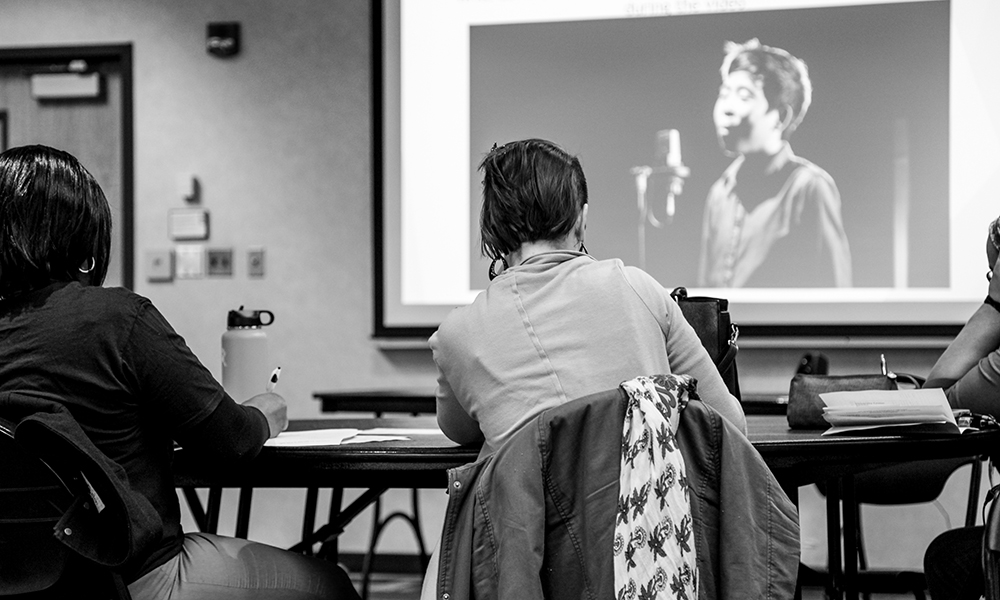 The pair shared their collective experience working with students and showed examples of student work and performances. Femi (his students address him as Mr. Fish) gave the teachers a small taste of his signature style and shared other arts-integrated lessons he's taught over the years, encouraging them to think about the intersection of language and math in word problems and popular mnemonic devices like PEMDAS (Please Excuse My Dear Aunt Sally).
At the end of the hour, the teachers had not only enjoyed their time, they learned to create, revise, and perform their own spoken word poetry using mathematical terms. They felt confident that they could use poetry to teach material in their own classrooms. And their students will most certainly enjoy the challenge, pride, creative thinking, and accomplishment that comes from learning through this art form.
You can read more about their partnership in the classroom and how students learn Algebra through the practice of writing and performing slam poetry here.
In 2017, North County High School Math Department Chair Amy Goodman began working to bring arts integration to all of the school's 9th grade Algebra 1 classes. Thanks to the Arts Empowered Minds Initiative, these students have studied with a variety of professional teaching artists. In addition to Femi the DriFish, Algebra 1 students have worked with TAHIRA, Skher Brown, and Kevin Martin. Since beginning this effort, the school's Algebra I PARCC scores have shown double-digit gains (not to mention, students nurtured their creative sides exploring storytelling, learning to play steel drums, expressing themselves through poetry, and practicing the art of Capoeira Angola).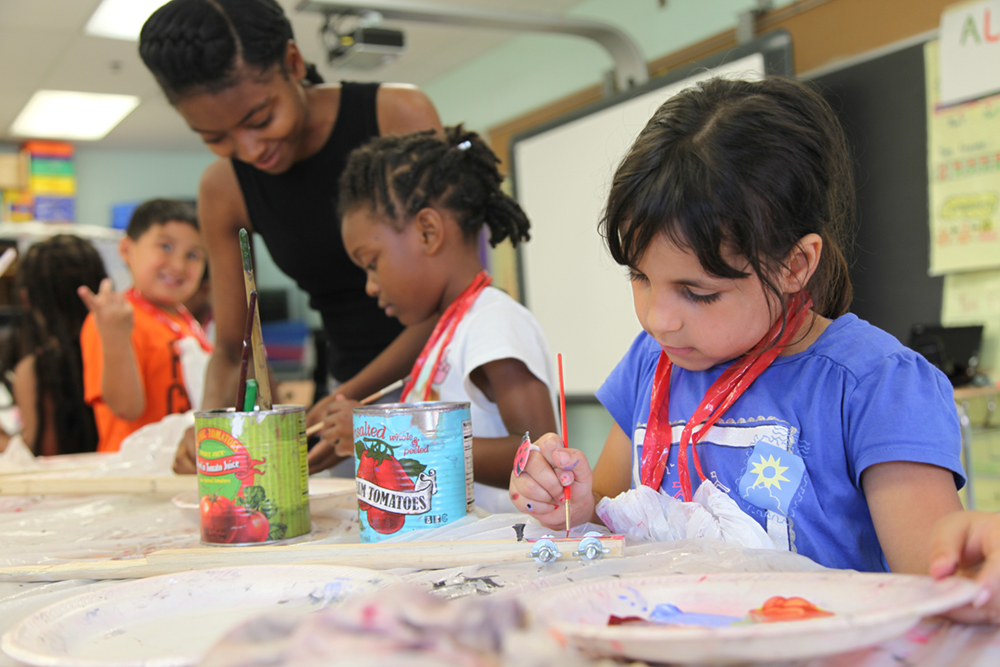 Students in free arts-integrated program for City Schools realize growth in math, reading, writing, and social-emotional learning – especially for those behind academically.
BALTIMORE, (February 18, 2019) – A new study shows that students who participate in Baltimore City Public Schools' Summer Arts & Learning Academy (SALA), operated by Young Audiences, realize positive academic growth and improved social-emotional skills. The research indicates that when compared to the rest of the students in the program, students with special needs saw significantly more growth in writing and in some social emotional domains. Similarly, students that started the summer program behind in math saw significantly more growth over the summer than their peers who began the program on grade level.
The 2018 Summer Arts & Learning Academy, a free five week arts integration program for Baltimore City Schools students, was held from July 9 to August 10 at eight sites across Baltimore City. Through hands-on activities co-taught by professional artists and classroom teachers, nearly 2,200 Pre–K-5th grade students engaged in painting, songwriting, poetry, dance, music, photography, playwriting, filmmaking while learning math and literacy.
SALA students' test scores at the beginning and end of the program were analyzed by WolfBrown, a national leader in research on arts education and children's academic, social, and emotional development. WolfBrown's analyses revealed increases in students' math, reading comprehension and writing scores that were not only statistically significant, but large. On average, students' math scores increased by 15 percentage points, their reading comprehension scores increased by 11 percentage points, and their writing scores increased by 14 to 16 percentage points.
Of particular interest in the study was the growth seen among students who were behind academically or who were at risk of falling behind. Students further behind in math at the beginning of SALA showed the largest growth in math – their test scores grew nearly 1.5 times the rate of their peers. Similar results were observed among students with IEPs. An IEP is an individualized educational plan given to students who demonstrate at least one of 13 special factors, all of which are considered to impede learning. Students with IEPs out-paced their peers in writing content score-growth by nearly 1.24 times. Students with IEPs also showed growth in self control as reported by parents.
Dr. Sonja Santelises, Baltimore City Schools CEO, said,
"We believe in educating the whole child and this summer program does just that. We are thrilled that this investment is resulting in student gains in literacy and math. Just as important, this program gives young people an opportunity to learn about and express themselves through different art forms, which ultimately strengthens empathy and other social-emotional skills in our young people."
The Baltimore City Schools Office of Achievement and Accountability conducted its own evaluation of the program, comparing scores from end-of-academic-year standardized assessments (iReady and DIBELS) to the beginning of the year in order to measure summer learning loss and the impact of SALA in mitigating that loss. In three of the four comparisons, SALA students program showed lower rates of summer learning loss than students who were not in a summer program.
"Young Audiences' evaluation contributes to the body of national research showing that when children have sustained opportunities to learn in and through the arts, they have greater rates of academic success," said Stacie Sanders Evans, Young Audiences President & CEO.
"The Every Student Succeeds Act, the law that governs US public education policy, calls for greater attention on the whole child and specifically social-emotional learning, while requiring schools to adopt evidence-based practices. We hope this evidence will lead more Maryland schools to consider the arts as a vehicle for building student empathy and other life skills such as cooperation and self-management."
As a result of the program's continued success, Baltimore City Schools and Young Audiences will expand SALA in 2019 to Pre-K, reaching more than 230 of our City's youngest learners across all 8 sites.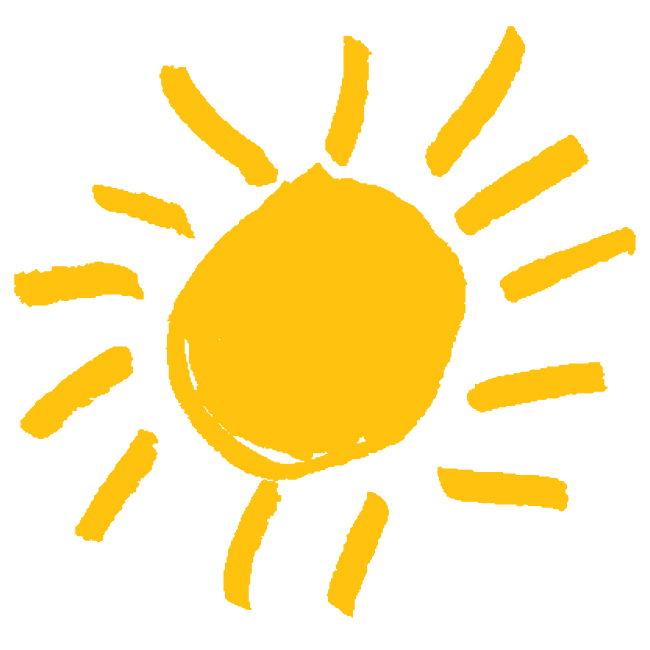 About Young Audiences/Arts for Learning
Started in Baltimore in 1950, Young Audiences is the nation's largest arts-in- education provider. As the Maryland affiliate, Young Audiences/Arts for Learning (YA) is devoted to enriching the lives and education of Maryland's youth through educational and culturally diverse arts programs. Through Young Audiences, professional artists from all disciplines partner with leaders and schools for nearly 10,000 hands on arts learning experiences that reach more than 190,000 Maryland students. Young Audiences envisions a Maryland where the arts are valued for their capacity to transform lives, and where every student is immersed in opportunities to imagine, to create, and to realize their full potential.
In January, the sun disappears so quickly—its absence makes the air that much colder. It feels funny to reflect on my youngest daughter's first experience at Summer Arts & Learning Academy (SALA) when, outside, it feels like it just might snow.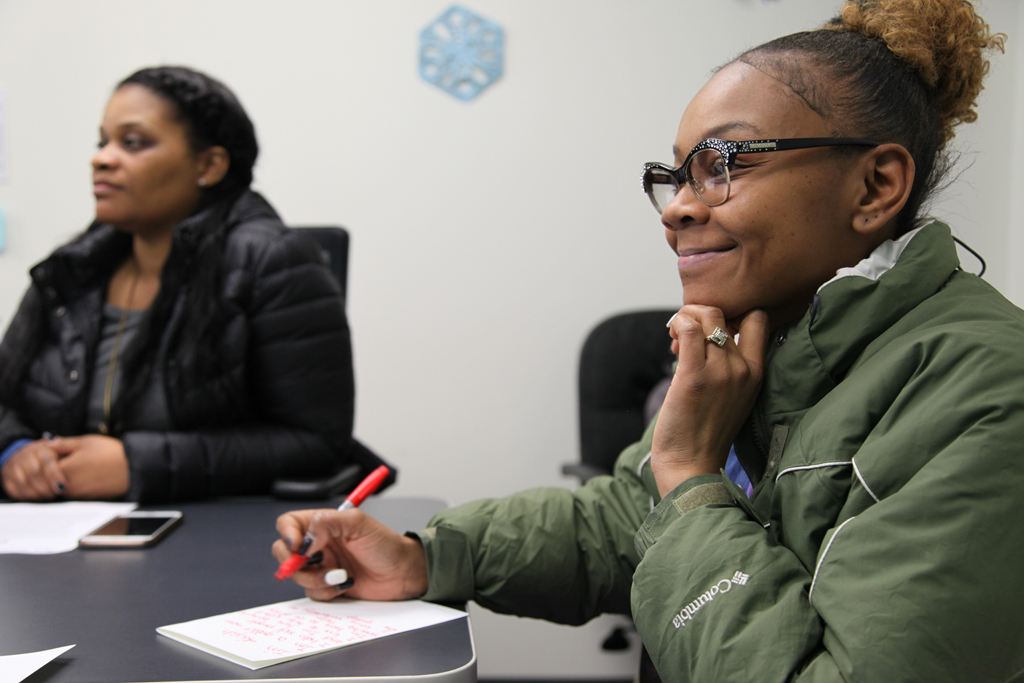 Kiyah and I, both of us parents of children who attended SALA 2018, were asked to meet at Young Audiences a couple of weeks ago. A teacher, Jesika Paige, was here, too. She wasn't at my child's SALA site last year, but I remember meeting her once. And I recognize her from our How We Do Summer video. Her smile is warm and her energy is radiant and it was so nice to be sitting at the table with her. Joining us were five teaching artists: Katherine Dilworth, Jamaal "Mr. Root" Collier, Vonnya Pettigrew, and Mama Kay and Mama Rashida of WombWork Productions, along with staff members Michael Brush, Monique Cox, Kurtis Donnelly, and Kristina Berdan.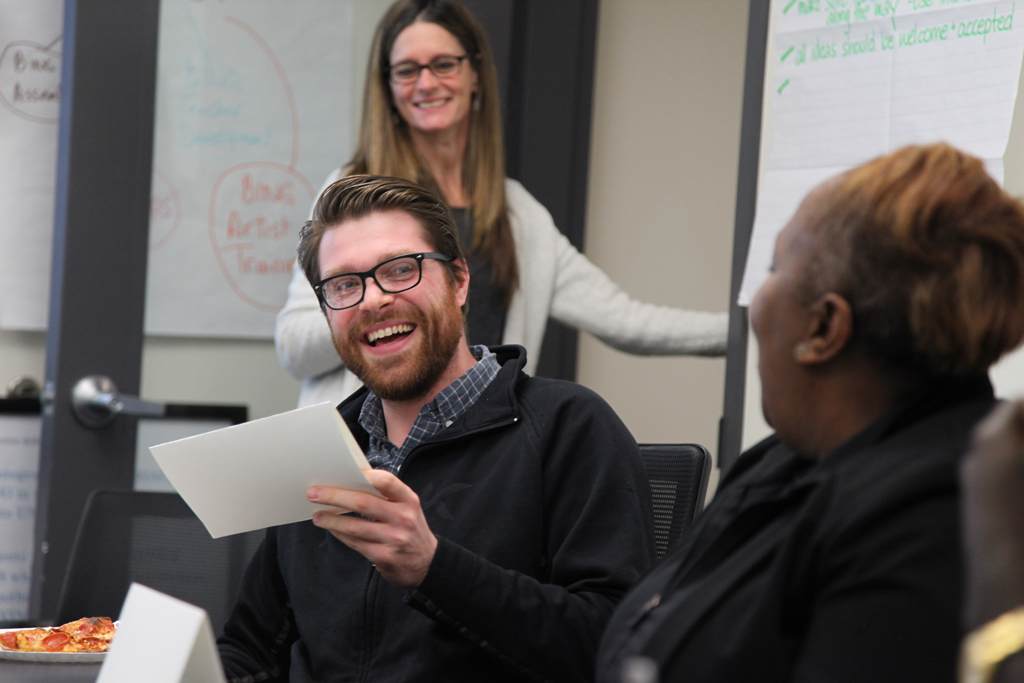 Parents love SALA for a multitude of reasons. For one, Baltimore City Public Schools students participating in SALA have not only avoided summer learning loss but, in many cases, gained ground on their national peers in standardized testing. Between this and the fact that kids in SALA are immersed in meaningful art projects every single day, enrolling my 6-year-old was an easy decision. And as Ms. Paige noted in How We Do Summer, "for children who suppress their art during the school year, this was a time for them to actually show up and show out and show their artistic ability." So, how can we take this amazing and enriching educational experience and make it even better? This is what we are here to find out.
Something that Young Audiences always makes sure to do is collect and evaluate feedback from all of a program's stakeholders. If you are ever asked to fill out a survey regarding one of YA's programs, know that your comments are read, your answers to questions are carefully considered, and your voice matters. The idea to form a community advisory for SALA was brought about in the feedback we collected from parents, and from students, teachers, and artists. Our mission is to ensure that SALA (an incredible, free, arts-filled, and academically excellent program) is student-centered and to identify program changes and improvements to implement during SALA 2019.
Coming together with other stakeholders for the SALA Community Advisory's inaugural meeting reiterated to me the desire of everyone involved to improve, and to be wise, and strong. The group committed to making sure all families are involved all along the way and that all ideas are welcome. We look forward to sharing and listening with open hearts and open minds, reflecting on what we did well in 2018, what we can do better, on ideas for the future, and welcoming the unexpected. We cannot wait for another summer of SALA, each one better than the last—in the meantime, let it snow. Written by Shannon Kline, parent and Young Audiences Communications Associate.
If you would like to be a part of the Summer Arts & Learning Academy (SALA) Community Advisory, we invite you to contact Kurtis Donnelly at kurtis@yamd.org. Your thoughtful input helps to make our programs the very best for students and we appreciate your time and dedication.
Written by Barbara Krebs,
Young Audiences volunteer and Sunburst Society member
Excited. Proud. Love. These are the three words that I heard repeatedly as I attended the unveiling of the mural that sixth-grade students from Brooklyn Park Middle School created. Though these are not words typically linked with a middle school science project, they help illustrate the magic that is produced when you combine science education with an arts-integrated approach to learning.
The collaboration between their science class and a professional teaching artist from Young Audiences, in partnership with Arts Empowered Minds Initiative (AEMI), resulted in a 10-foot science-themed mural, titled "Brooklyn Park Middle Students Research Cells and Viruses." As explained in the program, the mural "illustrates the dynamic, multifaceted interactions occurring thousands of times a day between cells, viruses, and living things."
I wasn't sure what to expect as I entered MedStar Harbor Hospital's Baum Auditorium in South Baltimore, but I immediately felt welcomed as a saxophone quartet from Brooklyn Park Middle played classical music. Their melodies formed a soothing backdrop to the animated conversations between medical personnel, artists, educators, politicians, parents, students, and others who had gathered for the event. A delightful spread of food – chicken satay, veggie trays, fruit and cheese platters, and even cupcakes for the kids – provided by the catering arm of the hospital, Morrison Healthcare, ensured that no one would walk away without all their senses satisfied.
But I digress.  As the reception wound to a close, the formal program began. First up, Stacie Sanders Evans, the President and CEO of Young Audiences. Reaching for a hospital analogy, she spoke of Young Audiences' facilitating role behind the scenes as the "spinal cord" or "backbone" that makes the arts-integrated learning possible in area schools. She described how Young Audiences partners with schools and other organizations like AEMI and the Arts Council of Anne Arundel County (who helped fund this project) to pair core curriculum teachers with professional teaching artists to enhance learning experiences in Maryland classrooms. Rather than rote learning, students explore academic subjects in any number of hands-on, arts-oriented ways.
Next was Dr. Stuart Levine, President and Chief Medical Officer of MedStar Harbor Hospital. He told the young student artists just how meaningful their creation would be to the hospital, saying that it would be proudly displayed in MedStar's Emergency Department lobby. He talked about the VIPs in the room – the sixth graders – who had created this mural. He told them, "When community members come in for care, when they're sick, when they are at their moment of need, they're going to come into a place that has this incredibly hopeful work on the wall that's made with love by the kids of their community."
Then Dr. George Arlotto, Superintendent of Anne Arundel County Public Schools, spoke, stressing, "People who don't even know you love you; people who don't know you are proud of you." This was the legacy that, even as young tweens, they were creating for their community.
Following Dr. Arlotto, the two teachers who guided the kids through the process spoke. Lisa Radike, the Brooklyn Park Middle school science teacher, recalled that this process helped the kids learn more than just the science of cells, it also helped them "learn how to get along, how to work together." Amanda Pellerin is the Young Audiences artist who taught them to mold clay, shape it into the cells and viruses they were studying, and then assemble an entire mural from all the different parts they had imagined and created. As she looked proudly onto the students, she made sure they understood the significance of what they had done. "You now have artwork that is on permanent display– and you're not even out of sixth-grade yet!"
Finally, it was time for the unveiling of the mural. As the students and their teachers surrounded the mural, people leaned forward in their seats, many creeping to the front with cell phones to capture the much-anticipated moment. After a few more remarks from one of the students who reiterated the theme of how creating the artwork had required them to put aside differences and work together, the veil was cast off and everyone could finally see the finished artwork.  
Brightly colored cells wiggled and squirmed their way across the surface. And like a visiting rock star, the mural sat "patiently" as a host of people came up to be photographed with it.
As the event wound down, I finally managed to talk to one of the students, asking simply, "How long did it take all of you to create this?" His answer pulled me out of my adult world of man-hours and Outlook schedules. "About 10 classes."
There it is simply. It's about the classes. It's about what you learn in the classes. It's about how the classes are taught. It's about the knowledge you retain from the classes. And though my own knowledge of sixth-grade biology is but a dim memory, it didn't take a Jonas Salk knowledge of cells to clearly see how wonderful this evening was. That these kids were excited about science. That the folks in attendance were proud of what the middle schoolers had learned and created. And that everyone loved the intersection of science and art.
smARTbeats returns to WTMD this Saturday, February 10 during the weekly children's program Young At Heart! On this month's segment, hostLisa Mathews sits down for a chat with the original "Drumcussionist," Young Audiences teaching artist Uncle Devin. Tune in and you'll hear why The Uncle Devin Show has been called "pure edutainment at its finest."
Devin Walker has been playing percussion for more than 25 years with groups ranging from Fertile Ground to the Great Dizzie Gillespie, and has gained national acclaim as a leader in the children's music industry with his unique musical style, real percussion instruments, and the latest in electronic drums.
"I realized I wasn't just there to perform music, I was there to teach."
In schools, the artist teaches children that percussion instruments are an essential part of history and the human experience. He uses different musical instruments, along with his award-winning book, "The ABC's of Percussion with Music CD," to help students understand how sounds made by percussion instruments were used to communicate. "If we never spoke a word, we could communicate through music," said Devin.
The musician didn't begin his career performing for children, but spending time with the young kids in his life certainly helped to steer him on that course. Devin's niece loved his music so much that she once took recordings of her uncle reciting stories along with music to school so she could share them with her class. The children loved listening to their friend's 'Uncle Devin.' "Soon enough, people began to refer to me with that title and that's how the name came about."
They weren't the only kids that his music and stories stuck with. After performing in a school in Baltimore, he received a phone call from a friend. He suddenly heard his friend's daughter on the line, reciting some of the same concepts he had shared with the school children earlier that day. She had been in the audience! "I thought, she's got it! That was a wonderful moment because I realized I wasn't just there to perform music, I was there to teach."
Young At Heart airs weekly from 7 to 8 am on Saturdays, featuring music that appeals to parents and children alike. Previous shows have featured music by Wilco, David Bowie, Andrew & Polly, Weezer, and others.
Listen to Uncle Devin online now!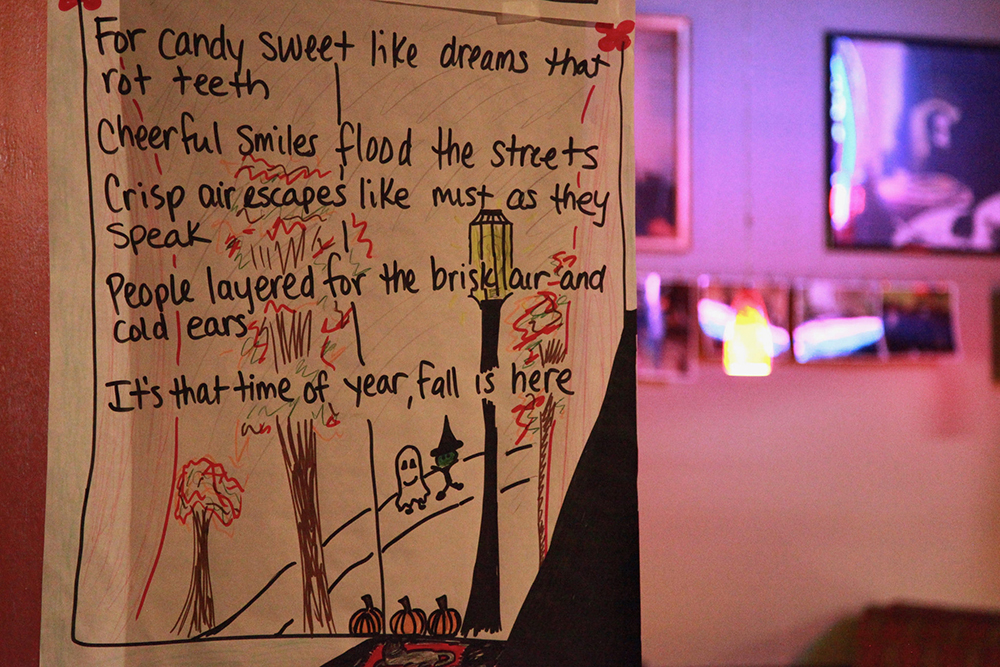 Written by Barbara Krebs,
Young Audiences volunteer and Sunburst Society member
On Friday, November 17, Young Audiences hosted its second annual Art Crawl at City Neighbors High School, an arts-integrated public charter school in Baltimore City. Approximately 75 attendees filled the school's stylish café, mingling among lush booths, comfy couches, ambient lighting, and in the glow of neon signs. As the group noshed on delicious hors-d'oeuvres and drinks provided by Flavor, Union, and Noble Vintners, Young Audiences President & CEO Stacie Sanders Evans welcomed the crowd, "Every person in this room played a role in closing the inspiration gap this summer." The inspiration gap, she explained, is the difference between what we know the best conditions are for learning and what kids actually get these days in school. "Thanks to you, we reached 825 MORE young people last summer and expanded our summer programs to include middle and high school students."
She presented a short video highlighting Young Audiences' Summer Arts & Learning Academy, talked about the impact on the students that it serves, and shared the organization's plans for the future. This year, Young Audiences brought their Summer Arts & Learning Academy to four Baltimore-area schools, serving more than 1,100 students over a 5-week period.  Next year, the goal is to double this achievement by expanding to eight academies with an enrollment of 2,200 students.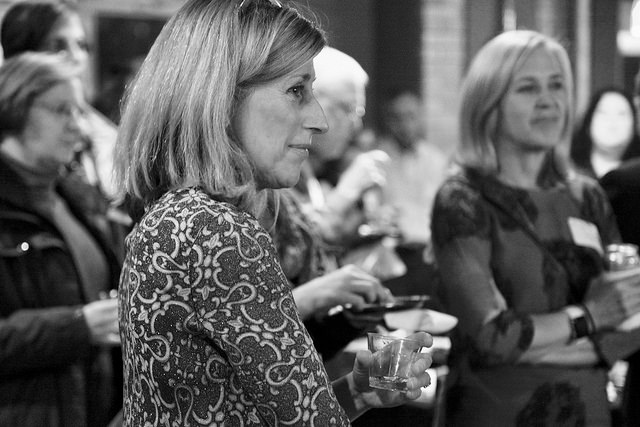 You couldn't help but feel proud of what Young Audiences has accomplished in stemming summer learning loss. With the help of dedicated artists and academic teachers, children who regularly attended the Academy not only avoided summer learning loss in reading and math, but in many cases made significant gains over their national peers in standardized testing. The findings showed potentially groundbreaking progress in tackling summer learning loss, a chronic challenge facing public schools.
That sense of pride was especially felt among the attendees who, either through corporate or private donorship, provided funding to bridge the gap between the City School system's budget and the actual cost of the Academy. I had been fortunate enough to observe one Summer Arts & Learning Academy over the summer and was delighted by how many guests shared their own stories of Academy site visits. And on this evening, we had the pleasure of experiencing the Academy not just as observers, but from the perspective of students.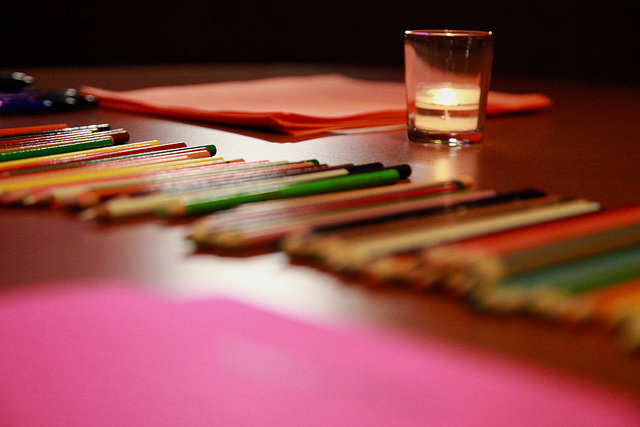 We were divided into groups before departing on our journey to experience learning with Young Audiences. At three arts-integrated learning stations set up throughout the school, artist-teacher partners invited attendees to step into the shoes of students and learn academic content through the use of various art forms. Of course, since it was an art crawl for adults, there were cocktails to enjoy as well!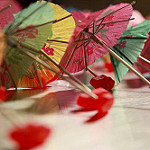 One Fish, Two Fish, Red Fish, Blue Fish
Lemonade, vodka, and Blue Curaçao garnished with a Swedish fish
Concocted by Board Chairman and Sunburst Society Member Randy Osteen and Stephanie Felix
We took our seats in the library where paper, markers, glue sticks and googly eyes had been set out on tables. Fiber artist Kathrine Dilworth and her teacher-partner, Jaime Clough, explained they had worked with first graders in the Summer Arts & Learning Academy to reinforce math skills.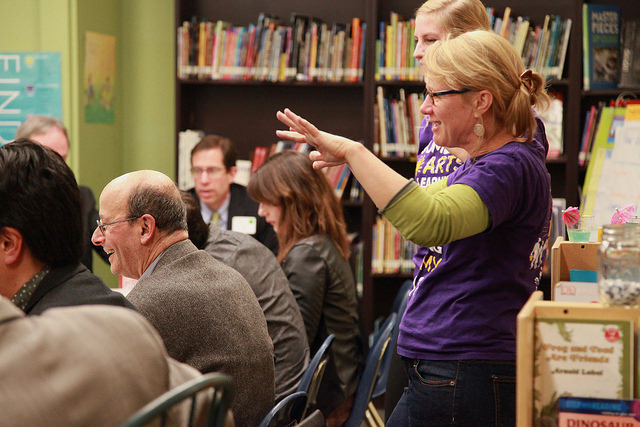 We were instructed to draw a monster, name it, and then partner with someone to create a mathematical word problem, as this is a difficult skill for six-year-olds.  So after Pink Plush (my furry pink monster) was completed, the gentleman across the table handed me his monster, Curley, and I wrote the following, "If you subtract Curley's eyes (3) from Pink Plush's (4), you are left with one eye."  The teacher smiled and encouraged me with a cheery, "Perfect!" I can picture her having done that many times this summer.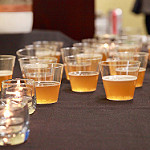 S.T.E.A.M.
Belgian-style amber ale and Grand Marnier
Concocted by Board Secretary and Sunburst Society Member Tea and Kevin Carnell
You've heard of STEM, haven't you – Science, Technology, Engineering, and Math?  Well, when you add the Arts, you get STEAM!  In the music room, after grabbing our next cocktail, we met percussionist Jason Armstrong Baker who taught us the basics of beatboxing.  After demonstrating how to get Siri, Apple's virtual assistant, to beatbox for you – one incredulous person asked, "Seriously?" to which another wit deadpanned, "No, Siri!" (you gotta love this crowd) – we went through a couple of patterns to master the skill.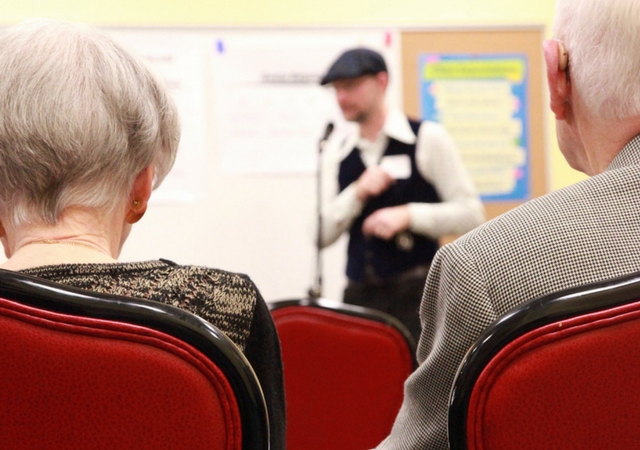 Convinced we were ready (really?), he turned the floor over to classroom teacher Shana Smith who had assisted third graders with their multiplication tables.  After picking a card (the 5 of hearts), which was our factor (in this case, rhythm size), and after a roll of the die (3), which determined our group size (in this case, the number of times the rhythm was repeated), we had our multiplication problem, 5 x 3.  Thus prepared, we broke into a stuttering chorus of BttKt, BttKt, BttKt – our answer, 15!
Poetic License
Dark Rum, lime, bitters, mint, and a splash of Prosecco
Concocted byVice Chairman of the Board and Sunburst Society Member Alan Hoff and Trisha Frick
Moving back into the room in which we had begun the evening, we grabbed our cocktail and gathered around tables as Femi the DriFish, a slam poet, and his teacher-partner, Erin Inouye, explained how they used the book Seedfolks as a basis for their lessons.
Using the example of "Through My Window," we were asked to write our own poems to illustrate what we see through our window. Just as the pair had done with the fourth and fifth graders they led this summer, they offered several ways to accomplish this. A green sheet provided partial sentences with blanks left for the author to fill (think Mad Libs). Some participants were handed blank pink sheets of paper on which to pen a poem from scratch (a few brave souls chose this). For those feeling intimidated by the written word, colored markers and a blank white sheet were provided on which we could draw our window scenes.
After completing our poems, we were invited into a circle to share them. And folks from each group (pink, green and white) did so. Particularly sweet was a gentleman who drew his poem, explaining that the trees were still green, not because they hadn't changed colors yet, but because he left for work before the sun rose and got home after it set.  So the last time he saw his trees, they were still leafy and green – a detail he might have felt hesitant to explain in writing, but that came flowing from him through his artwork!
At the end of the evening the groups reunited for a few more snacks and conversation. And what struck me as I talked with these people was their shared passion for both the arts and education. One woman, Sharon Button, had actually been the Executive Director of a Young Audiences affiliate in Buffalo, NY in the 1970s. At the time she was a workforce of only one, but toiled tirelessly to secure funding for arts-integrated programs long before the term was in fashion.
Another gentleman who had worked with Young Audiences affiliates in other states had this to say, "Young Audiences in Maryland is one of the most highly respected groups, both in this city and among its peers."
I can believe it.  The energy, passion, creativity, imagination, and sheer fun that Young Audiences exhibits makes me very proud to be associated with it. I have been fortunate to meet teachers and artists who blend academic subjects and art to reach school children. And I have been doubly blessed by being able to contribute monetarily to this amazing organization as a Sunburst Society member.
If you believe, as Young Audiences does, that the arts transform lives, and that every student should have the opportunity to imagine, create, and realize their full potential through the arts, then I urge you to join us in supporting this amazing organization. And then next year, join us at the Art Crawl and discover the magic that happens when arts, education, and handcrafted cocktails are combined.
Find more photos from Young Audiences' 2nd annual Art Crawl can be found on our Flickr page. 
Categorized:

News

Tagged:

art crawl, arts integration, arts-in-education, Baltimore City, Baltimore City Public Schools, creative learning, Femi the Drifish, Jason Baker, Katherine Dilworth, Maryland, Music, STEAM, Summer Arts Academy, Summer Arts and Learning Academy, summer learning, summer learning loss, summer learning slide, teaching artists
smartbeats is back this Saturday, November 4, during the weekly children's music program Young At Heart on WTMD. On this month's smARTbeats segment, Young At Heart host Lisa Mathews sits down for a chat with professional spoken word artist, slam poet, highly-animated and engaging frontman, and YA teaching artist Femi the Drifish.
Best known as one half of the spoken word/Hip Hop-influenced duo, THE 5th L, Femi uses his artistry to encourage listeners to discover their own unique voices and identities. The Drifish also partners with University of Maryland's Violence Prevention Program, using his words to address matters such as violence and bullying in our communities. He extends this experience, his skillful construction and delivery of words as art, along with compassion, patience, and high expectations to the classroom.
Femi the Drifish worked with our middle school students in Language Arts," said Christa Huber, the Arts Integration Coach at Patterson Park Public Charter School. "A great thing about that residency was the response we received from students who typically are not comfortable with performing in front of people. By their culminating performance, those students, in particular, were the ones to stand up and share their poetry with strength.
The artist teaches children to confidently use body language coupled with creative writing to convey emotions, communicate, and connect with others. He works with students to identify the similarities and differences between poetry, Hip Hop, and spoken word–or slam–poetry, then encourages them to try writing their own original poetry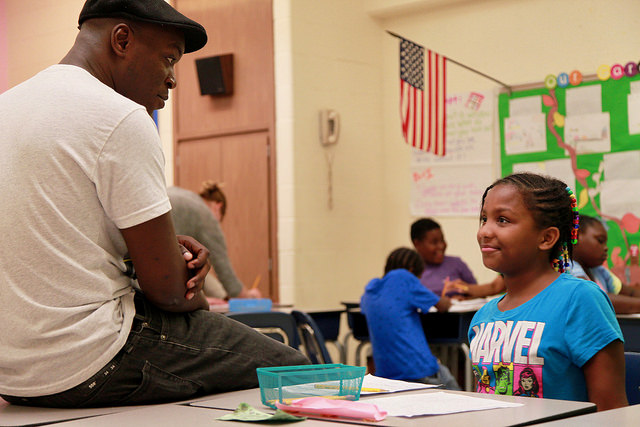 Ken'Niya, a former Summer Arts & Learning Academy student declared "Mr. Fish" to be her favorite teacher from the program in summer 2015. "He helped me a lot through my writing by giving me examples and showing me his awesome poems. The most challenging and rewarding thing I did in the Academy was my poem I am Baltimore," said the student. "It was emotional because of what was going on my city. I wanted to quit and switch classes but I realized I was the oldest in the class and the younger kids were having the same problem. So I told myself if you quit, they will too. So I pushed myself and everyone else, and made sure we were organized and ready to perform."
This is the kind of guidance that makes Femi the Drifish shine. Whether students are processing their feelings after an emotional event, confronting their worries or disagreements with friends, or looking forward to a world of firsts: first high school, first love, first dance, first goal, one thing is certain, when Mr. Fish is in the classroom, students will find the courage to share their voices and be heard.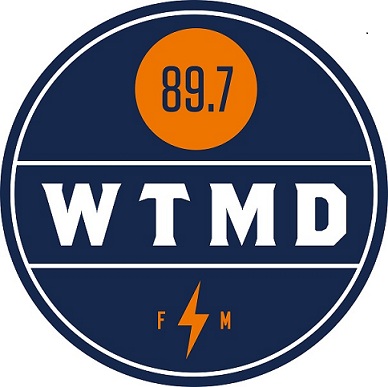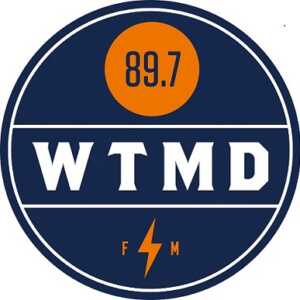 Young At Heart airs weekly from 7 to 8 am on Saturdays, featuring music that appeals to parents and children alike. Previous shows have featured music by Wilco, David Bowie, Andrew & Polly, Weezer, and others.
Hear YA teaching artist and musician Femi the Drifish online now!
smARTbeats returns to WTMD Saturday, October 14, during the weekly children's music program Young At Heart. On this month's smARTbeats segment, Young At Heart host Lisa Mathews sits down for a chat with beatboxer and YA teaching artist Max Bent. Performing for adults and the Pre-K set alike, the artist treats his audiences to a mix of original songs, fun covers, and interactive rhythmic games sure to get you up and moving.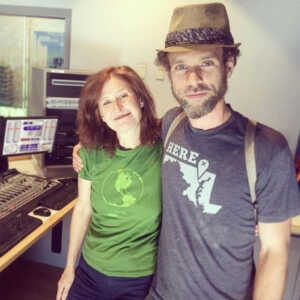 Max started beatboxing at the age of eight, imitating with his mouth what he heard on the radio. Since then, Max's love for the beat has taken him on many exciting journeys and a never-ending search for sounds that surprise him. His experience as a teacher has helped him transition into his work as a teaching artist.
During the segment, you'll hear how the artist, who is also half of the family-friendly beatboxing duo Baby Beats, challenges students and teachers alike to learn by making music. A former science teacher, Max is able to combine his artistic talent with his educational background to make strong connections to specific units and standards in the curriculum with irresistible enthusiasm and energy.
He works not only with kids, but with educators, leading professional development classes to show teachers how music, and, more specifically, beatboxing can be used as a tool to teach fractions and challenging them to think outside the box in their own lesson planning.
Give it a try and see: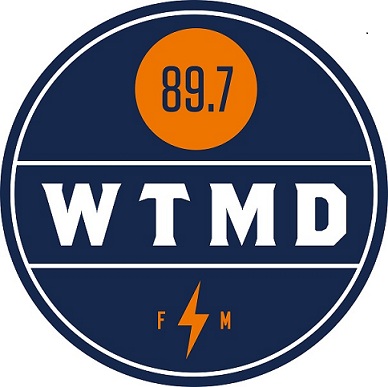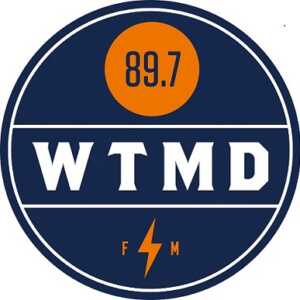 Young At Heart airs weekly from 7 to 8 am on Saturdays, featuring music that appeals to parents and children alike. Previous shows have featured music by Wilco, David Bowie, Andrew & Polly, Weezer, and others.
Hear YA teaching artist and beatboxer Max Bent online now!
smARTbeats returns to WTMD Saturday, September 9, during the weekly children's music program Young At Heart. On this month's smARTbeats segment, Young At Heart host Lisa Mathews sits down for a chat with artist, songwriter, musician, and YA teaching artist Alden Phelps. A graduate of Maryland Institute College of Art (MICA), Alden co-founded Open Space Arts Center in 1989 and has written and performed countless stage plays, musicals, and puppet productions. Listen in and discover what many Maryland children already know: When Alden Phelps is in the building, there will soon be laughter roaring and silly songs echoing through the halls!
The artist is known for bringing far-fetched and funny scenarios to life through his songs, unexpected rhythms, and lively, interactive performances. He also has kids write songs to the tunes of popular music they already know and love. "Teaching musical parodies is a great way for students to learn because it's an opportunity to share their knowledge in a creative way," Alden explained. "Students synthesize their knowledge of specific subjects with poetry in a song. There are several layers of learning going on, including using their knowledge of the curriculum, organizing ideas, and employing multiple Language Arts skills."
Alden arms his students with the knowledge of the basic elements to songwriting and composing along with rhyming dictionaries and sets them to work. "The writing process is always satisfying to me because I get to witness students discover a whole new world of words they may not have even realized existed," the artist said.
"I often came across students who struggled to find rhyming options with difficult words. But then, just like that, a kid would blurt out the perfect lyric that would fit. A line would just tumble out of their mouth and I'd shout "Yes! That's it!" In response, they would light up with excitement knowing that they had the answer within them all along, they just had to let it out."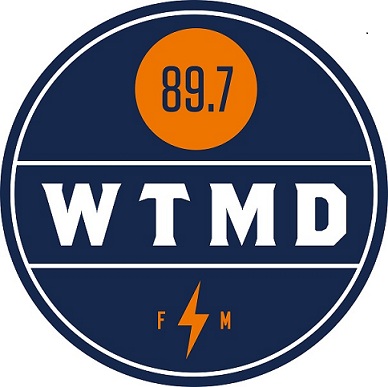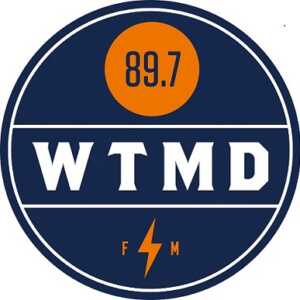 Young At Heart airs weekly from 7 to 8 am on Saturdays, featuring music that appeals to parents and children alike. Previous shows have featured music by Wilco, David Bowie, Andrew & Polly, Weezer, and others.
Hear YA teaching artist and musician Alden Phelps online now!