Teacher Professional Development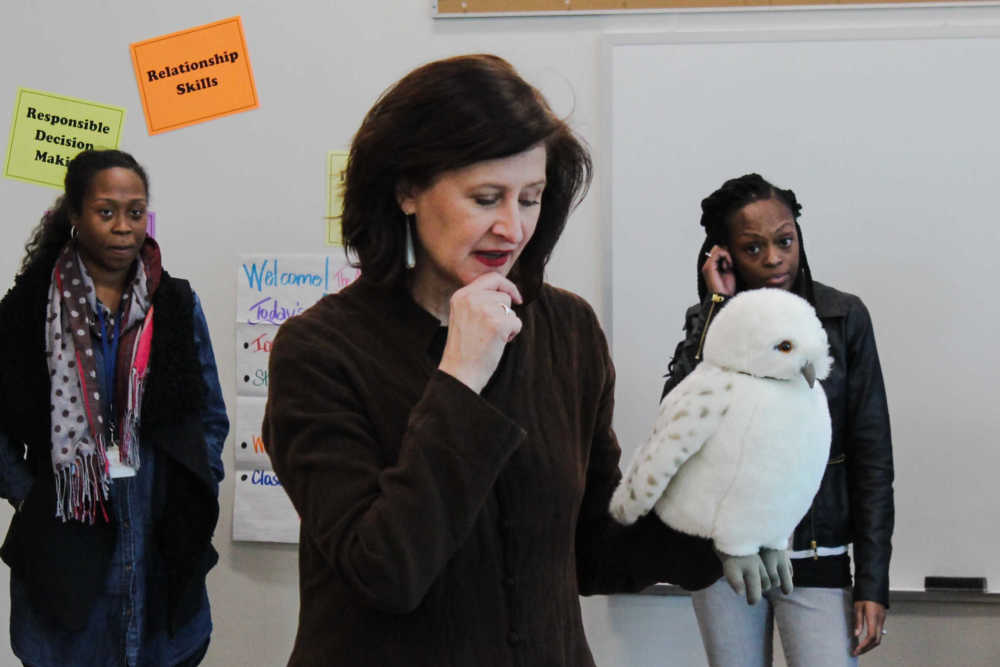 Teacher Professional Development
Written by Barbara Krebs, a Young Audiences volunteer and Sunburst Society member.
Colorful sticky notes adorned the walls of the classroom. Like before-and-after photos of an amazing remodel, the notes told the story of how a group of Head Start teachers in Southern Maryland unveiled their hidden talents to reach their young students through the arts. The 'before' stickies began, "I used to think…" Teachers filled in the rest of the sentence with thoughts such as, "dance, music and theatre weren't that effective," or "movement and story time could not go together," and "it was hard to integrate the arts into the classroom."
Then, as Young Audiences teaching artists demonstrated techniques that blend learning and the arts, the Head Start classroom teachers began making their own artistic/educational connections – connections that would help them return to their classrooms and engage kids in ways they had been hesitant to trust before. They soon realized that when kids are singing, dancing, and moving, it's easy for them to forget that they're actually learning!
The Professional Development course was held on February 17th and sponsored through the PNC Grow Up Great® initiative. Created to help children from birth through age five develop a passion for learning that lasts a lifetime, the program generously funded training that provided Head Start teachers with a variety of resources to increase learning, engagement and confidence by incorporating art into the curriculum.
Three YA teaching artists, musician Lisa Mathews, actor Khaleshia Thorpe-Price, and dancer Anna Menendez, taught the group. They learned, for example, how to use dance tools to create patterns, how to use their bodies and musical instruments to express themselves, and how the use of props and different character voices can more fully engage students in story time. At the end of the class, each teacher was tasked with writing and presenting a lesson seed in each art form for when the class reassembled in May.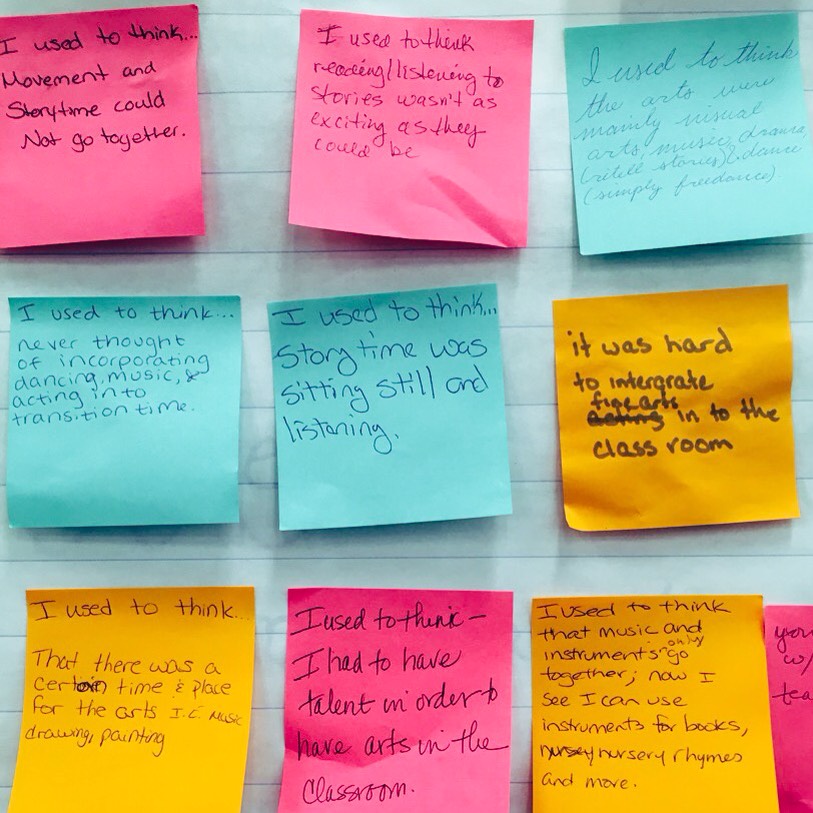 "It was very evident from their participation on the first day and their reflections on the second day that teachers were excited about these arts strategies and implemented them immediately," explained Kristina Berdan, YA's Education Director. "Having strong backgrounds in social and emotional learning, they were able to quickly experience and understand the impact that the arts can have on this kind of growth in young people. Most of them tap into the arts regularly through chants and songs, yet these professional development opportunities allowed them to learn deeper, more meaningful strategies in and through the arts. The 'ah-ha's and feelings of excitement were palpable!"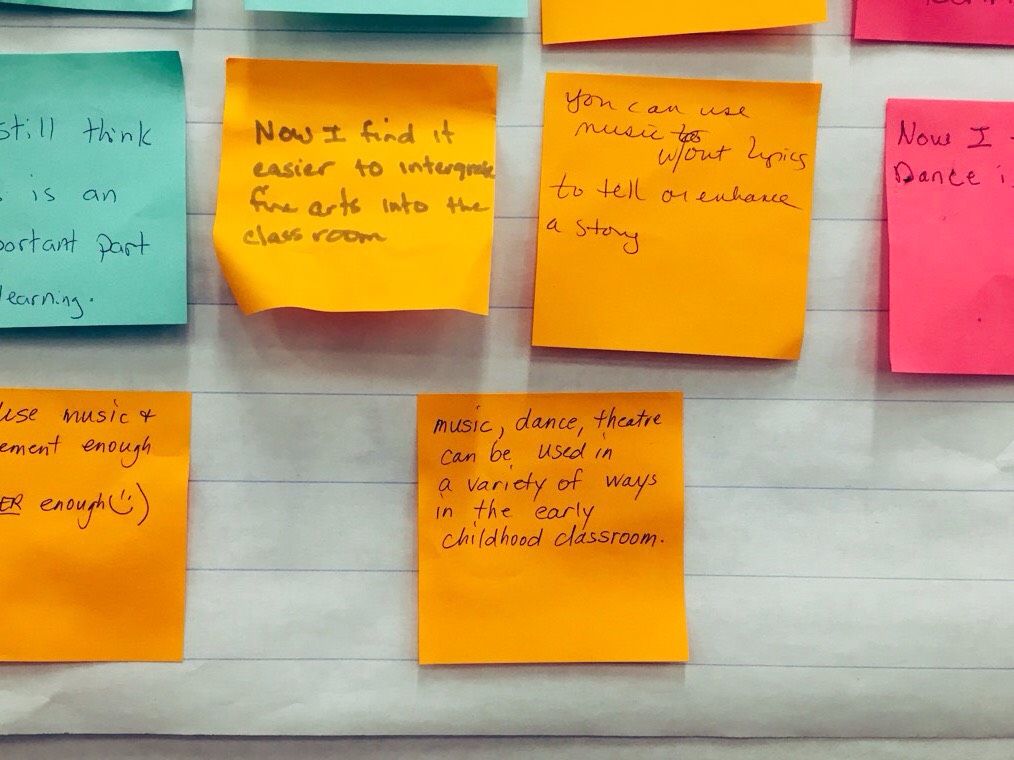 For some, wariness about the role arts could play in the classroom had been replaced with a newfound willingness to incorporate them into their lesson plans. Through the introduction of dramatic play and puppetry, for example, students had a greater understanding of the stories they read in class than they did before the professional development course. One Head Start teacher, Jessica Wiley, summed up her experience in YA's Professional Development class this way, "The ideas and suggestions were practical, applicable, and personalized. I love how Young Audiences was able to address our questions, challenges and concerns very well."
The teachers ended the day completing sentences on sticky notes that began, "Now I think…" Their statements showed how their opinions about using the arts as a tool for learning had evolved from hesitancy to a feeling of openness and anticipation, writing, "you can use music in all areas of teaching," and "dance can be a calming technique," or "movement in story time is helpful to keep children engaged."
For Maryland's youngest students, the new strategies will be especially impactful. "Head Start supports our nation's most vulnerable children by offering a comprehensive, high quality early-learning experience that prepares them for kindergarten and strengthens family participation in their children's learning," said Yasmina S. Vinci, executive director, National Head Start Association.
Like any successful renovation, the before-and-after sticky notes showed what can be created when you effectively blend harmonious elements – education and the arts – to capture a child's natural desire to learn.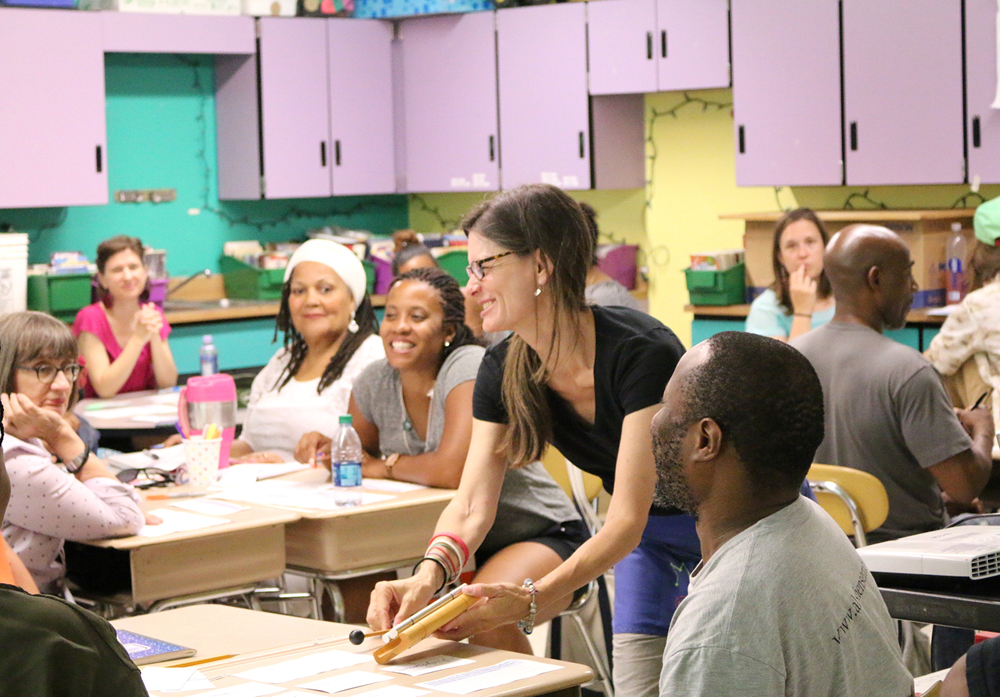 Teacher Professional Development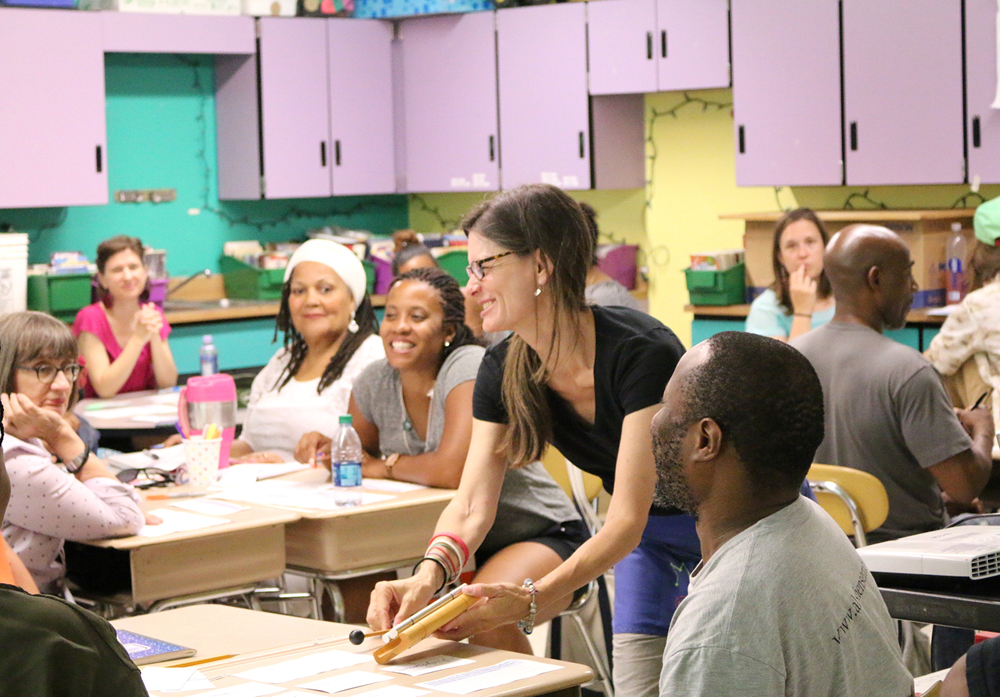 How our teachers and artists get ready for Young Audiences' Summer Arts and Learning Academy
If you were a school teacher and had just spent the last ten months in the classroom, where would you be on the 7th morning of your vacation? In bed? In your PJs on the couch? Perhaps in Ocean City? Anywhere, but a school building participating in 35 hours of professional development and gearing up for 5 weeks of summer school, right?
On the 7th morning of their summer break, 36 of our amazing Baltimore City Public Schools teachers were with Young Audiences and their 36 teaching artist partners participating in a week of professional development and preparation to teach in Young Audiences' Summer Arts and Learning Academy, which kicks off at four sites July 5. We're talking true dedication!
Whether Young Audiences is working with kids or adults, we believe learning should be creative and fun. That goes for these 36 teachers! Thankfully, Kristina Berdan, who designed this week-long training, is Young Audiences' Queen of Fun! But not just your normal fun — the intense, laugh-out-loud, creative, hard fun — that comes with joyful learning through the arts.
Let the summer fun begin: the Young Audiences at TJEMS team is stellar! @arts4learning @BaltCitySchools #BeArtSmart pic.twitter.com/HjiHEcwhex

— Eryn Lessard Sherman (@LitLeadrLessard) June 27, 2016
Case in point: Kristina wrote, sang and recruited backup dancers to perform a parody of the classic, "Summertime" by DJ Jazzy Jeff & The Fresh Prince (lyrics shared at the bottom) to welcome our teachers to the training.
When asked what inspired her to create and perform this song, Kristina said she wanted to do something special for the teachers and teaching artists. After all, they are giving up their summer break (and the rare opportunity to sleep in!) for the next five weeks to make a difference in the lives of hundreds of children who normally would not be able to afford this opportunity.
Young Audiences is asking a lot of our teachers and artists. We expect them to challenge our students AND themselves to take creative risks, try something new, and put themselves and their powerful ideas "out there," regardless of who is watching.
Some examples of how that happens: Teachers who have never tried incorporating vocal percussion into math lessons will be doing so with help from their partner musician. And dancers who have never connected dance to literacy units will be doing just that with their partner teacher. Through this training, we help all teachers and artists take risks, learn and actively collaborate to develop their craft.
Dawn Johnson, a fourth-grade teacher, said the difference in how Young Audiences develops teachers lies in creativity. "When you are creative about it, people are going to remember what you are teaching them. That is why I love this training and love arts integration. In many trainings I go to as a teacher, instructors sit and present information. They tell us what to do but don't model and show us how to do it. If you expect the world out of us, then show us what you want it to look like by modeling it. That's why arts integrated trainings are so incredible."
The training that Kristina has designed is filled with intense, thoughtful, collaborative sessions, including:
How to create a learning environment that impacts the social emotional learning of students
How to use portfolios to give students a voice in sharing work that is important to them
How to connect reading and writing exercises to students' lives
How to intentionally build community
How to create authentic opportunities for students to reflect on their work and their own creative processes
How to integrate the art authentically into literacy and math
Kristina and her team modeled how to do all of this through the arts and through powerful partnerships between artists and teachers in classrooms.
After the 35 hours of arts integration training wrapped up on June 30, our 72 Academy teachers and teaching artists walked away inspired and prepared to create a world for their students filled with creativity, meaning, connections, joy and — of course, learning! Here are some final thoughts shared by both teachers and artists on our Graffiti Reflection Wall:
To see Kristina in action, performing this song (lyrics below!) at the training, click here!
Summer summer summertime
Time to stop the summer slide
Here it is the school
Greatly transformed
Just a bit of a break from the norm
Just a little somethin' to break the monotony
Of all that hardcore school that has gotten to be
A little bit out of control it's cool to learn —
But what about the arts that soothe and move our kids
Math and literacy in the mix
Cuz we know it works so let's put on the fix
And think of the schooling of the past
Adjust the stress — let creativity blast
Artists and teachers together in time
Just put them in classrooms and lay back
and this is summertime
Chorus
School is out and it's a sort of a buzz
And back then I didn't really know what it was
But now I see what have of this
The way that kids respond to these artists
The classroom — it rocks and kids are singing tunes
And sculpting with clay and dancing through rooms
Rapping to their beats and acting on their feets
Filming and recording — all out of their seats
Here in BMore we are in four schools
All filled with arts cuz we know that's cool
Kids are reading and writing through the arts
Doing math, making art, reflecting, showing their hearts
Being assessed in many different ways
Celebrating learning each and every day
And with a pen and pad we composed this rhyme
To hit you and get you equipped for the summertime
Chorus 
Stay Connected!
Follow us throughout the next five weeks as we share daily inspiration from Summer Arts and Learning Academy classrooms!