Written by Barbara Krebs,
Young Audiences volunteer and Sunburst Society member
Field trip! Remember the excitement you felt as a kid when you got to explore the world outside your classroom for the day, file on the bus, and leave school far behind? Well, it was a bit like that on Wednesday, July 25, when a diverse group of Maryland legislators, high-level education officials, and others boarded a bus to learn more about the programs that Young Audiences and its partners are offering Baltimore youth this summer. Except instead of leaving school, we headed toward them!
Initially, visitors met at Moravia Park Elementary School, the first of three stops that day. As Stacie Sanders Evans, President & CEO of Young Audiences, shared in her opening remarks, "We're shining a light on summer learning opportunities; we're shining a light on amazing kids; and we're shining a light on how the arts blends these two things."
At Moravia Park, we visited SummerREADS, a free drop-in literacy program that is the result of partnerships with the Harry and Jeanette Weinberg Foundation, the Baltimore Elementary and Middle School Library Project, Baltimore City Public Schools, and Young Audiences. Over a five-week period of time, more than 500 K-8 Baltimore City students will have had the opportunity to visit one of nine reading sites where they encountered engaging literacy workshops with teaching artists and fun enrichment activities with special guests.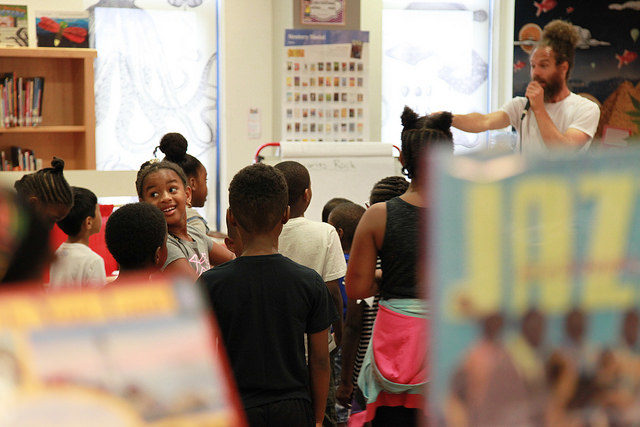 And that is exactly what we found when Max Bent, a beatboxer who has been a Young Audiences teaching artist for 7 years, led a group of six- and seven-year-olds in the basics of beatboxing. He taught them how to make various sounds and then incorporated them into a song, "My Banana." As they counted out beats (three syllables in banana!), they thought of other fruits (apple, two syllables!) to add into the song.
We had to leave for our next stop before he could complete the lesson, but I could already see the intriguing possibilities in beatboxing for both math and English. Before we left the school, there was a quick Q&A session. The questions came fast and furiously from all sides of the room, a testimony to how interested people were, not only in the learning they had just witnessed, but what it took to make this possible.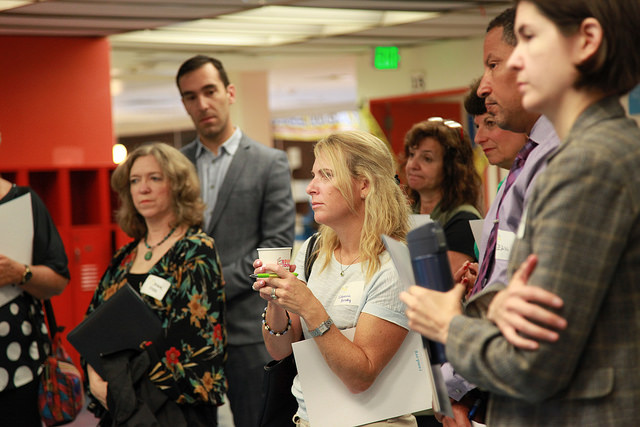 Our next stop was at Dorothy I. Height Elementary School for an introduction to Young Audiences' Summer Arts & Learning Academy (SALA). Here we learned that SALA is a five-week program for Pre-K through fifth graders where the focus is twofold. First, to arrest summer learning loss, and second, to make sure that learning is fun and engaging every day.
At this particular school, 260 children meet each day to learn and reinforce lessons in literacy and math. Last year, Young Audiences reached more than 1,150 children at four different school sites. Incredibly, in one year's time, Young Audiences, in partnership with the Baltimore City School system, has doubled its efforts, reaching about 2,200 kids at eight school sites.
We were then offered the opportunity to enter classrooms to observe the action.  I slid into a third-grade classroom, where the children were focusing on The Red, a book about a confused crayon, whose friends eventually help him discover his true color.
The teaching artist, Daniel Ssuuna, whose specialty is East African dance and drumming, divided the kids into three groups, each focusing on one particular part of the story. Handing out percussion instruments, he instructed students to focus on the emotions of the crayon during their assigned story segment. Was the crayon confused, or supported, or happy? With that in mind, they then created a dance and drum accompaniment to illustrate the crayon's feelings.
Other instructions given by the classroom teacher, Amanda Bila, highlighted listening skills. She asked, "When we are not performing, what do we do?" The kids supplied helpful advice: Be quiet. Be respectful. Listen. Pay attention.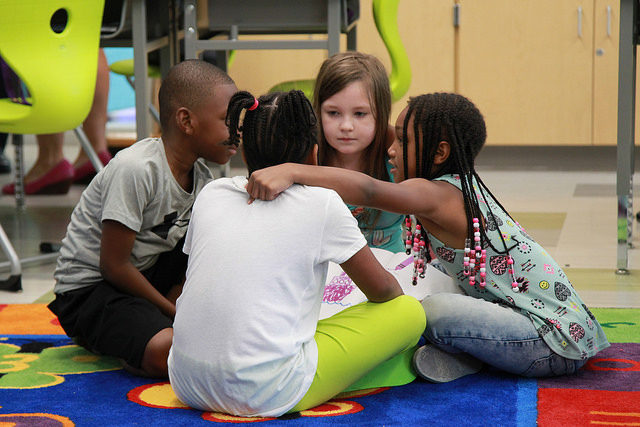 As the groups formed, I watched their interactions with the teachers and each other. I saw collaboration, referring to the book for inspiration, asking teachers questions, answering questions from the teacher, ideas discussed, ideas kept or discarded.
If Socrates had walked into this classroom, I'm sure he would have been proud to see his famous critical thinking methods being deployed.
Though I would have loved to watch each group perform, sadly, our time was up. Still, the excitement the kids exhibited as they analyzed their book was a potent reminder of how exciting and fun learning can be when you combine the arts and dedicated teachers.
Next we traveled to the Reginald F. Lewis Museum of Maryland African American History and Culture. Here we learned about the Bloomberg Arts Internship (supported by Bloomberg Philanthropies NYC) which places 35 Baltimore City rising seniors in paid internships at local arts and cultural institutions. These teens worked throughout the city with a goal of learning career readiness skills through real-world workplace experiences and professional development. Additionally, college mentors and writing coaches worked with the interns on college applications, resumes, and other experiences that will help them move to the next level professionally and/or academically.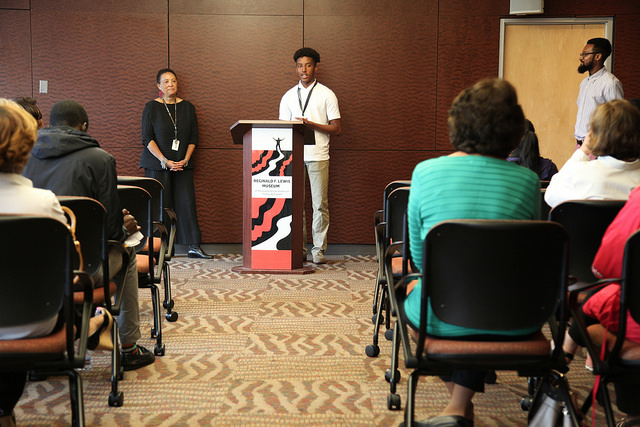 One intern, Collin Snow Stokes, spent his time at the Reginald F. Lewis Museum documenting the thoughts and feelings of Lewis staff, visitors, and volunteers evoked by objects reflecting Jim Crow era stereotypes from their upcoming exhibition "Hateful Things." His goal was 10 interviews, but he became so interested in the project that he exceeded his goal and even had time to do a few more before writing up his findings. And since his goals are to go into journalism and/or broadcasting, the interview process has honed job skills he will use for the rest of his life.
We also heard from two young women, Citlalli Islas and Paris Day, who worked at Port Discovery Children's Museum. Paris was assigned an archival project, logging in items that have been collected by Port Discovery over the 20 years of its existence. As she began her assignment, both she and the curators soon realized that the scope of it was more than they had anticipated. But by creating a system to log and track the items, they have begun the process that will help the museum maintain its collection for years to come. And as an added bonus, as she archived items, the collection overseers realized what a great exhibit some of the artifacts would make and, thus, an exhibit was born!
Citlalli interned in the exhibits department and has learned a lot about all the behind-the-scenes work that goes into creating and maintaining a museum exhibit. Obviously, this requires artistic vision. But beyond that, this has called on her to be innovative, meticulous and organized – not a bad group of skills to acquire before college and beyond.
Finally, it was time to get on the bus to return to our cars. As we wound our way down Baltimore's city streets, I listened to the conversations around me, ranging from other arts organizations and what they accomplish in their communities to legislative and philanthropic aides asking questions about the work that Young Audiences does and how each person present got involved.
And as I thought about involvement, I remembered another thing that Stacie had said at the beginning of our journey: It takes a village. At the time she was referring to the teaching artists, librarians, kids, and parents who were involved with SummerREADS. But it was just as applicable to each program we visited, and to each organization that contributes time, money, or leadership.
None of what I had witnessed occurs in a vacuum. The sheer number of people, funds, and time takes a rather large village, actually. And I'm happy to be a small part of this Young Audiences village. It's a great place to be and I invite you to join me! Field trip!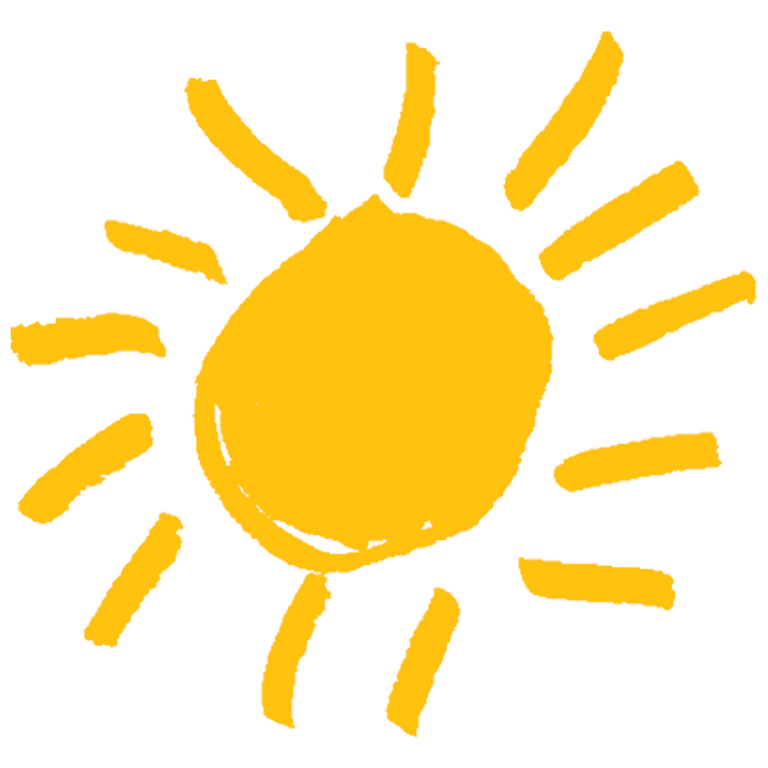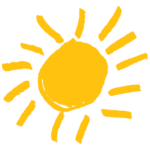 Learn more about our mission, our methods, and our future plans during a one-hour Meet Young Audiences event. In addition to hearing from the organization's leaders and getting an inside look into the amazing work we are doing around the state, one of our roster artists will share their amazing work with you and speak about how the arts complements and enriches classroom learning. Please reach out to Ingrid Murray, Individual Giving Manager, at [email protected] for more information or call (410) 837-7577 x. 107. Interested in hosting your own Meet Young Audiences event? Find out more here!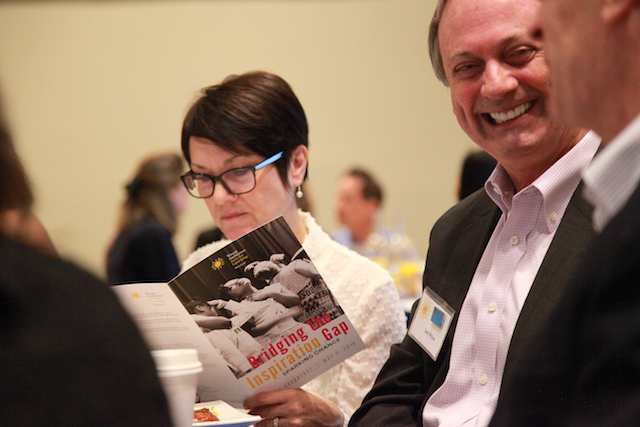 Written by Barbara Krebs,
Young Audiences volunteer and Sunburst Society member
Spark. Ahh, now that's a great word. Quick, simple, to the point.  And it's versatile – noun or verb – it's all good. And if you're a fan of onomatopoeia (and who isn't?), well, I think spark works well there, too.
If you attended the 11th annual Young Audiences Impact Breakfast, you heard that word a lot. First, from Stacie Sanders Evans, President and CEO of Young Audiences, whose drama teacher sparked a passion that would put her on the path to her leadership of YA. You heard it from Jaime Clough, a second-grade Baltimore City Public School teacher who taught in YA's Summer Arts & Learning Academy (SALA) and who has used the tools and strategies learned at SALA to transform her classroom during the school year. You even heard it from a student. High school senior Jahsol Drummond spoke about his experience developing his video and editing skills at the Center for Innovative Research in the Creative Arts (CIRCA) at UMBC  in last summer's Bloomberg Arts Internship. He shared his plans for the future as a college student (he was awarded a full scholarship to Bard College) and as a filmmaker. "My career has only just begun, and it's already so exciting," Jahsol beamed.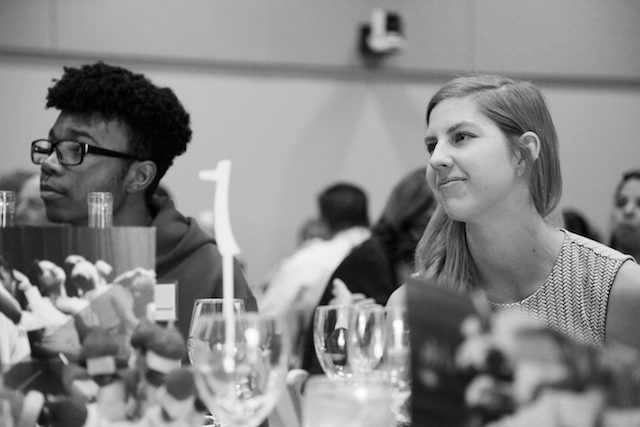 It is amazing where a spark will take you if you have the passion and determination to stoke the fire.
But, of course, the thing about the Impact Breakfast is not just the inspirational stories we hear from the presenters, nor is it solely about acknowledging the remarkable strides Young Audiences has made over the past few years in overcoming summer learning loss. These are important and wonderful things to witness, no doubt. But what truly struck me this time around was the synergy of people attending this event united by the desire to improve educational opportunities for the children in our communities.  
Seated to my right was Kariz Marcel, a DJ, music producer, teaching artist, and founder of the nonprofit Innovation Echo Alliance who is seeking ways to partner with Young Audiences and other educational organizations through his music industry connections. As he explained it to me, he was hoping to establish a roster of professional recording artists who would be willing to donate a small portion of their music royalties to these organizations as an ongoing and sustainable way to raise funds for education in our local schools.
Another gentleman at our table was Lieutenant Steven Thomas, a member of the Anne Arundel County Police Crisis Intervention Team.  He and his team identify youth who can be helped by, for instance, after-school programs, like the Police, Artist, and Community Engagement program (PACE), and then find ways to make these things happen.  For example, when it was discovered that transportation was an issue, they partnered with the school system to provide it.  That meant getting the school-approved CDL bus license so they could drive students on the county's buses.  A little spark of creativity to problem solve what might otherwise have been a deal killer. Instead, police officers are keeping local youth involved in enrichment programs.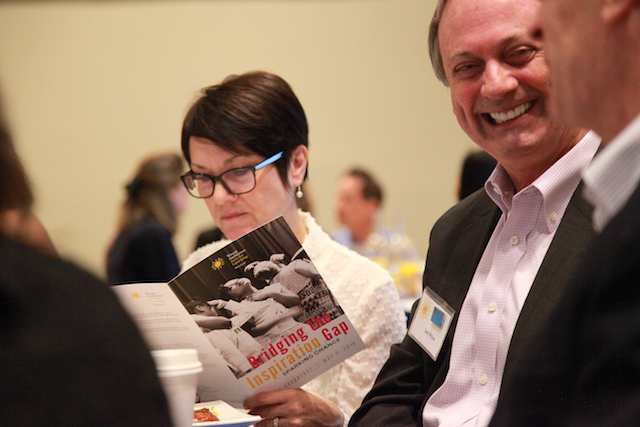 Likewise, I got a chance to talk briefly with Dr. Stuart Levine, President and Chief Medical Officer of MedStar Harbor Hospital, who I had heard speak only a week before at the unveiling of the mural that now sits in the lobby of the hospital's Emergency Department. This mural, which focused on how cells and viruses interact with human and animal bodies, was created by sixth-grade biology students from Brooklyn Park Middle School. The project was the result of a multi-week Young Audiences teaching artist residency in partnership with Arts Empowered Minds Initiative (AEMI). So here was yet another way that a group, which is pivotal to the lives and health of its local community, had found a way to connect with young students, perhaps sparking future collaborations?
And that is just a small sampling of the conversations I had at my table alone. As I looked across the room, I could only imagine what discussions, ideas, creative solutions, and inspirational tales were being shared elsewhere. Knowing that so many people had gathered because they have a passion to improve the educational lives of our youth, I came away from the event feeling recharged, hopeful and, yes, ready to find fresh ways to kindle the spark – in whatever myriad forms it appears – in my own life and those of others.
Indeed, there is no telling what particular spark at what precise table will catch fire and generate a lasting, positive impact. 
But that's the Impact Breakfast for you – a kaleidoscope of people who are sparking change and impacting the future for our children!
Categorized:

News

Tagged:

Anne Arundel County Police Department, Baltimore City Public Schools, Barbara Krebs, Bloomberg Arts Internship, community, Cylburn Arboretum, Development, fundraising, Impact Breakfast, Jaime Clough, Kariz Marcel, MedStar Harbor Hospital, PACE, Summer Arts & Learning Academy, summer learning, SummerREADS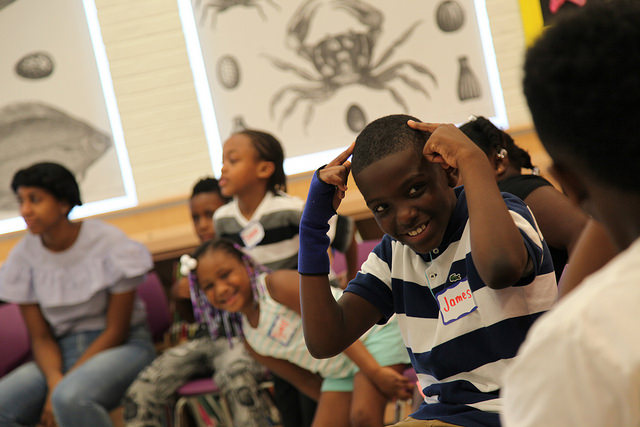 All summer long, kids and families made their way to one of seven city school libraries, each one beautifully renovated as part of The Weinberg Foundation's Library Project to take part in SummerREADS, a free literacy initiative that provides six weeks of drop-in programming for Baltimore City students, grades K through 8.
The host schools and libraries offered safe and welcoming spaces where students participated in literacy workshops and arts enrichment with teaching artists as well as enrichment activities with special guests including Art with a Heart, Maryland SPCA, The Maryland Zoo in Baltimore, and The National Aquarium.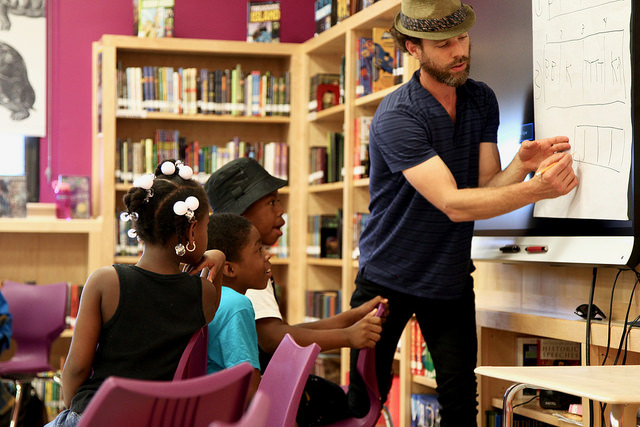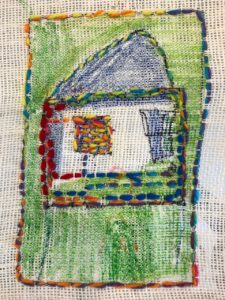 Every week, YA teaching artists introduced students to new experiences. Some learned to make music using their bodies with beatboxer Max Bent while others used lines, shapes, and shading to draw bunnies, snakes, and slugs with Brittany Roger of The Drawing Zoo. From jazz vocalist Renèe Georges, they learned about braille and how the late, great Ray Charles overcame adversity. They stitched colorful portraits of home with textile artist Pam Negrin and used what they learned about composition and digital photography from artist Christina Delgado to capture images of their library, teachers, and classmates. Actor Katherine Lyons gave students the tools, space, and permission to pretend, allowing even older children to travel wherever their imaginations would take them.
And through all of these art activities, young students strengthened their literacy skills, their vocabularies, and even their math skills. As they wrote songs, they considered the division of time when deciding how beats would fill their measures. Students explored new adjectives to best describe the textures and patterns they set out to draw, and they learned many many new ways of communicating- through art, through song, through dance, and through touch by learning the braille alphabet.
Perhaps most of all, students in SummerREADS learned that the library is a space for them. The library is open for them to use, to learn in, to explore, and to grow in. It's a place where magic happens, not only in books, but in minds and hearts. It's a place that challenges your ideas and is as good at surprising you with facts as it is at mesmerizing you with fiction. They learned that the library is a place where they want to be and even in summer, its doors are open.
Registration for SummerREADS 2018 is now open! This year, the program will expand to nine school library sites and operate Monday through Friday. SummerREADS programs are geared toward students in grades K-3 and their families, although the library is open to all Baltimore City School students in current Pre-K-8th grades. Learn more and register today at yamd.org/summerreads.