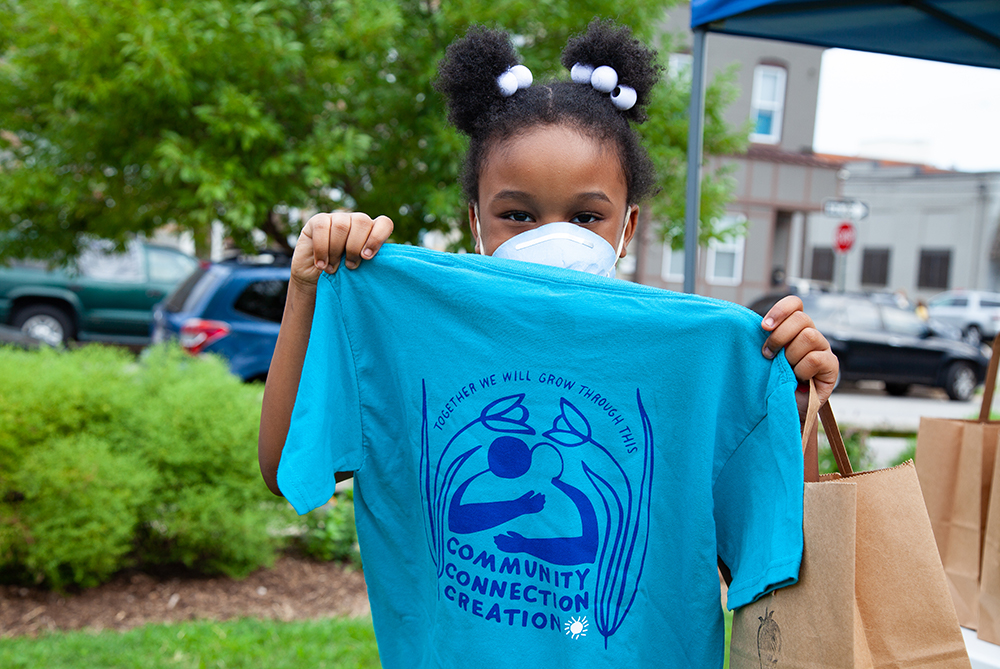 By now, Maryland students will have started their new school year. We know they have been missed terribly by their teachers and by their friends. And while they might not be reuniting in the ways that they had hoped, we know that they can still feel the love, the excitement, and support they would normally get in person. We know this because this summer, we were able to build and maintain the community and connections that students and families have come to expect from our programs—even though the circumstances were different.
Just as in years prior, students practiced their math and literacy skills each day with educators and professional teaching artists in our Virtual Summer Arts & Learning Academy (SALA). Besides the traditional benefits of summer learning, our students had the additional experience of getting adjusted to online learning in the fall. One parent said, "I really appreciated the fact that students were able to be in a virtual camp and prepare themselves for the upcoming virtual school year."
"I really appreciated the fact that students were able to be in a virtual camp and prepare themselves for the upcoming virtual school year."
And because they were learning through the arts, students were engaged, they had fun, and they were driven to learn and succeed. We saw puppet theatre performances and were treated to kitchen instrument concerts. We heard all about new passions ranging from embroidery to engineering. And we saw students and their families and caregivers having fun while learning and engaged in the arts together.
Teaching artist Marian McLaughlin's class made a collaborative crankie—a moving illustrated story—after reading the book "City Green". The crankie shows everyone's garden plots in their imaginary community garden.
We discovered that our Virtual SALA students RULE Zoom! At this year's program culmination, students presented collaborative class projects and Creative Challenges and we were absolutely blown away by their creativity and hard work. And it's not just the time and effort that was apparent in their presentations—you can feel their joy and pride, their camaraderie and excitement—even through the screen!
Students in this year's Virtual Summer Arts & Learning Academy worked with teaching artist Femi the Drifish and educator Mrs. Cassin to create "Our Changing World News".
We also had the honor of congratulating 19 incredible students on their completion of the Bloomberg Arts Internship, the college and career readiness program for rising high school seniors. Like our SALA students, the 2020 interns completed the entirety of the program virtually. All summer long, these students honed their writing skills, prepared applications for college, attended virtual workshops on financial literacy and college preparedness, and met over Zoom with professional artists working across a multitude of disciplines.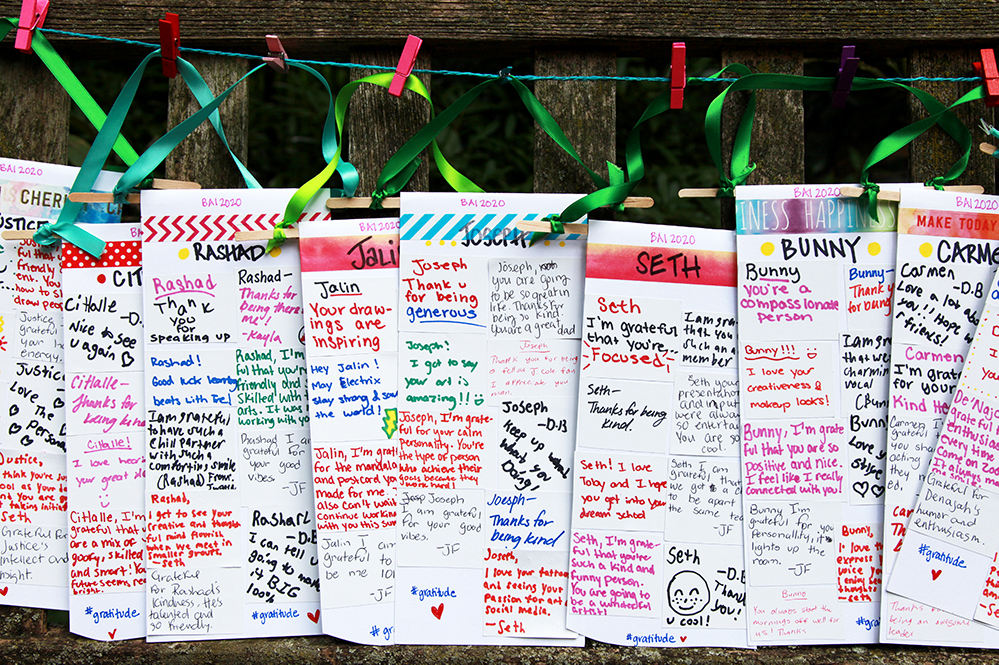 At their worksites, interns completed projects that required extensive research and the development of new skills. They engaged in lively and thoughtful discussion; they showed up and challenged themselves and inspired each other to aim high; and they cared for and supported one another daily.
This video, created by Gyasi Mitchell, BAI class of 2019, offers a glimpse into week four of our virtual Bloomberg Arts Internship.
We learned so much about reaching and inspiring students virtually and about connecting talented and committed teaching artists and educators with families in all new ways this summer. This was not the summer any of us expected when we started planning for it last year—in what now feels like a very different time. But summer is a magical season at Young Audiences, pandemic or not, and we are so thankful to be able to take this experience and all the lessons we learned and apply it to the new school year.
We are truly excited to now offer a diverse array or synchronous and asynchronous programing to help schools engage students this school year. We know that creating content that changes the pace of remote learning can be a daunting challenge for educators. Young Audiences' remote learning programs provide the tone and flow that makes learning interesting and fun. Our standards-based resources motivate students to stay engaged and provide busy educators with high-quality, fully customizable options for delivering content. Visit yamd.org/remote-learning to learn more about how our professional teaching artists bring excitement and joy into your virtual classrooms!
Categorized:

Bloomberg Arts Internship, News, Summer Arts & Learning Academy

Tagged:

arts education, arts integration, BAI, Baltimore, Baltimore City Public Schools, Bloomberg Arts Internship, COVID-19, families, Interns, Internship, online learning, Remote Learning, SALA, SEL, students, Summer, Summer Arts & Learning Academy, summer internship, summer learning, virtual classrooms, virtual learning
Arts-integrated program for City Schools students expanding to nine sites in 2020 after program successfully reduced summer learning loss in math
BALTIMORE – Young Audiences' Summer Arts & Learning Academy–the free, five-week arts integration program for Baltimore City Public School students–will expand in 2020 after new research showed the program successfully reduces summer learning loss in math while supporting writing and social-emotional growth. In 2020, the program will grow to nine sites, reaching nearly 2600 students across Baltimore.
The 2019 Summer Arts & Learning Academy (SALA) was held from July 6 to August 7 at eight sites. Through hands-on activities co-taught by teaching artists and teachers, more than 2,300 Pre K-5th grade students engaged in painting, songwriting, poetry, dance, music, photography, and playwriting while learning math, writing, and literacy.
"Arts education is a vital component of instruction in City Schools because its concepts infuse other key instructional areas such as language arts and mathematics. That combination creates a well-rounded education for our students," said Dr. Sonja Brookins Santelises, CEO of City Schools. "We are pleased to partner with Young Audiences/Arts for Learning as it enhances its contribution to the arts education of our students. Its work is invaluable in expanding the minds and skillsets of our students."
Research from Baltimore City Public Schools and evaluation firm WolfBrown showed that the infusion of the arts into traditional learning content transformed the classroom experience, resulting in academic gains for students. Baltimore City Public Schools analyzes student performance on the i-Ready math assessment, taken at the end and beginning of each school year to gauge summer learning loss. Results showed that SALA attendees had significantly less summer learning loss in i-Ready math compared to BCPSS students who did not attend the program. The district evaluation also highlighted YA as the most cost-efficient elementary program with the highest rates of enrollment and attendance.
WolfBrown, a national leader in research on arts education and children's development, partnered with Young Audiences to analyze the 2019 SALA results and reported significant academic gains–an average of 20% growth–in third-fifth grade writing scores on pre-and-post program testing. WolfBrown also found that students attending SALA for two years showed no summer learning loss in math. Rather, these students experienced academic gains when returning to school, growing their i-Ready scores by nearly three percentile ranks.
WolfBrown's findings showed that while all kids can benefit from the program, students who are furthest behind academically can benefit the most. Students (grades 3-5) entering the program two grade levels below grade level saw no summer learning loss in reading as measured by i-Ready. In fact, these students grew by two percentile ranks when returning to school in the Fall. 
With Baltimore City Public Schools prioritizing whole child education, Young Audiences (YA) partnered with WolfBrown to develop and pilot an observation tool last summer that spans from emotional support and social climate to academic knowledge and arts integration. The framework is based on what research shows matters in a learning environment–and it may ultimately help YA and City Schools better understand why this program works. Observers scored SALA particularly high in classroom climate, teacher sensitivity, ability to develop math skills in students, co-teaching, and differentiated literacy instruction.  
"Arts education is a vital component of instruction in City Schools because its concepts infuse other key instructional areas such as language arts and mathematics. That combination creates a well-rounded education for our students," said Dr. Sonja Brookins Santelises, CEO of City Schools. "We are pleased to partner with Young Audiences/Arts for Learning as it enhances its contribution to the arts education of our students. Its work is invaluable in expanding the minds and skillsets of our students."
"We are thrilled that City Schools is choosing to partner with Young Audiences to expand this program to more children in summer 2020," said Stacie Sanders Evans, Young Audiences President & CEO. "We also love that City Schools is committed to the whole child, making sure kids have opportunities to develop personally, creatively, and academically over the summer."
Registration for the 2020 Summer Arts & Learning Academy will open on Tuesday, March 3, with the program running from July 6 to August 7. Host sites include Arundel Elementary Middle School, Elmer A. Henderson-Hopkins, Dorothy I. Height Elementary School, Gardenville Elementary School, Beechfield Elementary Middle School, James McHenry Elementary School, Pimlico Elementary/Middle School, Wildwood Elementary/Middle School, and Graceland Park-O'Donnell Heights Elementary School. Find registration and more information at yamd.org/programs/summer-arts-academy.
View the full Baltimore City Public Schools Summer Evaluation
View the full WolfBrown SALA Evaluation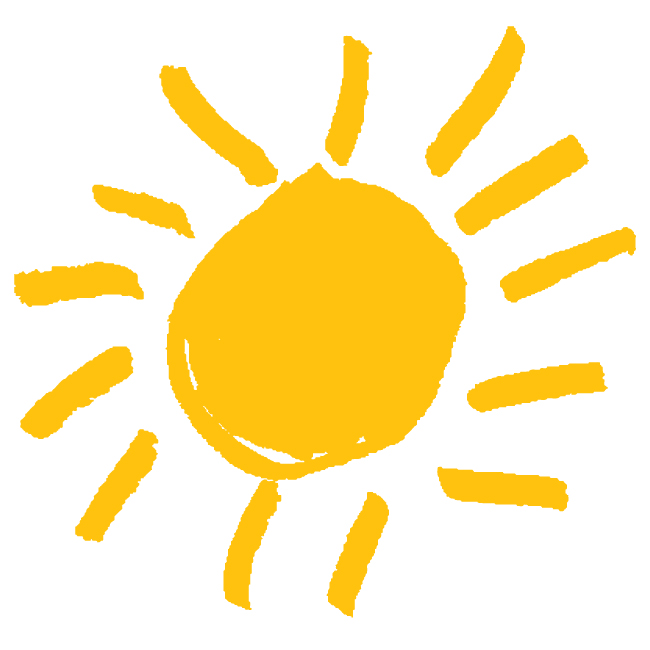 About Young Audiences/Arts for Learning:
Started in Baltimore in 1950, Young Audiences is the nation's largest arts-in-education provider. As the Maryland affiliate, Young Audiences/Arts for Learning (YA) is devoted to enriching the lives and education of Maryland's youth through educational and culturally diverse arts programs. Through Young Audiences, professional artists from all disciplines partner with leaders and schools for nearly 10,000 hands-on arts learning experiences that reach more than 190,000 Maryland students. Young Audiences envisions a Maryland where the arts are valued for their capacity to transform lives, and where every student is immersed in opportunities to imagine, to create, and to realize their full potential.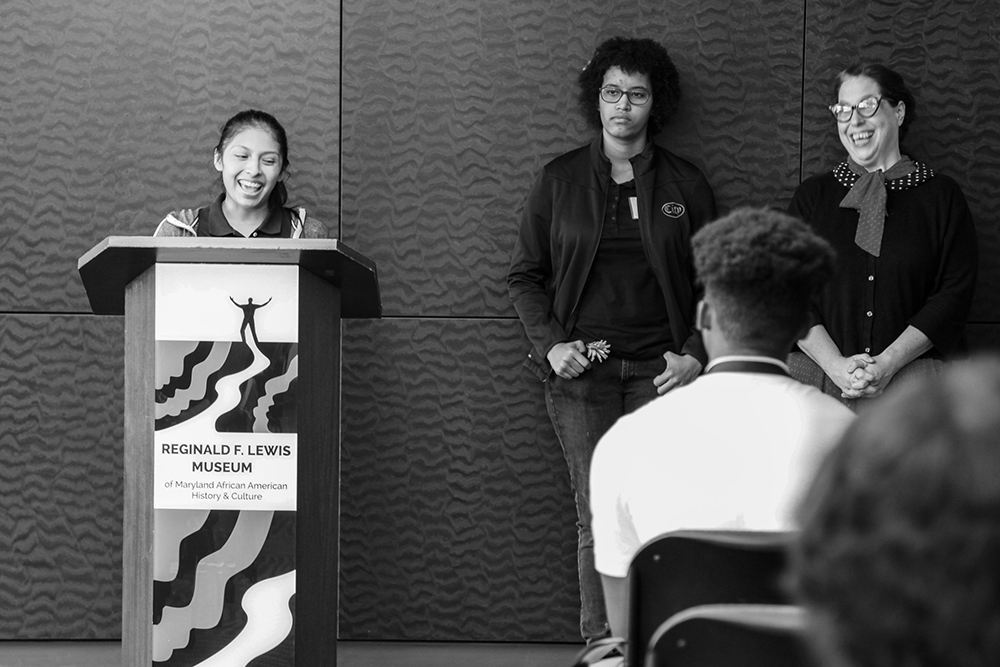 This summer, rising high school seniors in Baltimore City Public Schools will have the opportunity to work and learn in one of Maryland's stellar and well-respected arts and cultural organizations through the Bloomberg Arts Internship, a program designed to challenge and inspire students.
The 2019 Bloomberg Arts Internship worksites are:
Art with a Heart
Arts Education in Maryland Schools (AEMS) Alliance
Arts Every Day
Baltimore Clayworks
The Baltimore Museum of Art
The Baltimore Office of Promotion & the Arts
Center Stage Associates, Inc. (Baltimore Center Stage)
Dance & Bmore
Evergreen Museum and Library
Everyman Theatre
Homewood Museum
Maryland Film Festival / SNF Parkway Theatre
Maryland Historical Society
Maryland Institute College of Art, Young People's Studios
Peabody Preparatory
Port Discovery Children's Museum
Reginald F. Lewis Museum
Single Carrot Theatre
The Walters Art Museum
Wide Angle Youth Media
Students will get paid, hands-on, meaningful experience learning about the many roles played behind the scenes at these organizations. They'll also complete a special project unique to their worksite placement!
Collin Snow Stokes, a 2018 intern at the Reginald F. Lewis Musem, interviewed and documented the thoughts and feelings of Lewis staff, visitors, and volunteers evoked by objects reflecting Jim Crow era stereotypes from their exhibition "Hateful Things."
Bella Smith, a 2018 intern at Evergreen Museum and Library, curated the exhibition "New Acquisition – Works by Aaron Sopher." She cataloged 34 of the artist's drawings, then transferred the catalogs to a digital file before selecting which works to exhibit, and matting, framing, and labeling the pieces for the show.
Internship projects vary among organizations to include production, education, development, community engagement, artist engagement, video, music, administration and more. At the end of the program, interns create final presentations highlighting their experiences, sharing with the community the new skills and interests that have developed over the course of their internships at each site.
In addition to gaining valuable work experience, Bloomberg Arts interns will be honing writing skills while preparing personal essays and receiving guidance in applying for colleges. They'll also have the chance to explore cultural institutions through field trips, and to see/hear/talk about works of art in various arts disciplines (visual art, music, theatre, dance, design, film/video, and technology).
The Bloomberg Arts Internship is managed by Young Audiences through the support of Bloomberg Philanthropies. There are only 35 spots available for rising seniors. Apply NOW!
Application Deadlines:
Early Bird: April 12, 2019
Final: May 6, 2019
Children have a lot to say. Slam Poet and YA teaching artist Femi the Drifish worked with students in last year's Summer Arts & Learning Academy to help them get their poem to the stage for all of Artscape to hear. We are proud to share this light, energy, and love for our city, straight from the mouths, hearts, and minds of the future of our nation.
Baltimore
We live
Baltimore
We wise
Baltimore
We Lit
Baltimore
We live [2X]
Don't try to fit me in, your equation
I'm not a part of your, situation
We repping Baltimore real hard
Doing it real big, World Star
We eating chicken boxes, half N half
At the harbor, eating crabs
Repping Baltimore, since I was five
They don't know me, I ain't gotta lie
Baltimore
We live
Baltimore
We wise
Baltimore
We Lit
Baltimore
We live [2X]
We love this city, all heart
Always loved it, from the start
No more murders, more hugs
Stop the drug dealing, no more thugs
We don't need to be, from the hood
What we need is, more brotherhood
We from Coldstream, getting an education
Cause we the future, of this nation
Baltimore
We live
Baltimore
We wise
Baltimore
We Lit
Baltimore
We live [2X]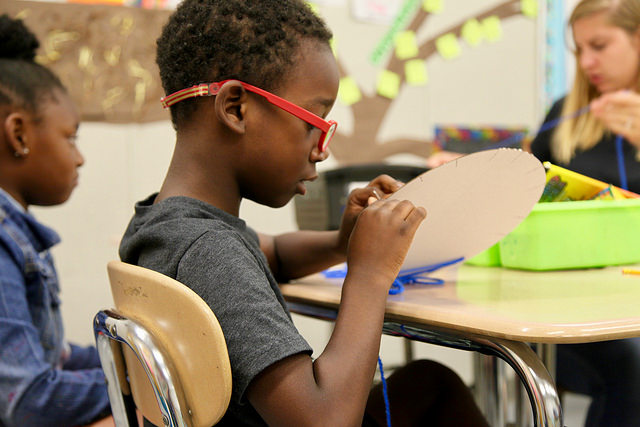 Written by Jaime Clough,
2nd Grade Teacher at Margaret Brent Elementary Middle School and
Summer Arts & Learning Academy Classroom Teacher
"This hit, that ice cold, Michelle Pfeiffer, that white gold." As soon as I heard the music echo into the buzzing auditorium, I knew it was time. Katherine Dilworth, my artist partner, and I put on our old lady gardener hats, fluffed our red feather boas, and strutted through the crowd of children gathered for the first day of Summer Arts & Learning Academy (SALA) at Thomas Jefferson Elementary Middle School. Waving and pointing to our new 1st and 2nd graders, we introduced ourselves as not just teachers, but people. We pulled out our best, but simultaneously horrible moves, and leaned into making ourselves look as silly and approachable as possible. It was fun, it was full of life, and we created it.
This scene, this first real moment of SALA, is a small snapshot of what the entire summer felt like for us as teachers working with Young Audiences. Neither Katherine nor I had ever worked at the Summer Arts and Learning Academy before and we were a bit hesitant about what fully integrating the arts into each lesson would look like, especially in dealing with Common Core math. Coming into this program, I had just completed my third year as a Baltimore City Public School teacher. I was less concerned with management, and more concerned with how to plan arts experiences all day, every day. Katherine has taught many residencies all over Maryland with Young Audiences, so she was more concerned with the management piece than with planning content. Young Audiences did a beautiful job of pairing us together because our strengths complemented each other perfectly and we filled in the gaps for each other seamlessly. Looking back, one of the massive assets of the SALA program is that teachers and artists work together so that the best of both art and content is intertwined beautifully into each students' day.
Another huge asset to SALA is the freedom we had in planning our content to help our students enjoy their experience through art. We had a variety of types of art involved in each day, from movements associated with how a plant grows to full projects like weaving flowers based on patterns to create a "community garden" like in our story City Green.
One of my favorite projects that we planned and implemented was a math lesson that focused on symmetry. Our math skill that day was understanding the value of the equals sign and how to make true number sentences. As a hook strategy to help students understand this concept, we let our class choose magazine photos that we had cut in half. Then, we taught them about symmetry and allowed them to try to create the second half of their picture so that both sides had equal patterns, lines, and shapes. Not only did this art connection engage our students so that they were excited once math started, but it gave them confidence and helped them understand much more clearly what it means for something (like a math equation) to "look equal."
Lessons and experiences like these projects enriched our students' understanding and knowledge in a way that I did not expect. This summer, I was able to clearly see how differently an arts-integrated classroom functions compared to a non-arts-integrated classroom. In an arts-rich class, students are more engaged, they have fun, they are more willing to take risks, and they come to see each other not just as students capable of learning, but as whole people capable of creating incredible things. On that first day of SALA, we were introduced to our students not just as teachers, but as whole people. Because of this, we were able to build more trusting and holistic relationships with them. This experience changed the way that I will teach, always, and I hope that it changed how my students feel about school and learning.
If you are a K-12 certified academic teacher interested in teaching in our 2018 Summer Arts and Learning Academy, email us at [email protected]. Professional artists interested in using their knowledge and expertise to transform the lives and education of City School students should visit Summer Arts Corps to learn about our paid training program. 
It was a summer filled with activity, singing, dancing, reading, creating, and sunshine. We witnessed the excitement of mastering new skills and discovering new talents. We felt the calm of classrooms illuminated with only the rays of light peeking in from behind drawn shades, students enveloped in peace, quietly drawing, ink and graphite on white paper.
When families initially enrolled their children in our Summer Arts and Learning Academy, we asked them why their child was interested in participating. Many stated that their children were creative and hoped that through the program, they'd be able to enhance their skills. Others emphasized the integrated academics or latent benefits of the arts. Some registrants celebrated the availability of the arts and educational summer program, as these opportunities are limited in Baltimore City.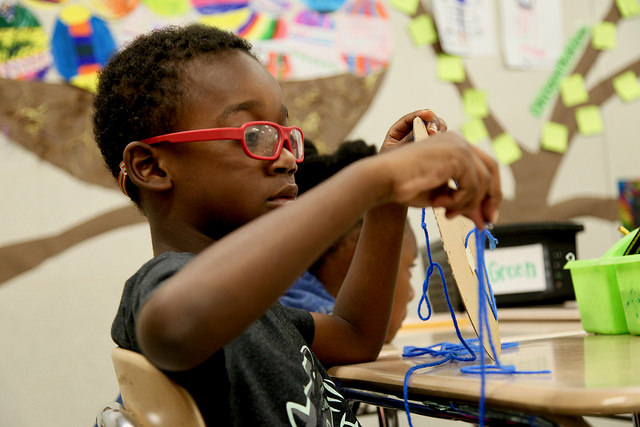 Did our Summer Arts and Learning Academy live up to families' expectations? Culmination ceremonies came to a close, classrooms were disassembled and packed up for next year, and students prepared for their next summer adventures. We asked parents and families if they'd give us feedback about their experience by filling out a survey. Their responses poured in- 413 of them to be exact. We discovered that in Summer Arts and Learning Academy, parents watched their children not only learn, but grow and thrive artistically, emotionally, and academically.
When asked about any positive changes they noticed in their kids, one parent replied, "An eagerness to attend school. IN THE SUMMER! Who knew?!"
87% of families who completed surveys told us that their child found something new that he or she has fun doing. "My son began to enjoy sewing and dancing," one parent told us. Another let us know that her grandson was very proud of the work he did in ceramics class. "He usually gives me all of his drawings and art projects, but he kept his claywork for himself."
Even when one particular art form grabbed a student's interest above all others, the children in Summer Arts and Learning Academy developed a deeper appreciation of and openness to all art. Students discovered that flexibility leads to new passions, discovery, and opportunity. "I learned that I am exceptionally good at ceramics. I knew I would like it but I didn't know I would actually be good at it," a rising sixth grader told us. "She was disappointed that the Coldstream Park site didn't offer theatre for older kids," her dad explained. "We're working on 'rolling with it,' though, and she ended up really loving African Dance and Ceramics. She would never have known, otherwise."
Parents told us that their kids were excited to get to the academy every morning, on time. When families reunited in the afternoons, kids would talk and talk about everything they did that day. When asked about any positive changes they noticed in their kids, one parent replied, "An eagerness to attend school. IN THE SUMMER! Who knew?!"
Upwards of 80% of parents who responded told us that they noticed an increase in their child's reading and math skills. With this strengthening of skills, their children became more confident. Of one student who enjoys writing poetry, we were told, "she will now actually share her writing with others." Many families reported their children not only enjoying reading but choosing to read books over watching television. Still others described students proudly reading on their own and teaching younger siblings what they had learned.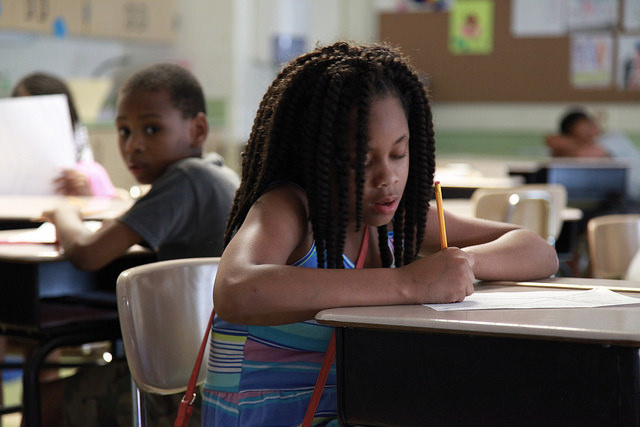 The positive changes parents noticed in their children exemplified 21st Century Skills, a set of higher order skills that have been identified by educators and business leaders as being critical to a person's success in careers, in college, and as a citizen. These are skills that typically cannot be measured through standardized testing and include critical thinking, collaboration, communication, and creativity.
Through Summer Arts and Learning Academy, students were introduced to many new ways of thinking, seeing, and expression. They learned to look at things from different perspectives through the eyes artists, characters in literature, and through new friends, which made their own experiences more joyful and meaningful. Children embraced their curiosity, asking questions, exploring, and researching independently. "My daughter is better able to integrate her love of arts (fun) with learning (not as much fun) and see ways to make learning something that's both fun and something she can accomplish," one mom told us.
Families described their students as being more social, friendly, outgoing, and connected. One student told her mom that she "enjoys being a loving and caring friend." Another student "wants to take care of the neighborhood." Students discovered that they liked working in groups and parents thought their children were now better able to deal with conflict. Through collaboration, the kids learned how to communicate, compromise, and achieve a common goal. They learned to 'roll with it', an enviable and necessary skill for 21st century children and adults alike.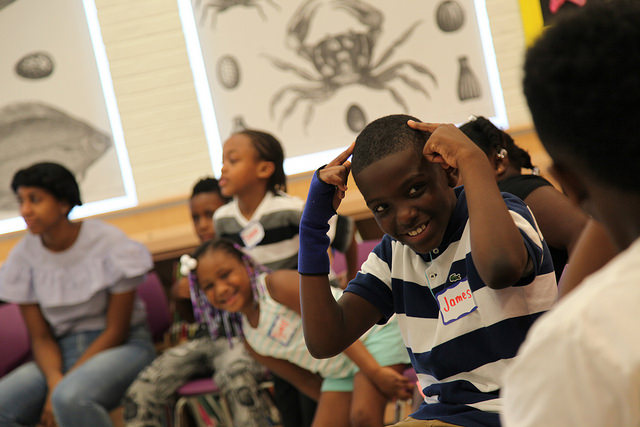 All summer long, kids and families made their way to one of seven city school libraries, each one beautifully renovated as part of The Weinberg Foundation's Library Project to take part in SummerREADS, a free literacy initiative that provides six weeks of drop-in programming for Baltimore City students, grades K through 8.
The host schools and libraries offered safe and welcoming spaces where students participated in literacy workshops and arts enrichment with teaching artists as well as enrichment activities with special guests including Art with a Heart, Maryland SPCA, The Maryland Zoo in Baltimore, and The National Aquarium.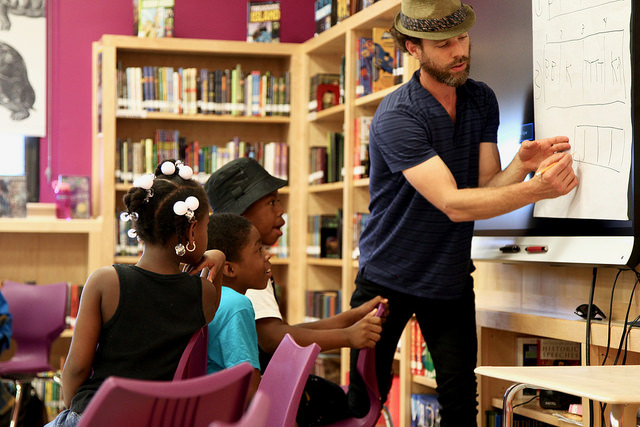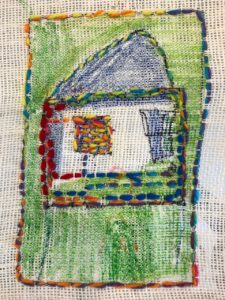 Every week, YA teaching artists introduced students to new experiences. Some learned to make music using their bodies with beatboxer Max Bent while others used lines, shapes, and shading to draw bunnies, snakes, and slugs with Brittany Roger of The Drawing Zoo. From jazz vocalist Renèe Georges, they learned about braille and how the late, great Ray Charles overcame adversity. They stitched colorful portraits of home with textile artist Pam Negrin and used what they learned about composition and digital photography from artist Christina Delgado to capture images of their library, teachers, and classmates. Actor Katherine Lyons gave students the tools, space, and permission to pretend, allowing even older children to travel wherever their imaginations would take them.
And through all of these art activities, young students strengthened their literacy skills, their vocabularies, and even their math skills. As they wrote songs, they considered the division of time when deciding how beats would fill their measures. Students explored new adjectives to best describe the textures and patterns they set out to draw, and they learned many many new ways of communicating- through art, through song, through dance, and through touch by learning the braille alphabet.
Perhaps most of all, students in SummerREADS learned that the library is a space for them. The library is open for them to use, to learn in, to explore, and to grow in. It's a place where magic happens, not only in books, but in minds and hearts. It's a place that challenges your ideas and is as good at surprising you with facts as it is at mesmerizing you with fiction. They learned that the library is a place where they want to be and even in summer, its doors are open.
Registration for SummerREADS 2018 is now open! This year, the program will expand to nine school library sites and operate Monday through Friday. SummerREADS programs are geared toward students in grades K-3 and their families, although the library is open to all Baltimore City School students in current Pre-K-8th grades. Learn more and register today at yamd.org/summerreads.
Baltimore City School students closed out a summer of creativity and arts-integrated education with performances and visual art exhibitions at Young Audiences Summer Arts and Learning Academy. The academy's culmination events were an opportunity for students to showcase their art forms and what they learned to family and friends. 
The Summer Arts and Learning Academy took place over five weeks, giving students from Title 1 schools in Baltimore City a free, daily opportunity to explore art forms with teaching artists while improving literacy and math using hands-on, arts-integrated learning techniques. They wrote songs to memorize grammar rules, learned dances to recall fractions, and immersed themselves in a multitude of art forms, making literacy and math concepts stick. The third annual academy had children and staff laughing, learning, and inspired.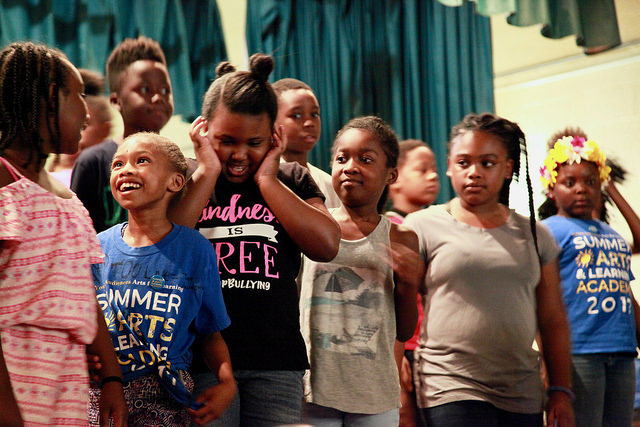 This kind of summer engagement with the arts is proven to have a significant impact on kids' education. In Summer Arts and Learning Academy, classroom teachers and teaching artists work together to continue to build momentum while stemming summer learning loss, or the loss of academic knowledge over the summer months. According to a study last year by Baltimore City Schools, students in 3rd-5th grade attending the Summer Arts and Learning Academy avoided summer learning loss, and in many cases, gained ground on their national peers in literacy and math.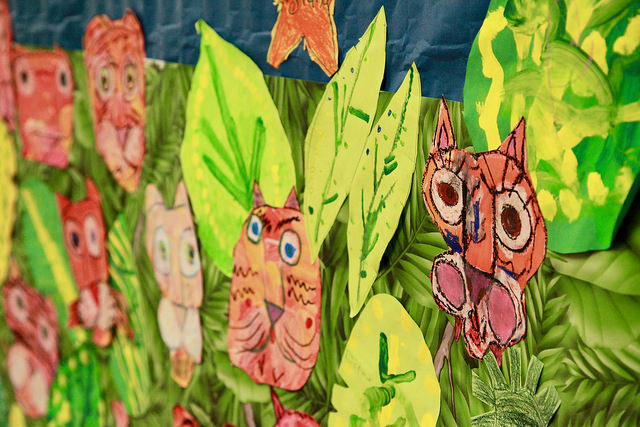 The culmination events, held at Thomas Jefferson Elementary/Middle, Coldstream Park Elementary/Middle, James Mosher Elementary, and Gardenville Elementary, put students on stage to showcase the art they created at the academy for parents, teachers, friends and family. Here is some of what we saw.
Two students from YA roster artist Femi theDrifish's spoken word poetry class read aloud their own inspiring words. They expressed the challenges caused by bullying through their writing, moving the audience with their heartfelt performance.

A larger group of students performed African dance on stage as their teacher, YA roster artist Ssuuna, led an accompanying rhythm section. A dance circle broke out at the end as students entered and showed the audience their skills. Cheers, laughs and applause filled the auditorium.
Music, poetry, and theater graced the stage as another group performed a chapter from a short story they read during the Academy. Kids performed as trolls and goats while their teacher, YA roster artist Drew Anderson narrated. Positive energy filled the room.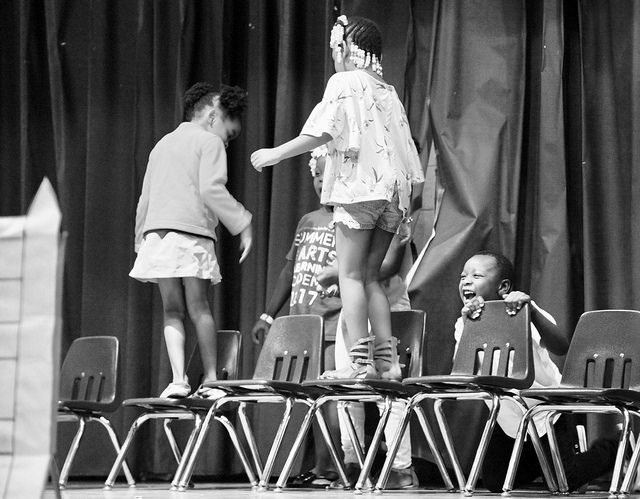 And that's only a taste of the dozens of performances that took place at culmination events around the city. Watching students light up and enjoy learning with the infusion of arts experiences is remarkable. We can't wait for next summer.
You can view images from all four of our summer sites by visiting our Flickr page. More information about Summer Arts and Learning Academy can be found on our website.