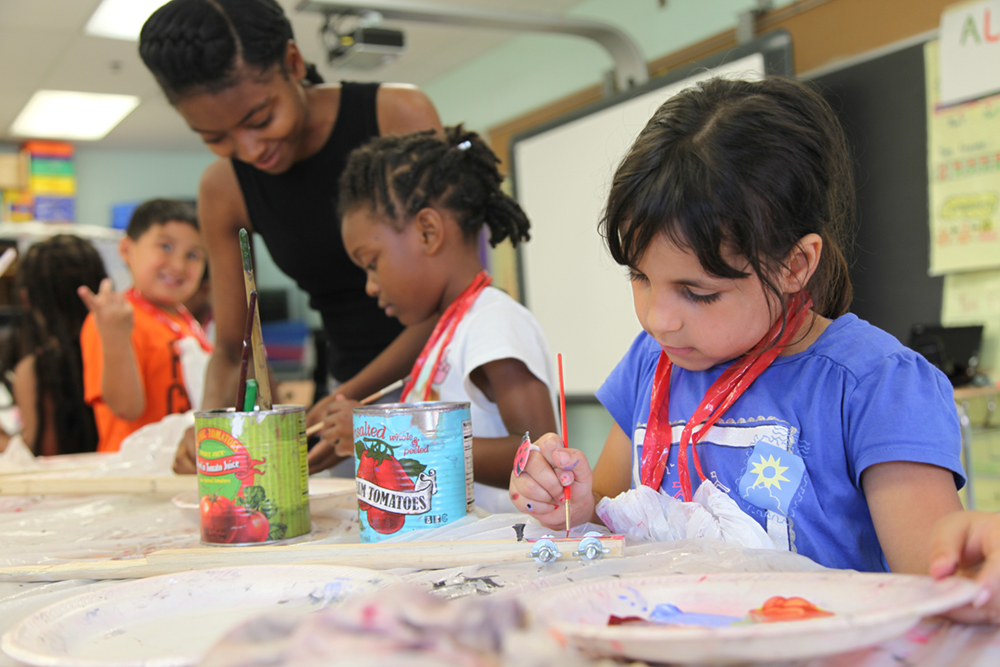 Students in free arts-integrated program for City Schools realize growth in math, reading, writing, and social-emotional learning – especially for those behind academically.
BALTIMORE, (February 18, 2019) – A new study shows that students who participate in Baltimore City Public Schools' Summer Arts & Learning Academy (SALA), operated by Young Audiences, realize positive academic growth and improved social-emotional skills. The research indicates that when compared to the rest of the students in the program, students with special needs saw significantly more growth in writing and in some social emotional domains. Similarly, students that started the summer program behind in math saw significantly more growth over the summer than their peers who began the program on grade level.
The 2018 Summer Arts & Learning Academy, a free five week arts integration program for Baltimore City Schools students, was held from July 9 to August 10 at eight sites across Baltimore City. Through hands-on activities co-taught by professional artists and classroom teachers, nearly 2,200 Pre–K-5th grade students engaged in painting, songwriting, poetry, dance, music, photography, playwriting, filmmaking while learning math and literacy.
SALA students' test scores at the beginning and end of the program were analyzed by WolfBrown, a national leader in research on arts education and children's academic, social, and emotional development. WolfBrown's analyses revealed increases in students' math, reading comprehension and writing scores that were not only statistically significant, but large. On average, students' math scores increased by 15 percentage points, their reading comprehension scores increased by 11 percentage points, and their writing scores increased by 14 to 16 percentage points.
Of particular interest in the study was the growth seen among students who were behind academically or who were at risk of falling behind. Students further behind in math at the beginning of SALA showed the largest growth in math – their test scores grew nearly 1.5 times the rate of their peers. Similar results were observed among students with IEPs. An IEP is an individualized educational plan given to students who demonstrate at least one of 13 special factors, all of which are considered to impede learning. Students with IEPs out-paced their peers in writing content score-growth by nearly 1.24 times. Students with IEPs also showed growth in self control as reported by parents.
Dr. Sonja Santelises, Baltimore City Schools CEO, said,
"We believe in educating the whole child and this summer program does just that. We are thrilled that this investment is resulting in student gains in literacy and math. Just as important, this program gives young people an opportunity to learn about and express themselves through different art forms, which ultimately strengthens empathy and other social-emotional skills in our young people."
The Baltimore City Schools Office of Achievement and Accountability conducted its own evaluation of the program, comparing scores from end-of-academic-year standardized assessments (iReady and DIBELS) to the beginning of the year in order to measure summer learning loss and the impact of SALA in mitigating that loss. In three of the four comparisons, SALA students program showed lower rates of summer learning loss than students who were not in a summer program.
"Young Audiences' evaluation contributes to the body of national research showing that when children have sustained opportunities to learn in and through the arts, they have greater rates of academic success," said Stacie Sanders Evans, Young Audiences President & CEO.
"The Every Student Succeeds Act, the law that governs US public education policy, calls for greater attention on the whole child and specifically social-emotional learning, while requiring schools to adopt evidence-based practices. We hope this evidence will lead more Maryland schools to consider the arts as a vehicle for building student empathy and other life skills such as cooperation and self-management."
As a result of the program's continued success, Baltimore City Schools and Young Audiences will expand SALA in 2019 to Pre-K, reaching more than 230 of our City's youngest learners across all 8 sites.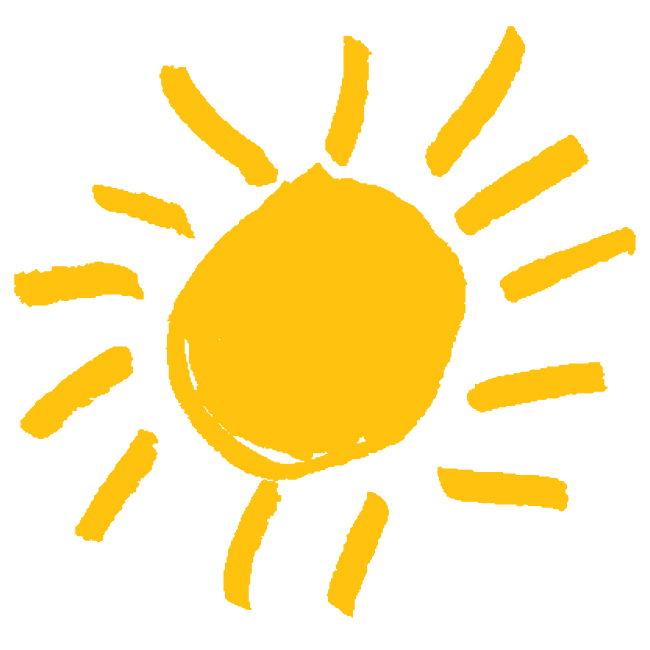 About Young Audiences/Arts for Learning
Started in Baltimore in 1950, Young Audiences is the nation's largest arts-in- education provider. As the Maryland affiliate, Young Audiences/Arts for Learning (YA) is devoted to enriching the lives and education of Maryland's youth through educational and culturally diverse arts programs. Through Young Audiences, professional artists from all disciplines partner with leaders and schools for nearly 10,000 hands on arts learning experiences that reach more than 190,000 Maryland students. Young Audiences envisions a Maryland where the arts are valued for their capacity to transform lives, and where every student is immersed in opportunities to imagine, to create, and to realize their full potential.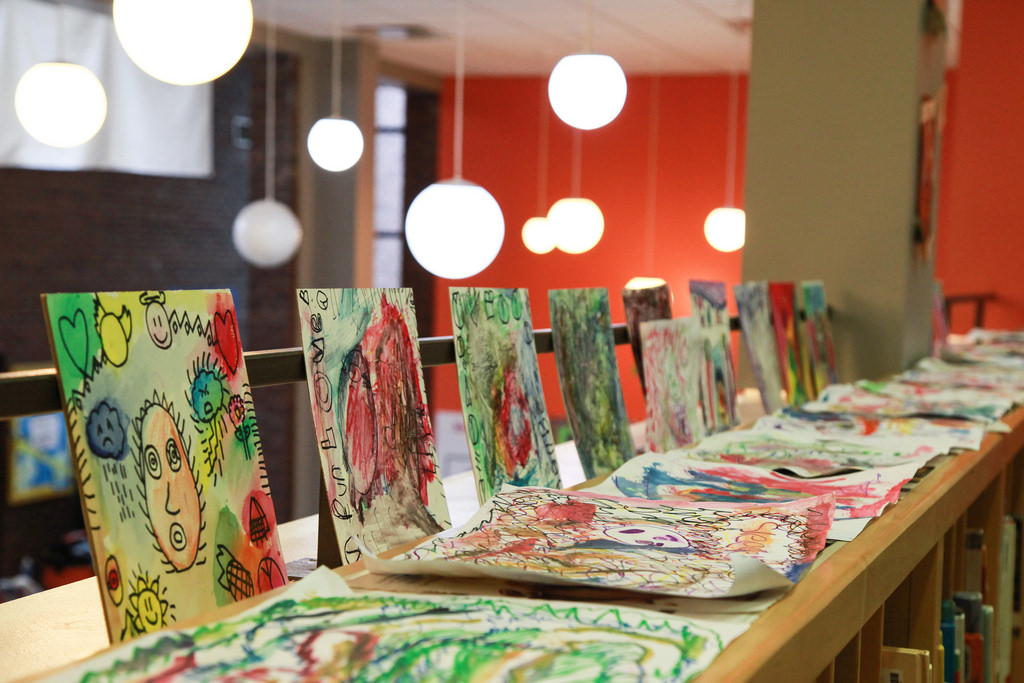 Written by Barbara Krebs,
Young Audiences volunteer and Sunburst Society member
Field trip! Remember the excitement you felt as a kid when you got to explore the world outside your classroom for the day, file on the bus, and leave school far behind? Well, it was a bit like that on Wednesday, July 25, when a diverse group of Maryland legislators, high-level education officials, and others boarded a bus to learn more about the programs that Young Audiences and its partners are offering Baltimore youth this summer. Except instead of leaving school, we headed toward them!
Initially, visitors met at Moravia Park Elementary School, the first of three stops that day. As Stacie Sanders Evans, President & CEO of Young Audiences, shared in her opening remarks, "We're shining a light on summer learning opportunities; we're shining a light on amazing kids; and we're shining a light on how the arts blends these two things."
At Moravia Park, we visited SummerREADS, a free drop-in literacy program that is the result of partnerships with the Harry and Jeanette Weinberg Foundation, the Baltimore Elementary and Middle School Library Project, Baltimore City Public Schools, and Young Audiences. Over a five-week period of time, more than 500 K-8 Baltimore City students will have had the opportunity to visit one of nine reading sites where they encountered engaging literacy workshops with teaching artists and fun enrichment activities with special guests.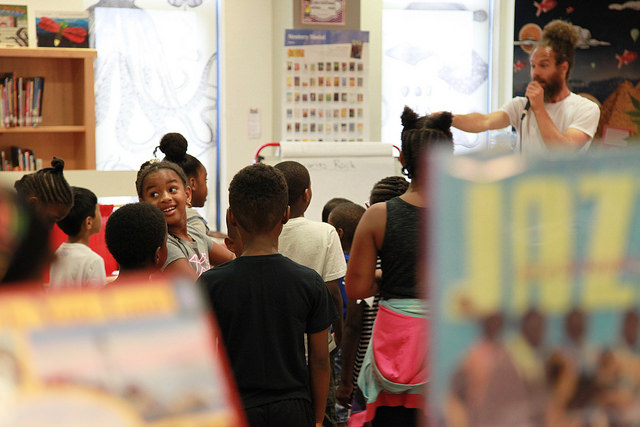 And that is exactly what we found when Max Bent, a beatboxer who has been a Young Audiences teaching artist for 7 years, led a group of six- and seven-year-olds in the basics of beatboxing. He taught them how to make various sounds and then incorporated them into a song, "My Banana." As they counted out beats (three syllables in banana!), they thought of other fruits (apple, two syllables!) to add into the song.
We had to leave for our next stop before he could complete the lesson, but I could already see the intriguing possibilities in beatboxing for both math and English. Before we left the school, there was a quick Q&A session. The questions came fast and furiously from all sides of the room, a testimony to how interested people were, not only in the learning they had just witnessed, but what it took to make this possible.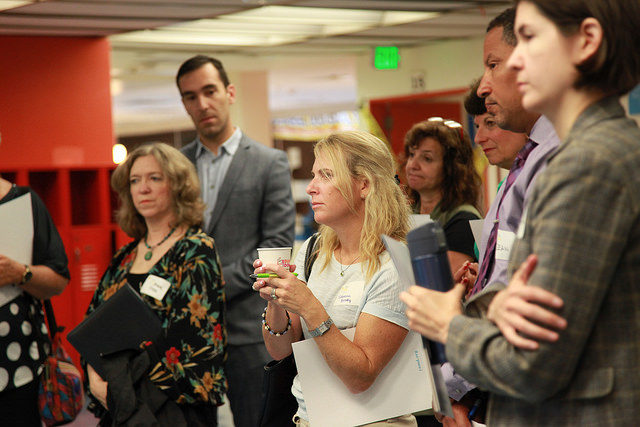 Our next stop was at Dorothy I. Height Elementary School for an introduction to Young Audiences' Summer Arts & Learning Academy (SALA). Here we learned that SALA is a five-week program for Pre-K through fifth graders where the focus is twofold. First, to arrest summer learning loss, and second, to make sure that learning is fun and engaging every day.
At this particular school, 260 children meet each day to learn and reinforce lessons in literacy and math. Last year, Young Audiences reached more than 1,150 children at four different school sites. Incredibly, in one year's time, Young Audiences, in partnership with the Baltimore City School system, has doubled its efforts, reaching about 2,200 kids at eight school sites.
We were then offered the opportunity to enter classrooms to observe the action.  I slid into a third-grade classroom, where the children were focusing on The Red, a book about a confused crayon, whose friends eventually help him discover his true color.
The teaching artist, Daniel Ssuuna, whose specialty is East African dance and drumming, divided the kids into three groups, each focusing on one particular part of the story. Handing out percussion instruments, he instructed students to focus on the emotions of the crayon during their assigned story segment. Was the crayon confused, or supported, or happy? With that in mind, they then created a dance and drum accompaniment to illustrate the crayon's feelings.
Other instructions given by the classroom teacher, Amanda Bila, highlighted listening skills. She asked, "When we are not performing, what do we do?" The kids supplied helpful advice: Be quiet. Be respectful. Listen. Pay attention.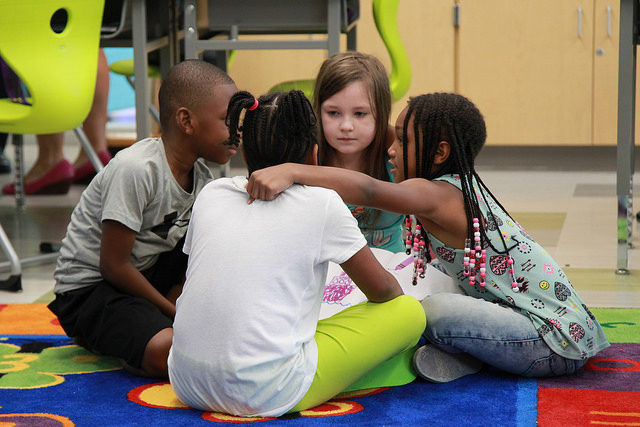 As the groups formed, I watched their interactions with the teachers and each other. I saw collaboration, referring to the book for inspiration, asking teachers questions, answering questions from the teacher, ideas discussed, ideas kept or discarded.
If Socrates had walked into this classroom, I'm sure he would have been proud to see his famous critical thinking methods being deployed.
Though I would have loved to watch each group perform, sadly, our time was up. Still, the excitement the kids exhibited as they analyzed their book was a potent reminder of how exciting and fun learning can be when you combine the arts and dedicated teachers.
Next we traveled to the Reginald F. Lewis Museum of Maryland African American History and Culture. Here we learned about the Bloomberg Arts Internship (supported by Bloomberg Philanthropies NYC) which places 35 Baltimore City rising seniors in paid internships at local arts and cultural institutions. These teens worked throughout the city with a goal of learning career readiness skills through real-world workplace experiences and professional development. Additionally, college mentors and writing coaches worked with the interns on college applications, resumes, and other experiences that will help them move to the next level professionally and/or academically.
One intern, Collin Snow Stokes, spent his time at the Reginald F. Lewis Museum documenting the thoughts and feelings of Lewis staff, visitors, and volunteers evoked by objects reflecting Jim Crow era stereotypes from their upcoming exhibition "Hateful Things." His goal was 10 interviews, but he became so interested in the project that he exceeded his goal and even had time to do a few more before writing up his findings. And since his goals are to go into journalism and/or broadcasting, the interview process has honed job skills he will use for the rest of his life.
We also heard from two young women, Citlalli Islas and Paris Day, who worked at Port Discovery Children's Museum. Paris was assigned an archival project, logging in items that have been collected by Port Discovery over the 20 years of its existence. As she began her assignment, both she and the curators soon realized that the scope of it was more than they had anticipated. But by creating a system to log and track the items, they have begun the process that will help the museum maintain its collection for years to come. And as an added bonus, as she archived items, the collection overseers realized what a great exhibit some of the artifacts would make and, thus, an exhibit was born!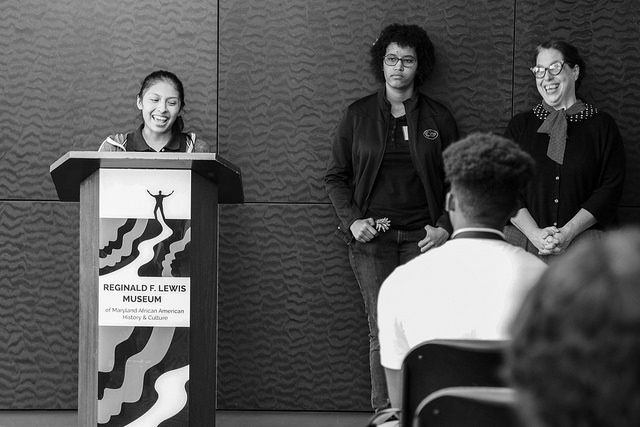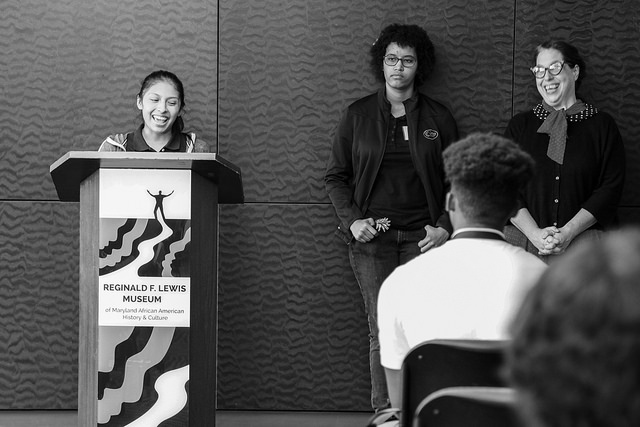 Citlalli interned in the exhibits department and has learned a lot about all the behind-the-scenes work that goes into creating and maintaining a museum exhibit. Obviously, this requires artistic vision. But beyond that, this has called on her to be innovative, meticulous and organized – not a bad group of skills to acquire before college and beyond.
Finally, it was time to get on the bus to return to our cars. As we wound our way down Baltimore's city streets, I listened to the conversations around me, ranging from other arts organizations and what they accomplish in their communities to legislative and philanthropic aides asking questions about the work that Young Audiences does and how each person present got involved.
And as I thought about involvement, I remembered another thing that Stacie had said at the beginning of our journey: It takes a village. At the time she was referring to the teaching artists, librarians, kids, and parents who were involved with SummerREADS. But it was just as applicable to each program we visited, and to each organization that contributes time, money, or leadership.
None of what I had witnessed occurs in a vacuum. The sheer number of people, funds, and time takes a rather large village, actually. And I'm happy to be a small part of this Young Audiences village. It's a great place to be and I invite you to join me! Field trip!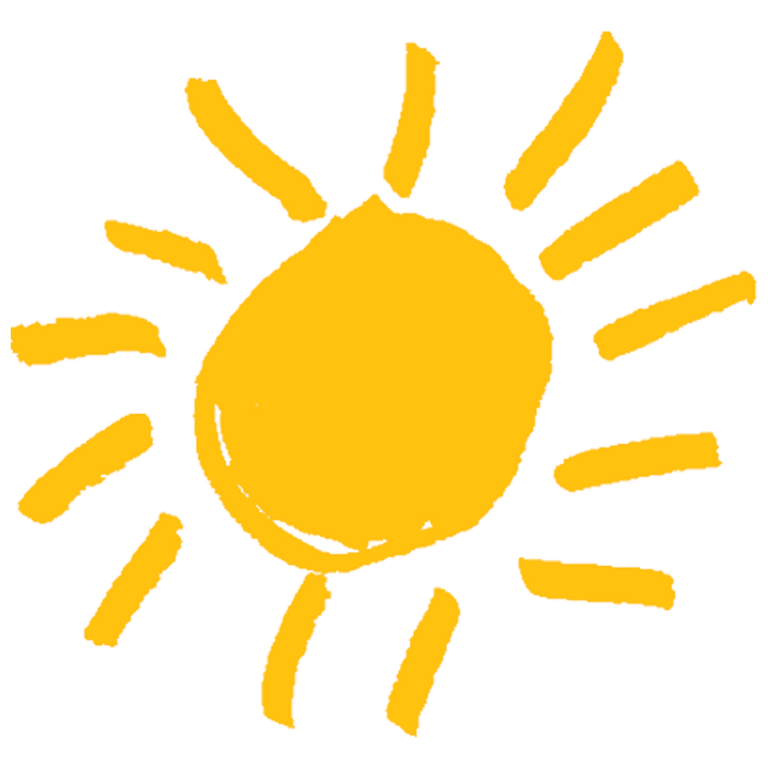 Learn more about our mission, our methods, and our future plans during a one-hour Meet Young Audiences event. In addition to hearing from the organization's leaders and getting an inside look into the amazing work we are doing around the state, one of our roster artists will share their amazing work with you and speak about how the arts complements and enriches classroom learning. Please reach out to Ingrid Murray, Individual Giving Manager, at ingrid@yamd.org for more information or call (410) 837-7577 x. 107. Interested in hosting your own Meet Young Audiences event? Find out more here!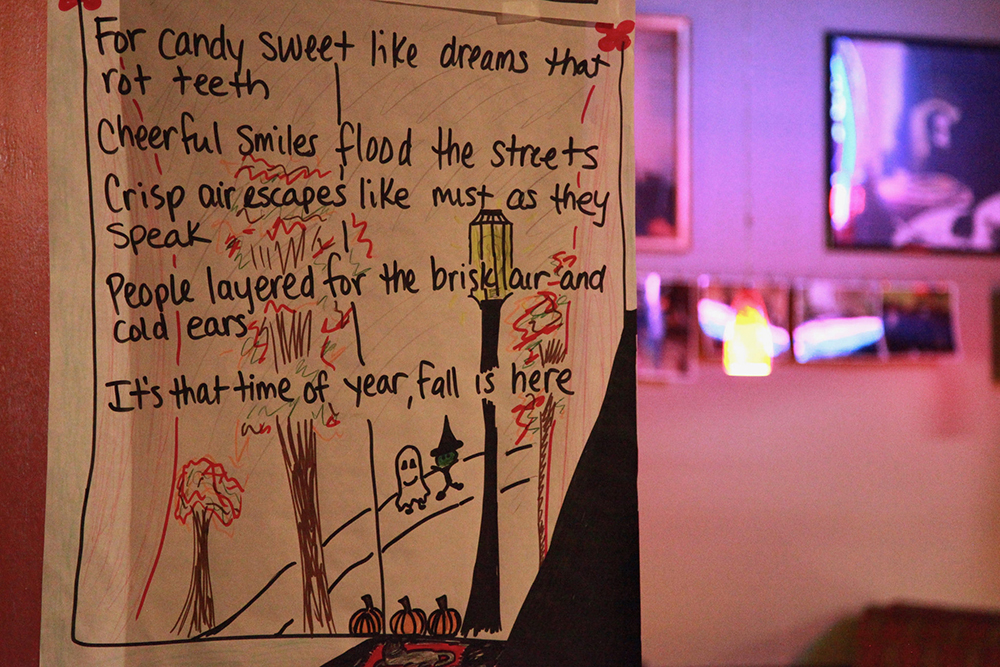 Written by Barbara Krebs,
Young Audiences volunteer and Sunburst Society member
On Friday, November 17, Young Audiences hosted its second annual Art Crawl at City Neighbors High School, an arts-integrated public charter school in Baltimore City. Approximately 75 attendees filled the school's stylish café, mingling among lush booths, comfy couches, ambient lighting, and in the glow of neon signs. As the group noshed on delicious hors-d'oeuvres and drinks provided by Flavor, Union, and Noble Vintners, Young Audiences President & CEO Stacie Sanders Evans welcomed the crowd, "Every person in this room played a role in closing the inspiration gap this summer." The inspiration gap, she explained, is the difference between what we know the best conditions are for learning and what kids actually get these days in school. "Thanks to you, we reached 825 MORE young people last summer and expanded our summer programs to include middle and high school students."
She presented a short video highlighting Young Audiences' Summer Arts & Learning Academy, talked about the impact on the students that it serves, and shared the organization's plans for the future. This year, Young Audiences brought their Summer Arts & Learning Academy to four Baltimore-area schools, serving more than 1,100 students over a 5-week period.  Next year, the goal is to double this achievement by expanding to eight academies with an enrollment of 2,200 students.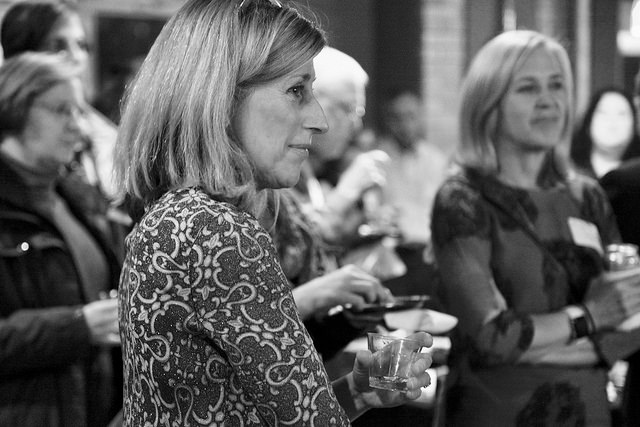 You couldn't help but feel proud of what Young Audiences has accomplished in stemming summer learning loss. With the help of dedicated artists and academic teachers, children who regularly attended the Academy not only avoided summer learning loss in reading and math, but in many cases made significant gains over their national peers in standardized testing. The findings showed potentially groundbreaking progress in tackling summer learning loss, a chronic challenge facing public schools.
That sense of pride was especially felt among the attendees who, either through corporate or private donorship, provided funding to bridge the gap between the City School system's budget and the actual cost of the Academy. I had been fortunate enough to observe one Summer Arts & Learning Academy over the summer and was delighted by how many guests shared their own stories of Academy site visits. And on this evening, we had the pleasure of experiencing the Academy not just as observers, but from the perspective of students.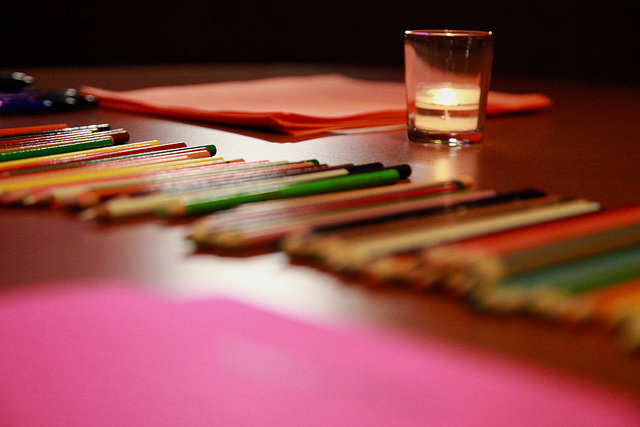 We were divided into groups before departing on our journey to experience learning with Young Audiences. At three arts-integrated learning stations set up throughout the school, artist-teacher partners invited attendees to step into the shoes of students and learn academic content through the use of various art forms. Of course, since it was an art crawl for adults, there were cocktails to enjoy as well!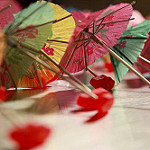 One Fish, Two Fish, Red Fish, Blue Fish
Lemonade, vodka, and Blue Curaçao garnished with a Swedish fish
Concocted by Board Chairman and Sunburst Society Member Randy Osteen and Stephanie Felix
We took our seats in the library where paper, markers, glue sticks and googly eyes had been set out on tables. Fiber artist Kathrine Dilworth and her teacher-partner, Jaime Clough, explained they had worked with first graders in the Summer Arts & Learning Academy to reinforce math skills.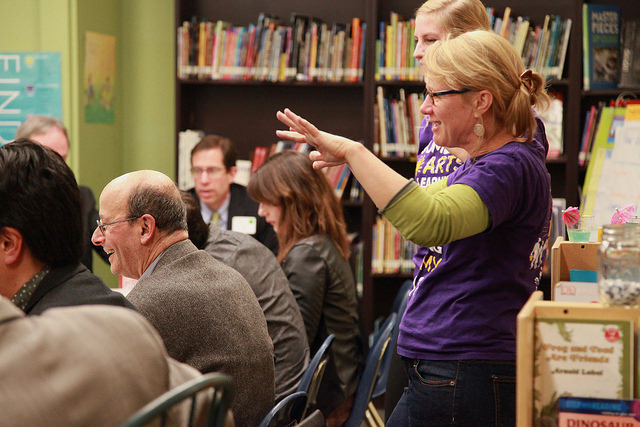 We were instructed to draw a monster, name it, and then partner with someone to create a mathematical word problem, as this is a difficult skill for six-year-olds.  So after Pink Plush (my furry pink monster) was completed, the gentleman across the table handed me his monster, Curley, and I wrote the following, "If you subtract Curley's eyes (3) from Pink Plush's (4), you are left with one eye."  The teacher smiled and encouraged me with a cheery, "Perfect!" I can picture her having done that many times this summer.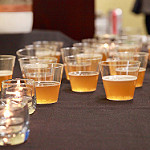 S.T.E.A.M.
Belgian-style amber ale and Grand Marnier
Concocted by Board Secretary and Sunburst Society Member Tea and Kevin Carnell
You've heard of STEM, haven't you – Science, Technology, Engineering, and Math?  Well, when you add the Arts, you get STEAM!  In the music room, after grabbing our next cocktail, we met percussionist Jason Armstrong Baker who taught us the basics of beatboxing.  After demonstrating how to get Siri, Apple's virtual assistant, to beatbox for you – one incredulous person asked, "Seriously?" to which another wit deadpanned, "No, Siri!" (you gotta love this crowd) – we went through a couple of patterns to master the skill.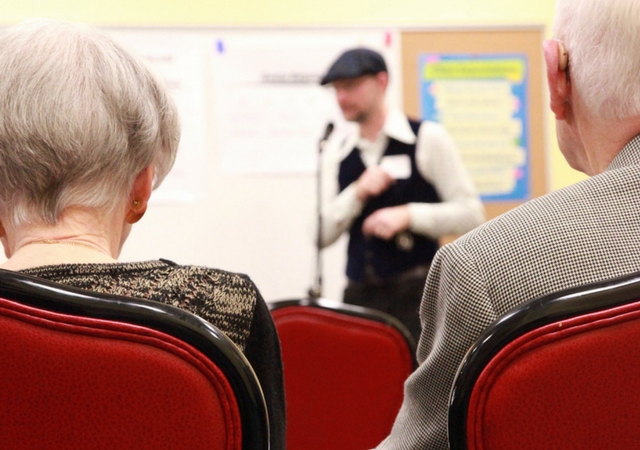 Convinced we were ready (really?), he turned the floor over to classroom teacher Shana Smith who had assisted third graders with their multiplication tables.  After picking a card (the 5 of hearts), which was our factor (in this case, rhythm size), and after a roll of the die (3), which determined our group size (in this case, the number of times the rhythm was repeated), we had our multiplication problem, 5 x 3.  Thus prepared, we broke into a stuttering chorus of BttKt, BttKt, BttKt – our answer, 15!
Poetic License
Dark Rum, lime, bitters, mint, and a splash of Prosecco
Concocted byVice Chairman of the Board and Sunburst Society Member Alan Hoff and Trisha Frick
Moving back into the room in which we had begun the evening, we grabbed our cocktail and gathered around tables as Femi the DriFish, a slam poet, and his teacher-partner, Erin Inouye, explained how they used the book Seedfolks as a basis for their lessons.
Using the example of "Through My Window," we were asked to write our own poems to illustrate what we see through our window. Just as the pair had done with the fourth and fifth graders they led this summer, they offered several ways to accomplish this. A green sheet provided partial sentences with blanks left for the author to fill (think Mad Libs). Some participants were handed blank pink sheets of paper on which to pen a poem from scratch (a few brave souls chose this). For those feeling intimidated by the written word, colored markers and a blank white sheet were provided on which we could draw our window scenes.
After completing our poems, we were invited into a circle to share them. And folks from each group (pink, green and white) did so. Particularly sweet was a gentleman who drew his poem, explaining that the trees were still green, not because they hadn't changed colors yet, but because he left for work before the sun rose and got home after it set.  So the last time he saw his trees, they were still leafy and green – a detail he might have felt hesitant to explain in writing, but that came flowing from him through his artwork!
At the end of the evening the groups reunited for a few more snacks and conversation. And what struck me as I talked with these people was their shared passion for both the arts and education. One woman, Sharon Button, had actually been the Executive Director of a Young Audiences affiliate in Buffalo, NY in the 1970s. At the time she was a workforce of only one, but toiled tirelessly to secure funding for arts-integrated programs long before the term was in fashion.
Another gentleman who had worked with Young Audiences affiliates in other states had this to say, "Young Audiences in Maryland is one of the most highly respected groups, both in this city and among its peers."
I can believe it.  The energy, passion, creativity, imagination, and sheer fun that Young Audiences exhibits makes me very proud to be associated with it. I have been fortunate to meet teachers and artists who blend academic subjects and art to reach school children. And I have been doubly blessed by being able to contribute monetarily to this amazing organization as a Sunburst Society member.
If you believe, as Young Audiences does, that the arts transform lives, and that every student should have the opportunity to imagine, create, and realize their full potential through the arts, then I urge you to join us in supporting this amazing organization. And then next year, join us at the Art Crawl and discover the magic that happens when arts, education, and handcrafted cocktails are combined.
Find more photos from Young Audiences' 2nd annual Art Crawl can be found on our Flickr page. 
Categorized:

News

Tagged:

art crawl, arts integration, arts-in-education, Baltimore City, Baltimore City Public Schools, creative learning, Femi the Drifish, Jason Baker, Katherine Dilworth, Maryland, Music, STEAM, Summer Arts Academy, Summer Arts and Learning Academy, summer learning, summer learning loss, summer learning slide, teaching artists
Baltimore students in Young Audiences Summer & Learning Arts Academy Outperform Peers
Baltimore City Public Schools students who participated in a new arts-related summer academic program from Young Audiences avoided summer learning loss and, in many cases, gained ground on their national peers in standardized testing, according to evaluations released Tuesday. The new findings showed potentially groundbreaking progress in tackling summer learning loss, a chronic challenge facing public schools.
The results, confirmed in two separate studies involving nearly 800 students, are significant because summer learning loss – particularly among students at or below poverty level – is among the most difficult challenges facing the Baltimore school district and other high-poverty schools across the country. During summer, students typically fall below where they ended the previous grade, setting them back as they start a new school year. In fact, a 2013 National Summer Learning Association (NSLA) survey of 500 teachers found that 66 percent reported the need to spend three to four weeks re-teaching students course material at the beginning of the year. Another 24% reported the need to spend five to six weeks doing the same.
"City Schools has enjoyed a great partnership with Young Audiences, not only during the school year but also the past two summers," said Dr. Sonja Brookins Santelises, chief executive officer of Baltimore City Public Schools (City Schools). "During the summer, Young Audiences reinforces key math and reading concepts through the arts and creative activities – and we're pleased with the results we've seen. When students participate in summer learning programs that help them move ahead or reduce learning loss, they start the school year off stronger."
The Young Audiences Summer Arts & Learning Academy (SALA), run by the Baltimore-based arts-in-education nonprofit Young Audiences of Maryland in partnership with City Schools, was free for students and held at four sites across the city: Gardenville Elementary, Thomas Jefferson Elementary/Middle, William Pinderhughes Elementary, and Fort Worthington Elementary/Middle. Eighty-eight percent of the participating students were from high-poverty Title I schools.
"These results were a pleasant surprise given that we generally expect that students will lose ground over the summer," commented Dr. Marc L. Stein, Associate Professor at the Johns Hopkins University School of Education, who conducted a separate program evaluation for Young Audiences which looked at participating students' academic skill and social-emotional development. "The Young Audiences summer program combines many of the best practices of summer learning programs and appears to be a promising model. These findings deserve to be investigated more rigorously to find out how and for whom the program appears to be working."
"This is not your typical summer school program," said Stacie Evans, Executive Director of Young Audiences. "We taught literacy and math through the arts every day and instruction was collaboratively taught by teaching artists and teachers specifically trained in arts-integration methods. If you walked into one of our classrooms, you might have seen students using hip hop music to help solve word problems in math, or creating dances to summarize and sequence main events in a story."
The Baltimore City Public Schools evaluation found:
For math, statistically significant results showed that students in grades 3-5 who regularly attended (defined as attending at least 75% of the program) the SALA improved 1.8% percentile points in national student rankings on i-Ready standardized testing from the spring of 2016 to the fall of that year. That compares to a decrease of 2.8% percentile points for city schools students who did not attend any summer programming.
In reading, SALA students in grades 3-5 with regular attendance fell only .8% percentile points while students who did not attend any summer programming fell 2.1 percentile points upon returning to school in the fall.
Results for all grade 3-5 students regardless of attendance rate showed SALA attendees falling just .3% percentile points in math and .7% in reading. These were significantly smaller losses than students with no summer programming (down 2.8% in math, down 2.1% lost in reading).
In literacy, only 3% of the students in grades K-2 attending SALA did not meet their benchmark goal (the empirically derived target score that represents adequate reading progess1) on the standardized DIBELS assessment in the fall after returning to school compared to 8.1% of students not attending any summer programming not meeting the benchmark.
Young Audiences external program evaluation found:
79% of students who attended at least 75% of the program and who took pre- and post-tests had a positive change from the first to the last week of the program on a curriculum based measure of mathematics.
Approximately 60% of students who attended at least 75% of the program and who took pre- and post-test writing prompts showed positive change in their structure and content of their writing.
71% of students who attended 75% of the program and were administered pre- and post-assessments showed growth in at least one out of three social emotional competency areas over the course of the program. The social emotional competencies studied were relationship skills, self-awareness, and goal directed.
"The arts offer an extraordinary opportunity, particularly during the summer, to reignite the joy of learning and to set young people on the right course to start the school year strong. These impressive results from Young Audiences mirror findings of the landmark Wallace Foundation study showing that elementary school students with high levels of attendance in high-quality, voluntary summer learning programs can experience benefits in math and reading," commented Matthew Boulay PhD, National Summer Learning Association founder and interim CEO.
Eric Harrell, father of 9 year-old Academy participant, Aria Harrell, said "Before this academy, I could tell that my daughter was struggling in math. By using the arts she was able to learn math in a different way-a way that worked for her. She has so much more confidence in her math class."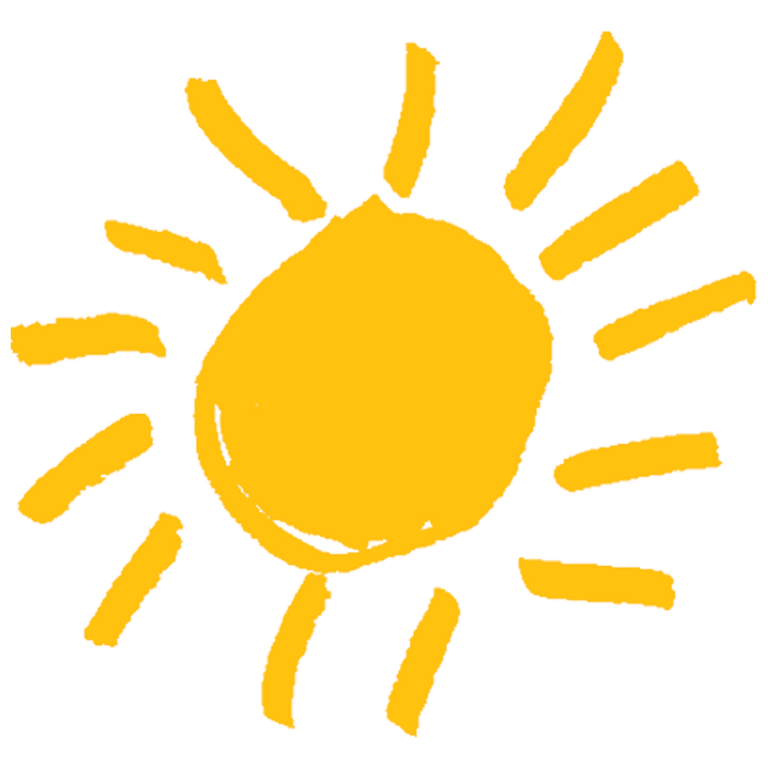 1 "Dibels Next Benchmark Goals and Composite Score, " Dynamic Measurement Group, Inc. (December 1, 2010). https://dibels.uoregon.edu/docs/DIBELSNextFormerBenchmarkGoals.pdf
Links to complete City Schools and Young Audiences Evaluations:

YAMD evaluation
Young Audiences' Summer Arts & Learning Academy is funded by Baltimore City Public Schools, The Abell Foundation, The Family League of Baltimore with the support of the Mayor and the City Council of Baltimore, The Alvin and Fanny B. Thalheimer Foundation and individual contributions to Young Audiences. All participants are students at a Title I Baltimore City Public School.
Categorized:

News, Press Releases, Summer Arts & Learning Academy, Summer Learning

Tagged:

arts integration, Baltimore City, Baltimore City Public Schools, ceramic art, creative learning, dance, fiber art, filmmaking, Hip Hop, movement, Music, National Summer Learning Association, painting, percussion, Piano, playwriting, poetry, singing, songwriting, sound production, spoken word poetry, STEAM, Summer Arts Academy, Summer Arts and Learning Academy, summer learning, summer learning loss, summer learning slide, summer slide, teaching artists, theatre, visual art
This morning, we kicked off our expanded Summer Arts and Learning Academy – a free, five week program immersing 900 City students in a variety of art forms taught by 36 locally-based professional artists. The full-day program welcomes students grades K-5, encouraging imagination, creation and expression through the arts, such as painting, songwriting, spoken word poetry, dance, piano, singing, visual art, sound production, playwriting, fiber art, and filmmaking.
Our kickoff this morning was a blast – welcoming students and their parents to the Academy's four sites with high-energy performances, live music, and vibrant interactive art demonstrations – giving them a preview of the truly unique and empowering experiences to come throughout the next five weeks.
Due to last year's success; with academic gains by students drawing from 93 different city schools—the district asked us to expand the Academy to four sites: Thomas Jefferson Elementary, William Pinderhughes Elementary, Gardenville Elementary and Fort Worthington Elementary.
Working with kids as they discover passions, refine creative processes and integrate arts in their everyday learning is an inspirational experience we and our Teaching Artists look forward to every year. We spoke with a few participating Teaching Artists about their plans and why the Summer Arts Academy is such a great opportunity for students and artists:
Scott Paynter, reggae singer:
I wanted to teach at this year's Summer Arts and Learning Academy to gain more experience working with Baltimore's greatest resource…it's children. My art form helps students express themselves through lyrics, it introduces them to cultures and people they've never encountered before, and it brings life to a classroom environment. Music is like a force of nature. It's everywhere you are if you pay attention."
Bridget Cavaiola, Baltimore Improv Group:
This is such a unique experience to provide our students with collaborative and engaging arts experiences that they may not get to during the school year. The mood and energy are contagious as you get to watch the students engage themselves in something in which they have passion."
Alden Phelps, musician:
My focus has always been on playing with words and the joy of language. Language is the foundation of how we communicate and function as human beings. Students who practice manipulating language, expanding their vocabulary, using rhymes, and counting syllables will better succeed in their regular academic work. Creative thinking opens up new pathways in our brains. There's also a wonderful freedom when a student can express an idea creatively. They synthesize their academic knowledge with skill in the arts, such as using color or figurative language, and the result is far more engaging to them."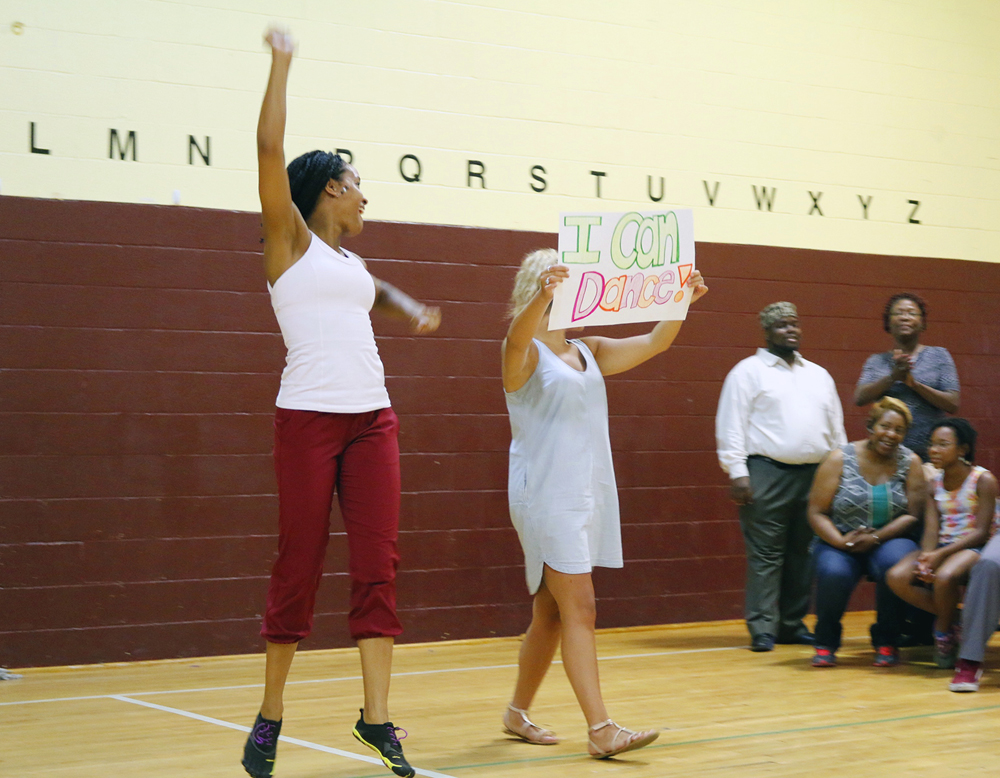 Students will imagine, create and express themselves through the arts, with a chance to concentrate on two art forms. The students even show-off their talents at Artscape, at pop-up performances in mobile art galleries around the city and at the August 5 final culminating event. We can't wait to see the students perform!
After this morning's successful kick-off event, led by teaching artists Valerie Branch and Sean Roberts, at William Pinderhughes Elementary, one parent said:
"I am just so excited to get to see my child perform soon. Seeing what the [teachers and artists] did just now, I know they are in trusted hands. It made me look at my daughter and think yes! This is going to be different, we are so excited! She LOVES art! I can't wait for the workshops too!"
Kicking off YA's Summer Arts Academy at #TJEMS with Femi the Drifish @BaltCitySchools #yamdsummer #SummerLearning pic.twitter.com/C8HwIkJ6MS

— Young Audiences MD (@arts4learning) July 5, 2016
Young Audiences' Summer Arts and Learning Academy is funded by Baltimore City Public Schools, The Abell Foundation, The Family League of Baltimore with the support of the Mayor and the City Council of Baltimore, The Alvin and Fanny B. Thalheimer Foundation and individual contributions to Young Audiences. All participants are students at a Title I Baltimore City Public School.
Categorized:

News

Tagged:

Alden Phelps, arts integration, Baltimore City, Baltimore City Public Schools, Baltimore Improv Group, ceramic art, creative learning, dance, Femi the Drifish, fiber art, filmmaking, Hip Hop, movement, Music, painting, percussion, Piano, playwriting, poetry, singing, songwriting, sound production, spoken word poetry, STEAM, Summer Arts Academy, Summer Arts and Learning Academy, summer learning, summer learning loss, summer learning slide, teaching artists, theatre, Valerie Branch, visual art
Young Audiences has again partnered with Baltimore City Public Schools to make sure that arts-integrated learning does not end with the school year. On Monday, June 29, energy filled the gymnasium of Thomas Jefferson Elementary/Middle School as Young Audiences artists greeted 250 Baltimore City students and their families with high-energy performances, live music, and vibrant interactive art demonstrations during the kick-off assembly of the Summer Arts Academy.
The Academy is a five-week, city-wide program that provides students, third-grade through seventh-grade, with a free once-in-a-lifetime opportunity to spend their summer learning from the talented artists who live in our communities. The Academy was created as part of City Schools CEO Dr. Gregory Thornton's plan to increase arts education opportunities for Baltimore City students. The Academy's literacy component, with the overarching theme of "What Makes a Hero?" will be team-taught through the arts by City Schools teachers and faculty artists specializing in visual art, sound production, clay, African Drumming, modern and African dance, and improvisational and urban theatre. The Academy also gives students the opportunity discover art forms they have never experienced before and delve into two artistic disciplines of their choice. Students will perform at Artscape and visit other arts destinations through field trips. See the full list of the Academy's artist faculty here!: Summer Academy Artists
See more photos from the Summer Arts Academy kick-off assembly here!
Hip Hop musician Jamaal "Mr. Root" Collier set the stage for the crowd during the Academy's kick-off assembly. Joined by another Young Audiences musician, Kevin Gift, on the turntables, the performance used high-energy beats, improvised rapping, and beatboxing to get the crowd swaying and dancing. A couple of shy boys watched from afar, but slowly began to inch their way toward the booming set with growing curiosity.
Nearby, the dance moves of Cynthia Chavez of Baltimore Dance Crews Project (BDCP), caught the eye of three girls who were interested in learning how to moonwalk. Cynthia worked through foot techniques and demonstrations until the girls were ready to  try it themselves.
Filmmaker and photographer Ras Tre showed one intrigued student how he operates his professional video camera equipment.
Artists, students, and family members began to gather on the dance floor as the popular music began to flow out of the speakers. One talented student stepped toward the center of the floor with confidence. He began to lead the choreography of one popular song while the crowd stepped back, learned the moves, and cheered him on. This encouraged other nearby students and artists to join in until the entire dance floor was full.
The assembly wrapped up with artists, teacher partners, and other Academy staff introducing themselves by dancing onto the stage. As students broke off into their grade-level groups, one parent asked: "Is there an adult Young Audiences class that the parents can take? We want to have this much fun, too!"
On average, all children can lose approximately two months of learning from the previous school year during the summer months without engaging education activities, and for low-income students, the loss is even greater. More than half of the achievement gap between low-income students and their more affluent peers can be attributed to the unequal access to summer learning opportunities. Programs like the Summer Arts Academy provide students with a safe place to go during the day, access to free healthy meals, adequate adult supervision, and positive, educational activities.
The high-energy kick-off assembly was only the beginning of what is to be expected this summer. Be sure to follow the Young Audiences blog, as well as our Facebook page, for updates from the Summer Arts Academy throughout July.
By Cyan McMillian, seventh-grade student, Windsor Hills Elementary/Middle
My name is Cyan McMillian and I am a seventh grader at Windsor Hills. I'd rather throw a football than paint my nails (seriously). I felt like a free spirit until my tenth birthday–which was the worst day ever. I was excited but made the mistake of not bringing enough cupcakes for the whole class. One girl–the drama queen–decided to take out her frustrations on me. She waited until we got in the cafeteria and took a mixture of yogurt, milk, juice, and water and poured it over my head in front of everyone. On my birthday! Everyone who saw it laughed. Even the adults. I was so hurt and embarrassed that I ran out of the cafeteria in tears.
I never wanted any friends after that. The more I tried to be myself the more I would get picked on. Bullies targeted me for all the ways that I was different–my weight, my clothes, and my love for school.
My parents signed me up for the Baltimore City summer learning academy, the summer before middle school started. I like math and science, but I was most interested in the art classes provided by Young Audiences. See, I don't get to enjoy the liberties of art during the school year. Having art every day during the summer was a treat because I got to make new friends, I learned how to use the color wheel, how to make 2D pictures become 3D pictures.
Watch Cyan share her story at Young Audiences' Impact Breakfast event earlier this month!
My art class was taught by Young Audiences teaching artist, Danyett Tucker. She played a song by Lauryn Hill called "Everything is Everything," and asked us to illustrate what the lyrics meant to us. I love that song. It was like math because my hands and brain were working at the same time to solve a problem. I was able to express myself without being judged in a way that was fun and challenging. I learned from Ms. D that there is no "right" or "wrong" when it comes to art.
Ms. D believed in me and gave me the confidence to believe in myself. She let me come to her when I needed someone to talk to and gave me helpful advice when I was stuck. I was free to be who I am again, which made me feel like my old happy-go-lucky free-spirited self.
Ms. D inspired me to keep drawing after the program was over. My dad loves to draw and after that summer we started drawing together. When I found out the summer program was going to happen again this summer, I found out where Ms. D was teaching and signed up. This summer was even better because not only did I get art with Ms. D, other artists also helped teach the science and math classes. I learned how ratios relate to music and how dance movements connect with science.
In Ms. D's class, we created a mural that's displayed here today illustrating Maya Angelou's poem, "A Brave and Startling Truth." The poem was confusing at first but the more we read it as a class it became easier to understand and inspired me to speak out about the positive and negative things that happen around me. I was able to use my voice through illustration again. I attended this program every single day and now I have two murals in my portfolio.
Now when I feel like I have something to express but don't know how to say it, I draw it out. Thanks to Young Audiences, I have learned a lot about myself. I'm more observant and I know what a real friend is. I know who I am. So what if I'm not a girly girl, I'm fast and I can handle my business. When they call my clothes trashy, I don't let it bother me because their shiny white sneakers always end up dirty in a few days. And when they talk about my weight, like the song "All About That Bass" says: "Every inch of me is perfect from the bottom to the top!"
Last year I had the highest grade point average in middle school and it is still sky-high. I have a scholarship to any college that I want. I plan to get a PhD and work for NASA. Thanks to the support of my family, a few good friends, and the Young Audiences artists who understand me like a parent would, I am going for my dreams. And while the summer program is over, what I learned from Ms. D, that "Everything is Everything," will stay with me forever. What that means to me is that if you want to be something and you work hard, you will most likely become that. So keep an eye out for me.
See photos from the Young Audiences arts-integrated summer learning site!
The summer can be a time for fun in the sun with family and friends, but for many students across the country, it is a time of uncertainty. Without school, many at-risk students are left without adequate supervision, access to regular, healthy meals, and opportunities to participate in engaging and constructive activities. On average, all children can lose approximately two months of learning from the previous school year during the summer months without engaging education activities, and for low-income students, the loss is even greater. More than half of the achievement gap between low-income students and their more affluent peers can be attributed to the unequal access to summer learning opportunities.
For five weeks this summer, Young Audiences again partnered with Baltimore City Public Schools to combat summer learning loss through a free math- and science-focused summer camp opportunity for Baltimore City middle school students. Young Audiences artists provided arts enrichment activities at seven Baltimore City 22nd Century Pioneers Summer Camp sites. In addition, for the first time, Young Audiences managed an eighth completely arts-integrated camp site at Edmondson Westside High School.
At the Young Audiences camp, morning math and science classes were co-taught by Baltimore City teachers and Young Audiences artists, who explored STEM subjects through the arts. Students had a choice in the art form they focused on during afternoon enrichment classes, including dance, photography, illustration and mural painting, improvisational theatre, Hip Hop, steel drum, or VEX robotics. The camp also included field trips, giving students the chance to apply their knowledge outside of the classroom.
The program was a learning opportunity for participating teachers as well, some of whom were new to arts integration as a teaching practice. Co-teaching with Young Audiences artists gave teachers the opportunity to try out a different way to approach each lesson, growing their knowledge of the arts and the natural connections that exist between core subjects and the arts.
In a recent survey of 500 U.S. teachers, 66 percent said it takes at least three to four weeks to re-teach content from the previous school year to get their students up to speed at the start of each new school year. At Edmondson Westside, the arts made learning fun and students both stayed intellectually engaged so they would not fall behind in their classes this coming school year, and also discovered a new way of learning through the arts. Students had the opportunity to develop their knowledge in math and science in a hands-on way, learning how the length of sound waves relates to the pitch of each note on a steel drum, or how a photographer or illustrator uses mathematical ratios to compose a piece. Students learned about themselves as they tried new things; took risks during classroom activities; and showcased what they had learned for others.
Read more about the Young Audiences arts-integrated summer learning site and see photos from this summer here.

By Grace Galarpe, Baltimore City Public School teacher
When I got involved in the Young Audiences and Baltimore City Public Schools 22nd Century Pioneers Arts-Based Summer Camp, I wasn't sure if I was in the right place at first. Even though I've seen arts integration in the news, this summer was my first time really working with it. It was my first time working with Young Audiences, too, so when they told me that this program was all about arts integration, I was curious to learn more.
As a high school teacher, I've had the opportunity to collaborate with other core subject teachers before, but a collaboration with an artist? This was my first time and the idea interested me. In the past, I've used the arts in my classroom in the sense that we would sometimes draw or dance or sing. If I did incorporate the arts, it was separate. These activities would be after instruction or after school. The program this summer, where arts integration happened within the instruction, used a completely different method.
I was paired with Valerie Branch, a dancer. Before Valerie and I started teaching, we did lesson planning. Looking back, we consider this the biggest factor in our success because the planning helped us gain a greater understanding of how we would integrate the arts into our lessons.
I was very fortunate because both of us took the program very seriously. We would do thorough planning and would really talk about what was going to happen the next day and the next. Everything that Valerie and I accomplished this summer was possible because we had time to plan together. I wasn't just going into a classroom where I would do everything by myself; it was a partnership.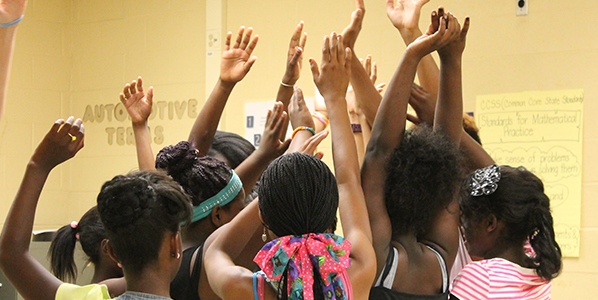 See more photos from the Young Audiences arts-integrated summer learning site!
Our lessons weren't always perfect, but since the teacher and the artist planned together, we could always reflect and revise–not just one of us, but both of us. We helped and respected each other, and as the summer went by, we became very comfortable with one another. When Valerie and I would sit down together, she made me feel confident about where the arts would come in and how we would make it possible. She made me feel more comfortable with her art form, too, and because of this, I could easily explain the elements of dance to students.
This summer, I realized that a dance activity can be incorporated with a science activity using the same concepts and vocabulary. That was amazing to me. At first, I wondered, "How will my students benefit from this collaboration and integration of the arts?" I now feel that arts integration gives students the chance to learn at a different level because we are able to touch multiple intelligences. I believe that our students achieved a deeper understanding of the science concepts and vocabulary that we taught them due to the integration of the arts into our teaching. They were able to apply what they had learned, not only through science but through dance, too.
Sometimes during the science instruction, students would ask: "Why do we need to learn this?" I would respond that they needed to know the terms and concepts so that we could apply them to our next dance choreography, and then they would get excited. When Valerie would talk about the elements of dance at the same time as the science, the students would be able to perform a dance choreography based on something related to science, such as pollution. That was a really wonderful outcome.
I can now see that if arts integration is a regular part of a classroom, it helps increase academic achievement and positive intervention regarding behavioral problems. I could tell that the arts were a huge help in attendance in our classroom, too, and I was so happy that the students looked forward to our class every day.
The arts also helped create responsibility. For example, Valerie and I decided that we needed to do something that would make the students understand that they had an obligation in the classroom. As a part of our teaching, we did an activity we called "Human Mirror," which incorporates dance movements that develop a sense of responsibility. It requires listening, following directions correctly, being observant, and an understanding of what it means to be a leader and a follower. This was a great success for our class. I could sense that the students also gained respect for both of us. They called both me and Valerie artists, which surprised me. I was like, "Oh wow, I'm an artist!"
[youtube http://youtu.be/7laf55H68VE]
If ever given the chance, I would tell teachers who haven't used arts integration not to be afraid of co-teaching with an artist. If there were an opportunity for me to be involved in another arts integration program, I would gladly do it. I've realized that in programs like this, the artist and teacher can become more than just teachers. I believe that they can do more than just share concepts or explain the academic side of things: they can inspire students' lives.
Read more about the Young Audiences 22nd Century Pioneers Arts-Based Summer Camp site and see photos here.
By Chanel Traboldt, Third Grade Teacher at Harford Heights Elementary and Young Audiences Public Programs Summer Intern
Two middle school girls sit in the back of the classroom. One of them is sneaking a look at her cell phone under her desk; the other is braiding her hair. They are in a morning class during the first week of the Young Audiences and Baltimore City Public Schools 22nd Century Pioneers Arts-Based Summer Camp, and neither girl is looking at the front of the room or listening as the teacher, Ms. Moss, begins a math lesson on integers.
For a school teacher, like me, this can be the scene of many early mornings. The question you ask yourself each time is: "How do I better engage my students in their learning?" This often can seem like an impossible task. We know that if you make learning fun, students will want to learn. As an educator, there is an urgency to fight the achievement gap and prepare your students with the skills needed to be college and career ready. But now the tricky part: how do we make learning fun?
Young Audiences again partnered with Baltimore City Public Schools to solve this dilemma in July. In addition to providing arts enrichment activities at seven summer learning sites in Baltimore City, Young Audiences and City Schools created the first-ever completely arts-integrated summer learning site at Edmondson Westside High School. All eight sites were a part of the 22nd Century Pioneers Summer Camp, which is a free program for Baltimore City Public School middle school students.
Back in the classroom at the Young Audiences arts-integrated camp site something surprising happens. Ms. Moss continues her math lesson by projecting photographs students took the previous day while working with Young Audiences photographer Christina Delgado. The two girls stop what they were doing and look up. Ms. Moss asks the group what elements of photography are being used in each image and how these elements relate to what they are learning about integers. The girls raise their hands to join the conversation.
See more photos from the Young Audiences arts-integrated summer learning site!
During my time at Young Audiences' site, I saw that teachers and artists had found a solution to many teachers' student engagement woes. Integrating the arts into daily lesson plans allowed students to create, explore, express, have fun, and most importantly, to learn.
At the Young Audiences camp, nearly 150 students explored math and science concepts through the arts in classes and arts enrichment activities led by Baltimore City teachers and Young Audiences artists during the five-week program. Students chose the art form they would focus on during afternoon enrichment sessions, with choices including dance, photography, illustration and mural painting, theatre, Hip Hop, steel drums, and VEX robotics.
In another class, I saw a group of chatty sixth-graders sitting in the corner go completely silent to listen to steel drum musician Kevin Martin play musical phrases the class had created using what they had learned about ratios.
An unenthused student turned frustration into joy while drawing blueprints for a cage to carry a wild boar across a lake of alligators in visual artist Danyett Tucker's eighth-grade math class.
Students, who were at first more focused on their weekend, turned that energy into an intricate dance routine about pollution in dancer Valerie Branch's class.
As a teacher witnessing these moments of transformation, I am amazed at how easy it is to engage students in learning. The key is to understand that learning and the arts are not separate entities. By combining the two elements and creating arts-integrated educational lessons, students are truly able to learn while having fun.
Read more about the Young Audiences 22nd Century Pioneers Arts-Based Summer Camp site and see photos here.
During the past few weeks, nearly 150 middle school students have dived into math and science concepts through the arts at the Young Audiences and Baltimore City Public Schools 22nd Century Pioneers Arts-Based Summer Camp. Students have learned how ratios are used in photography and how the physics of sound affect each note played on a steel drum. Through these art forms, and many more, students have been engaged in learning this summer so that they are prepared to hit the ground running this school year.
While most of the learning goes on inside the school, students have also had the opportunity to take their knowledge beyond the classroom walls on field trips. These excursions allow students to continue their hands-on learning in a new atmosphere, applying the skills and knowledge they've acquired throughout the summer.
The first trip was a visit to the Baltimore Museum of Industry, where students learned the ins and outs of technology and put their own engineering skills to the test. In one activity, students worked together in small groups to create a track that would carry a wooden ball and drop it into a can. This required them to go through the five steps of solving an engineering problem: plan, get materials, build, test, fix, and re-rest. Students were forced to adjust and readjust their designs before finally reaching their goal, usually resulting in loud cheers.
Students received another challenge: creating an artistic interpretation of the word industry. Groups joined together, combining their knowledge and creativity to come up with dances, skits, and songs that showed what they had learned that day.
See more photos from summer learning!
The following week, students traveled to Baltimore's Artscape, America's largest free arts festival organized by the Baltimore Office of Promotion and the Arts. Surrounded by artists of all disciplines, the students put on a show of their own at the Station North Stage, showcasing what they've been working on during their arts enrichment classes. The show opened with a lively Hip Hop dance performance from Jamaal Collier and Alicia Shaw's Hip Hop class. After the performance, one student explained the four pillars of Hip Hop, the most important one being knowledge. Next, Valerie Branch and Heather Tuttle's dance class got the crowd cheering with a dance set to Ariana Grande and Iggy Azelea's "Problem." Kevin Martin and Kevin Older's students also got to show off their steel drum skills.
Even those who didn't perform on stage took part in their own form of art-making. Throughout the day, Christina Delgado's photography students captured Artscape from behind the lens, while Danyett Tucker's illustration students filled up their sketchbooks with drawings of everything from festival attendees to graffiti on buildings.
Bridget Cavaiola's improv class performed an exercise called "Improv Everywhere." All over the festival, they held compliment battles, gave flowers to strangers, and posed as wax statues, making them the target of many curious stares and even a few pictures. See this group in action in the video below!
[youtube http://youtu.be/hg-sdwpGYQg]
Read more about the arts-integrated learning happening at the Young Audiences 22nd Century Pioneers Arts-Based Summer Camp site and see photos here.
Categorized:

News

Tagged:

22nd Century Pioneers Summer Camp, arts integration, Artscape, Baltimore City, Baltimore City Public Schools, Baltimore Improv Group, Baltimore Museum of Industry, Bridget Cavaiola, Christina Delgado, creative learning, Danyett Tucker, field trip, Jamaal Collier, Kevin Martin, Math, middle school students, science, summer learning, summer learning loss, Valerie Branch

By Stacie Sanders Evans, Young Audiences/Arts for Learning Executive Director
Last week I visited the classroom of teaching artist and improv master Bridget Cavaiola and science teacher Heather Tuttle, who are teacher partners in our 22nd Century Pioneers Arts-Based Summer Camp in West Baltimore. Like in all of our classes, these two teachers were "starting with the art" by warming up brains and bodies with the drama game "Big Booty." This particular game required kids to call on each other using a number instead of their name, and the goal of the game was to keep the it going as long as possible and as quickly as possible, without someone "messing up" by forgetting who had what number. (I realize this description doesn't explain why this game is called Big Booty but just stick with me here…)
The first time a student messed up in Big Booty, everyone clapped. I wasn't sure what was going on but smiles ensued and the game started over. Quickly another kid forgot which number they were and when their number was called, the game stalled. Once again everyone clapped and Bridget looked over at me to clue me in and said, "We celebrate our failures in here." The game continued, and as the kids' brains warmed up and the fear of making a mistake in front of their peers dissipated, the need to clap wasn't as frequent. When they did clap, they laughed, they shrugged it off, and they quickly moved on.
When it came time to move on to the science lesson, the teachers wanted to recap the lesson from the day before about the engineer design process. Bridget realized she had mistakenly erased the board which had listed all the key terms shared yesterday and Heather realized she forgot her notebook for reference. Oops! I don't think the situation could have been better orchestrated, in that moment Bridget and Heather, modeled "the way" by shrugging off their mistake and asked the class, "What can we do?"
See more photos from the Young Audiences arts-integrated summer learning site!
The kids immediately started calling out the key terms they learned the day before. "Imagine!" "Investigate!" "Test!" In a quick minute all the key terms were there. I noticed each term was delivered with a gesture. The day before, the students came up with a move that conveyed the essence of each word. This lesson recap evolved into sixth-grade boys and girls (remember those awkward years?) moving their arms, hands, and heads in space as they defined the engineer design process.
Bridget and Heather and their sixth-graders are onto something. The simple act of celebrating failure creates a safe space for trying something, even if you are unsure if you are right or if you might look silly. Just imagine what is possible when you remove that fear–real opportunities for exploration, experimentation, reflection, and growth emerge.
Read more about the arts-integrated learning happening at the Young Audiences 22nd Century Pioneers Arts-Based Summer Camp site and see more photos here.