Summer Arts & Learning Academy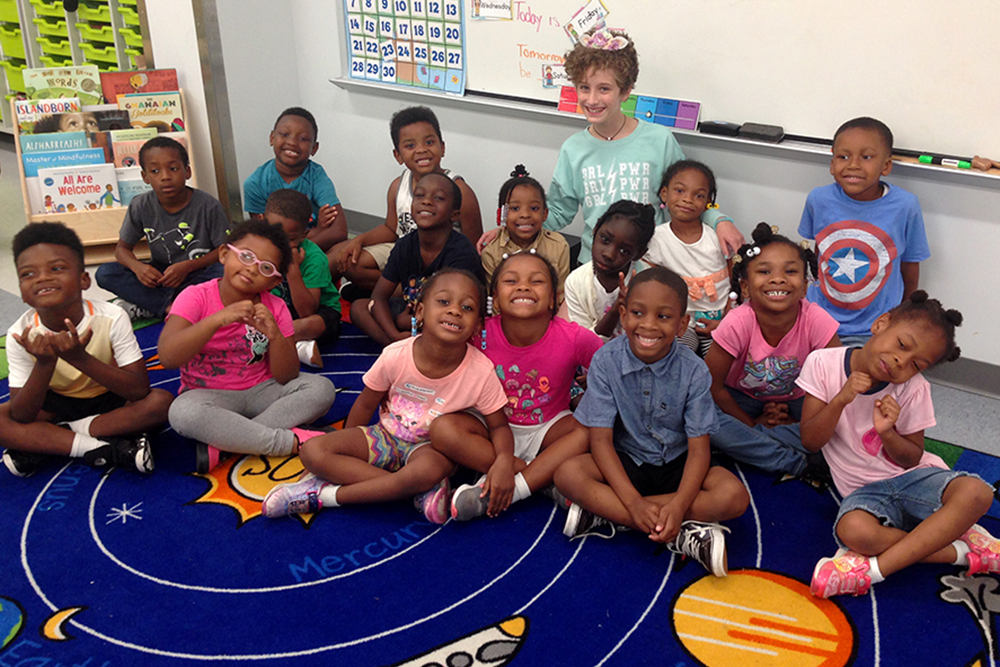 Summer Arts & Learning Academy
Alice's year at Summer Arts & Learning Academy (SALA) meant so much to her. The program helped bring clarity to math concepts my daughter was struggling with through an art form she loves, she felt confident, and she felt like she was part of something larger than herself. It made her feel proud of herself and proud of her community.
She wrote, "A lot of people think of Baltimore as how the news shows and talks about it. The news tends to only show the little bad things about us. I wish people could just see what SALA is like. It's a perfect representation of Baltimore's youth! It shows that we are creative, compassionate, caring, and loyal." Now Rosario, my youngest daughter, looks forward to SALA every summer. And even though Alice is too old to attend, she volunteers in the program. "I can help and watch other children get the same great experience that I did."
As I've seen with my own children, arts integration is not just fun in the moment. These are experiences that shape students' mindsets, their education, their goals—experiences that students carry with them and inform their decisions for years to come. Please give today.
Summer Arts & Learning Academy
A whole-child approach to learning puts significant focus on the social and emotional needs of students. And as we've seen in our Summer Arts & Learning Academy (SALA), the arts and arts integration pair naturally with social and emotional learning (SEL). In SALA, our teaching artists and their academic partners plan their lessons through a student-centered lens, giving children the opportunity to learn in a way that works best for them—and supplying them with the emotional tools they need to be successful and connected to the learning—and to each other. In fact, a report from Education Dive notes that in school, "artistic endeavors—whether performing, creating, or responding to others' work—likely involve even more social-emotional skills and opportunities for students to practice them."
Through drama, students in SALA feel the thrill of embodying their favorite storybook characters. They learn to express ideas through dance and emotions through music. They feel the pride of understanding mathematical concepts when, through visual arts, abstract ideas can be seen, felt, created, and replicated. What if we applied the artist expertise and program model that makes SALA so successful to the actual school year?
Knowing that MSDE-approved educational models like SALA's can also be used to address many issues impacting education, our SALA team tailored its model to meet the needs of students who need extra schoolyear support and introduced Arts & Learning Days at three different sites in Baltimore City: Harlem Park Elementary/Middle, Collington Square Elementary/Middle, and Leith Walk Elementary/Middle. These new Arts & Learning Days give teachers and students the opportunity to teach and learn creatively, through self-expression, and with a focus on social and emotional wellbeing.
Arts & Learning Days:
Support students in afterschool time
Expose students to different art forms
Provide teacher professional development in arts integration
Increase academic performance
Each academic quarter has four Arts & Learning Days. On these days, five teaching artists spend the day at the school co-planning and co-teaching arts-integrated lessons with two different teachers each. Arts & Learning Days are more than artist residencies—they are real-time professional development for school-wide transformation. Teachers discover new ways to create engaging lessons, to blend academic and social and emotional learning, and to ignite creativity and self-expression—and they get to put it into practice right away!
Afterward, teachers and artists reflect and revise lessons. Classroom teachers also meet with Education Director Kristina Berdan multiple times, who offers the educators feedback and strategies to improve their practice.
The arts even extend into afterschool time when an artist or ensemble brings their program to an existing afterschool program for additional enrichment. This year alone, students enrolled in afterschool programs have already been able to work with Wombwork Productions, Inc., Vonnya Pettigrew of Root Branch Film, and Guardian Dance Company!
These opportunities for students and educators through Arts & Learning Days wouldn't be possible without the support of the principals, the afterschool providers, and the teachers. We are looking forward to many more Arts & Learning Days to come and can't wait to share them with you.
To access the Collington Square Arts & Learning Day 1 video transcript, click here.
Summer Arts & Learning Academy
smARTbeats returns to WTMD on Saturday, October 19 during the weekly children's program Young At Heart! On this month's segment, host Lisa Mathews talks with Scott Paynter, or Scotty P as he's known around town, one of our talented teaching artists from Summer Arts & Learning Academy (SALA). He embodies fun and warmth in his classroom and on stage as a solo performer and as a lead vocalist with the world-renowned reggae band Jah Works. 
"Jah Works is a true grassroots success story that emerged from Baltimore's reggae scene over 20 years ago. This is music made by and for lovers of real, authentic reggae music. Consistently performing hundreds of shows a year worldwide, they have forged their sound in clubs, festivals and on the sun drenched beaches of Negril. Their sound is firmly planted in the roots of Jamaican music and culture, encompassing rock steady, reggae, and elements of dancehall and dub. What Jah Works does best is introduce the novice music listener to the fullness of reggae music and culture." —from jahworks.com
Scott's classroom in SALA is a creative and joyful place where music and children go hand in hand. Perhaps it's because he got his own start in music as a young child with a guitar he built from plywood and yarn. How awesome that every summer he helps more young musicians discover their passion for music and songwriting!
Scott doesn't just share his art form with students, he teaches them to demonstrate what they've learned through music. By writing songs about the books and stories they've read, children are able to dive deep into the different characters and their personalities—bringing them to life. Take this video, for instance, of Scott's students performing a song they wrote with the artist about a book they read together called City Green by DyAnne DiSalvo-Ryan.
It should come as no surprise that kids love coming to his class to sing and learn! Mr. P makes learning fun—and even though his time with them is relatively short, his patience and commitment to the students can be seen in the strengthening of their academic abilities, their understanding, and the genuine smiles on their faces.
Listen online now to the smARTbeats interview with Scott Paynter at WTMD.org
Young At Heart airs weekly on 89.7 WTMD from 7 to 8 am on Saturdays, featuring music that appeals to parents and children alike. Previous shows have featured music by Wilco, David Bowie, Andrew & Polly, Weezer, and others. 
Summer Arts & Learning Academy
Written by Stacie Sanders Evans,
President and CEO of Young Audiences/Arts for Learning
Belonging. That's the word that has been on my mind. Our founder, Nina Collier, understood belonging. She felt music belonged in schools, that artists belonged in a child's education. In 1950 she inspired a movement of artists-in-schools. What started in Baltimore has now grown to 30 Young Audiences–the largest arts-in-education network in the US.
Today, Young Audiences artists like Femi the DriFish and Valerie Branch ignite a child's desire to learn. Whatever our partner artists' art form is–hip hop dance or improvisational theatre–they use it to draw kids into learning. We train our artists to integrate their art form with whatever is being taught in students' literacy, math, social studies, and science classes.
We do that because when kids create something they get to make choices. They make meaningful connections. They express themselves. Choice and voice–that makes the learning matter.
When we, as a community, provide children with these kinds of opportunities, we are telling them, "You matter!" All of this, what we do, it nurtures the sense of belonging in our kids, artists, parents, and teachers. And it is belonging that I feel when I walk into one of our classrooms. Listen to how Tiffani, Dawn, and Valerie talk about our community in Together–we are their people–and we all belong.
Think back to when you were growing up. Who were YOUR people? What teacher or coach left their imprint. Who helped you become the person that you are today?  I bet that person made you feel visible. Known. That you belonged.
My moment was in ninth grade. I was struggling in many different ways and my drama teacher, Mrs. Howard, saw something in me. She knew how to draw that "something" out–just like the 200 artists (both YA roster artists and independent artists) we work with. In her class, I belonged. She cast me as Juliet in Romeo and Juliet. And that moment was like rocket fuel for me.
Belonging is a strong human need, particularly in our children. I see belonging as the net below the trapeze. When kids have that net of belonging, they are more likely to lean into learning–kids like Josh Ajala, who in Together, spoke about moving from the back of the class to the front–and his sister Tiffani Ajala–who was brave enough to apply for Baltimore Design School (and got the highest possible score on her fashion portfolio!) These are the courageous risks we want our kids to take so that they can grow.
But public education for the last 17 years, after the birth of No Child Left Behind, hasn't been focused on this. It has been about raising standards and increasing school accountability–measured through standardized testing. What do kids who are part of this system think about this? In Brenna's poem, she says students feel like they are just inputs and outputs in one simple equation.
The outcomes we are seeing are heartbreaking and not sustainable as a society. Eight out of ten Baltimore City Schools students do not meet "proficiency" in math or reading. Nearly half of our children across the state entering Kindergarten are already behind. Four out of ten Maryland teachers leave teaching within five years because this isn't the equation they want to be a part of.
A different way is needed. Young Audiences is a different way. Our movement is to make sure all kids–and the people who teach them–are not treated like inputs and outputs but as the whole beautiful human beings that they are.
Today, thanks to our 450 school partners, our Sunburst Society members, and our game-changing evidence, our movement is growing. Outreach has doubled in the last five years. We impact the education of 191,000 children EVERY year–children in EVERY Maryland county.
We are on a mission to close the opportunity gaps in this educational system. We have four strategies:
Preventing summer learning loss by operating 20 summer programs across our city
Increasing school readiness through early childhood programs in four counties
Improving student engagement in learning by providing professional development to 500 teachers every year
Increasing equity in access to opportunity–more than 30,000 of our children are in under-resourced communities, so we provide more to them
We have made tremendous progress over the last five years but we can take this to a new level. Five years from today, I think we can change the educational trajectory of 50,000 more kids. Here is how we can get there:
Expand our evidence-based Summer Arts & Learning Academy in and beyond Baltimore City. This is the program that Tiffani, Alice, and Josh participated in that continues to have a ripple effect in their life. To expand to just one more school district, we have to find and train 20 more artists.
This Academy is only 25 days of a kid's life–and in that short time, we see lots of benefits. Imagine if kids had that kind of arts-integrated learning during the school year and school day? We want to launch year-round professional development and support for teachers and principals to make that happen. If we were able to add just one more person to our staff that focused on professional development, we could support 100 more teachers and principals every year.
To have the greatest impact on a child's potential, we need to invest early. (Did you know that 80% of the brain's synaptic connections are made by age 3?) In 2024, we want to bring our Baby Artsplay program to 5,000 infants and toddlers across Maryland and–to their very first teacher–their parents. This will require our artists to be trained in early childhood development.
Think back to your person–your Mrs. Howard. Think back to that feeling of belonging. Imagine if you could create that opportunity for someone else. For another Josh. Another Brenna. Take that opportunity and multiply it by 50,000. Fifty thousand children sitting in the front of the class, trying out for Baltimore Design School, reaching for that trapeze handle.
That is the opportunity in front of us. For Brenna, that is the equation she wants us to come together and solve.
Categorized:

News

Tagged:

Anne Arundel County Public Schools, Baltimore City, Baltimore City Public Schools, Bloomberg Arts Internship, community, Femi the Drifish, fundraising, Impact Breakfast, Maryland Public Schools, North County High School, Stacie Sanders Evans, Summer Arts & Learning Academy, summer learning, Summer READS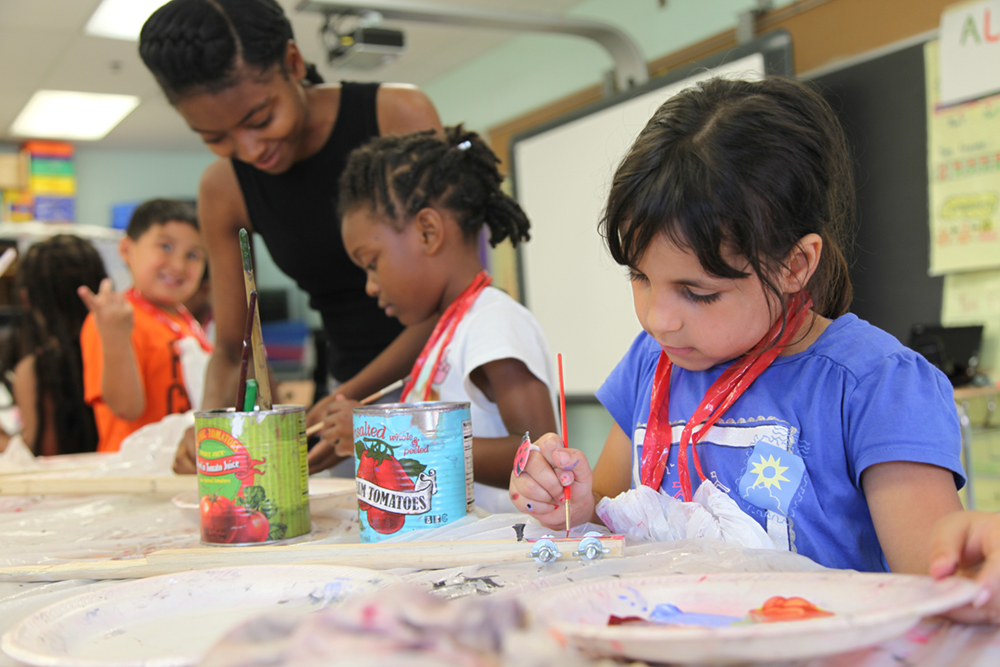 Summer Arts & Learning Academy
Students in free arts-integrated program for City Schools realize growth in math, reading, writing, and social-emotional learning – especially for those behind academically.
BALTIMORE, (February 18, 2019) – A new study shows that students who participate in Baltimore City Public Schools' Summer Arts & Learning Academy (SALA), operated by Young Audiences, realize positive academic growth and improved social-emotional skills. The research indicates that when compared to the rest of the students in the program, students with special needs saw significantly more growth in writing and in some social emotional domains. Similarly, students that started the summer program behind in math saw significantly more growth over the summer than their peers who began the program on grade level.
The 2018 Summer Arts & Learning Academy, a free five week arts integration program for Baltimore City Schools students, was held from July 9 to August 10 at eight sites across Baltimore City. Through hands-on activities co-taught by professional artists and classroom teachers, nearly 2,200 Pre–K-5th grade students engaged in painting, songwriting, poetry, dance, music, photography, playwriting, filmmaking while learning math and literacy.
SALA students' test scores at the beginning and end of the program were analyzed by WolfBrown, a national leader in research on arts education and children's academic, social, and emotional development. WolfBrown's analyses revealed increases in students' math, reading comprehension and writing scores that were not only statistically significant, but large. On average, students' math scores increased by 15 percentage points, their reading comprehension scores increased by 11 percentage points, and their writing scores increased by 14 to 16 percentage points.
Of particular interest in the study was the growth seen among students who were behind academically or who were at risk of falling behind. Students further behind in math at the beginning of SALA showed the largest growth in math – their test scores grew nearly 1.5 times the rate of their peers. Similar results were observed among students with IEPs. An IEP is an individualized educational plan given to students who demonstrate at least one of 13 special factors, all of which are considered to impede learning. Students with IEPs out-paced their peers in writing content score-growth by nearly 1.24 times. Students with IEPs also showed growth in self control as reported by parents.
Dr. Sonja Santelises, Baltimore City Schools CEO, said,
"We believe in educating the whole child and this summer program does just that. We are thrilled that this investment is resulting in student gains in literacy and math. Just as important, this program gives young people an opportunity to learn about and express themselves through different art forms, which ultimately strengthens empathy and other social-emotional skills in our young people."
The Baltimore City Schools Office of Achievement and Accountability conducted its own evaluation of the program, comparing scores from end-of-academic-year standardized assessments (iReady and DIBELS) to the beginning of the year in order to measure summer learning loss and the impact of SALA in mitigating that loss. In three of the four comparisons, SALA students program showed lower rates of summer learning loss than students who were not in a summer program.
"Young Audiences' evaluation contributes to the body of national research showing that when children have sustained opportunities to learn in and through the arts, they have greater rates of academic success," said Stacie Sanders Evans, Young Audiences President & CEO.
"The Every Student Succeeds Act, the law that governs US public education policy, calls for greater attention on the whole child and specifically social-emotional learning, while requiring schools to adopt evidence-based practices. We hope this evidence will lead more Maryland schools to consider the arts as a vehicle for building student empathy and other life skills such as cooperation and self-management."
As a result of the program's continued success, Baltimore City Schools and Young Audiences will expand SALA in 2019 to Pre-K, reaching more than 230 of our City's youngest learners across all 8 sites.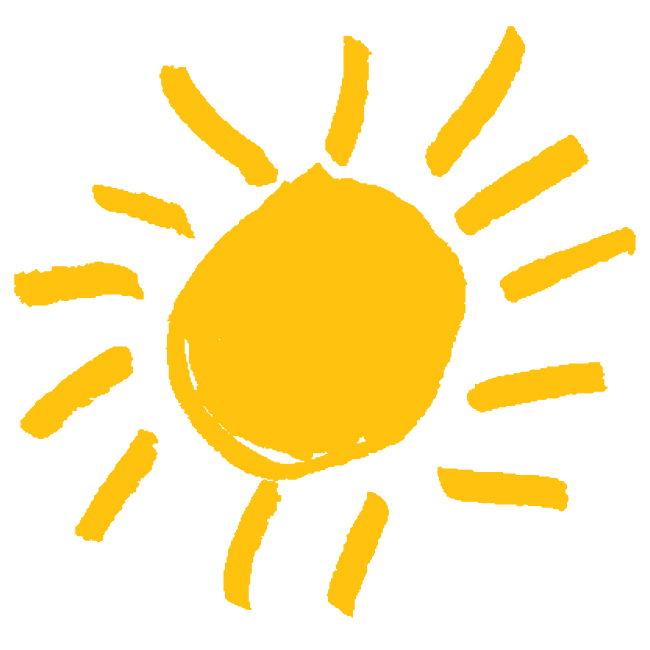 About Young Audiences/Arts for Learning
Started in Baltimore in 1950, Young Audiences is the nation's largest arts-in- education provider. As the Maryland affiliate, Young Audiences/Arts for Learning (YA) is devoted to enriching the lives and education of Maryland's youth through educational and culturally diverse arts programs. Through Young Audiences, professional artists from all disciplines partner with leaders and schools for nearly 10,000 hands on arts learning experiences that reach more than 190,000 Maryland students. Young Audiences envisions a Maryland where the arts are valued for their capacity to transform lives, and where every student is immersed in opportunities to imagine, to create, and to realize their full potential.
Summer Arts & Learning Academy
Written by Barbara Krebs,
Young Audiences volunteer and Sunburst Society member
A few weeks ago, I was happy to attend Young Audiences' third Art Crawl, held this year at the Single Carrot Theatre adjacent to YA's offices.
For those of you who have not attended this annual event, I highly encourage you to do so. First of all, you'll get to party with a group of fun, interesting, entertaining and dedicated folks. Secondly, you'll get to enjoy the learning environment presented to the kids who attend YA's Summer Arts & Learning Academy (SALA). And by that, I mean you'll act, play music and create artwork, which helps you understand your reading assignment or your math homework. And finally, you get to nosh on great hors-d'oeuvres and sip handcrafted cocktails created by some of YA's board members!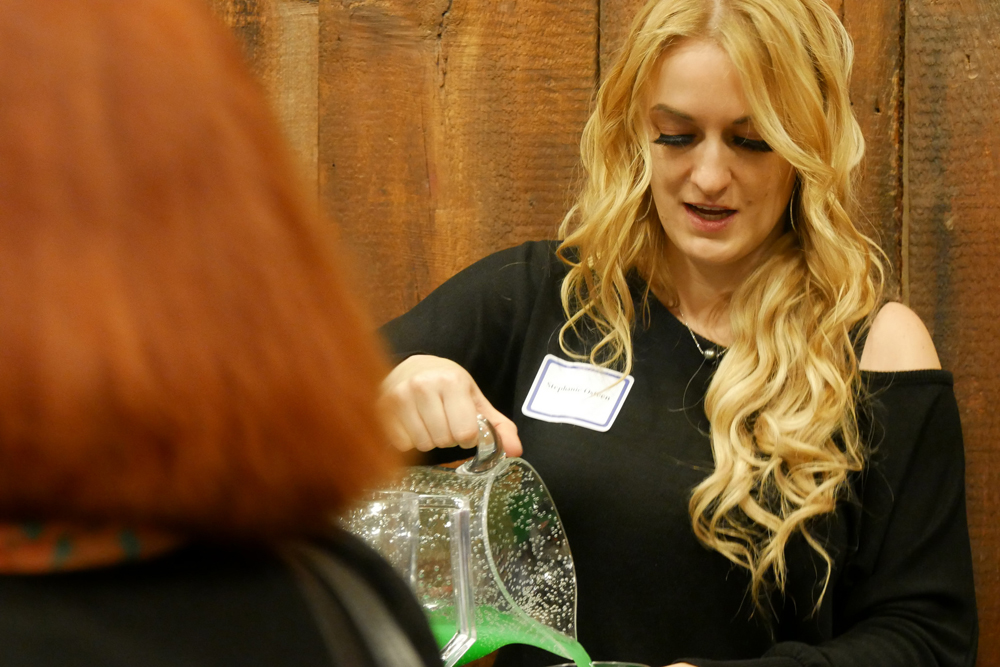 As always, I find myself splitting my time between talking to people I've met in the past, and meeting new folks who have interesting stories to tell. This time was no different. Balancing a plate of delicious appetizers from Copper Kitchen and a glass of wine provided by North Charles Fine Wine & Spirits, my husband and I soon found an empty spot at a table and introduced ourselves to Cori Daniel and Carlotta Williams. Turns out they were actually a teaching artist/teacher team who would later explore the book, Tar Beach, a story by artist Faith Ringgold recalling the dream adventure of a young girl flying high above her neighborhood in 1939 Harlem.
No matter the genre, the goal is making sure the children stay focused on the subject matter, sneakily presented as a lot of fun.
But I didn't know this yet. What I did find out though was how long they had been teaching, what they taught, and I got to observe their obvious enthusiasm for the children and learning. Their animated conversation about their SALA classroom was fascinating, as were their fond memories of inspiring kids to learn while the children used their imaginations to improve their reading scores.
Oh, did I just use inspire, imagine and improve in one sentence? Yes, I did, and that is, of course, no accident. Having witnessed teachers and children in action in several of SALA's classrooms this summer, and getting a chance to actually engage in it myself during Art Crawl is to truly understand how those three words create an arts-integrated learning environment that SALA uses to stem summer learning loss and bridge the Inspiration Gap.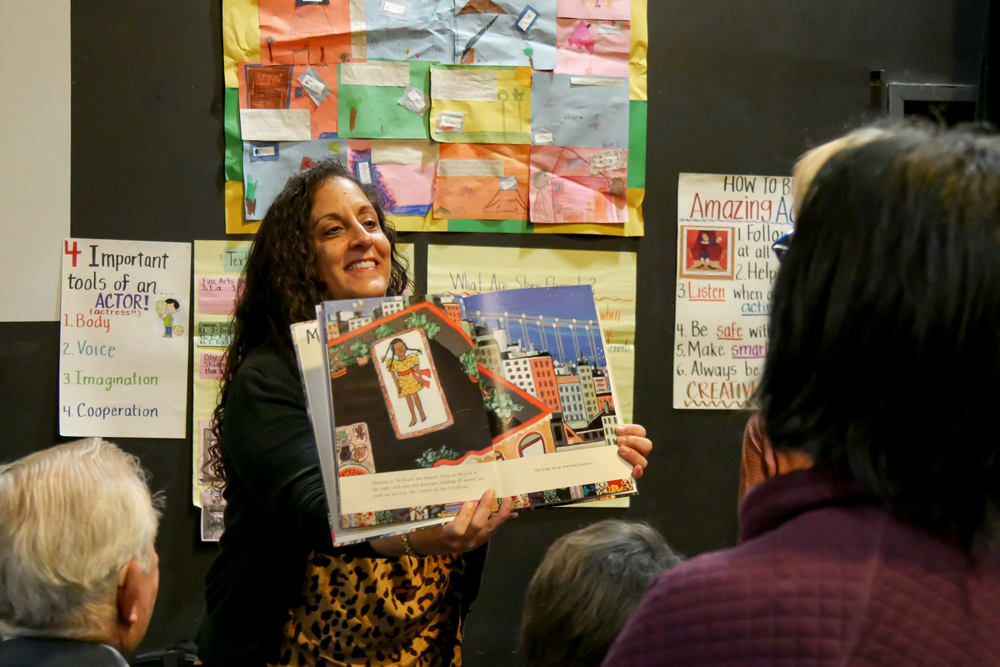 In SALA's five-week summer classrooms, kids use a wide variety of art techniques to help them master core subjects – whether it's textile art to illustrate a story they are studying or rapping their multiplication tables or dancing to show character development. No matter the genre, the goal is making sure the children stay focused on the subject matter, sneakily presented as a lot of fun.
And so it was. In the segment taught by the second-grade teacher and teaching artist I had just met, we warmed up with some dance movements to highlight acting concepts. Then we looked at the pictures in the book and explained what we saw in them. Finally, we paired off and used our imaginations to explore a special place for us – one that made us feel warm and welcomed.
Next up was a math segment, guided by teaching artist Nadia Rea Morales and teacher Jose Hernandez. With a chart in the room illustrating ones as yellow, tens as red, and hundreds as blue, I created a Piet Mondrian "masterpiece."  The focus was to teach second-graders their ones, tens, and hundreds places and the relationships between digits and their place value. My own memory of learning such things was of boring, rote exercises that left me cold. Here, I hadn't had so much fun with scissors and construction paper in ages. And to think – I was learning math!
I ended the evening with teaching artist Christina Cook, who was surrounded by a variety of percussion instruments. As she demonstrated how these were used to sound out the syllables in words, I noticed how she was combining both math and vocabulary – a certain number of syllables to express a phrase, as she beat the rhythm on her drum.  She then handed out instruments and instructed us to follow along.
In addition, she said she used this technique to help the pre-K kids she taught to express their emotions. At first, she told us that the students mostly stuck to "happy" or "sad," but soon she noticed that, as the kids gained confidence with the percussion pieces, their emotional range expanded, too. Now they were "curious" and "frustrated" and "ecstatic." She admitted that she was impressed with the varying emotions the kids conveyed as well as the fact that they already had the vocabulary to communicate it. They had only needed the little nudge the music gave them to open up and express themselves more fully.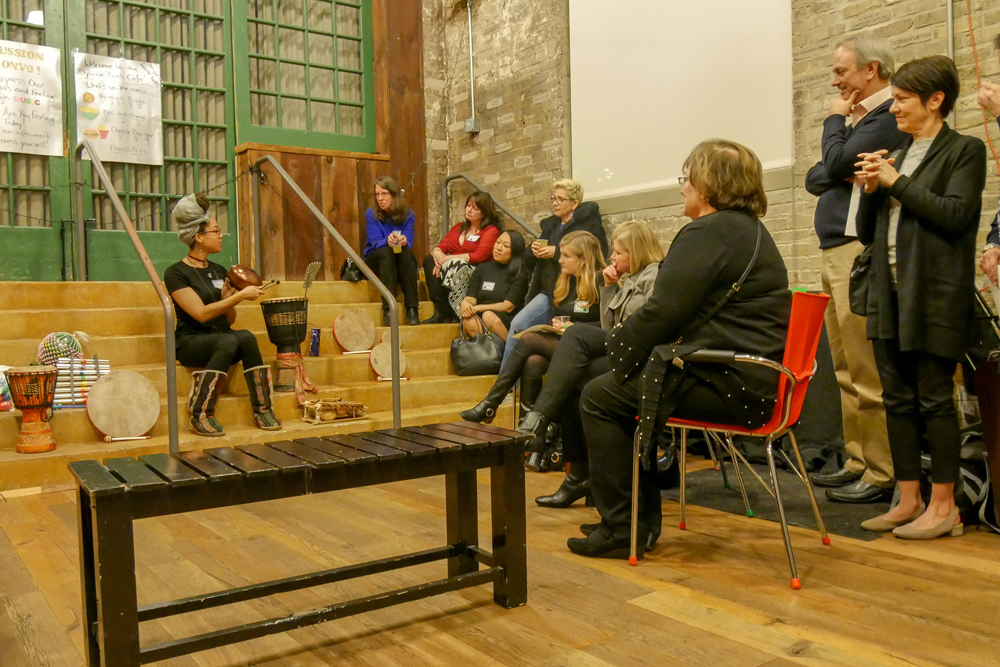 I have to admit – Inspire, Imagine, Improve is a mantra I can really get behind. Because each time I've attended Art Crawl, I come away inspired by all the people who donate time, expertise and/or money to make SALA a reality for 2,100 elementary school-age kids.  I can only imagine how much harder it would be for the children and their teachers if this summer program didn't exist. And I know that Young Audiences' aim to improve test scores and access to arts-integrated learning is something I'm behind 100 percent.
Wouldn't you like a little Inspire, Imagine, Improve in your life?  Come join us next year and I think you'll find your own stories of imagination that inspire you to improve. Until then, Happy Holidays!
Summer Arts & Learning Academy
smARTbeats returns to WTMD on Saturday, November 10 during the weekly children's program Young At Heart! On this month's segment, host Lisa Mathews talks with Jason Baker, one of our talented teaching artists from Summer Arts & Learning Academy (SALA). Jason is a board-certified music therapist and teaching artist by day. Kids lucky enough to have had him as their teacher in SALA over the past few summers will tell you he has a lot of wisdom and kindness to share. Do they even know that Jason is a bona fide rocker once the day is done?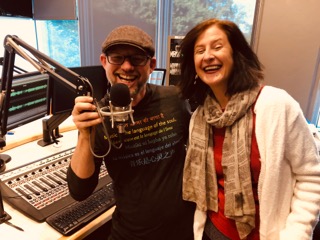 In the classroom, Jason is known as a man who helps kids learn their math facts through writing their own beatbox riffs, who models compassion and collaboration, and who leads young percussionists with artistic excellence. No doubt, the same skills he uses as a music therapist cross over into his lessons. His students work diligently, checking their numbers and planning their beats in the arts-integrated math class. The kids are eager to support their peers as each finds the courage to perform their beatbox compositions at the mic.
Jason's music majors exhibit the same cooperation and camaraderie as his math students. They don't just play their instruments. With their drums in a circle, the young percussionists listen, they watch, they respond to one another. Their rhythm is alive and has a personality all its own.
By night, Jason Baker is the drummer for the highly acclaimed psychedelic rock band Fractal Cat. The classically trained musician's beats are the pulse of Fractal Cat's euphonic sound —and like a teacher in a classroom, he keeps the music rolling.
Young At Heart airs weekly on 89.7 WTMD from 7 to 8 am on Saturdays, featuring music that appeals to parents and children alike. Previous shows have featured music by Wilco, David Bowie, Andrew & Polly, Weezer, and others.
Hear Jason Baker's smARTbeats interview online now!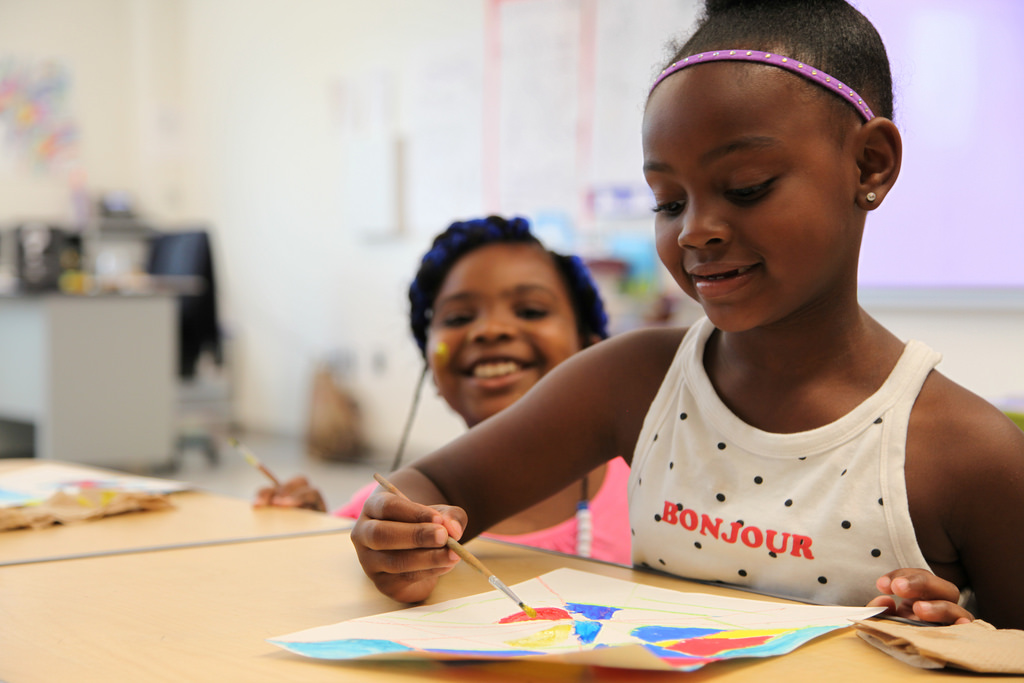 Summer Arts & Learning Academy
Written by Barbara Krebs,
Young Audiences volunteer and Sunburst Society member
When I was studying for exams in college, I would often create a strong visual image to help me remember test items. For example – the 6 C's of credit? Character, capacity, capital, condition, collateral, cash flow. And while these concepts didn't flow naturally through my brain, the image I created did. There was a guy (character) leaning on a crutch (condition) with a cap on (capacity) standing in front of the Capitol Dome (capital) with a briefcase (collateral) full of dollar bills (cash flow).
At the time I didn't have a name for my study method – I just knew it worked for me. Years later I can now identify this as arts integration with an emphasis on a visual learning style.
And so I felt very at home as I toured Young Audiences' Summer Arts & Learning Academy (SALA) at Lyndhurst Elementary/Middle School in Baltimore. That's because each classroom was filled with young students learning in a variety of arts-integrated formats. I witnessed drama, rap songs, textile art, drawings, and writing—all used in conjunction with classwork such as a math problem or a reading assignment.
And while I knew, and the teachers knew, that these children were involved in thoughtful, hard work here—the serious business of arresting summer learning loss—the kids were focused on how much fun learning was. For example, in the PreK classroom, YA roster artist Mama Rashida of WombWork Productions and her teacher partner, Samantha Amey, worked with the students on a basic math problem: 1 + 2 = 3. Now, of course, you can force your brain to learn this by sheer rote repetition, but let's face it. How exciting is that?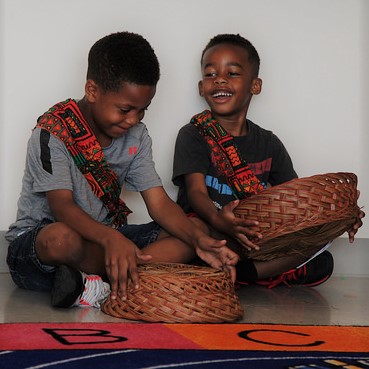 But if you illustrate it with a story about the marketplace where you must buy one fruit (fruit sellers stand here to the right!) and then move on to the vegetable stalls where you need a tomato and a carrot (veggie vendors over here, please!), you set the stage for a fun learning experience.
As the kids moved excitedly from place to place to "fill" their baskets or "sell" their wares, the teacher illustrated what they were doing on the whiteboard. With their "shopping" completed, the children returned to their seats and began to answer questions about the math problem. At this point, the teacher pretended to be confused and wrote wrong answers on the board. As the children rushed to correct her, she had them explain what was wrong, until everyone agreed that the proper answer was three.
No, this wasn't bored voices droning "1 + 1 = 2," "2 + 2 = 4." Instead, these were kids excited about math, happy to supply the correct answer to a befuddled teacher and eager to learn more!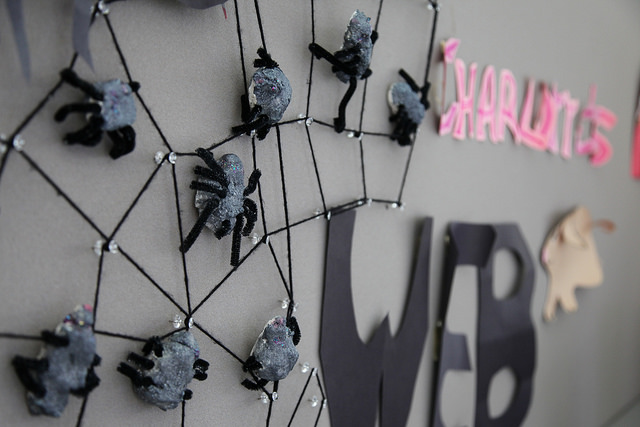 But what about English? A little later I stepped into a first-grade classroom where students were studying Charlotte's Web. Here, I found a mix of visual art and drama being used to tell the story. Several children took turns at the front of the classroom with a drawing they had made. After displaying it, they then acted out that portion in mime. Initially, the teacher set the scene, reminding the kids what was happening in the story at this point. After the child was done, the teacher asked the other students what they had observed as their classmate portrayed the scene.
Later, I noticed a bulletin board filled with tiny spiders made using a modified papier mache technique, with pipe cleaner legs. As I looked at this, one young girl came up to me and proudly told me about the paper collages they had made to illustrate what the barnyard looked like. "They're displayed outside the classroom. You have to see them!" Indeed, I did, and when I left, I enjoyed all the bright, cheery artwork that surrounded the door frame.
My next stop was a mixed class of second, third, and fourth graders who were working on both how to solve for an unknown number in a math problem and the nine's in the multiplication table. And here is where I definitely appreciated the arts-integrated approach. I remember learning the nine's and, oh, how I despised them.
But nobody seemed to hate nine's here. Maybe that's because as they chanted this portion of the multiplication table, not only did they give it a fun rap slant, but other classmates accompanied the song with percussion instruments. Why couldn't they have done that when I was in school?
My final stop was to a fourth-grade classroom where the lesson was to reinforce the basic math operations: addition, subtraction, multiplication, division. Here, too, I felt very at home, but this time it was because not only did I recognize the teaching artist, YA roster artist Femi the DriFish, who I've witnessed teaching on several occasions, but I actually recognized kids whom I had seen before. This heightened my sense of how compelling arts-integrated learning is in capturing kids' imaginations, so much so that they return for another summer of learning!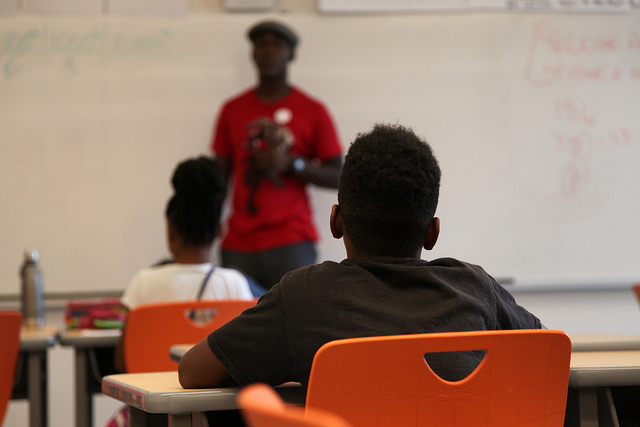 They rapped their way through a popular song remixed to describe math operations terms in word problems (equals to, divided by, times, added to, subtracted from, etc.) in preparation to shoot their own music video. As they practiced, I wondered what they would take away with them after this summer. Would they remember these lyrics and hum them in their head as they take a math quiz next year? Will they think about a marketplace full of vegetables and fruits and how math filled their baskets? Perhaps they'll draw a picture that will help them recall the story they're reading in class.
But most of all, will they remember the fun that accompanied all these math and English concepts? And that 1 + 2 = 3? I think so. And this funny little guy, leaning on his crutch with his cap, briefcase and dollar bills, standing in front of the Capitol agrees with me!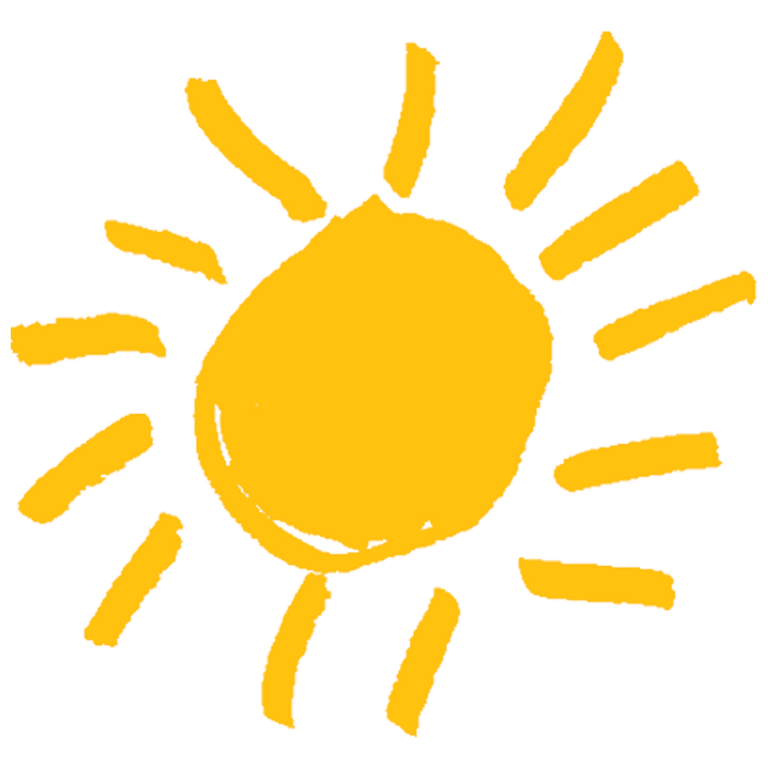 Learn more about our mission, our methods, and our future plans during a one-hour Meet Young Audiences event. In addition to hearing from the organization's leaders and getting an inside look into the amazing work we are doing around the state, one of our roster artists will share their amazing work with you and speak about how the arts complements and enriches classroom learning. Please reach out to Ingrid Murray, Individual Giving Manager, at ingrid@yamd.org for more information or call (410) 837-7577 x. 107. Interested in hosting your own Meet Young Audiences event? Find out more here!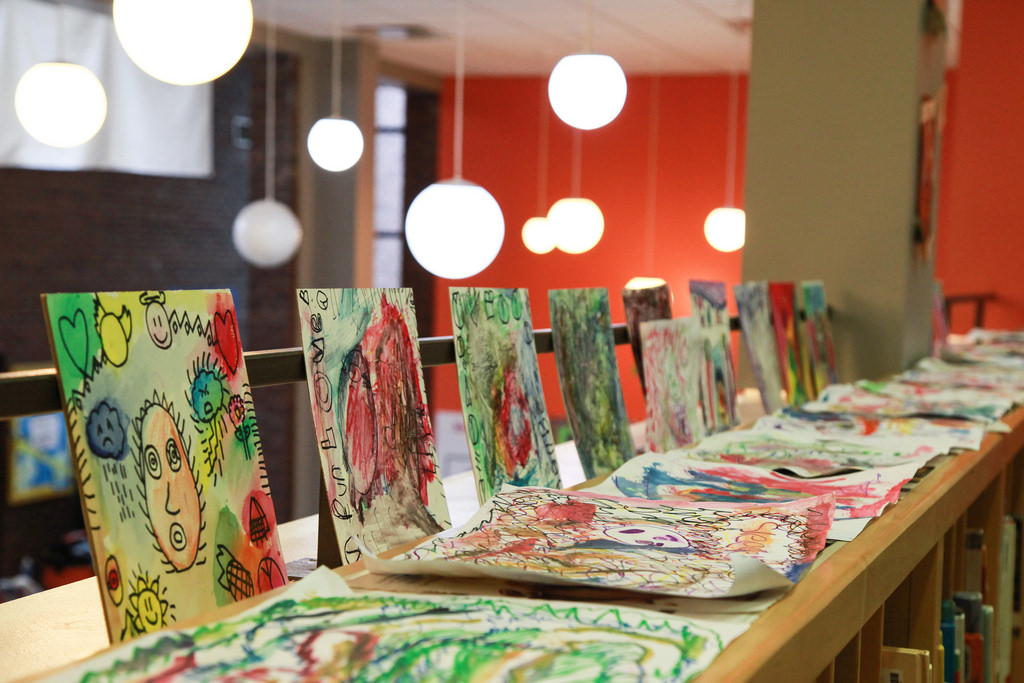 Summer Arts & Learning Academy
Written by Barbara Krebs,
Young Audiences volunteer and Sunburst Society member
Field trip! Remember the excitement you felt as a kid when you got to explore the world outside your classroom for the day, file on the bus, and leave school far behind? Well, it was a bit like that on Wednesday, July 25, when a diverse group of Maryland legislators, high-level education officials, and others boarded a bus to learn more about the programs that Young Audiences and its partners are offering Baltimore youth this summer. Except instead of leaving school, we headed toward them!
Initially, visitors met at Moravia Park Elementary School, the first of three stops that day. As Stacie Sanders Evans, President & CEO of Young Audiences, shared in her opening remarks, "We're shining a light on summer learning opportunities; we're shining a light on amazing kids; and we're shining a light on how the arts blends these two things."
At Moravia Park, we visited SummerREADS, a free drop-in literacy program that is the result of partnerships with the Harry and Jeanette Weinberg Foundation, the Baltimore Elementary and Middle School Library Project, Baltimore City Public Schools, and Young Audiences. Over a five-week period of time, more than 500 K-8 Baltimore City students will have had the opportunity to visit one of nine reading sites where they encountered engaging literacy workshops with teaching artists and fun enrichment activities with special guests.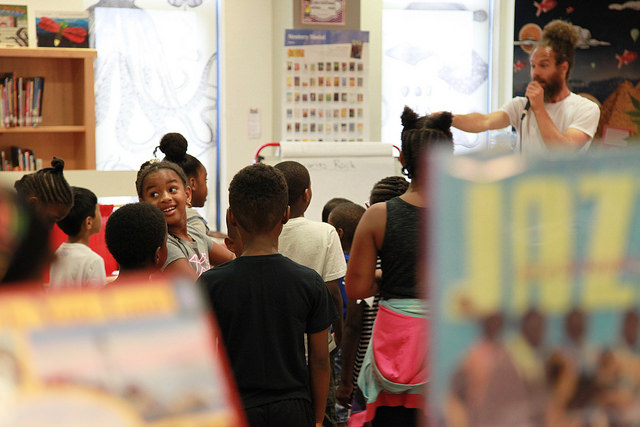 And that is exactly what we found when Max Bent, a beatboxer who has been a Young Audiences teaching artist for 7 years, led a group of six- and seven-year-olds in the basics of beatboxing. He taught them how to make various sounds and then incorporated them into a song, "My Banana." As they counted out beats (three syllables in banana!), they thought of other fruits (apple, two syllables!) to add into the song.
We had to leave for our next stop before he could complete the lesson, but I could already see the intriguing possibilities in beatboxing for both math and English. Before we left the school, there was a quick Q&A session. The questions came fast and furiously from all sides of the room, a testimony to how interested people were, not only in the learning they had just witnessed, but what it took to make this possible.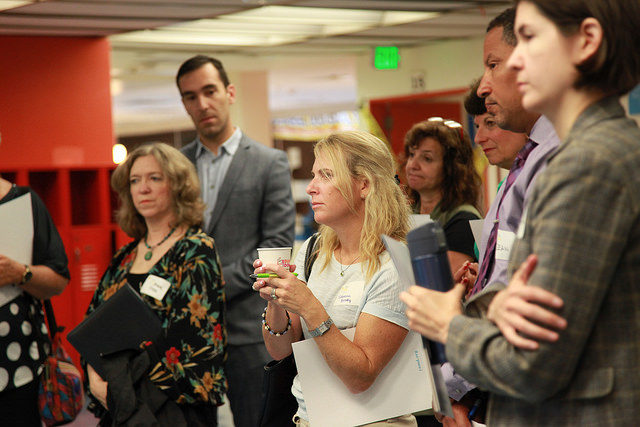 Our next stop was at Dorothy I. Height Elementary School for an introduction to Young Audiences' Summer Arts & Learning Academy (SALA). Here we learned that SALA is a five-week program for Pre-K through fifth graders where the focus is twofold. First, to arrest summer learning loss, and second, to make sure that learning is fun and engaging every day.
At this particular school, 260 children meet each day to learn and reinforce lessons in literacy and math. Last year, Young Audiences reached more than 1,150 children at four different school sites. Incredibly, in one year's time, Young Audiences, in partnership with the Baltimore City School system, has doubled its efforts, reaching about 2,200 kids at eight school sites.
We were then offered the opportunity to enter classrooms to observe the action.  I slid into a third-grade classroom, where the children were focusing on The Red, a book about a confused crayon, whose friends eventually help him discover his true color.
The teaching artist, Daniel Ssuuna, whose specialty is East African dance and drumming, divided the kids into three groups, each focusing on one particular part of the story. Handing out percussion instruments, he instructed students to focus on the emotions of the crayon during their assigned story segment. Was the crayon confused, or supported, or happy? With that in mind, they then created a dance and drum accompaniment to illustrate the crayon's feelings.
Other instructions given by the classroom teacher, Amanda Bila, highlighted listening skills. She asked, "When we are not performing, what do we do?" The kids supplied helpful advice: Be quiet. Be respectful. Listen. Pay attention.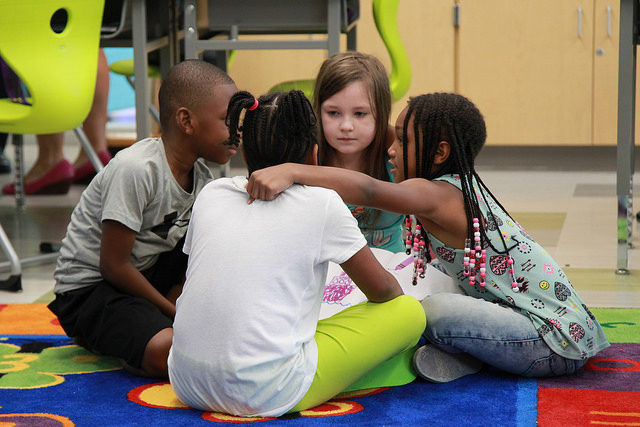 As the groups formed, I watched their interactions with the teachers and each other. I saw collaboration, referring to the book for inspiration, asking teachers questions, answering questions from the teacher, ideas discussed, ideas kept or discarded.
If Socrates had walked into this classroom, I'm sure he would have been proud to see his famous critical thinking methods being deployed.
Though I would have loved to watch each group perform, sadly, our time was up. Still, the excitement the kids exhibited as they analyzed their book was a potent reminder of how exciting and fun learning can be when you combine the arts and dedicated teachers.
Next we traveled to the Reginald F. Lewis Museum of Maryland African American History and Culture. Here we learned about the Bloomberg Arts Internship (supported by Bloomberg Philanthropies NYC) which places 35 Baltimore City rising seniors in paid internships at local arts and cultural institutions. These teens worked throughout the city with a goal of learning career readiness skills through real-world workplace experiences and professional development. Additionally, college mentors and writing coaches worked with the interns on college applications, resumes, and other experiences that will help them move to the next level professionally and/or academically.
One intern, Collin Snow Stokes, spent his time at the Reginald F. Lewis Museum documenting the thoughts and feelings of Lewis staff, visitors, and volunteers evoked by objects reflecting Jim Crow era stereotypes from their upcoming exhibition "Hateful Things." His goal was 10 interviews, but he became so interested in the project that he exceeded his goal and even had time to do a few more before writing up his findings. And since his goals are to go into journalism and/or broadcasting, the interview process has honed job skills he will use for the rest of his life.
We also heard from two young women, Citlalli Islas and Paris Day, who worked at Port Discovery Children's Museum. Paris was assigned an archival project, logging in items that have been collected by Port Discovery over the 20 years of its existence. As she began her assignment, both she and the curators soon realized that the scope of it was more than they had anticipated. But by creating a system to log and track the items, they have begun the process that will help the museum maintain its collection for years to come. And as an added bonus, as she archived items, the collection overseers realized what a great exhibit some of the artifacts would make and, thus, an exhibit was born!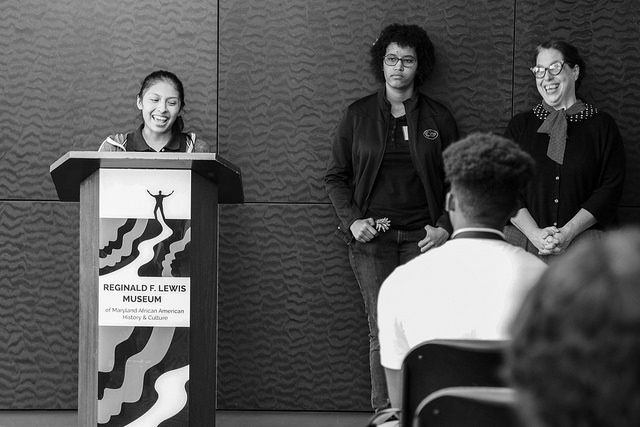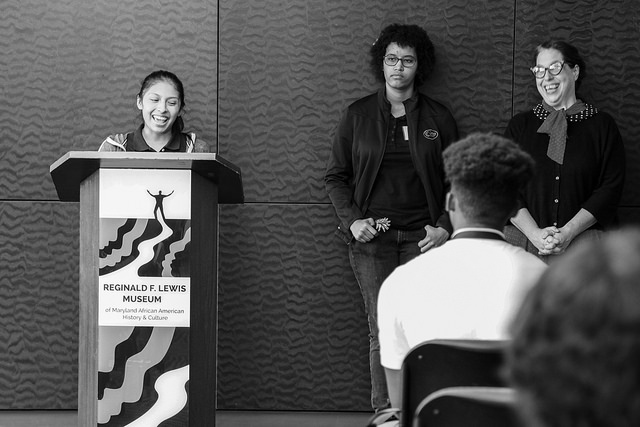 Citlalli interned in the exhibits department and has learned a lot about all the behind-the-scenes work that goes into creating and maintaining a museum exhibit. Obviously, this requires artistic vision. But beyond that, this has called on her to be innovative, meticulous and organized – not a bad group of skills to acquire before college and beyond.
Finally, it was time to get on the bus to return to our cars. As we wound our way down Baltimore's city streets, I listened to the conversations around me, ranging from other arts organizations and what they accomplish in their communities to legislative and philanthropic aides asking questions about the work that Young Audiences does and how each person present got involved.
And as I thought about involvement, I remembered another thing that Stacie had said at the beginning of our journey: It takes a village. At the time she was referring to the teaching artists, librarians, kids, and parents who were involved with SummerREADS. But it was just as applicable to each program we visited, and to each organization that contributes time, money, or leadership.
None of what I had witnessed occurs in a vacuum. The sheer number of people, funds, and time takes a rather large village, actually. And I'm happy to be a small part of this Young Audiences village. It's a great place to be and I invite you to join me! Field trip!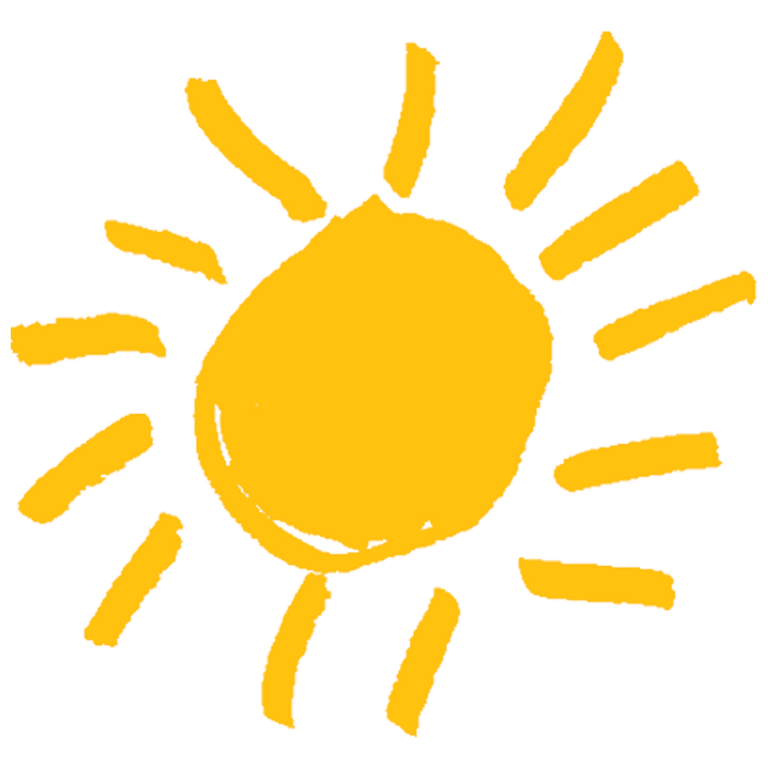 Learn more about our mission, our methods, and our future plans during a one-hour Meet Young Audiences event. In addition to hearing from the organization's leaders and getting an inside look into the amazing work we are doing around the state, one of our roster artists will share their amazing work with you and speak about how the arts complements and enriches classroom learning. Please reach out to Ingrid Murray, Individual Giving Manager, at ingrid@yamd.org for more information or call (410) 837-7577 x. 107. Interested in hosting your own Meet Young Audiences event? Find out more here!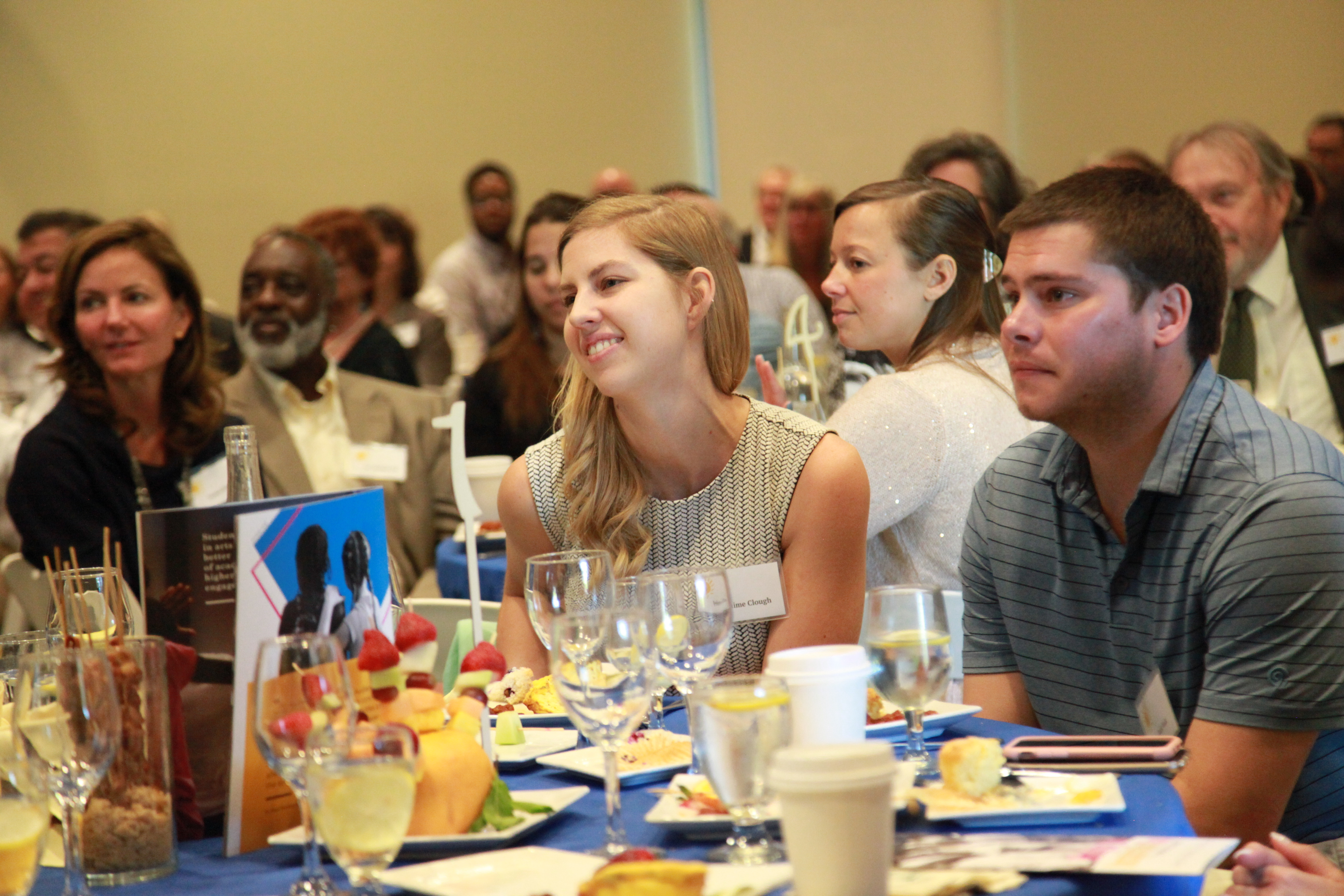 Summer Arts & Learning Academy
 Written by Jaime Clough
The 2nd grade Baltimore City Public Schools teacher spoke about how the tools she learned at Summer Arts & Learning Academy have informed her teaching and transformed her classroom at Young Audiences' annual Impact Breakfast earlier this month.
"Buffalo Woman, go," Mr. Briggs nudged me. I stepped onto the stage, took a deep breath, and began my lines. I was eight and dressed in a leather Native American dress with beads and fringe. I was shy, but I had done the work. By the morning of the production, I had read primary texts, written a research paper, and created my own costume. So, when I stepped onto that stage, I was not timid or nervous, but passionate and proud. This was my first experience with arts integration.
Fourteen years after my role as the Buffalo Woman, I was accepted into Teach for America Baltimore and began teaching at Margaret Brent Elementary/Middle School in Charles Village. My students are diverse. One walked with her family from Mexico to America. One, who cannot yet read, learns in the same space as another, who is reading Harry Potter. Some of my students come to school without having eaten since the night before. Others rarely have clean uniforms.
I knew what I wanted to do in my classroom, but I didn't have the tools to execute my ideas.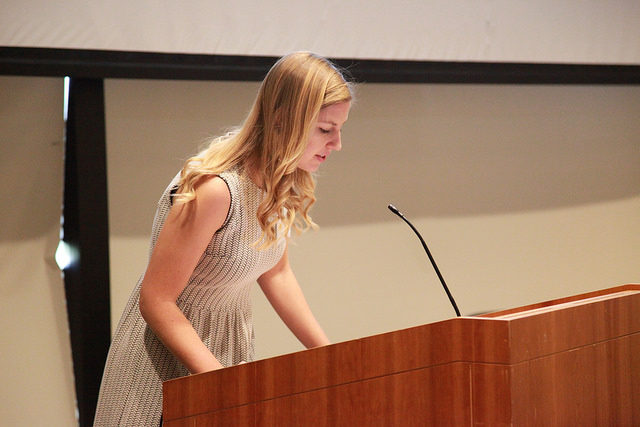 It was last March that I found Young Audiences. They matched me with fiber artist and Young Audiences teaching artist Katherine Dilworth, and together we went through a one-week professional development class. I learned how to use song and rap to teach students multiplication, and theatre to understand points of view in a story. During Summer Arts & Learning Academy, for the first time, I taught the way I had always wanted to teach.
As part of our literacy unit, students read City Green. To help kids understand the message of the book, "what makes a community?" and connect with the characters, Katherine and I planned a lesson around creating a community garden out of woven flowers. We'd use our art standards to create ABAB patterns and connect math standards for adding and subtracting the strings.  
We had one student in the class with lots of sensory difficulties. He had challenges with personal space, with expressing his emotions, and would often just put his head on his desk. As he began to wind thread through his loom to make his flower, I was ready for him to say, "It's too hard," and stomp away. After 15 minutes of weaving blues and purples, a pattern emerged. His flower was taking shape beautifully. He was adding and subtracting, counting his strings, and weaving the pattern. Absorbed in his work, he sat without prompting for the longest amount of time since I had known him. "Ms. Clough, look! Ms. Clough, I did it," he said. "I made my flower and it's so cool!" That was the spark.
From that moment on, my student was different. He raised his hand. He worked with partners. He asked questions about how to make his work better. Without that moment at the beginning of summer, we would not have seen a change in him. The arts gave both him and me the tools we needed to help him succeed.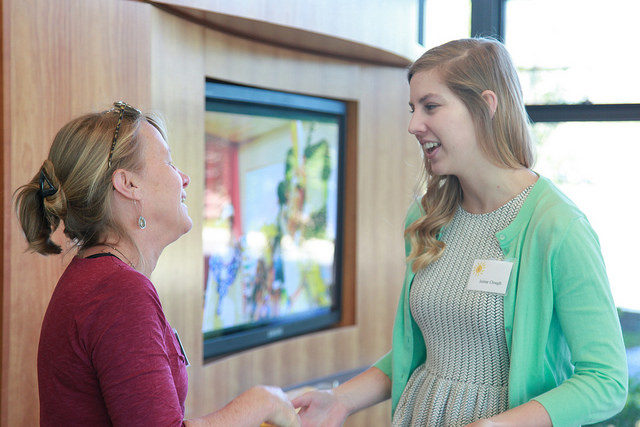 My classroom after SALA is a different world. Teaching through the arts doesn't just work for some students, it works for everyone. I have the highest engagement I have ever had, we are on track to grow two years in one school year as a class, and there is a spark in every single eye in the room when I write the lyrics to a "Ms. Clough Original" on the board. iReady, ANET, and DIBELS tests do not make us anxious anymore. When we walk into the computer lab, my students cheer because now they know they can do it. They are confident because they know their math and reading strategies from the songs, skits, and choreography we use every day. The successes and swagger among students in my classroom are because of the skills I gained while teaching with Young Audiences. Now, my dream is to be a principal so that I don't just have a classroom of sparks, but a whole school of them.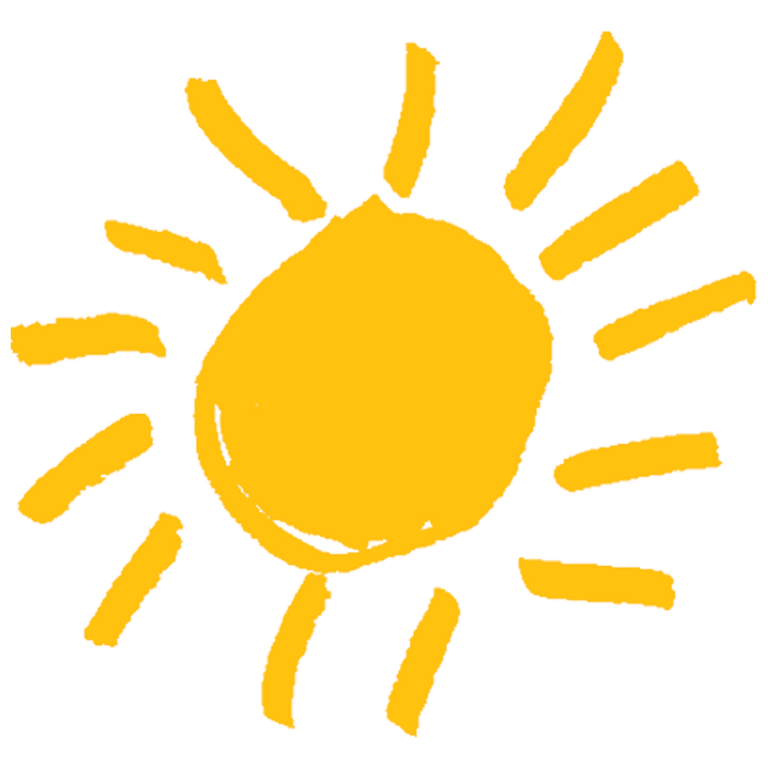 Jaime Clough is a 2nd Grade Teacher at Margaret Brent Elementary/Middle School and Summer Arts & Learning Academy Classroom Teacher. Her first-hand experience is a testament to the power of arts integration in the classroom and is an example of the incredible strides a class can take both emotionally and academically when children learn through the arts.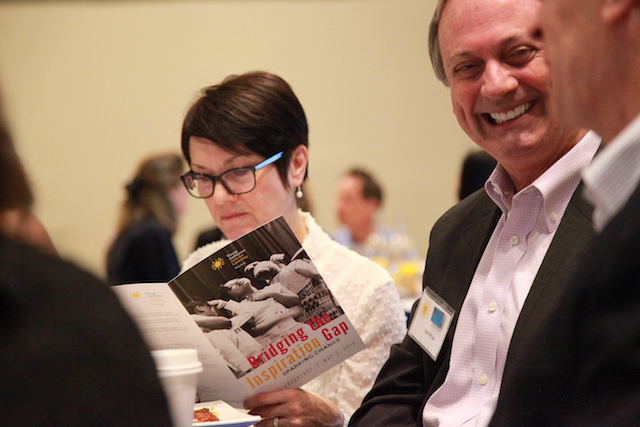 Summer Arts & Learning Academy
Written by Barbara Krebs,
Young Audiences volunteer and Sunburst Society member
Spark. Ahh, now that's a great word. Quick, simple, to the point.  And it's versatile – noun or verb – it's all good. And if you're a fan of onomatopoeia (and who isn't?), well, I think spark works well there, too.
If you attended the 11th annual Young Audiences Impact Breakfast, you heard that word a lot. First, from Stacie Sanders Evans, President and CEO of Young Audiences, whose drama teacher sparked a passion that would put her on the path to her leadership of YA. You heard it from Jaime Clough, a second-grade Baltimore City Public School teacher who taught in YA's Summer Arts & Learning Academy (SALA) and who has used the tools and strategies learned at SALA to transform her classroom during the school year. You even heard it from a student. High school senior Jahsol Drummond spoke about his experience developing his video and editing skills at the Center for Innovative Research in the Creative Arts (CIRCA) at UMBC  in last summer's Bloomberg Arts Internship. He shared his plans for the future as a college student (he was awarded a full scholarship to Bard College) and as a filmmaker. "My career has only just begun, and it's already so exciting," Jahsol beamed.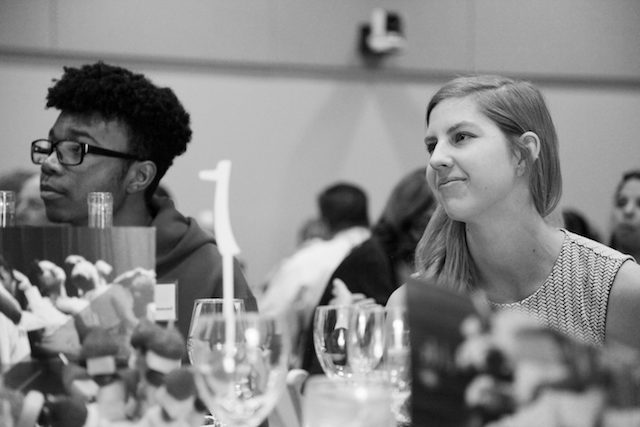 It is amazing where a spark will take you if you have the passion and determination to stoke the fire.
But, of course, the thing about the Impact Breakfast is not just the inspirational stories we hear from the presenters, nor is it solely about acknowledging the remarkable strides Young Audiences has made over the past few years in overcoming summer learning loss. These are important and wonderful things to witness, no doubt. But what truly struck me this time around was the synergy of people attending this event united by the desire to improve educational opportunities for the children in our communities.  
Seated to my right was Kariz Marcel, a DJ, music producer, teaching artist, and founder of the nonprofit Innovation Echo Alliance who is seeking ways to partner with Young Audiences and other educational organizations through his music industry connections. As he explained it to me, he was hoping to establish a roster of professional recording artists who would be willing to donate a small portion of their music royalties to these organizations as an ongoing and sustainable way to raise funds for education in our local schools.
Another gentleman at our table was Lieutenant Steven Thomas, a member of the Anne Arundel County Police Crisis Intervention Team.  He and his team identify youth who can be helped by, for instance, after-school programs, like the Police, Artist, and Community Engagement program (PACE), and then find ways to make these things happen.  For example, when it was discovered that transportation was an issue, they partnered with the school system to provide it.  That meant getting the school-approved CDL bus license so they could drive students on the county's buses.  A little spark of creativity to problem solve what might otherwise have been a deal killer. Instead, police officers are keeping local youth involved in enrichment programs.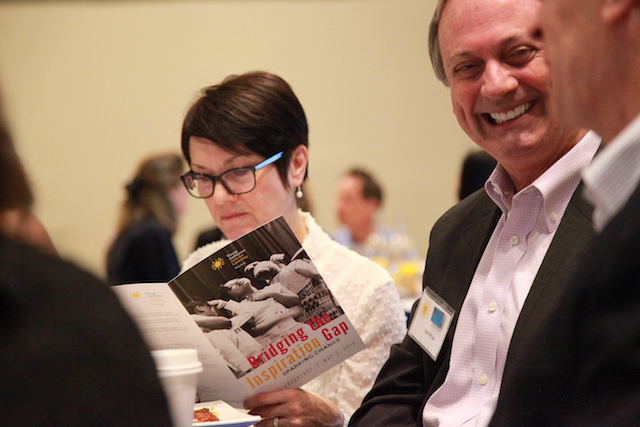 Likewise, I got a chance to talk briefly with Dr. Stuart Levine, President and Chief Medical Officer of MedStar Harbor Hospital, who I had heard speak only a week before at the unveiling of the mural that now sits in the lobby of the hospital's Emergency Department. This mural, which focused on how cells and viruses interact with human and animal bodies, was created by sixth-grade biology students from Brooklyn Park Middle School. The project was the result of a multi-week Young Audiences teaching artist residency in partnership with Arts Empowered Minds Initiative (AEMI). So here was yet another way that a group, which is pivotal to the lives and health of its local community, had found a way to connect with young students, perhaps sparking future collaborations?
And that is just a small sampling of the conversations I had at my table alone. As I looked across the room, I could only imagine what discussions, ideas, creative solutions, and inspirational tales were being shared elsewhere. Knowing that so many people had gathered because they have a passion to improve the educational lives of our youth, I came away from the event feeling recharged, hopeful and, yes, ready to find fresh ways to kindle the spark – in whatever myriad forms it appears – in my own life and those of others.
Indeed, there is no telling what particular spark at what precise table will catch fire and generate a lasting, positive impact. 
But that's the Impact Breakfast for you – a kaleidoscope of people who are sparking change and impacting the future for our children!
Categorized:

News

Tagged:

Anne Arundel County Police Department, Baltimore City Public Schools, Barbara Krebs, Bloomberg Arts Internship, community, Cylburn Arboretum, Development, fundraising, Impact Breakfast, Jaime Clough, Kariz Marcel, MedStar Harbor Hospital, PACE, Summer Arts & Learning Academy, summer learning, SummerREADS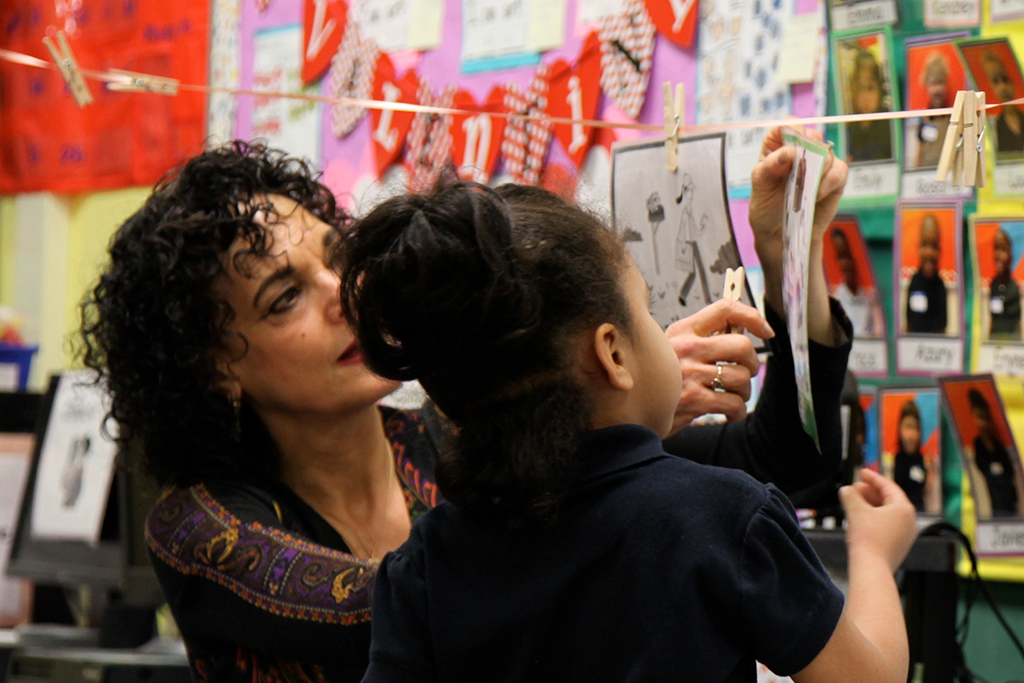 Summer Arts & Learning Academy
Young Audiences of Maryland (YA) believes that every student – even the smallest ones – should have the opportunity to imagine, create, and realize their full potential through the arts. That is why YA serves as the Maryland affiliate of the Wolf Trap Institute for Early Learning Through the Arts. Through this 16-session residency program, YA pairs trained teaching artists with classroom teachers to provide young learners with literacy and STEM skills through an arts-based lens.
This investment in developing learning opportunities for pre-K students is one that YA shares with the PNC Foundation. PNC Grow Up Great® is a $350 million, multi-year, bilingual initiative that began in 2004 to help prepare children from birth to age 5 for success in school and life. To date, the program has served 4 million children. With the generous support of the PNC Foundation, YA will reach 30 Baltimore City pre-K classrooms and 600 pre-K students with Wolf Trap residencies in the 2017-2018 school year.
These residencies have consistently shown improvement in student attention span, self-regulation, and the ability to connect new information with prior knowledge. Teachers also report that through these residencies, they develop valuable skills and techniques that they utilize in their classroom long after the artist has left. 
PNC recognizes the importance of training teachers to use arts-integrated approaches that have been shown to result in better academic outcomes for young learners. In 2018, in collaboration with Baltimore City Public Schools and with the support of the PNC Foundation, YA is, in addition to the Wolf Trap residencies, providing professional development for pre-K teachers in the use of arts-integration.
"PNC recognizes the role kindergarten readiness plays in the wellbeing of local children, their families and ultimately, our economy," said Laura Gamble, PNC regional president for Greater Maryland. "By preparing our youngest citizens for educational success, we help build a solid foundation for the future of this region."
Together, YA and the PNC Foundation are providing engaging learning environments for pre-K students and strengthening Baltimore's pre-K teachers so that our students' first experiences in schools prepare them to succeed for years to come. 
Learn more about how YA is creating new learning experiences for pre-K students and their teachers through our Wolf Trap classroom residencies!
For more information about the PNC Foundation, please visit their website.