It's been almost a year since we announced our partnership with WTMD to feature YA teaching artists on their family-favorite Saturday morning radio show Young At Heart! Since May 6, 2017, host Lisa Mathews—YA teaching artist and lead singer of Grammy-nominated children's band Milkshake—has invited eleven top-notch, talented YA roster musicians to date into the studio to chat on a monthly segment called smARTbeats. Listeners have learned about the artists' professional work outside of schools, arts integration, and heard how they've reached students through art in the classroom.
"Listening to music is great, but making music is transformative." –Alden Phelps
Some of the featured artists have talked about the guidance they've received and diligence and artistic discipline they learned from parents, peers, or mentors. Some have revealed the inspiration they've found through their own small children. All have shared with listeners the energy, kindness, and expertise that they bring into every Maryland classroom they visit.
"If we never spoke a word, we could communicate through music." –Devin Walker
From memories of touring with the one-and-only Mr. Ray Charles, reaching audiences around the world in Spanish, English, and through poetry, taking a musical journey to outer space, to finding out not just how artists inspire children every day in Maryland classrooms, but hearing what motivates, energizes, and inspires them, getting to know these fantastic teaching artists has been a real treat for Saturday mornings!
"There's power in words, build or destroy, so watch what you say." –Femi the Drifish
And just in case you prefer to sleep in on the weekends, we've compiled WTMD's Soundcloud links here for you to enjoy any time of day or night!
Young At Heart airs weekly from 7 to 8 am on Saturdays, featuring music that appeals to parents and children alike. Previous shows have featured music by Wilco, David Bowie, Andrew & Polly, Weezer, and others.
At Young Audiences, we are transforming the lives and education of young people through the arts by connecting educators, professional artists, and communities. Our roster artists use music, dance, visual arts, and theater to bring classroom lessons to life and empower students to think creatively and engage in the learning of all subjects in different ways. All of this contributes to joyful, creative, and impactful learning experiences in schools. Together, we are sparking imagination, energizing classrooms and giving children the tools they need to build, collaborate and thrive.
We are thrilled to announce a new partnership with WTMD to feature YA teaching artists on their new radio show Young At Heart, airing Saturday mornings! Beginning May 6, host Lisa Mathews—YA teaching artist and lead singer of Grammy-nominated children's band Milkshake—will chat with YA roster musicians on a monthly segment called smARTbeats. Listeners will learn about the artists' work, arts integration, and how the arts can reach students in the classroom.
"For me, songwriting with young people is STILL an exuberant experience – focused and playful, challenging and collaborative – and deeply satisfying for me."
The series will begin with YA teaching artist and musician Sue Trainor. In the classroom, Sue teaches students to use songwriting as a tool to remember content. In the studio, her compositions are playful and fun – the kind of tunes that you can't help but smile when you hear, with the kind of lyrics you won't forget. "As a young person, I was captivated by the songwriting process. Musical jams with other kids were exuberant experiences," Sue says, "For me, songwriting with young people is STILL an exuberant experience – focused and playful, challenging and collaborative – and deeply satisfying for me."
"I'd like to think we're at our best when we're young at heart — when we have a youthful outlook on life no matter what our age," host Lisa Mathews told WTMD. "I still like to ride the roller coaster, jump in rain puddles and eat toasted marshmallows. So listening to songs about taking a trip into space or the wonders of rainbows or eating lots of grapes rocks my world, and I hope it makes listeners smile while they start their day together."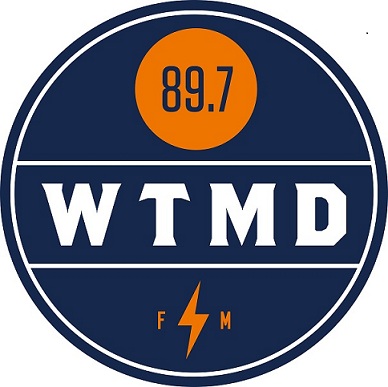 Young At Heart airs weekly from 7 to 8 am on Saturdays, featuring music that appeals to parents and children alike. Previous shows have featured music by Wilco, David Bowie, Andrew & Polly, Weezer, and others.
Hear YA teaching artist and songwriter Sue Trainor online now!
Categorized:

News, smARTbeats on WTMD

Tagged:

arts integration, Lisa Mathews, Milkshake, Music, radio, smARTbeats, songwriting, Sue Trainor, teaching artists, WTMD
Arts integration is a valuable tool for reaching multiple learning styles across the curriculum and is linked to enhanced academic outcomes as well as positive social and emotional development for children. While this is true for all students, studies have found that the impact of the arts on language development and core subject learning is particularly beneficial for students with disabilities or those with special learning needs.
As an inclusive organization, Young Audiences' goal is to bring high-quality, arts-integrated instruction that is accessible, supportive, and welcoming to children of all backgrounds and abilities into the classroom.
Reality is a social definition. Disability is the social process that turns impairment into a negative by creating barriers to access. Difference should be accommodated and celebrated. You can create new ways to create together by taking into account universal access to creativity.
We are diligently laying the foundation for inclusive practice to be incorporated into arts-integrated curriculum, increasing the opportunities for youth of all abilities to participate in artistically-excellent programs. To help us achieve this goal, our staff received specialized inclusion training through the Inclusive Allies program in partnership with Disability Rights Maryland.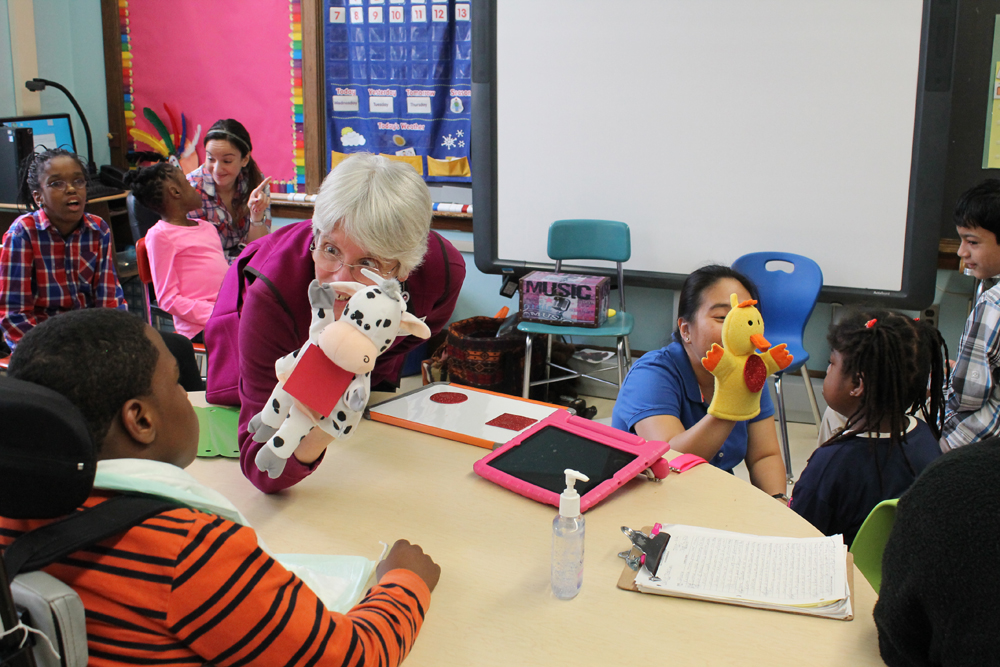 Nine selected roster artists also received training, participating in a comprehensive workshop covering a variety of inclusion tactics to utilize in the classroom. YA Roster Artist and FutureMakers founder Matt Barinholtz observed, "Reality is a social definition. Disability is the social process that turns impairment into a negative by creating barriers to access. Difference should be accommodated and celebrated. You can create new ways to create together by taking into account universal access to creativity."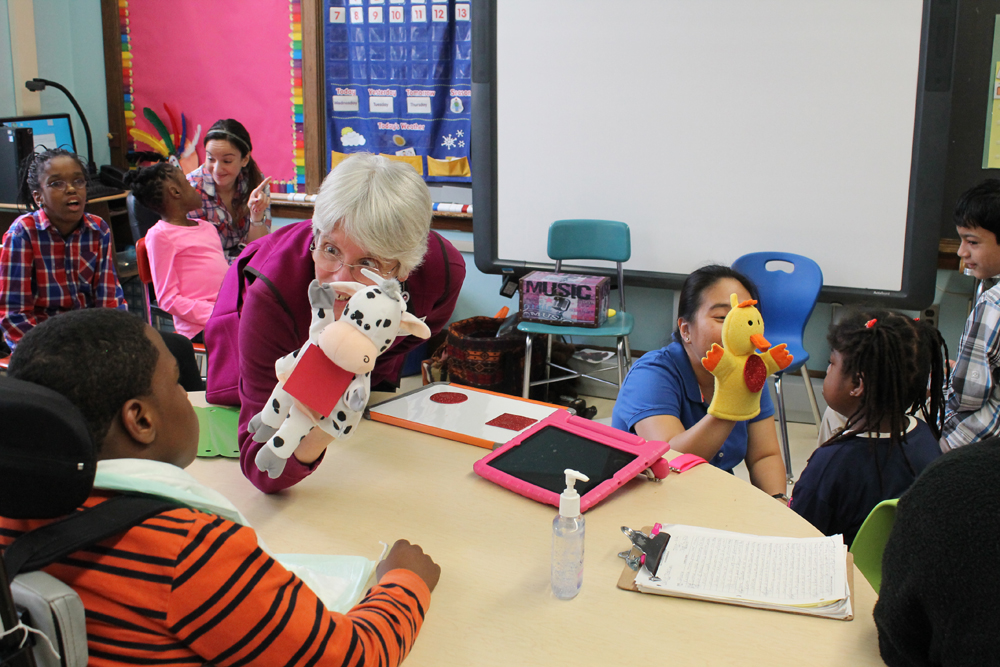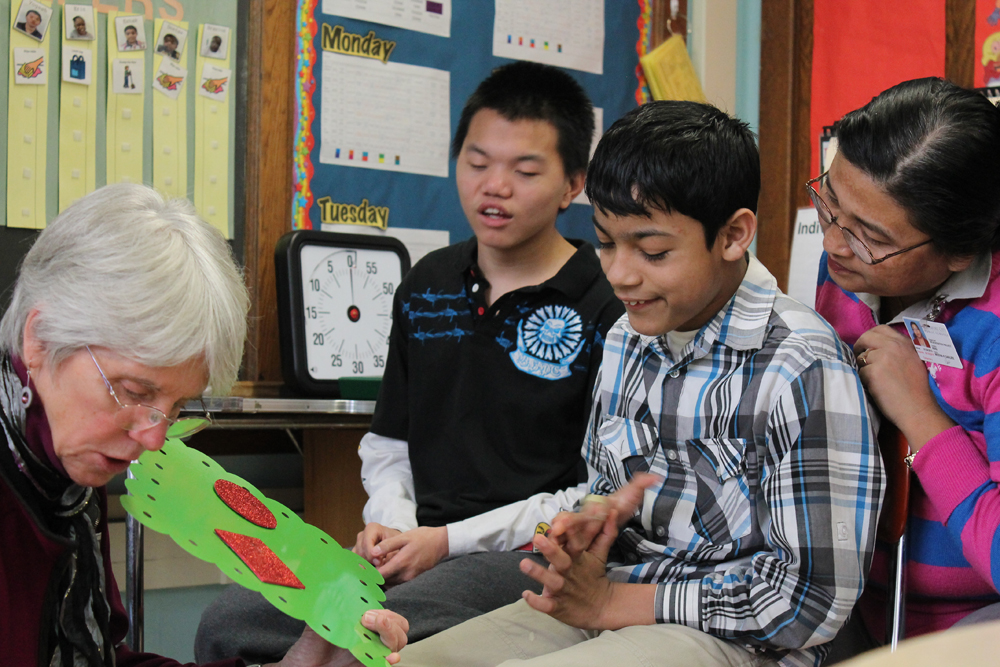 YA artists approach this "universal access to creativity" by rethinking the norms behind the ways we allow people to communicate, socialize and behave. We create a culture where all students receive the many benefits of engaging and inclusive arts-integrated classroom experiences, adapting lessons with audio/visual cues and different levels of kinesthetic movement, and applying inclusion tactics.
The following Young Audiences Roster Artists have completed the training as of 2016:
In the coming months, we will proudly share artists', teachers' and coordinators' stories about their roles in this important work.
Categorized:

News

Tagged:

Alden Phelps, Anna Menendez, arts integration, Curtis Blues, Disability awareness, Disability Rights Maryland, FutureMakers, inclusion, inclusive classroom, Jamaal Collier, Pam Negrin, Sharp-Leadenhall, Skher Brown, special needs, Sue Trainor, Synetic Theater, Valerie Branch, William S. Baer School
In honor of Earth Day, we wanted to share some songs written last month by Hollywood Elementary second- and third-graders with teaching artist
Sue Trainor
during her residency at the school. During the program, students composed original songs about what they had learned about ecosystems, environmentalism, and recycling. Each of the seven participating classes performed their final piece for the other grades and parents. Take a moment to listen to some of the creative and fun songs they came up with!
[soundcloud url="https://api.soundcloud.com/playlists/31529819″ params="auto_play=false&hide_related=false&visual=true" width="100%" height="450″ iframe="true" /]
You can also find the songs on Soundcloud. Please share them with your networks in celebration of Earth Day!
Looking for an arts program that connects to environmental science for your students? Use Young Audiences' searchable program database to easily find programs that align with specific Curriculum Connections.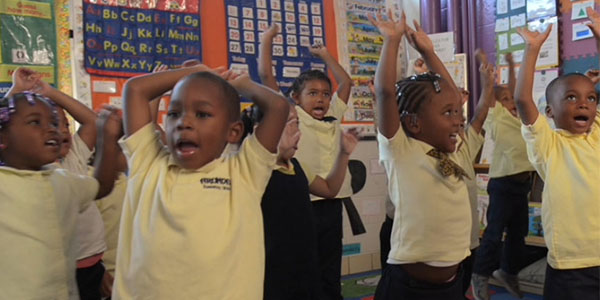 By Stacie Sanders Evans, Young Audiences/Arts for Learning Executive Director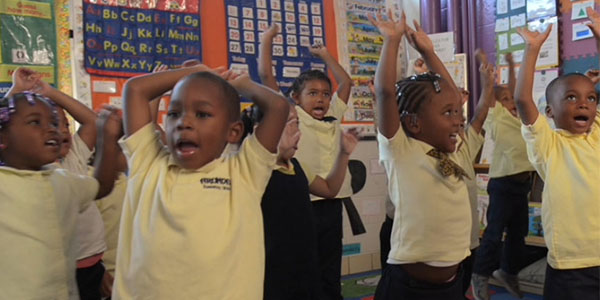 I recently took a foundation representative to see what our Maryland Wolf Trap Early Learning Through the Arts program looks like when an artist is in a preschool classroom.
Afterward the representative asked me a question that has stuck with me: "Why does this program really matter–what real difference is it going to make for kids?"
If you are like me, life hits you weeks later and you always have a better answer when the moment has long passed. I have my answer now.
Arts-integrated education programs, like the residencies offered through Maryland Wolf Trap, matter to Christopher. After we observed the lesson, the teacher, Ms. Miles, and teaching artist and musician Sue Trainor debriefed, discussing what worked (and didn't) during that day's lesson. In this session, Ms. Miles had taken the lead in incorporating music and drama into the literacy lesson with support from Sue. Both Sue and Ms. Miles mentioned what a big moment it was for Christopher to fully participate in the lesson centered on the book the class was reading.
Christopher had played the part of the goat during the reading, and held his friends' hands while traveling across the room singing. When the children were asked to sit, he joined his friends on the carpet to reflect on the elements of the lesson they liked the best using the song prompt: "That's what I like, uh-huh, that's what I like, uh-huh." Each student was asked to show what they had liked about the lesson by adding a movement to the end of the song. Christopher stayed with the group and listened intently as his peers shared.
I actually didn't know who Ms. Miles was referring to because Christopher looked no different from any other student in the class. But today had been an important step for Christopher, who often finds it difficult to pay attention, and wanders away from the group when he is distracted by the task at hand. Today Christopher was engaged and the lesson kept his interest. In these formative years, children develop a strong sense of how they feel about learning, school, and themselves. These impressions can hinder or fuel a child's confidence and achievement for years to come. Today we were the fuel.
This program matters to Ms. Miles who said tearfully that Christopher's success was the moment she lived for as a teacher. "These shining moments keep you going," she said.
Ms. Miles is an incredibly gifted teacher whose dedication to her students is evident from the moment you walk into her classroom. But, like every great teacher, she is hungry for these moments–and this is what motivated her to bring this 16-session Wolf Trap residency program into her classroom and fully take advantage of the embedded professional development.
Ms. Miles now has more confidence and skill in using singing, rhythm, and creative drama to actively engage children in stories. She has an arsenal of arts strategies that keep 25 little bodies and minds fully engaged in her lessons. Instead of a simple read aloud of a book she is using the arts to bring these stories to life.
This program matters to all the children in the classroom. What Ms. Miles and other participating teachers find is that these kinds of arts-integrated lessons stick–children are better able to recall the sequence of events and characters of the story, comprehend the story, and recognize the new words being introduced in the story. More importantly, students in our program have an increased interest in books and stories. All of these skills are essential to school readiness.
Fortunately, these moments also matter to the foundation who joined us in the classroom, which recently granted us an award that will make it possible for us to reach seven additional high-need Baltimore City preschool classrooms and 175 more early learners through the arts.
Learn more about the Maryland Wolf Trap Early Learning Through the Arts program here.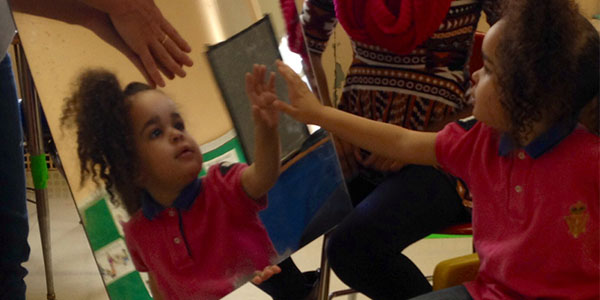 By Morgan Lyons, Kindergarten Teacher, William S. Baer School
When I first heard that an artist-in-residence program was coming to my school, William S. Baer, I was excited. I learned about arts integration while I was studying education in college and wanted to find a way to use the arts in my teaching, especially when I decided I wanted to teach special education. I feel that the arts are an amazing pathway, particularly for kids who might not necessarily understand the material when taught in a more traditional way. When I found out that this opportunity was being offered at my school, I was thrilled; I jumped at the opportunity.
As a relatively new teacher, I knew I wanted to integrate the arts into the curriculum in some way, I just didn't know how. Our curriculum is structure- and task analysis-based and there did not seem to be a lot of room for the arts, but Sue Trainor, the Wolf Trap-trained artist who I worked with during the 16-session residency, taught me how to make arts integration work for our program and how it could help our students.
The program began with Sue showing me her lesson plan, which we used for our first session with students. We continued to use Sue's plans for a few weeks. After every lesson we talked about how it went–what the high point was and what we could work on for the next session. As the program went on, it developed and changed so that I was giving more feedback and Sue was asking me more questions. I began to take more of the lead, and I grew from a consultant role on lesson plans, to writing the lesson plans with Sue, to creating the whole lesson myself. This was a great way for me to learn because I got to watch Sue, I collaborated, and then it was all me.
Sue taught me a lot of arts integration techniques that I continue to use every day in my teaching. We incorporate music and visual representation throughout the day which makes for more engaging activities. We sing through transitions and when we're teaching new material, such as shapes, letters, colors, and numbers.
One thing Sue and I collaborated on was the idea of using a mirror with my students. My students are kindergartners with autism. Students with autism often have a skewed perception of themselves and have a hard time making a mind-body connection. The mirror's reflection serves as an additional visual for them and provides a form of visual feedback. Rather than me just saying, "Touch your head," they actually see themselves do that motion and make the connection.
Sue also taught me what has become the go-to opening sequence for our classroom. It's a series of two or three short songs that integrate body movement, beat, and tone. This new practice has had a huge effect on my students, but it had an enormous impact on one student in particular.
See a sample arts-integrated lesson plan created by Morgan and Sue here!
Brittany was new to our school this year. She had never had a school experience, and she was very quiet and kept to herself. Sue came in and introduced the song and movement sequence to the students, and she asked them to mirror her actions. When Sue told students to "Show me your hand," students were asked to mirror Sue by raising their hands like she had raised hers. Brittany took to that, and she was soon asking for the song specifically by using sign language, which she had no exposure to before. Brittany was communicating and expressing her desire for the song; she was actively participating and engaging with her eyes. Had Sue not introduced this activity, Brittany may not have engaged with the group for quite some time. She has really benefited from the social lessons Sue brought to our classroom during this program.
My hope is that this experience and opportunity is available to as many teachers as possible, regardless of their academic area, because it has helped my classroom beyond words. I'm not only a personal advocate for the arts but an advocate for the arts in special needs programs.
We, as teachers, are here for the students, and whatever can benefit the students is what's most important. My kids are changing in front of my eyes because of what I've learned through this residency program. Because I gave it a chance and put in a little extra planning time, I have arts-integrated activities that keep my students engaged and entertained while they are learning.
To other teachers: Give it a try and you won't regret it.
By Sue Trainor, Young Audiences artist and singer/songwriter
In 1998, I sang for the first time in a classroom for and with children who have profound special needs. That 45-minute gig rocked my world: the children may not have been "typical" physically or cognitively, but their connectivity was palpable and potent! I still get goosebumps thinking about it. Ever since, my motto has been, "meet people where they are," because you miss out if you don't reach out.
This spring I had the opportunity to work with William S. Baer School in Baltimore City, another school attended by children with profound special needs. During my eight-week residency at the school I worked in four preschool classrooms with children who were three to five years old, but were approximately 12 months old developmentally. Many of them were very fragile medically, most were non-verbal, and some were non-locomotor. Several were blind and/or deaf.
This residency followed the Wolf Trap 16-Session Literacy Residency model. I have been on the roster of the Wolf Trap Institute for Early Learning Through the Arts since 2003, and I'm thrilled that Young Audiences has just joined the Wolf Trap family as the Maryland sponsor of Wolf Trap programs! In the Wolf Trap model, the teaching artist's primary goal is to provide professional development for the classroom teachers by modeling arts-integrated strategies and coaching the teacher to practice the strategies in the classroom with students. It sounds serious and technical, and it is in some ways, but didn't we just have the best time ever!
I'm a musician, so the artistic interest for me is the exploration of my art form's fundamental expression and interpersonal connectivity. What does it mean, for example, to sing with someone who is non-verbal? It's not singing in the traditional sense, but what is it that makes singing together work? Can we still engage in a more basic element of joined vibration? We can, and it is joyful—all the more so because it's usually a brand new experience for the children and the response is profound.
I think fondly of Sean, a four-year old student at Baer. He is blind and non-verbal, and he loves music. I would play my ukulele and he would belt out his sounds. It was delightful! One day while we were waiting for the class to assemble, I sat face to face with him and joined his vocalizing, using his sounds. He was surprised at first, but he leaned in, kept "singing," and together we created a joined sound-space and a profound connection. Now his teacher understands and can do this as well.
One of my favorite lesson experiences that came out of this residency was "Funky Duck." The children were learning shapes, and the traditional math teaching strategies had them focusing on a specific shape which was velcroed to a felt board. The student's task was to pull the shape off the board (or focus on the shape with their eyes if they were immobile). More advanced students were supposed to choose a specific shape from a small group of different shapes
I used the same fundamental teaching strategy, but I transferred it to a puppet that I dubbed "Funky Duck." I velcroed shapes on the puppet's chest, taught the teachers basic puppet manipulation, and created a chant for them to recite to a steady beat:
"I'm Funky Duck, hey hey
I'm Funky Duck, hey hey
I want to know, can you find
My circle today?"
We had 100% success—the children loved the puppet, focused intently and reached out to pull off the shape. The teachers promptly scoured their classrooms for puppets of their own that they could adapt to this and other purposes, including lessons about numbers, colors, and letters.
I look forward to returning to Baer School this fall, to reconnect with my preschool friends and to develop new connections in classrooms with older students.
Click here to learn more about Maryland Wolf Trap residencies. To schedule a program, please contact Young Audiences at 410-837-7577.