It was a summer filled with activity, singing, dancing, reading, creating, and sunshine. We witnessed the excitement of mastering new skills and discovering new talents. We felt the calm of classrooms illuminated with only the rays of light peeking in from behind drawn shades, students enveloped in peace, quietly drawing, ink and graphite on white paper.
When families initially enrolled their children in our Summer Arts and Learning Academy, we asked them why their child was interested in participating. Many stated that their children were creative and hoped that through the program, they'd be able to enhance their skills. Others emphasized the integrated academics or latent benefits of the arts. Some registrants celebrated the availability of the arts and educational summer program, as these opportunities are limited in Baltimore City.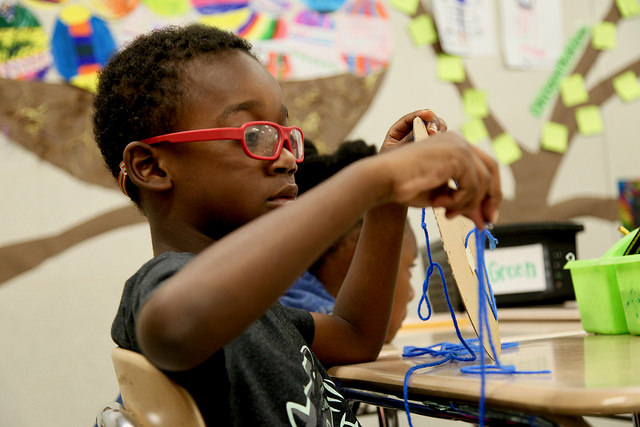 Did our Summer Arts and Learning Academy live up to families' expectations? Culmination ceremonies came to a close, classrooms were disassembled and packed up for next year, and students prepared for their next summer adventures. We asked parents and families if they'd give us feedback about their experience by filling out a survey. Their responses poured in- 413 of them to be exact. We discovered that in Summer Arts and Learning Academy, parents watched their children not only learn, but grow and thrive artistically, emotionally, and academically.
When asked about any positive changes they noticed in their kids, one parent replied, "An eagerness to attend school. IN THE SUMMER! Who knew?!"
87% of families who completed surveys told us that their child found something new that he or she has fun doing. "My son began to enjoy sewing and dancing," one parent told us. Another let us know that her grandson was very proud of the work he did in ceramics class. "He usually gives me all of his drawings and art projects, but he kept his claywork for himself."
Even when one particular art form grabbed a student's interest above all others, the children in Summer Arts and Learning Academy developed a deeper appreciation of and openness to all art. Students discovered that flexibility leads to new passions, discovery, and opportunity. "I learned that I am exceptionally good at ceramics. I knew I would like it but I didn't know I would actually be good at it," a rising sixth grader told us. "She was disappointed that the Coldstream Park site didn't offer theatre for older kids," her dad explained. "We're working on 'rolling with it,' though, and she ended up really loving African Dance and Ceramics. She would never have known, otherwise."
Parents told us that their kids were excited to get to the academy every morning, on time. When families reunited in the afternoons, kids would talk and talk about everything they did that day. When asked about any positive changes they noticed in their kids, one parent replied, "An eagerness to attend school. IN THE SUMMER! Who knew?!"
Upwards of 80% of parents who responded told us that they noticed an increase in their child's reading and math skills. With this strengthening of skills, their children became more confident. Of one student who enjoys writing poetry, we were told, "she will now actually share her writing with others." Many families reported their children not only enjoying reading but choosing to read books over watching television. Still others described students proudly reading on their own and teaching younger siblings what they had learned.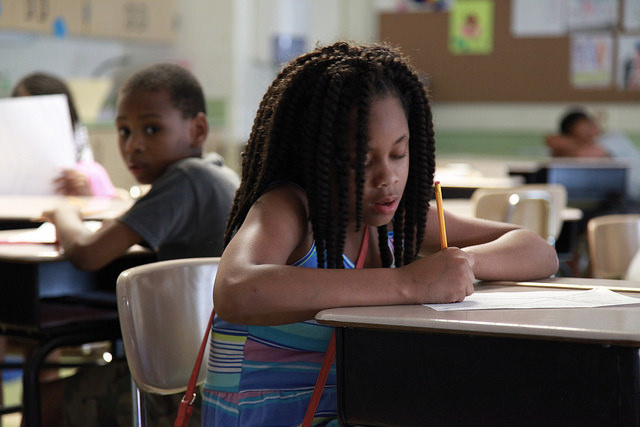 The positive changes parents noticed in their children exemplified 21st Century Skills, a set of higher order skills that have been identified by educators and business leaders as being critical to a person's success in careers, in college, and as a citizen. These are skills that typically cannot be measured through standardized testing and include critical thinking, collaboration, communication, and creativity.
Through Summer Arts and Learning Academy, students were introduced to many new ways of thinking, seeing, and expression. They learned to look at things from different perspectives through the eyes artists, characters in literature, and through new friends, which made their own experiences more joyful and meaningful. Children embraced their curiosity, asking questions, exploring, and researching independently. "My daughter is better able to integrate her love of arts (fun) with learning (not as much fun) and see ways to make learning something that's both fun and something she can accomplish," one mom told us.
Families described their students as being more social, friendly, outgoing, and connected. One student told her mom that she "enjoys being a loving and caring friend." Another student "wants to take care of the neighborhood." Students discovered that they liked working in groups and parents thought their children were now better able to deal with conflict. Through collaboration, the kids learned how to communicate, compromise, and achieve a common goal. They learned to 'roll with it', an enviable and necessary skill for 21st century children and adults alike.
By Cyan McMillian, seventh-grade student, Windsor Hills Elementary/Middle
My name is Cyan McMillian and I am a seventh grader at Windsor Hills. I'd rather throw a football than paint my nails (seriously). I felt like a free spirit until my tenth birthday–which was the worst day ever. I was excited but made the mistake of not bringing enough cupcakes for the whole class. One girl–the drama queen–decided to take out her frustrations on me. She waited until we got in the cafeteria and took a mixture of yogurt, milk, juice, and water and poured it over my head in front of everyone. On my birthday! Everyone who saw it laughed. Even the adults. I was so hurt and embarrassed that I ran out of the cafeteria in tears.
I never wanted any friends after that. The more I tried to be myself the more I would get picked on. Bullies targeted me for all the ways that I was different–my weight, my clothes, and my love for school.
My parents signed me up for the Baltimore City summer learning academy, the summer before middle school started. I like math and science, but I was most interested in the art classes provided by Young Audiences. See, I don't get to enjoy the liberties of art during the school year. Having art every day during the summer was a treat because I got to make new friends, I learned how to use the color wheel, how to make 2D pictures become 3D pictures.
Watch Cyan share her story at Young Audiences' Impact Breakfast event earlier this month!
My art class was taught by Young Audiences teaching artist, Danyett Tucker. She played a song by Lauryn Hill called "Everything is Everything," and asked us to illustrate what the lyrics meant to us. I love that song. It was like math because my hands and brain were working at the same time to solve a problem. I was able to express myself without being judged in a way that was fun and challenging. I learned from Ms. D that there is no "right" or "wrong" when it comes to art.
Ms. D believed in me and gave me the confidence to believe in myself. She let me come to her when I needed someone to talk to and gave me helpful advice when I was stuck. I was free to be who I am again, which made me feel like my old happy-go-lucky free-spirited self.
Ms. D inspired me to keep drawing after the program was over. My dad loves to draw and after that summer we started drawing together. When I found out the summer program was going to happen again this summer, I found out where Ms. D was teaching and signed up. This summer was even better because not only did I get art with Ms. D, other artists also helped teach the science and math classes. I learned how ratios relate to music and how dance movements connect with science.
In Ms. D's class, we created a mural that's displayed here today illustrating Maya Angelou's poem, "A Brave and Startling Truth." The poem was confusing at first but the more we read it as a class it became easier to understand and inspired me to speak out about the positive and negative things that happen around me. I was able to use my voice through illustration again. I attended this program every single day and now I have two murals in my portfolio.
Now when I feel like I have something to express but don't know how to say it, I draw it out. Thanks to Young Audiences, I have learned a lot about myself. I'm more observant and I know what a real friend is. I know who I am. So what if I'm not a girly girl, I'm fast and I can handle my business. When they call my clothes trashy, I don't let it bother me because their shiny white sneakers always end up dirty in a few days. And when they talk about my weight, like the song "All About That Bass" says: "Every inch of me is perfect from the bottom to the top!"
Last year I had the highest grade point average in middle school and it is still sky-high. I have a scholarship to any college that I want. I plan to get a PhD and work for NASA. Thanks to the support of my family, a few good friends, and the Young Audiences artists who understand me like a parent would, I am going for my dreams. And while the summer program is over, what I learned from Ms. D, that "Everything is Everything," will stay with me forever. What that means to me is that if you want to be something and you work hard, you will most likely become that. So keep an eye out for me.
By Nadine Elsigal, senior at Western High School
As a senior at Western High School I had the privilege of being involved in a clay mural project with Young Audiences artist Amanda Pellerin in October. Working with Ms. Amanda during the residency was such a pleasure because clay is a medium I don't often get to use in my art classes at Western. This project was new territory for me since most of my school projects are created digitally and working with clay was an opportunity to get more hands-on. I feel that art is a crucial element to a person's development that is often overlooked, but projects like the mural we created with Ms. Amanda really gave back to the students and allowed us a chance to create. Art is a big part of my life and I plan to pursue it as my career. This residency was also a chance for me to learn about Young Audiences, an organization that shares my belief in the importance of the arts in learning.
Seniors from both my graphic design class and a history class worked with several Western alumnae and Ms. Amanda throughout the project. We decided to create a visual timeline of our school's history to celebrate Western's 170th anniversary this year. I knew little about our school's rich history at the start of the project. We worked as a team to delve into past yearbooks and brainstorm with alumnae to decide on the imagery we would include in the final piece.
I decided to recreate our senior class T-shirt design in my clay tile to represent current Western students. Including a symbol of our class in the mural was a chance to leave behind a piece of the Class of 2014 within an artwork that will hang at our school for years to come.
View all three pieces of the finished mural, as well as photos of its creation, online. 
As hard as it is to choose my favorite part of the residency, I think I enjoyed hanging the finished mural the most. There isn't a better feeling than seeing work you have created put on display. It made me realize that I had done it–I overcame the challenges of the project and created something that current and future students will enjoy. I feel proud to have been a part of this residency and to have successfully completed such a large project that can be shared by my school community.
At the start of the residency I was excited–I thought the project would be fun and a great opportunity to leave our mark on Western. Now that the mural is complete and installed I feel accomplished. As I finish my last year at Western, I will graduate knowing that I added to my school's long history.
Learn more about Amanda Pellerin and her residency and teacher professional development program offerings online!
By Colette Krebs, sophomore at Annapolis High School's Performing and Visual Arts Magnet Program
I want you to think of your life right now. Think about who you work with. There may be that one person who loves movies or sports or drawing. Everyone you work with, you put a label on. Not necessarily bad, just who they are in your mind. That girl over there, she's a reader. You, you are a church goer. We all label people and we're all labeled.
My name is Colette Krebs. I am 15, a sophomore in the Performing and Visual Arts Magnet Program (PVA) at Annapolis High School in Anne Arundel County.
If you asked me what my life would be like without art, my answer would be simple. Empty. It would have to be because I can't remember life without it.
From my first memories of school –including preschool at Creative Gardens—the arts have always been part of what I do. I'm speaking today because I want you to know the impact art can have.
Before art was seriously introduced in my life in the Wiley H. Bates Middle School PVA program (I was in the first year of students to attend), I was a bit of a loner. That was my label. I was the girl who would spend lunch reading Harry Potter rather than hanging out with friends.
In PVA, work was collaborative, so you became vulnerable as you opened up. Through this process, especially in theatre, I was able to communicate better, I made friends, and I learned ways that art can be used to succeed outside of art classes.
All of my classes, even science and even math, were arts integrated. One of my favorite memories was in my eighth grade geometry class. We were drawing a city landscape, keeping the buildings proportionate with geometric measurements. Young Audiences made that moment possible by training our teachers and by providing professional artists who came into the school to teach us.
In theatre, when we are given monologues, we are only given a part of a character and we have to fill in all the details. So when it came to science and math, where my classmates struggled, I had no issue memorizing the vocabulary and formulas, analyzing situations, and finding creative solutions.
My arts training also taught me how to work under pressure, which really helped me with homework. I am in school from 7:17 a.m. until 4:45 p.m. because of the extended arts day. And, until recently, I added even more time, as I played a dynamic role in Electra so I couldn't start homework until 8:00 at night.
Unlike many of my art friends, I wasn't aggressive in getting the lead, I wasn't emotional about relationships or projects or Angelina Jolie. I preferred to stay inside my head, making observations, but PVA didn't allow me to do that. It pulled me straight out of my shell. At first, I felt scared; I had been yanked out of everything I've known in front of complete strangers, but almost immediately, I loved it. These weren't regular kids, these were artists. Loud, obnoxious, funny, opinionated, rambunctious, and everything else you could want in a friend. I didn't want to go back to the way it was and they certainly weren't about to let me.
It has always been my dream to grow up and incorporate the arts in my life, but I thought it was black and white. I could dance, sing, act, or be an artist.
But art isn't about exactness. In art there are a lot of gray areas that you get to fill in with all the colors of the rainbow, pirouettes, and C major chords.
When you experience art, something changes inside you and all of a sudden, you're able to see the world in a new way.
I found my own way through life with the help of art, the support of my parents, Bates and Annapolis, and Young Audiences. Without this, I wouldn't be here today. I know that I am lucky to have these experiences and I hope that through Young Audience's work, many more kids will be just like me: building their dreams around a future that is hopeful. I don't know what my future holds, but I know that with art it will be beautiful and full of hope.
When I was young, I was labeled a loner. Now that I'm older, I'm proud to say that I'm not a loner. I am an artist.
Colette shared how the arts have affected her life inside and outside of school at Young Audiences' Impact Breakfast in November.