Children have a lot to say. Slam Poet and YA teaching artist Femi the Drifish worked with students in last year's Summer Arts & Learning Academy to help them get their poem to the stage for all of Artscape to hear. We are proud to share this light, energy, and love for our city, straight from the mouths, hearts, and minds of the future of our nation.
Baltimore
We live
Baltimore
We wise
Baltimore
We Lit
Baltimore
We live [2X]
Don't try to fit me in, your equation
I'm not a part of your, situation
We repping Baltimore real hard
Doing it real big, World Star
We eating chicken boxes, half N half
At the harbor, eating crabs
Repping Baltimore, since I was five
They don't know me, I ain't gotta lie
Baltimore
We live
Baltimore
We wise
Baltimore
We Lit
Baltimore
We live [2X]
We love this city, all heart
Always loved it, from the start
No more murders, more hugs
Stop the drug dealing, no more thugs
We don't need to be, from the hood
What we need is, more brotherhood
We from Coldstream, getting an education
Cause we the future, of this nation
Baltimore
We live
Baltimore
We wise
Baltimore
We Lit
Baltimore
We live [2X]
What do you call a collection of two or more equations using the same set of unknowns? Can you identify the variables and constants in a mathematic expression? Why would a person ever use the Method of Matrices? If you were an Algebra student, you'd be committing these definitions, methods, and terms to memory, filling your lexicon with the language of math.
"If you don't use it, you'll lose it." Any veteran language learner will tell you that old adage. Being challenged to use their new vocabulary in a different context is one way to help students become (and remain) fluent. To encourage this, Amy Goodman, Math Department Chair of North County High School (NCHS) in Northern Anne Arundel County, coordinated an artist residency developed by YA artist and spoken word poet Femi the DriFish in collaboration with the school's Algebra 1 team. Artist residencies, like this one, came to the school thanks to the Arts Empowered Minds Initiative.
Through the initiative, schools in Northern Anne Arundel County are learning to use arts integration as a strategy for boosting student achievement and engagement. Classroom teachers and school administrators are building sustainable partnerships with teaching artists and arts organizations that inspire students and use the creative process to make meaningful, real-world connections to the curriculum.
"Mr. Fish!" NCHS students announced Femi the DriFish's arrival. The artist is a master of illustrating the meaning of words through poetry and, through literary guidance, builds a strong rapport with the young scholars. For this residency, Femi worked with students to write poems within small groups on the topic where I'm from.
The 9th graders brainstormed over how to use the algebraic vocabulary words scribed onto the backs of index cards to convey their thoughts: function, common difference, output, relation. The language usually reserved for Algebra class became double entendres in lyrics carrying messages of citizenship, diversity, and pride. "If you use the terms correctly," Femi said, "you remember the definition. You retain it and can access it later."
"Like parallel lines, some soulmates never meet," one student revealed in his group's performance. Some soloists represented their classmates. "Word pairs are like the relation to life, we are all like terms so we don't have to fight."
NCHS Algebra teacher Mrs. Russell was pleasantly surprised by the outpouring of creativity. "I'm seeing different things and personalities from kids that I don't normally see," the teacher said. "They're a lot more excited than I thought they'd be!"
As they industriously crafted metaphors and similes, cleverly using their new vocabulary as figurative language, debate arose over whether or not the verses should rhyme. "It never has to rhyme," Femi advised. "It's how you perform it that gives it flavor." He taught the children to confidently use body language by analyzing performing techniques and discussing what is needed to relay a message. "It's all about how to effectively communicate with your audience," Femi said. Scholars rehearsed the delivery of their collaborative poetry to truly express their emotions, communicate their history, and challenge the audience to walk in their shoes.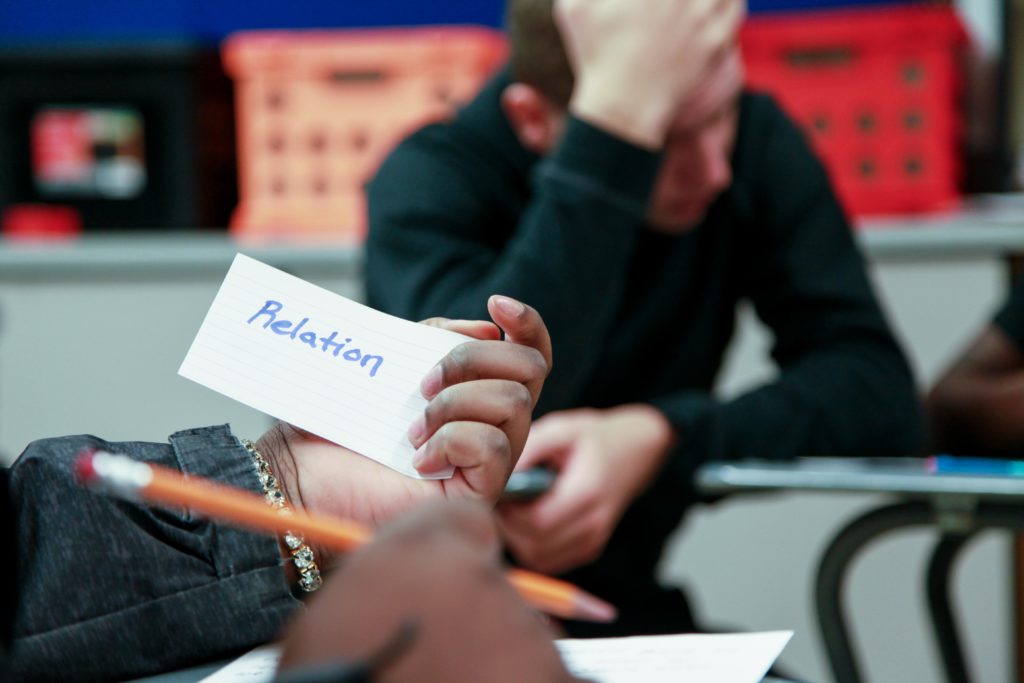 The students did not disappoint. "Like parallel lines, some soulmates never meet," one student revealed in his group's performance. Most groups selected just a few students to deliver their words in the culminating performance. Some soloists represented their classmates. "Word pairs are like the relation to life, we are all like terms so we don't have to fight." Performers garnered many cheers and rousing support from the teachers and peers populating the auditorium. And everyone involved in the residency left with a much stronger understanding of algebraic vocabulary and a knowledge of terms they won't soon forget.
So, what do you call a collection of two or more equations with the same set of unknowns? A system. You call it a system.
The Arts Empowered Minds Initiative is the combined effort of many groups and individuals seeking to build a movement for increased equity through the arts in their community. With funding from the NEA in 2016, we built partnerships with Anne Arundel County Public Schools (AACPS), Chesapeake Arts Center (CAC), Arts Education in Maryland Schools Alliance (AEMS), Arts Council of Anne Arundel County, and University of Maryland – Baltimore County (UMBC).
It was a summer filled with activity, singing, dancing, reading, creating, and sunshine. We witnessed the excitement of mastering new skills and discovering new talents. We felt the calm of classrooms illuminated with only the rays of light peeking in from behind drawn shades, students enveloped in peace, quietly drawing, ink and graphite on white paper.
When families initially enrolled their children in our Summer Arts and Learning Academy, we asked them why their child was interested in participating. Many stated that their children were creative and hoped that through the program, they'd be able to enhance their skills. Others emphasized the integrated academics or latent benefits of the arts. Some registrants celebrated the availability of the arts and educational summer program, as these opportunities are limited in Baltimore City.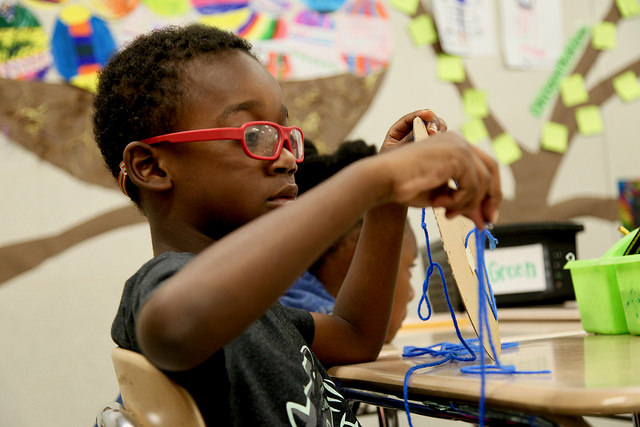 Did our Summer Arts and Learning Academy live up to families' expectations? Culmination ceremonies came to a close, classrooms were disassembled and packed up for next year, and students prepared for their next summer adventures. We asked parents and families if they'd give us feedback about their experience by filling out a survey. Their responses poured in- 413 of them to be exact. We discovered that in Summer Arts and Learning Academy, parents watched their children not only learn, but grow and thrive artistically, emotionally, and academically.
When asked about any positive changes they noticed in their kids, one parent replied, "An eagerness to attend school. IN THE SUMMER! Who knew?!"
87% of families who completed surveys told us that their child found something new that he or she has fun doing. "My son began to enjoy sewing and dancing," one parent told us. Another let us know that her grandson was very proud of the work he did in ceramics class. "He usually gives me all of his drawings and art projects, but he kept his claywork for himself."
Even when one particular art form grabbed a student's interest above all others, the children in Summer Arts and Learning Academy developed a deeper appreciation of and openness to all art. Students discovered that flexibility leads to new passions, discovery, and opportunity. "I learned that I am exceptionally good at ceramics. I knew I would like it but I didn't know I would actually be good at it," a rising sixth grader told us. "She was disappointed that the Coldstream Park site didn't offer theatre for older kids," her dad explained. "We're working on 'rolling with it,' though, and she ended up really loving African Dance and Ceramics. She would never have known, otherwise."
Parents told us that their kids were excited to get to the academy every morning, on time. When families reunited in the afternoons, kids would talk and talk about everything they did that day. When asked about any positive changes they noticed in their kids, one parent replied, "An eagerness to attend school. IN THE SUMMER! Who knew?!"
Upwards of 80% of parents who responded told us that they noticed an increase in their child's reading and math skills. With this strengthening of skills, their children became more confident. Of one student who enjoys writing poetry, we were told, "she will now actually share her writing with others." Many families reported their children not only enjoying reading but choosing to read books over watching television. Still others described students proudly reading on their own and teaching younger siblings what they had learned.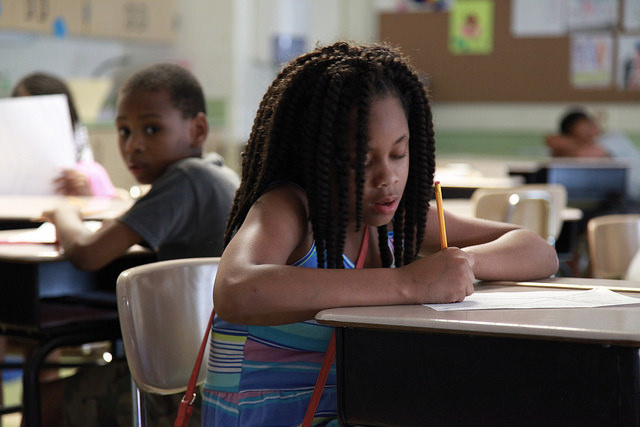 The positive changes parents noticed in their children exemplified 21st Century Skills, a set of higher order skills that have been identified by educators and business leaders as being critical to a person's success in careers, in college, and as a citizen. These are skills that typically cannot be measured through standardized testing and include critical thinking, collaboration, communication, and creativity.
Through Summer Arts and Learning Academy, students were introduced to many new ways of thinking, seeing, and expression. They learned to look at things from different perspectives through the eyes artists, characters in literature, and through new friends, which made their own experiences more joyful and meaningful. Children embraced their curiosity, asking questions, exploring, and researching independently. "My daughter is better able to integrate her love of arts (fun) with learning (not as much fun) and see ways to make learning something that's both fun and something she can accomplish," one mom told us.
Families described their students as being more social, friendly, outgoing, and connected. One student told her mom that she "enjoys being a loving and caring friend." Another student "wants to take care of the neighborhood." Students discovered that they liked working in groups and parents thought their children were now better able to deal with conflict. Through collaboration, the kids learned how to communicate, compromise, and achieve a common goal. They learned to 'roll with it', an enviable and necessary skill for 21st century children and adults alike.
Baltimore City School students closed out a summer of creativity and arts-integrated education with performances and visual art exhibitions at Young Audiences Summer Arts and Learning Academy. The academy's culmination events were an opportunity for students to showcase their art forms and what they learned to family and friends. 
The Summer Arts and Learning Academy took place over five weeks, giving students from Title 1 schools in Baltimore City a free, daily opportunity to explore art forms with teaching artists while improving literacy and math using hands-on, arts-integrated learning techniques. They wrote songs to memorize grammar rules, learned dances to recall fractions, and immersed themselves in a multitude of art forms, making literacy and math concepts stick. The third annual academy had children and staff laughing, learning, and inspired.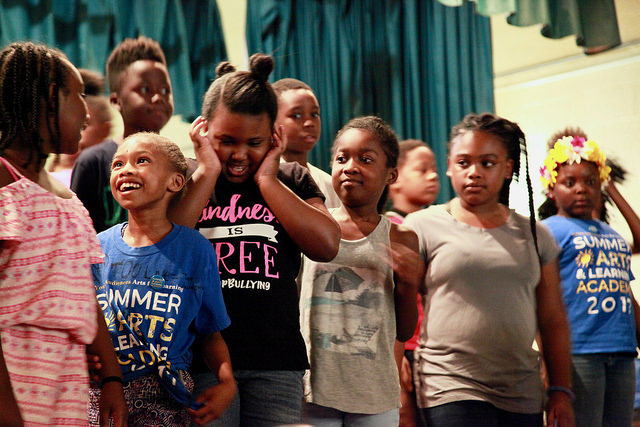 This kind of summer engagement with the arts is proven to have a significant impact on kids' education. In Summer Arts and Learning Academy, classroom teachers and teaching artists work together to continue to build momentum while stemming summer learning loss, or the loss of academic knowledge over the summer months. According to a study last year by Baltimore City Schools, students in 3rd-5th grade attending the Summer Arts and Learning Academy avoided summer learning loss, and in many cases, gained ground on their national peers in literacy and math.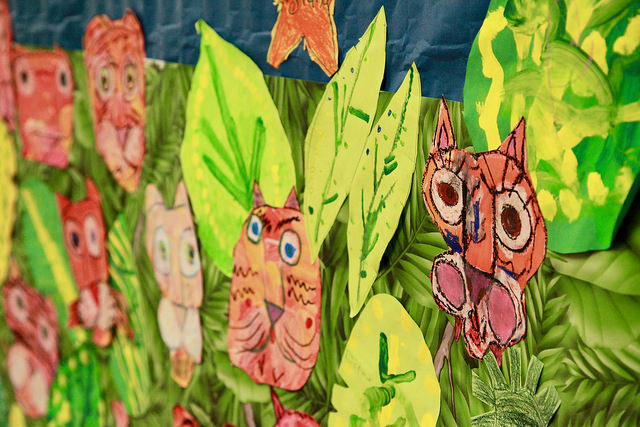 The culmination events, held at Thomas Jefferson Elementary/Middle, Coldstream Park Elementary/Middle, James Mosher Elementary, and Gardenville Elementary, put students on stage to showcase the art they created at the academy for parents, teachers, friends and family. Here is some of what we saw.
Two students from YA roster artist Femi theDrifish's spoken word poetry class read aloud their own inspiring words. They expressed the challenges caused by bullying through their writing, moving the audience with their heartfelt performance.

A larger group of students performed African dance on stage as their teacher, YA roster artist Ssuuna, led an accompanying rhythm section. A dance circle broke out at the end as students entered and showed the audience their skills. Cheers, laughs and applause filled the auditorium.
Music, poetry, and theater graced the stage as another group performed a chapter from a short story they read during the Academy. Kids performed as trolls and goats while their teacher, YA roster artist Drew Anderson narrated. Positive energy filled the room.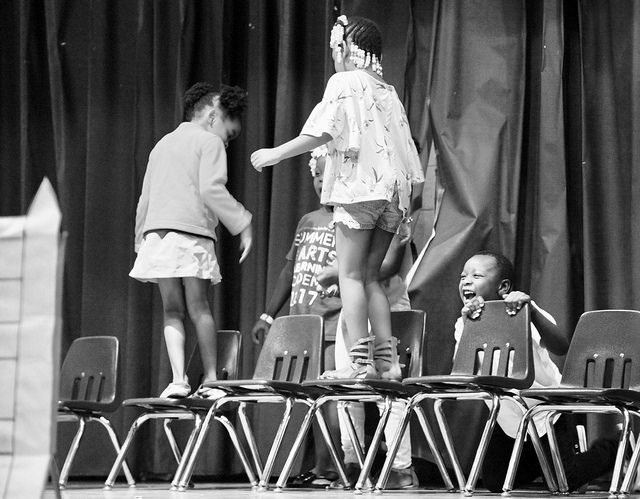 And that's only a taste of the dozens of performances that took place at culmination events around the city. Watching students light up and enjoy learning with the infusion of arts experiences is remarkable. We can't wait for next summer.
You can view images from all four of our summer sites by visiting our Flickr page. More information about Summer Arts and Learning Academy can be found on our website.