You can feel a good story in your core- the sadness, the suspense, the bitterness, and the beauty. We are good at registering and reacting to all of the characters, events, and plot twists a story throws at us, but have you ever tried to look at one through the eyes of a mathematician? What would a story look like without words, without pictures, its content plotted on a graph?
YA teaching artist and storyteller TAHIRA and Amy Goodman, Math Department Chair at North County High School (NCHS), collaborated in the development of a unique residency through the Teaching Artist Institute (TAI) to show just that. NCHS is one of 12 in Northern Anne Arundel County benefiting from professional development like TAI, in-school arts integration, and out-of-school arts programming as part of the Arts Empowered Minds Initiative (AEMI), a partnership aimed at ensuring equitable access to the arts for Northern Anne Arundel County Public Schools.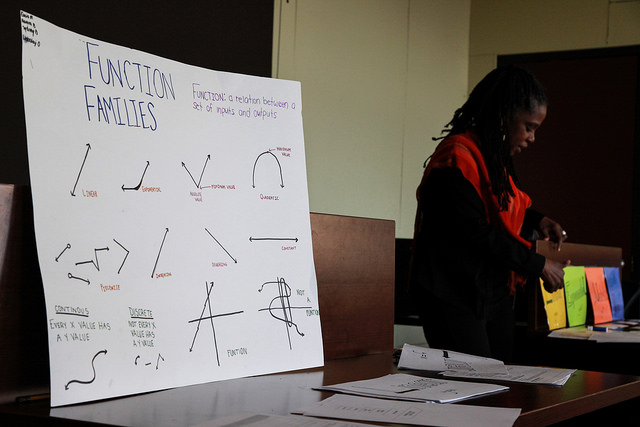 TAHIRA: What happened that surprised you?
Student: As you were telling the story, the story was compared to math- because events were escalating like in a graph. And then when events took a downfall in the story, the graph started decreasing.
TAHIRA: Then the class had to describe what function the story plotted out, right?
Student: Exponential.
TAHIRA: Yeah, it was exponential. And you had a reaction to all that. What did you say? Do you remember what you said?
Student: I was surprised at how the story could be compared to math.
Each student was asked to illustrate why they chose a particular function over another to describe the characteristics of the story. Could there be more than one answer? Two students each shared their understanding of how a story unfolded by taking turns plotting it out on the same graph, compared and contrasted their unique perspectives, then decided if both functions made sense or if one more accurately described the story than the other.
TAHIRA: Did it make you look at storytelling differently? Or math differently- or help you understand the math?
Student: Yeah, it helped me understand how the graph can be compared to anything such as… in the story, when everything goes wrong, the graph decreases and it shows how it takes a negative effect.
TAHIRA: Exactly. And then?
Student: And then everything comes back together and that creates a positive effect.
TAHIRA: And we talked about the parts of a story: There's a beginning…
Student: A middle and an end… when there's a conflict, the two forces, the positive and the negative collide and whoever wins- that's how the story plays out.
TAHIRA: Exactly, how it plays out- that's right, it's called a resolution.
The Arts Empowered Minds Initiative is the combined effort of many groups and individuals seeking to build a movement for increased equity through the arts in their community. With funding from the NEA in 2016, we built partnerships with Anne Arundel County Public Schools (AACPS), Chesapeake Arts Center (CAC), Arts Education in Maryland Schools Alliance (AEMS), Arts Council of Anne Arundel County, and University of Maryland – Baltimore County (UMBC).
Unique and innovative arts-based strategies are captivating young audiences in Maryland classrooms. At Margaret Brent Elementary/Middle School in Baltimore City, the very youngest students are excited to connect to literature with actress and master teaching artist Katherine Lyons through movement and theater as part of a Maryland Wolf Trap residency.
Katherine creates what she describes as "hands-on, multi-sensory story experiences" by having children actively participate in the telling of the story. Physical motions are assigned to important objects and costumes help illustrate characters. To prepare for Katherine's arrival on this day, Pre-K teacher Mrs. Lee asked her students to draw what they think will happen in the story. They hung one prediction on a clothesline.
Now, at the front of the room, between Katherine and Mrs. Lee sits a 'story box' filled with clues describing the characters in the story. One by one, a student pulls from the box a tool or an article of clothing, then the class takes turns guessing who the clues belong to.
As each character is identified, one student hangs a picture representing the character on the clothesline and another student becomes the character. The students use each of their senses to connect to the story, made ever more lively through the introduction of gestures, chants, and props. "Costumes help bring the story to life," Mrs. Lee said. "The class is more interested and invested in story time when they get to use props and act it out."
Once story time is completed, Katherine and Mrs. Lee begin planning lessons that they will co-teach. Every Wolf Trap program includes embedded professional development to build teachers' skills and confidence in arts integration techniques. Teaching artists work with classroom teachers to learn effective ways to engage students in participatory activities that involve all the senses and encourage critical thinking, creativity, communication, and collaboration. This ensures that the arts remain a strong part of the classroom teachers' lessons long after the residency ends.
Mrs. Lee plans to continue to use these new strategies during an instruction block that includes literacy, social studies and science, but she's excited to try them out in other areas of the curriculum as well. "I may use the story box with some counting stories and to help illustrate word problems in math!"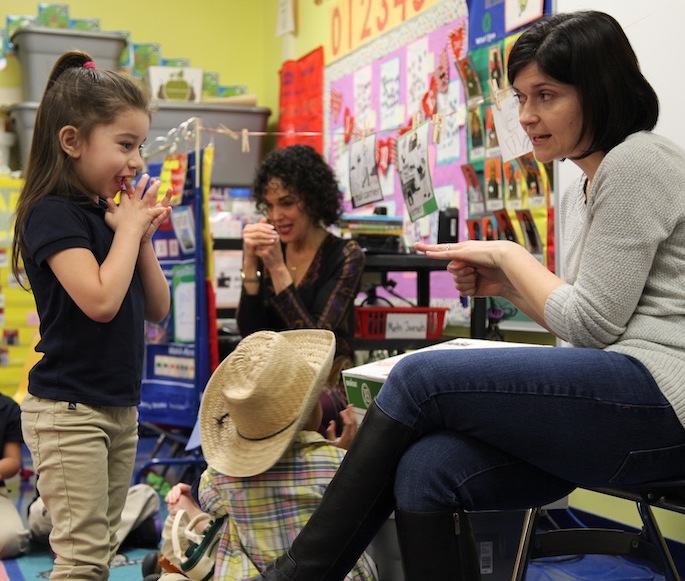 Eighty-five percent of brain development occurs during the first five years of a child's life. Participation in the arts encourages positive growth in a child's emotional, physical, intellectual, creative, and social development. As the Maryland affiliate of the Wolf Trap Institute for Early Learning Through the Arts, Young Audiences expands access to the arts for Maryland's youngest students during the critical early learning years. Bring a Maryland Wolf Trap 16-Session Residency into your school.

Categorized:

News

Tagged:

artist-in-residence, arts integration, arts-in-education, Baltimore City, Baltimore City Public Schools, creative learning, early learning, Katherine Lyons, Margaret Brent Elementary Middle School, Maryland Wolf Trap, movement, professional development, storytelling, teaching artists, theatre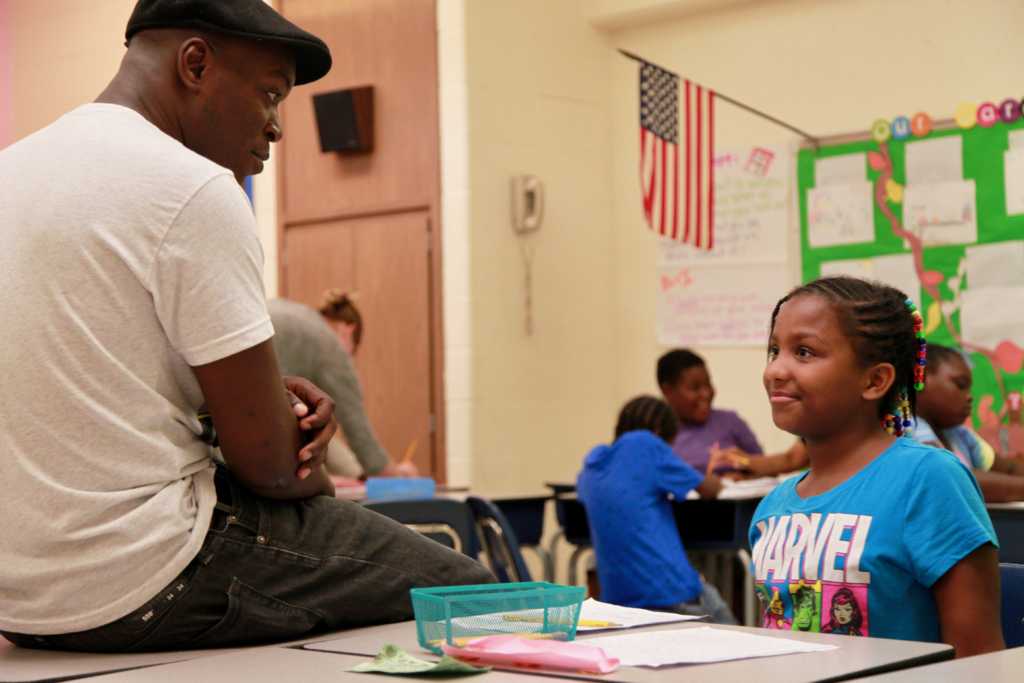 With Black History Month upon us, we celebrate the contributions, activism, culture, and experience of African Americans. Many of our artists at Young Audiences have designed performances and assemblies to connect students with African American history and develop an in-depth understanding of the unique stories, struggles, and accomplishments of the past and the present. The following are just a few of the many talented artists available to bring a meaningful connection to African American history into your school.
Kevin Gift introduces renown jazz pianists from Thelonius Monk and Art Tatum to Keith Jarrett in his assembly, Jazz Piano Masters. Students learn not only about the important contributions these musicians made to American music, but they also experience how improvisation can make practicing anything more enjoyable and personally satisfying.

Debra Mims has been an actress for over thirty years and was an arts producer at PBS for fourteen years. With additional training in dance, she received a BFA in Theatre Performance from Marygrove College in Detroit, Michigan. She has performed at the Georgetown Theatre Company, the Children's Theatre in Madison, Wisconsin, and the Detroit-Windsor Dance Company.
In My Grandmother Told Me: A Tribute to African-American Women, Debra uses monologues, poetry, and song to tell tales of days past and of courageous Black women and their struggles to be free, to vote, and to get an education.
Professional spoken word artist and slam poet Femi the DriFish uses his artistry to encourage his listeners to discover their own unique voices and identities in his writings, performances, and teachings. His poetry performance, Write On, Then Say Word! is a spoken word/slam poetry journey through the various reasons to write and perform. Throughout the assembly, Femi shows students that they can draw subject matter for poetry from their identity and history.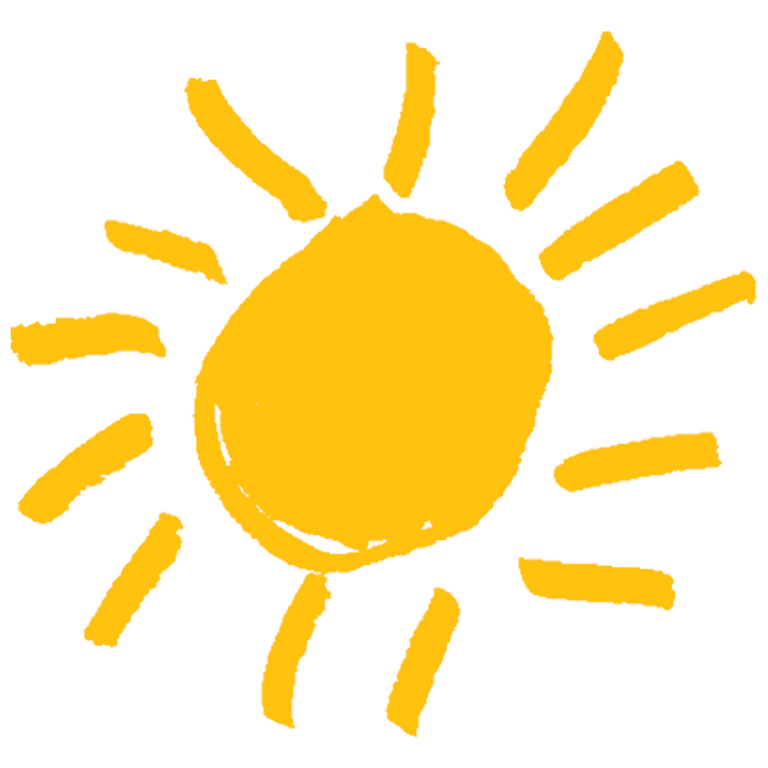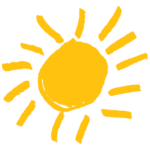 Schedule artists and programming to celebrate Black History Month by visiting our website.
During the last two years, our roster has grown in size to encompass new artists, ensembles, and art forms. From slam poets to improvisers to Capoeira masters, these new artists are undeniably unique.
To introduce audiences to our new artists, we'll be posting interviews with those who recently joined our roster, giving them a chance to share more about themselves and their experiences with Young Audiences so far.
Israeli-born Noa Baum, who joined the Young Audiences roster in 2013, is an internationally acclaimed storyteller who uses mesmerizing voices, impeccable timing, and warm authenticity to captivate audiences and confront important topics. Read on to learn how she got involved in storytelling and why she believes it's so essential.
What is your background as an artist?
I was an actress in Israel at the Khan Theatre, a repertory theatre in Jerusalem. I studied acting at Tel Aviv University, studied with Uta Hagan, and received my Master's from New York University in Educational Theatre. I started as an actress, but I wanted more. There's actually a story about why I became a storyteller: I didn't get an acting part I wanted, so to make ends meet, I got a job doing a story hour with kids in Tel Aviv. The way that the children reacted there was very powerful, and I wanted to learn more about the power of drama and story.
How did you hear about Young Audiences?
I moved to the east coast after living in Israel, and I've worked in the area ever since. I heard about Young Audiences when I arrived, and I auditioned and was accepted onto the roster.
What made you decide to become a Young Audiences roster artist?
I really like what Young Audiences does for artists. As an artist, it's hard to market yourself to the schools by yourself. Working in schools is only part of what I do—I do programs for adults as well—so I wanted someone to take care of the marketing for me because it's a lot of work. Young Audiences is very dedicated. It's a lot of really good people working and keeping ongoing relationships with the schools and the school districts.
Have you had any programs through Young Audiences yet? What was the most memorable part?
I've been really grateful for this year because, as a first year artist, I've gotten to work with a lot of schools. The most memorable part has been the flexibility and support of the staff. With Young Audiences, I feel that I have a home and people to support me. As an artist, it feels really good to know that I can focus on my art because I have people taking care of the logistics.
Why do you believe art is important for every student to have access to?
I think art offers a holistic engagement of the brain, the heart, the body, and the whole self. As humans, art is the way we make meaning of who we are, why we're here, and what this world is made of. Art has never been separate in the development of humanity, but unfortunately, we live in a society where we've started separating it. Art has become this extra thing, something that can be cut from the budget because it's not as important. I don't think it's something extra. I don't even think art is a subject as much as it's a way of being. The more we integrate the arts into the subjects that we teach, the more we help the students learn and become who they are.
What does your art form in particular teach students?
Our brain processes information through stories. It's how we remember and how we learn. Storytelling is the best teaching tool that I know—all of the great teachers and leaders of the world have been great storytellers. For me, storytelling teaches a lot of things, the most important being connecting with yourself. It's an art form that asks you to participate and connect with your creative life force.
I think another amazing and powerful thing that storytelling teaches is listening in a deep, authentic, and fun way. From a very young age, we tell children to be quiet and listen. We expect them to be obedient and listen to instructions, but we don't offer practice that teaches them how. One of the best ways to teach how to listen is to create an experience where listening is supported, such as a storytelling performance. Storytelling helps cultivate listening because you really have to listen to be able to imagine.
Storytelling works on a cognitive level as well. There's a lot of research showing that if you want kids to be good writers, they have to be exposed to a lot of oral language. Writing and reading are basically connecting signs to things in your brain. The more words you've been exposed to orally and the richer the language you have in your head, the faster you can connect it to words on paper. If you're looking at words and you don't know what they mean or have no experience with them, reading and writing will always be a struggle. But if you know what "blossom" means, for example, and if you've heard it many times, you can connect the letters to the meaning faster.
Storytelling helps us emotionally connect the mind and heart. You may not remember all the intricacies of a story, but you'll remember how you felt when you heard it, and sometimes, that can be lifesaving.
Learn more about the Noa's offerings through Young Audiences here.
Keep an eye out for more interviews featuring our newest roster artists! See past new artist interviews here.
By Lucy Coyle
Lucy Coyle recently completed a summer internship at Young Audiences and wraps up our series on Young Audiences' summer learning programs–and their importance for students who would otherwise have limited opportunities to stay active and engaged during the summer months.
If you've seen Jack Black's teacher impersonator role in the comedy School of Rock then you've seen a glimpse of how the arts can engage students in the classroom. In one memorable scene during the movie, Black sings to his class about fractions to come across as a productive and innovative teacher. While in Black's case the fractions song is all part of a larger scheme to teach students how to rock and not about math, putting mathematic equations to melodies is certainly one way to engage kids in the subject. If you, like me, learned the song "Fifty Nifty United States" at any point in your adolescence–and can still recite all of the states in alphabetical order–you know that arts engagement works.
I had the pleasure of visiting a Baltimore City Public Schools Summer Learning Academy classroom this past July and experienced much more than arts engagement–I saw arts being integrated into the curriculum. Young Audiences again partnered with Baltimore City to provide rising fifth- through eighth-grade students with arts-integrated learning opportunities during the summer months. Through generous funding provided by the Hoffberger Family Philanthropies, Young Audiences was able to expand its role at 10 Summer Learning Academy sites to provide arts enrichment sessions and arts-integrated math and STEM lessons at each site. During my visit to William Pinderhughes Elementary I witnessed how impactful arts integration and summer learning can be when combined.
Young Audiences artist Arianna Ross is a champion for arts integration. She'll tell you openly that "it's kind of my thing." I watched Arianna lead an arts-integrated lesson in a science classroom where students were learning about the concepts of compression, tension, and gravity, which gave me more insight into arts integration and its power to transform classroom learning.
Arianna's lesson demonstrated that the bounds of arts integration are almost limitless. For Arianna, it's not just about putting the names of the states or fractions to music, but rather it's about expressing various concepts in as many ways as possible.
Although Arianna is listed in the Young Audiences' Resource Guide as a storyteller, she is the first to dismiss traditional storytelling methods when a dance activity or a poetry-writing session better serves the subject at hand. For Arianna, arts integration is about adapting every day to fit the curriculum. It's about bringing arts terms into the classroom and using them on a regular basis.
I saw Arianna use various dance and theatre terms during her lesson on physics. Students began by standing in mountain position–the actor's resting position. They paired off and created physical representations of the concepts being discussed in the class: gravity, compression, and tension. While they explored different poses that communicated these concepts, the students physically connected to the importance of strong foundation and balance. Their choreographed dances helped them make abstract physics concepts concrete, and they were more eager to participate and share what they had learned by performing for one another.
Baltimore City Public Schools Summer Learning Academies were designed to give students five weeks of additional math support during the summer. Many of these students come from low-income backgrounds and are in danger of summer learning loss, the well-studied phenomenon of students losing two to three months of math and science material learned the previous school year during the summer when intellectually engaging activities are not as readily available. As an incentive, the Baltimore City program also gives students free access to opportunities in the arts, sports, and robotics.
While the arts are an incentive for students to join the program, arts integration is doing much more than encouraging students to attend–it is helping students understand tough concepts by engaging them in new ways.
We want to hear from you!
Have you ever taken part in or led an arts-integrated activity in a classroom? Did using the arts challenge your mind to make nontraditional or creative connections in a traditional subject? Do you think the arts can help students gain agency when studying math and science?
Read more posts about Young Audiences' summer learning programs here.

Lucy Coyle is a senior at Johns Hopkins University, majoring in International Studies, and recently completed a summer internship at Young Audiences.