Written by Stacie Sanders Evans,
President and CEO of Young Audiences/Arts for Learning
Belonging. That's the word that has been on my mind. Our founder, Nina Collier, understood belonging. She felt music belonged in schools, that artists belonged in a child's education. In 1950 she inspired a movement of artists-in-schools. What started in Baltimore has now grown to 30 Young Audiences–the largest arts-in-education network in the US.
Today, Young Audiences artists like Femi the DriFish and Valerie Branch ignite a child's desire to learn. Whatever our partner artists' art form is–hip hop dance or improvisational theatre–they use it to draw kids into learning. We train our artists to integrate their art form with whatever is being taught in students' literacy, math, social studies, and science classes.
We do that because when kids create something they get to make choices. They make meaningful connections. They express themselves. Choice and voice–that makes the learning matter.
When we, as a community, provide children with these kinds of opportunities, we are telling them, "You matter!" All of this, what we do, it nurtures the sense of belonging in our kids, artists, parents, and teachers. And it is belonging that I feel when I walk into one of our classrooms. Listen to how Tiffani, Dawn, and Valerie talk about our community in Together–we are their people–and we all belong.
Think back to when you were growing up. Who were YOUR people? What teacher or coach left their imprint. Who helped you become the person that you are today?  I bet that person made you feel visible. Known. That you belonged.
My moment was in ninth grade. I was struggling in many different ways and my drama teacher, Mrs. Howard, saw something in me. She knew how to draw that "something" out–just like the 200 artists (both YA roster artists and independent artists) we work with. In her class, I belonged. She cast me as Juliet in Romeo and Juliet. And that moment was like rocket fuel for me.
Belonging is a strong human need, particularly in our children. I see belonging as the net below the trapeze. When kids have that net of belonging, they are more likely to lean into learning–kids like Josh Ajala, who in Together, spoke about moving from the back of the class to the front–and his sister Tiffani Ajala–who was brave enough to apply for Baltimore Design School (and got the highest possible score on her fashion portfolio!) These are the courageous risks we want our kids to take so that they can grow.
But public education for the last 17 years, after the birth of No Child Left Behind, hasn't been focused on this. It has been about raising standards and increasing school accountability–measured through standardized testing. What do kids who are part of this system think about this? In Brenna's poem, she says students feel like they are just inputs and outputs in one simple equation.
The outcomes we are seeing are heartbreaking and not sustainable as a society. Eight out of ten Baltimore City Schools students do not meet "proficiency" in math or reading. Nearly half of our children across the state entering Kindergarten are already behind. Four out of ten Maryland teachers leave teaching within five years because this isn't the equation they want to be a part of.
A different way is needed. Young Audiences is a different way. Our movement is to make sure all kids–and the people who teach them–are not treated like inputs and outputs but as the whole beautiful human beings that they are.
Today, thanks to our 450 school partners, our Sunburst Society members, and our game-changing evidence, our movement is growing. Outreach has doubled in the last five years. We impact the education of 191,000 children EVERY year–children in EVERY Maryland county.
We are on a mission to close the opportunity gaps in this educational system. We have four strategies:
Preventing summer learning loss by operating 20 summer programs across our city
Increasing school readiness through early childhood programs in four counties
Improving student engagement in learning by providing professional development to 500 teachers every year
Increasing equity in access to opportunity–more than 30,000 of our children are in under-resourced communities, so we provide more to them
We have made tremendous progress over the last five years but we can take this to a new level. Five years from today, I think we can change the educational trajectory of 50,000 more kids. Here is how we can get there:
Expand our evidence-based Summer Arts & Learning Academy in and beyond Baltimore City. This is the program that Tiffani, Alice, and Josh participated in that continues to have a ripple effect in their life. To expand to just one more school district, we have to find and train 20 more artists.
This Academy is only 25 days of a kid's life–and in that short time, we see lots of benefits. Imagine if kids had that kind of arts-integrated learning during the school year and school day? We want to launch year-round professional development and support for teachers and principals to make that happen. If we were able to add just one more person to our staff that focused on professional development, we could support 100 more teachers and principals every year.
To have the greatest impact on a child's potential, we need to invest early. (Did you know that 80% of the brain's synaptic connections are made by age 3?) In 2024, we want to bring our Baby Artsplay program to 5,000 infants and toddlers across Maryland and–to their very first teacher–their parents. This will require our artists to be trained in early childhood development.
Think back to your person–your Mrs. Howard. Think back to that feeling of belonging. Imagine if you could create that opportunity for someone else. For another Josh. Another Brenna. Take that opportunity and multiply it by 50,000. Fifty thousand children sitting in the front of the class, trying out for Baltimore Design School, reaching for that trapeze handle.
That is the opportunity in front of us. For Brenna, that is the equation she wants us to come together and solve.
Categorized:

News

Tagged:

Anne Arundel County Public Schools, Baltimore City, Baltimore City Public Schools, Bloomberg Arts Internship, community, Femi the Drifish, fundraising, Impact Breakfast, Maryland Public Schools, North County High School, Stacie Sanders Evans, Summer Arts & Learning Academy, summer learning, Summer READS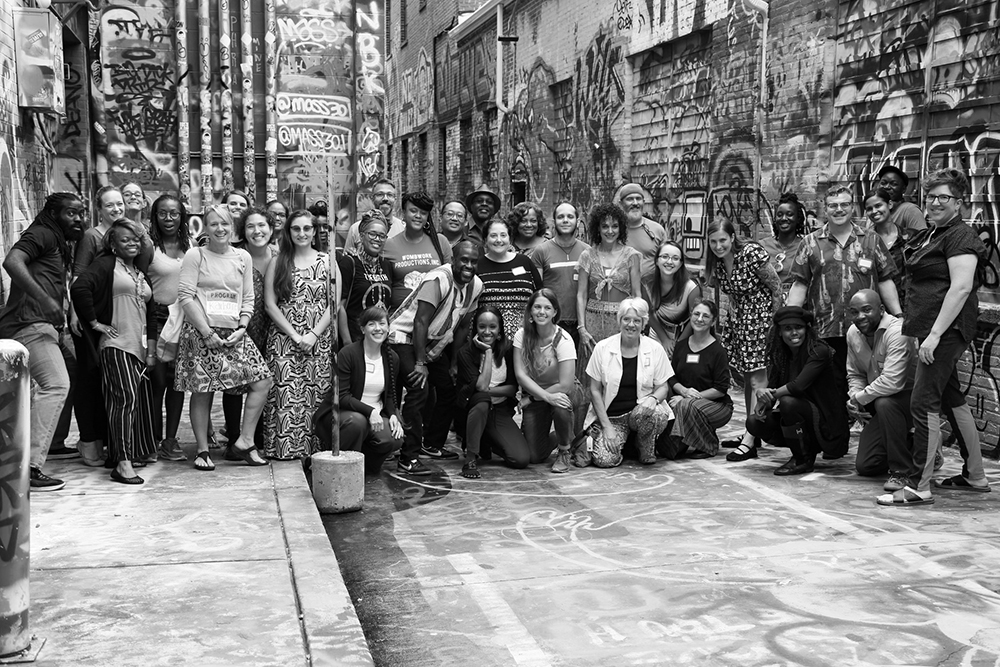 Written by Stacie Sanders Evans,
Chair, Young Audiences' National Residency Teaching Artist Credential
President & CEO, Young Audiences of Maryland
One of the things I admire about many of the artists I encounter is their ability to envision and create without constraint. Most of the time, I feel my ability to dream is tethered to my day to day constraints. Fortunately, I have the rare board of directors at Young Audiences of Maryland (YAMD) that isn't asking me why our copying budget is over by 10%. Instead, they are encouraging me to dream bigger dreams and actually discouraging me from worrying about how to pay for it. They want to help shoulder the burden of these constraints so I have enough moments to live in the delicious "what if" space.
"What if" moments have gotten Young Audiences to where it is today both locally and nationally. One "what if" moment just recently led to a successful pilot of the Young Audiences National Residency Teaching Artist Credential for exceptional teaching artists. Up until this pilot, unlike almost all other professions within education, there has been no nationally recognized credential for the field of teaching artistry. 
Twelve artists (featured below) from seven different states have completed a very rigorous application process and earned the National Residency Teaching Artist Credential to date. Let's applaud these amazing artists who took a chance with us and contributed to the larger idea of "what if" in an effort to help us test and refine a credentialing system.
Young Audiences formed in 1950 in Baltimore because of our founder, Nina Collier's, "what if" moment. Nina's question, "What if we bring musicians into our schools to perform?" ultimately led to the movement that created 32 Young Audiences affiliates across the United States and now benefits five million students annually. She had no idea the impact that question would have on children and artists.
In the '90s, YAMD's first paid executive director, Patricia Thomas, had another important "what if" moment: "What if artists are no longer limited to the auditoriums of our schools? What if they go into classrooms to give kids a chance to create in an art form?" Today, artists in partnership with Young Audiences, impact 230,000 hours of classroom learning in the arts every year, creating powerful moments for Maryland's young people. Thank goodness there were Nina Colliers in communities across our country who were creating the same kind of opportunities for more children.
Once Young Audiences saw the transformative power of our artists in classroom settings to inspire kids and we saw how high stakes testing was narrowing the curriculum and negatively impacting student engagement in the classroom, we asked another "what if."
"What if Young Audiences played a larger role in education and in our communities to bridge the gap between what we know the best conditions are for learning and what children actually receive in school? I call this the inspiration gap.
This "what if" led us to invest heavily in artist training (far beyond even our own roster of artists) and to create many more opportunities for artists to partner with academic teachers to use their art form to draw kids into learning in literacy, math, social studies, and science classes. This is known as arts integration, which could be learning fractions through the steel drum or about figurative language through writing and performing their own poems, or about the scientific method by writing rap songs.
Using the arts helps students connect to the academic content in meaningful ways–so the learning "sticks." Young Audiences' arts integration approach also requires students to "show what they know" through the arts by either performing or exhibiting. Students become more visible in this kind of classroom and it nurtures the sense that they matter. When you make the learning matter and students know that they matter–that is the secret sauce to bridging the inspiration gap.
Now school districts and foundations see us in a broader light, as an organization that can help improve educational outcomes for kids. These groups are investing nearly three million dollars in YAMD this year so we can address stubborn problems in education: preventing summer learning loss, increasing school readiness, and improving teacher practice.
Across the country, we have artists who are ready to bridge the inspiration gap, and there are even more who, with the right training and support, will soon be ready to join them. We believe the National Residency Teaching Artist Credential, along with a network of coordinated, affordable professional development opportunities, could lead to kids in all communities having greater access to a quality education–one that includes arts education and opportunities to learn in, through, and about the arts from the best professional artists in their community (even where there is no local Young Audiences affiliate).
Imagine a society where teaching artists are recognized for the valuable role they play in breathing creativity and possibility into our schools. Work which, in turn, draws kids back into learning. Imagine how many more kids would benefit if artists were able to choose teaching artistry as a profession because it was treated like other professions.
Many, many things are needed to realize this vision, and I believe a credentialing system–one that is developed in partnership with artists and educators with students at the center–is one important component in a larger ecosystem that needs attention. And I'm not alone. A national survey revealed that 94% of teaching artists want a credential like the one we are designing for the field. One reason artists support this idea is that, currently, since our field lacks a credential, there is no unified way for that expertise to be recognized or validated.
For example, dance and teaching artist Valerie Branch has performed with over 10 dance companies, choreographed over 100 dance works, has a Bachelors degree in Dance (Magna Cum Laude), and has led artist-in-residence programs in 150 schools. But as a teaching artist, she had no signifier of her expertise, excellence, or the value she brings to the classroom. The National Residency Teaching Artist Credential solves this problem.
We are still early in this "What if we created a National Residency Teaching Artist Credential?" moment. And we hope one day, after thoughtful adjustment and many discussions with different stakeholders (that includes you!), and in partnership with the many other national and local organizations that care about education, this credential could be something that the broader field will welcome.
Was there ever a time an artist closed the "inspiration gap" for you or a young person you love?  Let's make more moments like that for our young people. Wanna "what if" with Young Audiences around this idea? Let me know because it will take all of us–you, me, our friends, and our friends' friends–to turn this new"what if" into a reality.
2018 Young Audiences' National Residency Teaching Artist Credential Recipients
Valerie Branch, Young Audiences of Maryland
Melli Hoppe, Arts for Learning, the Indiana Affiliate of Young Audiences
Molly Johnson, Young Audiences of New Jersey and Eastern Pennsylvania
Laura Marchese, Young Audiences of New Jersey and Eastern Pennsylvania
Ray McNiece, Center for Arts-Inspired Learning, the NE Ohio Affiliate of Young Audiences
Emma Parker, Center for Arts-Inspired Learning, the NE Ohio Affiliate of Young Audiences
Malke Rosenfeld, Arts for Learning, the Indiana Affiliate of Young Audiences
Chris Sheard, Young Audiences of Louisiana
2019 Young Audiences' National Residency Teaching Artist Credential Recipients:
Carrie Sue Ayvar, Arts for Learning / Miami
Harlan Brownlee, Kansas City Young Audiences
Quynn Johnson, Young Audiences of Maryland
Brittany Roger, Young Audiences of Maryland