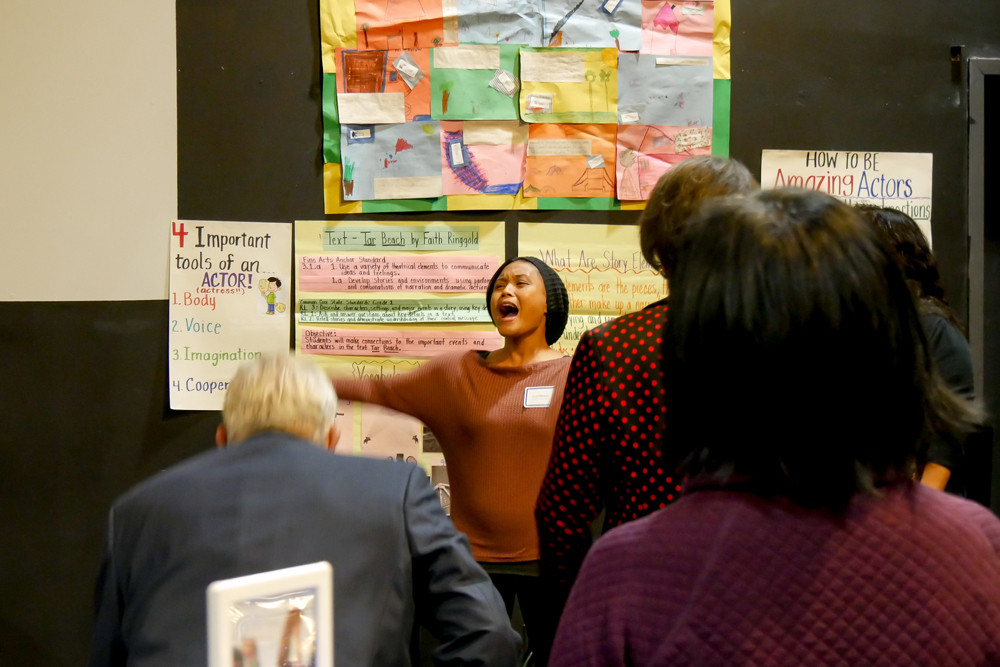 Written by Barbara Krebs,
Young Audiences volunteer and Sunburst Society member
A few weeks ago, I was happy to attend Young Audiences' third Art Crawl, held this year at the Single Carrot Theatre adjacent to YA's offices.
For those of you who have not attended this annual event, I highly encourage you to do so. First of all, you'll get to party with a group of fun, interesting, entertaining and dedicated folks. Secondly, you'll get to enjoy the learning environment presented to the kids who attend YA's Summer Arts & Learning Academy (SALA). And by that, I mean you'll act, play music and create artwork, which helps you understand your reading assignment or your math homework. And finally, you get to nosh on great hors-d'oeuvres and sip handcrafted cocktails created by some of YA's board members!
As always, I find myself splitting my time between talking to people I've met in the past, and meeting new folks who have interesting stories to tell. This time was no different. Balancing a plate of delicious appetizers from Copper Kitchen and a glass of wine provided by North Charles Fine Wine & Spirits, my husband and I soon found an empty spot at a table and introduced ourselves to Cori Daniel and Carlotta Williams. Turns out they were actually a teaching artist/teacher team who would later explore the book, Tar Beach, a story by artist Faith Ringgold recalling the dream adventure of a young girl flying high above her neighborhood in 1939 Harlem.
No matter the genre, the goal is making sure the children stay focused on the subject matter, sneakily presented as a lot of fun.
But I didn't know this yet. What I did find out though was how long they had been teaching, what they taught, and I got to observe their obvious enthusiasm for the children and learning. Their animated conversation about their SALA classroom was fascinating, as were their fond memories of inspiring kids to learn while the children used their imaginations to improve their reading scores.
Oh, did I just use inspire, imagine and improve in one sentence? Yes, I did, and that is, of course, no accident. Having witnessed teachers and children in action in several of SALA's classrooms this summer, and getting a chance to actually engage in it myself during Art Crawl is to truly understand how those three words create an arts-integrated learning environment that SALA uses to stem summer learning loss and bridge the Inspiration Gap.
In SALA's five-week summer classrooms, kids use a wide variety of art techniques to help them master core subjects – whether it's textile art to illustrate a story they are studying or rapping their multiplication tables or dancing to show character development. No matter the genre, the goal is making sure the children stay focused on the subject matter, sneakily presented as a lot of fun.
And so it was. In the segment taught by the second-grade teacher and teaching artist I had just met, we warmed up with some dance movements to highlight acting concepts. Then we looked at the pictures in the book and explained what we saw in them. Finally, we paired off and used our imaginations to explore a special place for us – one that made us feel warm and welcomed.
Next up was a math segment, guided by teaching artist Nadia Rea Morales and teacher Jose Hernandez. With a chart in the room illustrating ones as yellow, tens as red, and hundreds as blue, I created a Piet Mondrian "masterpiece."  The focus was to teach second-graders their ones, tens, and hundreds places and the relationships between digits and their place value. My own memory of learning such things was of boring, rote exercises that left me cold. Here, I hadn't had so much fun with scissors and construction paper in ages. And to think – I was learning math!
I ended the evening with teaching artist Christina Cook, who was surrounded by a variety of percussion instruments. As she demonstrated how these were used to sound out the syllables in words, I noticed how she was combining both math and vocabulary – a certain number of syllables to express a phrase, as she beat the rhythm on her drum.  She then handed out instruments and instructed us to follow along.
In addition, she said she used this technique to help the pre-K kids she taught to express their emotions. At first, she told us that the students mostly stuck to "happy" or "sad," but soon she noticed that, as the kids gained confidence with the percussion pieces, their emotional range expanded, too. Now they were "curious" and "frustrated" and "ecstatic." She admitted that she was impressed with the varying emotions the kids conveyed as well as the fact that they already had the vocabulary to communicate it. They had only needed the little nudge the music gave them to open up and express themselves more fully.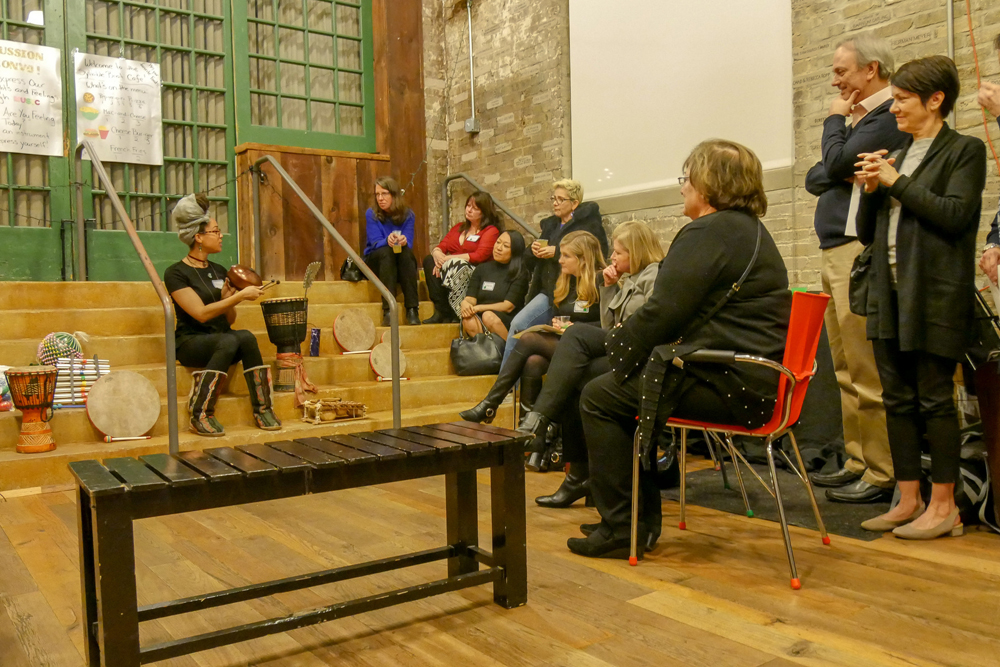 I have to admit – Inspire, Imagine, Improve is a mantra I can really get behind. Because each time I've attended Art Crawl, I come away inspired by all the people who donate time, expertise and/or money to make SALA a reality for 2,100 elementary school-age kids.  I can only imagine how much harder it would be for the children and their teachers if this summer program didn't exist. And I know that Young Audiences' aim to improve test scores and access to arts-integrated learning is something I'm behind 100 percent.
Wouldn't you like a little Inspire, Imagine, Improve in your life?  Come join us next year and I think you'll find your own stories of imagination that inspire you to improve. Until then, Happy Holidays!
Young Audiences is excited to announce the arts and culture worksite partners for the 2018 Bloomberg Arts Internship in Baltimore. This year's expansion of the program meant that we needed to partner with even more of Baltimore's high-quality, renown institutions than we did last year. In order to fully serve the needs of the incoming cohort of interns, we increased the total number of worksite partners from 14 to 20. Bloomberg Arts interns will be gaining tremendously valuable experience working and learning three days a week at one of the following 20 local arts and cultural organizations this summer:
Internship projects vary among organizations to include production, education, development, community engagement, artist engagement, video, music, administration and more. Last year's interns worked on everything from curating museum exhibits, to integrating technology into museum experiences, to engaging young children in arts activities. At the end of the program, interns create final presentations highlighting their experiences, sharing with the community the new skills and interests that have developed over the course of their internships at each site.
"I love being at the Bloomberg Arts Internship. You guys have helped me grow in the working field and I would not trade out the people I have met for anything in the world." –Triaje Eaddy, 2017 BAI intern
A large network of community partners are working to prepare 35 hard-working and motivated Baltimore City Public High School students for higher education and careers in the arts. Baltimore is rich with not only excellent arts and cultural institutions, but with the phenomenal people whose contributions and passion make those very same organizations so great. "I love being at the Bloomberg Arts Internship," said 2017 BAI intern Triaje Eaddy. "You guys have helped me grow in the working field and I would not trade out the people I have met for anything in the world." Introducing young minds to the people, all of the incredible possibilities, and the many opportunities open to them in a career in the arts is a great gift to us all.
The Bloomberg Arts Internship is managed by Young Audiences through the support of Bloomberg Philanthropies. Learn more about the program here.
Categorized:

Bloomberg Arts Internship, News, Summer Learning

Tagged:

Art With a Heart, Arts Every Day, Baltimore Center Stage, Baltimore City Public Schools, Baltimore Creatives Acceleration Network, Baltimore Museum of Art, Baltimore Symphony Orchestra, Bloomberg Arts Internship, Bloomberg Philanthropies, Creative Alliance, Dance and BMore, Everyman Theatre, Maryland Film Festival, Maryland Historical Society, Maryland Institute College of Art, Maryland Public Television, Port Discovery Children's Museum, Reginald F Lewis Museum, Sheridan Libraries, Single Carrot Theatre, summer internship, The Peabody Institute, The Walters Art Museum, Wide Angle Youth Media, Worksite Partners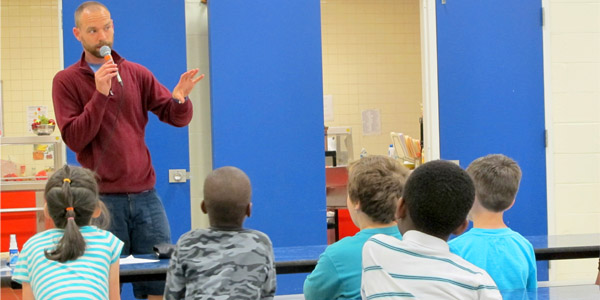 By Katie Keddell, Young Audiences/Arts for Learning Office and Volunteer Manager
This story was originally posted as a part of the Americans for the Arts Teaching Artist Blog Salon in March 2014. See all of the salon posts here.
On Saturday, February 1, I had the wonderful opportunity to watch Young Audiences/Arts for Learning teaching artist, Max Bent, work. We were not in a classroom and we were not in an official Young Audiences program at a school or community organization. Instead, we were joining our neighbors, Single Carrot Theatre, in welcoming the neighborhood to our new home at 2600 North Howard Street in Baltimore. Max was offering a musical demonstration to anyone who walked in to say hello and hear more about Young Audiences. After an hour of recording sounds visitors played on a small steel drum and various other eclectic instruments, Max created a symphony of sounds by layering impromptu measures of four beats on top of each other. As he taught, I was struck by one phrase he kept repeating: "We have to re-harness the things that happen by accident." I instantly connected this idea to my research as a graduate student.
As we talk about the young people in our state and across the country, one major trend is the desire to teach our students what one popular researcher calls, "Grit." As defined by TED Talk speaker Angela Lee Duckworth:
"Grit is sticking with your future—day in, day out, not just for the week, not just for the month, but for years—and working really hard to make that future a reality."
Passing a paper test with a singular focus cannot teach this tenacity, but overcoming a challenge does. In 10 minutes, I saw Max demonstrate how he teaches grit through the arts-integrated programs he brings to Maryland schools. Our guests saw the value of sticking with the exercise themselves and heard the physical evidence created by their instruments. Each individual walked away with a small but powerful example of success through staying with something despite no prior knowledge of the steel drum or the technology Max was using to record and layer sounds
Before Max joined Young Audiences, he did not see a connection between his art and the school curriculum. Max applied to participate in the Teaching Artist Institute (TAI), a training program for artists developed by Young Audiences in partnership with Arts Education in Maryland Schools Alliance (AEMS) and the Maryland State Arts Council (MSAC), to deepen his knowledge of how the arts can naturally connect to the curriculum and engage students in learning. After successfully completing the program, Max now has a collection of lessons that connect beatboxing and music to a multitude of subjects, such as probability, fractions, graphing, and phonics.
That's what excites me most about Young Audiences: the belief in arts integration. For me, it's not only about teaching the future generation aesthetic appreciation, it's also about finding the ways that divergent thinking and practical application speak to the future of what our children learn and believe they can achieve. It's about giving all students a chance to explore their talents, giving them a safe environment to take risks, to make mistakes, to achieve, and to persevere. It's about teaching grit.
Young Audiences' roster of more than 110 professional artists inspires Maryland students each day. Teaching artists bring music, dance, theatre, and visual arts into schools and classrooms throughout the state–sharing their artistic knowledge with students, but also engaging them in learning in a new way. Students are exposed to art forms that they have never seen before, learn about new cultures, and discover new things about themselves and their abilities. To celebrate Maryland YA Week, we knew we had to call upon our artist partners to help us infuse this week's celebrations with the same artistic expression, creativity, and fun that they share with Maryland students throughout the year.
Young Audiences roster theatre ensemble Single Carrot Theatre answered our call by performing a dramatic reading of the gubernatorial proclamation. Watch the video below!
[youtube http://youtu.be/b9YNTdQBSYo]
Many, many thanks to Single Carrot for lending their talent to this video and joining our celebration of Maryland YA Week 2014. You can learn more about Single Carrot's assembly performance for schools here! Also, be sure to check out their upcoming show "The Memo" by Vaclav Havel, running April 2 to 27.
You can join the celebration, too!
If you believe, like we do, that learning  in and through the arts gives students opportunities to imagine, create, and realize their full potential, help us recognize the importance of arts education this week by spreading the word online. Check back in with the Young Audiences Blog and follow us on Facebook and Twitter as we continue highlighting the work of our artists and ensembles in schools every day.
To see all Maryland YA Week news, click here.
Click here to learn more about Governor O'Malley's Maryland Young Audiences Arts for Learning Week proclamation.
"Arts education enables students to develop critical thinking and problem solving skills…which supports academic success nationwide as well as personal growth outside the classroom."
– U.S. House Resolution
As designated by a U.S. House of Representatives resolution, this week, March 16 to 22, 2014, is National Young Audiences Arts for Learning Week! More than 30 Young Audiences affiliates from California to Massachusetts will take part in celebrating Young Audiences Arts for Learning's collective impact on schools across the nation.
Here in Maryland, Governor Martin O'Malley has issued a proclamation that this week will also be recognized as Maryland Young Audiences Arts for Learning Week, to recognize the contributions which Young Audiences/Arts for Learning programs make in transforming the lives and education of nearly 170,000 Maryland students each year through the arts, and to promote awareness of the role that the arts play in enriching the education of students and Maryland society as a whole. You can see an image of the full proclamation or read the full text as a PDF document here.
This Monday through Friday, 5,225 Maryland students will take part in a Young Audiences program, whether it be a residency, assembly performance, workshop, or early learning program. Highlights include Single Carrot Theatre's performance of Rumpled, a fractured fairy tale version of Rumpelstiltskin that explores issues of cheating and plagiarism; Rockcreek Steel Drums' assembly "The Birth of Steel Drum Music," which teaches students about the history of and science behind steel drums; and Diana Saez's smART stART professional development workshop that teaches educators how to find the natural connections between music and various subject areas.
Help us celebrate National and Maryland YA Week by joining the conversation online and spreading the word. Be sure to check back in with the Young Audiences Blog and follow us on Facebook and Twitter. Throughout the week we'll be highlighting the amazing work of our artists and ensembles who are bringing arts learning experiences to Maryland students this week. We are also using this occasion to ask those running for governor for their views on arts education. We've extended the invitation to all candidates to answer two questions (posted here) and will be sharing their responses here on the Young Audiences Blog later this week.
To see more news about Maryland YA Week, click here.
We started 2014 off big: moving into a brand new space in the restored former tire shop at 2600 North Howard Street in Remington.
Everyone has been talking about our big move (the Baltimore Sun recently featured the new development), but we want to give you a firsthand look at what's really going on inside our spacious new home. Check out this short virtual tour for a glimpse into our new offices, and a look back to how far we've come since the organization's start in 1950!
[youtube http://www.youtube.com/watch?v=LkL6Jgh-ggE]
Come see us in person at our Open House event on Sunday, February 16, from 1 to 3 p.m. There will be Young Audiences staff and roster artists on hand to provide interactive and artistic entertainment as well as impromptu tours of the space. The whole family is welcome! RSVP here if you plan to attend. Stay updated on the schedule of events and entertainment by joining the Facebook event.
While you're here, you can also see our neighbor (and roster ensemble) Single Carrot Theatre's final matinée performance of "The Flu Season" at 2:30 p.m. Learn more about the show and buy your tickets online. Discounted tickets are available for $10 by using the coupon code YAMD. Tickets are expected to sell out quickly for this final show, so please purchase your tickets early! (Please note: This particular show is best suited for theater-goers 18 years and older.)
Not able to make it on February 16? Sign up for one of our monthly On the Bright Side tours to see our new space and learn about our programs and their impact on Maryland students. You'll get the chance to talk with one of our teaching artists, our executive director, and a member of our board, all while learning more about our work of bringing the power of the arts to Maryland students and educators.
Hope to see you soon!