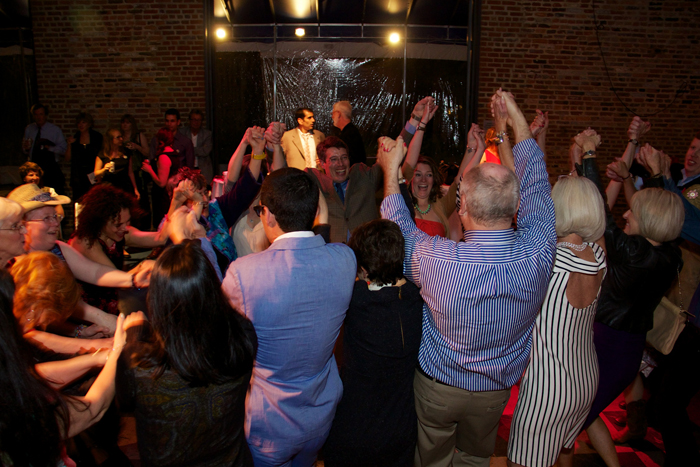 Taste the Arts X:
An evening of performance and culinary art!
Friday, May 6 at the Hippodrome Theatre in Baltimore
The lineup for our 10th annual Taste the Arts Fundraising Gala is set! We've put together another fantastic evening featuring award-winning artists and top culinary talent in Baltimore.
The best part? When you buy your ticket, you support Young Audiences' programs and mission to bring high quality, low-cost arts experiences to Maryland schoolchildren! Last year we delivered arts experiences to 183,153 students in Maryland. With your ticket purchase, we can keep it up – and do even more.
At Taste the Arts, we'll transform all three levels of The Hippodrome Theatre into a celebration of the arts through live performances and interactive arts experiences, with food and drink served on all three floors. Here's a taste of what to expect:
Taste delicacies from 25 restaurants:
Absolutely Perfect Catering
Alma Cocina Latina
Argosy Café
Baltimore Waffle Company
Blackwater Distilling
Blue Pit BBQ
Brio Tuscan Grille
Charm City Cakes
Charmington's
Chiapparelli's
Clavel
Gertrude's
Golden West Café
Heavy Seas Alehouse
La Cuchara
Maggie's Farm
Mother's
Teavolve
The Charmery
The Food Market
The Hipp Cafe
The Local Oyster
The Oceanaire
The Scratch Mill Kitchen
Tio Pepe
Wine from Noble Vintners
Beer from Union Craft Brewing
On the menu from Clavel is Cochinita Pibil, a traditional Mexican slow-roasted pork dish, with a side of Hex Ferments special slaw. The tapas-inspired menu from La Cuchara features Charred Broccoli Pintxo and Pickled Mushroom Pintxo. The Local Oyster will be shucking out sustainably farm-raised raw oysters. Maggie's Farm is serving chicken liver pate with fig jam on baguette and Heavy Seas Alehouse brings it home with Smoked Brisket Mac & Cheese. On the sweet side, Baltimore Waffle Co. will serve up Belgian Liege Waffles and Gertrude's presents a twist on a Baltimore classic with its Berger Cookie Cheesecake. Local winery, Noble Vintners, has graciously donated wine, and Union Craft will be on hand, offering their award-winning brews!
Don't miss 9 live performances and interactive art demonstrations, including: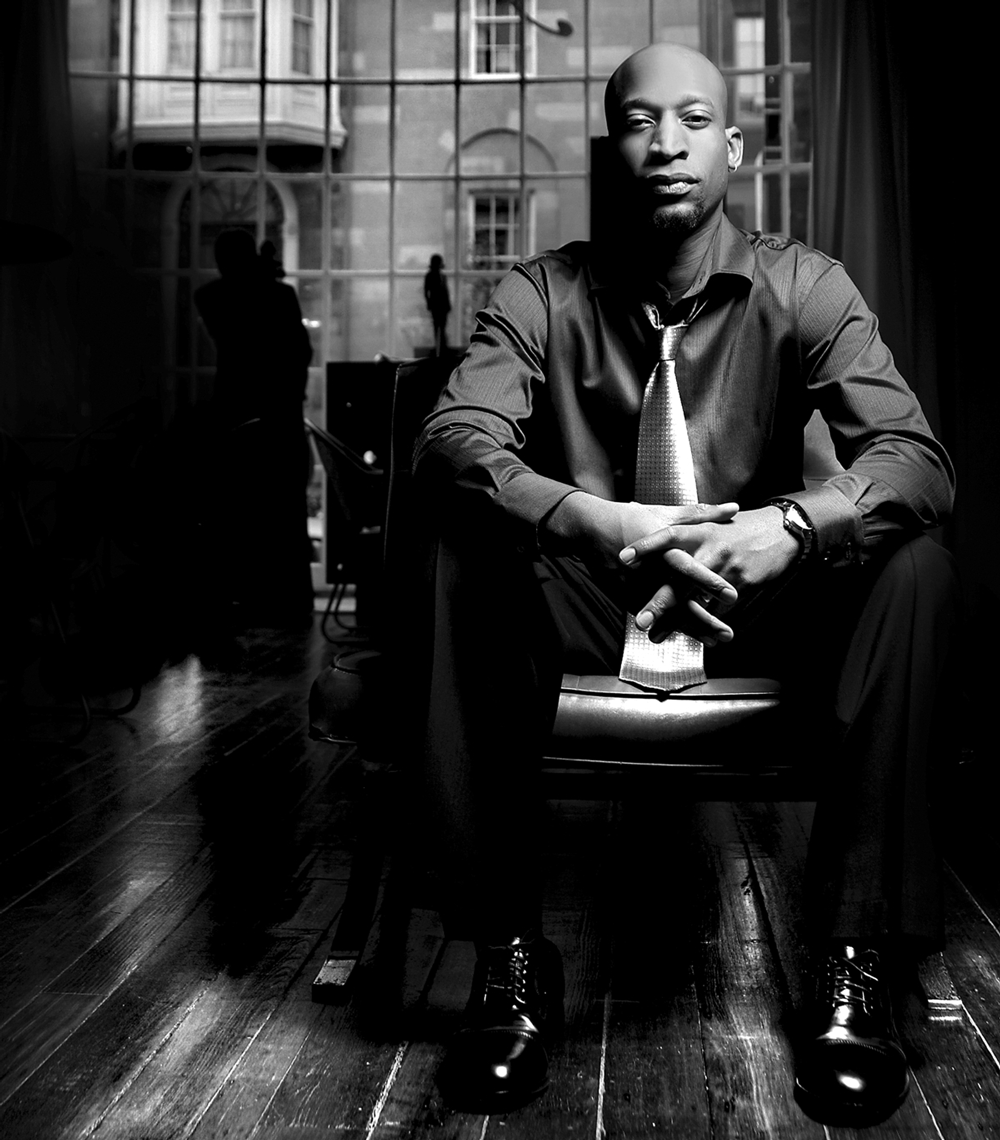 A collaborative music production composed and directed by Wendel Patrick, YA Artist and 2015 Baker Artist Award Winner, and performed by Peabody Institute musicians Jahi Alexander, Blair Skinner, Louna Dekker-Vargas, and Yoshi Horiguchi and YA artists Max Bent, Wendel Patrick, and Jamaal Collier—2016 Artist of the Year.
I don't want to give away TOO much. But at Taste the Arts, I'll be working with an arrangement from one of my favorite hip hop producers." —Wendel Patrick, 2015 Baker Artist Award Winner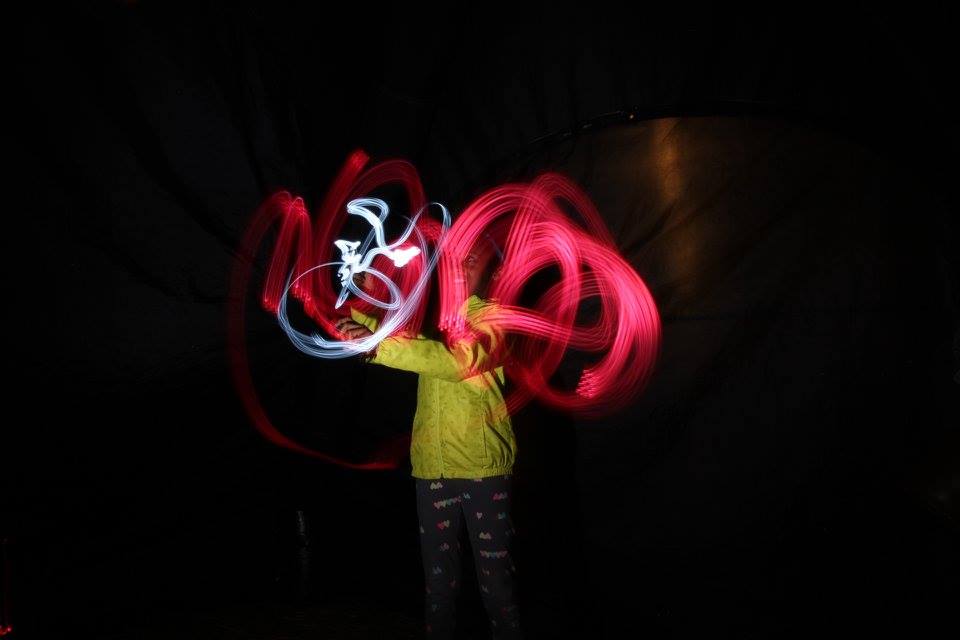 Interactive "light painting" with maker-educators FutureMakers (fresh from Light City!)
Get ready for light painting with LED brushes at Taste the Arts! You'll even be able to email your creation home!" —Matt Barinholtz, FutureMakers

Indian classical dance performance by NRITYA
I have had the opportunity to be a performer at several Taste the Arts over the years, and I am excited to be a part of the 10th Taste the Arts gala," she said. "When my students perform with me at the gala, it is a wonderful experience for them as they get to showcase their talent and culture through their performance to the guests. It is almost as if they are cultural ambassadors." —Lakshmi Swaminathan, NRITYA, as quoted in the article "Tasty fundraiser hits the Hippodrome" on Avenue News.com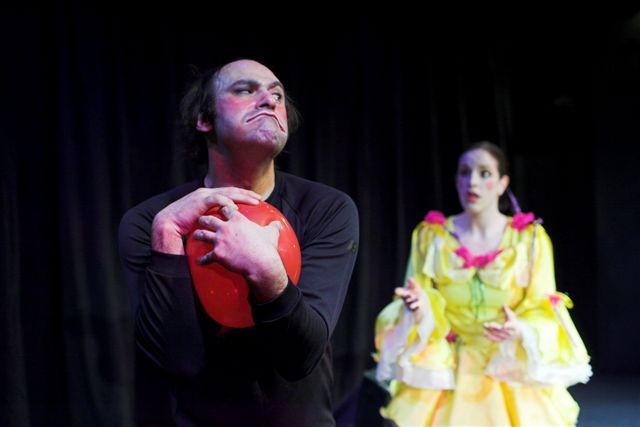 Pantomime theatre from DC's award-winning Synetic Theater
The Magic Balloon is a series of hilarious sketches synthesizing music, ballet, clowning, and audience participation. At Taste the Arts, you'll discover the art of acting without words and open the door to your imagination. 'Balloon' tells a wonderful story of a traveling actor and his magical trunk of tricks and toys." —Tori Bertocci, Synetic Theater
Plus:
Acoustic roots and blues music by Curtis Blues
Screen painting with John Iampieri
Performances by Thomas Jefferson Elementary/Middle School's String Ensemble and Kindergarten ballet dancers
Kevin Martin of Rockcreek Steel Drums performing with students from the Holistic Life Afterschool Program at Robert W. Coleman Elementary School
Taste the Arts also includes a live and silent auction with one-of-a-kind items and experiences and an awards ceremony honoring Maryland's arts-in-education leaders, including 2016 Artist of the Year Jamaal Collier, who has more than a decade of professional experience facilitating Hip Hop workshops and live performances across the state.
"I'm thankful to have an effect on kids' lives and for the effect they have on me. Every human has talent. YA helped me to build skill within that talent. I have become a better artist because of YA." —Jamaal Collier, 2016 Artist of the Year
Tickets are only $100 and ensure high-quality art experiences for Maryland schoolchildren. We're expecting hundreds of artists, educators, and arts supporters in attendance and hope to raise $150,000. Get your tickets now!
—
Can't make it to Taste the Arts?
You can still be part of our fundraising efforts by bidding on some fantastic items in our online auction—happening now through Thursday, May 5. There are still a bunch of great items available with low or no bids, and several new items were just added this week!
Categorized:

News

Tagged:

Baltimore City, Curtis Blues, dance, FutureMakers, Hip Hop, Jamaal Collier, John Iampieri, Kevin Gift, Kevin Martin, Max Bent, Music, NRITYA, Peabody Institute, percussion, Rockcreek Steel Drums, steel drum, Synetic Theater, Taste the Arts, theatre, Thomas Jefferson Elementary Middle, visual art, Wendel Patrick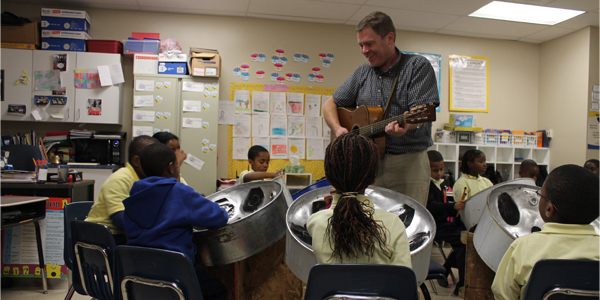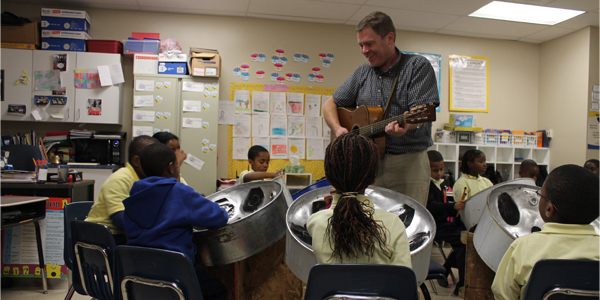 By Lindsay McLaughlin, Alternative Therapies Coordinator, The Pathways Schools
The Pathways Schools held its third annual Student Art Show on April 30. The event is a showcase for student creativity and artistic expression and is an opportunity to recognize standout partners, such as family members, Pathways staff and board members, businesses and agencies who employ or provide internships for our students, teaching artists who carry out residencies at our schools, and many others. This year's Community Partner of the Year was Young Audiences teaching artist and musician Kevin Martin of Rockcreek Steel Drums for his dedication to bringing steel drum music and the vitality of Caribbean culture and history to our students.
During his residencies with students, Kevin teaches the basics of the steel drum, melody, rhythm, and so much more. Our students learned about another culture and saw a different way of seeing the world and themselves. Kevin has an ability to connect with students through music. That ability, along with his patience and consistent encouraging attitude, has made Kevin a sought-after teaching artist here at Pathways.
A couple years ago, our Pathways teachers and therapists were looking for ways to bring music into our schools so I asked Young Audiences staff to recommend a musician who could connect with our students. Thus Kevin came to us. He has completed no fewer than five residencies at Pathways in four of our six schools during the past two years. Next year, he is scheduled for a residency at a fifth school.
We are very grateful for Kevin, his commitment and talent, and also for organizations like Young Audiences that advocate for and make it possible for artists to come into our schools, work with our teachers and staff, and enhance the education and indeed the lives of our students and staff.
There's a bigger picture here as well. As Pathways educators, we know that the best learning often doesn't take place behind a desk. Our students thrive in a variety of learning environments, including museums and libraries, to job sites, such as ships sailing the Potomac tributaries and production studios at local television stations. Similarly, they learn best using a variety of means, like while playing a steel drum or molding a mosaic tile. This is because as human beings we need many avenues to take in the world and to release the prodigious power of our imaginations. This is what art does for us. It is an accessible way for us to connect our minds to the world that surrounds us. It gives us a way to communicate who we are–our ideas, thoughts, new understandings, and what we perceive
This is why it is critically important that we keep the arts vibrant in our schools for our students. How much better it is to experience the vitality of Caribbean culture through a steel drum compared to a textbook. How much better it is to feel the edges of a mosaic piece and use it to create an image with personal significance than look at a geometry chart or the dictionary entry for "symbol." Art is how information becomes tangible and how knowledge becomes understanding. This is the sort of transformation that artists who come to work with our students facilitate every day. In turn, they are supported by dedicated arts educators and advocates who ensure that they are able to do what they do, particularly local and state arts councils and nonprofit organizations like Young Audiences.
Art–human expression in all its forms–should never be on the margins, whether we are talking about our communities or our schools. Thanks to the efforts of artists like Kevin and organizations like Young Audiences, it isn't. Congratulations to the Pathways Community Partner of the Year Kevin Martin.
Learn more about Kevin and his program offering for schools.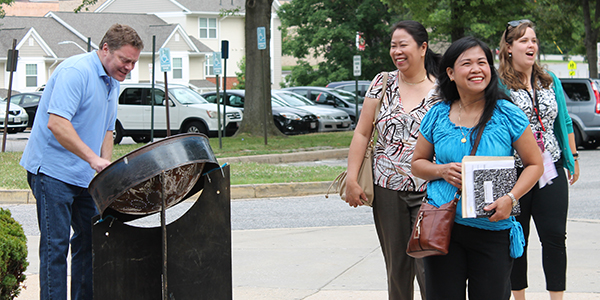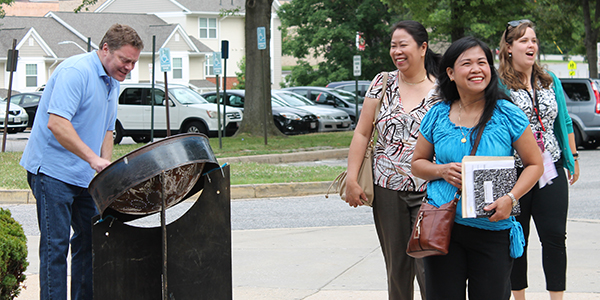 The school year may have ended, but for Young Audiences, that doesn't mean the fun, arts-integrated learning stops. Young Audiences has again partnered with Baltimore City Public Schools to bring arts enrichment activities to seven Baltimore City 22nd Century Pioneers Arts-Based Summer Camp sites. In addition, for the first time Young Audiences is also managing an eighth completely arts-integrated camp site at Edmondson Westside High School. The 22nd Century Pioneers Summer Camp is free to Baltimore City Public Schools middle school students.
At the Young Audiences camp, nearly 150 students will explore math and science concepts through the arts in classes and arts enrichment activities led by Baltimore City teachers and Young Audiences artists during the five-week program. Students can select the art form they will focus on during enrichment sessions, with choices including dance, photography, illustration and mural painting, theatre, Hip Hop, steel drum, or VEX robotics.
Because this is the first-ever Young Audiences arts-based summer learning site, we thought it deserved an equally spectacular kick-off event. As students arrived, what better way to greet them than with the arts?
On Monday, June 30, as students walked up to the school for the opening day of camp, the first thing that hit their ears was the sound of a steel drum being played by Young Audiences roster artist Kevin Martin of Rockcreek Steel Drums. Kevin has been building and playing steel drums for more than 20 years; this summer, he will show students how the instrument connects to math.
See more photos from the Young Audiences arts-integrated summer learning site!
On the way into the building, students passed the dancing Valerie Branch, a new Young Audiences artist whose energetic moves caused many to stop and watch. Valerie will get students moving while studying science this summer. Those walking in also got to witness the Hip Hop talents of musician Jamaal "Mr. Root" Collier, who will use his skills to bring math to life. Bridget Cavaiola of Baltimore Improv Group used improvisational theatre techniques to direct students inside the building. With her help, students will learn how theatre can make abstract science concepts concrete.
The excitement wasn't just at the front of the school. Once inside, students had the opportunity to take part in photographer Christina Delgado's photo booth, dressing themselves in hats and glasses before striking poses. Students will have the chance to go behind the lens with Christina to learn the art of photography and its connections to math. Visual artist Danyett Tucker will link illustration to science. As students looked on, she created a colorful mural with images of various art forms incorporated into the design, from music notes to microphones to Polaroid pictures. Students were invited to create murals of their own, as each table was decked with markers and a giant sheet of paper.
All children, regardless of their resources or where they live, lose some math skills during the summer. Studies show that economically-disadvantaged students also lose literacy skills during this "summer learning slide." Experts believe that the achievement gap between middle- and low-income students not only grows during the summer—it exists largely because of the summer.
Programs like 22nd Century Pioneers provide students with a safe place to go during the day, access to free healthy meals, adequate adult supervision, and positive, educational activities. This summer Young Audiences artists will connect students with new experiences through the arts as they learn about math and science in a new way and build their self-confidence as they gain knowledge and skills.
Check back in with the Young Audiences blog throughout July as we look at how these artist and teacher pairs are using arts integration in their classrooms.
Happy summer and happy learning!
Categorized:

News

Tagged:

22nd Century Pioneers Summer Camp, achievement gap, arts integration, Baltimore City Public Schools, Baltimore Improv Group, Christina Delgado, dance, Danyett Tucker, Edmondson Westside High School, Hip Hop, illustration and mural painting, Jamaal Collier, Kevin Martin, photography, Rockcreek Steel Drums, steel drum, summer learning, summer learning loss, summer learning slide, theatre, Valerie Branch
Young Audiences' artist roster includes professional teaching artists who are both highly skilled in their art form and passionate about engaging students in learning through their art. Our artists are experts at highlighting the natural connections between their art and the curriculum, including everything from world history to math to literature. Every Young Audiences program both shares skills specific to dance, music, theatre, or visual arts and offers students the opportunity to learn about other curricular subjects in a new way.
For Young Audiences artist Kevin Martin, art links directly to science. Kevin is an artist who specializes in building and playing the steel drum, an instrument that requires a vast amount of scientific knowledge in its production. Kevin was recently interviewed in Trumpf Express, a magazine dedicated to sheet metal processing, for his scientific expertise. In the article, Kevin points to studying the carbon content and thickness of the metal as well as balancing strength and flexibility as some of the essential aspects of creating a drum.
Kevin brings steel drum music into schools through assembly performances and hands-on workshops with students and educators. During residency programs like the Steel Drum Experience and professional development programs for educators, such as Steel Drums in the Classroom and The Physics of Steel Drums, Kevin brings dozens of steel drums into the classroom so students and teachers can try their hand at playing the instrument and experience how physics concepts play a role in the sound of the drum. As Trumpf Express notes, "last year, he visited 100 schools with up to 100 students at a time, and thanks [Young Audiences], Kevin is able to provide many with drums of their own."
Though Kevin is accomplished in both the science side of production and the artistic side of playing, when asked what he loves to do most, Kevin responded, "I love all of it."
Read the full article by clicking on the image below.
Watch Kevin speak about his passion for steel drums at TEDxChesterRiver here.
"Arts education enables students to develop critical thinking and problem solving skills…which supports academic success nationwide as well as personal growth outside the classroom."
– U.S. House Resolution
As designated by a U.S. House of Representatives resolution, this week, March 16 to 22, 2014, is National Young Audiences Arts for Learning Week! More than 30 Young Audiences affiliates from California to Massachusetts will take part in celebrating Young Audiences Arts for Learning's collective impact on schools across the nation.
Here in Maryland, Governor Martin O'Malley has issued a proclamation that this week will also be recognized as Maryland Young Audiences Arts for Learning Week, to recognize the contributions which Young Audiences/Arts for Learning programs make in transforming the lives and education of nearly 170,000 Maryland students each year through the arts, and to promote awareness of the role that the arts play in enriching the education of students and Maryland society as a whole. You can see an image of the full proclamation or read the full text as a PDF document here.
This Monday through Friday, 5,225 Maryland students will take part in a Young Audiences program, whether it be a residency, assembly performance, workshop, or early learning program. Highlights include Single Carrot Theatre's performance of Rumpled, a fractured fairy tale version of Rumpelstiltskin that explores issues of cheating and plagiarism; Rockcreek Steel Drums' assembly "The Birth of Steel Drum Music," which teaches students about the history of and science behind steel drums; and Diana Saez's smART stART professional development workshop that teaches educators how to find the natural connections between music and various subject areas.
Help us celebrate National and Maryland YA Week by joining the conversation online and spreading the word. Be sure to check back in with the Young Audiences Blog and follow us on Facebook and Twitter. Throughout the week we'll be highlighting the amazing work of our artists and ensembles who are bringing arts learning experiences to Maryland students this week. We are also using this occasion to ask those running for governor for their views on arts education. We've extended the invitation to all candidates to answer two questions (posted here) and will be sharing their responses here on the Young Audiences Blog later this week.
To see more news about Maryland YA Week, click here.