Written by Barbara Krebs,
Young Audiences volunteer and Sunburst Society member
As a Young Audiences volunteer, I've been fortunate enough to watch a variety of artists at work in the classroom. And the results always amaze and humble me. Whether it's rapping the multiplication tables, or acting out a storyline, or drawing to illustrate a book's theme(s), I love how the arts grab kids' attention and not only hold it, but draw them out, asking questions, trying out new ideas, and expanding their horizons.
But it dawned on me that I had never watched a class in its entirety–had never witnessed the full lesson plan. I finally got a chance to do so recently when I visited Ms. Bradley's eighth-grade Honors English class at Chesapeake Science Point Charter School in Hanover, Maryland. Over the course of a week, Gayle Danley, an internationally recognized slam poet, was there to guide them in writing their own poems.
Full disclosure: Gayle is a personal friend of mine. I met her five years ago when she mentored my daughter, Colette, who had been asked to speak at Young Audiences' annual Impact Breakfast. And over the years, I have watched her perform at YA events and in her own shows. But I had not yet witnessed her in action in the classroom.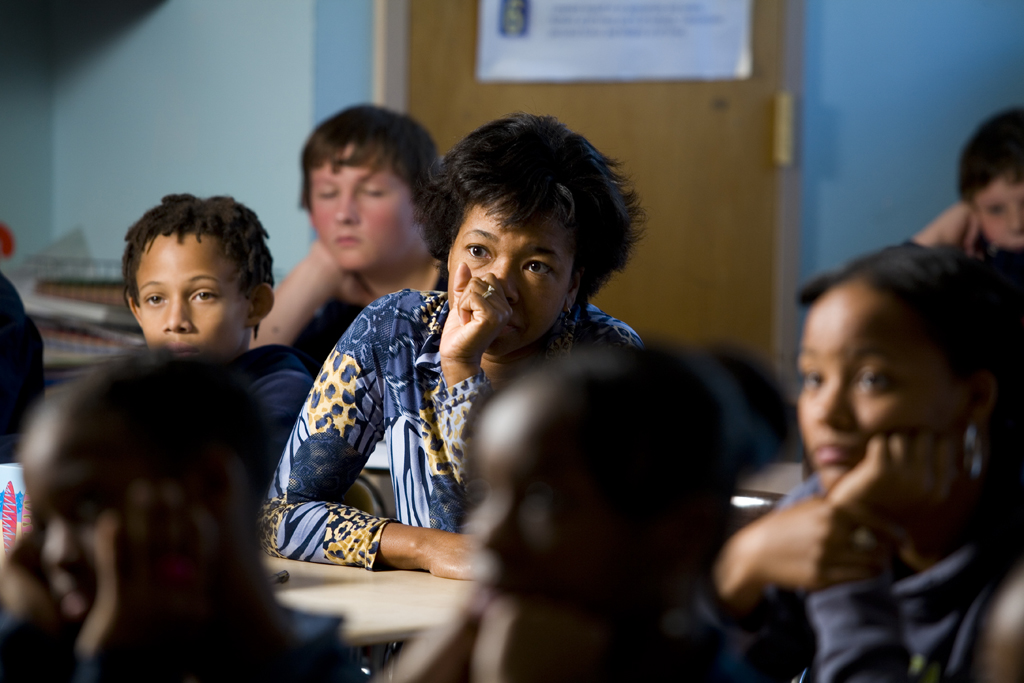 And so, I found an inconspicuous spot from which to observe. Gayle quickly got to the heart of the lesson. She had started working with the class on Monday, so she now asked for volunteers to read the poems they had written since then. She instructed them to listen carefully and write down two things: 1) a sentence or phrase they really liked; that they could truly identify with and 2) a sentence or phrase they didn't like or didn't understand.
"So, who wants to go first?" After a predictable silence, Gayle encouraged them, "Poets have to be afraid sometimes. I know you're afraid to share your work. But if you come up here, we'll support you."
After another quiet pause, one brave soul ventured forth. "Let's hear it for the poet!" Gayle shouted, and led the class in applause. Even so, the first girl almost returned to her seat. But by then, her classmates were shouting their own encouragement, "You got this!" "Own it–you're already up there!"  "You can do it!"
And so she read. Sometimes Gayle interrupted to ask her to slow down or to speak louder. Another time she stopped her to ask the class what they thought of one line, "how does that make you feel?" When the teenager had finished, Gayle again led the applause and praised her for being first.
Then she asked the class for their favorite and least favorite lines, and asked them to explain. At one point, Gayle focused on "f-a-i-t-h," which the young woman had spelled out rather than saying the word. She asked if that bothered anyone, threw them out of the poem temporarily because that's how Gayle had felt. And when there was no comment, she asked, "Ms. Barbara, what about you?"
And so, being honest, I answered that I had actually liked that because it made me truly pause on that word and think about it. Hopefully, that was a good teaching moment about how unique poetry is and that your own personal experience will guide your interpretation!
Back at the front of the classroom, Gayle pointed to words that were written on the board: Wring, Fling, Bling, Sing. "Let's talk about these for a while." And for the uninitiated (as I was), Gayle describes this as her writing process.
Wring: Wring the words out onto the paper like you're wringing out a washcloth. Just write it down!
Fling: Once it's on paper, fling out any words that aren't needed.
Bling: Now, add words that will really make your meaning stand out.
Sing: Finally, read it aloud and see how it sounds. Fling or Bling as needed.
As she described this, I laughed internally because I recognized my own writing process. Except I had always described it (skip this part if you're squeamish) as the vomit method. Throw it up on the paper and clean it up later. Leave it to a poet to be, well, more poetic about it!
And so it went. Kids coming to the front, reading their poems, a start-and-stop process to consider edits. "When you say 'ancestors,' I think it would be good to be more specific. What if you substituted 'Rosa Parks' for ancestors?"
"His color was dangerous," Gayle repeated from another poet. "What is dangerous?" she asked the teens. "A knife!" "A gun!" "A wild animal!" And with those words, she suggested illustrating the danger more concretely with a visual image that would strike the listener/reader.
As the lesson wound down, I gathered my things to leave. Did I mention there are no observers in this classroom? At the beginning of the lesson, the teacher had explained what she was looking for in an assignment that talked about regional differences and dialects in language. Before I could exit, I found myself surrounded by a group of three girls who asked me where I was from (North Carolina), how did I pronounce "pecan" (accent on the second syllable), what word do I use that generally isn't used in other parts of the country (y'all).
Signing off on their papers, I felt excited to be a part of their education even in such a small way, inspired to try this on my own, and happy to be a tiny part of Young Audiences' mission to reach kids through arts-integrated education. With Gayle's teaching style demonstrated, I am ready to Wring, Fling, Bling, and Sing on my own!
The Arts Empowered Minds Initiative (AEMI) is aimed at ensuring equitable access to the arts for Northern Anne Arundel County Public Schools through in-school arts integration, out-of-school arts programming, and professional development for teachers. Now in its second year, the initiative has been expanded to include all twelve schools in the region thanks to generous funding from the National Endowment for the Arts!

Notable among the additional schools is the North County High School (NCHS). All students in every other school impacted by AEMI are zoned to complete their secondary education at this high school. North County High School's new designation as an AEMI school will enable local students to continue their learning through arts integration throughout their school years. This creates a unique opportunity for the school to serve as a beacon for arts engagement, not just for high school students, but for the whole Northern Anne Arundel County community.
NCHS is already home to a variety of performing band and orchestra ensembles, and offers students the opportunity to become involved in a number of in-school and after-school arts activities. "The medium of music is a fantastic way to teach some wonderful life lessons as part of the comprehensive program at North County," wrote NCHS Music Director Theresa Bange on the school's extensive music program's webpage. The school climate encourages a culture of respect for the arts in its many forms. NCHS has also shown a commitment to innovation, offering special programs including the STEM (science, technology, engineering, mathematics) Magnet Program, the IT3 (International Trade, Transportation, and Tourism) Program, and the Early College Access program.
This year, the high school will participate in several arts-integrated opportunities where artists will professionally deliver instruction through the arts. Math Department chair Amy Goodman is leading the charge of integrating the arts at North County High. She is currently coordinating a residency developed by YA artist and spoken word poet Femi the DriFish in collaboration with the school's Algebra 1 team as well as collaborating with theatre artist, storyteller, and YA roster artist TAHIRA to develop a residency through the Teaching Artist Institute (TAI). Also through TAI, 9th grade algebra teacher Sarah Dobry is collaborating with steel drummer, Kevin Martin, integrating music with the curriculum!
"It's all about creating opportunities," said Mrs. Goodman. She recalled her experience working with teaching artist Carolyn Koerber in the previous school year. "There was one student who struggled all year, but finally felt success working with Carolyn. Bringing artists into the classroom is an amazing opportunity for not only our students, but for faculty as well."
We are looking forward to sharing the collaborative work of YA artists and educators in arts integration at North County High School over the next few months and for years to come.
The Arts Empowered Minds Initiative is the combined effort of many groups and individuals seeking to build a movement for increased equity through the arts in their community. With funding from the NEA in 2016, we built partnerships with Anne Arundel County Public Schools (AACPS), Chesapeake Arts Center (CAC), Arts Education in Maryland Schools Alliance (AEMS), Arts Council of Anne Arundel County, and University of Maryland – Baltimore County (UMBC).
Categorized:

News

Tagged:

AEMI, Algebra, Anne Arundel County, Anne Arundel County Public Schools, arts, Arts Empowered Minds, arts integration, drumming, Femi the Drifish, high school students, Kevin Martin, Math, Music, North Arundel High School, performance, poetry, residency, spoken word poetry, steel drums, STEM, TAHIRA, theatre, trigonometry
Young Audiences' roster of artists continues to grow to encompass new artists, ensembles, and art forms, from slam poets to improvisers to Capoeira masters.
We'll be regularly posting interviews with our artists, giving them a chance to share more about themselves and their experiences bringing their Young Audiences programs to schools. We recently sat down with Lakshmi Swaminathan of NRITYA.
How did you first hear about Young Audiences? What made you decide to become a roster artist?
During the 1990s, I lived in New York City where I was working as a dance teacher for Young Indian Culture Group. During that time, I connected with another New York City dance organization called Battery Dance Company when I was introduced to the executive director Jonathan Hollander. He invited me to his studio to attend a workshop where I met another classical Indian dancer, Janaki Patrik, who was a roster artist with the New York chapter of Young Audiences.
Janaki asked if I would be interested in becoming a Young Audiences artist and of course I said absolutely! So I joined her group, Caravan, an Indian dance ensemble. Later on in life, I moved to Maryland and took a few years to be a stay-at-home mom with my daughter. When I decided to get back into dance, I checked to see if the Maryland chapter of Young Audiences had showcased any Indian dancers or artists before. I shot an email to the former executive director asking if Young Audiences would be interested in having me as a new roster artist. Immediately following a positive response from the executive director, I completed a 45-minute assembly audition and that was it! I have been a member of Young Audiences/Arts for Learning Maryland since 2002.
What has been the most memorable part of the programs you have brought to students with Young Audiences? Do you have a favorite memory from a program?
So many! What NRITYA does is so different that I have seen evidence of it affecting children in so many positive ways. We have gone to many different parts of Maryland, including some very rural towns where experiences have stood out to me.
In these specific instances, I realized that some of the children seemed to be confused by the idea of what an "Indian" person is. I have received questions like: "Do you wear feathers in your hat?" or "Are you a queen?" It has been those types of questions that made me realize that these children have no clue what my heritage is. Upon first impression, they often identify me as a Native American rather than Indian. Through our programs, I have to first introduce them to the country of India and explain the difference. By allowing them to see an authentic Indian dance performance, we are giving them a glimpse into a different world and culture. They begin to experience something that is outside of their own comfort zone. It truly broadens their perspective.
How does your art form help connect students to what they are learning in school?
From the curriculum perspective, it helps students develop in social sciences. They spend time investigating the living history behind the cultures that they are learning about. Dance opens them up to the idea of freedom of expression. My dances tell stories. I usually do fables which have a very Western background. The fact that I am using the Indian dance form to tell a Western story forces children to realize that the medium of dance is not limiting. If you are able to successfully tell a Western English story through Indian dance moves, you can do almost anything! You can be creative and explore that creativity while having fun.
Through one of my dance residencies, "Indian Immersion," the children actually get to wear authentically-made Indian clothes and immerse themselves further into the Indian culture. The kids love it! After one residency a teacher came up to me to say: "There is a boy in my class who would usually never participate or want to be involved in classroom activities. I was amazed to walk in and see him there dancing with you!" To watch kids just get up, start moving, and enjoy it is touching.
How do the lessons and skills you teach students about or through your art form apply to their everyday life outside of the classroom?
I think it broadens their perspective to a greater world outside of their own. I tell the children that India is a place very much like America. I have had kids ask if my studio would allow dancers to come in who are not of Indian descent. I tell them that you don't have to be Indian to perform Indian dance!
After my program, children become culturally aware. They begin to notice differences between themselves and other people. They notice differences between the food we eat, our outfits, communication, and how we express stories and emotions through dance. Yet at the same time, they realize that dance is dance. It's a medium of expressing oneself. It is a medium of using your body to tell a story no matter what culture you come from.
When we bring Indian dance to students, we give them an opportunity to step outside of their schools, and see beyond their immediate neighborhoods. This is a way of letting them know that it is all right to be different. It's all right to be creative. It's all right to embrace art. There is a world outside of academics that allows children to grow.
Learn more about NRITYA's offerings through Young Audiences.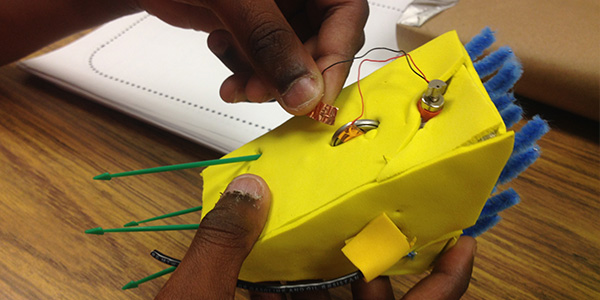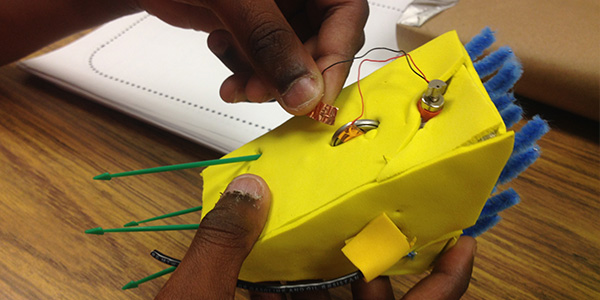 During the last two years, our roster has grown in size to encompass new artists, ensembles, and art forms. From slam poets to improvisers to Capoeira masters, these new artists are undeniably unique.
To introduce audiences to our new artists, we'll be posting interviews with those who recently joined our roster, giving them a chance to share more about themselves and their experiences with Young Audiences so far. We recently sat down with Matt Barinholtz of FutureMakers.
What is your background as an artist?
FutureMakers started from work I was doing as a visual artist and sculptor with other makers and educators. I was frequently asked if I could bring the type of work I was doing to classrooms. I had met artists, engineers, and technologists that wanted to do projects with young people, but didn't feel confident about how to approach it. I wondered if an organization could connect makers and educators, so both could build their skills.
During the summer of 2012, I was invited to work with a supportive cohort of community colleges in Maryland to bring STEAM workshops (Science, Technology, Engineering, Arts, Mathematics) into their summer programs for youth. Since then, we've steadily been growing our staff, or as we call them, coaches, and are excited to be working with Young Audiences to provide a formal pathway for those interested in joining FutureMakers to deliver programs to schools.
How did you hear about Young Audiences?
Someone shared a workshop offered by Pat Cruz, Young Audiences Education Director. I wasn't able to attend, but reached out to Pat to find out how FutureMakers could learn from and work with Young Audiences. In 2013, we were invited to support a summer learning program in Harford County, and participate in the Teaching Artist Institute (TAI) Seminar. Through TAI, we developed a FutureMakers residency. We've been making things that wiggle, draw, glow, and do crazy stuff with kids ever since.
See these sculptures in action here!
What has been the most memorable part of the programs you've had through Young Audiences?
I was watching morning announcement videos at a school which used puppets created by students with TAI instructor and playwright John Morogiello. They were funny and sharp. It wasn't about adults, it was about youth development with young people out in front. I was impressed by the way art was completely integrated into that school. It made me wish that more places would work and integrate this way.
What was your favorite part of the Teaching Artist Institute (TAI) Seminar? How has the experience changed your approach to teaching?
TAI solidified the way we at FutureMakers think about the pathway our coaches follow. It focuses our expertise and creativity on student engagement, measurable outcomes, and addresses the needs of our teacher partners. They get to see and do what they'd like within boundaries of what they need to do.
Our coaches are experiencing how maker education can connect in classrooms because of Young Audiences. Being observed, receiving feedback, and having scheduling and communications support is an enormous value that Young Audiences adds to our organization.
What does your art form–particularly as it relates to STEM subjects–teach students?
With technology, things are moving toward additive processes – for example, 3D printing, which is a process we incorporate in many community workshops. Traditional craft and art media are now expanding to incorporate materials often found in science or technology classrooms, or only available to higher education students. In a rapidly evolving, project-based learning world, coaches help young people embrace the design process in their creative lives – think like engineers to figure out how to solve a design challenge, and have the confidence to iterate, or try again, when things go in unexpected directions.
How do the lessons or skills you teach students apply to their everyday life outside of the classroom?
Students asking, imagining, planning, creating, and improving is the core of what we're about. Young people have limitless imaginations, and are open to learning how to take a step back and ask questions. In the past, young makers followed plans or prescriptive examples to complete a project.  We're learning that truly effective coaches facilitate their discovery of paths and options that lead to mastery – supported by the design cycle.
Why do you believe art is important for every student to have access to?
Young people need to have the opportunity to try something and fail, and a coach who can help them through difficult spots. Art was the only thing that kept me focused and motivated in high school; it was my identity early on. When we're working with students in upper-elementary and middle school, identity is a large and important part of what our residencies are about. Art is a fast path to forming and grabbing onto an identity, whatever the content is.
What is the most rewarding aspect of being a Young Audiences roster artist?
It's incredibly validating to know as an organization we're doing something that our school systems embrace. I think the most rewarding aspect is knowing that we're working in a community of other practitioners who are phenomenal performing and visual artists and amazing coaches. That is a very rare mix, and we're honored to be a part of it.
Learn more about FutureMakers' offerings through Young Audiences.
Keep an eye out for more interviews featuring our newest roster artists! See past new artist interviews here.
In honor of Earth Day, we wanted to share some songs written last month by Hollywood Elementary second- and third-graders with teaching artist
Sue Trainor
during her residency at the school. During the program, students composed original songs about what they had learned about ecosystems, environmentalism, and recycling. Each of the seven participating classes performed their final piece for the other grades and parents. Take a moment to listen to some of the creative and fun songs they came up with!
[soundcloud url="https://api.soundcloud.com/playlists/31529819″ params="auto_play=false&hide_related=false&visual=true" width="100%" height="450″ iframe="true" /]
You can also find the songs on Soundcloud. Please share them with your networks in celebration of Earth Day!
Looking for an arts program that connects to environmental science for your students? Use Young Audiences' searchable program database to easily find programs that align with specific Curriculum Connections.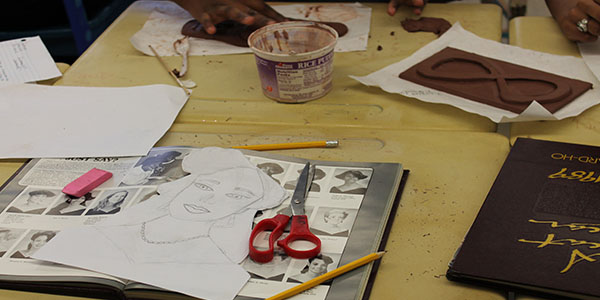 By Juernene Bass, Western High School alumna
I was very excited to take time away from work to be a part of a Young Audiences clay mural residency at my alma mater, Western High School, in October. Being a proud alumna from the Class of 1975, the program was a great example of our school motto, "Lucem Accepimus, Lucem Demus," meaning: "We have received light, let us give forth light." The mural project connected alumnae and current students with the rich history of our school. We had the chance to share our experiences and look back to historic articles, yearbooks, and artwork to create a piece that we could share with the whole Western community.
During the course of the project I was able to spend quality time interacting with my sister Westernites, grades nine through 12, as we learned from Young Audiences ceramic artist Amanda Pellerin how to create a clay mural depicting Western's 170-year-long history of rigorous studies in arts, sciences, literature, drama, and fashion.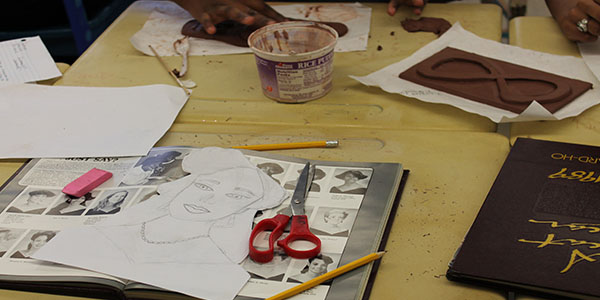 Amanda invited me to share my memories of Western during the 1970s with the current students. They found my reflections to be interesting, humorous, and sometimes unbelievable. I shared how Western taught me the academics that prepared me for college, the skills I needed to succeed in the workforce, and what studies I am using today to progress in my career.
As I mingled with the students and got to know them one-on-one, I learned that Western students are very creative and artistic. They were also knowledgeable about Western's history, and many expressed great pride in attending the school. They used their imaginations and pulled their ideas together with the decades of historical facts and traced, drew, carved, and painted the clay pieces to form a magnificent treasure. Clay tiles depicted the different school buildings to illustrate the school's various locations in Baltimore City over the years. Other clay pieces showed girls playing basketball, reading books, and graduating in cap and gown.
The clay mural project brought multiple classes of students and teachers together, giving them the opportunity to share their ideas and creativity while learning more about working with clay, Western, and each other. It allowed the students a chance to experience an art form which they may not have been exposed to before for lack of materials and time. I am sure the students enjoyed sharing this experience with one another.
Many sincere thanks to everyone who made this happen!
Read more about this project from a student participant, Nadine, who wrote a reflection of the project in January.
By Kevin Adekoya, Young Audiences Development Assistant
This month, 51 artists and teachers completed their final Reflection Day of the 2013-2014 Teaching Artist Institute (TAI) Seminar. During the past five months, artist and teacher pairs have worked together to create new arts-integrated assembly and residency programs that will engage students in learning through the arts. To celebrate this accomplishment, one Young Audiences staff member shared his thoughts on TAI and what is possible when artists and classroom teachers work together to improve education.
Witnessing collaborations between artists and teachers during the Teaching Artist Institute (TAI) Seminar is like getting a behind-the-scenes look at how artists think and operate. There is a circus of artistic expression in all its forms—music, dance, theatre, and visual art—all with the power to inspire and beguile. During the past five months, carefully-crafted performances and interactive arts activities co-created by participating teachers and teaching artists have become new assembly and artist-in-residence programs for students in Maryland. Each program shows the deep personal commitment of each participant to educating students throughout the state.
It was just a few short months ago when these artists and teachers from across the region met at City Neighbors High School for the TAI Presentation Workshop.  Each artist and classroom teacher partner was present to share their plans for an arts or STEAM (Science, Technology, Engineering, Arts, and Mathematics) program. Different classrooms throughout the building were devoted to different art forms so participants could present their lesson plans to their peers for feedback. Within each room you saw groups of people listening intently as each artist and educator explained their plans and how their approach would help students connect to the curriculum in a new way.
In each room hands shot into the air to provide praise, ask questions, and suggest new ideas—all in the name of creating innovative arts-in-education programs that will inspire and excite students. Feedback, given freely between artists and educators, formed a bond that was tangible. Everyone's focus was on finding ways to address the curriculum through the stimulating lens of the arts.
One of my favorite moments was being able to participate in a sample lesson from the residency "Culture Kingdom Time." Jessica Smith, founder and lead teaching artist of Culture Kingdom Kids, is the Culture Queen who, through interactive song, dance, and movement, highlights historic African American role models for fifth graders. For example, Barbara Hillary, who became the first African American woman to reach both the North and South Pole at the age of 79. Or York, who, with Lewis and Clark, journeyed to unchartered western territories of the U.S. from 1804 to 1806. These stories and others connected with what students were learning in History class and focused on themes of overcoming obstacles–something all students can relate to on a personal level. Throughout her lesson, Jessica's goal was to show children that they too could be future pioneers by remaining curious and pushing beyond their comfort zones.
Young Audiences brings together skilled professional artists and classroom teachers to create programs that combine the knowledge and expertise of both parties. By integrating the arts into the curriculum, teachers are able to engage students with curricular content and artists are able to tap into a student's true potential.  What a great experience it was to take part in!
Learn about the next TAI Seminar and how to apply here! 
Click here to be added to the TAI listserve and stay up-to-date on future TAI seminars and workshops.
The following content first appeared in the December 2013 edition of Uncle Devin's Drum Beat Newsletter:
For four days in November, it was my pleasure to conduct an artist-in-residence program with a first grade class at Germantown Elementary School in Annapolis. The program was my field test that I am required to complete as a student of the Teaching Artist Institute (TAI), developed by Young Audiences, the Arts Education in Maryland Schools Alliance (AEMS), and the Maryland State Arts Council (MSAC).
TAI is a comprehensive professional development program for teaching artists that builds the artists' capacity to contribute to student learning in and through the arts. The program trains teaching artists in the use and understanding of the state curriculum and the Common Core Standards, as well as arts integration strategies to assist the artist in engaging teachers and students.
Through TAI, I was paired with Judith Pirela, a first grade teacher at Germantown Elementary School and, for four days (at least 45 minutes per class), I went into her class to test my residency plan entitled, "The World of Percussion!" After developing my residency plan, I then had to develop four separate lesson plans. My four days of lessons taught children how:
To classify classroom instruments by sight and sound, such as wood blocks, triangles, rhythm sticks, maracas, guiros, jingle bells, sand blocks, cymbals, tambourines, and hand drums;
To compare musical sounds (i.e. fast/slow, loud/quiet, long/short, high/low);
Different cultures created codes to communicate through beats and rhythms; and
To make their own percussion instruments.
It was great working with Ms. Pirela, her students, and all of the staff at Germantown Elementary School. I want to also thank TAI Music Specialist Sue Trainor, who guided me through the entire process and provided me with excellent feedback. The TAI program ends on February 1, 2014 with a Program Evaluation and Reflection event, at which time I hope to become one of the newest graduates of TAI.
Read the rest of Uncle Devin's December enewsletter here. You can learn more about Uncle Devin on Young Audiences' website and at www.theuncledevinshow.com.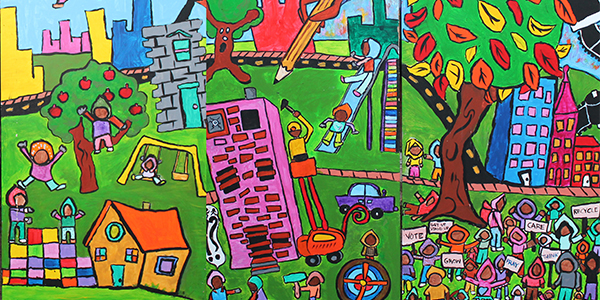 By Danyett Tucker, Young Audiences visual artist and illustrator
Do you think there is a difference between listening and hearing? One of my professors once asked me to illustrate Jimmy Hendrix's song "Voodoo Child." The project made me see art in a new light. I don't think I've ever had to listen to lyrics as hard as I did to really hear Jimmy. After hitting repeat over and over again, I finally heard Jimmy and realized the power of his music. I realized that music has the power to unite us by telling stories that we can all identify with and illustrating themes of what it means to be human.
This summer I worked with Baltimore City middle school students at Rognel Heights as a part of Young Audiences' partnership with Baltimore City Public Schools Summer Academies which brought Young Audiences artists to 10 sites throughout the city. In the mornings I partnered with the
sixth-grade science teacher to incorporate arts integration with the summer science curriculum, and each afternoon my mural painting class was one of the choices offered to students for arts enrichment.
Summer programming is a valuable resource for Baltimore City students. Many Baltimore neighborhoods are deprived and neglected. Many lack basic necessities, such as access to fresh groceries or safe places for children to play and the community to gather, preventing individuals and families from thriving. Challenges related to gun violence, poverty, public health, and family structure are obstacles for students in these communities to remain focused and committed to their education. These challenges can also make summer the scariest time of the year for students in the inner city. Without a regular school schedule, these children lack access to school lunches, a safe place to spend the day, and activities that keep them intellectually engaged.
My goal for the summer learning program was to show my students how music combined with a public work of art can play an important role in restoring a community's broken spirit. I wanted to encourage them to uplift each other through the powerful lyrics and positive messages that we shared during our mural project.
To guide the project, I selected a series of songs that spoke to community concerns. We started with one of my favorite songs of all time, Lauryn Hill's "Everything is Everything." I began by demonstrating how illustrators turn words into pictures. We illustrated the chorus together and then students had the chance to pick a verse of the song that painted the clearest picture in their mind and illustrate it.
Next was Cat Stevens' "Where Do the Children Play?" which introduced students to creating depth in settings. The environmental references in this song are so profound and led to deep discussions about the physical conditions of our communities. I talked with students about using public spaces to promote a cause or message and how music and art combined can move a community to action.
The next songs on the soundtrack were Bob Marley's "Get Up Stand Up" and "One Love." Imagine the vibe in the classroom as we collectively realized that gun violence wasn't just something in the news–many of us had friends or family who had been affected by gun violence. We listened to Bob's words of peace, love, and his call for all to move to action and reflected on the social commentary of the times.
As we continued work on our mural, we began focusing on the people depicted and drawing proportions. The students wanted to create a piece with a lasting legacy that would awaken civic responsibility in all viewers of the mural.
The final 12-panel mobile mural portrayed people coming together and holding up signs that displayed community declarations. Places to play, to honor loved ones lost, and to highlight every day community heroes were interwoven throughout our visual testimony.
Click on the images above to see the "A" and "B" sides of the completed mural.
We ended the project on a personal note and illustrated Emily King's, song "Walk in My Shoes," because let's face it, if we could walk in each other's shoes we would spend less time judging, hating, and bullying others.
The students were inspired by the music and were so expressive in the images they created. They were singing along with the songs by the time we started painting. They couldn't wait to get to my class every day and they didn't want to leave. The work we created was magical and the five C's–culture, comparisons, connections, communication, and community–were covered in this socially conscious endeavor. Every student was carrying their community on their shoulders and felt a civic responsibility to represent the voices of many through their art.
I could not have been happier with the outcome. The confidence of each student soared during the five-week program, and I know they will listen harder to the music they hear from now on and think about the messages that are received and sent. One voice, one love, and one heart! Let's get together and feel all right!
See more photos of the completed mural and other photos from this summer's arts-integrated programs!
By Curtis Blues, Young Audiences artist and one-man Blues band
Her face was hidden under rows of tiny, tight braids with small colorful beads on the ends. "Would you like to join the class and learn to play guitar?" I asked. Keeping her head down, she gave me no eye contact and shook her head "No." "I'll leave it here next to your seat, and if you decide you want to try it, you can pick it up."
Leaving the guitar next to her, I went back to the front of the room and led the rest of the class in the guitar lesson. After about 10 minutes, when I looked over at her, the guitar was in her hands. She was playing the rhythm I was teaching, along with the rest of the class. "Nice job, that's it, keep it up, you've got it," I said. A tiny glimpse of white flashed from behind the braids for the briefest second. It was a start.
Every school has students who are having trouble keeping up with their school's classes for serious personal reasons. Sharp Lendenhall is a school that exclusively serves students with special educational needs. It offers unique challenges and rewards for a teaching artist.
Elaine Tucker, the music teacher, invited me to perform for the small school in Baltimore, Maryland, last year with my assembly program on the history of acoustic Blues. Based on the students' enthusiastic response, Ms. Tucker invited me back for a more ambitious project: teaching guitar to third through fifth graders in a four-day residency. Elaine is an inspiring teacher and tireless advocate for her students' welfare. She had secured the rare treasure of beautiful guitars for the school through her personal effort in getting grants to buy guitars for the school. These children really need someone like her in their court.
Four days to teach guitar! I was intrigued by the challenge.
The first step was to help the students feel the work-song rhythm of the Blues in their bodies before even picking up a guitar. We all tapped our feet and swayed our bodies to the natural rhythms that gave rise to the Blues. Despite the students being antsy about getting guitars in their hands, I asked them to sing a call and response Blues song with me first. When they were ready I brought out the guitars.
I tuned the guitars in a traditional Blues "open" tuning which means that when you strum the strings you get a perfect chord. I was convinced that these students needed to hear a pleasing, full sound right from the start. With the more common standard tuning, the students must first master the difficult task of forming chords with their fingers before the guitar sounds "right."
To my delight most of the teachers picked up guitars and learned along with the students. This modeling was a huge asset to my program's success. Their participation demonstrated that learning new things is fun, and they were not afraid to look silly as beginners in a new task. We started slowly by transferring the beat from our bodies to the guitars with a rhythmic strumming pattern. From time to time I let them go wild like little rock stars, strumming patterns of their own choice, and teaching the rest of the class, including me, the patterns they had discovered.
While they strummed the guitar in the Blues rhythm, we sang our Blues song, which is the story of getting up in the morning, feeling upset, and then turning our day around by addressing the Blues and taking the power of our emotions back. It was the perfect description of what I saw in the transformation of the faces in the classroom:
When I woke up this morning, there was Blues all around my bed,
Went to eat my breakfast, there was Blues in my bread,
I said "Good morning Blues, Blues how do you do?"
"I'm doing all right, how are you!"
At the end of the residency, every class performed for the whole school. It was moving to see their pride in performance. Before I left the school for the last time, I asked the students, "Who believes that you can become a guitarist if you continue to practice?" When their hands shot up, I knew that this experience had changed how they saw themselves. Each had become the kind of person who can succeed at learning challenging new things.
Learn more about Curtis Blues' assembly, residency, and professional development programs here!