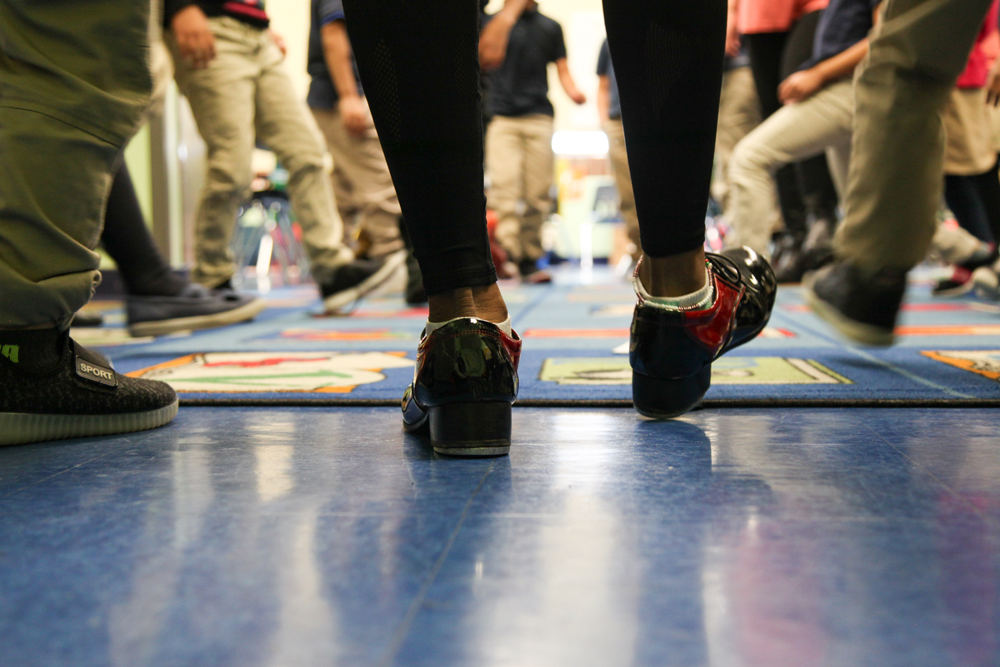 When Quynn Johnson steps into the Pre-K and Kindergarten classrooms at Margaret Brent Elementary School in Baltimore City, she is met with hugs and big, bright smiles. The students love that they've been learning to tap with the artist and they've been waiting patiently for her to return. "What do I do?" the artist asks. "You make music with your feet and you keep a steady beat!" the students respond.
Quynn is a multi-award-winning performing artist, choreographer, author, and the co-director of SOLE Defined, a percussive dance company. Though she has performed tap dance for national and international audiences, on this morning, she is captivating our state's youngest learners—not on a stage, but in a classroom—through rhythm, imagination, and dance. Already a professional teaching artist on the Young Audiences roster, Quynn is now training to also become a Maryland Wolf Trap Artist. 
As the Maryland regional affiliate of Wolf Trap, Young Audiences is proud to be expanding access to the arts for Maryland's youngest students during the critical early learning years. 
High-quality early childhood education is absolutely essential to giving children the best possible start in school and in life. Decades of practice and research prove that integrating the arts into classroom experiences contributes to greater academic achievement and social/emotional development for our youngest students. The creative collaboration between teachers and artists in the Wolf Trap residency builds foundations and fuels momentum in arts-integrated early learning classrooms.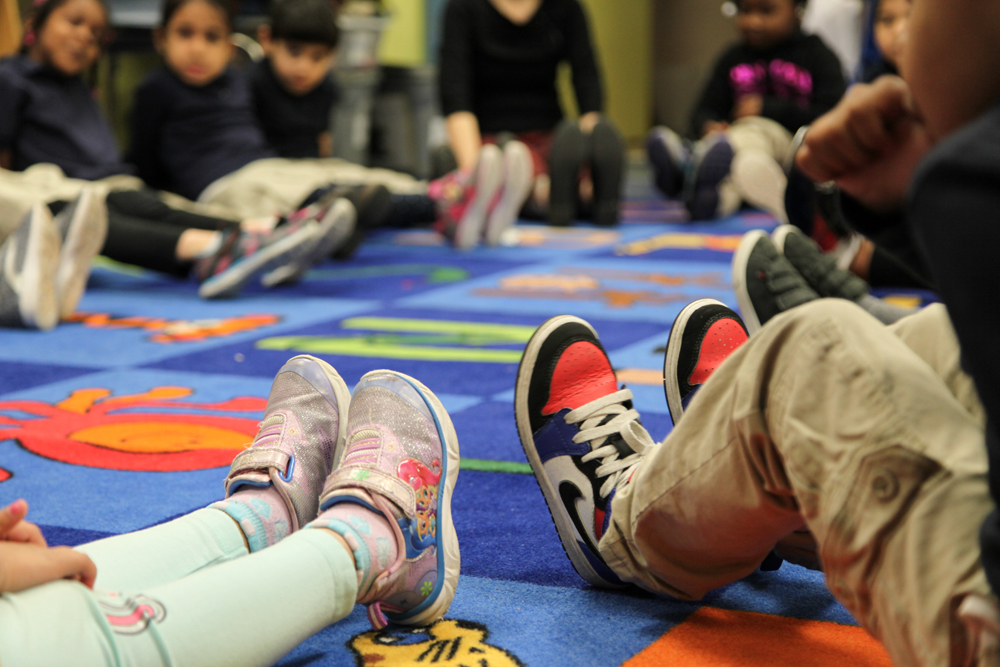 The children sing along with the artist to the tune of Frère Jacques, "I am ready, You are, too, Eyes on the teacher, We're going to learn." Everyone knows the song and everyone is excited to sing it—first in English, then in Spanish.
Estoy listo
Estás tambien
Ojos en la profe
Vamos a aprender
Quynn made up the song while teaching in the Summer Arts & Learning Academy last summer, but now sings it with students in lower elementary grades at every school she visits. Mrs. Jager, the Kindergarten teacher, likes it, too. She uses "I am ready" as a transition song all the time—and her students will remind her if she forgets!
The artist is not only here to teach the young students how to tap, she is here to build the teachers' skills and knowledge and demonstrate how to integrate the art form into their lessons throughout the year. This embedded professional development is something that distinguishes the Wolf Trap Early Learning Residency from other artist residencies.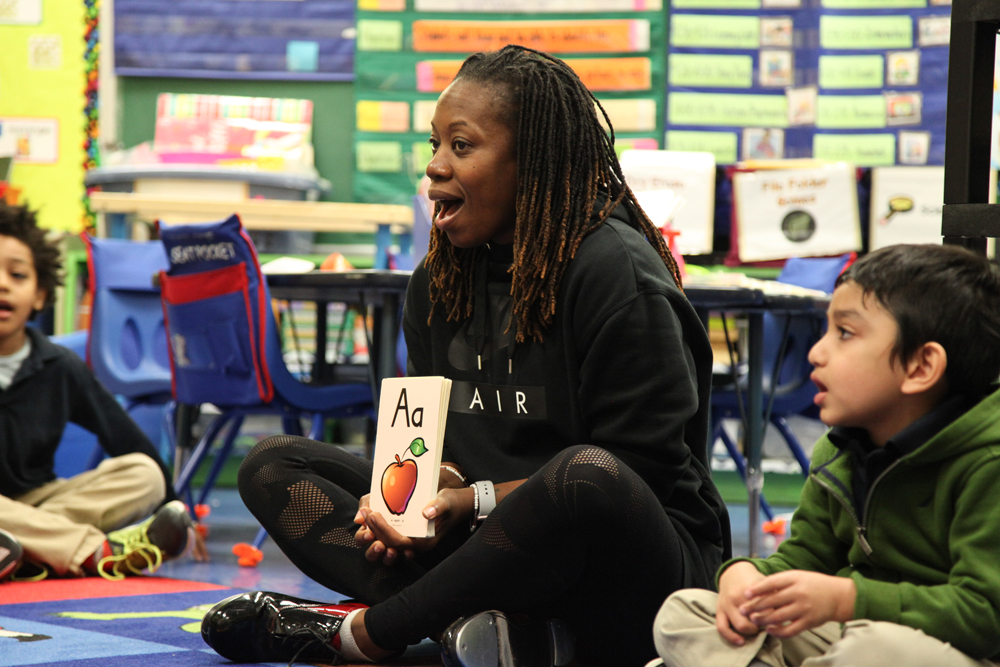 As Quynn leads the students in an exercise stomping out beats, another skill is being fortified. They are identifying patterns and practicing word sounds like "Apple, apple, ah, ah, ah," and "Bat, bat, buh, buh, buh." The classroom teachers and the artist work together to tailor the residency to each particular classroom—deciding how refined the dance movements should be for each age group and which literacy skills to focus on.
"The process is pretty new and different to me but I like it," said Quynn. The artist pays particular attention to teach the elements of her art form that educators will feel comfortable utilizing in the future—and not just off the cuff, but with some artistic integrity. "I think the embedded PD portion is a great way to keep the teachers involved and shows them how it doesn't have to be its own lesson but can be incorporated within what they're already doing. I never want them to feel like it's unreachable."
By the end of Quynn's residency in the Pre-K and Kindergarten classrooms, the students know how to keep a steady beat on their feet, and they remember a beat pattern and two basic tap steps. And the teachers can connect the art form to literacy—leading students to sound out words and sounds with their feet. "They both felt great and comfortable with everything we did in class and I could hear them using it after our time was over." They were ready.
Eighty-five percent of brain development occurs during the first five years of a child's life. Participation in the arts encourages positive growth in a child's emotional, physical, intellectual, creative, and social development. As the Maryland affiliate of the Wolf Trap Institute for Early Learning Through the Arts, Young Audiences expands access to the arts for Maryland's youngest students during the critical early learning years. Bring a Maryland Wolf Trap 16-Session Residency into your school.
Categorized:

News

Tagged:

artist-in-residence, arts integration, Baltimore City Public Schools, dance, early learning, kindergarten, literacy, Margaret Brent Elementary Middle School, Maryland Wolf Trap, pre-kindergarten, professional development, professional development for educators, Quynn Johnson, roster artist, tap dance, teaching artist, Wolf Trap
Written by Stacie Sanders Evans,
Chair, Young Audiences' National Residency Teaching Artist Credential
President & CEO, Young Audiences of Maryland
One of the things I admire about many of the artists I encounter is their ability to envision and create without constraint. Most of the time, I feel my ability to dream is tethered to my day to day constraints. Fortunately, I have the rare board of directors at Young Audiences of Maryland (YAMD) that isn't asking me why our copying budget is over by 10%. Instead, they are encouraging me to dream bigger dreams and actually discouraging me from worrying about how to pay for it. They want to help shoulder the burden of these constraints so I have enough moments to live in the delicious "what if" space.
"What if" moments have gotten Young Audiences to where it is today both locally and nationally. One "what if" moment just recently led to a successful pilot of the Young Audiences National Residency Teaching Artist Credential for exceptional teaching artists. Up until this pilot, unlike almost all other professions within education, there has been no nationally recognized credential for the field of teaching artistry. 
Twelve artists (featured below) from seven different states have completed a very rigorous application process and earned the National Residency Teaching Artist Credential to date. Let's applaud these amazing artists who took a chance with us and contributed to the larger idea of "what if" in an effort to help us test and refine a credentialing system.
Young Audiences formed in 1950 in Baltimore because of our founder, Nina Collier's, "what if" moment. Nina's question, "What if we bring musicians into our schools to perform?" ultimately led to the movement that created 32 Young Audiences affiliates across the United States and now benefits five million students annually. She had no idea the impact that question would have on children and artists.
In the '90s, YAMD's first paid executive director, Patricia Thomas, had another important "what if" moment: "What if artists are no longer limited to the auditoriums of our schools? What if they go into classrooms to give kids a chance to create in an art form?" Today, artists in partnership with Young Audiences, impact 230,000 hours of classroom learning in the arts every year, creating powerful moments for Maryland's young people. Thank goodness there were Nina Colliers in communities across our country who were creating the same kind of opportunities for more children.
Once Young Audiences saw the transformative power of our artists in classroom settings to inspire kids and we saw how high stakes testing was narrowing the curriculum and negatively impacting student engagement in the classroom, we asked another "what if."
"What if Young Audiences played a larger role in education and in our communities to bridge the gap between what we know the best conditions are for learning and what children actually receive in school? I call this the inspiration gap.
This "what if" led us to invest heavily in artist training (far beyond even our own roster of artists) and to create many more opportunities for artists to partner with academic teachers to use their art form to draw kids into learning in literacy, math, social studies, and science classes. This is known as arts integration, which could be learning fractions through the steel drum or about figurative language through writing and performing their own poems, or about the scientific method by writing rap songs.
Using the arts helps students connect to the academic content in meaningful ways–so the learning "sticks." Young Audiences' arts integration approach also requires students to "show what they know" through the arts by either performing or exhibiting. Students become more visible in this kind of classroom and it nurtures the sense that they matter. When you make the learning matter and students know that they matter–that is the secret sauce to bridging the inspiration gap.
Now school districts and foundations see us in a broader light, as an organization that can help improve educational outcomes for kids. These groups are investing nearly three million dollars in YAMD this year so we can address stubborn problems in education: preventing summer learning loss, increasing school readiness, and improving teacher practice.
Across the country, we have artists who are ready to bridge the inspiration gap, and there are even more who, with the right training and support, will soon be ready to join them. We believe the National Residency Teaching Artist Credential, along with a network of coordinated, affordable professional development opportunities, could lead to kids in all communities having greater access to a quality education–one that includes arts education and opportunities to learn in, through, and about the arts from the best professional artists in their community (even where there is no local Young Audiences affiliate).
Imagine a society where teaching artists are recognized for the valuable role they play in breathing creativity and possibility into our schools. Work which, in turn, draws kids back into learning. Imagine how many more kids would benefit if artists were able to choose teaching artistry as a profession because it was treated like other professions.
Many, many things are needed to realize this vision, and I believe a credentialing system–one that is developed in partnership with artists and educators with students at the center–is one important component in a larger ecosystem that needs attention. And I'm not alone. A national survey revealed that 94% of teaching artists want a credential like the one we are designing for the field. One reason artists support this idea is that, currently, since our field lacks a credential, there is no unified way for that expertise to be recognized or validated.
For example, dance and teaching artist Valerie Branch has performed with over 10 dance companies, choreographed over 100 dance works, has a Bachelors degree in Dance (Magna Cum Laude), and has led artist-in-residence programs in 150 schools. But as a teaching artist, she had no signifier of her expertise, excellence, or the value she brings to the classroom. The National Residency Teaching Artist Credential solves this problem.
We are still early in this "What if we created a National Residency Teaching Artist Credential?" moment. And we hope one day, after thoughtful adjustment and many discussions with different stakeholders (that includes you!), and in partnership with the many other national and local organizations that care about education, this credential could be something that the broader field will welcome.
Was there ever a time an artist closed the "inspiration gap" for you or a young person you love?  Let's make more moments like that for our young people. Wanna "what if" with Young Audiences around this idea? Let me know because it will take all of us–you, me, our friends, and our friends' friends–to turn this new"what if" into a reality.
2018 Young Audiences' National Residency Teaching Artist Credential Recipients
Valerie Branch, Young Audiences of Maryland
Melli Hoppe, Arts for Learning, the Indiana Affiliate of Young Audiences
Molly Johnson, Young Audiences of New Jersey and Eastern Pennsylvania
Laura Marchese, Young Audiences of New Jersey and Eastern Pennsylvania
Ray McNiece, Center for Arts-Inspired Learning, the NE Ohio Affiliate of Young Audiences
Emma Parker, Center for Arts-Inspired Learning, the NE Ohio Affiliate of Young Audiences
Malke Rosenfeld, Arts for Learning, the Indiana Affiliate of Young Audiences
Chris Sheard, Young Audiences of Louisiana
2019 Young Audiences' National Residency Teaching Artist Credential Recipients:
Carrie Sue Ayvar, Arts for Learning / Miami
Harlan Brownlee, Kansas City Young Audiences
Quynn Johnson, Young Audiences of Maryland
Brittany Roger, Young Audiences of Maryland