By Donna Greenleaf, Coordinator of Gifted and Talented Programs, Dorchester County Public Schools, and Renee Hesson, Coordinator of Instruction for Fine Arts, Dorchester County Public Schools
Being on the Eastern Shore, Dorchester is relatively isolated from many of the cultural experiences available closer to the Baltimore-Washington area. With reduced opportunities to experience art, children and adults can become limited in their thinking and understanding of different art forms. Working with Young Audiences, we tried to find a way to make an arts learning program that was more lasting for Dorchester students. Last year, we developed an assembly and workshop model—something that was totally new to the schools in our county. In the past, we had only ever had large group assemblies. These performances felt like "one and done" experiences and it was hard to measure the impact of this limited exposure to the arts on our students. By adding workshop sessions, we were able to reach more students in a more significant way because they had a hands-on experience with Young Audiences performing ensembles WombWork Productions and Quest Visual Theatre.
This assembly and workshop model was successful, but we thought there was still more to be done to truly impact the culture and climate of our schools through the arts. Artist-in-residence programs have the feature of offering professional learning opportunities to teachers while providing ongoing workshop opportunities to students. Although this was the type of program we believed our schools needed for the arts to have the maximum impact, we told Young Audiences that there was no way that we would be able to afford it. But with Young Audiences' help, we began applying for grant funding to help alleviate the cost and make it happen.
Beginning last spring, we wrote Maryland State Arts Council Arts in Education Artist-in-Residence Grants to bring programs to seven Dorchester elementary and middle schools of the 11 total schools in our district. To supplement this funding, we also applied for a grant from a local foundation, the George B. Todd Fund and for supportive funds from the local Dorchester Center for the Arts. We hoped to bring WombWork back to build on the work they did with our students the year before, as well as bring beatboxer Max Bent and Hip Hop poet Bomani to our students. These Young Audiences artists were chosen to address the specific needs each school had identified as a part of their school improvement plan, including interpersonal skills, bullying prevention, math, and language arts.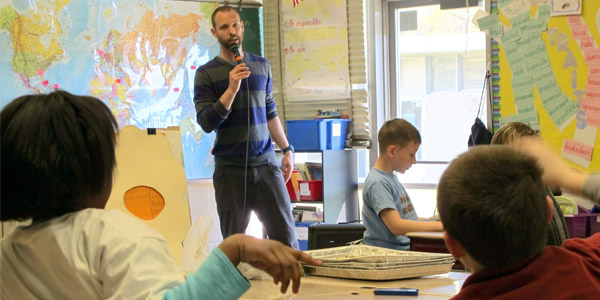 These programs were as much for the kids as they were for the teachers. When Max came to our elementary schools, his enthusiasm brought a lot of energy to the kids and appealed to those kids who needed a different kind of artistic outlet. His program crossed cultural stereotypes and appealed to a wide-range of kids—and adults. Our teachers were reluctant at first, but Max was able to bring everyone into the experience. During pre-program meetings with Max, teachers were impressed that he was able to speak their language. His art form became more than just a nice enrichment activity, but one that made a strong connection to curriculum. Max was interested in what specific units and standards the teachers were working on at the time, and how he could incorporate beatboxing. He wanted to do more than tie into grade-level concepts, but ensure that it was focused and timely in the curriculum. That approach enhanced the partnership feeling between artist and educators.
During the professional development workshops, Max showed teachers how beatboxing can uniquely link to fractions. It was a distinctive example of how educators have to challenge themselves to come up with new and unique ways to teach the material instead of the same ways they've always taught.
In another one of our schools, Mama Rashida and WombWork worked with one classroom that had a reputation for negative behavior and not staying on task when an outsider visited. When we visited this class to observe them working with Mama Rashida on the play they were creating to perform for their peers, every single student was engaged and working together on the activity. Mama Rashida's knowledge of young people and how to quickly build relationships helped support our students emotionally so that the group could get to the important work of learning the language of virtues. This experience proved to us—and to the students—that they have the ability to be college- and career-ready middle school students. They now have a relationship with their classroom teacher that they may not have had without this program.
When Max's residencies began, we thought kids may be reticent about getting up in front of their peers and performing. At both culminating events at the close of the residencies, there was an overwhelming show of hands of students who wanted to get up and demonstrate what they had learned. It was exciting to see our kids transform into performers and there was no judgment. Even when a child got up and made a mistake, other students didn't call them out. They were supportive of each other. Seeing this program's contribution to a positive school climate, as students worked together on projects and supported each other, was a wonderful side effect of our residencies this year.
Maryland State Arts Council (MSAC) provides schools with AiE grants to support artist-in-residence programs. These grants can subsidize up to 30 percent of the total cost of a Young Audiences residency program, including travel costs. The application deadline for programs occurring next school year is Friday, May 15, by 5 p.m. Read more about this opportunity at yamd.org. 
Young Audiences' roster of artists continues to grow to encompass new artists, ensembles, and art forms, from slam poets to improvisers to Capoeira masters.
We'll be regularly posting interviews with our artists, giving them a chance to share more about themselves and their experiences bringing their Young Audiences programs to schools. We recently sat down with Tim McCarthy of Quest Visual Theatre. 
Why did you decide to become a Young Audiences roster ensemble and how does it align with Quest Visual Theatre's larger mission?
I had known several artists in Maryland who were with Young Audiences and I began to investigate what the organization was about. It made me think about where Quest Visual Theatre was heading and I thought it was something worth pursuing because we have so much experience working with children.
We are an inclusive company. Deaf people are a part of everything we do everyday and we wish to celebrate the people who are in this world. That's the world we want to live in and we wish to bring those experiences it into children's lives.
Quest also uses visual theatre to cut across language and cultural barriers. All of our work is inclusive and accessible. Everything that Quest does reflects the company's commitment to welcoming to all people. One program that reflects that is QuestFest, which is a biennial international visual theatre festival. Quest partners with area theaters, universities, and agencies to present performances, conduct approximately 20 residencies, and provide training in visual theatre. The QuestFest Community Showcase enables students who have participated in QuestFest residencies to share work that they created.
What has been the most memorable part of the programs you have brought to the students with Young Audiences?
I love what I'm bringing into the schools and seeing how engaged the students are. Quest does little warm-ups before each performance. We play a game like charades with the audience. We have the audience begin to guess what the actors are doing; playing baseball, football, or golf. That really gets the kids involved and excited.
Do you have a memory of when you felt that you has an impact upon a student or class?
Students usually don't know how to approach our actors because they are deaf, but after a performance or residency, we intentionally spend time and stick around to interact with the children. That's when the hugs begin to happen. Things really change at that point. They see our artists as people they want to interact with. The communication barrier goes away.
How does your art form help connect students to what they are learning in school ?
Our goal is to integrate theatre into the curriculum. We do this by focusing upon two primary areas, including learning readiness and literacy.
How do the lessons that you teach students apply to and affect their everyday lives outside of the classroom?
In addition to learning the art form, the developmental skills we are focus on are communication and interpersonal skills. When you're creating something and working in collaboration with others, especially if you're not able to speak, you're going to have to be clear about what your intentions are. Our lessons teach children how to send and receive information clearly with engagement.
Learn more about Quest Visual Theatre's offerings through Young Audiences.