Barbara and Mitch Krebs are both firm believers in the importance of the arts, even though their backgrounds are very different. Barbara holds a BFA in Theater and utilizes drama techniques to get into character when approaching her work as a corporate writer. Mitch is a business banker and claims to have two left brains, but he makes sure to balance his number-heavy career with a variety of arts experiences when not in the office.
The Krebs were surprised to learn that Young Audiences/Art for Learning had been providing professional development training to the teachers at their daughter Colette's school, as well as artist-in-residence programs, for many years. They were intrigued by our work and started learning more. They saw first-hand with Colette that when the arts are integrated into the learning process as a result of the professional development training, it makes a huge difference in how kids learn and retain knowledge. The caliber of Young Audiences' artists impressed them. "When I see these artists pour their hearts into their jobs," says Barbara, "and how they get kids fired up about learning, I just want to make sure more and more kids get this experience."
The scope of Young Audiences' work in schools across Maryland is what moved the Krebs to join Young Audiences' Sunburst Society, a multi-year giving society. "We wanted to offer our support because, throughout our lives, giving back to the community has been very important to us. And our focus for supporting groups has always been either in the arts or in education. And here was an organization that combined both of our favorites!"
The Krebs believe that, in an age of school budgets facing reduced arts funding, it will require public-private partnerships–like those that Young Audiences fosters with public schools across the state–to ensure that our children get the chance to continue learning in an environment that enhances the educational process. "It's no surprise that when we think about our own school experiences, we always recall the teachers who did more than recite boring facts," says Barbara. "We remember the teachers who incorporated memorable, arts-oriented teaching techniques and who made us think and create for ourselves."
Young Audiences is grateful to Barbara and Mitch, and other members of the Sunburst Society, who make it possible for thousands of students to imagine, create, and realize their full potential through the arts.
Our Sunburst Society is made of generous donors whose high-level, multi-year pledges help to build a legacy of learning in, through, and about the arts. These contributions give Young Audiences the financial confidence to plan strategically for tomorrow's educational needs, while meeting the demand for today's programs. Join them.
Since 2000, the Wright Family Foundation has supported diverse educational initiatives that provide intervention, support, and enrichment programs for at-risk children to realize their full potential. Young Audiences/Arts for Learning is extremely grateful for the partnership of the Wright Family Foundation and its support of our early learning initiative, Maryland Wolf Trap Early Learning Through the Arts 16-session residency program.
Young children have a natural curiosity and a unique love of learning. Young Audiences' Wolf Trap residencies cultivate and encourage this love of learning in our youngest students by providing joyful, arts-integrated early learning programs in low-income schools throughout Baltimore. In addition to providing exceptional arts programming, Wolf Trap residencies are proven to increase student academic outcomes and improve teacher instructional practice. With the generous support of the Wright Family Foundation, Young Audiences has quadrupled the number of Wolf Trap residencies and increased the number of students served from 276 to over 1,100 – all in just three years.
According to the Wright Family Foundation, its support of Young Audiences grew out of its desire to provide children with opportunities to have arts-rich experiences. "One of our focus areas is Early Childhood Education," writes Mari Beth Moulton, Executive Director. "When Young Audiences partnered with Wolf Trap to bring quality arts programs to early learning classrooms, we were eager to support this partnership. This is an opportunity for the Foundation and Young Audiences to have far-reaching impact for many of Baltimore's children."
The Wright Family Foundation is passionate about providing educational opportunities for our most at-risk youth in Baltimore. Young Audiences shares this passion, and is proud to partner with the Wright Family Foundation to provide our youngest students, in some of Baltimore's most impoverished schools, with the opportunity to learn in and through the arts. With the support of generous donors like the Wright Family Foundation, we can offer a better and brighter future to our youngest students.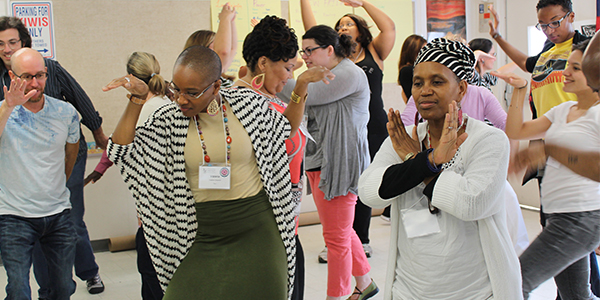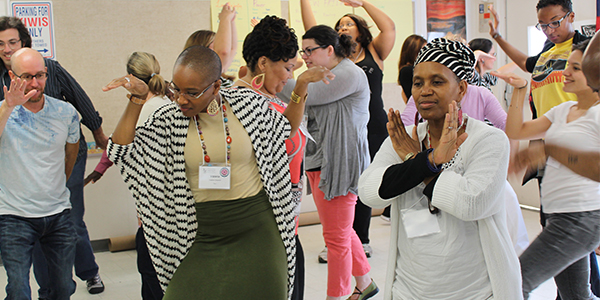 The 2014-2015 Teaching Artist Institute (TAI) Seminar is already underway, but we wanted to share some reflections from artists who have graduated from the program. Here's what they had to say about the experience:
As a full-time preservationist of acoustic Delta Blues from the 1920s and 1930s, I must make my history of Blues show academically relevant to the curriculums of Maryland and Virginia schools. I completed the TAI training program in 2009, and the course completely transformed my understanding of how I can support the current teaching standards in schools with my music programs.

As Young Audiences knows better than anyone, all the arts are under tremendous pressure to prove their relevance to school systems that are struggling to meet national testing standards in different disciplines. What I learned from my TAI training is that the arts serve a valuable role in preparing students with the 21st Century thinking skills they need for their future success in our rapidly changing world.

By creating a residency with a language arts teacher as my partner, I was able to use songwriting to teach students figurative writing skills. Without the TAI training, my school music programs would not be as academically relevant to the school's goals. This connection is critical for the arts to survive in our schools, not as a reward for difficult academic work, but as a means to help students meet their academic goals.

The TAI program is well-run by dedicated educators and artists. It is challenging, rigorous, and exposes artists, teaching artists, and professional educators to each other's thinking styles. This program deserves support, and I hope it continues to transform serious performing artists into skilled teaching artists.
– Curtis Blues, Blues Musician, Exploring Math and Music by Making a One String Guitar
I had never thought of myself as an educator, at least not in the traditional sense. Musically, there is always an underlying truth or teachable moment I try to impart. However, now I needed to do so in a structured, educational format. Although the curriculum was challenging, I am ever so grateful for having gone through the process. The fellowship with the teachers and other artists truly cannot be measured. As an artist, mentally you have to re-wire your brain to remember that it is not about you or a performance; it is about what the children learn and take away from the experience. A few months later I had the opportunity to return to the school for a musical performance for a general assembly. My class was so excited to see me and the feeling was more than mutual. For that reason alone, it was a journey worth taking.
– Uncle Devin, Musician and "Drumcussionist," Uncle Devin's World of Percussion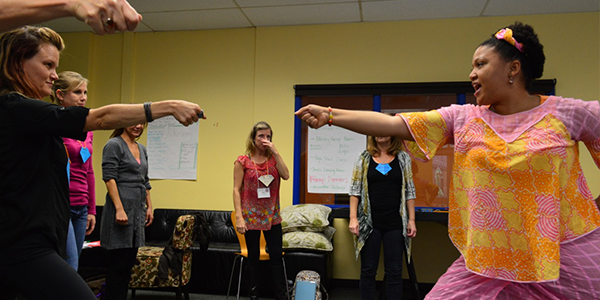 TAI gave me such an appreciation for the life of the classroom teacher. Not only did I learn how to plan and sequence a project into realistic, meaningful lesson plans, I learned a whole new vocabulary and some best practices of a strong teacher as well. Field testing my lessons with my teaching partner gave me real world practice in collaboration, classroom management, solid preparation and flexibility.

TAI is also a rare opportunity to work and learn side-by-side with artists from other disciplines. I met so many energetic, thoughtful, creative people who are not only committed to their art, but also to making a difference in the lives of children. It was incredibly valuable to me to be stretched and out of my comfort zone. As a visual artist, I found that experiences in music, dance and drama helped me move out of my head and in to my body. I learned that this whole body engagement is something that I want to bring to students when I lead them in the visual arts.

On the last day of TAI we were asked to say one word that summed up our experience. My word was "ALIVE." That pretty much says it all.
– Pam Negrin, Visual Artist, Transformative Textiles: Weaving Together Math, Literacy and History and
Collaborative Stitching: Connecting and Inventing with Needle and Thread
TAI is an amazing opportunity where artists, educators, and staff truly collaborate to help process, define, and designate the importance of art in the classroom. I loved the guided lessons, hands on experience, and being around such amazing, talented individuals. I feel like this experience helped to shine a new light on my own experiences as a classroom teacher and now a teaching artist.
– Bridget Cavaiola and Michael Harris, Baltimore Improv Group, Life is Improvised!
The staff and artists who coached us through TAI opened a whole new level of integrated content, planning, and instructional skills to us. The opportunity to develop new programming for excited young artists, alongside engaged education professionals in so many unique environments has grown our vision as an organization. This fall, three more team members will begin TAI. Best professional development around!
– Matt Barinholtz, FutureMakers, It's Alive: Kinetic Creature Lab!
I really felt like I was re-energized in my way of thinking and the facilitators brought a plethora of knowledge to the table. I appreciated their ability to listen, answer questions, and make the experience fun, interactive and simply enjoyable.
– Valerie Branch, Modern Dancer, Exploring, Creating, and Dancing with our Friends!
In a recent blog post for the Washington Post, Alvin Crawford, CEO of Knowledge Delivery Systems, addresses fundamental issues with the current professional development offerings for educators. He cites a 2009 report which found that "when asked about their experience in professional development, 'most teachers reported that it was totally useless.'" The substantial financial investment the U.S. makes in teacher development ($2.5 billion in 2012 according to U.S. Secretary of Education Arne Duncan) is not meeting the needs of many teachers, or in turn, students.
The Teaching Artist Institute (TAI), did not set out to be a teacher professional development program, but as the program starts its eighth year this fall, it is clear that it is succeeding where many traditional professional development workshops are not. TAI also has gained attention for how it provides teachers with creative and natural tools for implementing Maryland's Common Core College and Career-Ready Standards through the arts.
TAI is a statewide program made possible through the partnership of the Arts Education in Maryland Schools Alliance, the Maryland State Arts Council, and Young Audiences/Arts for Learning. It was founded to train teaching artists to create curriculum-aligned arts programs for classrooms. Since its start in 2007, the program has graduated more than 110 artists and has repositioned the role of artists in education in Maryland. Teaching artists were once perceived as performers—able to entertain, and perhaps share another culture with students—but they were a distraction from the school day, a break from the classroom. Through TAI, artists have demonstrated the value they bring to the classroom as educators.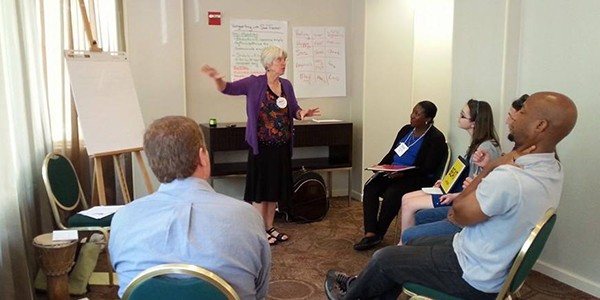 See more photos from the 2014-2015 TAI Seminar here!
TAI-trained artists are critical partners to teachers of any subject, using their art form to creatively address the ever-changing curriculum and standards to which teachers are held accountable. TAI fosters partnerships between teaching artists and teachers, requiring artists to collaboratively plan and teach with an assigned teacher. Through this collaboration, teachers experience the gifts a teaching artist brings to the classroom and learn how the arts can be used to engage children in learning. While TAI was not created for teachers, teachers report it improves their own practice of arts integration and reinvigorates their passion for teaching.
In his post, Mr. Crawford shares what teacher professional development needs to entail to be effective for teachers and to positively impact student achievement:
Teacher development studies…have shown over and over again that simply exposing a teacher to a new concept or skill has little to no classroom impact because most professional development opportunities for educators are still lecture style – telling, showing, and explaining how something can be done.

And when the "learning" is finished, we push teachers back into the choppy waters of their classrooms without so much as a life preserver; they're given very little or ineffective ongoing support from their district.

To be transformative, strategic professional development needs to be 50 hours or more plus less formal and ongoing interaction and peer engagement to refine skills and model successes. It must also be tailored by subject, grade level and type of student.
By developing an effective training program for artists, TAI has also grown to offer a professional development opportunity for teachers which fits Mr. Crawford's definition of "transformative." The 70-hour TAI Seminar begins with a three-day workshop, which includes sessions led by master teaching artists and opportunities for participants to develop and share their knowledge in small groups. Pairs of artists and teachers then work independently during the course of several months to co-create an arts residency program which integrates the artist's expertise with the curriculum and to test and refine their new program by piloting it with students in the teacher's classroom.
While TAI was not designed to address the teaching practice of educators, it continues to build a community of impassioned artists and teachers who want to work together to transform teaching and learning through the arts.
Learn more about the TAI program and see photos from the 2014-2015 TAI Seminar. Listen and read recent reporting by WYPR, Maryland's public radio station, on how TAI teacher and artist participants are creatively addressing Common Core through the arts: Meshing Common Core and Arts Standards and Arts and Common Core—a Natural Fit.


By Dr. Sherrie Norwitz, Instrumental String Music Teacher, Thomas Jefferson Elementary Middle
Art and aesthetics are crucial to the foundation of society. Arts education provides children the opportunity to be exposed to–and develop their own–appreciation of beauty in their world. Art is a way to transmit the values of the society. Through the arts, children learn about their community, helping to provide them with a context for their lives within their communities, and become active participants in helping to create their communities. Arts experiences open doors to children, allowing them to say, "I am touched by this. I am a part of this beauty. I created this. I shared my creation. This has meaning to me."
Sequential education in the arts is a crucial component in a child's education. Learning about and through the arts gives students ownership of skills and knowledge to become active participants in society through creative expression and communication.
It is important to me for students to experience the integration of the arts across the curriculum and the varying natural connections that are inherent between the arts and their core curriculum subjects. This arts integration approach supports the learning of core curriculum subjects, reaches a wide-range of learners, provides authentic real world experiences that directly involve students in the act of creating, provides opportunities for collaboration, and supports the development of 21st Century Skills through the Common Core and Career Ready Standards.
Through our partnerships with Arts Every Day and Young Audiences, our school community is finding its way in creating a comprehensive arts integration program. With the support of our principal, Ms. Henry, we feel that we have a very strong foundation for our program's growth and development.
This year we began by extending the arts-integrated approach to learning beyond the artist-in-residence program which we had previously brought to our students. Working with Young Audiences, we created a Resident Teaching Artist position for the year to allow for the continued presence of a teaching artist within our school. Our Resident Teaching Artist, Young Audiences artist Kwame Opare, performed with his ensemble, DishiBem G.R.O.W. during school-wide assemblies, and provided workshops to fifth- through eighth-grade students. Kwame also provided our teachers professional development in arts integration to help answer their questions, provide guidance, calm apprehensions, and worked with teachers during collaborative teaching days to bring arts integration directly to the students in their classrooms.
Partnering with Young Audiences to provide such a variety of programs throughout the year ensured that we incorporated arts integration best practices and included all of our grade levels–preschool to grade 8–in these art experiences. Being an International Baccalaureate School (IB) also helped support our way forward in the interdisciplinary learning of arts integration.
Arts integration and arts-enhanced learning is happening in many ways in different classes. Among our activities, students have drawn Grecian vases as part of their Ancient Civilizations unit, they have dramatized stories through dance, applied music notation to learning fractions, used music to help understand number columns, made connections between literature and music while dancing "The Nutcracker," and created a paper Freedom Quilt.
We have developed a rhythm of arts integration at Thomas Jefferson. We are working to create an environment where everywhere you look, the arts are happening, where the arts are for everyone at the school and where connections with the arts can be made throughout a student's day. Having a sense of continuity of arts experiences helps create a feeling of expectation of such experiences for both students and teachers. There is a developing sense school-wide that the arts and arts integration "is what we do." We look to have the arts not as "special" but as a continuing presence in our daily school life, where learning can take place through the arts. There is something for everyone–for students in all grades covering a variety of subjects, and for teachers to feel supported with our teaching artists and our partnerships with Arts Every Day and Young Audiences.
Artistic energy invigorates the school environment, developing our professional skills as teachers and invigorating learning for students.
Thomas Jefferson Elementary Middle School is an IB World School, an Arts Every Day School, and a Maryland Green School. Learn more online here. 
Young Audiences artist and Hip Hop poet Bomani took to the airwaves during the morning announcements at William Paca/Old Post Road Elementary in Harford County to build excitement for upcoming SMART Days at the school. SMART Days are a key component of Young Audiences' ongoing SMART program in all five Harford County Title I schools. Each school has one SMART day per week, all school year. On SMART days, a teaching artist and an arts integration specialist spend the entire day with teachers and students. Teaching artist and teachers collaboratively plan, teach, and reflect on arts-integrated lessons. The lessons are always aligned with the College and Career Ready Standards and focused on skills and concepts students struggle with most, such as fractions or figurative language skills.
This "Hip Hop Public Service Announcement" highlights Bomani's skills as a poet and "shout outs" for teachers who are arts integration leaders at the school. Listen to the full announcement here:
[soundcloud url="https://api.soundcloud.com/tracks/143057728″ params="auto_play=false&hide_related=false&visual=true" width="100%" height="450″ iframe="true" /]
The SMART program, formed in partnership with the Harford County Public Schools Title I Office, aims to help improve teacher practice through arts-integrated embedded professional development for teachers. At the heart of the program is the collaboration between teaching artists and teachers. The education expert and artistic expert work together to re-envision how to teach content in a way that challenges, motivates, and inspires students to learn more.
Learn more about the SMART program here.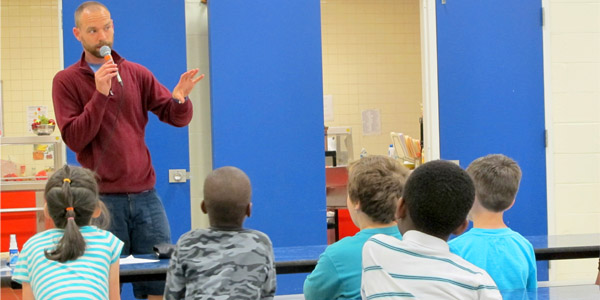 By Katie Keddell, Young Audiences/Arts for Learning Office and Volunteer Manager
This story was originally posted as a part of the Americans for the Arts Teaching Artist Blog Salon in March 2014. See all of the salon posts here.
On Saturday, February 1, I had the wonderful opportunity to watch Young Audiences/Arts for Learning teaching artist, Max Bent, work. We were not in a classroom and we were not in an official Young Audiences program at a school or community organization. Instead, we were joining our neighbors, Single Carrot Theatre, in welcoming the neighborhood to our new home at 2600 North Howard Street in Baltimore. Max was offering a musical demonstration to anyone who walked in to say hello and hear more about Young Audiences. After an hour of recording sounds visitors played on a small steel drum and various other eclectic instruments, Max created a symphony of sounds by layering impromptu measures of four beats on top of each other. As he taught, I was struck by one phrase he kept repeating: "We have to re-harness the things that happen by accident." I instantly connected this idea to my research as a graduate student.
As we talk about the young people in our state and across the country, one major trend is the desire to teach our students what one popular researcher calls, "Grit." As defined by TED Talk speaker Angela Lee Duckworth:
"Grit is sticking with your future—day in, day out, not just for the week, not just for the month, but for years—and working really hard to make that future a reality."
Passing a paper test with a singular focus cannot teach this tenacity, but overcoming a challenge does. In 10 minutes, I saw Max demonstrate how he teaches grit through the arts-integrated programs he brings to Maryland schools. Our guests saw the value of sticking with the exercise themselves and heard the physical evidence created by their instruments. Each individual walked away with a small but powerful example of success through staying with something despite no prior knowledge of the steel drum or the technology Max was using to record and layer sounds
Before Max joined Young Audiences, he did not see a connection between his art and the school curriculum. Max applied to participate in the Teaching Artist Institute (TAI), a training program for artists developed by Young Audiences in partnership with Arts Education in Maryland Schools Alliance (AEMS) and the Maryland State Arts Council (MSAC), to deepen his knowledge of how the arts can naturally connect to the curriculum and engage students in learning. After successfully completing the program, Max now has a collection of lessons that connect beatboxing and music to a multitude of subjects, such as probability, fractions, graphing, and phonics.
That's what excites me most about Young Audiences: the belief in arts integration. For me, it's not only about teaching the future generation aesthetic appreciation, it's also about finding the ways that divergent thinking and practical application speak to the future of what our children learn and believe they can achieve. It's about giving all students a chance to explore their talents, giving them a safe environment to take risks, to make mistakes, to achieve, and to persevere. It's about teaching grit.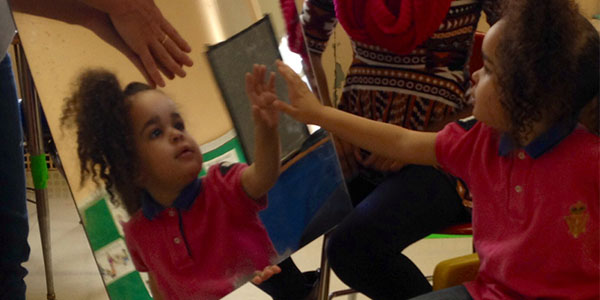 By Morgan Lyons, Kindergarten Teacher, William S. Baer School
When I first heard that an artist-in-residence program was coming to my school, William S. Baer, I was excited. I learned about arts integration while I was studying education in college and wanted to find a way to use the arts in my teaching, especially when I decided I wanted to teach special education. I feel that the arts are an amazing pathway, particularly for kids who might not necessarily understand the material when taught in a more traditional way. When I found out that this opportunity was being offered at my school, I was thrilled; I jumped at the opportunity.
As a relatively new teacher, I knew I wanted to integrate the arts into the curriculum in some way, I just didn't know how. Our curriculum is structure- and task analysis-based and there did not seem to be a lot of room for the arts, but Sue Trainor, the Wolf Trap-trained artist who I worked with during the 16-session residency, taught me how to make arts integration work for our program and how it could help our students.
The program began with Sue showing me her lesson plan, which we used for our first session with students. We continued to use Sue's plans for a few weeks. After every lesson we talked about how it went–what the high point was and what we could work on for the next session. As the program went on, it developed and changed so that I was giving more feedback and Sue was asking me more questions. I began to take more of the lead, and I grew from a consultant role on lesson plans, to writing the lesson plans with Sue, to creating the whole lesson myself. This was a great way for me to learn because I got to watch Sue, I collaborated, and then it was all me.
Sue taught me a lot of arts integration techniques that I continue to use every day in my teaching. We incorporate music and visual representation throughout the day which makes for more engaging activities. We sing through transitions and when we're teaching new material, such as shapes, letters, colors, and numbers.
One thing Sue and I collaborated on was the idea of using a mirror with my students. My students are kindergartners with autism. Students with autism often have a skewed perception of themselves and have a hard time making a mind-body connection. The mirror's reflection serves as an additional visual for them and provides a form of visual feedback. Rather than me just saying, "Touch your head," they actually see themselves do that motion and make the connection.
Sue also taught me what has become the go-to opening sequence for our classroom. It's a series of two or three short songs that integrate body movement, beat, and tone. This new practice has had a huge effect on my students, but it had an enormous impact on one student in particular.
See a sample arts-integrated lesson plan created by Morgan and Sue here!
Brittany was new to our school this year. She had never had a school experience, and she was very quiet and kept to herself. Sue came in and introduced the song and movement sequence to the students, and she asked them to mirror her actions. When Sue told students to "Show me your hand," students were asked to mirror Sue by raising their hands like she had raised hers. Brittany took to that, and she was soon asking for the song specifically by using sign language, which she had no exposure to before. Brittany was communicating and expressing her desire for the song; she was actively participating and engaging with her eyes. Had Sue not introduced this activity, Brittany may not have engaged with the group for quite some time. She has really benefited from the social lessons Sue brought to our classroom during this program.
My hope is that this experience and opportunity is available to as many teachers as possible, regardless of their academic area, because it has helped my classroom beyond words. I'm not only a personal advocate for the arts but an advocate for the arts in special needs programs.
We, as teachers, are here for the students, and whatever can benefit the students is what's most important. My kids are changing in front of my eyes because of what I've learned through this residency program. Because I gave it a chance and put in a little extra planning time, I have arts-integrated activities that keep my students engaged and entertained while they are learning.
To other teachers: Give it a try and you won't regret it.
By Kevin Adekoya, Young Audiences Development Assistant
This month, 51 artists and teachers completed their final Reflection Day of the 2013-2014 Teaching Artist Institute (TAI) Seminar. During the past five months, artist and teacher pairs have worked together to create new arts-integrated assembly and residency programs that will engage students in learning through the arts. To celebrate this accomplishment, one Young Audiences staff member shared his thoughts on TAI and what is possible when artists and classroom teachers work together to improve education.
Witnessing collaborations between artists and teachers during the Teaching Artist Institute (TAI) Seminar is like getting a behind-the-scenes look at how artists think and operate. There is a circus of artistic expression in all its forms—music, dance, theatre, and visual art—all with the power to inspire and beguile. During the past five months, carefully-crafted performances and interactive arts activities co-created by participating teachers and teaching artists have become new assembly and artist-in-residence programs for students in Maryland. Each program shows the deep personal commitment of each participant to educating students throughout the state.
It was just a few short months ago when these artists and teachers from across the region met at City Neighbors High School for the TAI Presentation Workshop.  Each artist and classroom teacher partner was present to share their plans for an arts or STEAM (Science, Technology, Engineering, Arts, and Mathematics) program. Different classrooms throughout the building were devoted to different art forms so participants could present their lesson plans to their peers for feedback. Within each room you saw groups of people listening intently as each artist and educator explained their plans and how their approach would help students connect to the curriculum in a new way.
In each room hands shot into the air to provide praise, ask questions, and suggest new ideas—all in the name of creating innovative arts-in-education programs that will inspire and excite students. Feedback, given freely between artists and educators, formed a bond that was tangible. Everyone's focus was on finding ways to address the curriculum through the stimulating lens of the arts.
One of my favorite moments was being able to participate in a sample lesson from the residency "Culture Kingdom Time." Jessica Smith, founder and lead teaching artist of Culture Kingdom Kids, is the Culture Queen who, through interactive song, dance, and movement, highlights historic African American role models for fifth graders. For example, Barbara Hillary, who became the first African American woman to reach both the North and South Pole at the age of 79. Or York, who, with Lewis and Clark, journeyed to unchartered western territories of the U.S. from 1804 to 1806. These stories and others connected with what students were learning in History class and focused on themes of overcoming obstacles–something all students can relate to on a personal level. Throughout her lesson, Jessica's goal was to show children that they too could be future pioneers by remaining curious and pushing beyond their comfort zones.
Young Audiences brings together skilled professional artists and classroom teachers to create programs that combine the knowledge and expertise of both parties. By integrating the arts into the curriculum, teachers are able to engage students with curricular content and artists are able to tap into a student's true potential.  What a great experience it was to take part in!
Learn about the next TAI Seminar and how to apply here! 
Click here to be added to the TAI listserve and stay up-to-date on future TAI seminars and workshops.
The following content first appeared in the December 2013 edition of Uncle Devin's Drum Beat Newsletter:
For four days in November, it was my pleasure to conduct an artist-in-residence program with a first grade class at Germantown Elementary School in Annapolis. The program was my field test that I am required to complete as a student of the Teaching Artist Institute (TAI), developed by Young Audiences, the Arts Education in Maryland Schools Alliance (AEMS), and the Maryland State Arts Council (MSAC).
TAI is a comprehensive professional development program for teaching artists that builds the artists' capacity to contribute to student learning in and through the arts. The program trains teaching artists in the use and understanding of the state curriculum and the Common Core Standards, as well as arts integration strategies to assist the artist in engaging teachers and students.
Through TAI, I was paired with Judith Pirela, a first grade teacher at Germantown Elementary School and, for four days (at least 45 minutes per class), I went into her class to test my residency plan entitled, "The World of Percussion!" After developing my residency plan, I then had to develop four separate lesson plans. My four days of lessons taught children how:
To classify classroom instruments by sight and sound, such as wood blocks, triangles, rhythm sticks, maracas, guiros, jingle bells, sand blocks, cymbals, tambourines, and hand drums;
To compare musical sounds (i.e. fast/slow, loud/quiet, long/short, high/low);
Different cultures created codes to communicate through beats and rhythms; and
To make their own percussion instruments.
It was great working with Ms. Pirela, her students, and all of the staff at Germantown Elementary School. I want to also thank TAI Music Specialist Sue Trainor, who guided me through the entire process and provided me with excellent feedback. The TAI program ends on February 1, 2014 with a Program Evaluation and Reflection event, at which time I hope to become one of the newest graduates of TAI.
Read the rest of Uncle Devin's December enewsletter here. You can learn more about Uncle Devin on Young Audiences' website and at www.theuncledevinshow.com.
The Teaching Artist Institute (TAI) is made possible in partnership with Young Audiences, Arts Education in Maryland Schools Alliance (AEMS), and the Maryland State Arts Council (MSAC). TAI partners and generous sponsors, like the Robert W. Deutsch Foundation, provide funding and support that make this training opportunity accessible to all qualified artists.
Taylor DeBoer, Communications Manager for the Deutsch Foundation, joined us for the first day of the 2013 TAI Seminar retreat last week and shared his experience on the foundation's blog. Check it out!
See more photos from the TAI Seminar retreat.
The 2013 Teaching Artist Institute (TAI) Seminar kicked off with a three-day retreat at Southwest Baltimore Charter School last week. The 2013 TAI class boasts being the largest in the program's seven-year history. More than 50 teachers, artists, and staff from other Young Audiences affiliates around the country learned how to integrate the arts and STEAM (Science, Technology, Engineering, Arts, and Mathematics) into the curriculum through an arts residency. During the course of the next several months, each artist will work with a classroom teacher partner to co-create an arts residency and field-test the program with students. The TAI program provides valuable professional development training to artists and teachers and aims to foster a community among artists, empowering them to use their talents to inspire students in the classroom.