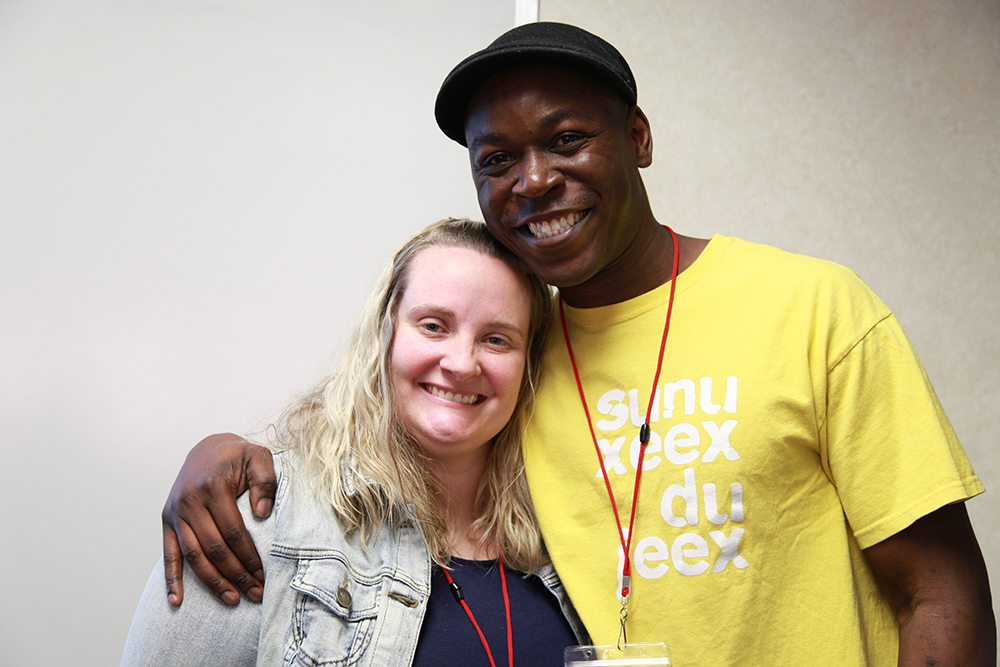 Teaching a subject through a new art form feels less daunting after not only seeing a successful idea modeled in a classroom setting, but actually participating in the learning as a student. At Community Arts: Connecting Neighborhoods and Classrooms, the 13th Annual Arts Integration Conference at UMBC, academic teachers were given the opportunity to see and do in a number of classrooms on campus.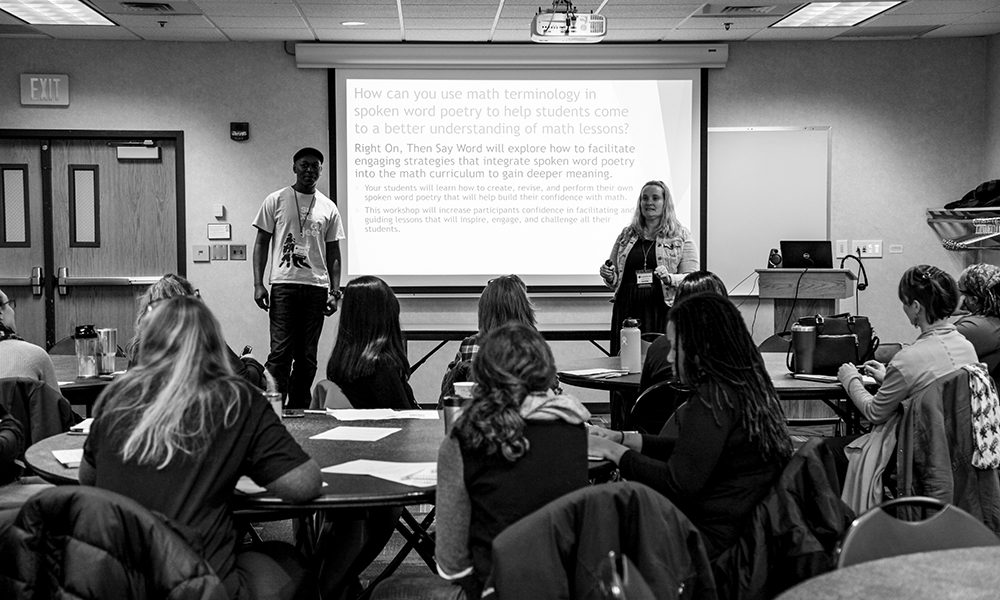 Workshop participants learned, for example, the art storytelling with Laura Wexler of  The Stoop Storytelling Series, how to connect ELA and STEAM with designing and building kinetic sculptures with FutureMakers, and ways to integrate theatre standards with language arts standards.
Participants in one class learned how to teach mathematics through wring poetry. Teachers of grade levels ranging from Pre-K through adult learners convened to learn from North County High School (NCHS) Algebra teacher Ashley Russell and Young Audiences roster artist and spoken word poet Femi the Drifish. Their workshop Right On, Then Say Word: Poetic Mathematics was developed through a lesson they have been successfully co-teaching since the 2017-18 school year.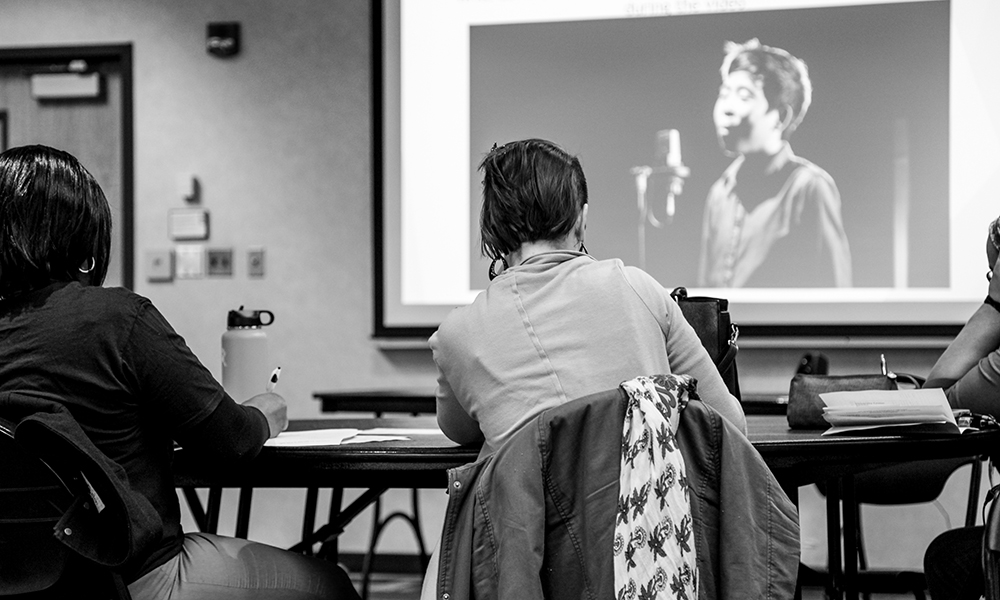 The pair shared their collective experience working with students and showed examples of student work and performances. Femi (his students address him as Mr. Fish) gave the teachers a small taste of his signature style and shared other arts-integrated lessons he's taught over the years, encouraging them to think about the intersection of language and math in word problems and popular mnemonic devices like PEMDAS (Please Excuse My Dear Aunt Sally).
At the end of the hour, the teachers had not only enjoyed their time, they learned to create, revise, and perform their own spoken word poetry using mathematical terms. They felt confident that they could use poetry to teach material in their own classrooms. And their students will most certainly enjoy the challenge, pride, creative thinking, and accomplishment that comes from learning through this art form.
You can read more about their partnership in the classroom and how students learn Algebra through the practice of writing and performing slam poetry here.
In 2017, North County High School Math Department Chair Amy Goodman began working to bring arts integration to all of the school's 9th grade Algebra 1 classes. Thanks to the Arts Empowered Minds Initiative, these students have studied with a variety of professional teaching artists. In addition to Femi the DriFish, Algebra 1 students have worked with TAHIRA, Skher Brown, and Kevin Martin. Since beginning this effort, the school's Algebra I PARCC scores have shown double-digit gains (not to mention, students nurtured their creative sides exploring storytelling, learning to play steel drums, expressing themselves through poetry, and practicing the art of Capoeira Angola).
Over the summer, Baltimore City Public School principals convened for the third time to attend a professional development course unlike any other. The first session was held in May at the Baltimore Museum of Industry where they explored the many ways arts and creativity intertwine with local industry of both the past and the future. The second, at Creative Alliance, where the group attended a workshop and lunch with Artesanas Mexicanas, a group of talented Mexican women, now residents of Southeast Baltimore, who share their rich cultures and folkloric traditions through art.
On this third session, principals gathered on a stage where so many critically acclaimed actors and singers have stood before. Looking out into the house of the Hippodrome Theatre, one could only imagine the thrill a performer might feel standing before a crowd of fans.
But how does an actor get to the stage? And what needs to happen for a show to go on? What can Baltimore City Public Schools do to prepare students for careers in theatre? These are some of the questions local principals explored in Creative Collaborations for School Improvement, a leadership course designed for principals to experience first-hand the many facets of Baltimore arts and cultural organizations, as well as how innovative partnerships with area cultural resources can help schools prepare their students for careers in fields related to the industry.
Throughout the course, principals have the opportunity to build strong relationships with not only engaged cultural organizations, but with expert teaching artists, like YA roster artists Matt Barinholtz of FutureMakers and internationally acclaimed slam poet Gayle Danley, as well as guest speakers including arts integration advocates.
"I do think that in my 31 years in City Schools that the Creative Collaborations for School Improvement course is among the most beneficial professional developments in which I have participated," said Sinclair Lane Elementary School principal Roxanne Thorn-Lumpkins.
The principals were briefed on the history of the renowned theatre, then were led on a tech tour of the space by assistant electrician Danyela Marks. High above the stage is home to the control center of all of a production's moving parts: the fly system. Thick, strong ropes, levers, weights and counterweights are all strung taut, connected precisely and purposefully, reminiscent of the inside of a piano. Any movement on the set during a production: a wall sliding, scenes changing, or an actor flying, is made from here. To work on this side of the curtain, they discover, a person needs a solid foundation in math and physics.
The group descended from the tech booth to the dressing rooms, located one level beneath the stage. Here, among the bright lights and mirrors, they learned about the Hippodrome Foundation (HFI), its mission & educational outreach programs, and how their schools can take advantage of them. They spoke with Olive Waxter, Director of the Hippodrome Foundation and Ron Legler, President of the France-Merrick Performing Arts Center about their institutions' commitment to providing opportunity in the community.
Former long-time Baltimore Sun critic and current WYPR theatre critic Judy Wynn Rousuck met principals for a fun written exercise. Part of Judy's work with HFI centers on enhancing written communication skills with young people. On this day, she challenged the educators to write a short descriptive piece using just one of their fives senses to illustrate their subject. It is easy to imagine the excitement young people must feel in Judy's classes when they see their words come alive and work together to paint a vivid picture.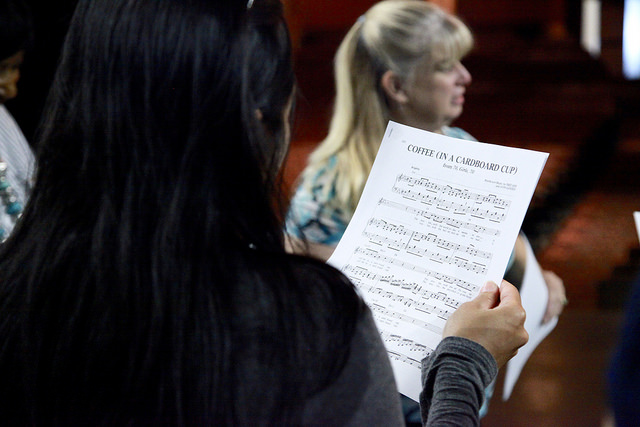 Of course, no visit to the theatre is complete without getting a taste of the performers' experience. So here, on the Hippodrome Stage, principals stepped into students' shoes to work with co-director of the Hippodrome Foundation's summer theatre camp, Becky Mossing, education director Barb Wirsing, and Markia Smith, a former camper, now a counselor to learn a number from the musical 70, Girls, 70. At the piano, they worked on vocals. The group then moved on to blocking (the movements and positions actors are assigned on stage), and after some practice, revealed their grand performance of "Coffee (In a Cardboard Cup)." And they did a pretty great job.
The next Creative Collaborations for School Improvement course will be held at Center Stage on October 7, 2017. Principals and assistant principals who would like to register for the course should contact Valeriya Nakshun for more information.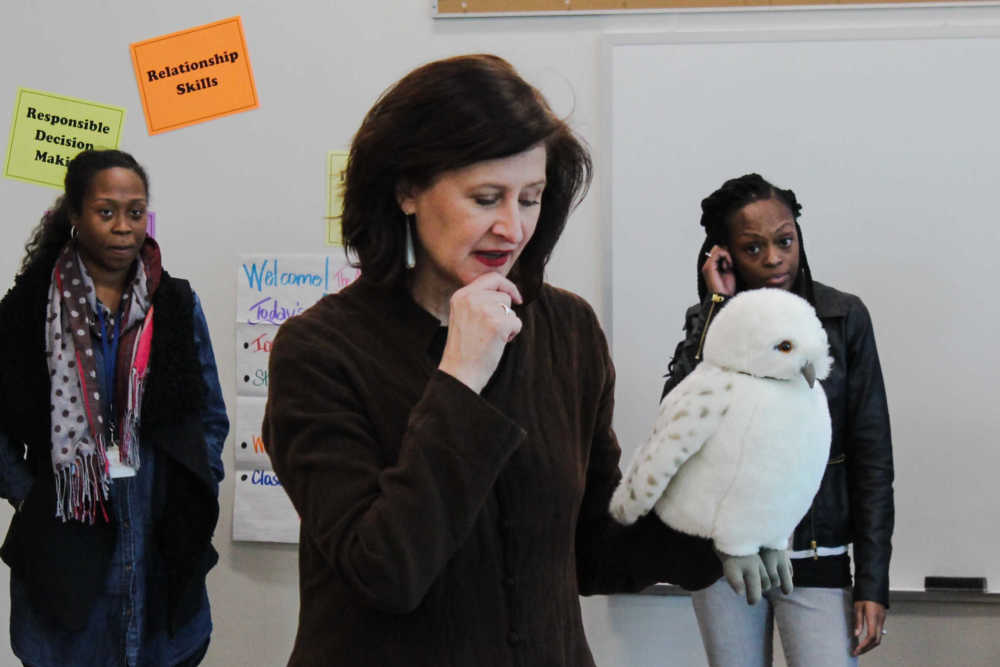 Written by Barbara Krebs, a Young Audiences volunteer and Sunburst Society member.
Colorful sticky notes adorned the walls of the classroom. Like before-and-after photos of an amazing remodel, the notes told the story of how a group of Head Start teachers in Southern Maryland unveiled their hidden talents to reach their young students through the arts. The 'before' stickies began, "I used to think…" Teachers filled in the rest of the sentence with thoughts such as, "dance, music and theatre weren't that effective," or "movement and story time could not go together," and "it was hard to integrate the arts into the classroom."
Then, as Young Audiences teaching artists demonstrated techniques that blend learning and the arts, the Head Start classroom teachers began making their own artistic/educational connections – connections that would help them return to their classrooms and engage kids in ways they had been hesitant to trust before. They soon realized that when kids are singing, dancing, and moving, it's easy for them to forget that they're actually learning!
The Professional Development course was held on February 17th and sponsored through the PNC Grow Up Great® initiative. Created to help children from birth through age five develop a passion for learning that lasts a lifetime, the program generously funded training that provided Head Start teachers with a variety of resources to increase learning, engagement and confidence by incorporating art into the curriculum.
Three YA teaching artists, musician Lisa Mathews, actor Khaleshia Thorpe-Price, and dancer Anna Menendez, taught the group. They learned, for example, how to use dance tools to create patterns, how to use their bodies and musical instruments to express themselves, and how the use of props and different character voices can more fully engage students in story time. At the end of the class, each teacher was tasked with writing and presenting a lesson seed in each art form for when the class reassembled in May.
"It was very evident from their participation on the first day and their reflections on the second day that teachers were excited about these arts strategies and implemented them immediately," explained Kristina Berdan, YA's Education Director. "Having strong backgrounds in social and emotional learning, they were able to quickly experience and understand the impact that the arts can have on this kind of growth in young people. Most of them tap into the arts regularly through chants and songs, yet these professional development opportunities allowed them to learn deeper, more meaningful strategies in and through the arts. The 'ah-ha's and feelings of excitement were palpable!"
For some, wariness about the role arts could play in the classroom had been replaced with a newfound willingness to incorporate them into their lesson plans. Through the introduction of dramatic play and puppetry, for example, students had a greater understanding of the stories they read in class than they did before the professional development course. One Head Start teacher, Jessica Wiley, summed up her experience in YA's Professional Development class this way, "The ideas and suggestions were practical, applicable, and personalized. I love how Young Audiences was able to address our questions, challenges and concerns very well."
The teachers ended the day completing sentences on sticky notes that began, "Now I think…" Their statements showed how their opinions about using the arts as a tool for learning had evolved from hesitancy to a feeling of openness and anticipation, writing, "you can use music in all areas of teaching," and "dance can be a calming technique," or "movement in story time is helpful to keep children engaged."
For Maryland's youngest students, the new strategies will be especially impactful. "Head Start supports our nation's most vulnerable children by offering a comprehensive, high quality early-learning experience that prepares them for kindergarten and strengthens family participation in their children's learning," said Yasmina S. Vinci, executive director, National Head Start Association.
Like any successful renovation, the before-and-after sticky notes showed what can be created when you effectively blend harmonious elements – education and the arts – to capture a child's natural desire to learn.
Teaching artists are expertly trained to deliver and coordinate unique, age-appropriate, and high-quality lessons alongside classroom teachers at the Teaching Artist Institute (TAI). The program is a partnership between Young Audiences, the Arts Education in Maryland Schools Alliance (AEMS), and the Maryland State Arts Council (MSAC) that turns professional artists into teaching artists and offers experienced teaching artists new strategies for everything from classroom management to designing artist-in-residence lessons.
"You might find yourself "shocked" at how much electricity comes from the marriage of art and education!"
The positive effects of arts-integrated curricula in individual classrooms, and on teachers, students, and families are numerous and extraordinary. Teaching core subjects through the arts can increase student engagement and understanding. It can direct a classroom culture toward tolerance and empathy and it can even rejuvenate teachers and bring joy and anticipation to the faculty!

"Through its audacity, its abstractions, its "aliveness," art activates parts of the brain that any teacher or employer should want to turn on," notes Drew Anderson, a veteran school teacher and YA roster artist. "You might find yourself "shocked" at how much electricity comes from the marriage of art and education!"

Teachers, families, and artists of all ages got a small taste of several teaching artists' lessons during an afternoon at Southwest Baltimore Charter School. Participants spent their time exploring new skills and practicing old ones with: Performing artist and YA roster artist, Drew Anderson; Illustrator and new YA roster artist, Maura Dwyer; Illustrator, animal rescuer and new YA roster artist, Brittany Roger; Actor, Michael Hartwell; Actor, Tori Bertocci; Actor, Dave LaSalle; Actor, Cori Daniel; and Ceramicist and new YA roster artist, Mama Sallah.
They sculpted clay, interpreted music through movement and acting, sketched and learned about reptiles with a live chameleon, created collage utilizing different design elements, and learned awesome animal facts through improvisational theatre. One young participant was overheard telling her friend about Cori Daniel's acting workshop, "It was so cool! We told stories with Ms. Cori without actually saying any words!" We can't wait to hear about the wonderful classroom experiences and learning opportunities these teaching artists help to create!

TAI is proud to be helping build a community of artists, teachers, and leaders who are committed to transforming education through the arts. Artists interested in designing lesson plans or teaching artist-in-residence programs should apply to this rigorous and renowned program. There are many things about TAI that make this professional development course unlike any other including mentorship from a designated teacher partner and from a master teaching artist in your art form. Not to mention, graduates of TAI have the opportunity to be considered for both the Maryland State Arts Council Artist in Residence Roster, and the Young Audiences/Arts for Learning Teaching Artist Roster!
For more information about the Teaching Artist Institute including videos, pricing and how to apply, click here. Read what artists are saying about the program on our testimonials page.
Categorized:

News

Tagged:

Arts Education in Maryland Schools Alliance, Brittany Roger, Cori Daniel, Dave LaSalle, Drew Anderson, Mama Sallah, Maryland State Arts Council, Maura Dwyer, Michael Hartwell, professional development, professional development for artists, Southwest Baltimore Charter school, TAI, TAI Seminar, The Drawing Zoo, Tori Bertocci, workshops
Unique and innovative arts-based strategies are captivating young audiences in Maryland classrooms. At Margaret Brent Elementary/Middle School in Baltimore City, the very youngest students are excited to connect to literature with actress and master teaching artist Katherine Lyons through movement and theater as part of a Maryland Wolf Trap residency.
Katherine creates what she describes as "hands-on, multi-sensory story experiences" by having children actively participate in the telling of the story. Physical motions are assigned to important objects and costumes help illustrate characters. To prepare for Katherine's arrival on this day, Pre-K teacher Mrs. Lee asked her students to draw what they think will happen in the story. They hung one prediction on a clothesline.
Now, at the front of the room, between Katherine and Mrs. Lee sits a 'story box' filled with clues describing the characters in the story. One by one, a student pulls from the box a tool or an article of clothing, then the class takes turns guessing who the clues belong to.
As each character is identified, one student hangs a picture representing the character on the clothesline and another student becomes the character. The students use each of their senses to connect to the story, made ever more lively through the introduction of gestures, chants, and props. "Costumes help bring the story to life," Mrs. Lee said. "The class is more interested and invested in story time when they get to use props and act it out."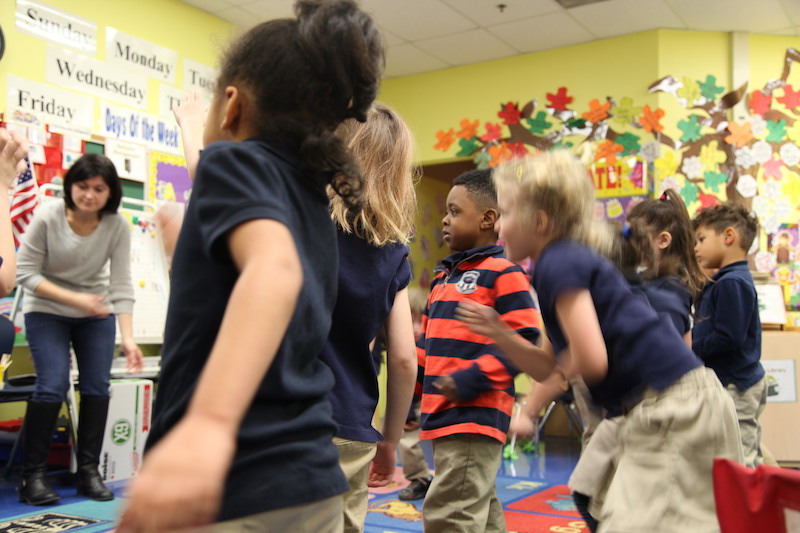 Once story time is completed, Katherine and Mrs. Lee begin planning lessons that they will co-teach. Every Wolf Trap program includes embedded professional development to build teachers' skills and confidence in arts integration techniques. Teaching artists work with classroom teachers to learn effective ways to engage students in participatory activities that involve all the senses and encourage critical thinking, creativity, communication, and collaboration. This ensures that the arts remain a strong part of the classroom teachers' lessons long after the residency ends.
Mrs. Lee plans to continue to use these new strategies during an instruction block that includes literacy, social studies and science, but she's excited to try them out in other areas of the curriculum as well. "I may use the story box with some counting stories and to help illustrate word problems in math!"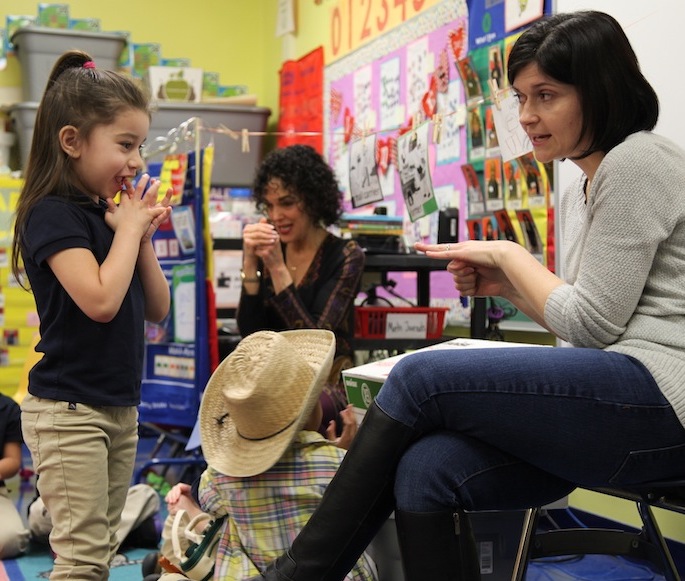 Eighty-five percent of brain development occurs during the first five years of a child's life. Participation in the arts encourages positive growth in a child's emotional, physical, intellectual, creative, and social development. As the Maryland affiliate of the Wolf Trap Institute for Early Learning Through the Arts, Young Audiences expands access to the arts for Maryland's youngest students during the critical early learning years. Bring a Maryland Wolf Trap 16-Session Residency into your school.

Categorized:

News

Tagged:

artist-in-residence, arts integration, arts-in-education, Baltimore City, Baltimore City Public Schools, creative learning, early learning, Katherine Lyons, Margaret Brent Elementary Middle School, Maryland Wolf Trap, movement, professional development, storytelling, teaching artists, theatre
On an early Saturday morning this past fall, Drew Anderson, a hip hop artist, slam poet, screenwriter, producer and veteran school teacher, stood up in front of a sunny classroom filled with teaching artists and commanded:
"You are all now 6th graders!"
That's how most mock lessons begin at Young Audiences' Teaching Artist Institute (TAI); a weekend retreat giving Young Audience Teaching Artists and School Teachers the skills they need to maximize the huge potential of arts integration for students in classrooms.
Drew's bold command at first surprises, but quickly shifts observing teaching artists into the mindset of a student absorbing an unexpected, uncommon classroom experience. A teaching artist himself, Drew asks his "students" to listen to Michael Jackson and break down the beat, eventually re-writing verses with science vocabulary taught by his teacher partner in the classroom, Justin Leonard. The two make an exceptional team, as both have backgrounds in public science education. They smoothly interchange directing the classroom, keeping students engaged – a flow reminiscent of Drew's own performances on stage.
The experience is one of two Common Core compatible arts-integrated performance residencies Drew created at TAI: "C.R.U.N.K. Academy" and "Spoof School" – bridging his longtime passions for performing and teaching.
Here's an excerpt from Drew for the first lesson of his residency:
The first step is to pick a good song to spoof. It is important to pick a song that is catchy and easily recognizable with simple lyrics. As technology guru, Mr. Leonard will record and project the students' suggestions for spoof criteria and will play a few songs asking students to put their thumbs up or down to indicate whether the song would be easy or difficult to spoof. Students defend their responses and the creation of replacement lyrics begins!
"TAI
 forever altered my understanding of what it is to be a  teaching artist.
I learned more than I knew there was to know about arts integration and teaching artistry. I felt utterly enhanced in the realm of mind-shaping magic as if I'd been given a spell book of scholarly sorcery. I learned how to more dynamically apply my art form to educational content, how to break down my creative process for students and teachers, and how to connect my artform to 21st Century Skills, Maryland Art Standards, and the Common Core Curriculum. Every engaging exercise, helpful strategy, and supportive piece of advice from the superb staff and my equally excited peers confirmed that I had found where I belonged.
I am now prepared to convert all the potential energy hidden in classrooms into explosive kinetic energy, using engaging assemblies and super-charged residencies! I've been an educator and performing artist for my entire adult life and have observed the changes in both worlds. Gone are the days when students are programmed with rote memorization of stale "facts." Employers want workers who can think on their feet and on their own. This ever-evolving environment needs young entrepreneurs armed with the creativity to solve problems that have yet to appear. Through its audacity, its abstractions, its "aliveness," art activates parts of the brain that any teacher or employer should want to turn on. You might find yourself "shocked" at how much electricity comes from the marriage of art and education!"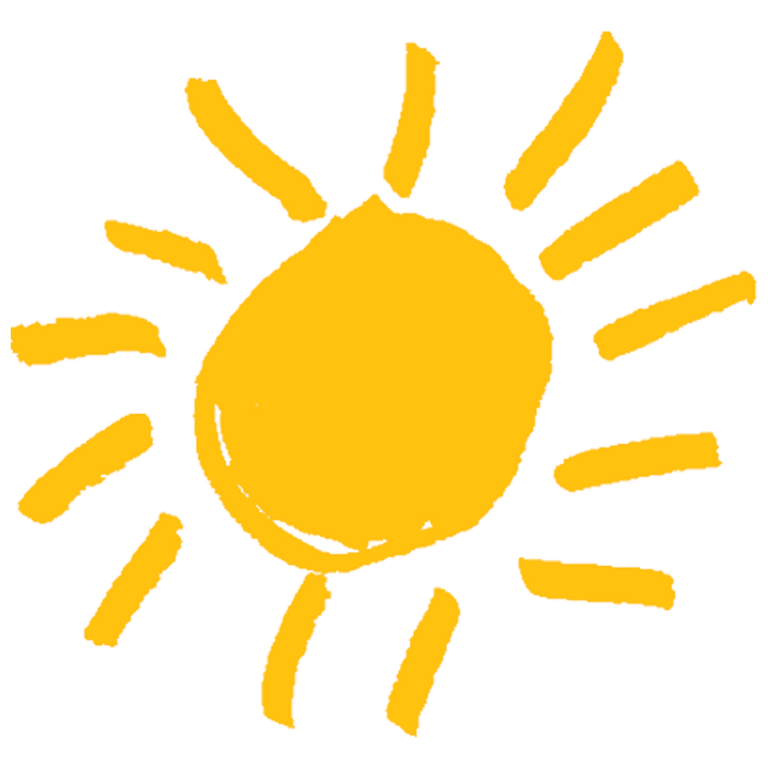 Interested in learning more about TAI? Click here!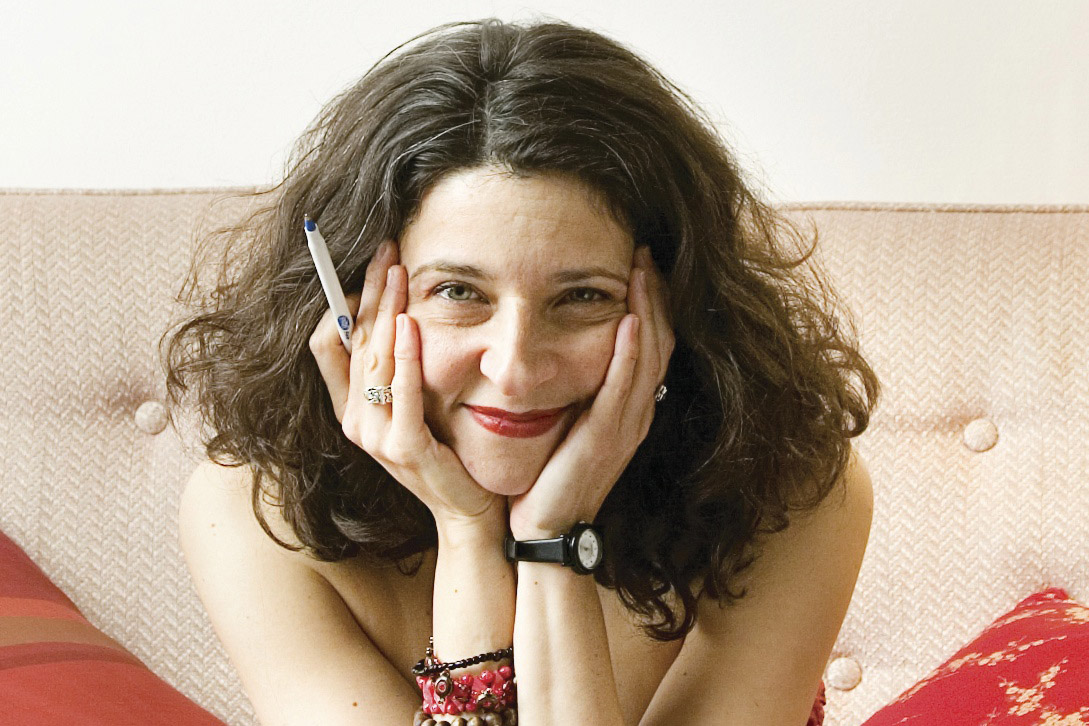 The Teaching Artist Institute (TAI) has developed two new three-hour professional development workshops designed for both new and established artists and teaching artists.
The winter 2016 workshop will be led by TAI Co-facilitator (TAICO) Laura Zam and focuses on helping teaching artists navigate the Common Core. The spring 2016 workshop, led TAI Co-facilitator (TAICO) Valerie Branch, will give artists the tools to keep art in the classroom by improving teacher-student relationships and classroom management.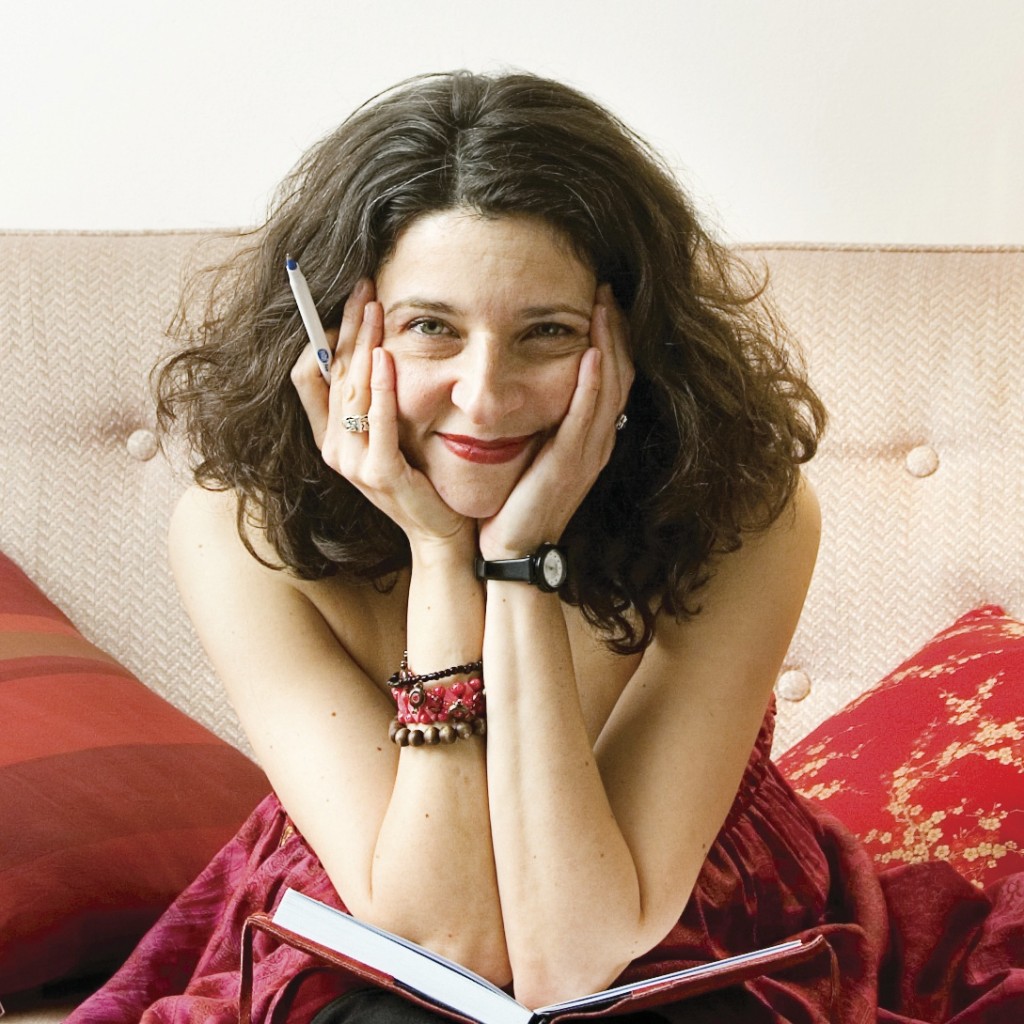 February 10: Making the Common Core Friendly, Meaningful and Fun
At the heart of a teaching artist's practice is a personal relationship to the art itself. And yet, this often feels compromised as they conform to schools, standards, and testing. Can school-based work be more artistically satisfying—not just for students, but for the teaching artist? On February 10, 2016, TAI Co-facilitator Laura Zam aims to answer this question during Making the Common Core Friendly, Meaningful and Fun, a workshop designed for new and established teaching artists. Laura will break down the Common Core—making it much easier to master—and help teaching artists connect this content to the deepest levels of their artistry.
May 16: Classroom 101: Breaking Down Your Art Form
On May 16, 2016, TAI Co-facilitator Valerie Branch will guide artists through the elements within their respective art form and demonstrate how art can improve classroom management and teacher-to-student relationships. In Classroom 101: Breaking Down Your Art Form, artist participants will learn how to break down their art form into simple, yet powerful strategies that allow the flexibility to work with students and teachers of varying abilities. Artists will leave with the tools for keeping art in the classroom—and have their teacher-partners embrace it!  
– – – – – – – – – – – – – – – – – – – – – – – – – – – – – – – – – – – – – – – – – –
Both workshops are limited to 20 participants. The cost to attend each workshop is $25 for non-YA artists and free for YA roster artists. Tickets are available on a first-come, first-served basis. Registration is required.
Get Tickets:
Making the Common Core Friendly, Meaningful and Fun
When: Wednesday, February 10, 2016 from 12:00 PM to 3:00 PM
Where: The Dream House – 1430 Carswell St, Baltimore, MD 21218
Classroom 101: Breaking Down Your Art Form
When: Monday, May 16, 2016 from 12:00 PM to 3:00 PM
Where: The Dream House – 1430 Carswell St, Baltimore, MD 21218
Barbara and Mitch Krebs are both firm believers in the importance of the arts, even though their backgrounds are very different. Barbara holds a BFA in Theater and utilizes drama techniques to get into character when approaching her work as a corporate writer. Mitch is a business banker and claims to have two left brains, but he makes sure to balance his number-heavy career with a variety of arts experiences when not in the office.
The Krebs were surprised to learn that Young Audiences/Art for Learning had been providing professional development training to the teachers at their daughter Colette's school, as well as artist-in-residence programs, for many years. They were intrigued by our work and started learning more. They saw first-hand with Colette that when the arts are integrated into the learning process as a result of the professional development training, it makes a huge difference in how kids learn and retain knowledge. The caliber of Young Audiences' artists impressed them. "When I see these artists pour their hearts into their jobs," says Barbara, "and how they get kids fired up about learning, I just want to make sure more and more kids get this experience."
The scope of Young Audiences' work in schools across Maryland is what moved the Krebs to join Young Audiences' Sunburst Society, a multi-year giving society. "We wanted to offer our support because, throughout our lives, giving back to the community has been very important to us. And our focus for supporting groups has always been either in the arts or in education. And here was an organization that combined both of our favorites!"
The Krebs believe that, in an age of school budgets facing reduced arts funding, it will require public-private partnerships–like those that Young Audiences fosters with public schools across the state–to ensure that our children get the chance to continue learning in an environment that enhances the educational process. "It's no surprise that when we think about our own school experiences, we always recall the teachers who did more than recite boring facts," says Barbara. "We remember the teachers who incorporated memorable, arts-oriented teaching techniques and who made us think and create for ourselves."
Young Audiences is grateful to Barbara and Mitch, and other members of the Sunburst Society, who make it possible for thousands of students to imagine, create, and realize their full potential through the arts.
Our Sunburst Society is made of generous donors whose high-level, multi-year pledges help to build a legacy of learning in, through, and about the arts. These contributions give Young Audiences the financial confidence to plan strategically for tomorrow's educational needs, while meeting the demand for today's programs. Join them.
Since 2000, the Wright Family Foundation has supported diverse educational initiatives that provide intervention, support, and enrichment programs for at-risk children to realize their full potential. Young Audiences/Arts for Learning is extremely grateful for the partnership of the Wright Family Foundation and its support of our early learning initiative, Maryland Wolf Trap Early Learning Through the Arts 16-session residency program.
Young children have a natural curiosity and a unique love of learning. Young Audiences' Wolf Trap residencies cultivate and encourage this love of learning in our youngest students by providing joyful, arts-integrated early learning programs in low-income schools throughout Baltimore. In addition to providing exceptional arts programming, Wolf Trap residencies are proven to increase student academic outcomes and improve teacher instructional practice. With the generous support of the Wright Family Foundation, Young Audiences has quadrupled the number of Wolf Trap residencies and increased the number of students served from 276 to over 1,100 – all in just three years.
According to the Wright Family Foundation, its support of Young Audiences grew out of its desire to provide children with opportunities to have arts-rich experiences. "One of our focus areas is Early Childhood Education," writes Mari Beth Moulton, Executive Director. "When Young Audiences partnered with Wolf Trap to bring quality arts programs to early learning classrooms, we were eager to support this partnership. This is an opportunity for the Foundation and Young Audiences to have far-reaching impact for many of Baltimore's children."
The Wright Family Foundation is passionate about providing educational opportunities for our most at-risk youth in Baltimore. Young Audiences shares this passion, and is proud to partner with the Wright Family Foundation to provide our youngest students, in some of Baltimore's most impoverished schools, with the opportunity to learn in and through the arts. With the support of generous donors like the Wright Family Foundation, we can offer a better and brighter future to our youngest students.
The 2014-2015 Teaching Artist Institute (TAI) Seminar is already underway, but we wanted to share some reflections from artists who have graduated from the program. Here's what they had to say about the experience:
As a full-time preservationist of acoustic Delta Blues from the 1920s and 1930s, I must make my history of Blues show academically relevant to the curriculums of Maryland and Virginia schools. I completed the TAI training program in 2009, and the course completely transformed my understanding of how I can support the current teaching standards in schools with my music programs.

As Young Audiences knows better than anyone, all the arts are under tremendous pressure to prove their relevance to school systems that are struggling to meet national testing standards in different disciplines. What I learned from my TAI training is that the arts serve a valuable role in preparing students with the 21st Century thinking skills they need for their future success in our rapidly changing world.

By creating a residency with a language arts teacher as my partner, I was able to use songwriting to teach students figurative writing skills. Without the TAI training, my school music programs would not be as academically relevant to the school's goals. This connection is critical for the arts to survive in our schools, not as a reward for difficult academic work, but as a means to help students meet their academic goals.

The TAI program is well-run by dedicated educators and artists. It is challenging, rigorous, and exposes artists, teaching artists, and professional educators to each other's thinking styles. This program deserves support, and I hope it continues to transform serious performing artists into skilled teaching artists.
– Curtis Blues, Blues Musician, Exploring Math and Music by Making a One String Guitar
I had never thought of myself as an educator, at least not in the traditional sense. Musically, there is always an underlying truth or teachable moment I try to impart. However, now I needed to do so in a structured, educational format. Although the curriculum was challenging, I am ever so grateful for having gone through the process. The fellowship with the teachers and other artists truly cannot be measured. As an artist, mentally you have to re-wire your brain to remember that it is not about you or a performance; it is about what the children learn and take away from the experience. A few months later I had the opportunity to return to the school for a musical performance for a general assembly. My class was so excited to see me and the feeling was more than mutual. For that reason alone, it was a journey worth taking.
– Uncle Devin, Musician and "Drumcussionist," Uncle Devin's World of Percussion
TAI gave me such an appreciation for the life of the classroom teacher. Not only did I learn how to plan and sequence a project into realistic, meaningful lesson plans, I learned a whole new vocabulary and some best practices of a strong teacher as well. Field testing my lessons with my teaching partner gave me real world practice in collaboration, classroom management, solid preparation and flexibility.

TAI is also a rare opportunity to work and learn side-by-side with artists from other disciplines. I met so many energetic, thoughtful, creative people who are not only committed to their art, but also to making a difference in the lives of children. It was incredibly valuable to me to be stretched and out of my comfort zone. As a visual artist, I found that experiences in music, dance and drama helped me move out of my head and in to my body. I learned that this whole body engagement is something that I want to bring to students when I lead them in the visual arts.

On the last day of TAI we were asked to say one word that summed up our experience. My word was "ALIVE." That pretty much says it all.
– Pam Negrin, Visual Artist, Transformative Textiles: Weaving Together Math, Literacy and History and
Collaborative Stitching: Connecting and Inventing with Needle and Thread
TAI is an amazing opportunity where artists, educators, and staff truly collaborate to help process, define, and designate the importance of art in the classroom. I loved the guided lessons, hands on experience, and being around such amazing, talented individuals. I feel like this experience helped to shine a new light on my own experiences as a classroom teacher and now a teaching artist.
– Bridget Cavaiola and Michael Harris, Baltimore Improv Group, Life is Improvised!
The staff and artists who coached us through TAI opened a whole new level of integrated content, planning, and instructional skills to us. The opportunity to develop new programming for excited young artists, alongside engaged education professionals in so many unique environments has grown our vision as an organization. This fall, three more team members will begin TAI. Best professional development around!
– Matt Barinholtz, FutureMakers, It's Alive: Kinetic Creature Lab!
I really felt like I was re-energized in my way of thinking and the facilitators brought a plethora of knowledge to the table. I appreciated their ability to listen, answer questions, and make the experience fun, interactive and simply enjoyable.
– Valerie Branch, Modern Dancer, Exploring, Creating, and Dancing with our Friends!
In a recent blog post for the Washington Post, Alvin Crawford, CEO of Knowledge Delivery Systems, addresses fundamental issues with the current professional development offerings for educators. He cites a 2009 report which found that "when asked about their experience in professional development, 'most teachers reported that it was totally useless.'" The substantial financial investment the U.S. makes in teacher development ($2.5 billion in 2012 according to U.S. Secretary of Education Arne Duncan) is not meeting the needs of many teachers, or in turn, students.
The Teaching Artist Institute (TAI), did not set out to be a teacher professional development program, but as the program starts its eighth year this fall, it is clear that it is succeeding where many traditional professional development workshops are not. TAI also has gained attention for how it provides teachers with creative and natural tools for implementing Maryland's Common Core College and Career-Ready Standards through the arts.
TAI is a statewide program made possible through the partnership of the Arts Education in Maryland Schools Alliance, the Maryland State Arts Council, and Young Audiences/Arts for Learning. It was founded to train teaching artists to create curriculum-aligned arts programs for classrooms. Since its start in 2007, the program has graduated more than 110 artists and has repositioned the role of artists in education in Maryland. Teaching artists were once perceived as performers—able to entertain, and perhaps share another culture with students—but they were a distraction from the school day, a break from the classroom. Through TAI, artists have demonstrated the value they bring to the classroom as educators.
See more photos from the 2014-2015 TAI Seminar here!
TAI-trained artists are critical partners to teachers of any subject, using their art form to creatively address the ever-changing curriculum and standards to which teachers are held accountable. TAI fosters partnerships between teaching artists and teachers, requiring artists to collaboratively plan and teach with an assigned teacher. Through this collaboration, teachers experience the gifts a teaching artist brings to the classroom and learn how the arts can be used to engage children in learning. While TAI was not created for teachers, teachers report it improves their own practice of arts integration and reinvigorates their passion for teaching.
In his post, Mr. Crawford shares what teacher professional development needs to entail to be effective for teachers and to positively impact student achievement:
Teacher development studies…have shown over and over again that simply exposing a teacher to a new concept or skill has little to no classroom impact because most professional development opportunities for educators are still lecture style – telling, showing, and explaining how something can be done.

And when the "learning" is finished, we push teachers back into the choppy waters of their classrooms without so much as a life preserver; they're given very little or ineffective ongoing support from their district.

To be transformative, strategic professional development needs to be 50 hours or more plus less formal and ongoing interaction and peer engagement to refine skills and model successes. It must also be tailored by subject, grade level and type of student.
By developing an effective training program for artists, TAI has also grown to offer a professional development opportunity for teachers which fits Mr. Crawford's definition of "transformative." The 70-hour TAI Seminar begins with a three-day workshop, which includes sessions led by master teaching artists and opportunities for participants to develop and share their knowledge in small groups. Pairs of artists and teachers then work independently during the course of several months to co-create an arts residency program which integrates the artist's expertise with the curriculum and to test and refine their new program by piloting it with students in the teacher's classroom.
While TAI was not designed to address the teaching practice of educators, it continues to build a community of impassioned artists and teachers who want to work together to transform teaching and learning through the arts.
Learn more about the TAI program and see photos from the 2014-2015 TAI Seminar. Listen and read recent reporting by WYPR, Maryland's public radio station, on how TAI teacher and artist participants are creatively addressing Common Core through the arts: Meshing Common Core and Arts Standards and Arts and Common Core—a Natural Fit.


By Dr. Sherrie Norwitz, Instrumental String Music Teacher, Thomas Jefferson Elementary Middle
Art and aesthetics are crucial to the foundation of society. Arts education provides children the opportunity to be exposed to–and develop their own–appreciation of beauty in their world. Art is a way to transmit the values of the society. Through the arts, children learn about their community, helping to provide them with a context for their lives within their communities, and become active participants in helping to create their communities. Arts experiences open doors to children, allowing them to say, "I am touched by this. I am a part of this beauty. I created this. I shared my creation. This has meaning to me."
Sequential education in the arts is a crucial component in a child's education. Learning about and through the arts gives students ownership of skills and knowledge to become active participants in society through creative expression and communication.
It is important to me for students to experience the integration of the arts across the curriculum and the varying natural connections that are inherent between the arts and their core curriculum subjects. This arts integration approach supports the learning of core curriculum subjects, reaches a wide-range of learners, provides authentic real world experiences that directly involve students in the act of creating, provides opportunities for collaboration, and supports the development of 21st Century Skills through the Common Core and Career Ready Standards.
Through our partnerships with Arts Every Day and Young Audiences, our school community is finding its way in creating a comprehensive arts integration program. With the support of our principal, Ms. Henry, we feel that we have a very strong foundation for our program's growth and development.
This year we began by extending the arts-integrated approach to learning beyond the artist-in-residence program which we had previously brought to our students. Working with Young Audiences, we created a Resident Teaching Artist position for the year to allow for the continued presence of a teaching artist within our school. Our Resident Teaching Artist, Young Audiences artist Kwame Opare, performed with his ensemble, DishiBem G.R.O.W. during school-wide assemblies, and provided workshops to fifth- through eighth-grade students. Kwame also provided our teachers professional development in arts integration to help answer their questions, provide guidance, calm apprehensions, and worked with teachers during collaborative teaching days to bring arts integration directly to the students in their classrooms.
Partnering with Young Audiences to provide such a variety of programs throughout the year ensured that we incorporated arts integration best practices and included all of our grade levels–preschool to grade 8–in these art experiences. Being an International Baccalaureate School (IB) also helped support our way forward in the interdisciplinary learning of arts integration.
Arts integration and arts-enhanced learning is happening in many ways in different classes. Among our activities, students have drawn Grecian vases as part of their Ancient Civilizations unit, they have dramatized stories through dance, applied music notation to learning fractions, used music to help understand number columns, made connections between literature and music while dancing "The Nutcracker," and created a paper Freedom Quilt.
We have developed a rhythm of arts integration at Thomas Jefferson. We are working to create an environment where everywhere you look, the arts are happening, where the arts are for everyone at the school and where connections with the arts can be made throughout a student's day. Having a sense of continuity of arts experiences helps create a feeling of expectation of such experiences for both students and teachers. There is a developing sense school-wide that the arts and arts integration "is what we do." We look to have the arts not as "special" but as a continuing presence in our daily school life, where learning can take place through the arts. There is something for everyone–for students in all grades covering a variety of subjects, and for teachers to feel supported with our teaching artists and our partnerships with Arts Every Day and Young Audiences.
Artistic energy invigorates the school environment, developing our professional skills as teachers and invigorating learning for students.
Thomas Jefferson Elementary Middle School is an IB World School, an Arts Every Day School, and a Maryland Green School. Learn more online here.