Prince George's County Public Schools
Prince George's County Public Schools
Some big ideas are meant to be shared. It is through partnership and collaboration that the big ideas grow roots and become an integral part of something even bigger. In 2015, Pat Cruz, YA's then-chief innovation officer, and educator Mary Kate Bransford had a dream. What if every kindergarten classroom in Prince Georges County Public Schools (PGCPS) had an arts-integrated environmental literacy program?
Their big idea brought together twenty teachers and five teaching artists to write a five-day lesson plan that both met environmental literacy and visual art criteria and explored themes like habitat restoration, local ecosystems, the life cycle of plants, and the lifecycle of animals for a brand new program: Growing Up Green. The program, a partnership between Young Audiences and the Prince Georges County Office of Environmental Literacy, would be piloted in 17 schools in the district in the 2015-16 school year.
That first year resulted in the creation of five separate 5-day arts-integrated environmental literacy lessons. Teaching artists worked side by side with kindergarten teachers all five days of the program with the goal of handing off that role to each individual school's art teacher in future years. To prepare teachers, Kristina Berdan, Young Audiences Education Director, trained teacher ambassadors, kindergarten lead teachers, and art/music teachers to use the arts as a teaching tool in their classrooms. "I used to think art was a product of a lesson," said one kindergarten teacher in Prince George's County Public Schools after being trained in arts integration through Growing Up Green. "Now I think art is the process to achieve the objective."
The team constantly listened, assessed, reflected, and revised, resulting in a comprehensive catalog of resources for teachers and the refinement of, in the second year, four unique residencies instead of the initial five, and then in its third year, one: Fiber artist Pam Negrin's The Lifecycle of Plants. Kindergarteners and their teachers explored nature with their real-life senses—looking, smelling, touching—to not just learn about our natural world, but experience it. Classrooms across the district were outfitted with custom-made embroidery tables where students could gather and stitch their observations, building with and learning from one another. "We think with our hands and when students are immersed in a lesson together, they begin to make their own connections," said Pam. From sharing what they learned during the school day at home to internalizing and remembering more information, the effects on learning were so profound that once-resistant teachers embraced learning through arts integration and extended it into other content areas.
Growing Up Green combines the arts and time outdoors with making connections between humans and the environment and brainstorming solutions. "The program gets kids outside and thinking about the bigger picture and the combination of all the elements of the program supports the district's goals," said James Roberson, PGCPS Instructional Specialist for Environmental Literacy. And after the lessons have ended, classes are left with beautiful embroidered tapestries they can share with the school community. "The tapestries are a great way to showcase what they've learned."
Our state was the first in the nation to approve an environmental graduation requirement for all Maryland students. In 2011, the school board created Environmental Literacy Standards that would support the growth of the planet's next generation of stewards. Prince George's County Public Schools is intentionally integrating these standards into the PreK-12 curriculum, and through Growing Up Green, they are successfully reaching the county's youngest students. This is the first year that PGCPS is running Growing Up Green without Young Audiences' support. "Young Audiences has been an outstanding partner over the last four years," said Roberson. 
"I'm really impressed by how different teachers have taken what they learned and run with it," said Jhanna Levin, PGCPS Environmental Literacy Outreach Teacher. As a result of Growing Up Green, teachers in the district's Autism Program, for instance, have embraced the art of embroidery, the fine motor skills it develops, and the calm it inspires. "It soothes the kids in a way they weren't expecting." Levin, new to the department, has taken the reigns of Growing Up Green and nurtured the development of teachers new to the program as well as veteran educators. She is constantly checking in and helping the teachers to do what works best for them.
She is holding a training session this coming January for lead kindergarten teachers to explore additional arts integration techniques for classrooms and it's not just new teachers who are looking forward to it. "We're talking about turning T-shirts into yarn and using dance for the observational piece," said Levin. James Roberson added, "We're really excited about what Jhanna brings to the program."
Growing Up Green was a tiny seed that with research and tremendous effort and love, Young Audiences was able to sow. Through the amazing partnership we've had with PGCPS, we've seen the program evolve and take shape in a way that both works best for the district and stays true to the vision of Growing Up Green at its conception. We are extremely proud to see the district take charge and continue nurturing and developing this incredible program. Levin said, "There are teachers who have done this for three years now and they say, 'Just give us the materials. We've got this.'"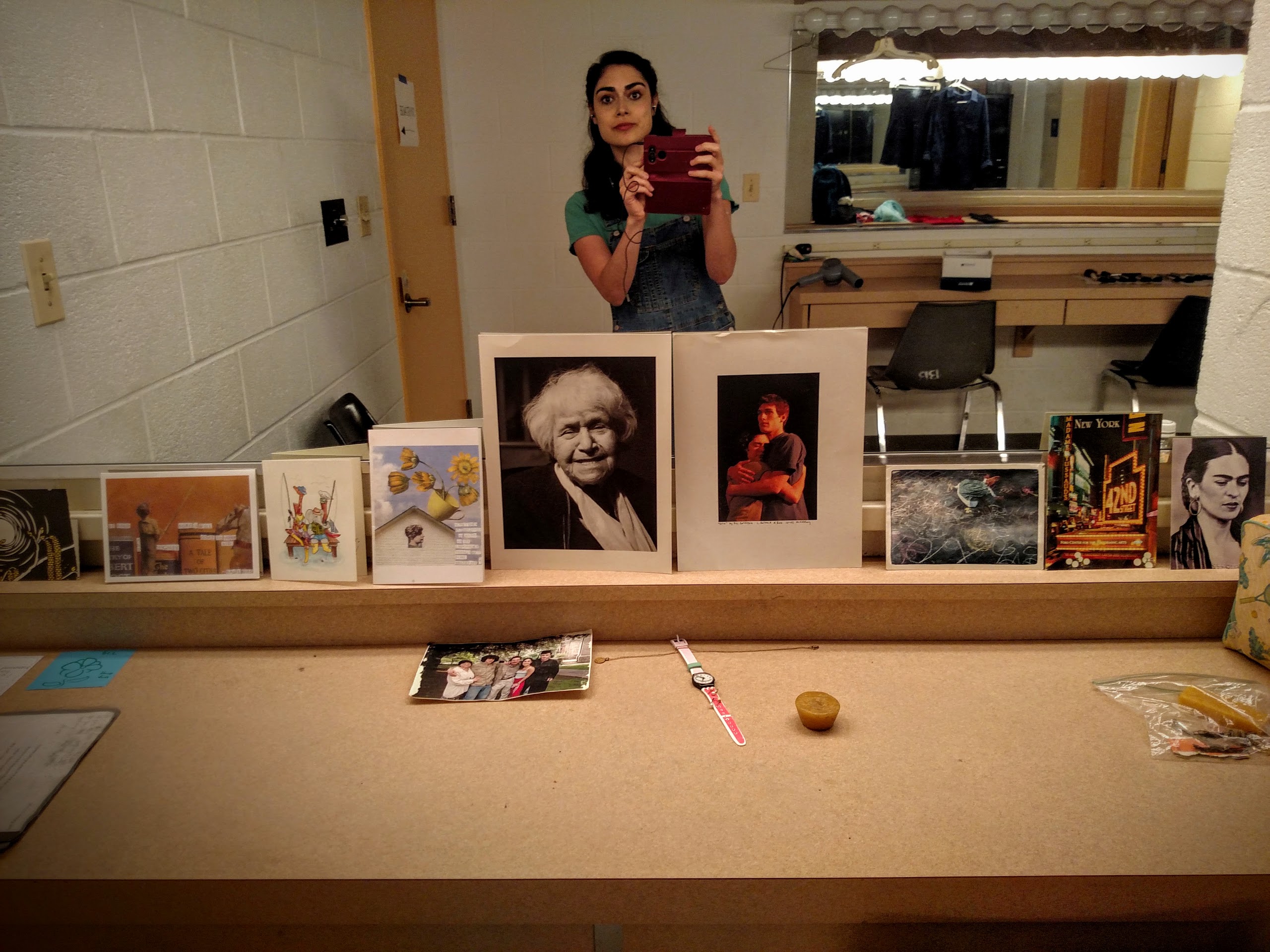 Prince George's County Public Schools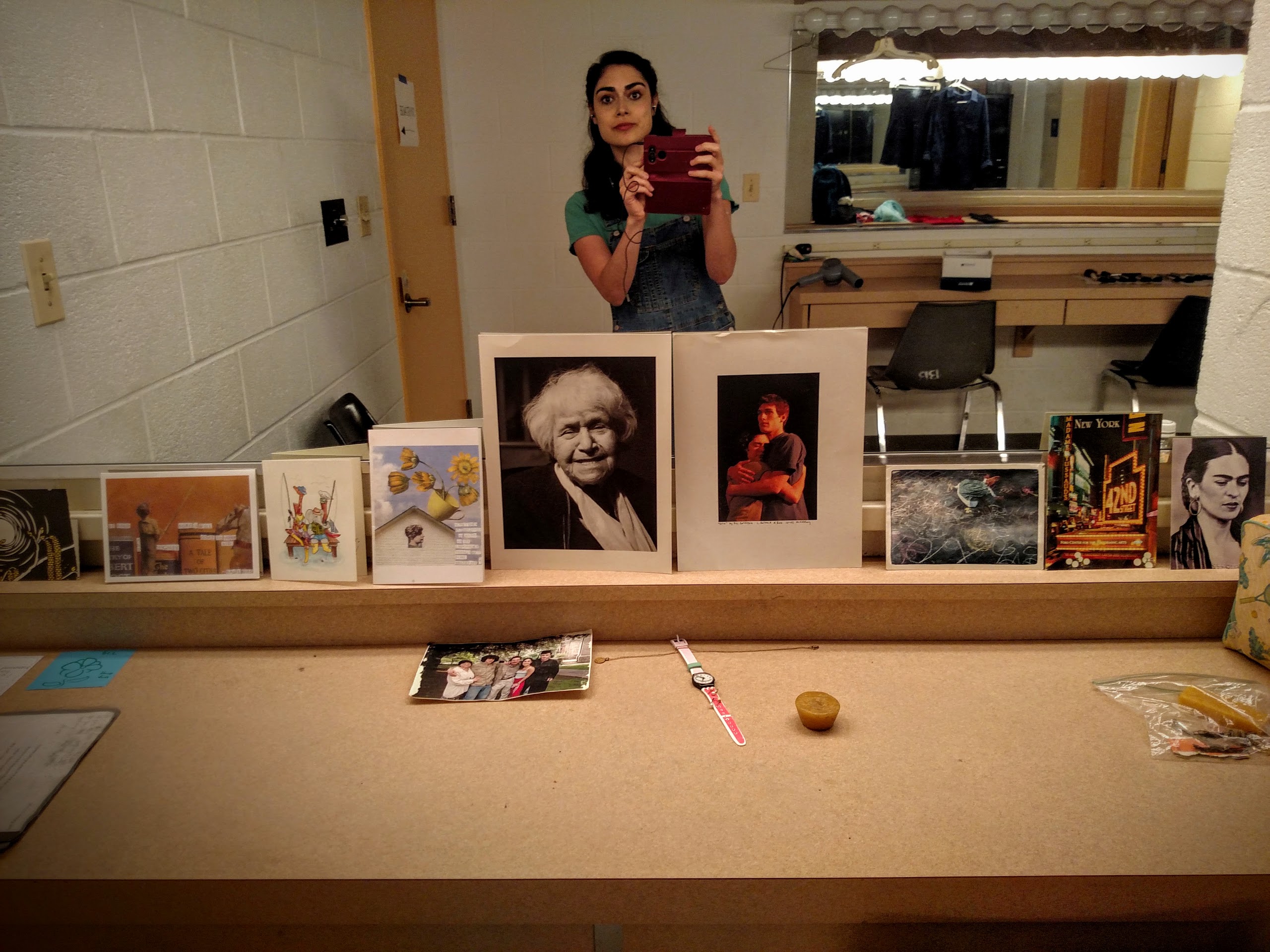 Written by Tea Carnell, an active Young Audiences board member, Chair of 50,000 Kids Committee, and member of the Literature to Life Fundraising Committee.
Last fall, I was lucky enough to see Literature to Life's staged presentation of Sue Monk Kidd's The Secret Life of Bees in Washington, DC at a fundraiser hosted by Laura Handman, daughter of Literature to Life's creator, Wynn Handman. Wynn Handman is also one of the founders of The American Place Theatre in New York City. That night, we were raising funds to bring this program to Prince George's County Public Schools where it was performed last week.
I was moved by The Secret Life of Bees because, among other things, it touches on themes relevant not only to the students, but to everyone: racism and prejudice, the power of women, the vulnerability of women, what is real versus what is presented to us, and guilt and forgiveness. These issues are weighty and the performance compels the audience to confront them, showing that performance can exceed entertainment and that life's biggest questions and broadest experiences can be captured and expressed. With the leadership of the teaching artist, Literature to Life creates an opportunity for students to consider and reflect. Wynn Handman once said, "There is so much noise in the entertainment world today, but where is the mind? We are not going for noise, we are going for the core. We do things that stay with youth, that get to them in a deep way…. That's how we connect with youth. There is nowhere to hide from the story once the actor begins." This opportunity is important for all students. And, it is especially critical for those students who don't have access to the arts.   
The performance of The Secret Life of Bees is accomplished just by one woman, Lily Balsen, playing all of the characters, and using verbatim excerpts from the novel. The actress spins these elements into a seamless production. I was lucky enough to see it again last week, on International Women's Day. Of course, The Secret Life of Bees is a novel about women, and written by a woman. The date of the showing was a coincidence – a little serendipitous.  Young Audiences/Arts for Learning was 'showing off' Literature to Life to a Baltimore-based audience interested in, and supportive of, arts in education.
This performance coalesced around the messages I had grown up with and personalized them for me with an immediacy that I had not yet experienced in the suburbs where I was growing up.
As I've thought about these wonderful performances, I have been reminded of the impact that a single play had on me as a child. I grew up just outside of Philadelphia in the mid-1970's. In 1976, my parents took us to see One Acre at a Time at Freedom Theatre. Freedom Theatre is a Philadelphia-based theater company whose mission is "rooted in the African American tradition." The play was intense, it made me uncomfortable, and the experience left me with lots to think about as a young person.  During my childhood, my parents tried to educate me and my brother about the importance of the Civil Rights Movement. I always understood what they were telling me and accepted that racism and discrimination were wrong. I don't remember the specific plot at this point. I do remember the impact of the emotion and passionate expression in the context of historical issues of race in the United States. This performance coalesced around the messages I had grown up with and personalized them for me with an immediacy that I had not yet experienced in the suburbs where I was growing up. That experience sits with me today and has left me with messages I don't think could have been communicated in a more compelling way.
Literature to Life brought me back to that experience of being a child, moved profoundly and enduringly by a performance. I feel strongly about the power of theatre in the lives of students. Theatre has many layers for students beyond audience: content, expression, production. Children benefit from them all – as young writers, performers, writers, artists, stage crew.
4,000 young people will experience the staged presentation Secret Life of Bees and, afterward, participate in a "talk back" with Young Audience teaching artist Molly Moores and the phenomenal actress Lily Balsen, who travels from New York for these performances.  The schools participating in the tour include:
Annapolis Road Academy
Bowie High School
Dr. Henry A. Wise, Jr. High School
International High School at Langley Park
International High School at Largo
Largo High School
Northwestern High School
Mount Washington School
Southwest Baltimore Charter School
I hope that Literature to Life will find its way to many more Maryland students.  To learn more about the program, visit literaturetolife.org.
If you are like me and care about the power of theatre, or more broadly about the power of the arts in our schools, I suggest you get to know more about Young Audiences/Arts for Learning at one of its regular Bright Side events. Bright Side events are not fundraisers, rather they are one-hour, fun, interactive presentations that go more in-depth about our work (including all of our programs beyond theatre with music, visual arts, and dance) and share stories of the people we serve. The next event will be on March 21st at 5:30 pm at Herman, Sessa & Dorsey in Hunt Valley (307 International Circle Suite 280, Hunt Valley, MD 21030). To RSVP for this event, please email Chaz Walters at [email protected].
Prince George's County Public Schools
 
Growing Up Green: Hip-Hop Poetry and Composting
Teaching Our Youngest Learners Environmental Citizenship Through the Arts
Part 2: Local Ecosystems
This Spring, Young Audiences wrapped up the initial phase of its pilot programming for Prince George's County Public School District's new arts integration initiative, Growing Up Green. We introduced the program in an earlier blog post, but here is a refresher for those who missed it:
The initiative is part of an exciting new partnership between Young Audiences/Arts for Learning and Prince George's County Public Schools and is funded in part by a BGE Green Grant and the Chesapeake Bay Trust. The program engages kindergarteners in meaningful and authentic outdoor experiences that help connect them to their local ecosystems and inspire them to learn more about protecting our environment. The arts provide the vehicle that the students use to demonstrate and communicate their understanding to the greater learning community of their school.
Bomani, a Young Audiences Teaching Artist, began his pilot program by using poetry to investigate the process of composting with five groups of Kindergarten classes at three different schools: John Hanson Montessori, Oxon Hill Elementary, and Benjamin Foulois Creative and Performing Arts Academy. Over 80 kindergarteners had the opportunity to literally get their hands dirty in hands-on learning while understanding everything from what type of trash can be composted to why we need to grow food. Read on to hear more about Poetry and Composting from Bomani:
"Growing Up Green was a learning experience for me. I had done residences with kindergarteners before, but never where the final project had to narrate a sequence. Usually, when I'm working with kindergarteners, we are having fun working with rhyming words, and we can make up definitions for them and write like Dr. Seuss, creating an imaginary world.
This workshop offered something new, a tangible, in-your-hands experience that's different from my usual history- or social studies-based residencies. But what is the root of this imaginary world for this particular workshop? We start with a shared experience.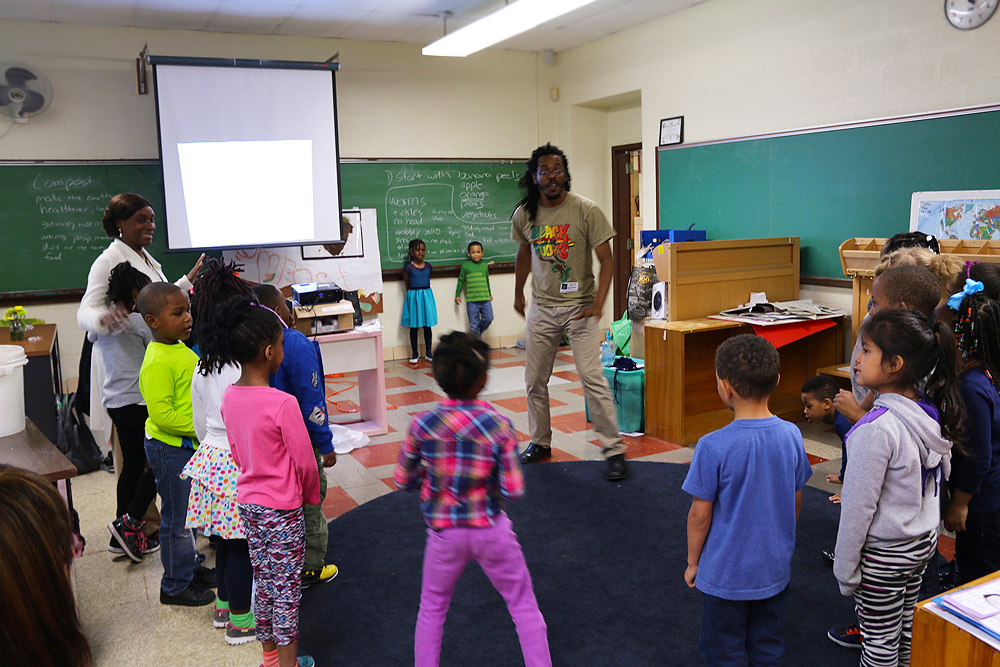 Students learn the ingredients and components to the composting process. I asked the students what they already knew, and then we would question and discuss the most important things. It doesn't really matter what the subject is, as long as kids have a shared experience to draw from, all getting to feel, touch, smell, discuss; when we start throwing out ideas, we can better interact with each other.
One of the reasons I love group creative-writing sessions is because the conversations that go on in a group setting are the same internal conversations that go on in a writer's head. Showing that process to young people in a physical way, where they are acting out how ideas are communicated — 'what about this idea, what about that idea, we should take this back, we should add that in there!' — helps them to better understand complicated topics like composting.
One student would forget one part, and another would remember and say, 'Oh you forgot the part about adding the paper!' And they would all respond 'oh yeah!' and a conversation about the process of composting would develop further, which would inevitably lead to other discussions surrounding composting, like 'Why do we need more trees? Why do we compost in the first place? Why and where do we grow food?"
The writing process began with the teachers and I adding the "odd" lines — the first line — and then students brainstormed the second line for the couplet, coming up with the rhyming components. At first, I was worried about how heavy-handed the adults in the room would need to be for it to make sense, but the students came up with some amazing things! Here's a great example:
"Put holes in the bin so the worms get air,
Holes in the bin show worms you care,
Put strips of paper and some leaves,
Paper and leaves come from trees,
Add food scraps and coffee grinds,
You just need some time
Put the top back on, they don't like sun,
Composting is very fun!"
Usually, there's one student in every class that starts off really nervous about moving their body, using their voice or raising their hand. One young lady at John Hanson Montessori was very quiet at first but over the course of the class, her teacher came up to me and said, "She's completely opened up!" With younger students, they typically have less fear than older kids, but for many of these children, English is a second language so it's sometimes hard to communicate quickly or expressively.
This one student was able to open up because I kept repeating, 'someone tell me a bad idea' or 'someone say something that's not exactly right yet, but you think it's almost there.' Giving the young lady that freedom made it easier for her to open up. She would raise her hand and say something, and I would say 'Oh! That's not quite right, but please keep trying, I love where you are going with that! Rethink that, talk to your neighbor and come back to me.' She got used to the idea of not being afraid of the wrong answer because we are all collectively looking for the right set of words.
There's a line in one of the songs where they rhymed the word "word' with "serve" as a near-rhyme. The teachers all agreed that "serve" was not the easiest to rhyme with, but when we asked the kids to vote, they picked "serve," so we went with it! I prepped the kids for this more difficult rhyme, saying 'you know, if it doesn't work out, it's okay, we can always back-track, but since you all voted on it, we'll try it out and see how it works.' I let them huddle up, and I got back a whole bunch of excellent ideas about how to use the word 'serve'! Below is the final line we used in the poem:
Composting is how we serve, and we use this rap to spread the word!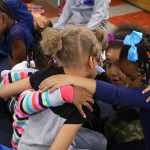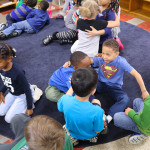 One of the side effects of this workshop, let alone the main idea of composting, is that it gets kids really excited about words and about articulating thoughts. Kindergarteners were constantly trying to find ways to tie in words to create new ideas, really stretching themselves and questioning the meaning of words.
In all honestly we probably did underestimate the ability of one 6-year-old to use 'serve' in a rhyme, but with 30 of them together all talking about it, they figured it out! Each rap came out really well!
——
Teaching Children Not to Be Afraid of Giving the Wrong Answers
Ever wondered why kids say they're bored at school, or why they stop trying when the work gets harder? In this essential video on Fixed vs. Growth mindsets, Educationalist Carol Dweck explains how the wrong kind of praise actually *harms* young people. This short video is essential viewing for everyone — from teachers and education workers to relatives and friends — which promotes GROWTH rather than "fixed" mindsets in students.
——
Help Fund This Program!
Your tax-deductible donation will help support programs like Growing Up Green.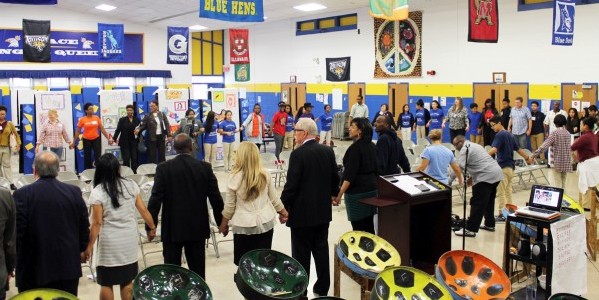 Prince George's County Public Schools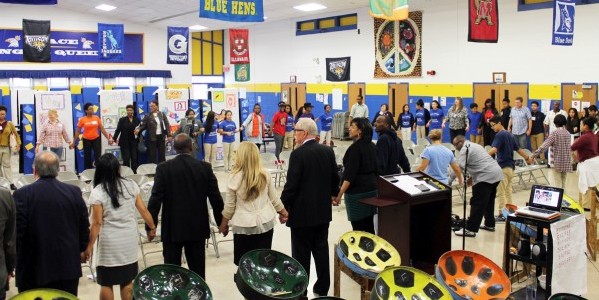 By JOHNATHON CLINKSCALES, Originally published on www.somdnews.com

In an effort to expand teaching opportunities and transform the lives of all students through the arts, Young Audiences/Arts for Learning of Maryland and Prince George's County Public Schools celebrated the launch of a new arts integration partnership on Nov. 17 during a kick-off performance at Oxon Hill Middle School in Fort Washington.
"The arts represent the ability to teach children, help children be imaginative, innovative [and] creative and I think we need that," PGCPS Chief Executive Officer Kevin Maxwell said. "[It's about] engaging the whole child and having kids able to do more than just left brain functions of memorizing and computing, [which is really important in bringing out their] creative and innovative sides."
John Ceschini, an arts integration officer for PGCPS, said the arts integration pilot program is currently offered at 41 schools in the county. Oxon Hill Middle was chosen because it reinforces education in a different way by integrating arts with the science, technology, engineering and mathematics disciplines.
"Oxon Hill [Middle] is STEAM school, which is STEM across the arts," he said. "They do a lot with the integration of science, technology, engineering and math with the arts."
For Ceschini, he supports the research related to student participation and academic achievement.
"There's a lot of research that says that the arts impact learning, improves student retention and also increases student engagement," he said. "So why wouldn't we bring something like that [which] can contribute to student achievement."
As the nation's largest arts-in-education network commemorating 65 years of service, Young Audiences of Maryland ensures all students are given the best circumstances for learning by working in partnership with schools and school districts to provide arts integration professional development for educators, according to the YA website.
"We envisioned a day in Prince George's County where every student has the opportunity to imagine, to create and to realize their full potential through the arts," said YA Executive Director Stacie Evans. "We believe that artists can be catalysts in our schools. Through their art form, they can develop new approaches to teaching the curriculum. They inspire children and they help reach some of our struggling learners. It's because the arts and the self-expression and the creativity required of the arts brings meaning to learning."
YA's Chief Innovation Officer and Education Director Pat Cruz said she is impressed with the work that PGCPS had done to restore arts education in the classroom.
"It is an honor to serve such dedicated and hard working educators who, despite all the challenges they have, are truly going above and beyond to provide their students with the best learning experience as possible," she said. "We've tried to support that work in four ways in Prince George's County. First, it's … by providing quality cultural arts programs that are connected to the curriculum and provide grant writing assistance to bring them into the schools. … Second, we're working with John Ceschini's office to provide professional development and expertise to the new arts integration schools. … Third, in partnership with New York City's American Place Theatre, we're proud to present the Literature to Life theatre experience … to discuss issues of society such as racism and inequality."
As a result of YA's efforts, Evans said more PGCPS students have benefited from the arts integration program.
"Young Audience's mission is to transform the lives and education of youth through the arts," she said. "We're very committed to reaching out to children across the state and in fact, we've reached children in every single county and impacted the education of 182,000 students."
Evans also said YA will expand its outreach thanks to Maxwell's dedication to the arts.
"This year, we're going to increase our reach by nearly 5,000 students [compared to] the year before," Evans said. "It's really because Dr. Maxwell is committed to the arts and he's creating opportunities for us to try and integrate the arts across the curriculum."
For Oxon Hill Middle School Principal Wendell Coleman, the arts integration program promotes the school's motto of PEACE — positive energy activates constant elevation.
"The partnership with Young Audiences has been a critical opportunity for our kings and queens," Coleman said. "Arts integration is a big part of our school … [and exposes them] to the beauty of the arts and what it can mean for them for a lifetime. … It's so fulfilling to come to work every single day with [a] great dedicated group of educators. Nothing happens without solid teaching, nothing. We value our teachers as much as possible."
Originally published on www.somdnews.com
Prince George's County Public Schools
A teacher from Oxon Hill Middle School personally thanked Young Audiences during a post-event gathering for bringing the Literature to Life program to Prince George's schools. After a performance of "Black Boy," a verbatim adaptation and stage performance of the classic American literary work by Richard Wright, he said he saw one of his students carrying around the Richard Wright book. When he asked the student about it, the student said he decided to read it after seeing the performance.  The teacher noted that he didn't read that book until college and said, "This is what Young Audiences does for our students."
On November 17, Young Audiences of Maryland and Dr. Kevin Maxwell, CEO of Prince George's County Public Schools (PGCPS), announced the launch of a new arts integration partnership at a press conference held at Oxon Hill Middle School.
This new initiative will benefit more than 15,000 Prince George's County Public School students in the 2015-2016 school year and dramatically increase student student access to the arts.
Dozens of teachers, principals, and PTA members were in attendance, along with school board members and PGCPS district office personnel. The event attracted the attention of local media outlets, including WUSA, a CBS news affiliate station in Washington, D.C., who ran a segment on the new partnership during their morning news coverage on November 17.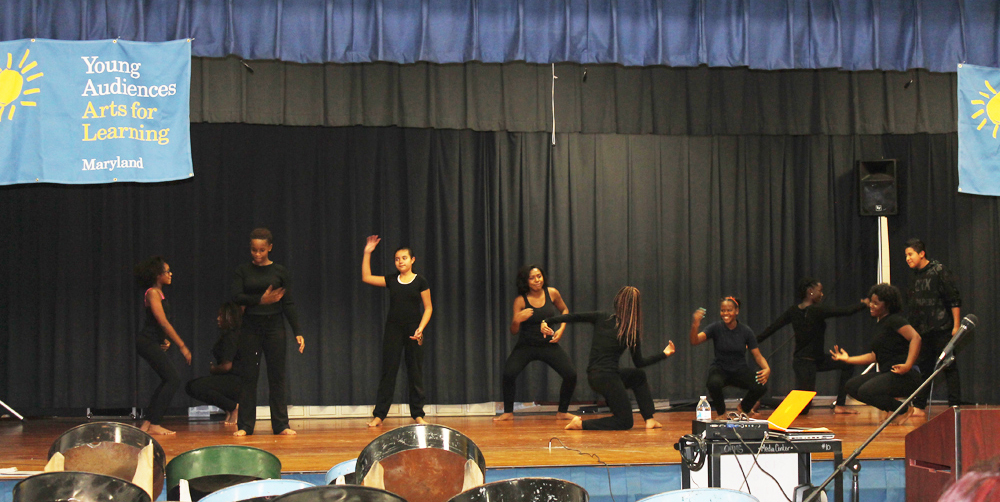 In the true spirit of Young Audiences, this was not your typical "black-tie" press conference. The room was filled with music, dance, laughter, and inspiring stories. Student performances from Oxon Hill Middle School's Performing Arts Academy opened the event, showcasing the talents of the school's students through music and dance performances. Young Audiences' teaching artist Ssuuna engaged the audience in an interactive, call-and-response performance of music from his native Uganda with authentic African instruments.
With media cameras rolling, Dr. Maxwell spoke passionately about the importance of partnering with Young Audiences to bring high-quality arts programs to more PGCPS students. Integrating the arts into classrooms is not only critical to increasing student achievement and engagement; it is an essential component of every student's education and maximizes the talents of all students.  Dr. Maxwell's belief in the importance of the arts-in-education—and the exceptional teaching artists and arts-in-education programs that Young Audiences provides—will ensure that all students have the opportunity to experience this critical part of their education.
Stacie Evans, Young Audiences' Executive Director, echoed Dr. Maxwell's remarks, saying:
We believe that artists are catalysts in our schools. Through their art form they develop new approaches to teaching the curriculum. They inspire children. They help reach the most reluctant and struggling learners. From the beginning, Dr. Maxwell made it clear that the arts are a priority and he welcomed community partners to be part of the solution to ensure that our kids receive a complete education.  As a result, 15,000 more students are benefiting from Young Audiences programs this school year alone.
Additional speakers included Mr. Wendell Coleman, Oxon Hill Middle School Principal; John Ceschini, Arts Integration Officer for PGCPS; and Tracey Cooper, Oxon Hill Middle School science teacher.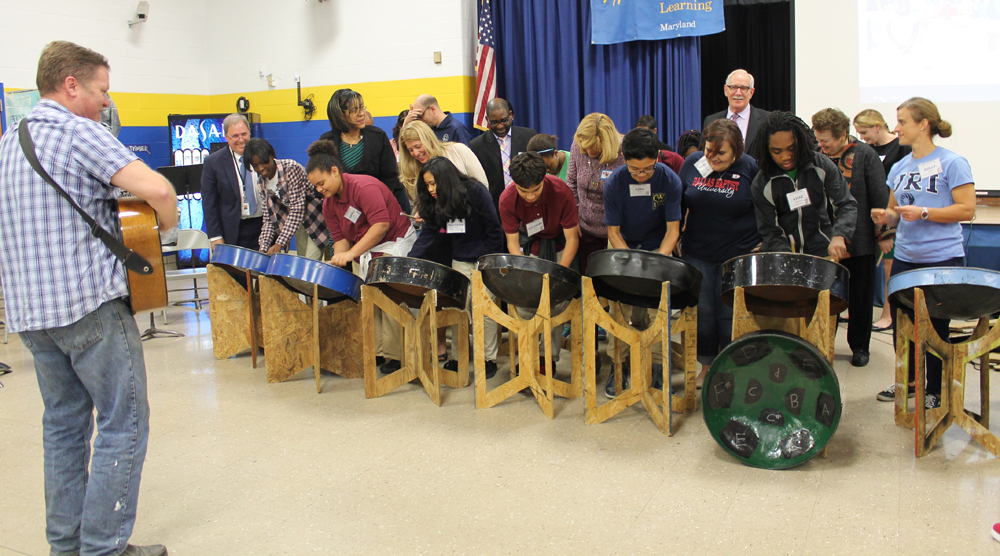 Young Audiences' teaching artist Kevin Martin closed out the event with a steel drum ensemble of Oxon Hill Middle School students.  These students—who jumped on stage to perform just hours after learning to play the steel drums—soon became the teachers. The steel drum performance culminated with Kevin inviting audience members, including Dr. Maxwell, to join a student at their drum and follow the student's lead in learning the song.
A teacher from Oxon Hill Middle School personally thanked Young Audiences during a post-event gathering for bringing the Literature to Life program to Prince George's schools. After a performance of "Black Boy," a verbatim adaptation and stage performance of the classic American literary work by Richard Wright, he said he saw one of his students carrying around the Richard Wright book. When he asked the student about it, the student said he decided to read it after seeing the performance.  The teacher noted that he didn't read that book until college and said, "This is what Young Audiences does for our students."
From theatrical productions that bring American literary masterpieces to life, to artist residencies for kindergarten students that inspire environmental citizenship, this new partnership with Prince George's County Schools significantly increases access to arts learning for thousands of PGCPS students and leverages the talent of 20 teaching artists, the resources of six private and public funders, and advances the goals of PGCPS and YA to transform the lives and education of all students through the arts.
Research shows a direct connection between participation in the arts and student achievement. Research also shows having the arts in schools contributes to positive school culture and builds the creative and critical thinking skills that our workforce needs. Despite these benefits, student access to the arts as part of their education has declined. Young Audiences is honored to partner with Dr. Kevin Maxwell, named a Champion of Change by President Obama for his dedication to the arts, because he is committed to ensuring that PGPCS students are not denied the arts as part of a complete education.
Powering Arts Integration with Innovative Programming
Young Audiences' programming for PGCPS will combine arts learning with traditional subjects such as science, math, and reading, expand in-school opportunities for professional teaching artists, and include further arts integration advancement through strengthening teacher preparation and professional development. Program areas to include:
GROWING UP GREEN
A Kindergarten-level environmental literacy program that supports a thematic approach and addresses the Maryland Environmental Literacy Curriculum Standards. Curriculum will be developed collaboratively among partner organizations and, following a successful pilot of the program, will later be infused into the kindergarten science and social studies core content areas. Financial support provided by BGE, Chesapeake Bay Trust and Maryland State Arts Council Artist in Residence Program.
LITERATURE TO LIFE
Through our unique combination of interactive theater, literature, and education, Literature to Life brings American literary masterpieces to life —giving voice to words and inspiring young people to find their own voice. Financial support provided by Laura Handman and Harold Ickes, Lisa and Porter Dawson, and other generous supporters.
PROFESSIONAL DEVELOPMENT
A series of professional development workshops designed for schools in their first year of joining the "Arts Integration" initiative. Educators will define and discuss the benefits of arts integrated teaching. After experiencing a sample drama and language arts lesson, teachers will brainstorm and apply creative challenges in their specific curriculum area. Program facilitated by Teaching Artist Institute.