Bringing photographer Christina Delgado to Cross Country Elementary Middle School in Baltimore City this spring for a self portrait residency was supposed to be one of the highlights of the school year. Last year, when Kristine Buls, the lead science teacher at the school, responded to a call to work with the artist, she knew the opportunity would be just right for her students. In her previous life, Ms. Buls worked as a photographer, so the thought of getting cameras into her students' hands was irresistible. It had to happen! At the time, of course, no one imagined that by spring, working together in a classroom would not be possible.
As it did around the globe, the COVID-19 pandemic sent the Cross Country students into a starkly different way of living and learning. "I was really upset when I realized we weren't coming back to school," said Ms. Buls. The artist residency that had been planned was special. Exelon, the energy provider and parent company of BGE, commissioned the project and would display the finished Cross Country student photographs and mixed media pieces as a permanent installation within their Chicago headquarters. It was a big deal—one that the school faculty and staff, Christina Delgado, and the students and their families had all been looking forward to.
Could the adults in our students' lives be resourceful and creative, proactive, and flexible–not just to ensure that children's basic needs are met, but that their whole selves are nurtured—even in times of crisis? The answer is yes. Ms. Buls said that she was met universally and enthusiastically with support. "It means so much that they're using actual cameras instead of cell phones. It's a very different experience and most of them haven't had that. And the fact that we could morph this experience from in-person to virtual… I think it's gonna be different, but I think it's gonna be great!"
The public health crisis could have halted any dreams of working on the project, but this was an opportunity too special to let slip away. With so much already being taken from students because of COVID-19, Principal Stanfield and Young Audiences thought it was more important than ever to create this work during this unique moment in history. "This has been a big undertaking and I wouldn't have been able to do it without the efforts and guidance of Katherine Dilworth from Young Audiences and Kristine Buls—there have been many successes along with many moments of learning and adjusting," said Christina Delgado. "This experience has played a pivotal role in my teaching/teaching artist career."
Christina reworked her in-person lessons so that they could be delivered virtually and the school district got the students the equipment they needed to complete the project. "I was elated that through this experience, Cross Country was able to purchase 50 cameras for their school," said the artist. "It has always been a dream of mine to leave cameras for students and teachers so that the work can continue."
"Parents have been really, really excited about participating," said Ms. Buls. "I think the school closures and social distancing has been really difficult on the kids. They feel special—they're getting a camera! And I think it's gonna be special, too, because of the time they're doing this in. They're recording history."
What does learning look like in June? It's hot, kids are getting restless, and classes don't typically get any easier academically. Quite the opposite, in fact, for Algebra 1 students and teachers at North County High School in Anne Arundel County Public Schools (AACPS) who, in their final weeks of 9th grade, worked on teaching and understanding one of the class' most difficult concepts: Graphing Piecewise Functions.
In the past, through the Arts Empowered Minds Initiative, the Math department at North County High has enlisted a slam poet, a storyteller, and a steel drum musician to help teach Algebra 1 concepts. This year, they invited YA roster artist Christina Delgado to guide the 9th-grade students and teachers through the art of photography to produce images that symbolize points on a Piecewise Graph.
Piecewise functions have multiple equations that define different sections of a graph. One section may look like a straight line, the adjoining section may look like a parabola. Rather than having one equation that defines the graph, there are multiple equations that define the function for specific sections.
To bring this concept to life, Christina and the mathematics team took the complex math idea and made it personal. Students were asked to tell the story of their freshman year of high school and translate that story to a graph with the X-axis representing time and the Y-axis, happiness. As with life itself, happiness over time does not always look like a straight line or a steady curve—sometimes there are sharp turns and big ups and downs in short periods of time. Students started with the story they wanted to tell—the story of their school year, then worked backward to graph these stories over time and layered them over a photograph of their creation and choosing.
The students took the art form very seriously and paid close attention to Christina's advice and direction—and because the teachers participated along beside them, they were able to experience the pleasure and resonance of learning through photography. They were able to relay this experience while leading a professional development course for the rest of the math department, giving them a small taste of how integrating the arts not only helps students grasp difficult concepts in math, but helps build community and understanding in the classroom.
"It's a great way to learn how your students learn," Christina told the teachers. Mr. Kellermann and Ms. Russell recounted how much their students enjoyed working on the projects—projects that were meaningful to them. "I learned a lot about the kids I didn't know—it was cool sitting and talking with them and talking about their stories." In preplanning sessions, students wrote stories about their lives, highlighting events that had an impact on them. Teachers helped students identify symbols that could represent critical points in these stories.
The Algebra 1 teachers walked the rest of the math department faculty through the same initial exercises their students completed on the first day of the residency. Just like their students, the teachers learned to operate and care for their tools and to use them respectfully. After reviewing some of the children's final projects, talking about the choices their students made, and what elements were included to make their photographs visually interesting, the teachers set off on a scavenger hunt of sorts. They were to collect three images on their digital cameras: One of a colorful circle, one of a triangle, and the last one, showing pattern.
When their students were first handed cameras, they immediately wanted to take pictures of themselves and their friends. They quickly shifted their focus to the environment around them, however. They became observant and attentive. Now faculty members were able to see that being behind the lens requires them to look around and take note of what they are seeing—to be purposeful of what they are capturing in the frame. "I was trying to take a picture of this flower," one teacher commented, "but a person blocked the way. It was like we partnered on it. It was kind of cool."
That kind of partnership is something Christina fosters in her classroom residencies. "Actually, one of our rules is to cooperate," the artist told educators. You have to share equipment, so students have to remind each other of how to handle cameras safely and carefully, but they will also share ideas and photo-taking techniques like perspective.
The faculty returned to the classroom to share their images. Their excitement and level of anticipation while waiting for the photos to upload matched their young students. One teacher, upon seeing a colleague's photo of a circle, exclaimed, "It looks like Saturn!" As they clicked through the images together, Ms. Russell reminded them that in the classroom, reviewing the work does not signal the end of the lesson. This, too, was an opportunity to engage. "Alright guys, this is a great picture. Now how can we make it better?"
Day One: Camera Basics and Color, Line, and Pattern
The classes learned to operate and care for their tools and to use them respectfully. They then learned to identify visual art elements through the lens of a digital camera. After reviewing examples of Christina's own work, talking about the choices an artist makes in capturing images, and what makes a photograph visually interesting, students and teachers set off on a scavenger hunt of sorts. They were to collect three images: One of a colorful circle, one of a triangle, and the last one, showing pattern.
Days Two and Three: Composition, Symbolism, and a Final Image
Christina arrived with bags overflowing with curious objects, colorful mementos, magazines, and flags. Everyone was excited to sort through the treasures to find the perfect piece to symbolize a moment in their story. Their task on this day was to put that object into a specific environment and use their cameras to capture it from a point of view that would support its meaning. "People were really mindful about how they were holding their cameras and the colors they used," said the artist about students' final photos. 
Day Four: Visual Stories—Graphed
Students and teachers plotted timelines using a piecewise graph, then transferred the graph directly onto their final images. From yet another bag of goodies, the class added multimedia collage elements—stickers, multicolored transparency film, pipe cleaners, yarn—the works! "I encouraged the students to try and be creative about how they wanted to draw their line or how they wanted to tell their story a little bit deeper—maybe add some words and some embellishments to make their pictures stand out a little bit more." They were able to create some really interesting and compelling multimedia pieces. "You're seeing the graph, but you're also seeing the visual representation of the graph or the story."
Looking to the Future
Is it any wonder that positive energy and the excitement of big ideas in teaching will ripple through a school community and spark even more minds and imaginations? The math teachers at North County High School (NCHS) brainstormed many additional concepts they'd like to teach through digital photography. And the art department was so excited to see the Algebra 1 students' finished pieces that they plan to replicate this exact lesson for their art students.
As even further evidence of their commitment to arts integration, NCHS just received a $40,000 STEM + Arts Integration grant from the National Office of Young Audiences Arts for Learning to support a year-long arts integration program with their 9th-grade Algebra students and YAMD teaching artists. Christina Delgado will be traveling to Kansas City, MO this August with Lacey Sheppard, AACPS Arts Integration Teacher Specialist, and Hana Morford, YAMD Education Director of Statewide Initiatives, to take part in a Professional Learning Institute to develop the program's curriculum. We cannot wait to see the lesson plans that will emerge.
Learn more about the Arts Empowered Minds Initiative, its collective impact partners, and the community it serves by visiting artsempoweredminds.org.
Written by Barbara Krebs,
Young Audiences volunteer and Sunburst Society member
If you follow education trends even a little, you can't avoid the STEM acronym. In fact, at many area high schools, getting a slot in the highly popular STEM (Science, Technology, Engineering, and Math) magnet program is tricky at best.
Why is that?  Why do people automatically assume that if you want your student to get ahead in life, your best bet is to seek out an education that prioritizes a STEM-based curriculum over one that values the humanities or visual and performing arts? Now, enrolling in a STEM-focused program is certainly not bad advice. But, it's definitely not the only path to success as one recent Washington Post article reported.
"Kids have been educated in a computer world.  But that computer world continues to threaten traditional jobs, so success will rely on the ability of students to innovate and use tools in a non-traditional way."
In the article, "The surprising thing Google learned about its employees – and what it means for today's students," the Post reported on a 2013 study that Google conducted on its own hiring practices. Its founders, with solid backgrounds in computer science, felt certain that only "technologists can understand technology." But after every bit of data was gathered and analyzed, the company discovered something unexpected. Of the top eight criteria considered essential for a top employee, STEM expertise rated… um… eighth.
This led to a deeper dive into the data, which ultimately led to Google re-evaluating its employment processes and putting more emphasis on hiring "humanities majors, artists, and even MBAs." Other companies (such as Chevron and IBM) have also discovered the positives of hiring liberal arts majors because they "prize their ability to communicate."
On a personal level, I feel very strongly about this. My daughter, Colette, spent seven years (three in middle school and four in high school) pursuing a Performing and Visual Arts education. She learned to sing, dance, act, write, and most importantly from my perspective, think creatively. And while she was singing and acting her way through high school, she was also taking AP Physics and Calculus and learning to wire circuit boards. So it didn't come as a huge surprise when she enrolled in Engineering as a college freshman.
While some people were shocked at the 180° turn she made, I viewed it as the logical conclusion to a style of learning that she honed as an arts major in high school. Combining a love of math and science with the arts is not as unusual as you might think.
"Finding a path to my final images is a complex choreography of math, my sensibilities as an artist/scientist, and the subtleties of the subject."
Take, for instance, Dr. Tim Christensen, biology professor at East Carolina University (ECU) and Senior Faculty Fellow in their Honors College (full disclosure – that's how I first met him, when touring ECU with my daughter, who was accepted into both ECU and their Honors College). Dr. Christensen is primarily a scientist but also an artist. Merging the two disciplines, he fully embraces and personifies the concept of STEAM (Science, Technology, Engineering, Arts, and Math).
I was immediately struck while perusing the awe-inspiring galactic photographs on his website, AstroWimp. "As an artist, I've been heavily influenced by my scientific training," he wrote. "To a scientist, images are 'data.' Standing in both art and science worlds, I attempt to convey the art of the data." In his role as teacher, Dr. Christensen transfers the wonder he experiences as a scientist and an artist to his students.
He readily admits that while he finds jumping back and forth between scientific and artistic worlds a natural leap, that is not the case with every scientist.  "Some are still wary of anything that can't be measured scientifically."  Nevertheless, he continues to champion the intersection of science and art, as evidenced in his own artwork. "Finding a path to my final images is a complex choreography of math, my sensibilities as an artist/scientist, and the subtleties of the subject."
Dr. Christensen is currently collaborating with a fellow faculty member, Daniel Kariko, Associate Professor of Fine Art Photography. Their project, dataSTEAM, "focuses on artists who work directly with scientists to develop a deep understanding of the data, preparing artists to contextualize data in their art, connecting both disciplines… art to science, and science to art."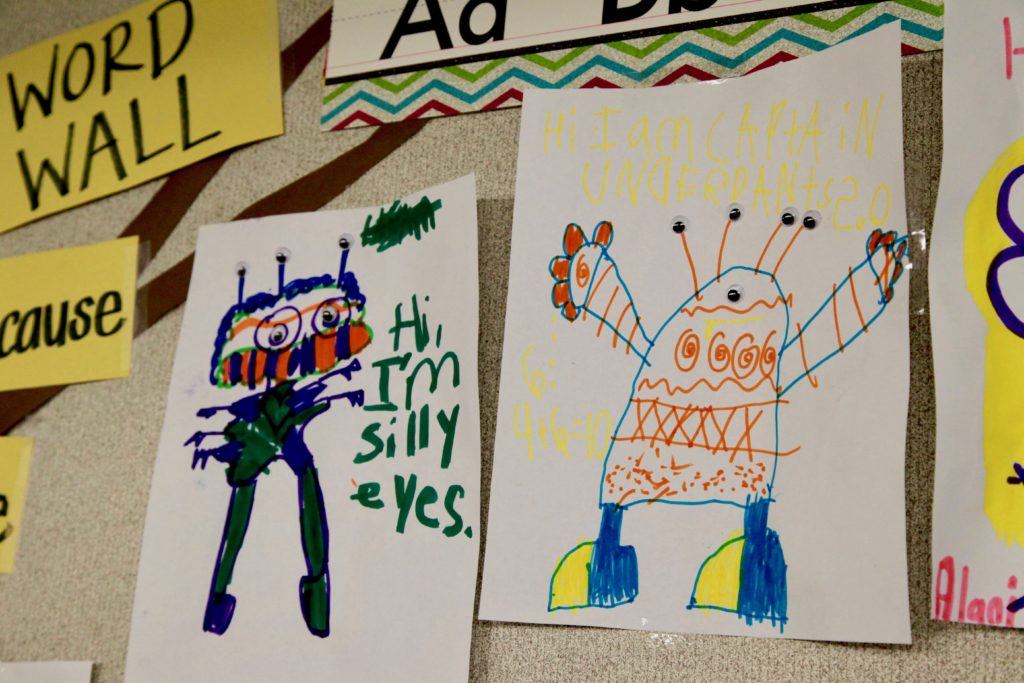 Starting in the fall semester, the two will "facilitate collaborations between Art and Honors/Science students" leading to a gallery exhibit at the university. But more important than the exhibition is, of course, the concept of cross-fertilization between the two disciplines.
As Dr. Christensen explained it, "Kids have been educated in a computer world.  But that computer world continues to threaten traditional jobs, so success will rely on the ability of students to innovate and use tools in a non-traditional way." He feels that merging science and art will create students who are quicker to think outside the box and can straddle both the worlds of imagination and hard-core data.
Similarly, what Google has identified as the top characteristics of successful employees are not unlike the same skills that educators and other business leaders identify as being critical to a person's success in careers, in college, and as a citizen: critical thinking, collaboration, communication, and creativity. These are behaviors that Young Audiences' teaching artists observe and nurture every day among students in arts-integrated classrooms. And so, for those folks who doubt the value of arts integration into core curriculum subjects such as science and math, the, ahem, data demonstrate that arts and science together create a more balanced individual who can successfully work in today's fast-paced, ever-changing work environment.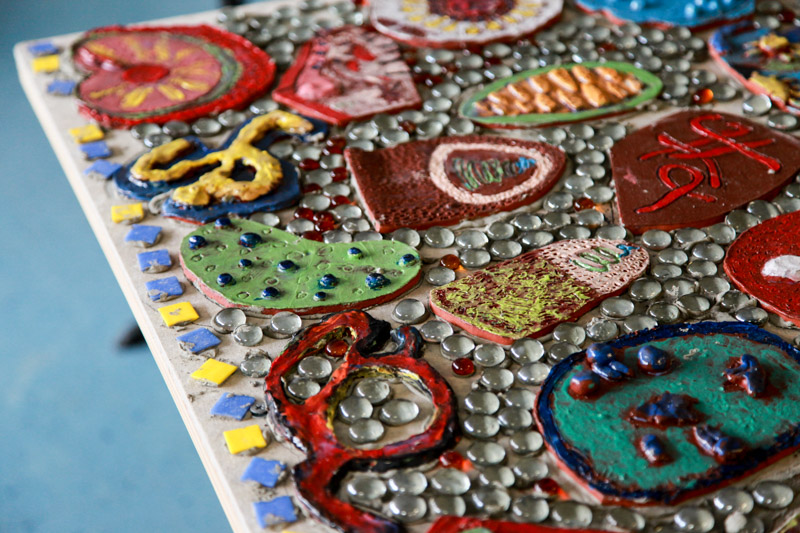 But don't take my word for it, just ask my daughter.  In a recent phone call, Colette was excitedly discussing her Statics class.  The definition of her Statics class from ECU's website- the analysis of equilibrium of particles, addition and resolution of forces, equivalent system of forces, equilibrium of rigid bodies, centroid and moment of inertia, structural analysis, internal forces, friction, and virtual work- left my head spinning.
When I commented on the apparent difficulty of the class, she assured me breezily, "Oh Mom, it's easy for me.  After all those arts classes in high school, I can see in 3-D."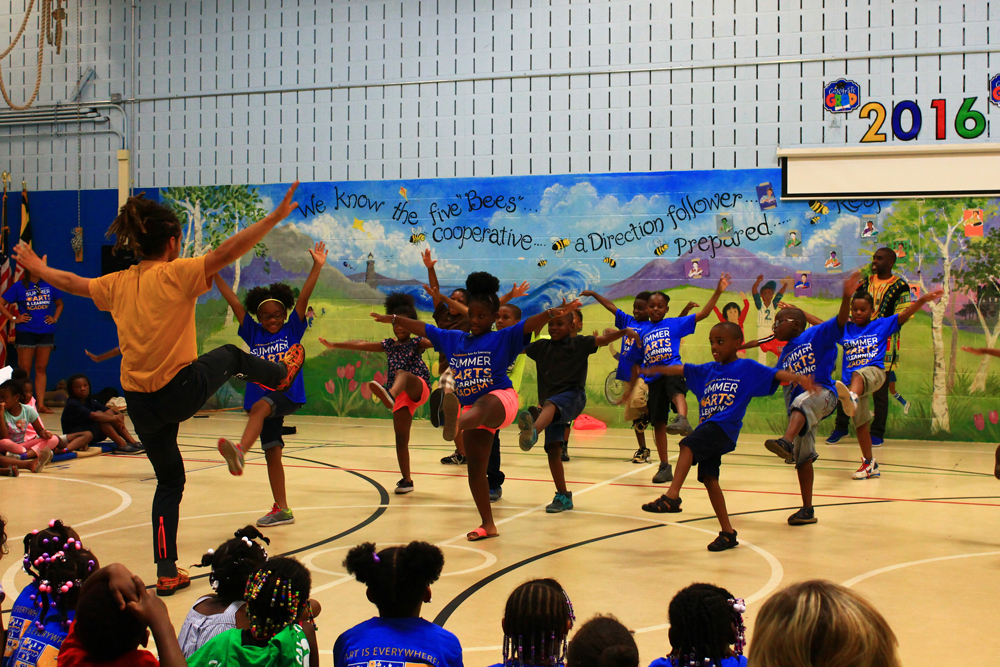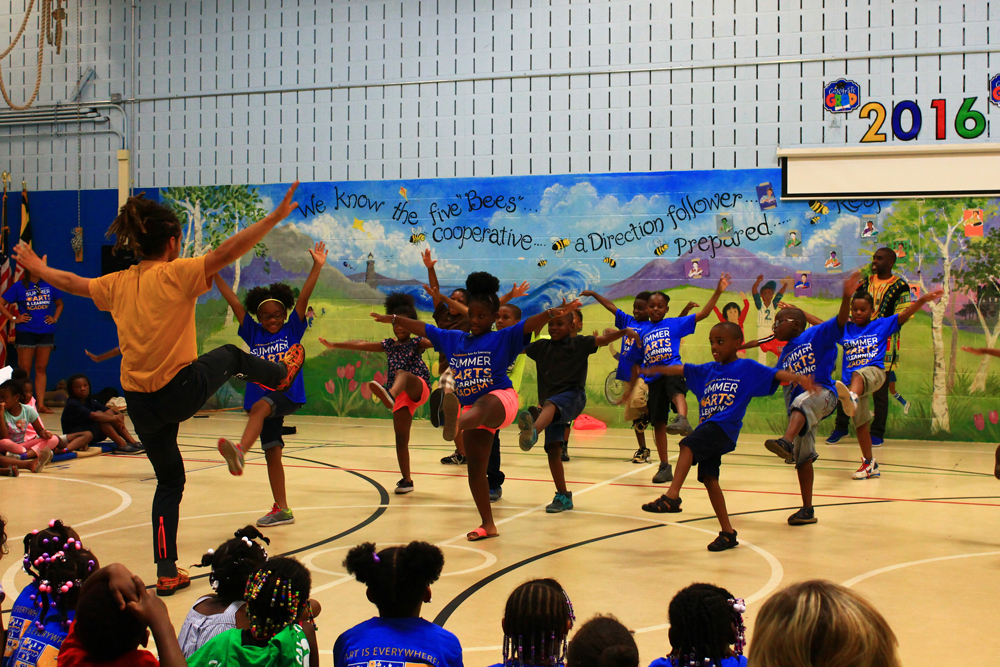 107 Maryland Schools Partnered with Young Audiences to obtain funding for Arts in Education Residencies through the Maryland State Arts Council Arts in Education initiative.
At Young Audiences, our philosophy is simple: the more arts-integrated learning experiences we can provide Maryland students, the better. We are thrilled to be doing just that with help from the Maryland State Arts Council (MSAC) 2017 grants! We teamed up with 107 Maryland schools to write MSAC Arts in Education Initiative grant applications and secure more than $124,000 in funding for Young Audiences artist-in-residence programs in the coming year.
MSAC grants help fund up to 30% of the cost of a Young Audiences residency program. With 194 total MSAC grants distributed this year, more than half were secured with support from Young Audiences!  We couldn't be prouder.
And the fit couldn't be better. Like Young Audiences' mission, the MSAC Arts in Education initiative is designed to promote, strengthen, and enhance the arts and arts education in Maryland's elementary and secondary schools. The grants will help fund Young Audiences artist-in-residence programs which bring professional teaching artists into classrooms to work alongside teachers and students. Teaching artists integrate their art form into the curriculum with hands-on, intensive arts workshops that engage students in creative experiences and bring joyful learning into the classroom.
The Young Audiences residencies resulting from these MSAC grants will be found in private, public and charter elementary, middle and high schools in counties that include Baltimore City, Baltimore County, Anne Arundel, Dorchester, Harford, Frederick, Montgomery and more. The art forms vary too, including residencies focused on dance, poetry, improv, steel drums, theater, music, sculpture, and photography.
For a full list of MSAC-funded Young Audiences residencies, click here. To learn more about Young Audiences artist-in-residence programs, click here.
Interested in bringing a Young Audiences artist-in-residence program to your school? We may be able to help you apply for grant funding! Email [email protected]


By Christina Delgado, Young Audiences photographer and visual artist
Digital photography is an art form that provides instant gratification. You can see your progress faster than you would with painting, drawing, or ceramics. Because of the age we live in, people are multimedia-driven and our society works efficiently with cell phones, computers, and the internet. I find that digital photography is yet another way technology has changed our approach to a task, and I believe it integrates well into education. Technology can give relevance to the art of photography, while also lowering a barrier. Easy-to-use digital cameras allow students to see themselves as artists and to express themselves creatively. This is something I wanted to teach my second- to fifth-grade students at Moravia Park Elementary when I began my residency with teacher partner and good friend, Cicely Jones, at the school in January.
I worked with students who were a part of the school's P.R.I.D.E. program, which supports students with social and emotional learning differences. I started by giving students an overview of cameras and portrait photography. I wanted to teach them how to effectively take pictures and understand a photo's ability to communicate feelings and ideas. Children aren't always aware of how they are surrounded by photography every day. When they are looking at magazines or billboards, those are photographs! Getting them to understand how this art form is relevant to their everyday lives was important to their development throughout this residency.
The project I assigned students was based on a book of famous portraits that I found in a local bookstore. It showed all kinds of unique examples of portraiture, including Oprah, President Obama, and Billie Holiday. These pieces not only showed portraits of the individuals, but it also mapped out a collage of drawings, symbols, and words explaining what was important to each subject.
I had students build something similar so that they could share their own perspectives. Collaging items from magazines with their own photographs helped them define their sense of identity as they pieced the parts together. Their collages focused upon various aspects of their worlds, including interests, hobbies, and what makes them feel safe.
Some students really connected with each other through this project. One student, Trevor*, took the initiative to help another student who was having trouble focusing by sitting down with him, helping him cut out images, and discussing the project. Together, they were able to complete the work on the project for that day.
With Cicely and our faculty team, we came up with an idea that would give the students some independence. We provided disposable cameras to each of the students so that they could create images on their own time. This allowed the students to share a more well-rounded view of who they were. Giving them that responsibility really made a difference. Students felt important because they were expected to do something at a higher level–it was a very special moment.
Ultimately, the whole experience was wonderful and I appreciated the fact that Cicely brought me in to be a part of their team. During the final residency meeting, I got emotional after hearing what Cicely had to say about the improvement she had seen in her students during the residency. There were less behavioral issues and attendance was up. Hearing that positive change validated what I do. Sometimes it's easy for artists to feel like the things they do go unseen, but this experience had an enormous impact upon the students I met. They were coming to school and they were staying positive and being productive. As children grow up, there are moments in their lives that they will never forget. I think these memories will go far.
Learn more about Christina's photography residency programs for schools at yamd.org.
*Student names have been changed to protect their privacy. 
In our December smART Tip, Young Audiences visual artist Christina Delgado shares how to organize a photo scavenger hunt for students that can easily be tailored to connect with any subject or unit. Learn how to get started with this fun activity in the short video below.
[youtube http://youtu.be/rWIGPp_NTOs?list=PLUssR-3GtBZfiKXpU72zQAkgXh3wBcBzQ]
smART Tips is a monthly video series sharing tips for educators who are interested in new, creative ways to use the arts in their classroom with students. See all smART Tips to date here. Interested in a specific topic? Let us know!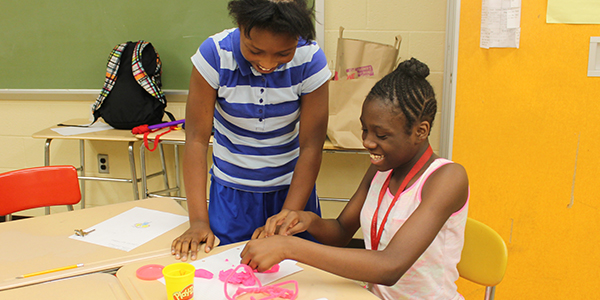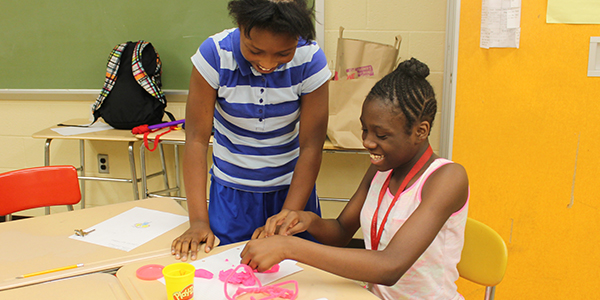 See photos from the Young Audiences arts-integrated summer learning site!
The summer can be a time for fun in the sun with family and friends, but for many students across the country, it is a time of uncertainty. Without school, many at-risk students are left without adequate supervision, access to regular, healthy meals, and opportunities to participate in engaging and constructive activities. On average, all children can lose approximately two months of learning from the previous school year during the summer months without engaging education activities, and for low-income students, the loss is even greater. More than half of the achievement gap between low-income students and their more affluent peers can be attributed to the unequal access to summer learning opportunities.
For five weeks this summer, Young Audiences again partnered with Baltimore City Public Schools to combat summer learning loss through a free math- and science-focused summer camp opportunity for Baltimore City middle school students. Young Audiences artists provided arts enrichment activities at seven Baltimore City 22nd Century Pioneers Summer Camp sites. In addition, for the first time, Young Audiences managed an eighth completely arts-integrated camp site at Edmondson Westside High School.
At the Young Audiences camp, morning math and science classes were co-taught by Baltimore City teachers and Young Audiences artists, who explored STEM subjects through the arts. Students had a choice in the art form they focused on during afternoon enrichment classes, including dance, photography, illustration and mural painting, improvisational theatre, Hip Hop, steel drum, or VEX robotics. The camp also included field trips, giving students the chance to apply their knowledge outside of the classroom.
The program was a learning opportunity for participating teachers as well, some of whom were new to arts integration as a teaching practice. Co-teaching with Young Audiences artists gave teachers the opportunity to try out a different way to approach each lesson, growing their knowledge of the arts and the natural connections that exist between core subjects and the arts.
In a recent survey of 500 U.S. teachers, 66 percent said it takes at least three to four weeks to re-teach content from the previous school year to get their students up to speed at the start of each new school year. At Edmondson Westside, the arts made learning fun and students both stayed intellectually engaged so they would not fall behind in their classes this coming school year, and also discovered a new way of learning through the arts. Students had the opportunity to develop their knowledge in math and science in a hands-on way, learning how the length of sound waves relates to the pitch of each note on a steel drum, or how a photographer or illustrator uses mathematical ratios to compose a piece. Students learned about themselves as they tried new things; took risks during classroom activities; and showcased what they had learned for others.
Read more about the Young Audiences arts-integrated summer learning site and see photos from this summer here.
By Chanel Traboldt, Third Grade Teacher at Harford Heights Elementary and Young Audiences Public Programs Summer Intern
Two middle school girls sit in the back of the classroom. One of them is sneaking a look at her cell phone under her desk; the other is braiding her hair. They are in a morning class during the first week of the Young Audiences and Baltimore City Public Schools 22nd Century Pioneers Arts-Based Summer Camp, and neither girl is looking at the front of the room or listening as the teacher, Ms. Moss, begins a math lesson on integers.
For a school teacher, like me, this can be the scene of many early mornings. The question you ask yourself each time is: "How do I better engage my students in their learning?" This often can seem like an impossible task. We know that if you make learning fun, students will want to learn. As an educator, there is an urgency to fight the achievement gap and prepare your students with the skills needed to be college and career ready. But now the tricky part: how do we make learning fun?
Young Audiences again partnered with Baltimore City Public Schools to solve this dilemma in July. In addition to providing arts enrichment activities at seven summer learning sites in Baltimore City, Young Audiences and City Schools created the first-ever completely arts-integrated summer learning site at Edmondson Westside High School. All eight sites were a part of the 22nd Century Pioneers Summer Camp, which is a free program for Baltimore City Public School middle school students.
Back in the classroom at the Young Audiences arts-integrated camp site something surprising happens. Ms. Moss continues her math lesson by projecting photographs students took the previous day while working with Young Audiences photographer Christina Delgado. The two girls stop what they were doing and look up. Ms. Moss asks the group what elements of photography are being used in each image and how these elements relate to what they are learning about integers. The girls raise their hands to join the conversation.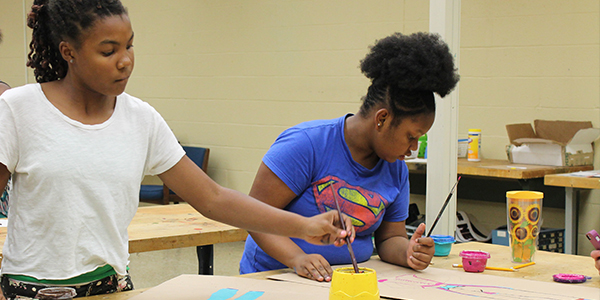 See more photos from the Young Audiences arts-integrated summer learning site!
During my time at Young Audiences' site, I saw that teachers and artists had found a solution to many teachers' student engagement woes. Integrating the arts into daily lesson plans allowed students to create, explore, express, have fun, and most importantly, to learn.
At the Young Audiences camp, nearly 150 students explored math and science concepts through the arts in classes and arts enrichment activities led by Baltimore City teachers and Young Audiences artists during the five-week program. Students chose the art form they would focus on during afternoon enrichment sessions, with choices including dance, photography, illustration and mural painting, theatre, Hip Hop, steel drums, and VEX robotics.
In another class, I saw a group of chatty sixth-graders sitting in the corner go completely silent to listen to steel drum musician Kevin Martin play musical phrases the class had created using what they had learned about ratios.
An unenthused student turned frustration into joy while drawing blueprints for a cage to carry a wild boar across a lake of alligators in visual artist Danyett Tucker's eighth-grade math class.
Students, who were at first more focused on their weekend, turned that energy into an intricate dance routine about pollution in dancer Valerie Branch's class.
As a teacher witnessing these moments of transformation, I am amazed at how easy it is to engage students in learning. The key is to understand that learning and the arts are not separate entities. By combining the two elements and creating arts-integrated educational lessons, students are truly able to learn while having fun.
Read more about the Young Audiences 22nd Century Pioneers Arts-Based Summer Camp site and see photos here.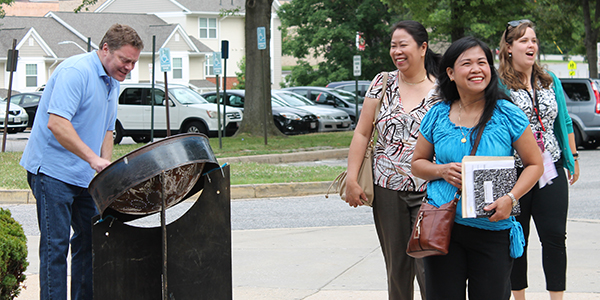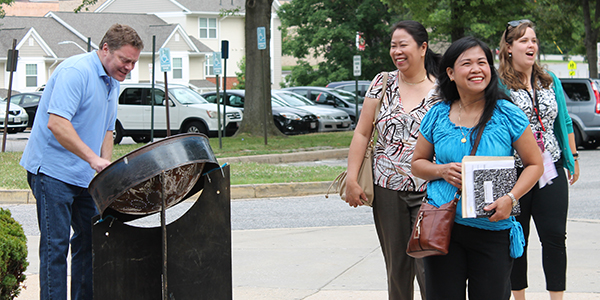 The school year may have ended, but for Young Audiences, that doesn't mean the fun, arts-integrated learning stops. Young Audiences has again partnered with Baltimore City Public Schools to bring arts enrichment activities to seven Baltimore City 22nd Century Pioneers Arts-Based Summer Camp sites. In addition, for the first time Young Audiences is also managing an eighth completely arts-integrated camp site at Edmondson Westside High School. The 22nd Century Pioneers Summer Camp is free to Baltimore City Public Schools middle school students.
At the Young Audiences camp, nearly 150 students will explore math and science concepts through the arts in classes and arts enrichment activities led by Baltimore City teachers and Young Audiences artists during the five-week program. Students can select the art form they will focus on during enrichment sessions, with choices including dance, photography, illustration and mural painting, theatre, Hip Hop, steel drum, or VEX robotics.
Because this is the first-ever Young Audiences arts-based summer learning site, we thought it deserved an equally spectacular kick-off event. As students arrived, what better way to greet them than with the arts?
On Monday, June 30, as students walked up to the school for the opening day of camp, the first thing that hit their ears was the sound of a steel drum being played by Young Audiences roster artist Kevin Martin of Rockcreek Steel Drums. Kevin has been building and playing steel drums for more than 20 years; this summer, he will show students how the instrument connects to math.
See more photos from the Young Audiences arts-integrated summer learning site!
On the way into the building, students passed the dancing Valerie Branch, a new Young Audiences artist whose energetic moves caused many to stop and watch. Valerie will get students moving while studying science this summer. Those walking in also got to witness the Hip Hop talents of musician Jamaal "Mr. Root" Collier, who will use his skills to bring math to life. Bridget Cavaiola of Baltimore Improv Group used improvisational theatre techniques to direct students inside the building. With her help, students will learn how theatre can make abstract science concepts concrete.
The excitement wasn't just at the front of the school. Once inside, students had the opportunity to take part in photographer Christina Delgado's photo booth, dressing themselves in hats and glasses before striking poses. Students will have the chance to go behind the lens with Christina to learn the art of photography and its connections to math. Visual artist Danyett Tucker will link illustration to science. As students looked on, she created a colorful mural with images of various art forms incorporated into the design, from music notes to microphones to Polaroid pictures. Students were invited to create murals of their own, as each table was decked with markers and a giant sheet of paper.
All children, regardless of their resources or where they live, lose some math skills during the summer. Studies show that economically-disadvantaged students also lose literacy skills during this "summer learning slide." Experts believe that the achievement gap between middle- and low-income students not only grows during the summer—it exists largely because of the summer.
Programs like 22nd Century Pioneers provide students with a safe place to go during the day, access to free healthy meals, adequate adult supervision, and positive, educational activities. This summer Young Audiences artists will connect students with new experiences through the arts as they learn about math and science in a new way and build their self-confidence as they gain knowledge and skills.
Check back in with the Young Audiences blog throughout July as we look at how these artist and teacher pairs are using arts integration in their classrooms.
Happy summer and happy learning!
Categorized:

News

Tagged:

22nd Century Pioneers Summer Camp, achievement gap, arts integration, Baltimore City Public Schools, Baltimore Improv Group, Christina Delgado, dance, Danyett Tucker, Edmondson Westside High School, Hip Hop, illustration and mural painting, Jamaal Collier, Kevin Martin, photography, Rockcreek Steel Drums, steel drum, summer learning, summer learning loss, summer learning slide, theatre, Valerie Branch