Step into a FutureMakers workshop, and you are immediately met with bright colors, texture, and sound! The room is a symphony of whirring and spinning, and you can almost hear the busy minds buzzing. This is exactly the scene in the art room when FutureMakers coaches Topher and Ross taught a series of workshops at Gardenville Elementary recently.
Thanks to programs like the Access for All Initiative and Maryland State Arts Council (MSAC) Artist in Residence (AiR) grant, more and more schools are able to bring the high-quality STEAM programming that FutureMakers provides into their classrooms. "We're so happy to see so many schools leveraging resources from the Maryland State Arts Council," FutureMakers founder Matt Barinholtz told us. "In 2017, we served nearly 1000 Maryland students through AiR programs – all who were able to increase their understanding of the engineering design process, circuits and visual arts elements by creating artworks that are designed and built to move!"
The goal of each workshop was for every student to create a drawing machine: a small, unique, motorized tripod that doodles and draws as it swirls and whirls across a flat surface. But it would be a mistake to assume that the finished product that students carry away is the only benefit to the session. FutureMakers teaches kids that engineers cooperate and persevere—skills that will take students far.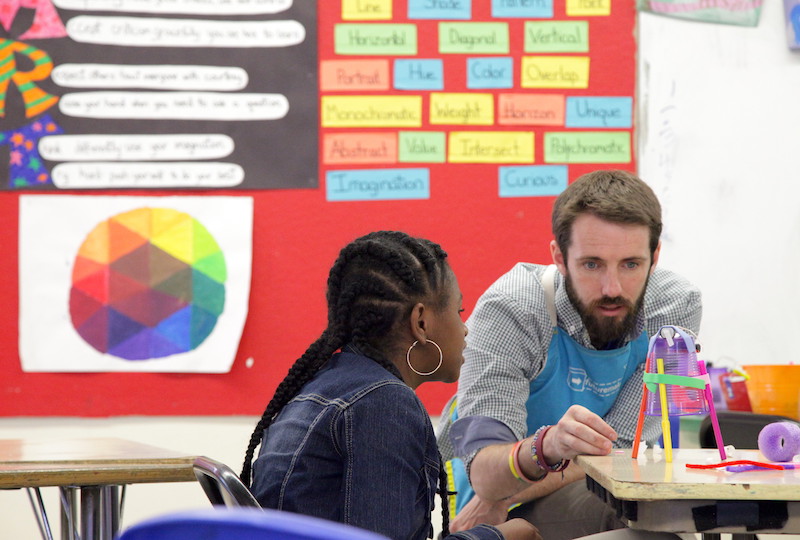 Coach Topher raised his hand at the front of the classroom and asked, "Who here has ever made something before?" The kids were excited. Some of the materials they received to build their machines, they recognized. Some, they did not. All of them, they had to connect and make work.
Problem-solving and troubleshooting are easy to talk about. "It's easy to say, 'try your best,' but in the moment, it's the most frustrating thing." Connecting batteries to motors and transforming them into pieces of art takes patience and skill. "Engineers fix stuff. Usually, they're fixing stuff they mess up themselves!"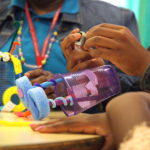 Though students all started on the same path, each robot took on its own distinct personality. Students directed the design of their bots, testing and retesting to see how design elements worked with the functionality of their machines. Through problem solving and teamwork, the young engineers found success.
"FutureMakers knows that integrating quality STEAM programs is essential – and requires support," said Barinholtz. Funding is available for schools and community organizations that can help all children experience high-quality arts programs.
Bring FutureMakers into your school with the help of a Maryland State Arts Council (MSAC) Arts in Education (AiE) grant. The MSAC AiE grant will fund up to 30% of the total cost of a YA residency program, including travel costs. The deadline to apply is Friday, May 19, 2017, by 5 pm. Start the application process today. 
By Kwame Opare, High Point High School Dance Teacher and Young Audiences teaching artist
I have had the privilege to work with a diverse group of learners in the Prince George's County school system so far this school year. As ​a​ dance teacher for all grades at High Point High School, I have been faced with a challenge not yet experienced throughout my years of bringing my craft to the classroom as a teaching artist. High Point's population is largely immigrant and first-generation American young people and English is often not the first language (or even second language in some cases) for many of my students. This has compelled me to modify, and even synthesize new instructional methods, to ensure the transfer of knowledge.
What I've noticed in this short but meaningful time is that no matter where you are on Earth, young people want to learn, they crave information. They will test you as the adult to see if you really care whether or not they get it, or if they even show up. I care, and in this short time, I believe that I have convinced my students of this. Now that I "got 'em," the onus is on me to make sure they know that they have the right to learn and that they must take the process of learning into their own hands. Creating an environment where students feel confident and enabled to take ownership of their learning is essential to their growth as students and beyond. We as educators must only provide a framework of knowledge and wisdom that comes from study and experience in a safe environment so that the true capacity for brilliance can be nurtured in our young people.
What do the arts have to do with all of this? After all, it's just dance. Through dance, I have seen the strengths and weaknesses of my students and have used them both to fortify my instructional methods. The brilliance of all my students is evident, but is often locked away beneath external and internal distractions​, ​such as s​elf-doubt​, embarrassment, worries about​ what peers w​ill think, ​or ​problems at home. Through dance, we can successfully weed through these distractions. Some of my students at High Point tell me their stories and in response I just ask them to please keep coming to class because they are a part of something now. Their growth from the first day of class to today has been a joy to observe and I feel so fortunate to bear witness.
At first they came in scared, terrified, some not knowing the English language, and nearly none of them knowing the language of dance. Though the proficiency levels vary, the feelings of frustration from the challenge is shared. Yet, we are starting to build a community of support and understanding with confident souls that know they CAN! Some of those who stood in the back of the class at first are finding their way to the front and are becoming leaders, helping others and welcoming newcomers.
In dance, the process often begins with what I refer to as the ugly duckling syndrome. "Feeling 'stupid' and looking 'stupid' is OK," I tell my students. I remind them that we all looked "stupid" when we were learning to walk as babies but the alternative was to never run and we wouldn't have that! The process is what makes art making so fulfilling and ultimately what makes a teaching artist so effective. Artists know and respect the strength of the process because we are immersed in it daily. Effectively bringing the idea of process into the classroom has a positive and lasting impact on students.
It is through these processes that students are engaged where they may otherwise be distracted or lack interest. The process instills in young people the ability to effectively gather resources, question, problem-solve, and persevere to see something through to the end, whatever challenges they may face in academy and beyond.