By Alden Phelps, Young Audiences artist and musician
My work as a teaching artist focuses on collaborative songwriting with children. The goal of my recent residency at Triadelphia Ridge Elementary School was to teach seven different classes of third and fourth graders how to create parodies of current pop songs that show their knowledge of science and history.
Teaching musical parodies is a great way for students to learn because it's an opportunity to share their knowledge in a creative way. Students synthesize their knowledge of specific subjects with poetry in a song. There are several layers of learning going on, including using their knowledge of the curriculum, organizing ideas, and employing multiple Language Arts skills.
I worked directly with Triadelphia's teachers to strategize how to address their needs through music by discussing their most recent units and the related curriculum standards. My customized arts-integrated residency addressed what the teachers wanted to focus on, namely a third grade unit on earth science and a fourth grade unit on Maryland history. The goal is always to reinforce what students have already learned through this new artistic skill.
The advantage to using current pop songs such as "Shake it Off" or "All About that Bass" is that the kids recognize the tunes immediately. I do background work to make sure all the songs will work in this unique collaborative project. Students always express an immense level of enthusiasm whenever I walk in with a list of handpicked songs they could use for their parody. For example, Mrs. Russell's third grade class chose the hit "Call Me Maybe" by Carly Rae Jepson for their parody about weather patterns. In the end, their song was titled "Save My Granny," and it describes several different extreme weather patterns in a clever and funny way.
I began by teaching the children basic elements to songwriting and composing. We did this by counting the number of lyrics, verses, and choruses of their song choice. Through this analysis, we discussed each song's use of patterns, syllables, rhythms, and accents. I then divided the children up into writing teams so that they could begin building the verses of their songs. This activity is always a great teaching moment because it challenges students to collaborate, share, and compromise with one another while being creative. I spent time with each writing team and coached them through the creative process. While they worked independently, I provided them with rhyming dictionaries and was surprised by how quickly they dug into those books! Rhyming at that level is a fairly difficult skill for children to master in such a short period of time.
The writing process is always satisfying to me because I get to witness students discover a whole new world of words they may not have even realized existed. I often came across students who struggled to find rhyming options with difficult words. But then, just like that, a kid would blurt out the perfect lyric that would fit. A line would just tumble out of their mouth and I'd shout "Yes! That's it!" In response, they would light up with excitement knowing that they had the answer within them all along, they just had to let it out.
In one of my classes, there was a child who consistently struggled with behavioral issues. During this residency, he collaborated well with others and even wrote a clever lyric which became the opening line of the parody. Collaborating with the team was a huge step for him.
As final preparation before each group was to perform their parodies for the school, students typed up each song's verses with the teachers, practiced singing their lyrics, and made final tweaks to the lyrics, changing a word here and there. Before their eyes, songs emerged–there's always electricity in the air when a class suddenly realizes what they've achieved. The Triadelphia students were so proud of their final products and knew that they had created something clever and unique.
Because children spend so much time with their peers in schools, I believe that it's important for them to interact with many different kinds of people, including artists. Artists are a unique breed–if nothing else we have a different perspective on the world, and through the arts, anyone can see through different eyes. Creativity is a way of seeing life from different directions and a way to find a thread connecting disparate ideas. The way artists go about solving problems and finding meaning is important for children to experience. It gives them opportunities to see through new eyes, and speak with a new language.
Learn more about Alden and his programs for schools at yamd.org. Read the full lyrics of the parodies Triadelphia Elementary students wrote by visiting aldenphelps.com.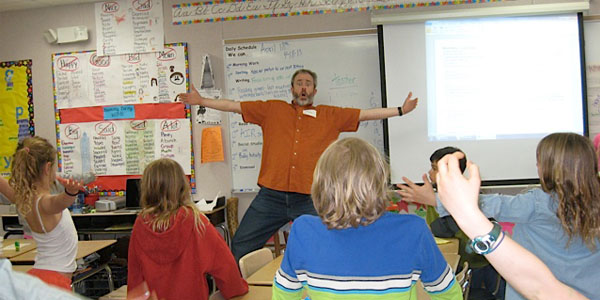 By Karen Baratz, Parent of a Westbrook Elementary third-grader
Even if I had not been a classroom volunteer at Westbrook Elementary this year, I would have heard about Young Audiences teaching artist Alden Phelps' residency program from my son and his classmates who talked about the program with an enthusiasm that I don't often hear about schoolwork.
As a parent helper in the classroom, I got to observe Alden in action. He had a remarkable way of engaging the children so that everyone wanted to participate in the songwriting process and his ability to get students to collaborate and come to a consensus on lyrics and ideas was impressive.
From the minute Alden walked into the third grade classroom, he had a captive audience. He instantly connected with the students through his songs, humor, and gentle manner. He used a creative approach to engage students in activities so that they could better understand the songwriting process and what a parody was before they began to compose a parody song of their own. Alden is a natural with children and came well-prepared with popular melodies that the kids could adapt with their own lyrics. The fact that the students got to sing their own version of current songs they hear on the radio took the children's enthusiasm for Alden's residency way up!
Alden was able to adapt his program to the curriculum, tying in what he does with what the students were studying in class—geographic regions of the U.S.—for a more in-depth learning experience. He had a game plan in place to help three third-grade classes quickly compose meaningful (and funny!) songs about their respective geographic regions which they were so proud to perform for the school and their parents at the end of the program.
This was an amazing opportunity to get a window into my child's school life. So often, parents don't get many details of what goes on during the school day but this experience provided me the opportunity to work side-by-side with the children and watch learning in action.
The bottom line is that Alden made learning fun. In our competitive society where education standards often place a greater emphasis on subjects like reading and math at the expense of the arts, I feel that our children are being shortchanged. The arts play such an important role in helping students see the whole picture and they can help make learning fun! I can think of no better example of this than the fact that my son was so excited about songwriting and parodies after Alden's residency ended, that he wrote one of his own. He created a music video about geometric shapes to a popular tune and couldn't wait to share it with his teachers and classmates. If that isn't proof of the power art has to boost academic performance—I don't know what is.
Learn more about Alden Phelps' assembly and residency programs here!