Some big ideas are meant to be shared. It is through partnership and collaboration that the big ideas grow roots and become an integral part of something even bigger. In 2015, Pat Cruz, YA's then-chief innovation officer, and educator Mary Kate Bransford had a dream. What if every kindergarten classroom in Prince Georges County Public Schools (PGCPS) had an arts-integrated environmental literacy program?
Their big idea brought together twenty teachers and five teaching artists to write a five-day lesson plan that both met environmental literacy and visual art criteria and explored themes like habitat restoration, local ecosystems, the life cycle of plants, and the lifecycle of animals for a brand new program: Growing Up Green. The program, a partnership between Young Audiences and the Prince Georges County Office of Environmental Literacy, would be piloted in 17 schools in the district in the 2015-16 school year.
That first year resulted in the creation of five separate 5-day arts-integrated environmental literacy lessons. Teaching artists worked side by side with kindergarten teachers all five days of the program with the goal of handing off that role to each individual school's art teacher in future years. To prepare teachers, Kristina Berdan, Young Audiences Education Director, trained teacher ambassadors, kindergarten lead teachers, and art/music teachers to use the arts as a teaching tool in their classrooms. "I used to think art was a product of a lesson," said one kindergarten teacher in Prince George's County Public Schools after being trained in arts integration through Growing Up Green. "Now I think art is the process to achieve the objective."
The team constantly listened, assessed, reflected, and revised, resulting in a comprehensive catalog of resources for teachers and the refinement of, in the second year, four unique residencies instead of the initial five, and then in its third year, one: Fiber artist Pam Negrin's The Lifecycle of Plants. Kindergarteners and their teachers explored nature with their real-life senses—looking, smelling, touching—to not just learn about our natural world, but experience it. Classrooms across the district were outfitted with custom-made embroidery tables where students could gather and stitch their observations, building with and learning from one another. "We think with our hands and when students are immersed in a lesson together, they begin to make their own connections," said Pam. From sharing what they learned during the school day at home to internalizing and remembering more information, the effects on learning were so profound that once-resistant teachers embraced learning through arts integration and extended it into other content areas.
Growing Up Green combines the arts and time outdoors with making connections between humans and the environment and brainstorming solutions. "The program gets kids outside and thinking about the bigger picture and the combination of all the elements of the program supports the district's goals," said James Roberson, PGCPS Instructional Specialist for Environmental Literacy. And after the lessons have ended, classes are left with beautiful embroidered tapestries they can share with the school community. "The tapestries are a great way to showcase what they've learned."
Our state was the first in the nation to approve an environmental graduation requirement for all Maryland students. In 2011, the school board created Environmental Literacy Standards that would support the growth of the planet's next generation of stewards. Prince George's County Public Schools is intentionally integrating these standards into the PreK-12 curriculum, and through Growing Up Green, they are successfully reaching the county's youngest students. This is the first year that PGCPS is running Growing Up Green without Young Audiences' support. "Young Audiences has been an outstanding partner over the last four years," said Roberson. 
"I'm really impressed by how different teachers have taken what they learned and run with it," said Jhanna Levin, PGCPS Environmental Literacy Outreach Teacher. As a result of Growing Up Green, teachers in the district's Autism Program, for instance, have embraced the art of embroidery, the fine motor skills it develops, and the calm it inspires. "It soothes the kids in a way they weren't expecting." Levin, new to the department, has taken the reigns of Growing Up Green and nurtured the development of teachers new to the program as well as veteran educators. She is constantly checking in and helping the teachers to do what works best for them.
She is holding a training session this coming January for lead kindergarten teachers to explore additional arts integration techniques for classrooms and it's not just new teachers who are looking forward to it. "We're talking about turning T-shirts into yarn and using dance for the observational piece," said Levin. James Roberson added, "We're really excited about what Jhanna brings to the program."
Growing Up Green was a tiny seed that with research and tremendous effort and love, Young Audiences was able to sow. Through the amazing partnership we've had with PGCPS, we've seen the program evolve and take shape in a way that both works best for the district and stays true to the vision of Growing Up Green at its conception. We are extremely proud to see the district take charge and continue nurturing and developing this incredible program. Levin said, "There are teachers who have done this for three years now and they say, 'Just give us the materials. We've got this.'"
Written by Barbara Krebs,
Young Audiences volunteer and Sunburst Society member
If you follow education trends even a little, you can't avoid the STEM acronym. In fact, at many area high schools, getting a slot in the highly popular STEM (Science, Technology, Engineering, and Math) magnet program is tricky at best.
Why is that?  Why do people automatically assume that if you want your student to get ahead in life, your best bet is to seek out an education that prioritizes a STEM-based curriculum over one that values the humanities or visual and performing arts? Now, enrolling in a STEM-focused program is certainly not bad advice. But, it's definitely not the only path to success as one recent Washington Post article reported.
"Kids have been educated in a computer world.  But that computer world continues to threaten traditional jobs, so success will rely on the ability of students to innovate and use tools in a non-traditional way."
In the article, "The surprising thing Google learned about its employees – and what it means for today's students," the Post reported on a 2013 study that Google conducted on its own hiring practices. Its founders, with solid backgrounds in computer science, felt certain that only "technologists can understand technology." But after every bit of data was gathered and analyzed, the company discovered something unexpected. Of the top eight criteria considered essential for a top employee, STEM expertise rated… um… eighth.
This led to a deeper dive into the data, which ultimately led to Google re-evaluating its employment processes and putting more emphasis on hiring "humanities majors, artists, and even MBAs." Other companies (such as Chevron and IBM) have also discovered the positives of hiring liberal arts majors because they "prize their ability to communicate."
On a personal level, I feel very strongly about this. My daughter, Colette, spent seven years (three in middle school and four in high school) pursuing a Performing and Visual Arts education. She learned to sing, dance, act, write, and most importantly from my perspective, think creatively. And while she was singing and acting her way through high school, she was also taking AP Physics and Calculus and learning to wire circuit boards. So it didn't come as a huge surprise when she enrolled in Engineering as a college freshman.
While some people were shocked at the 180° turn she made, I viewed it as the logical conclusion to a style of learning that she honed as an arts major in high school. Combining a love of math and science with the arts is not as unusual as you might think.
"Finding a path to my final images is a complex choreography of math, my sensibilities as an artist/scientist, and the subtleties of the subject."
Take, for instance, Dr. Tim Christensen, biology professor at East Carolina University (ECU) and Senior Faculty Fellow in their Honors College (full disclosure – that's how I first met him, when touring ECU with my daughter, who was accepted into both ECU and their Honors College). Dr. Christensen is primarily a scientist but also an artist. Merging the two disciplines, he fully embraces and personifies the concept of STEAM (Science, Technology, Engineering, Arts, and Math).
I was immediately struck while perusing the awe-inspiring galactic photographs on his website, AstroWimp. "As an artist, I've been heavily influenced by my scientific training," he wrote. "To a scientist, images are 'data.' Standing in both art and science worlds, I attempt to convey the art of the data." In his role as teacher, Dr. Christensen transfers the wonder he experiences as a scientist and an artist to his students.
He readily admits that while he finds jumping back and forth between scientific and artistic worlds a natural leap, that is not the case with every scientist.  "Some are still wary of anything that can't be measured scientifically."  Nevertheless, he continues to champion the intersection of science and art, as evidenced in his own artwork. "Finding a path to my final images is a complex choreography of math, my sensibilities as an artist/scientist, and the subtleties of the subject."
Dr. Christensen is currently collaborating with a fellow faculty member, Daniel Kariko, Associate Professor of Fine Art Photography. Their project, dataSTEAM, "focuses on artists who work directly with scientists to develop a deep understanding of the data, preparing artists to contextualize data in their art, connecting both disciplines… art to science, and science to art."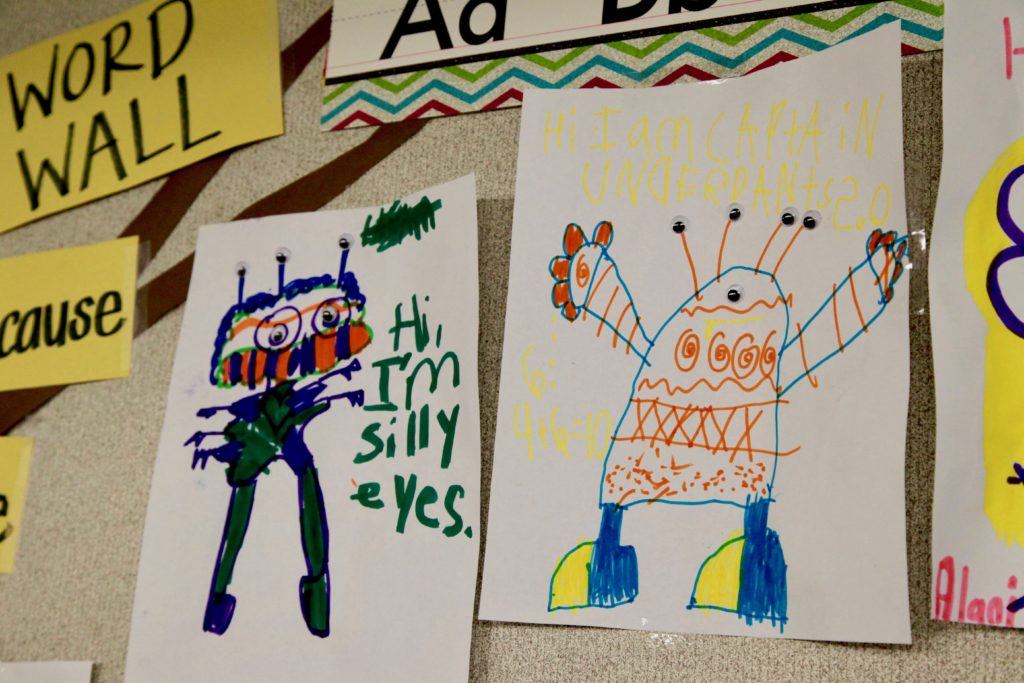 Starting in the fall semester, the two will "facilitate collaborations between Art and Honors/Science students" leading to a gallery exhibit at the university. But more important than the exhibition is, of course, the concept of cross-fertilization between the two disciplines.
As Dr. Christensen explained it, "Kids have been educated in a computer world.  But that computer world continues to threaten traditional jobs, so success will rely on the ability of students to innovate and use tools in a non-traditional way." He feels that merging science and art will create students who are quicker to think outside the box and can straddle both the worlds of imagination and hard-core data.
Similarly, what Google has identified as the top characteristics of successful employees are not unlike the same skills that educators and other business leaders identify as being critical to a person's success in careers, in college, and as a citizen: critical thinking, collaboration, communication, and creativity. These are behaviors that Young Audiences' teaching artists observe and nurture every day among students in arts-integrated classrooms. And so, for those folks who doubt the value of arts integration into core curriculum subjects such as science and math, the, ahem, data demonstrate that arts and science together create a more balanced individual who can successfully work in today's fast-paced, ever-changing work environment.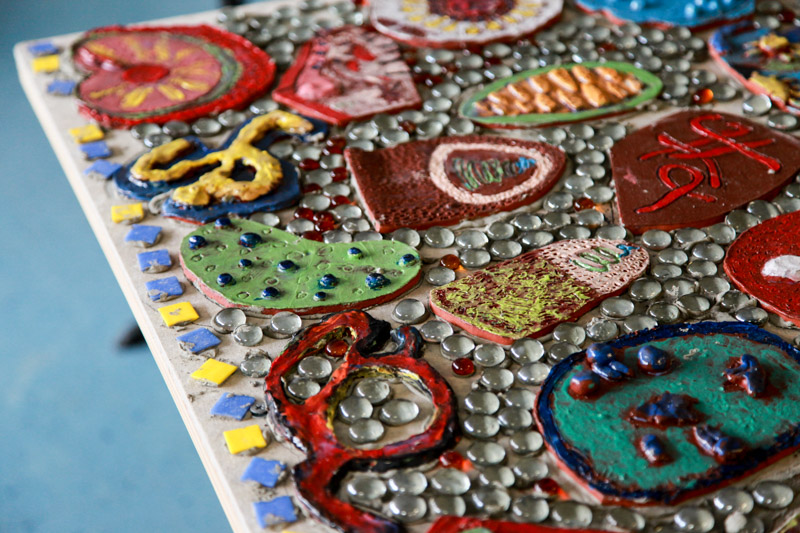 But don't take my word for it, just ask my daughter.  In a recent phone call, Colette was excitedly discussing her Statics class.  The definition of her Statics class from ECU's website- the analysis of equilibrium of particles, addition and resolution of forces, equivalent system of forces, equilibrium of rigid bodies, centroid and moment of inertia, structural analysis, internal forces, friction, and virtual work- left my head spinning.
When I commented on the apparent difficulty of the class, she assured me breezily, "Oh Mom, it's easy for me.  After all those arts classes in high school, I can see in 3-D."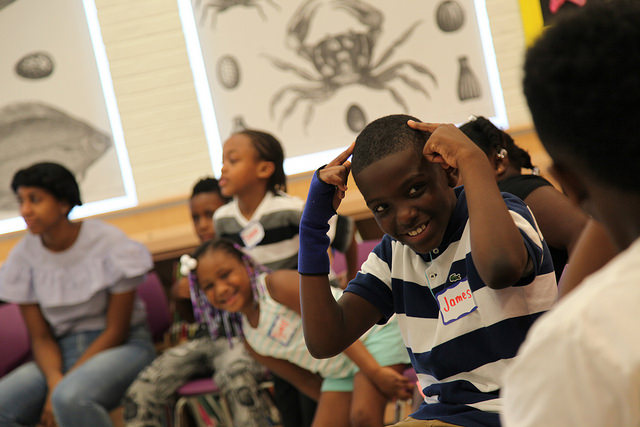 All summer long, kids and families made their way to one of seven city school libraries, each one beautifully renovated as part of The Weinberg Foundation's Library Project to take part in SummerREADS, a free literacy initiative that provides six weeks of drop-in programming for Baltimore City students, grades K through 8.
The host schools and libraries offered safe and welcoming spaces where students participated in literacy workshops and arts enrichment with teaching artists as well as enrichment activities with special guests including Art with a Heart, Maryland SPCA, The Maryland Zoo in Baltimore, and The National Aquarium.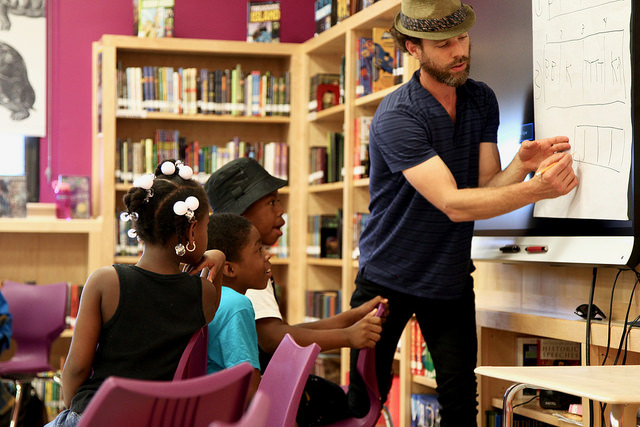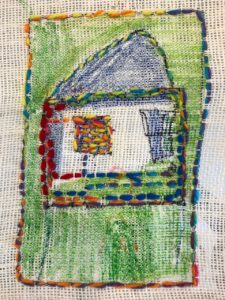 Every week, YA teaching artists introduced students to new experiences. Some learned to make music using their bodies with beatboxer Max Bent while others used lines, shapes, and shading to draw bunnies, snakes, and slugs with Brittany Roger of The Drawing Zoo. From jazz vocalist Renèe Georges, they learned about braille and how the late, great Ray Charles overcame adversity. They stitched colorful portraits of home with textile artist Pam Negrin and used what they learned about composition and digital photography from artist Christina Delgado to capture images of their library, teachers, and classmates. Actor Katherine Lyons gave students the tools, space, and permission to pretend, allowing even older children to travel wherever their imaginations would take them.
And through all of these art activities, young students strengthened their literacy skills, their vocabularies, and even their math skills. As they wrote songs, they considered the division of time when deciding how beats would fill their measures. Students explored new adjectives to best describe the textures and patterns they set out to draw, and they learned many many new ways of communicating- through art, through song, through dance, and through touch by learning the braille alphabet.
Perhaps most of all, students in SummerREADS learned that the library is a space for them. The library is open for them to use, to learn in, to explore, and to grow in. It's a place where magic happens, not only in books, but in minds and hearts. It's a place that challenges your ideas and is as good at surprising you with facts as it is at mesmerizing you with fiction. They learned that the library is a place where they want to be and even in summer, its doors are open.
Registration for SummerREADS 2018 is now open! This year, the program will expand to nine school library sites and operate Monday through Friday. SummerREADS programs are geared toward students in grades K-3 and their families, although the library is open to all Baltimore City School students in current Pre-K-8th grades. Learn more and register today at yamd.org/summerreads.
Children in Prince George's County Public Schools know how to celebrate Earth Day! Through Growing Up Green, a PGCPS arts integration initiative, children in kindergarten classrooms learn environmental stewardship by experiencing nature first-hand, marveling in the wonders of our natural world, and nurturing a passion within themselves to respect and preserve it. Funded in part by a BGE Green Grant and the Chesapeake Bay Trust, the program engages kindergarteners in meaningful and authentic outdoor experiences that help connect them to their local ecosystems and inspire them to learn more about protecting our environment. The arts provide the vehicle that the students use to demonstrate and communicate their understanding to the greater learning community of their school.
At Mount Rainier Elementary School recently, YA roster artist Pam Negrin worked with young students to record their own observations of plant life over the course of her residency, The Life Cycle of Plants. On outdoor adventures, the class immersed themselves in the drama of nature. They set out to identify and explore the many characteristics of plant life in all of its forms: seeds, seedlings, mature plants, flowers, and fruit. Their drawings and observations were then rendered in colorful yarn, stitch by stitch into one large-scale embroidered mural for their entire school community to learn from and enjoy.
The children's work serves as a reminder of one of the biggest lessons even our smallest students can teach us. Just as this kindergarten class' finished mural is a collaborative effort, so is making our world a safe, strong, and healthy one for every living being. Happy Earth Day to all.
Pam Negrin's artwork includes embroidery, appliqué, drawing, collage, improvisational quilting, printmaking and sculpture. Her residencies transform classrooms into creative and collaborative handwork studios where students create something beautiful together. Schedule one of Pam's residencies for your classroom.
At the oldest public all-girls high school in the United States, students recently had the opportunity to work with fiber artist Pam Negrin to stitch the likenesses of important, black, female scientists onto one collaborative work of art. Along with partner teacher Jennifer Becker, and with help from both the science and graphic design departments, Pam worked with Western High School students on the large project from conception to realization.
"Many of these women truly were 'hidden figures' and one of the scientists, Stephanie Hill, was a Western alumna!"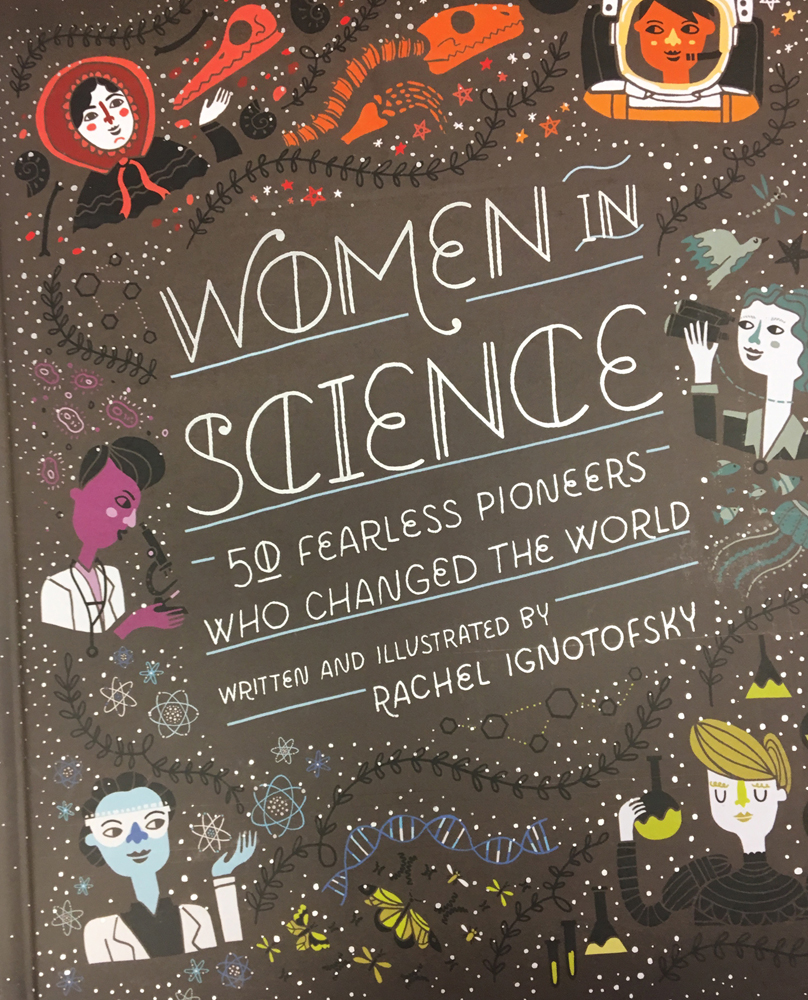 Drawing inspiration from the New York Times best-selling book, Women in Science, the group of students and teachers approached the project with reverence. "We lovingly call it our 'Women in Science Mural'," Mrs. Becker says of the artwork depicting portraits of women who paved the way for her students. "Many of these women truly were 'hidden figures' and one of the scientists, Stephanie Hill, is a Western alumna!"
Three different classes participated in this exciting project. "First, Western's lead science teacher, Ms. Washington, came up with a list of 25 women who have made important contributions in STEM fields," Mrs. Becker explained. "Graphic design students were tasked to research each of the 25 scientists, then collaborated with another group of students in a fine art class to turn these women into beautiful embroidered portraits."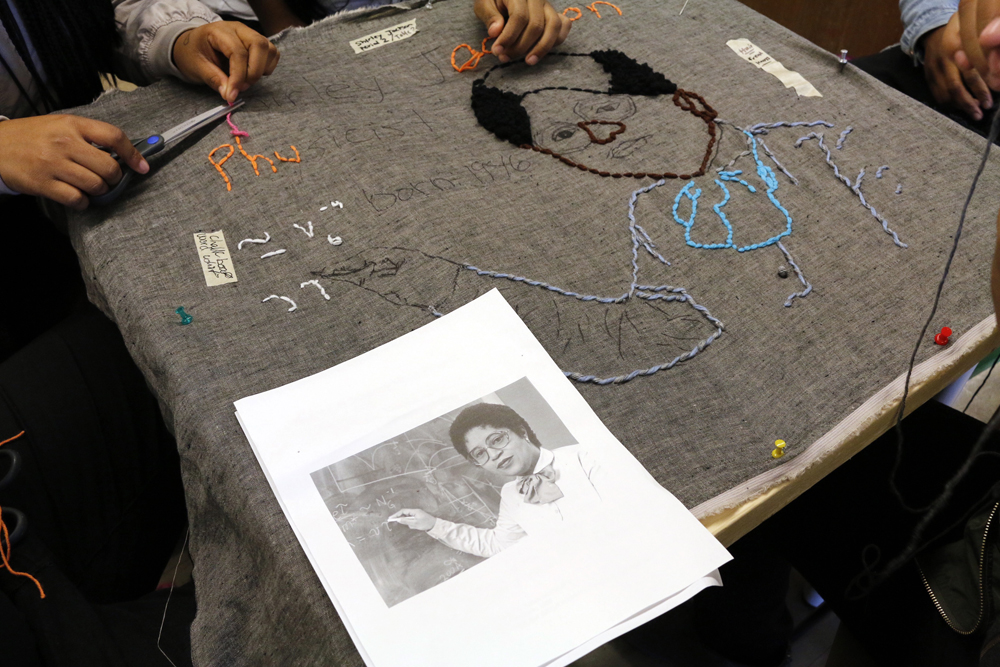 Pam taught the students how to project drawings onto fabric to create their own patterns. They learned various embroidery stitches to create different textures for hair, clothes, skin, and even a stitch for teeth! "Pam Negrin's residency was the highlight of our year. The students are eager to see their finished artwork on permanent display in the Science department."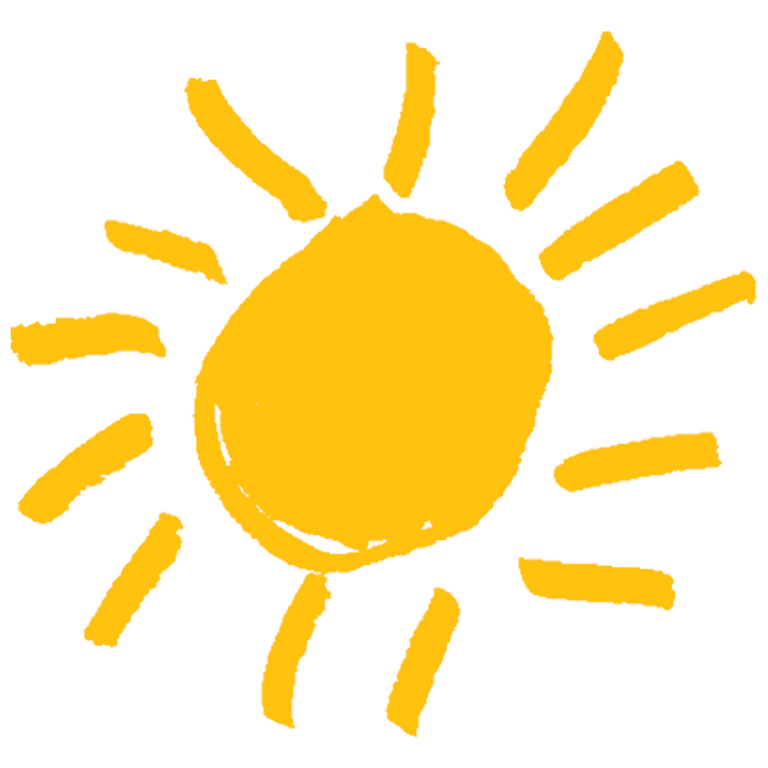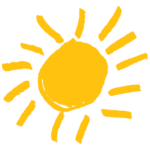 Pam Negrin's artwork includes embroidery, appliqué, drawing, collage, improvisational quilting, printmaking and sculpture. Her residencies transform classrooms into creative and collaborative handwork studios where students create something beautiful together. Schedule one of Pam's residencies for your classroom.
Arts integration is a valuable tool for reaching multiple learning styles across the curriculum and is linked to enhanced academic outcomes as well as positive social and emotional development for children. While this is true for all students, studies have found that the impact of the arts on language development and core subject learning is particularly beneficial for students with disabilities or those with special learning needs.
As an inclusive organization, Young Audiences' goal is to bring high-quality, arts-integrated instruction that is accessible, supportive, and welcoming to children of all backgrounds and abilities into the classroom.
Reality is a social definition. Disability is the social process that turns impairment into a negative by creating barriers to access. Difference should be accommodated and celebrated. You can create new ways to create together by taking into account universal access to creativity.
We are diligently laying the foundation for inclusive practice to be incorporated into arts-integrated curriculum, increasing the opportunities for youth of all abilities to participate in artistically-excellent programs. To help us achieve this goal, our staff received specialized inclusion training through the Inclusive Allies program in partnership with Disability Rights Maryland.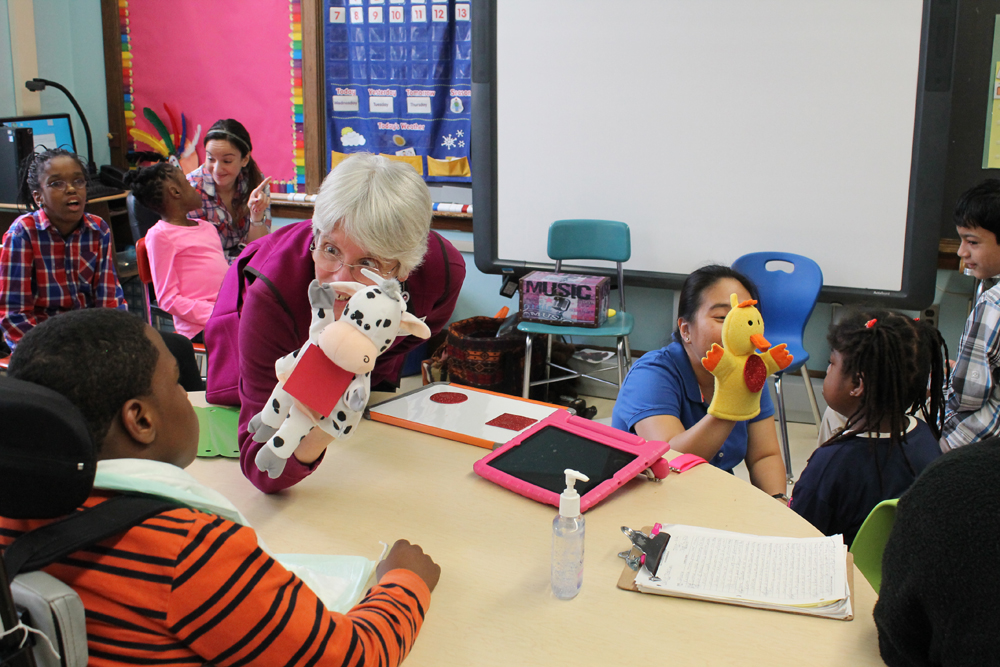 Nine selected roster artists also received training, participating in a comprehensive workshop covering a variety of inclusion tactics to utilize in the classroom. YA Roster Artist and FutureMakers founder Matt Barinholtz observed, "Reality is a social definition. Disability is the social process that turns impairment into a negative by creating barriers to access. Difference should be accommodated and celebrated. You can create new ways to create together by taking into account universal access to creativity."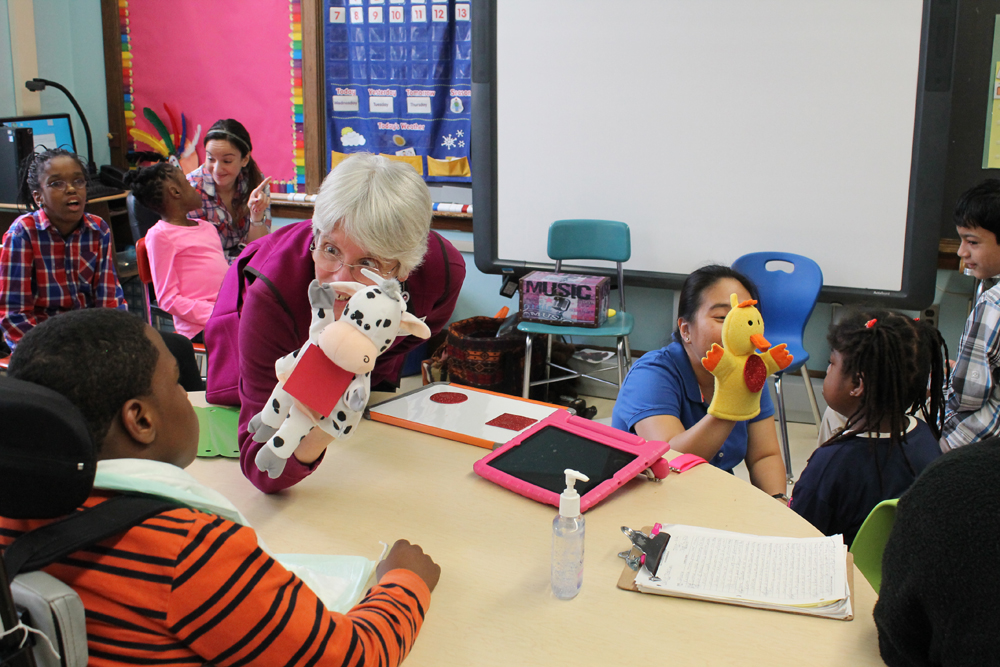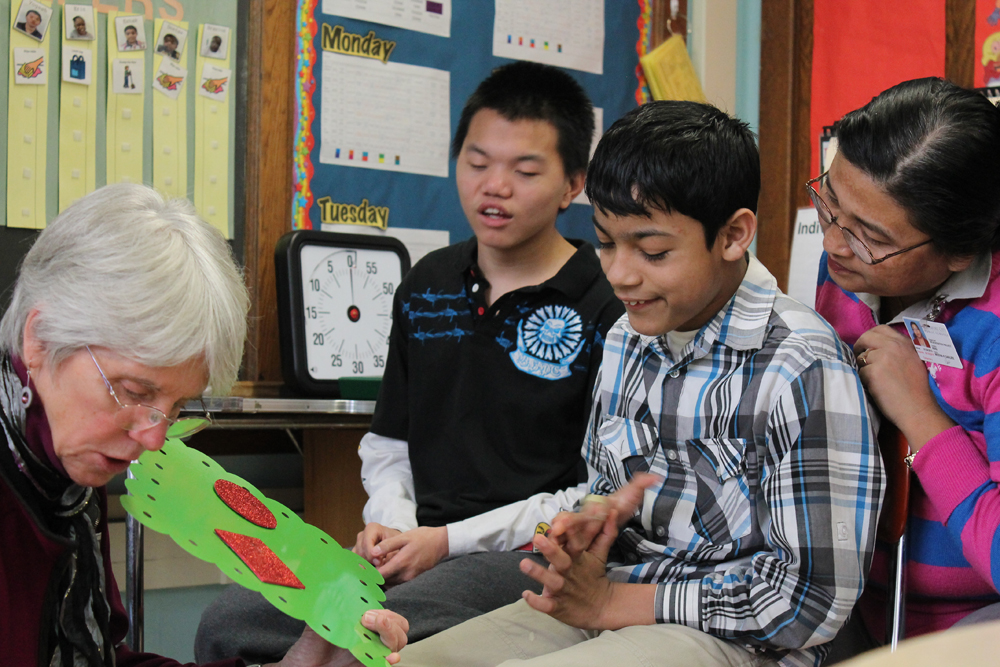 YA artists approach this "universal access to creativity" by rethinking the norms behind the ways we allow people to communicate, socialize and behave. We create a culture where all students receive the many benefits of engaging and inclusive arts-integrated classroom experiences, adapting lessons with audio/visual cues and different levels of kinesthetic movement, and applying inclusion tactics.
The following Young Audiences Roster Artists have completed the training as of 2016:
In the coming months, we will proudly share artists', teachers' and coordinators' stories about their roles in this important work.
Categorized:

News

Tagged:

Alden Phelps, Anna Menendez, arts integration, Curtis Blues, Disability awareness, Disability Rights Maryland, FutureMakers, inclusion, inclusive classroom, Jamaal Collier, Pam Negrin, Sharp-Leadenhall, Skher Brown, special needs, Sue Trainor, Synetic Theater, Valerie Branch, William S. Baer School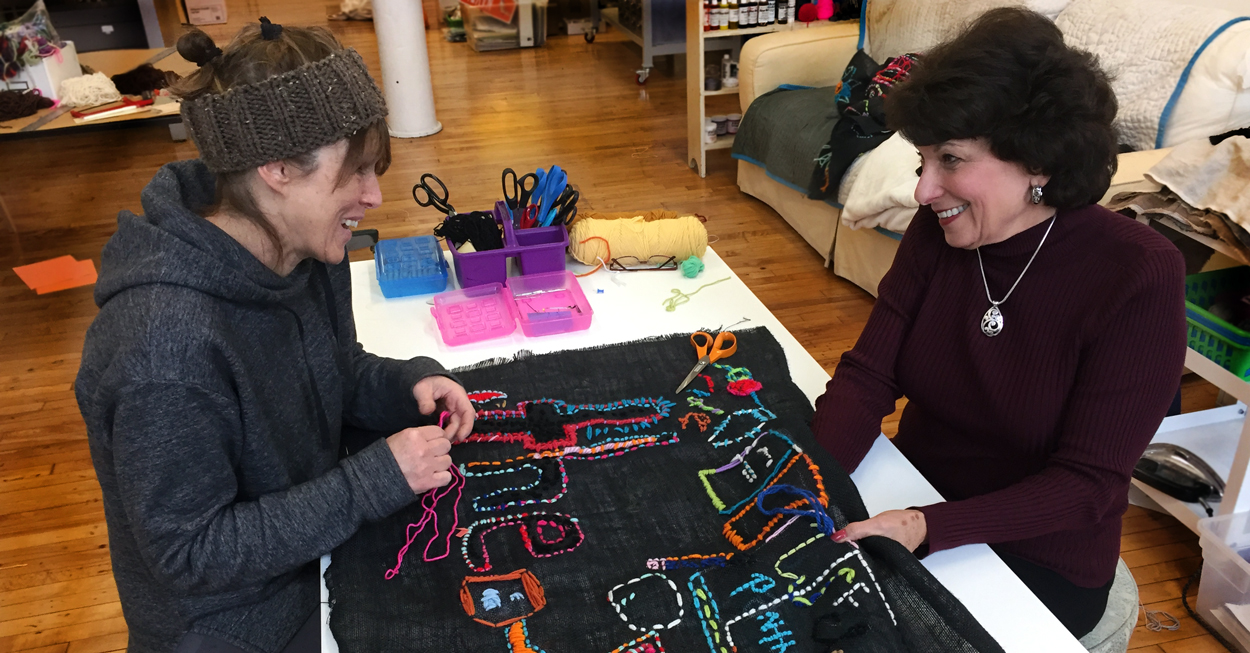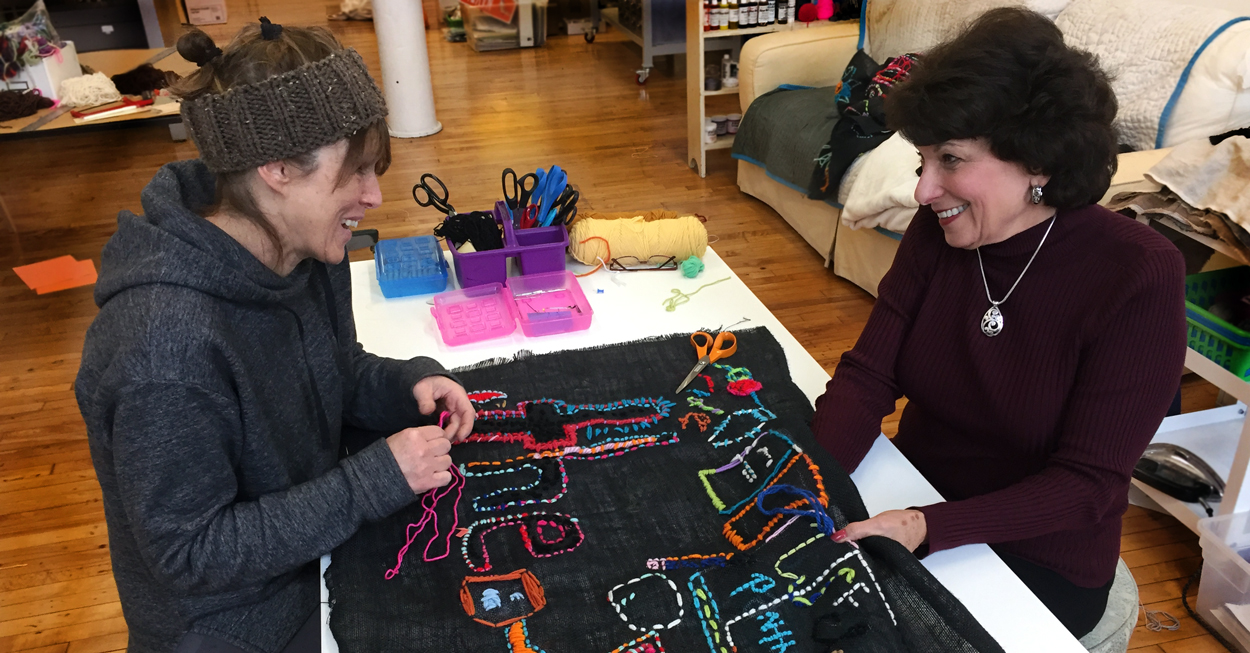 Co-written by Barbara Kesler, an active Young Audiences board member, volunteer, and retired Baltimore County Public Schools teacher and YA Visual Artist Pam Negrin. During Barbara's 39-year teaching career, she instructed third through sixth-grade students and spent the last 23 years at Franklin Elementary where she taught fifth graders in all subjects.
After attending a Young Audiences informational "Impact Breakfast," six of my friends and I were intrigued by visual artist Pam Negrin's embroidery and weaving with students. Pam's residencies transform classrooms into collaborative handwork studios, with countless ways to connect textile art with core subjects.
We learned that Pam's hours of preparation, finishing work, and providing one-on-one attention in a classroom of 25-30 students was challenging. With just one teacher and one teaching artist, the need for more hands, heads, and hearts presented a natural opportunity for volunteering with Pam.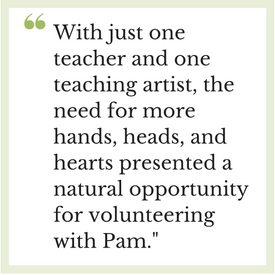 Our volunteering experience happened both in the classrooms and at Pam's studio. Throughout the experience, new friendships have developed and inspirations shared. Meeting at Pam's studio, we help while learning; rolling yarn, threading needles, and helping finish collaborative projects. In the classroom, our presence helps individual children feel successful in their completed works—sometimes by giving extra help with a new skill, sometimes by organizing materials, and other times just by listening while they work!
During a Spring residency at Commodore John Rodgers Elementary in Baltimore City, two English Language Arts third-grade classes were exploring character traits of a recently read Judy Blume novel. Expanding this textual element to their own character traits, the children designed self-portraits. The designs started on paper and were then embroidered onto fabric. Pam instructed them to explore color values, textures, and shapes.
Three volunteers accompanied Pam to the school to assist the very enthusiastic children in creating their self-portraits. The results were amazing.
One particularly shy boy proudly presented his self-portrait and said, "I did it!" Another told us how he was teaching his poorly behaved six-year-old cousin to 'draw with yarn.' "It calms him down, and we all need that!" he proclaimed. Another student told us that he had taken over the household chore of mending torn clothing for his brothers and sister. "No one else in my house knows how to use a needle like me."
Children were working together at sewing tables, chatting amicably about the novel that they were reading in class, their sports activities, and their weekend plans. All were engaged in a very peaceful and friendly manner, helping each other when necessary. No doubt presenting their finished projects to their families on Mother's Day was a beautiful culmination of this artistic endeavor. And it left three very happy volunteers with a feeling of purpose in assisting these youngsters in a meaningful project that will surely be an unforgettable experience.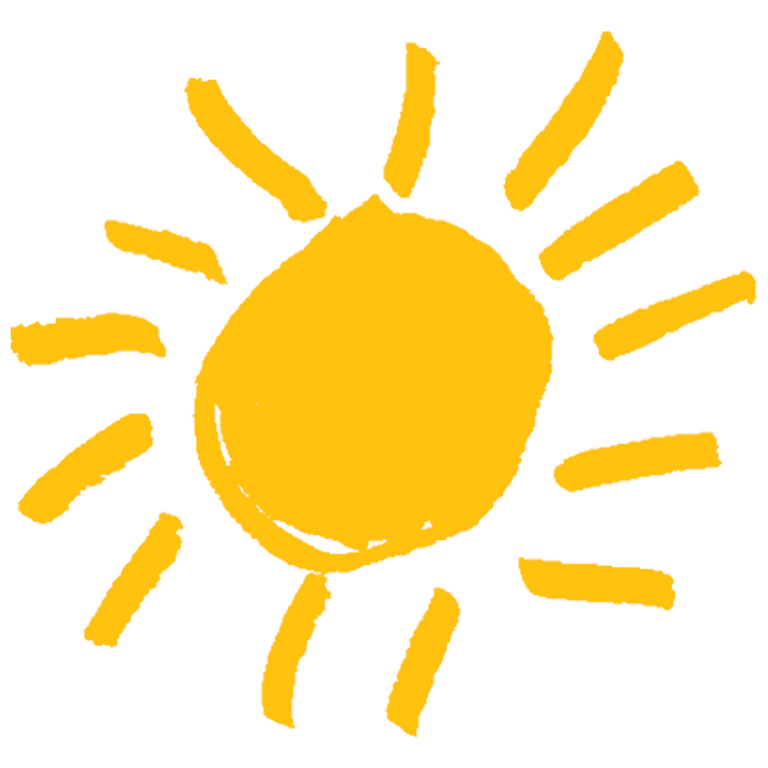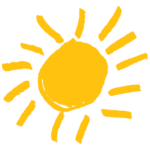 You can get involved, too!
At Young Audiences, we constantly see the arts inspire, engage and change lives. We are reminded of this power every day through our work providing more than 7,000 arts learning experiences a year to children in Maryland classrooms. And the benefit extends beyond the children, impacting the providers, observers, supporters and, yes, volunteers.  Learn more about how you can get involved with Young Audiences through volunteering.
Growing Up Green: Teaching Our Youngest Learners Environmental Citizenship Through the Arts
Part One: The Life Cycle of Plants
We think with our hands, and when students are immersed in a lesson together, they begin to make their own connections."
We are in the midst of pilot programming for Prince George's County Public School's new arts integration initiative—Growing Up Green, a Kindergarten-level, environmental literacy program. The initiative, part of an exciting new partnership between Young Audiences/Arts for Learning, the Chesapeake Bay Trust, and Prince George's County Public Schools, is funded in part by a BGE Green Grant and the Chesapeake Bay Trust.
The program engages kindergartners in meaningful and authentic outdoor experiences that connect them to their local ecosystems and inspire them to protect our environment. The arts provide the vehicle that the students use to demonstrate and communicate their learning to the greater learning community of their school.
Growing Up Green residencies are divided into four major themes—Habitats, Local Ecosystems, The Life Cycle of Animals, and The Life Cycle of Plants.
One of the first YA teaching artists to pilot this program was textile artist Pam Negrin. Pam chose "The Life Cycle of Plants" for her residency with the Kindergarten class at Rockledge Elementary School. "One of the tenants of this initiative is just getting kids outside!" With cuts to recess, these residencies provide purposeful outdoor experiences that directly engage students with their surroundings and sharpen their observation skills.
Along with being outside, one of Pam's favorite things about Growing Up Green is "giving students a chance to experience wonder." She and the students had several surprises while exploring the hidden parts of plants everyone gathers at the beginning of the residency. After reading about what constitutes a "fruit," students sort their treasures—dandelion, sweet gum fruit, crepe myrtle seed, milkweed—into the appropriate plant life phase: seed, seedling, mature plant, flower, or fruit. The students loved playing a game where they had to accurately categorize collected plant life alongside familiar food found in a grocery store by exclaiming "fruit!" or "not fruit!"
Early on in the pilot program, students gathered an assortment of "fruits" resembling spiky balls that fall from sweet gum trees. Even though most attempt to avoid these prickly pods, the students gave no hesitation in cracking them open to find hundreds of seeds! Once the plants were sorted, the students began to observe and draw each part. Using their original drawings as a visual guide, and after learning some basic embroidery stitches, they collectively stitched a large-scale embroidery depicting the life cycle of plants. "Kids are stitching around the table with each other, working in groups, exploring together. Really, collaboration is another strong aspect of Growing Up Green," says Pam. "We think with our hands, and when students are immersed in a lesson together, they begin to make their own connections."
Ultimately, Growing Up Green can naturally make children stewards of the environment, "not because we taught them preservation is important in a textbook, but because they were outside experiencing it for themselves." Pam adds, "this residency reminded me that the more immersed I can be in what the students are learning in their core curriculum, and the more I experience the wonder and excitement of that learning, the more I have to share with my students and the stronger the arts integration."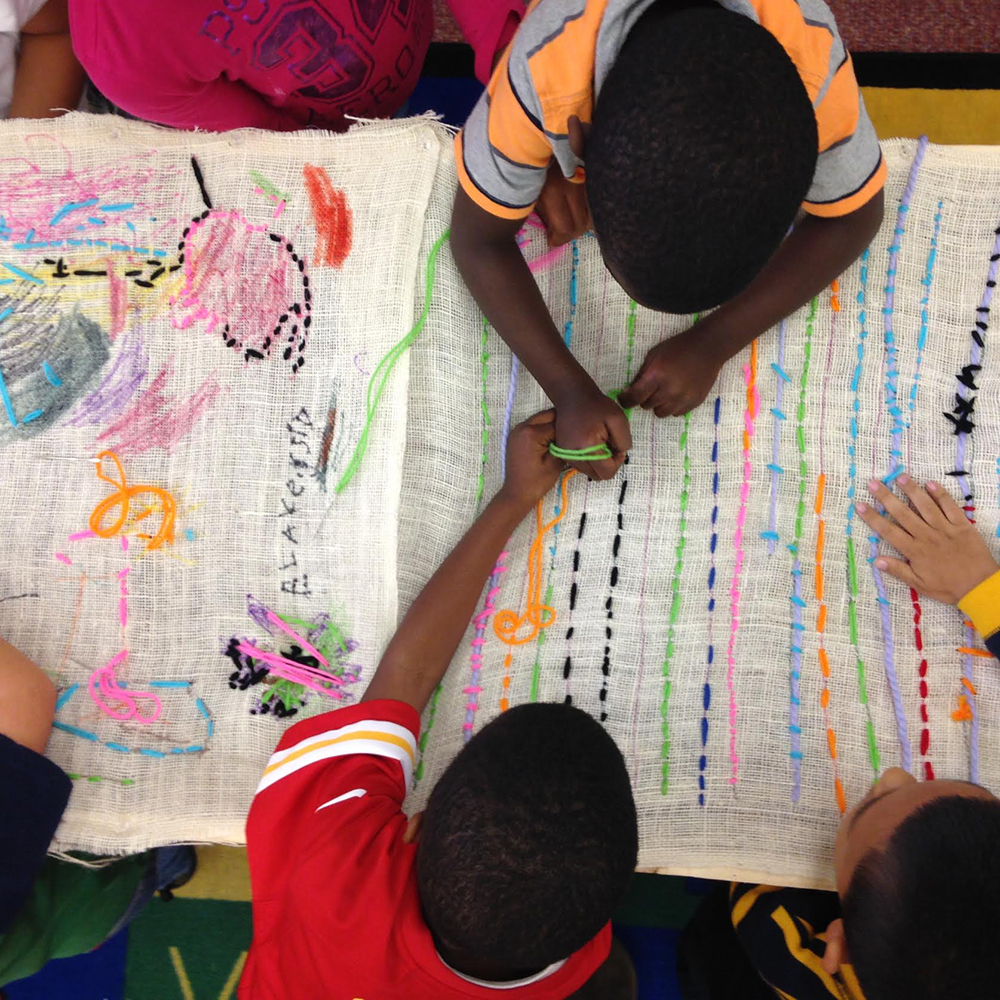 The program also provides teachers the tools to creatively engage students in curriculum-based learning through arts integration long after the residency has ended. In fact, one of Growing Up Green's primary missions is to ensure the program's long-term sustainability in the classroom. Once the residency ends, the arts integration techniques that were taught during the residency help teachers to more accurately and confidently employ environmentally based learning strategies into their current lesson plans. Ideally, once the piloting phase of the program is complete, Growing Up Green will become embedded into the core science and social studies curriculum of Prince George's County Public Schools.
By partnering with the Chesapeake Bay Trust to arm schools with relevant, local environmental data to meet district-level standards, and by doing our part to provide teaching artists and professional development in arts integration, this program could not be more equipped to succeed.
Video: Growing Up Green @ Rockledge Elementary
Growing Up Green aligns with Environmental Literacy Standards, Next Generation Science Standards, Common Core State Standards, and Visual Arts Standards.
Categorized:

News

Tagged:

21st Century Skills, artist-in-residence, arts ed, arts integration, BGE, Chesapeake Bay Foundation, Chesapeake Bay Trust, Common Core Standards, creative learning, early learning, environmental literacy, environmentalism, Growing Up Green, kindergarten, Meaningful Watershed Educational Experiences, Next Generation Science Standards, Pam Negrin, PGCPS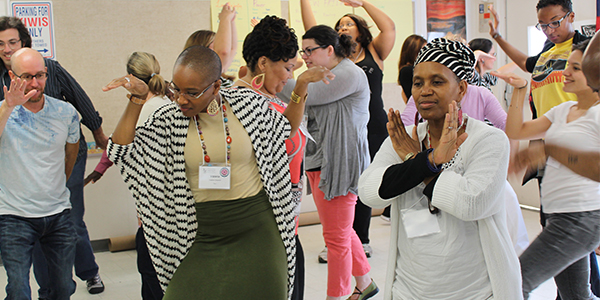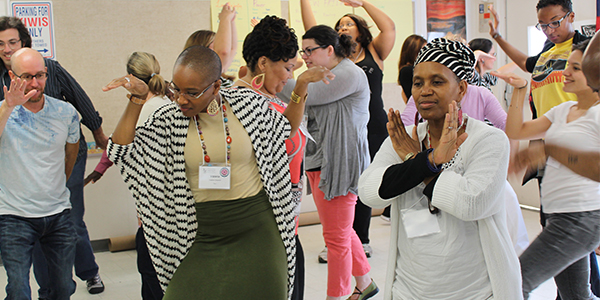 The 2014-2015 Teaching Artist Institute (TAI) Seminar is already underway, but we wanted to share some reflections from artists who have graduated from the program. Here's what they had to say about the experience:
As a full-time preservationist of acoustic Delta Blues from the 1920s and 1930s, I must make my history of Blues show academically relevant to the curriculums of Maryland and Virginia schools. I completed the TAI training program in 2009, and the course completely transformed my understanding of how I can support the current teaching standards in schools with my music programs.

As Young Audiences knows better than anyone, all the arts are under tremendous pressure to prove their relevance to school systems that are struggling to meet national testing standards in different disciplines. What I learned from my TAI training is that the arts serve a valuable role in preparing students with the 21st Century thinking skills they need for their future success in our rapidly changing world.

By creating a residency with a language arts teacher as my partner, I was able to use songwriting to teach students figurative writing skills. Without the TAI training, my school music programs would not be as academically relevant to the school's goals. This connection is critical for the arts to survive in our schools, not as a reward for difficult academic work, but as a means to help students meet their academic goals.

The TAI program is well-run by dedicated educators and artists. It is challenging, rigorous, and exposes artists, teaching artists, and professional educators to each other's thinking styles. This program deserves support, and I hope it continues to transform serious performing artists into skilled teaching artists.
– Curtis Blues, Blues Musician, Exploring Math and Music by Making a One String Guitar
I had never thought of myself as an educator, at least not in the traditional sense. Musically, there is always an underlying truth or teachable moment I try to impart. However, now I needed to do so in a structured, educational format. Although the curriculum was challenging, I am ever so grateful for having gone through the process. The fellowship with the teachers and other artists truly cannot be measured. As an artist, mentally you have to re-wire your brain to remember that it is not about you or a performance; it is about what the children learn and take away from the experience. A few months later I had the opportunity to return to the school for a musical performance for a general assembly. My class was so excited to see me and the feeling was more than mutual. For that reason alone, it was a journey worth taking.
– Uncle Devin, Musician and "Drumcussionist," Uncle Devin's World of Percussion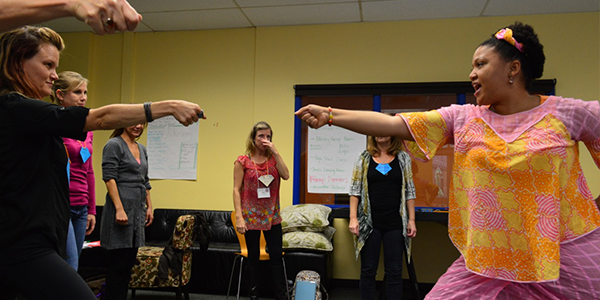 TAI gave me such an appreciation for the life of the classroom teacher. Not only did I learn how to plan and sequence a project into realistic, meaningful lesson plans, I learned a whole new vocabulary and some best practices of a strong teacher as well. Field testing my lessons with my teaching partner gave me real world practice in collaboration, classroom management, solid preparation and flexibility.

TAI is also a rare opportunity to work and learn side-by-side with artists from other disciplines. I met so many energetic, thoughtful, creative people who are not only committed to their art, but also to making a difference in the lives of children. It was incredibly valuable to me to be stretched and out of my comfort zone. As a visual artist, I found that experiences in music, dance and drama helped me move out of my head and in to my body. I learned that this whole body engagement is something that I want to bring to students when I lead them in the visual arts.

On the last day of TAI we were asked to say one word that summed up our experience. My word was "ALIVE." That pretty much says it all.
– Pam Negrin, Visual Artist, Transformative Textiles: Weaving Together Math, Literacy and History and
Collaborative Stitching: Connecting and Inventing with Needle and Thread
TAI is an amazing opportunity where artists, educators, and staff truly collaborate to help process, define, and designate the importance of art in the classroom. I loved the guided lessons, hands on experience, and being around such amazing, talented individuals. I feel like this experience helped to shine a new light on my own experiences as a classroom teacher and now a teaching artist.
– Bridget Cavaiola and Michael Harris, Baltimore Improv Group, Life is Improvised!
The staff and artists who coached us through TAI opened a whole new level of integrated content, planning, and instructional skills to us. The opportunity to develop new programming for excited young artists, alongside engaged education professionals in so many unique environments has grown our vision as an organization. This fall, three more team members will begin TAI. Best professional development around!
– Matt Barinholtz, FutureMakers, It's Alive: Kinetic Creature Lab!
I really felt like I was re-energized in my way of thinking and the facilitators brought a plethora of knowledge to the table. I appreciated their ability to listen, answer questions, and make the experience fun, interactive and simply enjoyable.
– Valerie Branch, Modern Dancer, Exploring, Creating, and Dancing with our Friends!