Written by Barbara Krebs,
Young Audiences volunteer and Sunburst Society member
Recently I toured Ireland, circumnavigating this gorgeous island from the Republic of Ireland, to Northern Ireland before returning to Dublin. If you have half a day, I'll be happy to tell you about everything I learned there, from Irish history to Irish dancing to Irish food to (ahh) Irish whiskey. But if you have only a few moments, then I'll just tell you about my biggest takeaway from this trip–passion.
So now you're thinking, "What does this have to do with Young Audiences?" In the great tradition of Irish storytelling, I will let you know how one starts in Ireland and ends up in Baltimore with passion as the theme.
My story starts with a tour guide in Northern Ireland named Garvin, who told us about his wonderful city, Derry. Following the itinerary map, I had been puzzled since I couldn't find it. This mystery was quickly cleared up as Garvin explained that Derry is the town's traditional Irish name but it had become Londonderry during British rule. But he was also quick to explain with a broad grin that what his city actually is, is Legen-Derry (Get it? "Legendary!").
And thus began his tour of a city that he was obviously totally devoted to and passionate about. Today Derry is a wonderful city, with much to offer tourists–historic 17th fortification walls (the most intact in Ireland), Gothic-style cathedrals, a vibrant waterfront restaurant/bar scene and fascinating museums. But if, like me, you think of Derry during The Troubles, your memories will be very different, with scenes of bombed-out buses and civilian and British troop deaths.
But Garvin used that very history to make his point about his city being a wonderful place. He took us to Bogside, scene of infamous clashes between citizens and British military police, and said, matter-of-factly, "You would not be on a bus going here in the '70s, because it would be hijacked, turned on its side and burned out to use as a barricade to block the street against the British." This, while we looked out the bus windows at calm, clean streets.
I loved the beauty of Derry, its rich and troubled history, and yes, the passion of Garvin. And what struck me most forcefully was how many times he repeated, "I thank you for coming to visit my beautiful city. Please tell your friends and relatives what a wonderful place it is." And I knew then how deep his passion was for his flawed and scarred, yet fascinating city. And through him, I fell in love with it, too.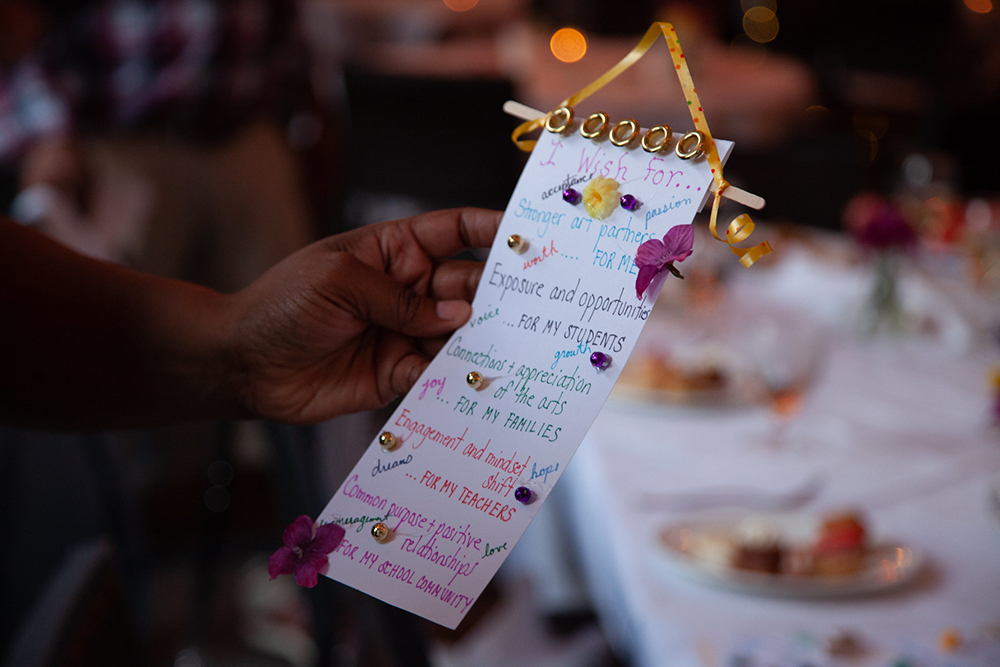 So now here's the connect with Young Audiences. I have witnessed the passion of Young Audiences artists like Femi the DriFish and their teacher partners who, despite challenging situations, work tirelessly to promote learning in their classrooms, using the innovative arts techniques taught by YA. I have seen deep passion in our principals who set aside hard-fought funds to bring the arts into the classrooms when others are choosing to cut these opportunities. I see this passion in the YA board, who includes my husband, who donate their limited time outside of work and family to ensure that more kids have opportunities. It is through them that I fell in love with Young Audiences, too.
I am pleased to announce that Garvin's passion for his birth city is contagious. With his example, I am happy to tell all who will listen that I am passionate about Young Audiences. I will tell folks about how fantastic Young Audiences is–and that includes you!
Wanna know more? Consider joining CEO Stacie Sanders Evans and a Young Audiences teaching artist on Thursday, December 5, 5:30-6:30 pm for a free, one-hour Meet YA Event. To register, please contact Erin Nolder via email or phone – [email protected] or (410) 837-7577 ext. 105. All I ask is that afterward, like Garvin, you tell all your friends and relatives about the wonderful work that YA does.
Young Audiences of Maryland and the Greater Baltimore Cultural Alliance are searching for 25 rising Baltimore City public high school seniors for a six-week paid summer internship!
In 2012, Bloomberg Philanthropies created the Bloomberg Arts Internship program in New York City as a pipeline for public school students to college and careers. It is a rigorous program with three major elements: a six-week placement and project working day-to-day in an arts organization; visits to arts/cultural organizations; and professional development. This program's success led the foundation to expand its reach, first to students in Philadelphia, and in 2017, to Baltimore City. Young Audiences and GBCA are thrilled to be able to offer this opportunity to Baltimore City School students as well as Baltimore's arts and cultural institutions.
This is so much more than a summer job, it is a chance for young scholars to be challenged and inspired while getting meaningful, real-world experience. This phenomenal opportunity is made possible through the Bloomberg Arts Internship program which places qualified students at arts and cultural institutions across Baltimore City. This summer, 25 students will participate in a rich, immersive, and dynamic learning environment in which they will build career skills and plan for their futures. Baltimore's renowned and reputable arts and cultural organizations will guide interns through both creative and administrative projects, offering a unique perspective of  day-to-day operations within the art world.
STUDENTS
Interns are paid $9.25 per hour for 35 hours per week for the six-week internship, and an additional 20 hours during the orientation week—a total of 230 hours from June 20 – August 4, 2017. To apply, students must be enrolled in a Baltimore City public high school and:
Successfully complete junior year in 2016-17
Be 16 years of age or above by June 15, 2017
Have a passion for the arts
Commit to attend the 35-hour/week internship plus 20 hours of orientation  (June 20-23)
Commit to working full-time for 6 weeks  from June 26-August 4
Be able to work legally in the U.S.
Applications are due March 31, 2017
Submit an Application  |  Learn More
ARTS & CULTURAL ORGANIZATIONS
Arts and Cultural organizations play a critical role in The Bloomberg Arts Internship. We are looking for 12-15 partners with the capacity to provide a rich, quality experience for the interns and meet the necessary Bloomberg guidelines. Worksite partners will be paid $750 per intern to help offset the costs of staff time in supervising and guiding the intern(s). Although only 12 to 15 organizations will be selected as worksite partners, there will be other ways to collaborate with us on BAI, such as hosting visits as part of the cultural field trip days or participating as a presenter/panel member as part of the professional development curriculum.
The YA/GBCA team comprises members with expertise in arts leadership and management, curriculum development, and arts education. Partners can expect consistent support from the YA/GBCA staff throughout the program.
Applications are due April 14, 2017
Apply to Become a Worksite Partner |  Learn More
For more information
contact Chaz Walters, Bloomberg Program Coordinator
[email protected] or call 410-837-7577