Step into a FutureMakers workshop, and you are immediately met with bright colors, texture, and sound! The room is a symphony of whirring and spinning, and you can almost hear the busy minds buzzing. This is exactly the scene in the art room when FutureMakers coaches Topher and Ross taught a series of workshops at Gardenville Elementary recently.
Thanks to programs like the Access for All Initiative and Maryland State Arts Council (MSAC) Artist in Residence (AiR) grant, more and more schools are able to bring the high-quality STEAM programming that FutureMakers provides into their classrooms. "We're so happy to see so many schools leveraging resources from the Maryland State Arts Council," FutureMakers founder Matt Barinholtz told us. "In 2017, we served nearly 1000 Maryland students through AiR programs – all who were able to increase their understanding of the engineering design process, circuits and visual arts elements by creating artworks that are designed and built to move!"
The goal of each workshop was for every student to create a drawing machine: a small, unique, motorized tripod that doodles and draws as it swirls and whirls across a flat surface. But it would be a mistake to assume that the finished product that students carry away is the only benefit to the session. FutureMakers teaches kids that engineers cooperate and persevere—skills that will take students far.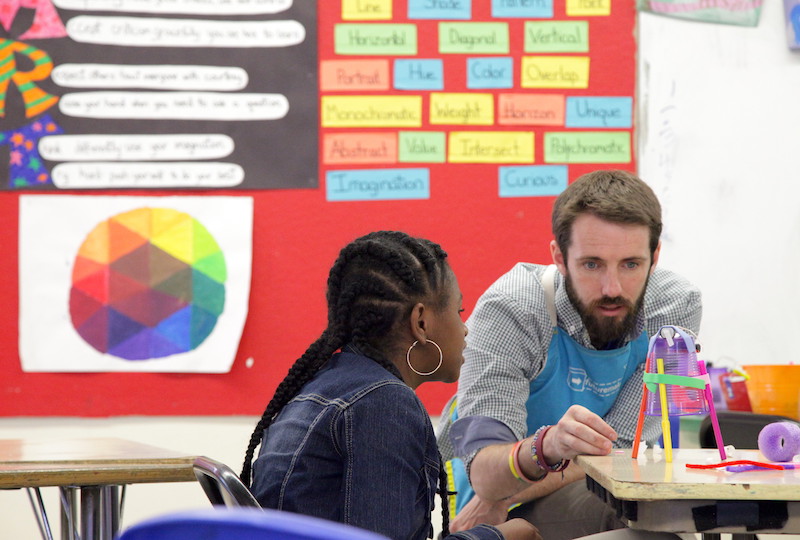 Coach Topher raised his hand at the front of the classroom and asked, "Who here has ever made something before?" The kids were excited. Some of the materials they received to build their machines, they recognized. Some, they did not. All of them, they had to connect and make work.
Problem-solving and troubleshooting are easy to talk about. "It's easy to say, 'try your best,' but in the moment, it's the most frustrating thing." Connecting batteries to motors and transforming them into pieces of art takes patience and skill. "Engineers fix stuff. Usually, they're fixing stuff they mess up themselves!"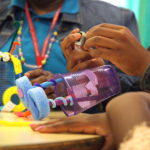 Though students all started on the same path, each robot took on its own distinct personality. Students directed the design of their bots, testing and retesting to see how design elements worked with the functionality of their machines. Through problem solving and teamwork, the young engineers found success.
"FutureMakers knows that integrating quality STEAM programs is essential – and requires support," said Barinholtz. Funding is available for schools and community organizations that can help all children experience high-quality arts programs.
Bring FutureMakers into your school with the help of a Maryland State Arts Council (MSAC) Arts in Education (AiE) grant. The MSAC AiE grant will fund up to 30% of the total cost of a YA residency program, including travel costs. The deadline to apply is Friday, May 19, 2017, by 5 pm. Start the application process today.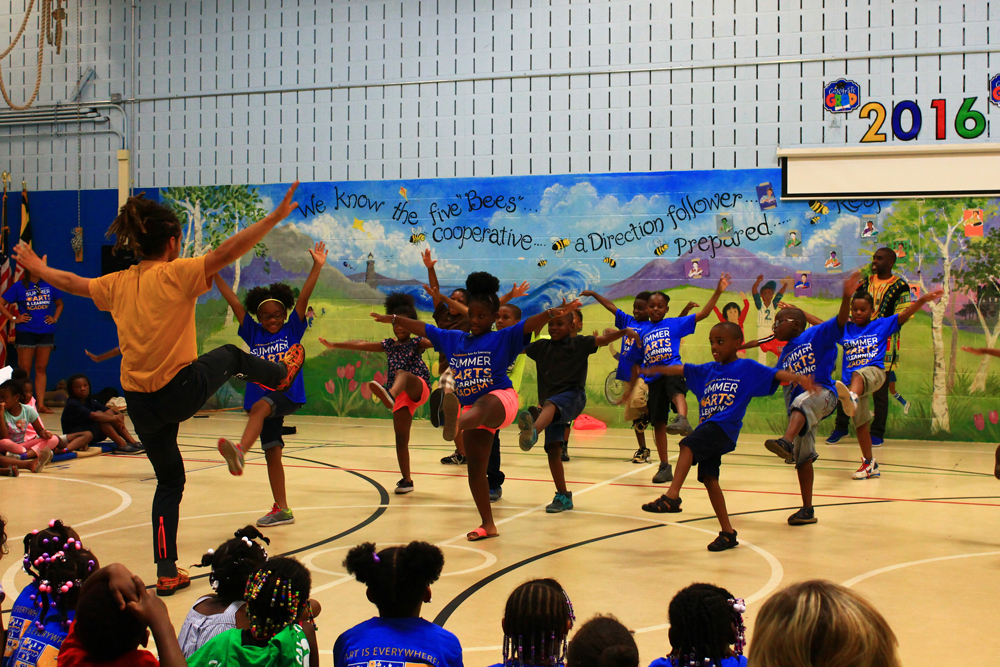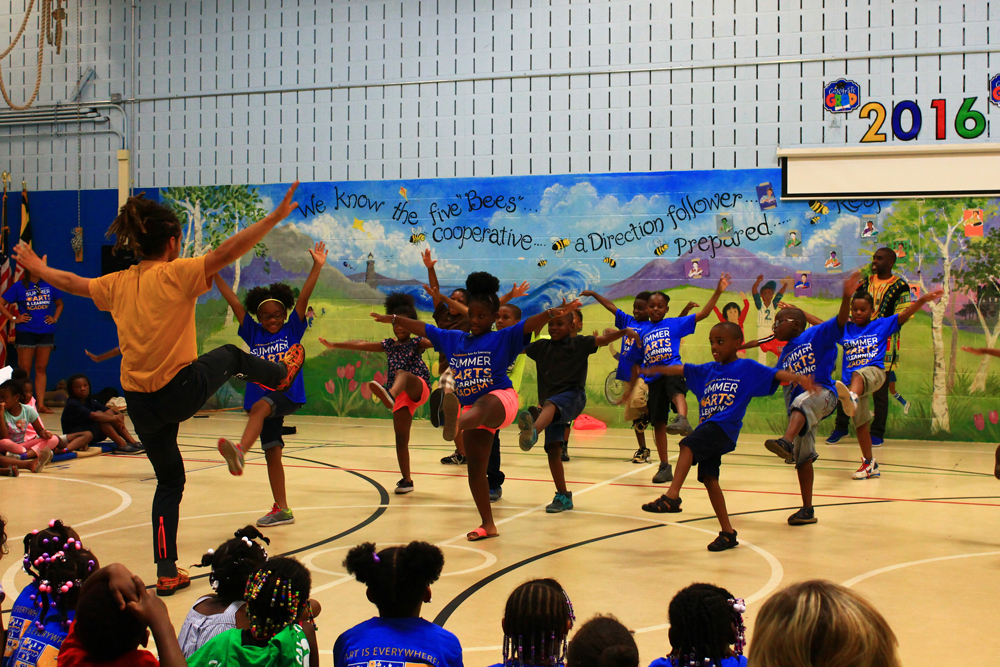 107 Maryland Schools Partnered with Young Audiences to obtain funding for Arts in Education Residencies through the Maryland State Arts Council Arts in Education initiative.
At Young Audiences, our philosophy is simple: the more arts-integrated learning experiences we can provide Maryland students, the better. We are thrilled to be doing just that with help from the Maryland State Arts Council (MSAC) 2017 grants! We teamed up with 107 Maryland schools to write MSAC Arts in Education Initiative grant applications and secure more than $124,000 in funding for Young Audiences artist-in-residence programs in the coming year.
MSAC grants help fund up to 30% of the cost of a Young Audiences residency program. With 194 total MSAC grants distributed this year, more than half were secured with support from Young Audiences!  We couldn't be prouder.
And the fit couldn't be better. Like Young Audiences' mission, the MSAC Arts in Education initiative is designed to promote, strengthen, and enhance the arts and arts education in Maryland's elementary and secondary schools. The grants will help fund Young Audiences artist-in-residence programs which bring professional teaching artists into classrooms to work alongside teachers and students. Teaching artists integrate their art form into the curriculum with hands-on, intensive arts workshops that engage students in creative experiences and bring joyful learning into the classroom.
The Young Audiences residencies resulting from these MSAC grants will be found in private, public and charter elementary, middle and high schools in counties that include Baltimore City, Baltimore County, Anne Arundel, Dorchester, Harford, Frederick, Montgomery and more. The art forms vary too, including residencies focused on dance, poetry, improv, steel drums, theater, music, sculpture, and photography.
For a full list of MSAC-funded Young Audiences residencies, click here. To learn more about Young Audiences artist-in-residence programs, click here.
Interested in bringing a Young Audiences artist-in-residence program to your school? We may be able to help you apply for grant funding! Email [email protected]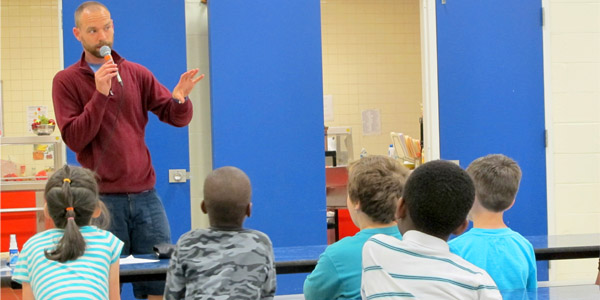 By Katie Keddell, Young Audiences/Arts for Learning Office and Volunteer Manager
This story was originally posted as a part of the Americans for the Arts Teaching Artist Blog Salon in March 2014. See all of the salon posts here.
On Saturday, February 1, I had the wonderful opportunity to watch Young Audiences/Arts for Learning teaching artist, Max Bent, work. We were not in a classroom and we were not in an official Young Audiences program at a school or community organization. Instead, we were joining our neighbors, Single Carrot Theatre, in welcoming the neighborhood to our new home at 2600 North Howard Street in Baltimore. Max was offering a musical demonstration to anyone who walked in to say hello and hear more about Young Audiences. After an hour of recording sounds visitors played on a small steel drum and various other eclectic instruments, Max created a symphony of sounds by layering impromptu measures of four beats on top of each other. As he taught, I was struck by one phrase he kept repeating: "We have to re-harness the things that happen by accident." I instantly connected this idea to my research as a graduate student.
As we talk about the young people in our state and across the country, one major trend is the desire to teach our students what one popular researcher calls, "Grit." As defined by TED Talk speaker Angela Lee Duckworth:
"Grit is sticking with your future—day in, day out, not just for the week, not just for the month, but for years—and working really hard to make that future a reality."
Passing a paper test with a singular focus cannot teach this tenacity, but overcoming a challenge does. In 10 minutes, I saw Max demonstrate how he teaches grit through the arts-integrated programs he brings to Maryland schools. Our guests saw the value of sticking with the exercise themselves and heard the physical evidence created by their instruments. Each individual walked away with a small but powerful example of success through staying with something despite no prior knowledge of the steel drum or the technology Max was using to record and layer sounds
Before Max joined Young Audiences, he did not see a connection between his art and the school curriculum. Max applied to participate in the Teaching Artist Institute (TAI), a training program for artists developed by Young Audiences in partnership with Arts Education in Maryland Schools Alliance (AEMS) and the Maryland State Arts Council (MSAC), to deepen his knowledge of how the arts can naturally connect to the curriculum and engage students in learning. After successfully completing the program, Max now has a collection of lessons that connect beatboxing and music to a multitude of subjects, such as probability, fractions, graphing, and phonics.
That's what excites me most about Young Audiences: the belief in arts integration. For me, it's not only about teaching the future generation aesthetic appreciation, it's also about finding the ways that divergent thinking and practical application speak to the future of what our children learn and believe they can achieve. It's about giving all students a chance to explore their talents, giving them a safe environment to take risks, to make mistakes, to achieve, and to persevere. It's about teaching grit.
The Teaching Artist Institute (TAI) is made possible in partnership with Young Audiences, Arts Education in Maryland Schools Alliance (AEMS), and the Maryland State Arts Council (MSAC). TAI partners and generous sponsors, like the Robert W. Deutsch Foundation, provide funding and support that make this training opportunity accessible to all qualified artists.
Taylor DeBoer, Communications Manager for the Deutsch Foundation, joined us for the first day of the 2013 TAI Seminar retreat last week and shared his experience on the foundation's blog. Check it out!
See more photos from the TAI Seminar retreat.