Did you catch Arts & Learning Kids! on Channel 77 this weekend? Young Audiences created this cool educational TV show in partnership with City Schools to reinforce what our students are learning remotely through interactive arts-integrated lessons!
Each episode is geared toward one of three grade bands (PreK/K, 1/2, and 3rd-5th Grades), and features a teacher and professional artist co-teaching an arts-integrated math or literacy lesson in-line with the math and literacy work students are currently doing either virtually or via packets. After each episode airs, it is accessible anytime online at yamd.org/kids.
This is not a passive viewing experience! During each episode, students are challenged to explore learning through a variety of art forms. They'll learn key math concepts using their whole bodies and voices; write and animate their own myths by creating a flip book; learn basic tap steps to help review fractions; engage in storytelling using an actor's tools; or even solve math problems with shadow puppets!
In the episode "Character Traits Choreography," students have the opportunity to identify their own character traits and those of important Civil Rights leaders like Dr. Martin Luther King Jr. and Ruby Bridges. Students will be able to unlock their creativity and communicate those character traits through dance! Learning several elements of dance like frozen poses, levels, shapes and energy, students will not only get to perform the Ruby Bridges choreography, but will be inspired to look for the leaders—particularly those who respond to injustice—in their communities and in themselves, identify character traits of those individuals, and create their own choreography. (This episode is recommended for students in 1st and 2nd Grade) 
As a fun bonus, within each episode are two special segments. The "Sweet Stuff Showcase" highlights an engaging and educational digital experience from outside of our own organization. The "Artsplosions" segment features YA artists presenting a cool and quick experience in their art form that often encourages kids to get up and get moving. We are so excited to share Arts & Learning Kids! with you. It really is an AWESOME program and we think that even parents and caregivers will find that it's super fun to watch. Check it out!
It's been almost a year since we announced our partnership with WTMD to feature YA teaching artists on their family-favorite Saturday morning radio show Young At Heart! Since May 6, 2017, host Lisa Mathews—YA teaching artist and lead singer of Grammy-nominated children's band Milkshake—has invited eleven top-notch, talented YA roster musicians to date into the studio to chat on a monthly segment called smARTbeats. Listeners have learned about the artists' professional work outside of schools, arts integration, and heard how they've reached students through art in the classroom.
"Listening to music is great, but making music is transformative." –Alden Phelps
Some of the featured artists have talked about the guidance they've received and diligence and artistic discipline they learned from parents, peers, or mentors. Some have revealed the inspiration they've found through their own small children. All have shared with listeners the energy, kindness, and expertise that they bring into every Maryland classroom they visit.
"If we never spoke a word, we could communicate through music." –Devin Walker
From memories of touring with the one-and-only Mr. Ray Charles, reaching audiences around the world in Spanish, English, and through poetry, taking a musical journey to outer space, to finding out not just how artists inspire children every day in Maryland classrooms, but hearing what motivates, energizes, and inspires them, getting to know these fantastic teaching artists has been a real treat for Saturday mornings!
"There's power in words, build or destroy, so watch what you say." –Femi the Drifish
And just in case you prefer to sleep in on the weekends, we've compiled WTMD's Soundcloud links here for you to enjoy any time of day or night!
Young At Heart airs weekly from 7 to 8 am on Saturdays, featuring music that appeals to parents and children alike. Previous shows have featured music by Wilco, David Bowie, Andrew & Polly, Weezer, and others.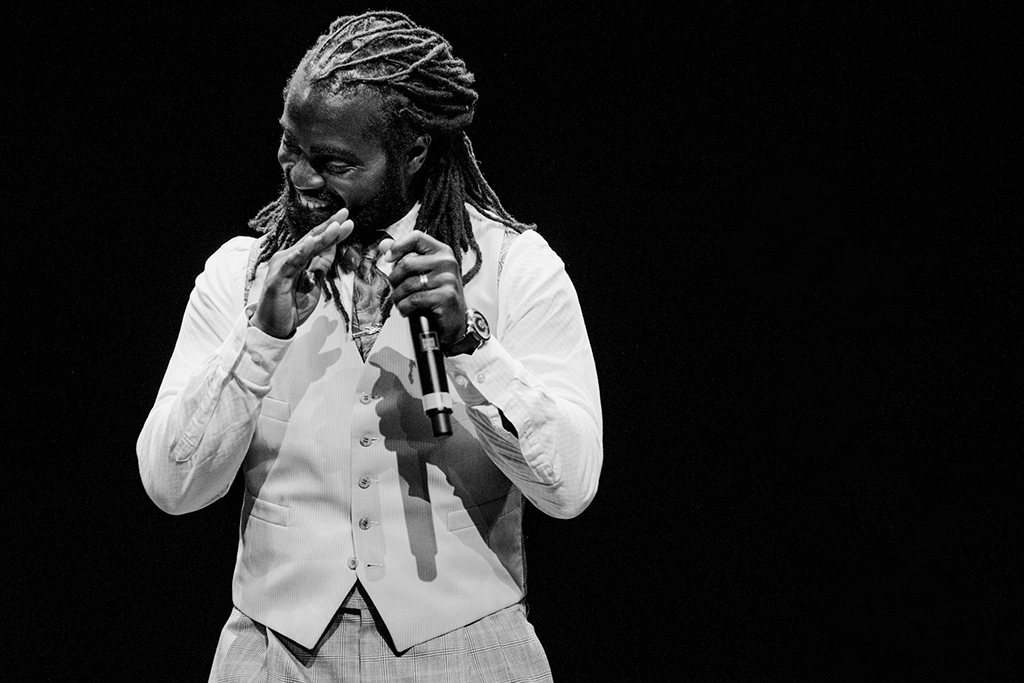 smARTbeats is back this Saturday, January 13 on WTMD during the weekly children's program Young At Heart! On this month's segment, host Lisa Mathews sits down for a chat with Hip Hop performer, YA teaching artist, and Maryland Wolf Trap Artist, Jamaal "Mr. Root" Collier.
A dynamic and engaging Hip Hop artist, Jamaal has been working with Young Audiences/Arts for Learning since 2007, has served on its artist roster since 2013, and was named Artist of the Year for 2016. His energy and passion for the arts is boundless, and show in the volume of work he does, not only offering assemblies and long-term residencies in schools, but also providing professional development for teachers.
By incorporating rapping, vocal percussion, and dynamic stage presence, Jamaal articulates his passionate appreciation for his artistry every time he teaches and performs.
During the segment, you'll hear how the artist, who is also half of the family-friendly beatboxing duo Baby Beats, invites students to learn, listen, and participate.
"(Mr. Root's program) was a true testament of how you can take learning and make it fun," said Ms. Hines, Principal of Villa Maria School after the artists' residency. "He was able to get some of the most resistant kids engaged."
Jamaal uses rapping, freestyling, and beatboxing to appeal to a variety of learners. His students craft rhyming couplets and non-traditional quatrains to analyze and summarize their course content, gaining a deeper understanding of lesson material through elements of Hip Hop.
Take a look for yourself:
Staci Taustine, Fifth Grade Teacher at F.L. Templeton Preparatory Academy said that through her class' residency with Mr. Root, students didn't just advance academically, but socially.
"My students learned how to be vulnerable with one another, brave enough to share their feelings, and empowered to use their voices to express everything they learned," she said. "Each and every one of my students came away with a unique perspective on who they are as individuals."
Jamaal's passion for the arts is clear, as is the impact it has had on his life. "Our life without the arts can be so empty," he has said. Thankfully, the artist shares the power of art, music, and rhyme with students and their teachers across the state of Maryland every day.
Young At Heart airs weekly from 7 to 8 am on Saturdays, featuring music that appeals to parents and children alike. Previous shows have featured music by Wilco, David Bowie, Andrew & Polly, Weezer, and others.
Hear Jamaal "Mr. Root" Collier online now: