Before there is art, there is planning- lots of planning. This is something that 7th graders at the Baltimore Design School know all too well. Without it, the mural that these students created under the guidance of YA roster artist Amanda Pellerin and art teacher Stephanie Cafaro would not be the magnificent work that it is.
The class began with brainstorming and list-making. "We asked the students, "What's important to you?" Amanda Pellerin explained, "And we had different posters that asked, "What's important to you at home? What's important to you at school? What's important to you in your city? What's important to you in the world?"
From these ideas, Miss Cafaro had the students narrow down what they believed to be most important into one list of possible mural themes. Some suggested a tribute to President Obama or a better Baltimore. Others wanted to illustrate the power of protesting or important issues in the world today. "When I looked at this, I didn't see 10 different murals," Pellerin said. So, the artist proposed combining each idea into one single, powerful mural, and the students were all for it.
Before they could get to work on cutting and etching and glazing their tiles, however, the group first had to decide what the project was going to actually look like. After discussing composition and scale, and considering how the piece would flow visually, the group decided that the mural would feature three "larger than life" role models among a crowd of protesters. The class felt that President Obama, Harriet Tubman and a native American should stand out. The choices that the class made in the design process were purposeful. Role models weren't chosen randomly, they were justified and carried significance for each student.
Small teams of students worked together to create each larger than life figure, then reunited to complete the picture and piece the mural together. In their finished artwork, historic role models protest alongside important figures of the present. The figures carry protest signs that reflect current issues with sentiments that students imagined each role model might express if given the chance today.
"We're trying to help them understand that designers work as teams."
From conception to execution, the class was instrumental in seeing the project to completion. Directing the vision of the finished piece allowed the students to take ownership of the artwork and truly see it as their project. "I love that they had to come up with a concept and work together," noted Miss Cafaro. Every material that needed to be prepped and every decision that needed to be made happened because the class took charge, collaborated, and cooperated. "We're trying to help them understand that designers work as teams," Miss Cafaro said. "Even if it's not their favorite idea, they're part of a team and still need to contribute."
Amanda Pellerin specializes in handmade tile murals and clay sculptures and has 20 years of experience in teaching both children and adults. Learn how to bring Amanda's residency, Handmade Tile and Mosaic Murals, into your school.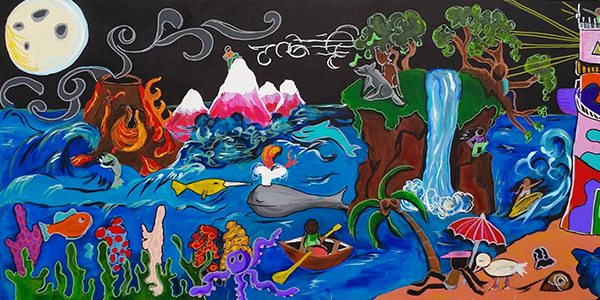 Photos and content were originally posted on Daneytt Tucker's blog "Daj'zha Vu" here and here. 
This fall, Young Audiences visual artist Danyett Tucker worked with John Hanson Montessori middle school students to create a mural that now brightens their school hallway.
The theme for the eight, two- by four-foot wood panels is "Earth's Treasures." Danyett explains how the project began:
"I Googled "earth's treasures" and found [the poem] 'A Lunar Lament' by Ann Pedtke. After I read the poem to the class for inspiration, I asked them to imagine that they were the moon looking down upon the earth, marveling at its treasures. What treasures would make you a jealous moon? They came up with some great sketches, which I pieced together into our mural composition, all from the moon's perspective."
The four week-long residency was a powerful experience for all involved.  Danyett writes, "I am so proud of the students at John Hanson Montessori. They are creative, focused, and fun! They made me feel like a part of their family."
Read more about this residency (and see photos from all stages of the project!) on Daneytt's blog "Daj'zha Vu" here and here. 
By Cyan McMillian, seventh-grade student, Windsor Hills Elementary/Middle
My name is Cyan McMillian and I am a seventh grader at Windsor Hills. I'd rather throw a football than paint my nails (seriously). I felt like a free spirit until my tenth birthday–which was the worst day ever. I was excited but made the mistake of not bringing enough cupcakes for the whole class. One girl–the drama queen–decided to take out her frustrations on me. She waited until we got in the cafeteria and took a mixture of yogurt, milk, juice, and water and poured it over my head in front of everyone. On my birthday! Everyone who saw it laughed. Even the adults. I was so hurt and embarrassed that I ran out of the cafeteria in tears.
I never wanted any friends after that. The more I tried to be myself the more I would get picked on. Bullies targeted me for all the ways that I was different–my weight, my clothes, and my love for school.
My parents signed me up for the Baltimore City summer learning academy, the summer before middle school started. I like math and science, but I was most interested in the art classes provided by Young Audiences. See, I don't get to enjoy the liberties of art during the school year. Having art every day during the summer was a treat because I got to make new friends, I learned how to use the color wheel, how to make 2D pictures become 3D pictures.
Watch Cyan share her story at Young Audiences' Impact Breakfast event earlier this month!
My art class was taught by Young Audiences teaching artist, Danyett Tucker. She played a song by Lauryn Hill called "Everything is Everything," and asked us to illustrate what the lyrics meant to us. I love that song. It was like math because my hands and brain were working at the same time to solve a problem. I was able to express myself without being judged in a way that was fun and challenging. I learned from Ms. D that there is no "right" or "wrong" when it comes to art.
Ms. D believed in me and gave me the confidence to believe in myself. She let me come to her when I needed someone to talk to and gave me helpful advice when I was stuck. I was free to be who I am again, which made me feel like my old happy-go-lucky free-spirited self.
Ms. D inspired me to keep drawing after the program was over. My dad loves to draw and after that summer we started drawing together. When I found out the summer program was going to happen again this summer, I found out where Ms. D was teaching and signed up. This summer was even better because not only did I get art with Ms. D, other artists also helped teach the science and math classes. I learned how ratios relate to music and how dance movements connect with science.
In Ms. D's class, we created a mural that's displayed here today illustrating Maya Angelou's poem, "A Brave and Startling Truth." The poem was confusing at first but the more we read it as a class it became easier to understand and inspired me to speak out about the positive and negative things that happen around me. I was able to use my voice through illustration again. I attended this program every single day and now I have two murals in my portfolio.
Now when I feel like I have something to express but don't know how to say it, I draw it out. Thanks to Young Audiences, I have learned a lot about myself. I'm more observant and I know what a real friend is. I know who I am. So what if I'm not a girly girl, I'm fast and I can handle my business. When they call my clothes trashy, I don't let it bother me because their shiny white sneakers always end up dirty in a few days. And when they talk about my weight, like the song "All About That Bass" says: "Every inch of me is perfect from the bottom to the top!"
Last year I had the highest grade point average in middle school and it is still sky-high. I have a scholarship to any college that I want. I plan to get a PhD and work for NASA. Thanks to the support of my family, a few good friends, and the Young Audiences artists who understand me like a parent would, I am going for my dreams. And while the summer program is over, what I learned from Ms. D, that "Everything is Everything," will stay with me forever. What that means to me is that if you want to be something and you work hard, you will most likely become that. So keep an eye out for me.

By Danyett Tucker, Young Audiences illustrator and Artist Associate
During my recent mural residency program at Hamilton Elementary/Middle, students celebrated their community by remodeling Main Street and adding their own businesses. Social awareness symbols are sprinkled throughout their fantasy blueprint which now proudly covers their lunchroom wall.
I began by taking photos of well-known businesses in the area so that students could work on designs to upgrade their neighborhood. They decided what businesses they would like to add and represented those with related symbols. In class, we listened to a socially-conscious soundtrack and used some of the lyrics as inspiration to include messages that would uplift the community.
The students created all of the drawings and then I collaged their individual efforts together to create the scene. Together, we painted for days on end! During the course of six more workshops with me, and several additional sessions led by my teacher partner Ms. Friedman, this mural came to life. The sixth, seventh, and eighth grade art classes all contributed to the piece.
Ms. Friedman worked tirelessly on the mural panels outside of our workshops in the classroom. Since Ms. Friedman is retiring at the end of this school year, we included a student drawing of her in the finished mural.
Click here to see the full mural and see if you can spot Ms. Friedman!
Ms. Friedman's first name is Charlotte, like in "Charlotte's Web," so look for the spider web as a clue to where she is located.
Ms. Freidman shared: "I love, love, love the mural! Everywhere I look, I see something new! Students and parents went down to see the finished piece after a recent school concert and the building's custodians finally had to chase them out because they were so caught up in it."
It was an awesome experience!
This residency was made possible through a Maryland State Arts Council Arts in Education Artist-in-Residence Grant. Learn more about how Young Audiences can assist your school or community organization in applying for this and other grant funding opportunities online.
Learn more about this residency program and Danyett Tucker's other program offerings.

By Sherion Cosby, Theatre and Television Production teacher at Westland Middle School
Middle school is an awkward stage when you don't know who you are sometimes. I believe that theatre has a special ability that allows students room to breathe and learn about themselves. So many of my middle school students—even some of my high school students—need this space. They are body-conscious and hair-conscious and wondering, "Am I good enough?" and, "Do I fit in this clique?" But when they step on stage, theatre helps them let go of these worries.
Young Audiences ensemble Synetic Theater recently completed a residency at Westland Middle and it truly was an awesome experience for the students to see role models who exhibit a carefree but committed attitude in theatre. The actors from Synetic showed my students that they can step out of themselves and go ahead and do their thing. It brought them so much freedom.
I knew of Young Audiences and reached out to them because I knew I had a wonderful group of eighth graders who I wanted to expose to another level of theatre through a residency program. I wanted them to look at theatre the way professional actors do and experience different methods and styles. I also wanted to include the sixth and seventh graders in the residency because I was hoping to whet their appetite for theatre. I wanted to build that desire to participate in theatre at school. I wanted them to see that it is not just fun—that there is skill involved.
Synetic taught students that they should think of their bodies as their acting instruments and introduced theatre exercises that focused on warming up the body. Students no longer saw acting as just walking on stage and reciting lines. With Synetic, they had to think of warming up the neck and the head and the eyes and the legs. During these exercises, students also practiced concentration and mindfulness.
See more photos from the residency here!
Synetic worked with students on movement and characterization. I wanted my students to have the latitude and freedom to be someone other than themselves on stage. It is hard to overcome the fear of rejection from their peers when trying something new, but Synetic was able to pull them from where they were to a new place. As a teacher, it gave me what I needed in terms of getting students to step outside themselves. Synetic made my job so much easier.
At the start of the residency, I was concerned about one student, Matthew*, who is a talented athlete. I worried that he would be hard to engage in the program because he did not identify himself as an actor. During the program I saw Matthew change when he saw the male actors from Synetic demonstrating the theatre exercises. The actors also singled him out with praise during the various activities, saying, "That is really good. I like that. Keep doing that." Matthew has totally changed since this experience. He can't wait to get to theatre class now. He has come to see himself in a new light—he is not just an athlete but an actor, too.
During the residency culminating event, the sixth, seventh, and eighth graders all had a chance to demonstrate what they had been working on with Synetic in front of their classmates and parents. After they saw the feedback and applause from the audience, my students walked out of the media center like they had just delivered the best performance in the world. They were thrilled with what they accomplished in such a short period of time.
In theatre class students build relationships and bonds. They know that it is an environment where they can truly be themselves. They can express themselves and no one will judge them. They can be silly and ridiculous, and no idea is crazy or dumb. Because of this residency we were able to expose more students to the power of theatre, especially those who may not have opted to take a theatre class before this experience.
It is great to be able to rely on resources and partners like Young Audiences to reach the goals that you have in mind for your students, and that is exactly what happened with this residency. It took my kids to a place where they are comfortable being on the stage and outside of themselves.
Learn more about Synetic Theater and their program offerings here.
*Names of students have been changed to protect their privacy.