Written by Barbara Krebs,
Young Audiences volunteer and Sunburst Society member
Field trip! Remember the excitement you felt as a kid when you got to explore the world outside your classroom for the day, file on the bus, and leave school far behind? Well, it was a bit like that on Wednesday, July 25, when a diverse group of Maryland legislators, high-level education officials, and others boarded a bus to learn more about the programs that Young Audiences and its partners are offering Baltimore youth this summer. Except instead of leaving school, we headed toward them!
Initially, visitors met at Moravia Park Elementary School, the first of three stops that day. As Stacie Sanders Evans, President & CEO of Young Audiences, shared in her opening remarks, "We're shining a light on summer learning opportunities; we're shining a light on amazing kids; and we're shining a light on how the arts blends these two things."
At Moravia Park, we visited SummerREADS, a free drop-in literacy program that is the result of partnerships with the Harry and Jeanette Weinberg Foundation, the Baltimore Elementary and Middle School Library Project, Baltimore City Public Schools, and Young Audiences. Over a five-week period of time, more than 500 K-8 Baltimore City students will have had the opportunity to visit one of nine reading sites where they encountered engaging literacy workshops with teaching artists and fun enrichment activities with special guests.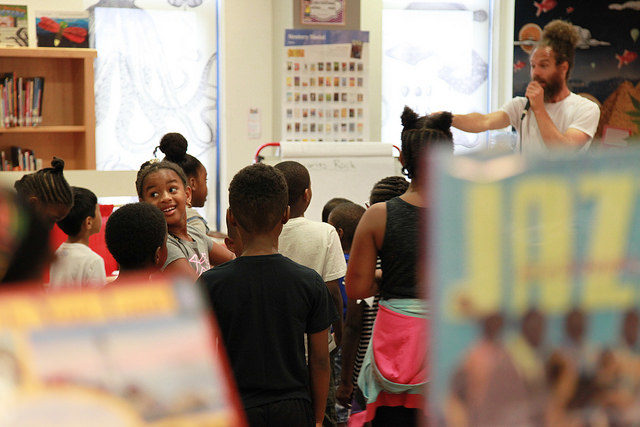 And that is exactly what we found when Max Bent, a beatboxer who has been a Young Audiences teaching artist for 7 years, led a group of six- and seven-year-olds in the basics of beatboxing. He taught them how to make various sounds and then incorporated them into a song, "My Banana." As they counted out beats (three syllables in banana!), they thought of other fruits (apple, two syllables!) to add into the song.
We had to leave for our next stop before he could complete the lesson, but I could already see the intriguing possibilities in beatboxing for both math and English. Before we left the school, there was a quick Q&A session. The questions came fast and furiously from all sides of the room, a testimony to how interested people were, not only in the learning they had just witnessed, but what it took to make this possible.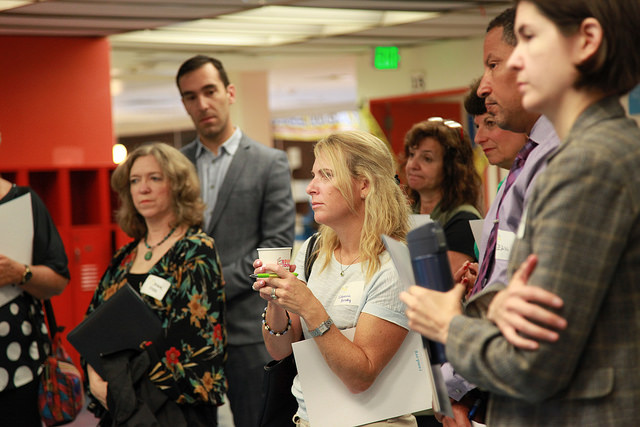 Our next stop was at Dorothy I. Height Elementary School for an introduction to Young Audiences' Summer Arts & Learning Academy (SALA). Here we learned that SALA is a five-week program for Pre-K through fifth graders where the focus is twofold. First, to arrest summer learning loss, and second, to make sure that learning is fun and engaging every day.
At this particular school, 260 children meet each day to learn and reinforce lessons in literacy and math. Last year, Young Audiences reached more than 1,150 children at four different school sites. Incredibly, in one year's time, Young Audiences, in partnership with the Baltimore City School system, has doubled its efforts, reaching about 2,200 kids at eight school sites.
We were then offered the opportunity to enter classrooms to observe the action.  I slid into a third-grade classroom, where the children were focusing on The Red, a book about a confused crayon, whose friends eventually help him discover his true color.
The teaching artist, Daniel Ssuuna, whose specialty is East African dance and drumming, divided the kids into three groups, each focusing on one particular part of the story. Handing out percussion instruments, he instructed students to focus on the emotions of the crayon during their assigned story segment. Was the crayon confused, or supported, or happy? With that in mind, they then created a dance and drum accompaniment to illustrate the crayon's feelings.
Other instructions given by the classroom teacher, Amanda Bila, highlighted listening skills. She asked, "When we are not performing, what do we do?" The kids supplied helpful advice: Be quiet. Be respectful. Listen. Pay attention.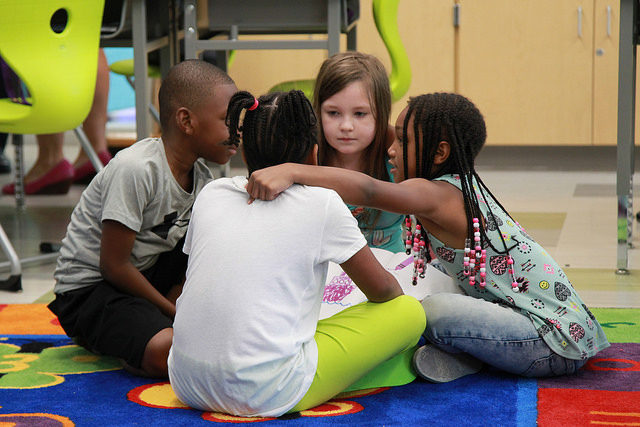 As the groups formed, I watched their interactions with the teachers and each other. I saw collaboration, referring to the book for inspiration, asking teachers questions, answering questions from the teacher, ideas discussed, ideas kept or discarded.
If Socrates had walked into this classroom, I'm sure he would have been proud to see his famous critical thinking methods being deployed.
Though I would have loved to watch each group perform, sadly, our time was up. Still, the excitement the kids exhibited as they analyzed their book was a potent reminder of how exciting and fun learning can be when you combine the arts and dedicated teachers.
Next we traveled to the Reginald F. Lewis Museum of Maryland African American History and Culture. Here we learned about the Bloomberg Arts Internship (supported by Bloomberg Philanthropies NYC) which places 35 Baltimore City rising seniors in paid internships at local arts and cultural institutions. These teens worked throughout the city with a goal of learning career readiness skills through real-world workplace experiences and professional development. Additionally, college mentors and writing coaches worked with the interns on college applications, resumes, and other experiences that will help them move to the next level professionally and/or academically.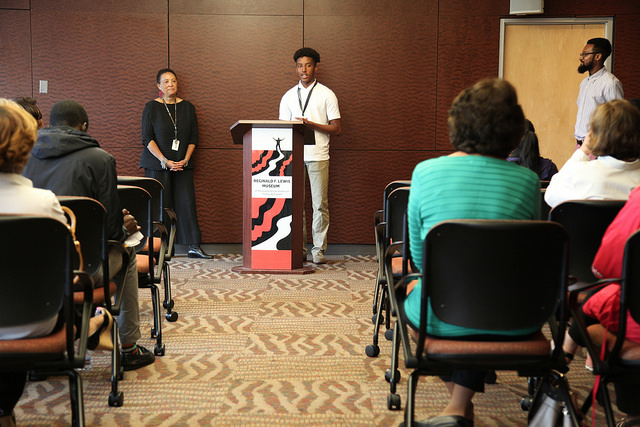 One intern, Collin Snow Stokes, spent his time at the Reginald F. Lewis Museum documenting the thoughts and feelings of Lewis staff, visitors, and volunteers evoked by objects reflecting Jim Crow era stereotypes from their upcoming exhibition "Hateful Things." His goal was 10 interviews, but he became so interested in the project that he exceeded his goal and even had time to do a few more before writing up his findings. And since his goals are to go into journalism and/or broadcasting, the interview process has honed job skills he will use for the rest of his life.
We also heard from two young women, Citlalli Islas and Paris Day, who worked at Port Discovery Children's Museum. Paris was assigned an archival project, logging in items that have been collected by Port Discovery over the 20 years of its existence. As she began her assignment, both she and the curators soon realized that the scope of it was more than they had anticipated. But by creating a system to log and track the items, they have begun the process that will help the museum maintain its collection for years to come. And as an added bonus, as she archived items, the collection overseers realized what a great exhibit some of the artifacts would make and, thus, an exhibit was born!
Citlalli interned in the exhibits department and has learned a lot about all the behind-the-scenes work that goes into creating and maintaining a museum exhibit. Obviously, this requires artistic vision. But beyond that, this has called on her to be innovative, meticulous and organized – not a bad group of skills to acquire before college and beyond.
Finally, it was time to get on the bus to return to our cars. As we wound our way down Baltimore's city streets, I listened to the conversations around me, ranging from other arts organizations and what they accomplish in their communities to legislative and philanthropic aides asking questions about the work that Young Audiences does and how each person present got involved.
And as I thought about involvement, I remembered another thing that Stacie had said at the beginning of our journey: It takes a village. At the time she was referring to the teaching artists, librarians, kids, and parents who were involved with SummerREADS. But it was just as applicable to each program we visited, and to each organization that contributes time, money, or leadership.
None of what I had witnessed occurs in a vacuum. The sheer number of people, funds, and time takes a rather large village, actually. And I'm happy to be a small part of this Young Audiences village. It's a great place to be and I invite you to join me! Field trip!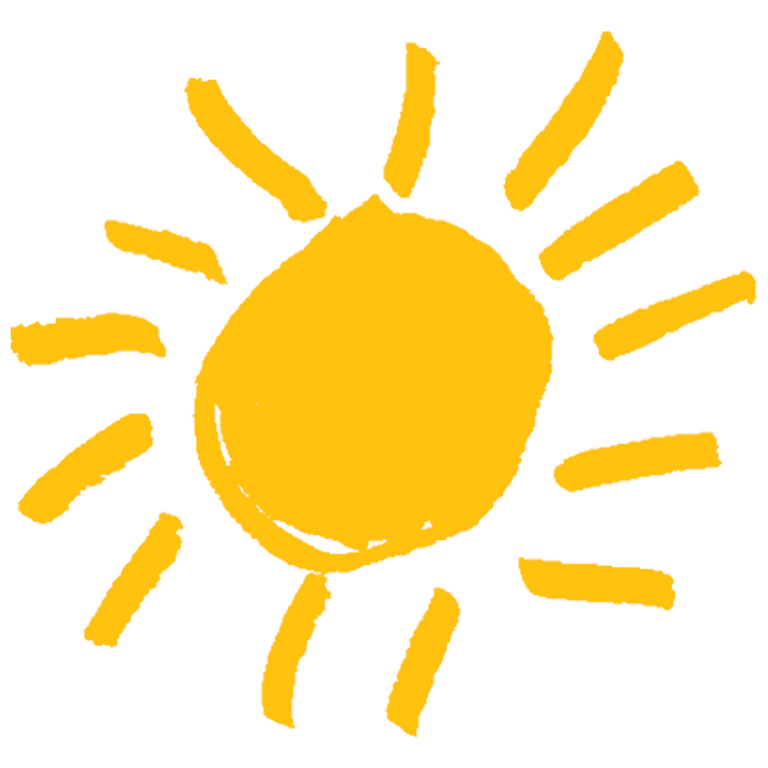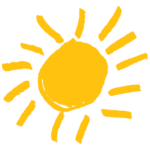 Learn more about our mission, our methods, and our future plans during a one-hour Meet Young Audiences event. In addition to hearing from the organization's leaders and getting an inside look into the amazing work we are doing around the state, one of our roster artists will share their amazing work with you and speak about how the arts complements and enriches classroom learning. Please reach out to Ingrid Murray, Individual Giving Manager, at [email protected] for more information or call (410) 837-7577 x. 107. Interested in hosting your own Meet Young Audiences event? Find out more here!
It's been almost a year since we announced our partnership with WTMD to feature YA teaching artists on their family-favorite Saturday morning radio show Young At Heart! Since May 6, 2017, host Lisa Mathews—YA teaching artist and lead singer of Grammy-nominated children's band Milkshake—has invited eleven top-notch, talented YA roster musicians to date into the studio to chat on a monthly segment called smARTbeats. Listeners have learned about the artists' professional work outside of schools, arts integration, and heard how they've reached students through art in the classroom.
"Listening to music is great, but making music is transformative." –Alden Phelps
Some of the featured artists have talked about the guidance they've received and diligence and artistic discipline they learned from parents, peers, or mentors. Some have revealed the inspiration they've found through their own small children. All have shared with listeners the energy, kindness, and expertise that they bring into every Maryland classroom they visit.
"If we never spoke a word, we could communicate through music." –Devin Walker
From memories of touring with the one-and-only Mr. Ray Charles, reaching audiences around the world in Spanish, English, and through poetry, taking a musical journey to outer space, to finding out not just how artists inspire children every day in Maryland classrooms, but hearing what motivates, energizes, and inspires them, getting to know these fantastic teaching artists has been a real treat for Saturday mornings!
"There's power in words, build or destroy, so watch what you say." –Femi the Drifish
And just in case you prefer to sleep in on the weekends, we've compiled WTMD's Soundcloud links here for you to enjoy any time of day or night!
Young At Heart airs weekly from 7 to 8 am on Saturdays, featuring music that appeals to parents and children alike. Previous shows have featured music by Wilco, David Bowie, Andrew & Polly, Weezer, and others.
smARTbeats returns to WTMD Saturday, October 14, during the weekly children's music program Young At Heart. On this month's smARTbeats segment, Young At Heart host Lisa Mathews sits down for a chat with beatboxer and YA teaching artist Max Bent. Performing for adults and the Pre-K set alike, the artist treats his audiences to a mix of original songs, fun covers, and interactive rhythmic games sure to get you up and moving.
Max started beatboxing at the age of eight, imitating with his mouth what he heard on the radio. Since then, Max's love for the beat has taken him on many exciting journeys and a never-ending search for sounds that surprise him. His experience as a teacher has helped him transition into his work as a teaching artist.
During the segment, you'll hear how the artist, who is also half of the family-friendly beatboxing duo Baby Beats, challenges students and teachers alike to learn by making music. A former science teacher, Max is able to combine his artistic talent with his educational background to make strong connections to specific units and standards in the curriculum with irresistible enthusiasm and energy.
He works not only with kids, but with educators, leading professional development classes to show teachers how music, and, more specifically, beatboxing can be used as a tool to teach fractions and challenging them to think outside the box in their own lesson planning.
Give it a try and see: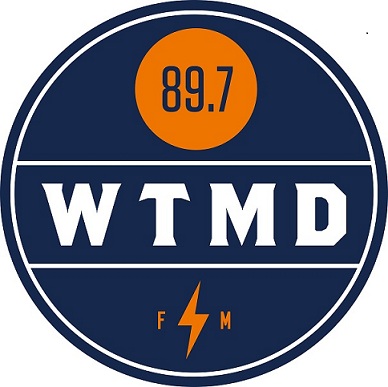 Young At Heart airs weekly from 7 to 8 am on Saturdays, featuring music that appeals to parents and children alike. Previous shows have featured music by Wilco, David Bowie, Andrew & Polly, Weezer, and others.
Hear YA teaching artist and beatboxer Max Bent online now!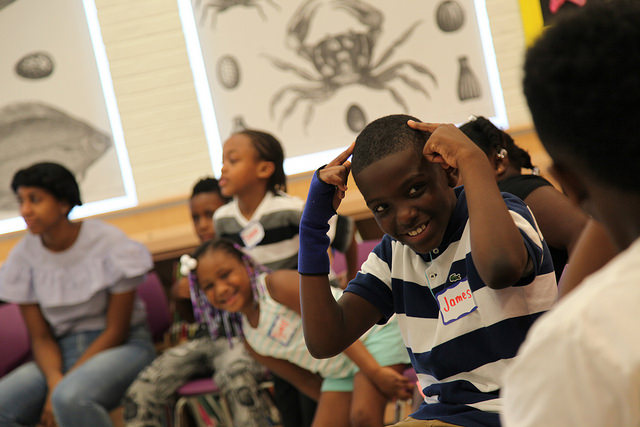 All summer long, kids and families made their way to one of seven city school libraries, each one beautifully renovated as part of The Weinberg Foundation's Library Project to take part in SummerREADS, a free literacy initiative that provides six weeks of drop-in programming for Baltimore City students, grades K through 8.
The host schools and libraries offered safe and welcoming spaces where students participated in literacy workshops and arts enrichment with teaching artists as well as enrichment activities with special guests including Art with a Heart, Maryland SPCA, The Maryland Zoo in Baltimore, and The National Aquarium.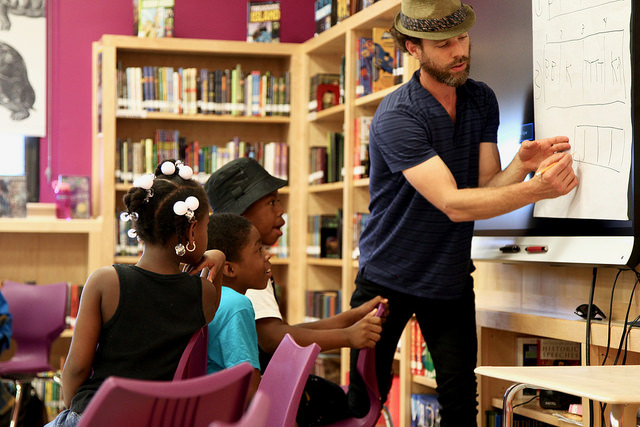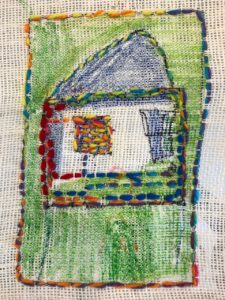 Every week, YA teaching artists introduced students to new experiences. Some learned to make music using their bodies with beatboxer Max Bent while others used lines, shapes, and shading to draw bunnies, snakes, and slugs with Brittany Roger of The Drawing Zoo. From jazz vocalist Renèe Georges, they learned about braille and how the late, great Ray Charles overcame adversity. They stitched colorful portraits of home with textile artist Pam Negrin and used what they learned about composition and digital photography from artist Christina Delgado to capture images of their library, teachers, and classmates. Actor Katherine Lyons gave students the tools, space, and permission to pretend, allowing even older children to travel wherever their imaginations would take them.
And through all of these art activities, young students strengthened their literacy skills, their vocabularies, and even their math skills. As they wrote songs, they considered the division of time when deciding how beats would fill their measures. Students explored new adjectives to best describe the textures and patterns they set out to draw, and they learned many many new ways of communicating- through art, through song, through dance, and through touch by learning the braille alphabet.
Perhaps most of all, students in SummerREADS learned that the library is a space for them. The library is open for them to use, to learn in, to explore, and to grow in. It's a place where magic happens, not only in books, but in minds and hearts. It's a place that challenges your ideas and is as good at surprising you with facts as it is at mesmerizing you with fiction. They learned that the library is a place where they want to be and even in summer, its doors are open.
Registration for SummerREADS 2018 is now open! This year, the program will expand to nine school library sites and operate Monday through Friday. SummerREADS programs are geared toward students in grades K-3 and their families, although the library is open to all Baltimore City School students in current Pre-K-8th grades. Learn more and register today at yamd.org/summerreads.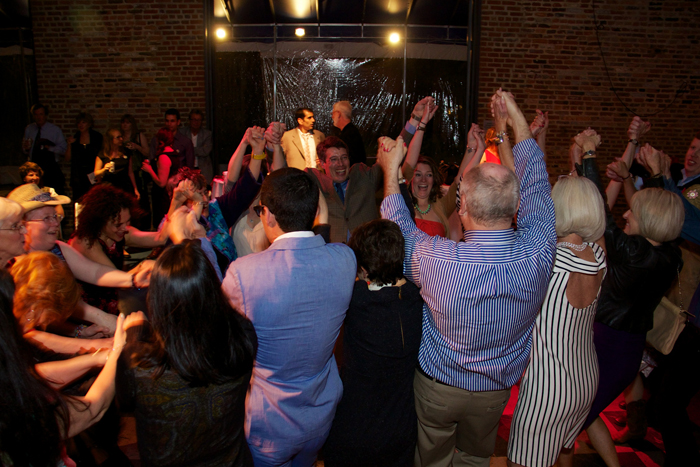 Taste the Arts X:
An evening of performance and culinary art!
Friday, May 6 at the Hippodrome Theatre in Baltimore
The lineup for our 10th annual Taste the Arts Fundraising Gala is set! We've put together another fantastic evening featuring award-winning artists and top culinary talent in Baltimore.
The best part? When you buy your ticket, you support Young Audiences' programs and mission to bring high quality, low-cost arts experiences to Maryland schoolchildren! Last year we delivered arts experiences to 183,153 students in Maryland. With your ticket purchase, we can keep it up – and do even more.
At Taste the Arts, we'll transform all three levels of The Hippodrome Theatre into a celebration of the arts through live performances and interactive arts experiences, with food and drink served on all three floors. Here's a taste of what to expect:
Taste delicacies from 25 restaurants:
Absolutely Perfect Catering
Alma Cocina Latina
Argosy Café
Baltimore Waffle Company
Blackwater Distilling
Blue Pit BBQ
Brio Tuscan Grille
Charm City Cakes
Charmington's
Chiapparelli's
Clavel
Gertrude's
Golden West Café
Heavy Seas Alehouse
La Cuchara
Maggie's Farm
Mother's
Teavolve
The Charmery
The Food Market
The Hipp Cafe
The Local Oyster
The Oceanaire
The Scratch Mill Kitchen
Tio Pepe
Wine from Noble Vintners
Beer from Union Craft Brewing
On the menu from Clavel is Cochinita Pibil, a traditional Mexican slow-roasted pork dish, with a side of Hex Ferments special slaw. The tapas-inspired menu from La Cuchara features Charred Broccoli Pintxo and Pickled Mushroom Pintxo. The Local Oyster will be shucking out sustainably farm-raised raw oysters. Maggie's Farm is serving chicken liver pate with fig jam on baguette and Heavy Seas Alehouse brings it home with Smoked Brisket Mac & Cheese. On the sweet side, Baltimore Waffle Co. will serve up Belgian Liege Waffles and Gertrude's presents a twist on a Baltimore classic with its Berger Cookie Cheesecake. Local winery, Noble Vintners, has graciously donated wine, and Union Craft will be on hand, offering their award-winning brews!
Don't miss 9 live performances and interactive art demonstrations, including: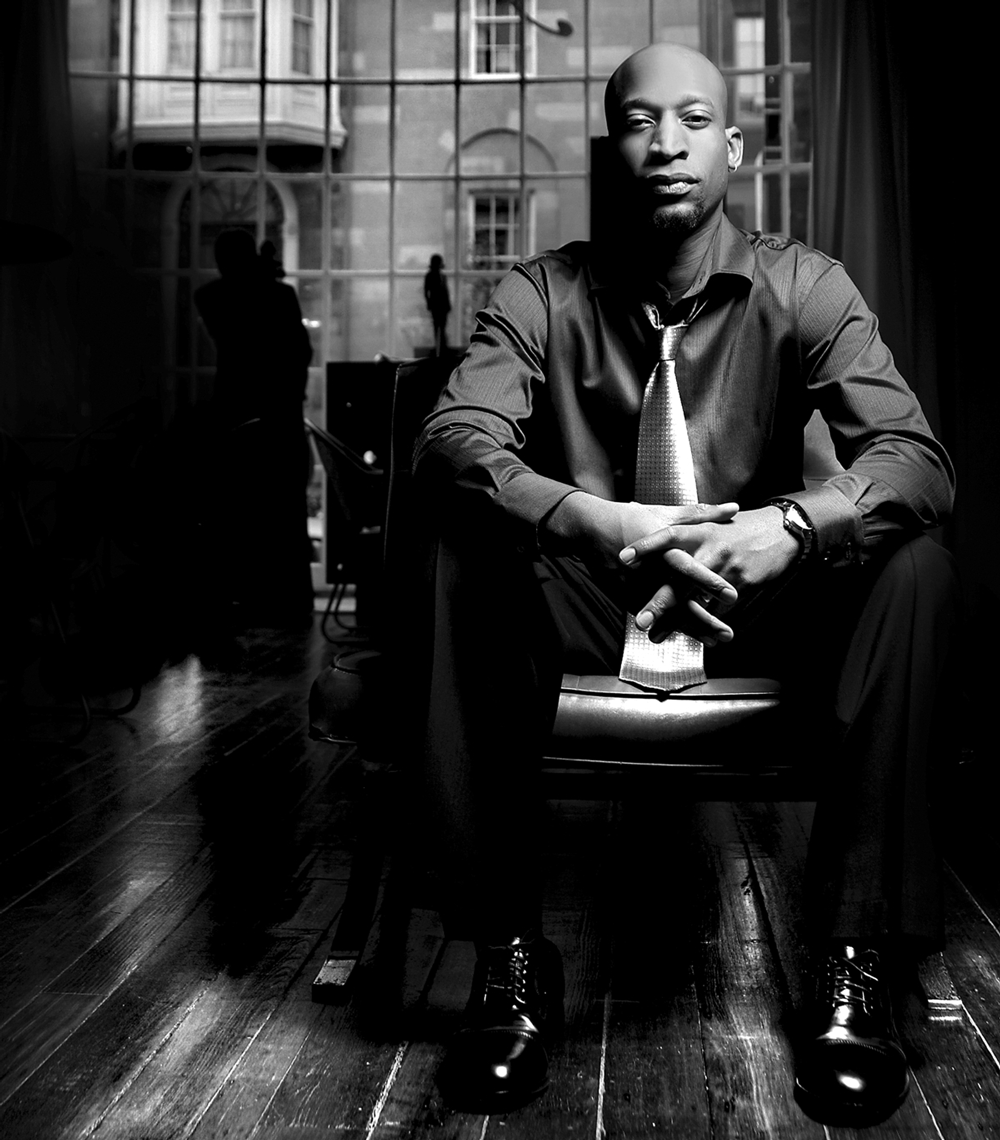 A collaborative music production composed and directed by Wendel Patrick, YA Artist and 2015 Baker Artist Award Winner, and performed by Peabody Institute musicians Jahi Alexander, Blair Skinner, Louna Dekker-Vargas, and Yoshi Horiguchi and YA artists Max Bent, Wendel Patrick, and Jamaal Collier—2016 Artist of the Year.
I don't want to give away TOO much. But at Taste the Arts, I'll be working with an arrangement from one of my favorite hip hop producers." —Wendel Patrick, 2015 Baker Artist Award Winner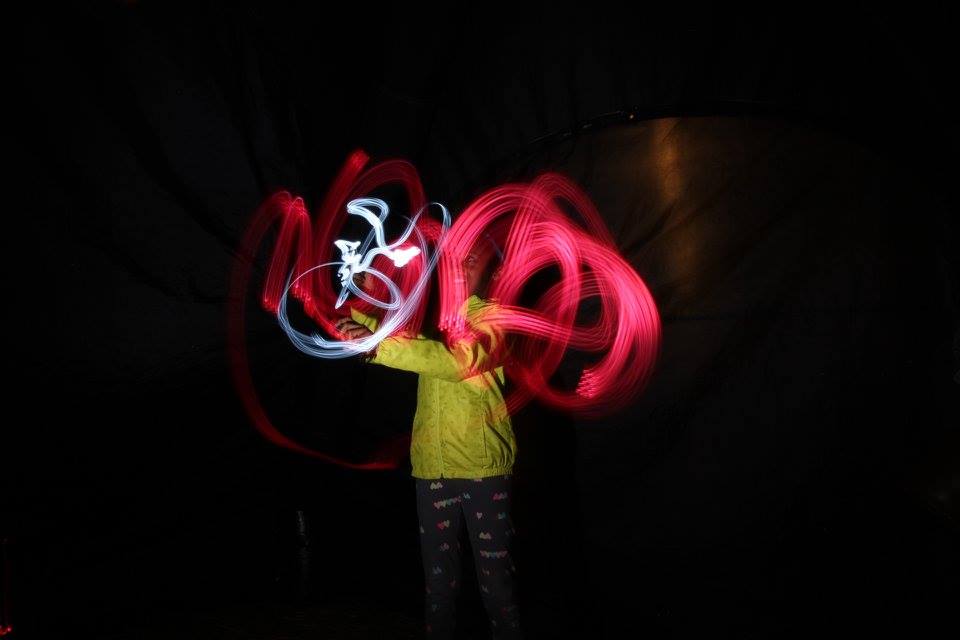 Interactive "light painting" with maker-educators FutureMakers (fresh from Light City!)
Get ready for light painting with LED brushes at Taste the Arts! You'll even be able to email your creation home!" —Matt Barinholtz, FutureMakers

Indian classical dance performance by NRITYA
I have had the opportunity to be a performer at several Taste the Arts over the years, and I am excited to be a part of the 10th Taste the Arts gala," she said. "When my students perform with me at the gala, it is a wonderful experience for them as they get to showcase their talent and culture through their performance to the guests. It is almost as if they are cultural ambassadors." —Lakshmi Swaminathan, NRITYA, as quoted in the article "Tasty fundraiser hits the Hippodrome" on Avenue News.com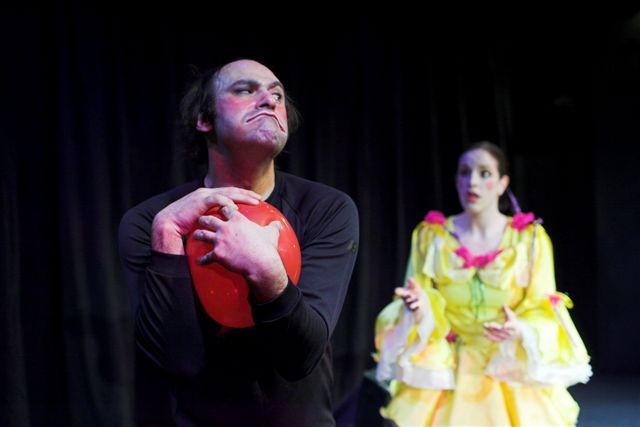 Pantomime theatre from DC's award-winning Synetic Theater
The Magic Balloon is a series of hilarious sketches synthesizing music, ballet, clowning, and audience participation. At Taste the Arts, you'll discover the art of acting without words and open the door to your imagination. 'Balloon' tells a wonderful story of a traveling actor and his magical trunk of tricks and toys." —Tori Bertocci, Synetic Theater
Plus:
Acoustic roots and blues music by Curtis Blues
Screen painting with John Iampieri
Performances by Thomas Jefferson Elementary/Middle School's String Ensemble and Kindergarten ballet dancers
Kevin Martin of Rockcreek Steel Drums performing with students from the Holistic Life Afterschool Program at Robert W. Coleman Elementary School
Taste the Arts also includes a live and silent auction with one-of-a-kind items and experiences and an awards ceremony honoring Maryland's arts-in-education leaders, including 2016 Artist of the Year Jamaal Collier, who has more than a decade of professional experience facilitating Hip Hop workshops and live performances across the state.
"I'm thankful to have an effect on kids' lives and for the effect they have on me. Every human has talent. YA helped me to build skill within that talent. I have become a better artist because of YA." —Jamaal Collier, 2016 Artist of the Year
Tickets are only $100 and ensure high-quality art experiences for Maryland schoolchildren. We're expecting hundreds of artists, educators, and arts supporters in attendance and hope to raise $150,000. Get your tickets now!
—
Can't make it to Taste the Arts?
You can still be part of our fundraising efforts by bidding on some fantastic items in our online auction—happening now through Thursday, May 5. There are still a bunch of great items available with low or no bids, and several new items were just added this week!
Categorized:

News

Tagged:

Baltimore City, Curtis Blues, dance, FutureMakers, Hip Hop, Jamaal Collier, John Iampieri, Kevin Gift, Kevin Martin, Max Bent, Music, NRITYA, Peabody Institute, percussion, Rockcreek Steel Drums, steel drum, Synetic Theater, Taste the Arts, theatre, Thomas Jefferson Elementary Middle, visual art, Wendel Patrick

By Donna Greenleaf, Coordinator of Gifted and Talented Programs, Dorchester County Public Schools, and Renee Hesson, Coordinator of Instruction for Fine Arts, Dorchester County Public Schools
Being on the Eastern Shore, Dorchester is relatively isolated from many of the cultural experiences available closer to the Baltimore-Washington area. With reduced opportunities to experience art, children and adults can become limited in their thinking and understanding of different art forms. Working with Young Audiences, we tried to find a way to make an arts learning program that was more lasting for Dorchester students. Last year, we developed an assembly and workshop model—something that was totally new to the schools in our county. In the past, we had only ever had large group assemblies. These performances felt like "one and done" experiences and it was hard to measure the impact of this limited exposure to the arts on our students. By adding workshop sessions, we were able to reach more students in a more significant way because they had a hands-on experience with Young Audiences performing ensembles WombWork Productions and Quest Visual Theatre.
This assembly and workshop model was successful, but we thought there was still more to be done to truly impact the culture and climate of our schools through the arts. Artist-in-residence programs have the feature of offering professional learning opportunities to teachers while providing ongoing workshop opportunities to students. Although this was the type of program we believed our schools needed for the arts to have the maximum impact, we told Young Audiences that there was no way that we would be able to afford it. But with Young Audiences' help, we began applying for grant funding to help alleviate the cost and make it happen.
Beginning last spring, we wrote Maryland State Arts Council Arts in Education Artist-in-Residence Grants to bring programs to seven Dorchester elementary and middle schools of the 11 total schools in our district. To supplement this funding, we also applied for a grant from a local foundation, the George B. Todd Fund and for supportive funds from the local Dorchester Center for the Arts. We hoped to bring WombWork back to build on the work they did with our students the year before, as well as bring beatboxer Max Bent and Hip Hop poet Bomani to our students. These Young Audiences artists were chosen to address the specific needs each school had identified as a part of their school improvement plan, including interpersonal skills, bullying prevention, math, and language arts.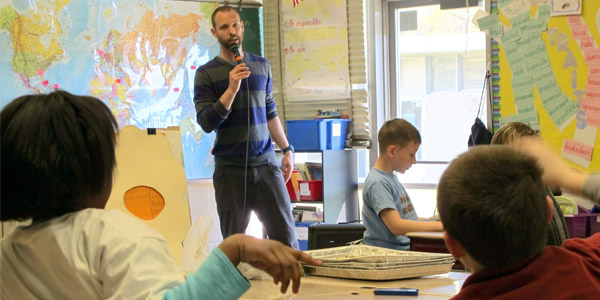 These programs were as much for the kids as they were for the teachers. When Max came to our elementary schools, his enthusiasm brought a lot of energy to the kids and appealed to those kids who needed a different kind of artistic outlet. His program crossed cultural stereotypes and appealed to a wide-range of kids—and adults. Our teachers were reluctant at first, but Max was able to bring everyone into the experience. During pre-program meetings with Max, teachers were impressed that he was able to speak their language. His art form became more than just a nice enrichment activity, but one that made a strong connection to curriculum. Max was interested in what specific units and standards the teachers were working on at the time, and how he could incorporate beatboxing. He wanted to do more than tie into grade-level concepts, but ensure that it was focused and timely in the curriculum. That approach enhanced the partnership feeling between artist and educators.
During the professional development workshops, Max showed teachers how beatboxing can uniquely link to fractions. It was a distinctive example of how educators have to challenge themselves to come up with new and unique ways to teach the material instead of the same ways they've always taught.
In another one of our schools, Mama Rashida and WombWork worked with one classroom that had a reputation for negative behavior and not staying on task when an outsider visited. When we visited this class to observe them working with Mama Rashida on the play they were creating to perform for their peers, every single student was engaged and working together on the activity. Mama Rashida's knowledge of young people and how to quickly build relationships helped support our students emotionally so that the group could get to the important work of learning the language of virtues. This experience proved to us—and to the students—that they have the ability to be college- and career-ready middle school students. They now have a relationship with their classroom teacher that they may not have had without this program.
When Max's residencies began, we thought kids may be reticent about getting up in front of their peers and performing. At both culminating events at the close of the residencies, there was an overwhelming show of hands of students who wanted to get up and demonstrate what they had learned. It was exciting to see our kids transform into performers and there was no judgment. Even when a child got up and made a mistake, other students didn't call them out. They were supportive of each other. Seeing this program's contribution to a positive school climate, as students worked together on projects and supported each other, was a wonderful side effect of our residencies this year.
Maryland State Arts Council (MSAC) provides schools with AiE grants to support artist-in-residence programs. These grants can subsidize up to 30 percent of the total cost of a Young Audiences residency program, including travel costs. The application deadline for programs occurring next school year is Friday, May 15, by 5 p.m. Read more about this opportunity at yamd.org.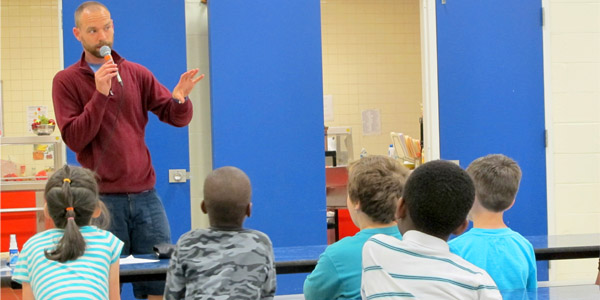 By Katie Keddell, Young Audiences/Arts for Learning Office and Volunteer Manager
This story was originally posted as a part of the Americans for the Arts Teaching Artist Blog Salon in March 2014. See all of the salon posts here.
On Saturday, February 1, I had the wonderful opportunity to watch Young Audiences/Arts for Learning teaching artist, Max Bent, work. We were not in a classroom and we were not in an official Young Audiences program at a school or community organization. Instead, we were joining our neighbors, Single Carrot Theatre, in welcoming the neighborhood to our new home at 2600 North Howard Street in Baltimore. Max was offering a musical demonstration to anyone who walked in to say hello and hear more about Young Audiences. After an hour of recording sounds visitors played on a small steel drum and various other eclectic instruments, Max created a symphony of sounds by layering impromptu measures of four beats on top of each other. As he taught, I was struck by one phrase he kept repeating: "We have to re-harness the things that happen by accident." I instantly connected this idea to my research as a graduate student.
As we talk about the young people in our state and across the country, one major trend is the desire to teach our students what one popular researcher calls, "Grit." As defined by TED Talk speaker Angela Lee Duckworth:
"Grit is sticking with your future—day in, day out, not just for the week, not just for the month, but for years—and working really hard to make that future a reality."
Passing a paper test with a singular focus cannot teach this tenacity, but overcoming a challenge does. In 10 minutes, I saw Max demonstrate how he teaches grit through the arts-integrated programs he brings to Maryland schools. Our guests saw the value of sticking with the exercise themselves and heard the physical evidence created by their instruments. Each individual walked away with a small but powerful example of success through staying with something despite no prior knowledge of the steel drum or the technology Max was using to record and layer sounds
Before Max joined Young Audiences, he did not see a connection between his art and the school curriculum. Max applied to participate in the Teaching Artist Institute (TAI), a training program for artists developed by Young Audiences in partnership with Arts Education in Maryland Schools Alliance (AEMS) and the Maryland State Arts Council (MSAC), to deepen his knowledge of how the arts can naturally connect to the curriculum and engage students in learning. After successfully completing the program, Max now has a collection of lessons that connect beatboxing and music to a multitude of subjects, such as probability, fractions, graphing, and phonics.
That's what excites me most about Young Audiences: the belief in arts integration. For me, it's not only about teaching the future generation aesthetic appreciation, it's also about finding the ways that divergent thinking and practical application speak to the future of what our children learn and believe they can achieve. It's about giving all students a chance to explore their talents, giving them a safe environment to take risks, to make mistakes, to achieve, and to persevere. It's about teaching grit.
By Max Bent, Musician and beatboxer
Young Audiences artists and teacher partners have written case studies documenting their work in schools and their exploration of one essential question. Each study provides a snapshot of how the artist or teacher works with students to integrate the arts into the curriculum and provide opportunities for students to imagine, create, and realize their full potential through the arts.

Project or Program Summary
I first experienced beat tubes (capped PVC tubes that produce distinct pitch) while playing in the ensemble of fellow Young Audiences artist Kevin Martin. Inspired by their simplicity and immediate impact on students, I worked with a team of fifth- and sixth-grade teachers to design an arts-integrated beat tube residency. Our team began with the essential question "What is sound?" Through interacting with and playing the beat tubes, students experienced the propagation of sound while applying principles of music and dance during a culminating group performance.
Purpose and Rational
Beat tubes offer a wealth of possibilities for further exploration of arts-integrated teaching. As an instrument, beat tubes are linked in heritage to Tamboo Bamboo in Trinidad as well as numerous folk music traditions surrounding the pounding of grain into flour. This case study is submitted in the hopes of inspiring other educators to experiment with beat tubes.
Analysis and Outcomes
What are your overall conclusions regarding the documentation gathered for this case study?
Students learned that the phenomenon of sound can be understood as patterns of vibration through a medium–usually air. These patterns of vibration are called "sound waves." "Pitch" and "volume" are aspects of sound waves that can be manipulated by musicians to express ideas and feelings.
What conclusions have you drawn from the responses to the assessment tools you have developed?
Students gained new insights into the phenomenon of sound. Students also improved their ability to work together cooperatively and to communicate in a collaborative setting.
Back to the initial inquiry question, can it be answered?
Yes. After the residency, students were able to identify and discuss specific scientific terms related to sound (i.e. frequency, amplitude, wavelength) and use this knowledge to enrich their compositions.
Playing the beat tubes connected body and mind in the practice of music. Students learned to play rhythmic patterns on steady beats but the challenge was both physical (kinesthetic) and mental.
Summary and Conclusions
What was learned?
By playing the beat tubes, students were able to objectify the often confusing and mysterious nature of sound. Students were able to approach the inquiry question scientifically.
Students learned:
Sound is a phenomenon that our brains perceive and process in a specific, predictable way.

The physical characteristics of sound are frequency and amplitude.

The frequency of a sound wave is defined in musical terms as pitch.

Different pitches form melodies and harmonies, both of which can be defined mathematically through interval relationships.
What can be done differently in the future?
I introduced the residency with beatboxing (vocal percussion) activities during the course of three days. In the future, one day of beatboxing would suffice. This would allow more time for working with the beat tubes and further discussion and analysis of the scientific principles of sound.
I would have liked to give students more time to compose independently. Also, students can potentially be involved in the construction of the beat tubes in the future.
How will this inform the work moving forward?
This project inspired me to expand the possibilities of working with beat tubes. Specifically I learned that vocalizations and movement are essential to successful instruction. Therefore I will explore the elements of dance as well as other related musical traditions (i.e. drum lines, West African drumming) to improve the project. Overall, I was amazed at the possibilities of working with beat tubes.
Curriculum Connections
Music
Science
Dance
21st Century Skills
Learn more about Max's  assembly, residency, and professional development programs. 
Read other case studies written by Young Audiences teaching artists and teacher partners. 
Categorized:

News

Tagged:

21st Century Skills, arts integration, Beat Tubes, beatboxing, case study, dance, Max Bent, Music, pitch, science, sound, sound waves
Earlier this week, Kurtis Donnelly, Young Audiences Program Director, shared his experience visiting Stadium School to watch Young Audiences artist Max Bent lead the class in an arts-integrated math lesson this summer. Max also recently posted about his time at Stadium on his blog Outside the Box. 
Stadium was one of 10 sites where Young Audiences artists worked with classroom teachers to co-teach arts-integrated math and STEM lessons and offer arts enrichment programs as a part of Baltimore City Public Schools' five-week-long Summer Academy program.The program aims to fight summer learning loss by keeping students active and engaged during the summer months.
Read more about Max's experience on his blog, Outside the Box. Click here to see more photos from this summer's arts-integrated programs on Flickr.
Photo by Max Bent
By Kurtis Donnelly, Young Audiences Program Director
This summer I went and observed one of our artists, Max Bent, working with students at Stadium School as a part of our partnership with Baltimore City Public Schools Summer Learning Academies. Max is truly a master of arts integration–combining his artistic knowledge and his understanding of the curriculum–having been a public school science teacher for eight years.
Max is primarily a beatboxer, but is talented in many different artistic disciplines. As I walked into his class, it was unlike any math class I had ever seen before. It was evident all around the room that there was a strong connection between math and art happening there. Here is a picture of a graph the students created (graphing was a math skill they focused on during the first week of the program) in which students graphed the pitch and beats of the song "Twinkle, Twinkle Little Star":
Across the room were data sets like the one seen below. As Max taught students the elements of beatboxing–Bass, HiHat and Clap–they also worked on proportions.
Students also were working on a new project that Max and his partner classroom teacher had created together. Max used his experience in visual art and design to create a project where students were designing their own beverages, all while continuing the class' study of proportion, scale, volume, and fractions. Students were able to use elements of design to create the visual aspects of the drink, and, by plotting their bottle designs on graph paper, were able to study scale.
During the five weeks of Summer Academies, Young Audiences artists like Max co-taught arts-integrated lessons with Baltimore City teachers each morning, and provided an in-depth study of an art form as an enrichment activity each afternoon. The arts both incentivized students to attend school during the summer and helped combat summer learning loss for Baltimore City students who might not have the opportunities to stay active and engaged during summer vacation. Lessons like Max's expanded students' knowledge of music and sound but also made abstract math concepts relatable and fun.
Learn more about Max and his assembly, residency, and professional development programs.