Written by Barbara Krebs,
Young Audiences volunteer and Sunburst Society member
The thing I like most about Young Audiences' Impact Breakfast is that I never know what new insight I will take away from it. Sometimes I go home and think about the things I heard and saw, and something takes root and grows from my pondering. Other years it hits me immediately with, um, impact. This year's Impact Breakfast was of the second variety.
It started with the music. Because the day began with rain, award-winning Folk singer and guitarist Letitia VanSant welcomed guests with her songs in the lobby of the Vollmer Center, and not outside, like planned. She played and sang softly, setting a mood of serenity. Ahh, yes, very pleasant as I sipped my coffee. And then as I started looking at Maura Dwyer's handmade crankie, a wooden box containing an illustrated scroll that reveals a moving picture story as it is slowly wound by the artist, a very different style of music was unleashed–ragtime! Now that gets the blood pumping!
The guitarist's intimate melodies were quickly drowned out. Assessing the situation–and the weather, YA staff and board members moved the duo's entire set-up where they belonged all along–just outside, at the entrance of the building. And that improvisation really worked, as Letitia's musical style and the moving panorama that accompanied her songs connected naturally to the park-like setting surrounding the Vollmer Center. You can't control the weather, but you can spring into action when it changes for the better!
After listening to her a while, I wandered back into the building to take in some more ragtime and to look over the student works displayed downstairs. And that's when one of the accompanying quotes struck me. Labeled "What Students Have to Say," a 6th-grade improvisational theatre major stated, "My favorite major is improv because of how we can laugh and be silly. We can be anything because it is based on your imagination. In your imagination you can be anything and see anything." Exactly!
More improvisation followed as Mama Rashida and WombWork Productions performed. With Virtues as the theme and a backdrop listing a huge variety of positive qualities, she prompted the audience to participate in a call-and-response activity, shouting out "gratitude" and "unity" and "creativity" as we swayed in our seats and responded, "yeah, yeah!"
When it was time to hear Femi "The Drifish" Lawal speak, I have to admit I was particularly happy to hear from him. That's because I have been fortunate enough to have had the opportunity to observe him in action in the classroom, at Art Crawl and at introductory "house" parties that showcase what YA does. In all of these settings, he's a master at getting both kids and adults involved.
So I was both surprised and amused to hear him admit to "winging it" before he began working with Young Audiences. But what did not surprise me was to learn how his involvement with Young Audiences helped him hone and master his teaching style. He knew he was already positively impacting young lives in the classroom, but with YA's assistance, he learned techniques that extended what he could offer and bring out in the kids.
As a person who enjoys contradictions, I thought about the nature of improvisation. Yes, it is about doing things without previous preparation. Yes, it is about responding to whatever circumstance comes your way. And yes, it is about reacting to your imagination as the 6th grader said.
But… it is also about the preparation, oddly enough. When you prepare fertile ground for your imagination to take you places, you become increasingly comfortable with the journey, and you find new and creative ways to respond to real-world situations. When you learn classroom techniques that allow children to explore their worlds in different ways, you discover the power of improv paired with preparation. How it helps them rap their way to mathematical formulas, dance their way to literature themes and draw their way to social justice.
So at this year's Impact Breakfast, I learned that preparing for improvisation is not quite the oxymoron it appears to be. Because no matter how prepared you are, you need to be able to improvise when the moment calls for it. And no matter how stellar you are at winging it, preparation makes it easier to soar on those improv wings.
Visit our Flickr page to see more images from Young Audiences' annual Impact Breakfast.
We all know that artists can change the world. The Summer Arts & Learning Academy is proof of that. The Teaching Artist Institute (TAI) helps give artists the tools they need to do it.
"Participating in TAI allowed me to look past what was most commonly done, embrace my artistic instincts, and focus on what really matters," said Maura Dwyer, one of the Teaching Artist Institute's newest graduates. "Instead of teaching students how to paint, I am teaching them how to think visually."
During the course of the programs, artists worked with classroom teachers to design arts-integrated and Common Core-aligned fine arts programs for schools. Each TAI team designs and implements an artist-in-residence program in which teachers gain arts skills and artists gain valuable teaching skills. Topics such as classroom management strategies, designing, writing, and teaching artist-in-residence lessons, and educator needs are covered, as well as opportunities for field testing and feedback.
Congratulations to the following artists and teacher partners who completed the TAI seminars in May 2017!
Next summer we are going to need even more qualified teaching artists to work at our academy. Apply to the Teaching Artist Institute by Friday June 9 to be trained and considered for summer 2018! New artists who successfully complete TAI, graduate from the program, and meet additional requirements, will not only be hired for our summer program, their tuition will be reimbursed!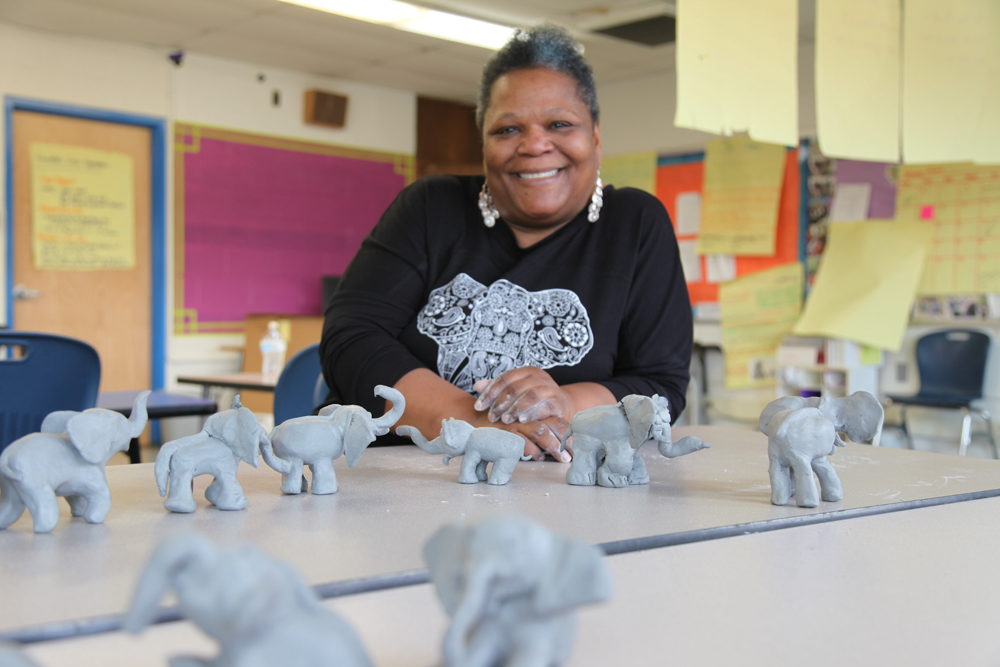 Teaching artists are expertly trained to deliver and coordinate unique, age-appropriate, and high-quality lessons alongside classroom teachers at the Teaching Artist Institute (TAI). The program is a partnership between Young Audiences, the Arts Education in Maryland Schools Alliance (AEMS), and the Maryland State Arts Council (MSAC) that turns professional artists into teaching artists and offers experienced teaching artists new strategies for everything from classroom management to designing artist-in-residence lessons.
"You might find yourself 'shocked' at how much electricity comes from the marriage of art and education!"
The positive effects of arts-integrated curricula in individual classrooms, and on teachers, students, and families are numerous and extraordinary. Teaching core subjects through the arts can increase student engagement and understanding. It can direct a classroom culture toward tolerance and empathy and it can even rejuvenate teachers and bring joy and anticipation to the faculty!

"Through its audacity, its abstractions, its "aliveness," art activates parts of the brain that any teacher or employer should want to turn on," notes Drew Anderson, a veteran school teacher and YA roster artist. "You might find yourself "shocked" at how much electricity comes from the marriage of art and education!"

Teachers, families, and artists of all ages got a small taste of several teaching artists' lessons during an afternoon at Southwest Baltimore Charter School. Participants spent their time exploring new skills and practicing old ones with: Performing artist and YA roster artist, Drew Anderson; Illustrator and new YA roster artist, Maura Dwyer; Illustrator, animal rescuer and new YA roster artist, Brittany Roger; Actor, Michael Hartwell; Actor, Tori Bertocci; Actor, Dave LaSalle; Actor, Cori Daniel; and Ceramicist and new YA roster artist, Mama Sallah.
They sculpted clay, interpreted music through movement and acting, sketched and learned about reptiles with a live chameleon, created collage utilizing different design elements, and learned awesome animal facts through improvisational theatre. One young participant was overheard telling her friend about Cori Daniel's acting workshop, "It was so cool! We told stories with Ms. Cori without actually saying any words!" We can't wait to hear about the wonderful classroom experiences and learning opportunities these teaching artists help to create!

TAI is proud to be helping build a community of artists, teachers, and leaders who are committed to transforming education through the arts. Artists interested in designing lesson plans or teaching artist-in-residence programs should apply to this rigorous and renowned program. There are many things about TAI that make this professional development course unlike any other including mentorship from a designated teacher partner and from a master teaching artist in your art form. Not to mention, graduates of TAI have the opportunity to be considered for both the Maryland State Arts Council Artist in Residence Roster, and the Young Audiences/Arts for Learning Teaching Artist Roster!
For more information about the Teaching Artist Institute including videos, pricing and how to apply, click here. Read what artists are saying about the program on our testimonials page.
Categorized:

News

Tagged:

Arts Education in Maryland Schools Alliance, Brittany Roger, Cori Daniel, Dave LaSalle, Drew Anderson, Mama Sallah, Maryland State Arts Council, Maura Dwyer, Michael Hartwell, professional development, professional development for artists, Southwest Baltimore Charter school, TAI, TAI Seminar, The Drawing Zoo, Tori Bertocci, workshops