In January 2020, Bay Brook Elementary Middle School will move into a 21st Century school building! Monique B. Reese, Principal of Bay Brook told us that along with the move, her school is adopting an arts integration model. During her first three years at the school, she focused on reducing suspensions and building a positive school climate. Now, Mrs. Reese's goal is to use the arts to assist with increasing student engagement and higher achievement. That's what brings her to the Young Audiences Principal Fellowship Program.
Mrs. Reese began her career as an elementary school teacher in various urban school districts. During her time as a teacher, she found a passion for leading others in teaching and learning. This passion for leadership led her to serve for eight years as an Assistant Principal in the District of Columbia Public Schools, and then as a principal at Bay Brook Elementary Middle School. During her first three years at Bay Brook, she focused on reducing suspensions and building a positive school climate. "I am excited about being a part of the Young Audiences Principal Fellowship program because it directly connects to my new school model," she said. "I can learn new ideas about arts integration that I can directly implement in my school as we begin our new vision."
"We have seen first-hand the excitement the arts bring to our students."
Over the course of the program, she'll receive coaching from experienced educators who have already used arts integration as leverage for school change. "Our students learn in different ways and we need a path that reaches all learners," Mrs. Reese said. "When given the choice between STEM, project-based learning, and arts integration for their new school model, the staff and community were confident that a larger focus on the arts would bring positive change."
The school currently has a partnership with Arts Every Day which helps fund artist residencies for classrooms. Already, the school holds monthly arts integration days in which teachers engage students in an art project to teach literacy, math, or science. "We have seen first-hand the excitement the arts bring to our students," she said. "The staff believe that the arts will give students the opportunity to be more engaged in the content, thus reducing class disruptions and increasing achievement."
Mrs. Monique Reese, Principal of Bay Brook Elementary Middle School, is one of ten Baltimore City Public Schools principals selected to participate in the Principal Fellowship Program. The year-long fellowship provides principals with the guidance and framework to develop an arts-based action plan in their schools and we are thrilled to have her in the inaugural cohort!
Written by Stacie Sanders Evans,
President and CEO of Young Audiences/Arts for Learning
Belonging. That's the word that has been on my mind. Our founder, Nina Collier, understood belonging. She felt music belonged in schools, that artists belonged in a child's education. In 1950 she inspired a movement of artists-in-schools. What started in Baltimore has now grown to 30 Young Audiences–the largest arts-in-education network in the US.
Today, Young Audiences artists like Femi the DriFish and Valerie Branch ignite a child's desire to learn. Whatever our partner artists' art form is–hip hop dance or improvisational theatre–they use it to draw kids into learning. We train our artists to integrate their art form with whatever is being taught in students' literacy, math, social studies, and science classes.
We do that because when kids create something they get to make choices. They make meaningful connections. They express themselves. Choice and voice–that makes the learning matter.
When we, as a community, provide children with these kinds of opportunities, we are telling them, "You matter!" All of this, what we do, it nurtures the sense of belonging in our kids, artists, parents, and teachers. And it is belonging that I feel when I walk into one of our classrooms. Listen to how Tiffani, Dawn, and Valerie talk about our community in Together–we are their people–and we all belong.
Think back to when you were growing up. Who were YOUR people? What teacher or coach left their imprint. Who helped you become the person that you are today?  I bet that person made you feel visible. Known. That you belonged.
My moment was in ninth grade. I was struggling in many different ways and my drama teacher, Mrs. Howard, saw something in me. She knew how to draw that "something" out–just like the 200 artists (both YA roster artists and independent artists) we work with. In her class, I belonged. She cast me as Juliet in Romeo and Juliet. And that moment was like rocket fuel for me.
Belonging is a strong human need, particularly in our children. I see belonging as the net below the trapeze. When kids have that net of belonging, they are more likely to lean into learning–kids like Josh Ajala, who in Together, spoke about moving from the back of the class to the front–and his sister Tiffani Ajala–who was brave enough to apply for Baltimore Design School (and got the highest possible score on her fashion portfolio!) These are the courageous risks we want our kids to take so that they can grow.
But public education for the last 17 years, after the birth of No Child Left Behind, hasn't been focused on this. It has been about raising standards and increasing school accountability–measured through standardized testing. What do kids who are part of this system think about this? In Brenna's poem, she says students feel like they are just inputs and outputs in one simple equation.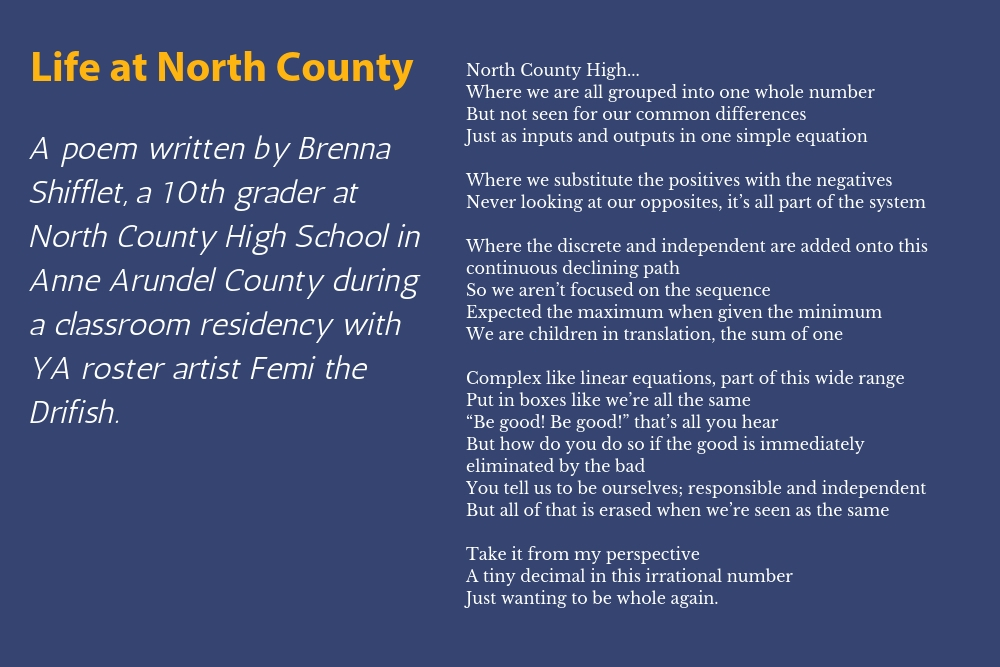 The outcomes we are seeing are heartbreaking and not sustainable as a society. Eight out of ten Baltimore City Schools students do not meet "proficiency" in math or reading. Nearly half of our children across the state entering Kindergarten are already behind. Four out of ten Maryland teachers leave teaching within five years because this isn't the equation they want to be a part of.
A different way is needed. Young Audiences is a different way. Our movement is to make sure all kids–and the people who teach them–are not treated like inputs and outputs but as the whole beautiful human beings that they are.
Today, thanks to our 450 school partners, our Sunburst Society members, and our game-changing evidence, our movement is growing. Outreach has doubled in the last five years. We impact the education of 191,000 children EVERY year–children in EVERY Maryland county.
We are on a mission to close the opportunity gaps in this educational system. We have four strategies:
Preventing summer learning loss by operating 20 summer programs across our city
Increasing school readiness through early childhood programs in four counties
Improving student engagement in learning by providing professional development to 500 teachers every year
Increasing equity in access to opportunity–more than 30,000 of our children are in under-resourced communities, so we provide more to them
We have made tremendous progress over the last five years but we can take this to a new level. Five years from today, I think we can change the educational trajectory of 50,000 more kids. Here is how we can get there:
Expand our evidence-based Summer Arts & Learning Academy in and beyond Baltimore City. This is the program that Tiffani, Alice, and Josh participated in that continues to have a ripple effect in their life. To expand to just one more school district, we have to find and train 20 more artists.
This Academy is only 25 days of a kid's life–and in that short time, we see lots of benefits. Imagine if kids had that kind of arts-integrated learning during the school year and school day? We want to launch year-round professional development and support for teachers and principals to make that happen. If we were able to add just one more person to our staff that focused on professional development, we could support 100 more teachers and principals every year.
To have the greatest impact on a child's potential, we need to invest early. (Did you know that 80% of the brain's synaptic connections are made by age 3?) In 2024, we want to bring our Baby Artsplay program to 5,000 infants and toddlers across Maryland and–to their very first teacher–their parents. This will require our artists to be trained in early childhood development.
Think back to your person–your Mrs. Howard. Think back to that feeling of belonging. Imagine if you could create that opportunity for someone else. For another Josh. Another Brenna. Take that opportunity and multiply it by 50,000. Fifty thousand children sitting in the front of the class, trying out for Baltimore Design School, reaching for that trapeze handle.
That is the opportunity in front of us. For Brenna, that is the equation she wants us to come together and solve.
Categorized:

News

Tagged:

Anne Arundel County Public Schools, Baltimore City, Baltimore City Public Schools, Bloomberg Arts Internship, community, Femi the Drifish, fundraising, Impact Breakfast, Maryland Public Schools, North County High School, Stacie Sanders Evans, Summer Arts & Learning Academy, summer learning, Summer READS
smARTbeats returns to WTMD on Saturday, June 9 during the weekly children's program Young At Heart!
On this month's segment, host Lisa Mathews sits down for a chat with pianist, conductor, musicologist, and founder of the Peacherine Ragtime Society Orchestra, Andrew Greene. A new addition to the Young Audiences roster, Andrew is excited to share his love and appreciation of Ragtime in Maryland schools and open ears and imaginations to the genre!
Be sure to tune in to hear the artist talk about bringing to life important, historic films by performing original silent film scores from the era! On his website, Andrew explains, "All of our silent film scores use the actual music that existed when the films were originally released – it's the closest thing to actually being back in the silent era!" The group accompanies short silent films featuring renowned actors like Charlie Chaplin, Buster Keaton, Harold Lloyd, or Laurel and Hardy.
As an ensemble that re-creates the sounds and sights of a century ago, the Peacherine Ragtime Orchestra is both entertaining and educational. The musicians teach their audiences to understand, appreciate, and make connections to modern-day examples of the music they present, how sound can impact emotions, and to think critically to understand the role sound plays in creating scenes, moods, feelings, and emotions. "With critical thinking, we can create a scene just using music and sound!"
This unique ensemble gives audiences a true appreciation for the role ragtime music played in the art and history of cinema and an understanding of how ragtime music relates to the music we hear today. "When film was in its beginning stage 100 years ago, there was no sound to accompany the movie — so we work with audiences to show how sounds can change how we think about a certain scene or action sequence." Their work has not gone unnoticed. "The premier American ragtime ensemble" as hailed by the Washington Post is rapidly becoming the leading professional ragtime orchestra in the United States- which is great news for Maryland students.
Young At Heart airs weekly on 89.7 WTMD from 7 to 8 am on Saturdays, featuring music that appeals to parents and children alike. Previous shows have featured music by Wilco, David Bowie, Andrew & Polly, Weezer, and others.
Listen online as YA teaching artist, conductor and musician Andrew Greene of Peacherine Ragtime Society Orchestra joins host Lisa Mathews in the studio!
It's been almost a year since we announced our partnership with WTMD to feature YA teaching artists on their family-favorite Saturday morning radio show Young At Heart! Since May 6, 2017, host Lisa Mathews—YA teaching artist and lead singer of Grammy-nominated children's band Milkshake—has invited eleven top-notch, talented YA roster musicians to date into the studio to chat on a monthly segment called smARTbeats. Listeners have learned about the artists' professional work outside of schools, arts integration, and heard how they've reached students through art in the classroom.
"Listening to music is great, but making music is transformative." –Alden Phelps
Some of the featured artists have talked about the guidance they've received and diligence and artistic discipline they learned from parents, peers, or mentors. Some have revealed the inspiration they've found through their own small children. All have shared with listeners the energy, kindness, and expertise that they bring into every Maryland classroom they visit.
"If we never spoke a word, we could communicate through music." –Devin Walker
From memories of touring with the one-and-only Mr. Ray Charles, reaching audiences around the world in Spanish, English, and through poetry, taking a musical journey to outer space, to finding out not just how artists inspire children every day in Maryland classrooms, but hearing what motivates, energizes, and inspires them, getting to know these fantastic teaching artists has been a real treat for Saturday mornings!
"There's power in words, build or destroy, so watch what you say." –Femi the Drifish
And just in case you prefer to sleep in on the weekends, we've compiled WTMD's Soundcloud links here for you to enjoy any time of day or night!
Young At Heart airs weekly from 7 to 8 am on Saturdays, featuring music that appeals to parents and children alike. Previous shows have featured music by Wilco, David Bowie, Andrew & Polly, Weezer, and others.
YA roster artist Ryan Diehl and the Global Beat Connection's music assembly connects students' love of modern music to its rhythmic roots, revealing its history. Their highly interactive assembly invites students to explore a diverse array of cultures from locations in the U.S., Brazil, the Caribbean, and Africa.
Ryan is a professional singer and renowned drummer who has recorded and toured internationally with numerous artists including jazz legend Ethel Ennis. Using his drum kit, Ryan performs examples of jazz-inspired world rhythms like hip-hop, samba, reggae, and soca, to help students hear the connections between geographic locations and subtle changes in beat formation. Tracing the lineage of the rhythms from today's popular music is akin to tracing the branches of a family tree. Understanding and appreciating the musical evolution of jazz helps students connect to its history, to another culture, and to a different generation.
Ryan Diehl and the Global Beat Connection's assembly is a time-traveling journey around the world initiated through today's popular music. Students may be surprised to learn their favorite music's influences, creating an opportunity to appreciate a teacher's musical knowledge and experience. "A student will come up to me at the end of the assembly, usually on their way out, and tell me that they recognized a song or two from their parents' playlist," Ryan said. "They enjoy the modern take on the standard tunes!" This is a program that can spark an intergenerational conversation at home or at school and help kids relate to the adults in their life. Music does that. When adults and children can relate to one another, ears and minds open.
Ryan Diehl and the Global Beat Connection introduces students to music and rhythms from various world cultures. Learn how you can bring their residency, The Global Beat Connection, into your school today.
Categorized:

News

Tagged:

art, arts integration, assemblies, assembly, drumming, Hip Hop, International Drum Month, Jazz, Maryland, Maryland Public Schools, Music, reggae, Ryan Diehl, samba, soca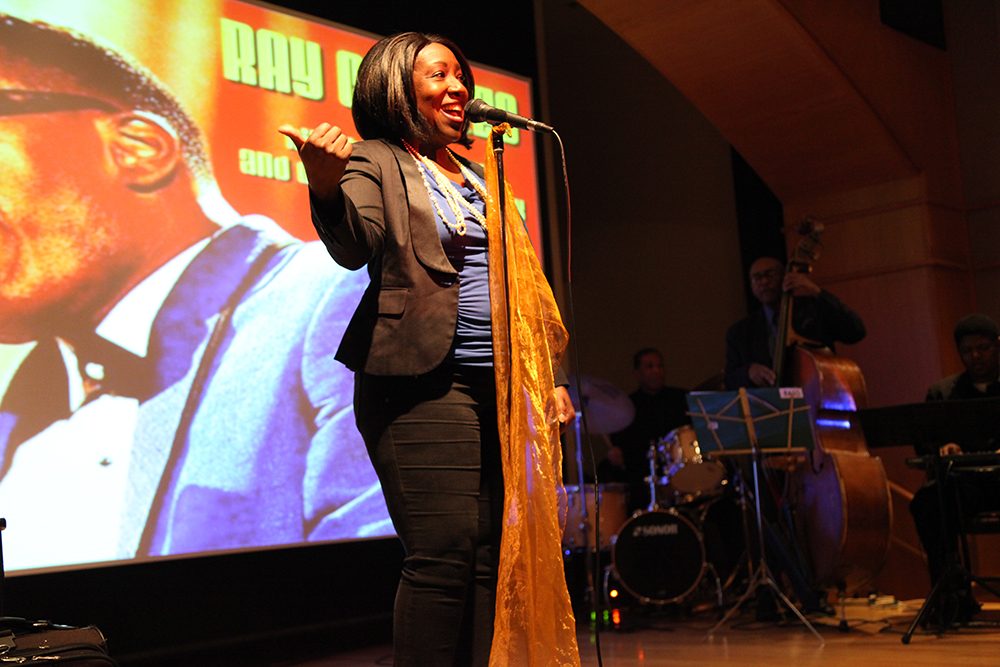 On this month's smARTbeats segment, Young At Heart host Lisa Mathews sits down with jazz vocalist, songwriter, and YA teaching artist Renée Georges. You'll hear about the artist's experience as a Raelette traveling the globe with Ray Charles and His Orchestra, as well as her work in schools where she shares her powerful voice and perspective with Maryland's children, and guides them on a journey through the history of Jazz.
Renèe's love of Jazz and interest in learning through music developed into a small family collaboration known as Kidz MusiQ Club. She had begun writing educational songs after her son was born to help kids have fun with essential concepts, such as reading, listening, and retention skills. The program she and her family created introduces kids to acoustic music and furthers an appreciation for jazz, all while learning about cool things like making healthy food choices and counting in Spanish. Renèe said, "When I was young, I used music methods, like making up songs about content, to help me study and remember things. Music is a great tool for retention. It improved my confidence and helped me become a better student."
"The arts are a great way to cultivate excellence, for the beauty that is found through the arts, translates into life."

In classrooms, Renée Georges unfolds the many facets of the music industry, presenting the field as a career option when it might not have been considered before. "For me, music was my path out of poverty. It also became a pathway for me to see the world since I was fortunate to sing and tour for six years with the late Ray Charles," the artist explained. "Now more than ever, students have broader opportunities to forge careers as entertainers, arts educators, or even in sound engineering and physics." Talking with Renée, kids realize that there are many paths related to music and the arts that are available to them.
She routinely advises students to be vigilant about copyrighting the work they create and to recognize that their work has value- a principle, she says, that would provide Ray Charles with a lucrative career for more than 50 years. "I first learned the value of copyrighting from my mother, who is also a singer/songwriter. She taught me the importance of protecting your work. My mother struggled as a single parent, but ownership fosters independence and can serve as a means to creating wealth. I like to help kids see that a little planning now can go a long way in setting up a career in the arts."
During a question and answer period after her assembly at the Mann Residential School earlier this year, Renèe told students that music was her way to deal with hardship and adversity. "Along with learning to play the piano, reading books, and reading and writing poetry, the arts provided a way to cope with challenges like poverty, discrimination, and tragedy." Moreover, she said, "The arts are a great way to cultivate excellence, for the beauty that is found through the arts, translates into life."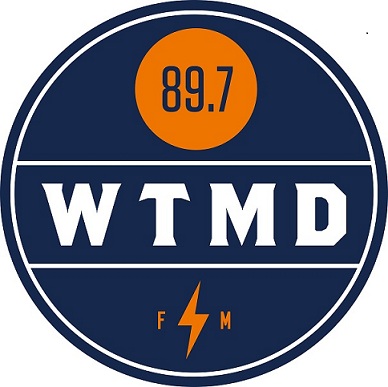 Young At Heart airs weekly from 7 to 8 am on Saturdays, featuring music that appeals to parents and children alike. Previous shows have featured music by Wilco, David Bowie, Andrew & Polly, Weezer, and others.
Hear YA teaching artist and vocalist Renèe Georges online now!
Categorized:

News, smARTbeats on WTMD

Tagged:

Jazz, Lisa Mathews, Maryland, Maryland Public Schools, Music, radio, Renee Georges, smARTbeats, teaching artists, WTMD
Written by Barbara Krebs, a Young Audiences volunteer and Sunburst Society member
With all the talk of entirely eliminating funding for organizations such as the National Endowment for the Arts (NEA) from the federal budget, a recent Washington Post Magazine article caught my attention. The June 11, 2017 issue featured a boldly colored cover and the caption, "Is Arts Funding Essential or Wasteful? We traveled the country to find out."
I was especially intrigued since one of the arts projects they highlighted was in Wilson, NC – where I lived as a teenager. I admit that I haven't been back in many years, but I had heard from friends that the town had fallen on hard times as tobacco warehouses (once the backbone of the economy) closed down.
The article opened with the development of Whirligig Park, which is dedicated to the artwork created by Vollis Simpson, who fashioned giant whirligigs out of scrap metal that he collected from his day job of transporting houses and heavy machinery. Before his death in 2013, Simpson had gained quite a following; the man and his artwork had been featured in publications that range from The New York Times, USA Today, The Washington Post, and the Smithsonian Magazine, among many.
As I read the Post article, it highlighted how the NEA had been "an early believer in the civic power of Simpson's creations." With the help of the organization and its grants, locals also began seeing the possibilities – to draw tourists and their dollars to Wilson – and skeptics gradually became believers. People who had originally viewed Simpson's whirligigs as junk now began to see how the arts could help revitalize a moribund downtown.
But just as all politics is local, so too are the arts.  You focus on where you live.  With that in mind, a quick check of the NEA web site revealed that in the Fall of 2016, 19 grants, totaling $520,000, were awarded to a variety of Maryland arts groups. And while these groups range widely in mission and artistic focus, two things stood out:  1) how many of these groups reach out with the arts to educate and 2) these NEA grants create much-needed jobs.
Over the years NEA support has made it possible for Young Audiences to reach children in every county in our state…
Under the education category, award recipients include the Baltimore Symphony Orchestra's OrchKids program, which provides Baltimore City Public School students with a music and mentorship program; Wide Angle Youth Media, Inc., which teaches students how to share their voices through media arts education; The National Association of Black Storytellers, Inc., whose Adopt-A-Teller Program places African American storytellers in schools for performances and workshops to share and preserve the rich heritage of the African Oral Tradition; Arts on the Block (AOB) who provides teens in and around Montgomery County real-world work experiences through the arts; and World Arts Focus in Mount Rainier, for a program developed improve the health, identity, and independence of teenagers and adults with autism, Down syndrome, cerebral palsy, or other disabilities through dance.
Over the years NEA support has made it possible for Young Audiences to reach children in every county in our state and has provided consistent support for teaching artist training, ensuring that our programs are not only accessible and affordable to underserved students, but are of high quality and enhance the curriculum of our schools.
What about the job creation category?  Here are a few thoughts on the economic impact of the arts in our communities.
Employment opportunities – we're not just talking artists and dancers here. The arts also employ carpenters, electricians and many other technical and administrative jobs needed to produce showcases, exhibitions and museum presentations.
Arts education – at Young Audiences we see every day, firsthand, what a huge impact the arts have in helping students connect to reading, math, and science. Educated youth become educated adults with jobs that create a tax base.
Tourism – Many struggling small towns, and even larger cities, have boosted the local economy by creating arts zones, which draw in tourists, which, in turn, creates the need for restaurants, hotels, and other tourist-oriented businesses.
So what lesson can we take from all this? I think it is simply that the arts do matter – a lot.  The arts help create and maintain vibrant community ties, which in turn translates into real economic impact. Before the Post Magazine article caught my eye, I had read an article in the April 2017 issue of Our State, Celebrating North Carolina. I read about 217 Brew Works, which opened last November, hmm, across the street from Whirligig Park.  Tourists certainly enjoy the proximity of the brewery to the park, but more importantly, locals are the true economic boosters – coming down to talk, to relax and to enjoy their community's new meeting spot.
It's also worth noting that when the arts are supported, great synergies are created. For example the Our State article ended with, "another developer has moved forward with plans to create Whirligig Station – apartments, restaurants, and some office space – in an empty red-brick tobacco warehouse on another edge of the park."
Far from being an unnecessary frill as some critics of the NEA portray it, what is readily apparent is how many small communities discovered an economic lifeline from the grants that the NEA provides. The closed factory, the shuttered mill, the abandoned plant are sadly a fact of life in too many small towns.   But as many of them have discovered, there are opportunities here as well. Who knows what might happen in your community when you combine artistic vision, a good beer, and an NEA grant?