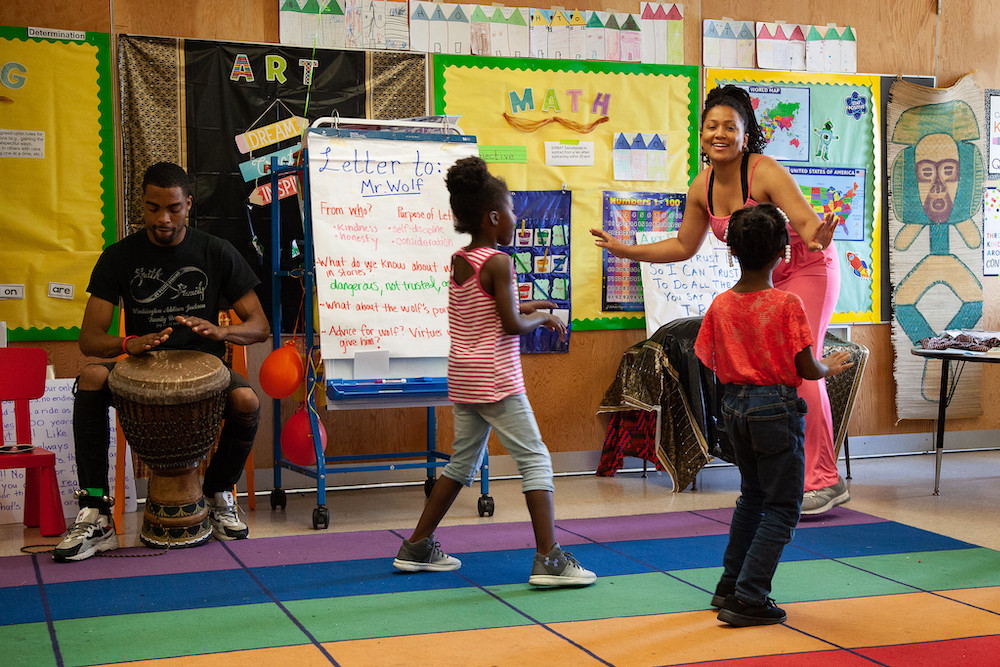 BALTIMORE – Young Audiences of Maryland, the Baltimore-based nonprofit delivering arts-integrated learning experiences to Maryland students and educators, has won the National Summer Learning Association's 2020 New York Life Foundation Excellence in Summer Learning Award for its Summer Arts & Learning Academy (SALA). Young Audiences was selected out of more than 350 applying organizations from across the country.
The 2020 New York Life Foundation Excellence in Summer Learning Award award honors Young Audiences' Summer Arts & Learning Academy – operated in partnership with Baltimore City Public Schools – for curbing summer learning loss. While most children lose up to two months of math skills over the summer, the cumulative effects of summer learning loss are most detrimental to students living in under-resourced communities. Young Audiences has also been recognized for demonstrating excellence in accelerating academic achievement, promoting healthy development for children and youth, supporting educator professional development and enhancing family and community engagement. The award included a $10,000 donation to Young Audiences. Past award winners have included West Virginia University, Hasbro, Ohio State, and the YMCA.
"Our teaching artists, educators, and staff do incredible work every year to provide excellent arts and educational experiences to students in Title1 Baltimore City Public Schools through the Summer Arts & Learning Academy," said Stacie Sanders Evans, Young Audiences President & CEO. "We are proud and thankful to be honored with this award, which validates what we've known all along: the arts transform learning for students."
SALA is a free, five-week, summer program typically engaging more than 2,000 Baltimore students a year in hands-on, arts-based learning guided by professional teaching artists and educators. The seven year old program has been shown by multiple independent studies to reduce summer learning loss, increase student confidence and engagement, and transform how teachers teach. For example, SALA students may use beat boxing to support math instruction, paint their favorite scenes from stories they are reading, or explore the art of photography to learn about the nature all around them. This kind of programming is designed to make learning more accessible for students, and to influence traditional educational systems to empower all students to express their voices and experiences.
The awards are presented annually by the National Summer Learning Association (NSLA), the only national nonprofit exclusively focused on closing the achievement gap by increasing access to high-quality summer learning opportunities.
"Our teaching artists, educators, and staff do incredible work every year to provide excellent arts and educational experiences to students in Title1 Baltimore City Public Schools through the Summer Arts & Learning Academy," said Stacie Sanders Evans, Young Audiences President & CEO. "We are proud and thankful to be honored with this award, which validates what we've known all along: the arts transform learning for students."
"This award validates the creative approach of Baltimore City Public Schools and Young Audiences to using the summer months to address the opportunity gaps in our city," said Dr. Sonia Santelises, CEO of Baltimore City Public Schools. "When we bring artists into our classrooms in the summer they spark curiosity, creativity, and a desire to learn that fuels our students' academic growth."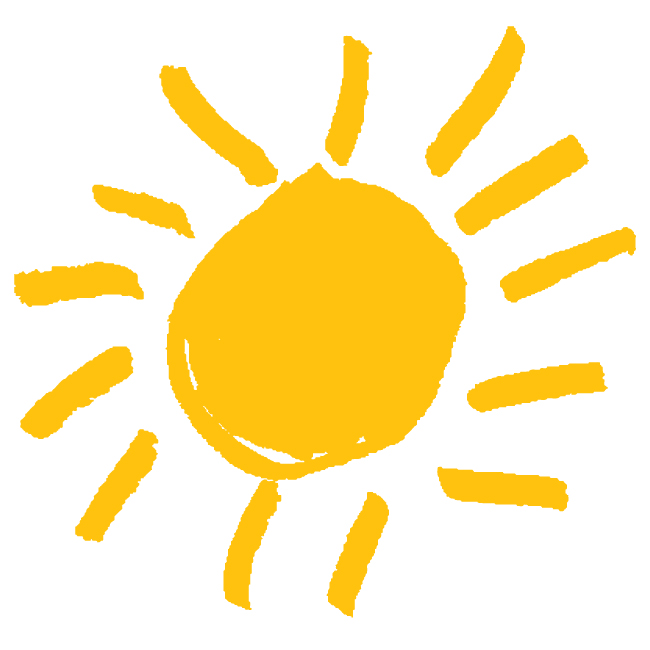 About Young Audiences/Arts for Learning:
Started in Baltimore in 1950, Young Audiences is the nation's largest arts-in-education provider. As the Maryland affiliate, Young Audiences/Arts for Learning (YA) is devoted to enriching the lives and education of Maryland's youth through educational and culturally diverse arts programs. Through Young Audiences, professional artists from all disciplines partner with leaders and schools for nearly 10,000 hands-on arts learning experiences that reach more than 190,000 Maryland students. Young Audiences envisions a Maryland where the arts are valued for their capacity to transform lives, and where every student is immersed in opportunities to imagine, to create, and to realize their full potential.
About the National Summer Learning Association
The National Summer Learning Association (NSLA) is the only national nonprofit exclusively focused on closing the achievement gap by increasing access to high-quality summer learning opportunities. NSLA recognizes and disseminates what works in summer learning, develops and delivers community capacity-building offerings and convenes and empowers key actors to embrace summer learning as a solution for equity and excellence in education. For more information, visit www.summerlearning.org/.
Categorized:

Press Releases

Tagged:

achievement gap, arts, arts education, arts integration, Award, Baltimore City, Baltimore City Public Schools, BCPSS, Excellence in Summer Learning Award, literacy, Math, National Summer Learning Association, SALA, Summer Arts & Learning Academy, summer learning, summer slide, teaching artists, Title I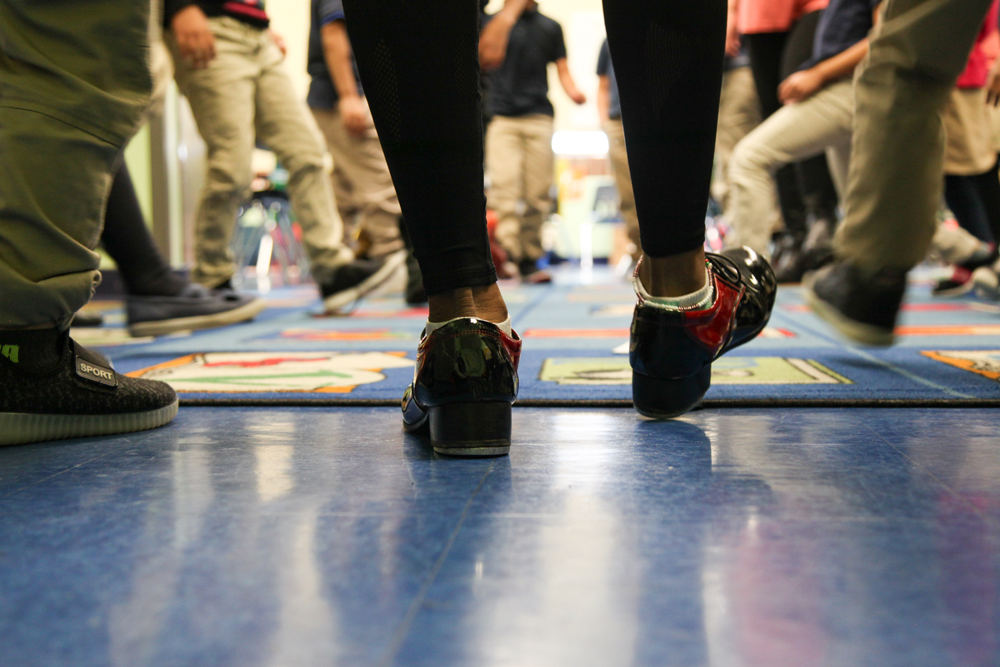 When Quynn Johnson steps into the Pre-K and Kindergarten classrooms at Margaret Brent Elementary School in Baltimore City, she is met with hugs and big, bright smiles. The students love that they've been learning to tap with the artist and they've been waiting patiently for her to return. "What do I do?" the artist asks. "You make music with your feet and you keep a steady beat!" the students respond.
Quynn is a multi-award-winning performing artist, choreographer, author, and the co-director of SOLE Defined, a percussive dance company. Though she has performed tap dance for national and international audiences, on this morning, she is captivating our state's youngest learners—not on a stage, but in a classroom—through rhythm, imagination, and dance. Already a professional teaching artist on the Young Audiences roster, Quynn is now training to also become a Maryland Wolf Trap Artist. 
As the Maryland regional affiliate of Wolf Trap, Young Audiences is proud to be expanding access to the arts for Maryland's youngest students during the critical early learning years. 
High-quality early childhood education is absolutely essential to giving children the best possible start in school and in life. Decades of practice and research prove that integrating the arts into classroom experiences contributes to greater academic achievement and social/emotional development for our youngest students. The creative collaboration between teachers and artists in the Wolf Trap residency builds foundations and fuels momentum in arts-integrated early learning classrooms.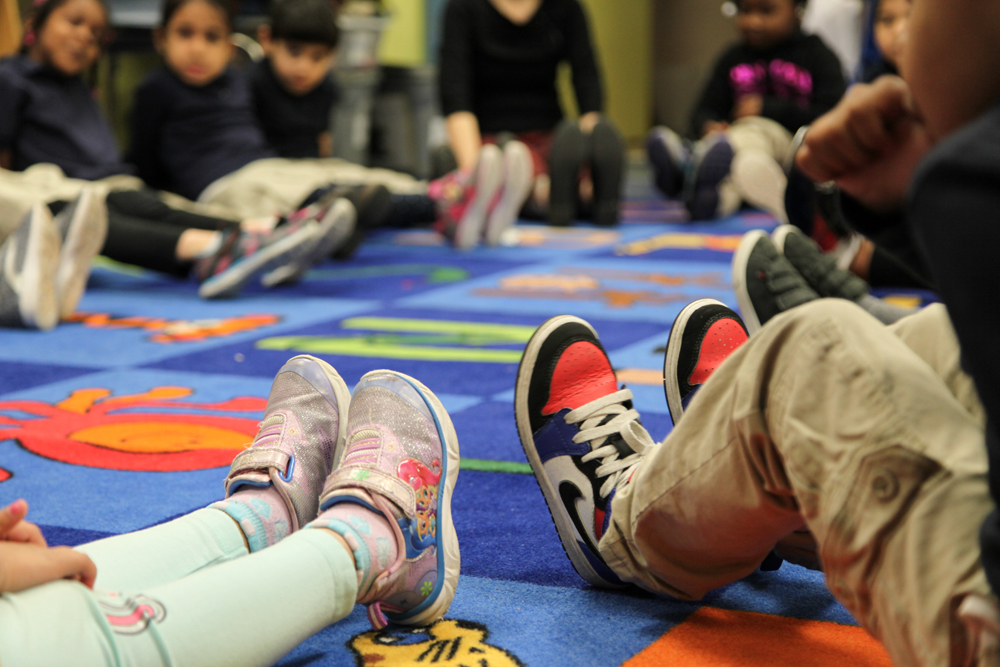 The children sing along with the artist to the tune of Frère Jacques, "I am ready, You are, too, Eyes on the teacher, We're going to learn." Everyone knows the song and everyone is excited to sing it—first in English, then in Spanish.
Estoy listo
Estás tambien
Ojos en la profe
Vamos a aprender
Quynn made up the song while teaching in the Summer Arts & Learning Academy last summer, but now sings it with students in lower elementary grades at every school she visits. Mrs. Jager, the Kindergarten teacher, likes it, too. She uses "I am ready" as a transition song all the time—and her students will remind her if she forgets!
The artist is not only here to teach the young students how to tap, she is here to build the teachers' skills and knowledge and demonstrate how to integrate the art form into their lessons throughout the year. This embedded professional development is something that distinguishes the Wolf Trap Early Learning Residency from other artist residencies.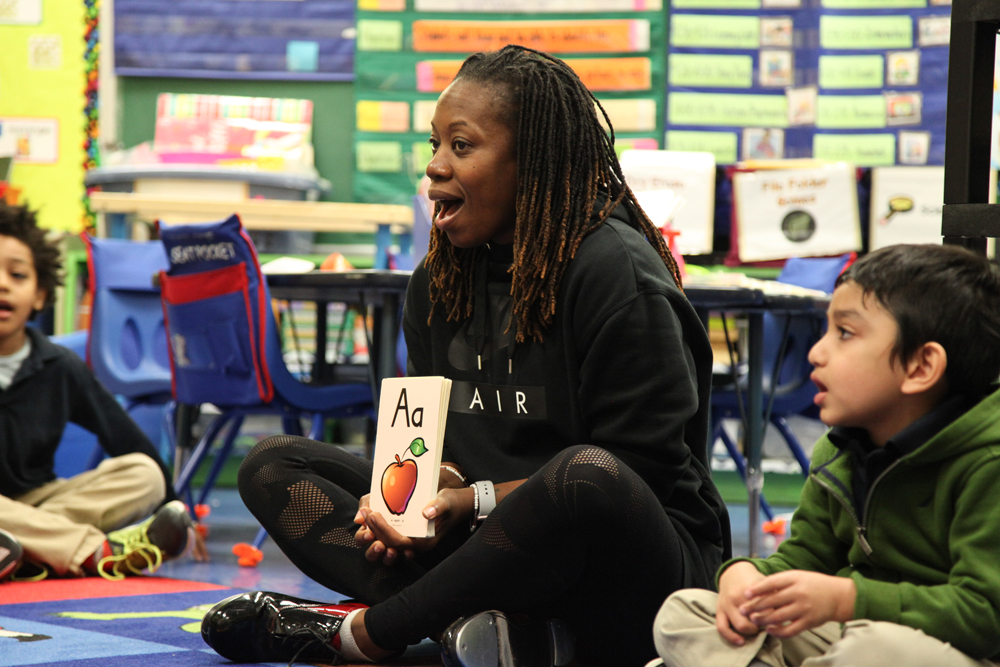 As Quynn leads the students in an exercise stomping out beats, another skill is being fortified. They are identifying patterns and practicing word sounds like "Apple, apple, ah, ah, ah," and "Bat, bat, buh, buh, buh." The classroom teachers and the artist work together to tailor the residency to each particular classroom—deciding how refined the dance movements should be for each age group and which literacy skills to focus on.
"The process is pretty new and different to me but I like it," said Quynn. The artist pays particular attention to teach the elements of her art form that educators will feel comfortable utilizing in the future—and not just off the cuff, but with some artistic integrity. "I think the embedded PD portion is a great way to keep the teachers involved and shows them how it doesn't have to be its own lesson but can be incorporated within what they're already doing. I never want them to feel like it's unreachable."
By the end of Quynn's residency in the Pre-K and Kindergarten classrooms, the students know how to keep a steady beat on their feet, and they remember a beat pattern and two basic tap steps. And the teachers can connect the art form to literacy—leading students to sound out words and sounds with their feet. "They both felt great and comfortable with everything we did in class and I could hear them using it after our time was over." They were ready.
Eighty-five percent of brain development occurs during the first five years of a child's life. Participation in the arts encourages positive growth in a child's emotional, physical, intellectual, creative, and social development. As the Maryland affiliate of the Wolf Trap Institute for Early Learning Through the Arts, Young Audiences expands access to the arts for Maryland's youngest students during the critical early learning years. Bring a Maryland Wolf Trap 16-Session Residency into your school.
Categorized:

News

Tagged:

artist-in-residence, arts integration, Baltimore City Public Schools, dance, early learning, kindergarten, literacy, Margaret Brent Elementary Middle School, Maryland Wolf Trap, pre-kindergarten, professional development, professional development for educators, Quynn Johnson, roster artist, tap dance, teaching artist, Wolf Trap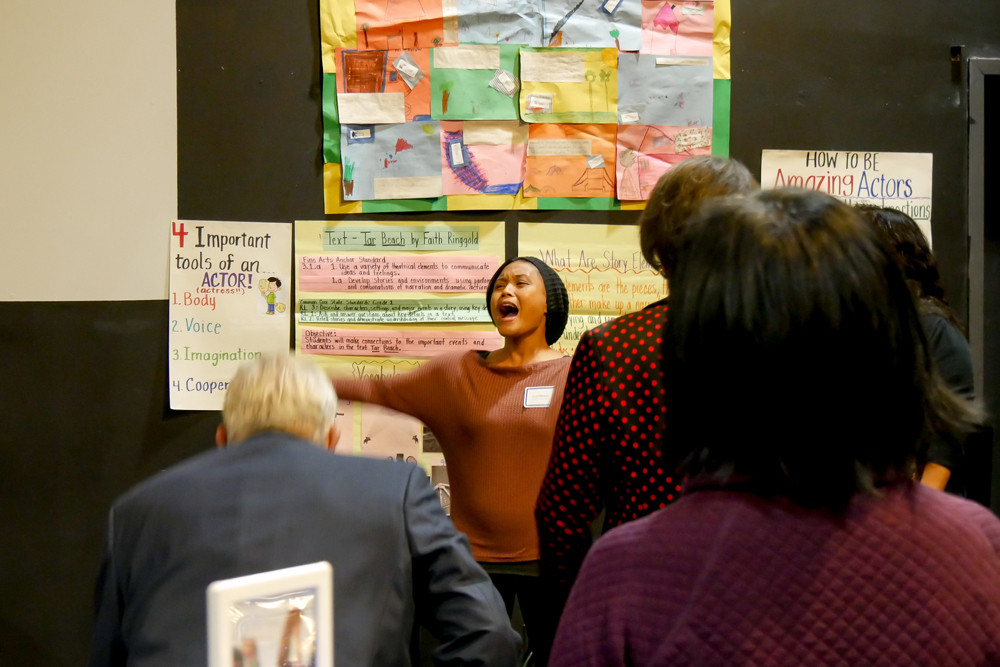 Written by Barbara Krebs,
Young Audiences volunteer and Sunburst Society member
A few weeks ago, I was happy to attend Young Audiences' third Art Crawl, held this year at the Single Carrot Theatre adjacent to YA's offices.
For those of you who have not attended this annual event, I highly encourage you to do so. First of all, you'll get to party with a group of fun, interesting, entertaining and dedicated folks. Secondly, you'll get to enjoy the learning environment presented to the kids who attend YA's Summer Arts & Learning Academy (SALA). And by that, I mean you'll act, play music and create artwork, which helps you understand your reading assignment or your math homework. And finally, you get to nosh on great hors-d'oeuvres and sip handcrafted cocktails created by some of YA's board members!
As always, I find myself splitting my time between talking to people I've met in the past, and meeting new folks who have interesting stories to tell. This time was no different. Balancing a plate of delicious appetizers from Copper Kitchen and a glass of wine provided by North Charles Fine Wine & Spirits, my husband and I soon found an empty spot at a table and introduced ourselves to Cori Daniel and Carlotta Williams. Turns out they were actually a teaching artist/teacher team who would later explore the book, Tar Beach, a story by artist Faith Ringgold recalling the dream adventure of a young girl flying high above her neighborhood in 1939 Harlem.
No matter the genre, the goal is making sure the children stay focused on the subject matter, sneakily presented as a lot of fun.
But I didn't know this yet. What I did find out though was how long they had been teaching, what they taught, and I got to observe their obvious enthusiasm for the children and learning. Their animated conversation about their SALA classroom was fascinating, as were their fond memories of inspiring kids to learn while the children used their imaginations to improve their reading scores.
Oh, did I just use inspire, imagine and improve in one sentence? Yes, I did, and that is, of course, no accident. Having witnessed teachers and children in action in several of SALA's classrooms this summer, and getting a chance to actually engage in it myself during Art Crawl is to truly understand how those three words create an arts-integrated learning environment that SALA uses to stem summer learning loss and bridge the Inspiration Gap.
In SALA's five-week summer classrooms, kids use a wide variety of art techniques to help them master core subjects – whether it's textile art to illustrate a story they are studying or rapping their multiplication tables or dancing to show character development. No matter the genre, the goal is making sure the children stay focused on the subject matter, sneakily presented as a lot of fun.
And so it was. In the segment taught by the second-grade teacher and teaching artist I had just met, we warmed up with some dance movements to highlight acting concepts. Then we looked at the pictures in the book and explained what we saw in them. Finally, we paired off and used our imaginations to explore a special place for us – one that made us feel warm and welcomed.
Next up was a math segment, guided by teaching artist Nadia Rea Morales and teacher Jose Hernandez. With a chart in the room illustrating ones as yellow, tens as red, and hundreds as blue, I created a Piet Mondrian "masterpiece."  The focus was to teach second-graders their ones, tens, and hundreds places and the relationships between digits and their place value. My own memory of learning such things was of boring, rote exercises that left me cold. Here, I hadn't had so much fun with scissors and construction paper in ages. And to think – I was learning math!
I ended the evening with teaching artist Christina Cook, who was surrounded by a variety of percussion instruments. As she demonstrated how these were used to sound out the syllables in words, I noticed how she was combining both math and vocabulary – a certain number of syllables to express a phrase, as she beat the rhythm on her drum.  She then handed out instruments and instructed us to follow along.
In addition, she said she used this technique to help the pre-K kids she taught to express their emotions. At first, she told us that the students mostly stuck to "happy" or "sad," but soon she noticed that, as the kids gained confidence with the percussion pieces, their emotional range expanded, too. Now they were "curious" and "frustrated" and "ecstatic." She admitted that she was impressed with the varying emotions the kids conveyed as well as the fact that they already had the vocabulary to communicate it. They had only needed the little nudge the music gave them to open up and express themselves more fully.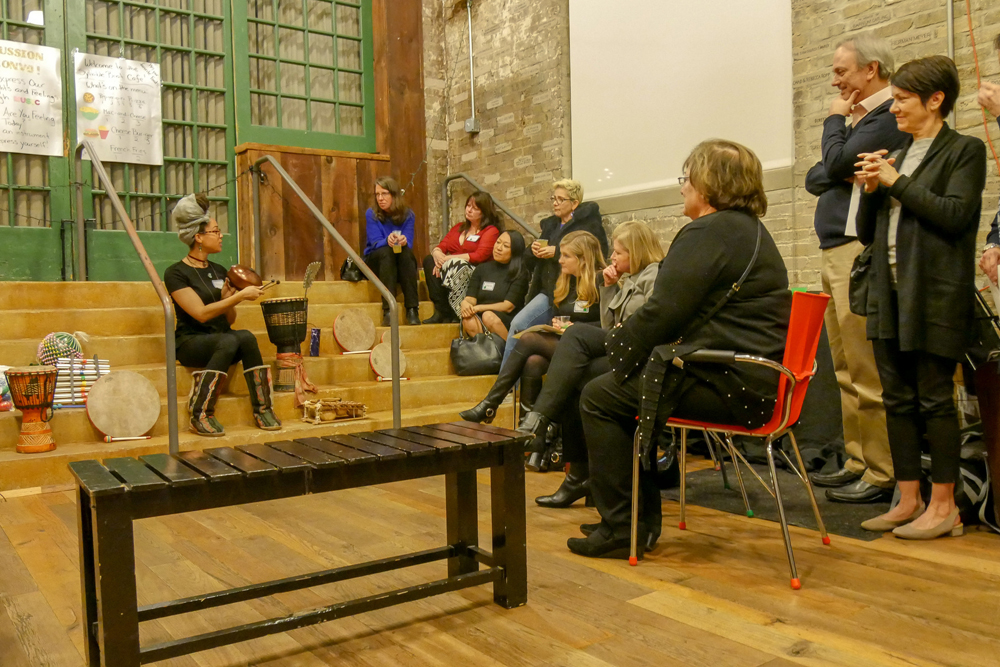 I have to admit – Inspire, Imagine, Improve is a mantra I can really get behind. Because each time I've attended Art Crawl, I come away inspired by all the people who donate time, expertise and/or money to make SALA a reality for 2,100 elementary school-age kids.  I can only imagine how much harder it would be for the children and their teachers if this summer program didn't exist. And I know that Young Audiences' aim to improve test scores and access to arts-integrated learning is something I'm behind 100 percent.
Wouldn't you like a little Inspire, Imagine, Improve in your life?  Come join us next year and I think you'll find your own stories of imagination that inspire you to improve. Until then, Happy Holidays!
Written by Barbara Krebs,
Young Audiences volunteer and Sunburst Society member
It's all about priorities. There are only 24 hours in a day, and as a busy person, you have to prioritize the most important things. I could tell that this principal really wanted to talk about the Arts Empowered Minds Initiative (AEMI), Young Audiences, and how arts-based learning was impacting his school. That's because, despite the week-long game of telephone and email tag we played just before the start of the new school year, he kept contacting me to set up the next potential interview time. Happily, I finally connected with Rodney Walker, principal of Brooklyn Park Elementary School in Northern Anne Arundel County.
But first–what is AEMI? According to its website, it is "a collective impact initiative that utilizes the arts to improve school achievement, parent involvement, and student engagement and empathy in Northern Anne Arundel County Public Schools (AACPS)." That collective involves more than a half dozen organizations selected for, among other things, their "expertise in the arts, education, or both."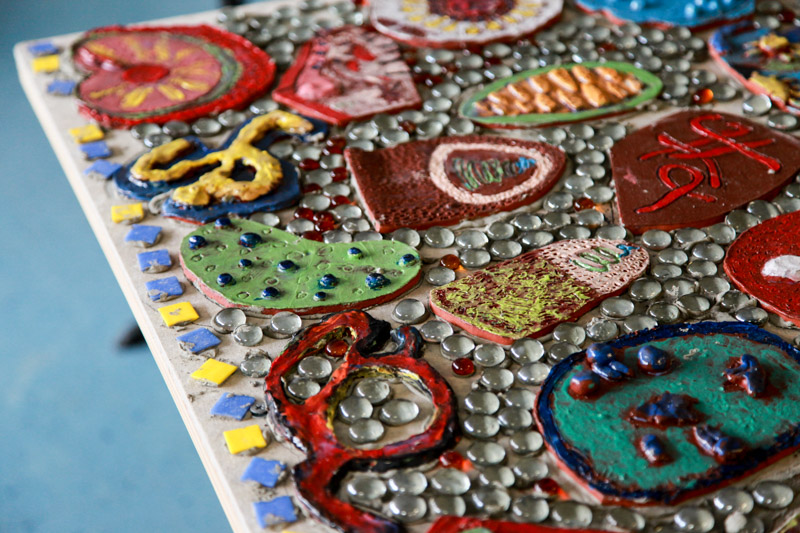 So when I spoke to Principal Walker, I was curious as to how his school had become involved, how the partnership worked in his school, and what his observations of its impact were. Brooklyn Park Elementary had become an AEMI school about three years ago when he received info about the group from AACPS' Central Office. When he met with AEMI staff and learned of their mission and partnerships, he knew that it would be a "natural fit" for his school. He liked the idea that it "gives kids different opportunities to expand their learning. It exposes them to different art genres and focuses on creative ways to teach core subjects."
Over the summer, Principal Walker attended one of Young Audiences' tours of Summer Arts & Learning Academy (SALA), which was specifically geared towards introducing principals to the program. Having toured SALA earlier in the summer myself, I wondered how his experience as an educator differed from mine.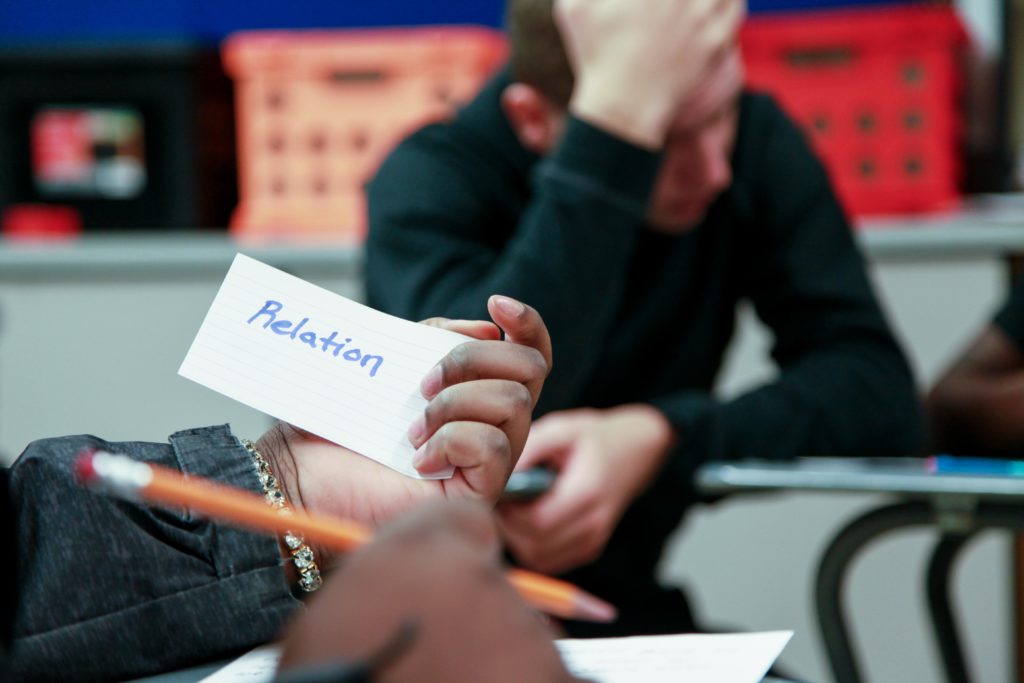 Like me, he was impressed with the fourth-grade classroom he observed using a rap song to learn math concepts. We both noticed how much fun the kids were having while they were learning, a crucial element in creating positive learning experiences.
But as a long-term educator, he noticed something that I had missed. "Sometimes our kids have difficulty in learning the math vocabulary. Here, they're connecting because they're having fun. But in the process, the kids are becoming leaders. They're holding themselves accountable." In other words, it was the children who were helping to create a positive classroom culture. Of course, the teachers were guiding it, but by empowering their students, the kids took ownership and were self-motivated.
Principal Walker's assessment of the learning techniques he witnessed was "phenomenal," but how will this translate back on the ground at Brooklyn Park Elementary? With AEMI's focus on arts-based learning and its links to other arts/education groups, Principal Walker sees a continued focus on "creating a safe space for learning and exploration."
"We will continue to work with AEMI, Young Audiences, and its partners to add professional development for our teachers, and incorporate new and creative ways to add arts-based learning into our writing and math classes."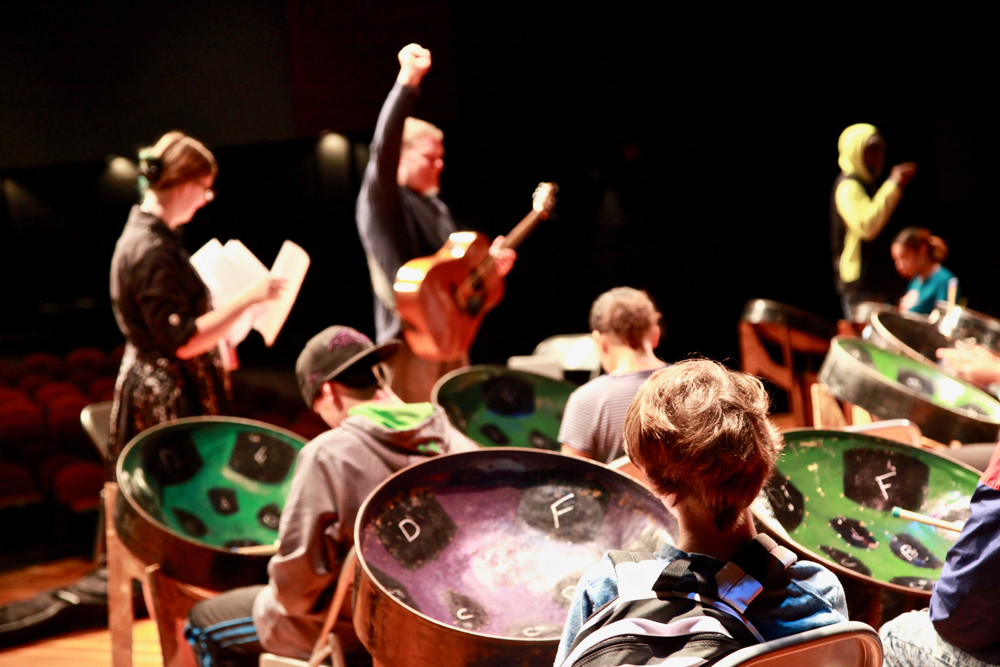 AEMI's priority is to "increase access to high-quality, arts-integrated learning opportunities…" Though it's not always easy to quantify any particular program's impact, there is one thing that Principal Walker is absolutely certain of. That's the "happy faces" he sees during assemblies with an arts orientation.
As Principal Walker's enthusiasm for AEMI and its partners show, I suspect that arts-focused education will continue to be a priority at Brooklyn Park Elementary School.
The Arts Empowered Minds Initiative is the combined effort of many groups and individuals seeking to build a movement for increased equity through the arts in their community. With funding from the NEA in 2016, we built partnerships with Anne Arundel County Public Schools (AACPS), Chesapeake Arts Center (CAC), Arts Education in Maryland Schools Alliance (AEMS), Arts Council of Anne Arundel County, and University of Maryland – Baltimore County (UMBC).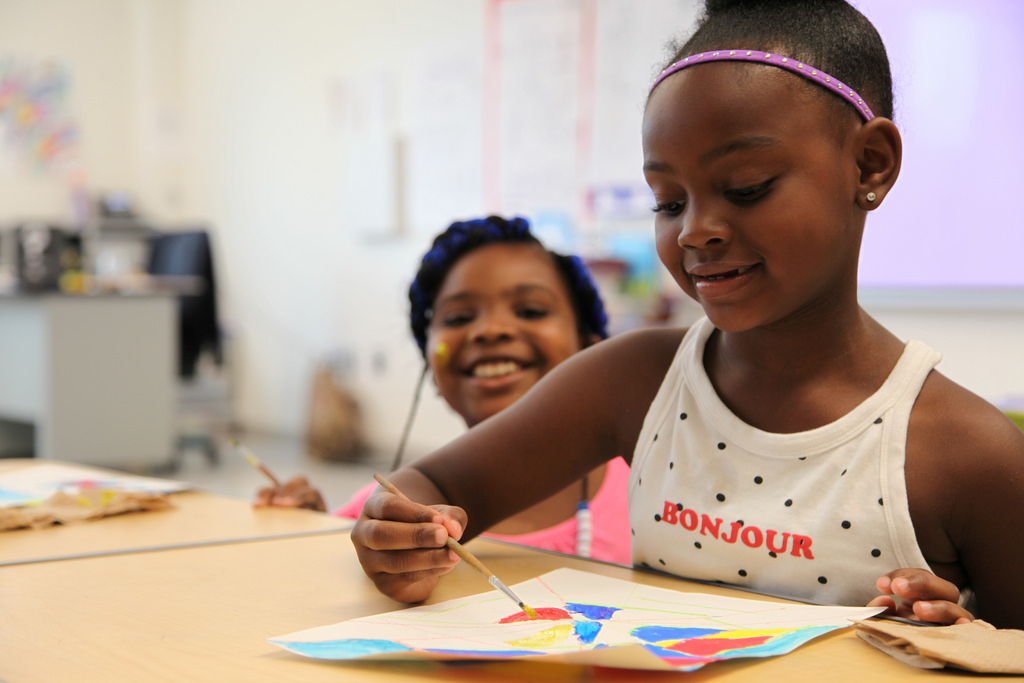 Written by Barbara Krebs,
Young Audiences volunteer and Sunburst Society member
When I was studying for exams in college, I would often create a strong visual image to help me remember test items. For example – the 6 C's of credit? Character, capacity, capital, condition, collateral, cash flow. And while these concepts didn't flow naturally through my brain, the image I created did. There was a guy (character) leaning on a crutch (condition) with a cap on (capacity) standing in front of the Capitol Dome (capital) with a briefcase (collateral) full of dollar bills (cash flow).
At the time I didn't have a name for my study method – I just knew it worked for me. Years later I can now identify this as arts integration with an emphasis on a visual learning style.
And so I felt very at home as I toured Young Audiences' Summer Arts & Learning Academy (SALA) at Lyndhurst Elementary/Middle School in Baltimore. That's because each classroom was filled with young students learning in a variety of arts-integrated formats. I witnessed drama, rap songs, textile art, drawings, and writing—all used in conjunction with classwork such as a math problem or a reading assignment.
And while I knew, and the teachers knew, that these children were involved in thoughtful, hard work here—the serious business of arresting summer learning loss—the kids were focused on how much fun learning was. For example, in the PreK classroom, YA roster artist Mama Rashida of WombWork Productions and her teacher partner, Samantha Amey, worked with the students on a basic math problem: 1 + 2 = 3. Now, of course, you can force your brain to learn this by sheer rote repetition, but let's face it. How exciting is that?
But if you illustrate it with a story about the marketplace where you must buy one fruit (fruit sellers stand here to the right!) and then move on to the vegetable stalls where you need a tomato and a carrot (veggie vendors over here, please!), you set the stage for a fun learning experience.
As the kids moved excitedly from place to place to "fill" their baskets or "sell" their wares, the teacher illustrated what they were doing on the whiteboard. With their "shopping" completed, the children returned to their seats and began to answer questions about the math problem. At this point, the teacher pretended to be confused and wrote wrong answers on the board. As the children rushed to correct her, she had them explain what was wrong, until everyone agreed that the proper answer was three.
No, this wasn't bored voices droning "1 + 1 = 2," "2 + 2 = 4." Instead, these were kids excited about math, happy to supply the correct answer to a befuddled teacher and eager to learn more!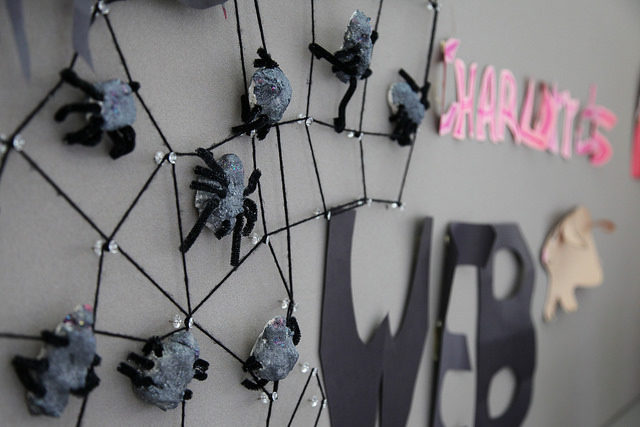 But what about English? A little later I stepped into a first-grade classroom where students were studying Charlotte's Web. Here, I found a mix of visual art and drama being used to tell the story. Several children took turns at the front of the classroom with a drawing they had made. After displaying it, they then acted out that portion in mime. Initially, the teacher set the scene, reminding the kids what was happening in the story at this point. After the child was done, the teacher asked the other students what they had observed as their classmate portrayed the scene.
Later, I noticed a bulletin board filled with tiny spiders made using a modified papier mache technique, with pipe cleaner legs. As I looked at this, one young girl came up to me and proudly told me about the paper collages they had made to illustrate what the barnyard looked like. "They're displayed outside the classroom. You have to see them!" Indeed, I did, and when I left, I enjoyed all the bright, cheery artwork that surrounded the door frame.
My next stop was a mixed class of second, third, and fourth graders who were working on both how to solve for an unknown number in a math problem and the nine's in the multiplication table. And here is where I definitely appreciated the arts-integrated approach. I remember learning the nine's and, oh, how I despised them.
But nobody seemed to hate nine's here. Maybe that's because as they chanted this portion of the multiplication table, not only did they give it a fun rap slant, but other classmates accompanied the song with percussion instruments. Why couldn't they have done that when I was in school?
My final stop was to a fourth-grade classroom where the lesson was to reinforce the basic math operations: addition, subtraction, multiplication, division. Here, too, I felt very at home, but this time it was because not only did I recognize the teaching artist, YA roster artist Femi the DriFish, who I've witnessed teaching on several occasions, but I actually recognized kids whom I had seen before. This heightened my sense of how compelling arts-integrated learning is in capturing kids' imaginations, so much so that they return for another summer of learning!
They rapped their way through a popular song remixed to describe math operations terms in word problems (equals to, divided by, times, added to, subtracted from, etc.) in preparation to shoot their own music video. As they practiced, I wondered what they would take away with them after this summer. Would they remember these lyrics and hum them in their head as they take a math quiz next year? Will they think about a marketplace full of vegetables and fruits and how math filled their baskets? Perhaps they'll draw a picture that will help them recall the story they're reading in class.
But most of all, will they remember the fun that accompanied all these math and English concepts? And that 1 + 2 = 3? I think so. And this funny little guy, leaning on his crutch with his cap, briefcase and dollar bills, standing in front of the Capitol agrees with me!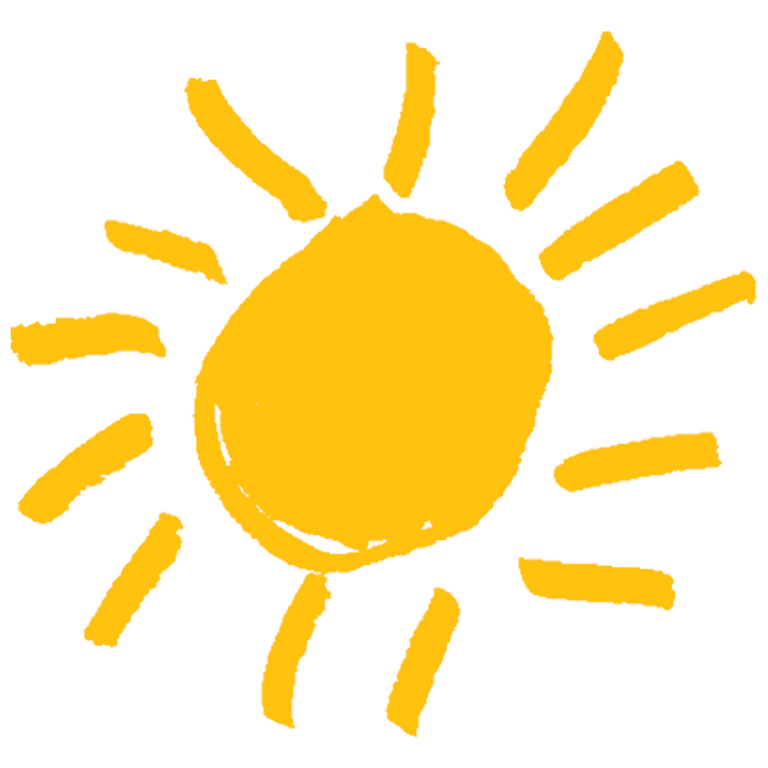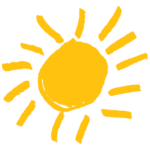 Learn more about our mission, our methods, and our future plans during a one-hour Meet Young Audiences event. In addition to hearing from the organization's leaders and getting an inside look into the amazing work we are doing around the state, one of our roster artists will share their amazing work with you and speak about how the arts complements and enriches classroom learning. Please reach out to Ingrid Murray, Individual Giving Manager, at [email protected] for more information or call (410) 837-7577 x. 107. Interested in hosting your own Meet Young Audiences event? Find out more here!
smARTbeats returns to WTMD Saturday, October 14, during the weekly children's music program Young At Heart. On this month's smARTbeats segment, Young At Heart host Lisa Mathews sits down for a chat with beatboxer and YA teaching artist Max Bent. Performing for adults and the Pre-K set alike, the artist treats his audiences to a mix of original songs, fun covers, and interactive rhythmic games sure to get you up and moving.
Max started beatboxing at the age of eight, imitating with his mouth what he heard on the radio. Since then, Max's love for the beat has taken him on many exciting journeys and a never-ending search for sounds that surprise him. His experience as a teacher has helped him transition into his work as a teaching artist.
During the segment, you'll hear how the artist, who is also half of the family-friendly beatboxing duo Baby Beats, challenges students and teachers alike to learn by making music. A former science teacher, Max is able to combine his artistic talent with his educational background to make strong connections to specific units and standards in the curriculum with irresistible enthusiasm and energy.
He works not only with kids, but with educators, leading professional development classes to show teachers how music, and, more specifically, beatboxing can be used as a tool to teach fractions and challenging them to think outside the box in their own lesson planning.
Give it a try and see: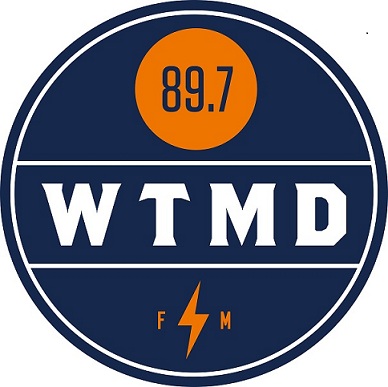 Young At Heart airs weekly from 7 to 8 am on Saturdays, featuring music that appeals to parents and children alike. Previous shows have featured music by Wilco, David Bowie, Andrew & Polly, Weezer, and others.
Hear YA teaching artist and beatboxer Max Bent online now!
Written by Barbara Krebs,
Young Audiences volunteer and Sunburst Society member
Seedfolks. Bizz Buzz. These are just a couple of the new things I learned about when I visited the Summer Arts and Learning Academy at Thomas Jefferson Elementary/Middle School in Baltimore.
And learning through the arts is the whole point of this summer academy, now in its third year of operation. Young Audiences/Arts for Learning, in partnership with Baltimore City Public Schools, operates four of these academies at schools throughout the district as part of a system-wide arts-integrated strategy to reduce summer learning loss in literacy and math. Approximately 1,144 kindergartners through fifth graders take advantage of this free, fun-filled educational opportunity. 
My first stop was to meet Site Director Kristin Taylor who manages the program at Thomas Jefferson. As we headed to the first classroom of fifth graders, she enthusiastically filled me in on the size of this particular academy (280 students), its average daily attendance (250 students), and the benefits provided at every site to help parents and kids (after-school care until 6:00 pm and free breakfasts and lunches served every day to each student).
As we walked through the halls, student-created posters, snippets of conversations, and the sounds of music offered glimpses of the learning that was taking place.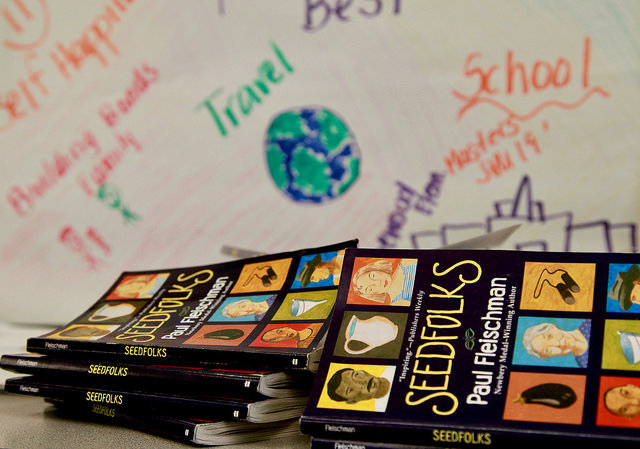 I entered the fifth-grade classroom of Ms. Paige and visual artist Mama Sallah just in time to watch a production of a chapter from Seedfolks, a book that shows how a neighborhood is transformed as people from different cultures interact in a garden. After the first group performed, I got a chance to ask Kenaya, one of the student actresses, about the book.  She explained to me that each chapter of the book focused on a different character. The classroom had been divided into groups, each assigned to act out a different chapter of the book. These groups were to then silently act out what the narrator was reading.  
Kenaya's group focused on Kim, a Vietnamese girl from the first chapter. The story starts with the girl staring at a portrait of her father. While one student narrated, others acted out the parts of Kim, the father's portrait, and even more characters as the action moved into the garden Kim had planted.
I enjoyed watching their attention to the story and how each child handled their role, whether it was bending down to dig in the "dirt" or, like the young man playing the role of the portrait, staring silently into space, giving no indication that he was anything other than a photograph frozen in time. These were serious actors, hard at work.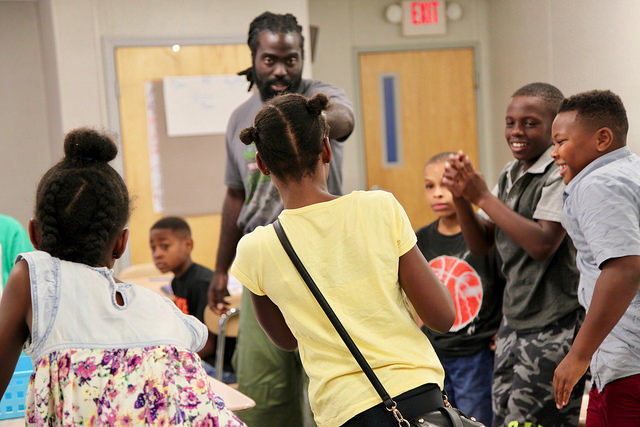 The next classroom was quite a contrast. Ms. Chase and hip hop musician Jamaal "Mr. Root" Collier were teaching math to a mixed classroom of fourth and fifth graders, and I had arrived in time to witness a game of Bizz Buzz. The children formed a large circle in the room, then took turns doing math calculations in their heads, making sure their answer was either a multiple of three or five. Emotional sounds quickly filled the room: Squeals of excitement for the game, celebratory cheers as someone answered correctly, silence filled with tension and pressure as someone struggled to find the right number, and supportive classmates whispering, "You can do it!" and "You got this!"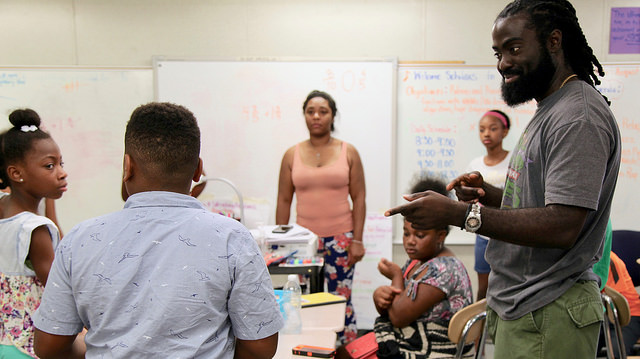 I have to admit I never did quite get the idea of when you yelled, "Buzz!" or "Bizz!" instead of a number, so I guess I'm going to have to admit that I am NOT as smart as a fifth grader. Luckily, they are!
The next classroom was filled with third graders who were also working on math. However this time the class focused on word problems and measurements. Without the drama of Bizz Buzz, this classroom was much quieter with children working at their desks. As I wandered around the room, one outgoing and cheerful girl, Mikhia, came up to me.  I probably looked a little lost because she explained to me what was going on – how they were learning about different cultures.  I asked her if she liked the Academy, and she grinned broadly and nodded her head, yes.  
"What do you like about it?"
"The teachers," she answered without hesitation.
"What do you like about them?"
"They are nice, loving, and helpful.  I'm learning so much this summer!"
The last classroom I visited was composed of first graders.  I noticed a colorful picture on one boy's desk of a volcano with a person going up the side of it and asked him about it.  "Who's that?" I asked, pointing to the person.  
"That's me," Donald answered.
At that point, we were interrupted as it was time to line up for lunch.  But before he left, I got another opportunity to ask him about his work. "Why are you walking up the side of the volcano?" I asked. He seemed a little confused but answered gamely, "I'm not walking, I'm flying."  
"Oh," and now it was my turn to be a little confused.  "You must be very powerful to fly."  
By now the girl in line behind him decided she had to help this poor confused person. Explaining patiently but emphatically, she corrected me. "It's not powerful. It's imagination!" At which point, I learned that their classroom was focusing on stories that dealt with imagination. So, yes, flying makes perfect sense. I'd rather fly over a volcano than walk up it, too!
As the children headed off to lunch, I thought about my first morning at Young Audience's Summer Arts and Learning Academy and all the kindergarten through fifth-grade pros who had guided me through the learning process. I realized I had learned a lot, too.  
For example, I learned that reading and acting out the story is a powerful way to concentrate on both the characters and the narration. I learned that math can be extremely riveting and exciting. I learned that different cultures can guide your math skills. And I learned that I need to let my imagination soar. But most importantly, I learned that combining arts with learning is fun – and effective – and that's why the kids love it.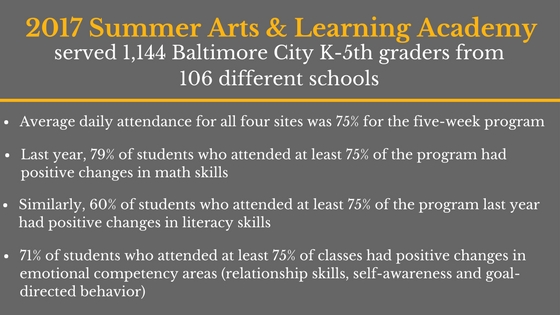 A teacher from Oxon Hill Middle School personally thanked Young Audiences during a post-event gathering for bringing the Literature to Life program to Prince George's schools. After a performance of "Black Boy," a verbatim adaptation and stage performance of the classic American literary work by Richard Wright, he said he saw one of his students carrying around the Richard Wright book. When he asked the student about it, the student said he decided to read it after seeing the performance.  The teacher noted that he didn't read that book until college and said, "This is what Young Audiences does for our students."
On November 17, Young Audiences of Maryland and Dr. Kevin Maxwell, CEO of Prince George's County Public Schools (PGCPS), announced the launch of a new arts integration partnership at a press conference held at Oxon Hill Middle School.
This new initiative will benefit more than 15,000 Prince George's County Public School students in the 2015-2016 school year and dramatically increase student student access to the arts.
Dozens of teachers, principals, and PTA members were in attendance, along with school board members and PGCPS district office personnel. The event attracted the attention of local media outlets, including WUSA, a CBS news affiliate station in Washington, D.C., who ran a segment on the new partnership during their morning news coverage on November 17.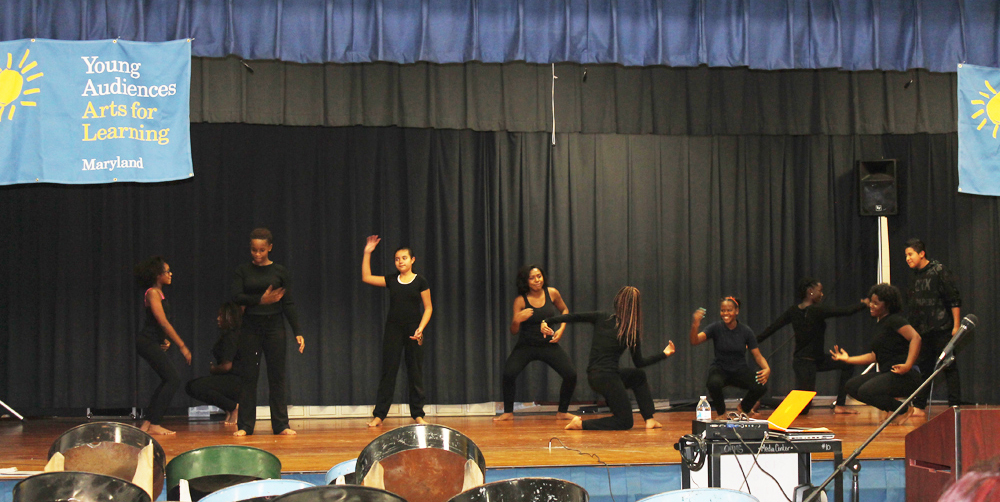 In the true spirit of Young Audiences, this was not your typical "black-tie" press conference. The room was filled with music, dance, laughter, and inspiring stories. Student performances from Oxon Hill Middle School's Performing Arts Academy opened the event, showcasing the talents of the school's students through music and dance performances. Young Audiences' teaching artist Ssuuna engaged the audience in an interactive, call-and-response performance of music from his native Uganda with authentic African instruments.
With media cameras rolling, Dr. Maxwell spoke passionately about the importance of partnering with Young Audiences to bring high-quality arts programs to more PGCPS students. Integrating the arts into classrooms is not only critical to increasing student achievement and engagement; it is an essential component of every student's education and maximizes the talents of all students.  Dr. Maxwell's belief in the importance of the arts-in-education—and the exceptional teaching artists and arts-in-education programs that Young Audiences provides—will ensure that all students have the opportunity to experience this critical part of their education.
Stacie Evans, Young Audiences' Executive Director, echoed Dr. Maxwell's remarks, saying:
We believe that artists are catalysts in our schools. Through their art form they develop new approaches to teaching the curriculum. They inspire children. They help reach the most reluctant and struggling learners. From the beginning, Dr. Maxwell made it clear that the arts are a priority and he welcomed community partners to be part of the solution to ensure that our kids receive a complete education.  As a result, 15,000 more students are benefiting from Young Audiences programs this school year alone.
Additional speakers included Mr. Wendell Coleman, Oxon Hill Middle School Principal; John Ceschini, Arts Integration Officer for PGCPS; and Tracey Cooper, Oxon Hill Middle School science teacher.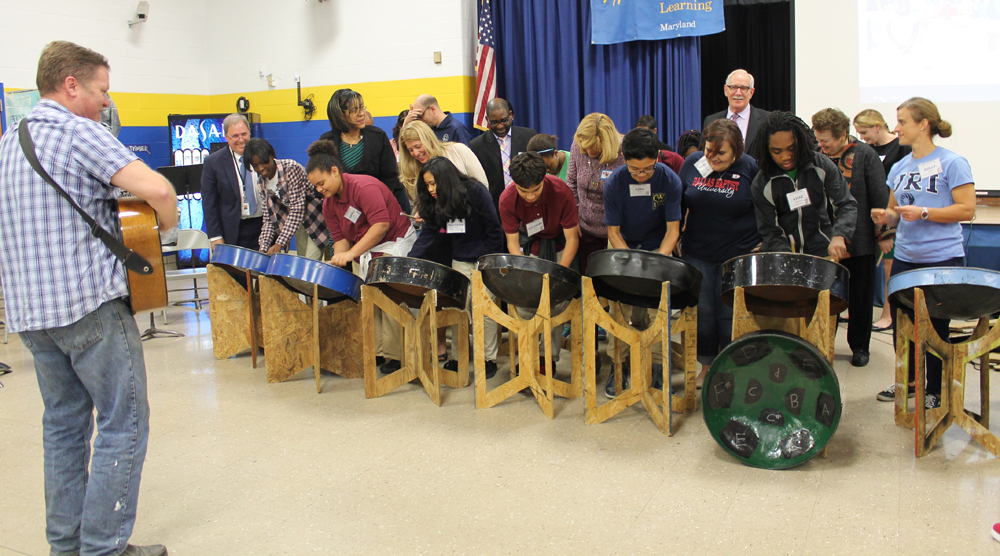 Young Audiences' teaching artist Kevin Martin closed out the event with a steel drum ensemble of Oxon Hill Middle School students.  These students—who jumped on stage to perform just hours after learning to play the steel drums—soon became the teachers. The steel drum performance culminated with Kevin inviting audience members, including Dr. Maxwell, to join a student at their drum and follow the student's lead in learning the song.
A teacher from Oxon Hill Middle School personally thanked Young Audiences during a post-event gathering for bringing the Literature to Life program to Prince George's schools. After a performance of "Black Boy," a verbatim adaptation and stage performance of the classic American literary work by Richard Wright, he said he saw one of his students carrying around the Richard Wright book. When he asked the student about it, the student said he decided to read it after seeing the performance.  The teacher noted that he didn't read that book until college and said, "This is what Young Audiences does for our students."
From theatrical productions that bring American literary masterpieces to life, to artist residencies for kindergarten students that inspire environmental citizenship, this new partnership with Prince George's County Schools significantly increases access to arts learning for thousands of PGCPS students and leverages the talent of 20 teaching artists, the resources of six private and public funders, and advances the goals of PGCPS and YA to transform the lives and education of all students through the arts.
Research shows a direct connection between participation in the arts and student achievement. Research also shows having the arts in schools contributes to positive school culture and builds the creative and critical thinking skills that our workforce needs. Despite these benefits, student access to the arts as part of their education has declined. Young Audiences is honored to partner with Dr. Kevin Maxwell, named a Champion of Change by President Obama for his dedication to the arts, because he is committed to ensuring that PGPCS students are not denied the arts as part of a complete education.
Powering Arts Integration with Innovative Programming
Young Audiences' programming for PGCPS will combine arts learning with traditional subjects such as science, math, and reading, expand in-school opportunities for professional teaching artists, and include further arts integration advancement through strengthening teacher preparation and professional development. Program areas to include:
GROWING UP GREEN
A Kindergarten-level environmental literacy program that supports a thematic approach and addresses the Maryland Environmental Literacy Curriculum Standards. Curriculum will be developed collaboratively among partner organizations and, following a successful pilot of the program, will later be infused into the kindergarten science and social studies core content areas. Financial support provided by BGE, Chesapeake Bay Trust and Maryland State Arts Council Artist in Residence Program.
LITERATURE TO LIFE
Through our unique combination of interactive theater, literature, and education, Literature to Life brings American literary masterpieces to life —giving voice to words and inspiring young people to find their own voice. Financial support provided by Laura Handman and Harold Ickes, Lisa and Porter Dawson, and other generous supporters.
PROFESSIONAL DEVELOPMENT
A series of professional development workshops designed for schools in their first year of joining the "Arts Integration" initiative. Educators will define and discuss the benefits of arts integrated teaching. After experiencing a sample drama and language arts lesson, teachers will brainstorm and apply creative challenges in their specific curriculum area. Program facilitated by Teaching Artist Institute.
Young Audiences' roster of artists continues to grow to encompass new artists, ensembles, and art forms, from slam poets to improvisers to Capoeira masters.
We'll be regularly posting interviews with our artists, giving them a chance to share more about themselves and their experiences bringing their Young Audiences programs to schools. We recently sat down with Tim McCarthy of Quest Visual Theatre. 
Why did you decide to become a Young Audiences roster ensemble and how does it align with Quest Visual Theatre's larger mission?
I had known several artists in Maryland who were with Young Audiences and I began to investigate what the organization was about. It made me think about where Quest Visual Theatre was heading and I thought it was something worth pursuing because we have so much experience working with children.
We are an inclusive company. Deaf people are a part of everything we do everyday and we wish to celebrate the people who are in this world. That's the world we want to live in and we wish to bring those experiences it into children's lives.
Quest also uses visual theatre to cut across language and cultural barriers. All of our work is inclusive and accessible. Everything that Quest does reflects the company's commitment to welcoming to all people. One program that reflects that is QuestFest, which is a biennial international visual theatre festival. Quest partners with area theaters, universities, and agencies to present performances, conduct approximately 20 residencies, and provide training in visual theatre. The QuestFest Community Showcase enables students who have participated in QuestFest residencies to share work that they created.
What has been the most memorable part of the programs you have brought to the students with Young Audiences?
I love what I'm bringing into the schools and seeing how engaged the students are. Quest does little warm-ups before each performance. We play a game like charades with the audience. We have the audience begin to guess what the actors are doing; playing baseball, football, or golf. That really gets the kids involved and excited.
Do you have a memory of when you felt that you has an impact upon a student or class?
Students usually don't know how to approach our actors because they are deaf, but after a performance or residency, we intentionally spend time and stick around to interact with the children. That's when the hugs begin to happen. Things really change at that point. They see our artists as people they want to interact with. The communication barrier goes away.
How does your art form help connect students to what they are learning in school ?
Our goal is to integrate theatre into the curriculum. We do this by focusing upon two primary areas, including learning readiness and literacy.
How do the lessons that you teach students apply to and affect their everyday lives outside of the classroom?
In addition to learning the art form, the developmental skills we are focus on are communication and interpersonal skills. When you're creating something and working in collaboration with others, especially if you're not able to speak, you're going to have to be clear about what your intentions are. Our lessons teach children how to send and receive information clearly with engagement.
Learn more about Quest Visual Theatre's offerings through Young Audiences.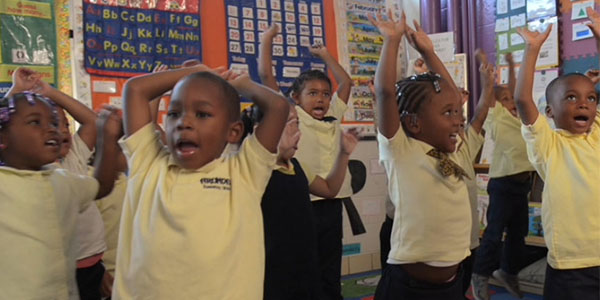 By Stacie Sanders Evans, Young Audiences/Arts for Learning Executive Director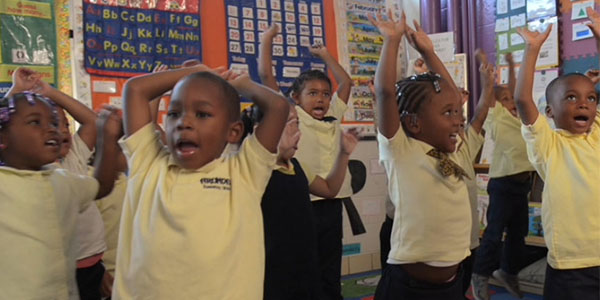 I recently took a foundation representative to see what our Maryland Wolf Trap Early Learning Through the Arts program looks like when an artist is in a preschool classroom.
Afterward the representative asked me a question that has stuck with me: "Why does this program really matter–what real difference is it going to make for kids?"
If you are like me, life hits you weeks later and you always have a better answer when the moment has long passed. I have my answer now.
Arts-integrated education programs, like the residencies offered through Maryland Wolf Trap, matter to Christopher. After we observed the lesson, the teacher, Ms. Miles, and teaching artist and musician Sue Trainor debriefed, discussing what worked (and didn't) during that day's lesson. In this session, Ms. Miles had taken the lead in incorporating music and drama into the literacy lesson with support from Sue. Both Sue and Ms. Miles mentioned what a big moment it was for Christopher to fully participate in the lesson centered on the book the class was reading.
Christopher had played the part of the goat during the reading, and held his friends' hands while traveling across the room singing. When the children were asked to sit, he joined his friends on the carpet to reflect on the elements of the lesson they liked the best using the song prompt: "That's what I like, uh-huh, that's what I like, uh-huh." Each student was asked to show what they had liked about the lesson by adding a movement to the end of the song. Christopher stayed with the group and listened intently as his peers shared.
I actually didn't know who Ms. Miles was referring to because Christopher looked no different from any other student in the class. But today had been an important step for Christopher, who often finds it difficult to pay attention, and wanders away from the group when he is distracted by the task at hand. Today Christopher was engaged and the lesson kept his interest. In these formative years, children develop a strong sense of how they feel about learning, school, and themselves. These impressions can hinder or fuel a child's confidence and achievement for years to come. Today we were the fuel.
This program matters to Ms. Miles who said tearfully that Christopher's success was the moment she lived for as a teacher. "These shining moments keep you going," she said.
Ms. Miles is an incredibly gifted teacher whose dedication to her students is evident from the moment you walk into her classroom. But, like every great teacher, she is hungry for these moments–and this is what motivated her to bring this 16-session Wolf Trap residency program into her classroom and fully take advantage of the embedded professional development.
Ms. Miles now has more confidence and skill in using singing, rhythm, and creative drama to actively engage children in stories. She has an arsenal of arts strategies that keep 25 little bodies and minds fully engaged in her lessons. Instead of a simple read aloud of a book she is using the arts to bring these stories to life.
This program matters to all the children in the classroom. What Ms. Miles and other participating teachers find is that these kinds of arts-integrated lessons stick–children are better able to recall the sequence of events and characters of the story, comprehend the story, and recognize the new words being introduced in the story. More importantly, students in our program have an increased interest in books and stories. All of these skills are essential to school readiness.
Fortunately, these moments also matter to the foundation who joined us in the classroom, which recently granted us an award that will make it possible for us to reach seven additional high-need Baltimore City preschool classrooms and 175 more early learners through the arts.
Learn more about the Maryland Wolf Trap Early Learning Through the Arts program here.