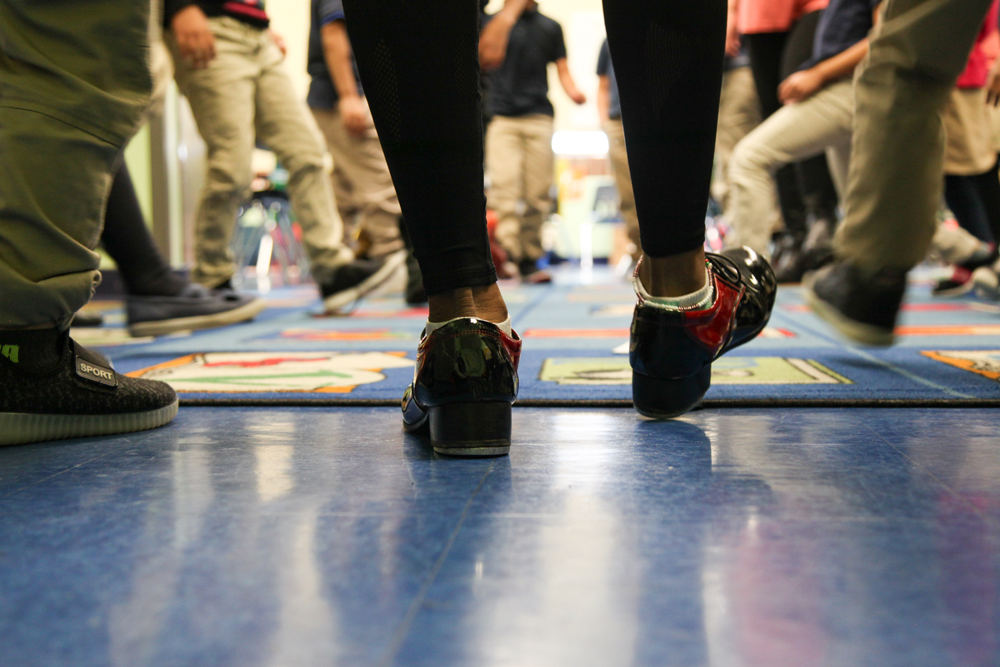 When Quynn Johnson steps into the Pre-K and Kindergarten classrooms at Margaret Brent Elementary School in Baltimore City, she is met with hugs and big, bright smiles. The students love that they've been learning to tap with the artist and they've been waiting patiently for her to return. "What do I do?" the artist asks. "You make music with your feet and you keep a steady beat!" the students respond.
Quynn is a multi-award-winning performing artist, choreographer, author, and the co-director of SOLE Defined, a percussive dance company. Though she has performed tap dance for national and international audiences, on this morning, she is captivating our state's youngest learners—not on a stage, but in a classroom—through rhythm, imagination, and dance. Already a professional teaching artist on the Young Audiences roster, Quynn is now training to also become a Maryland Wolf Trap Artist. 
As the Maryland regional affiliate of Wolf Trap, Young Audiences is proud to be expanding access to the arts for Maryland's youngest students during the critical early learning years. 
High-quality early childhood education is absolutely essential to giving children the best possible start in school and in life. Decades of practice and research prove that integrating the arts into classroom experiences contributes to greater academic achievement and social/emotional development for our youngest students. The creative collaboration between teachers and artists in the Wolf Trap residency builds foundations and fuels momentum in arts-integrated early learning classrooms.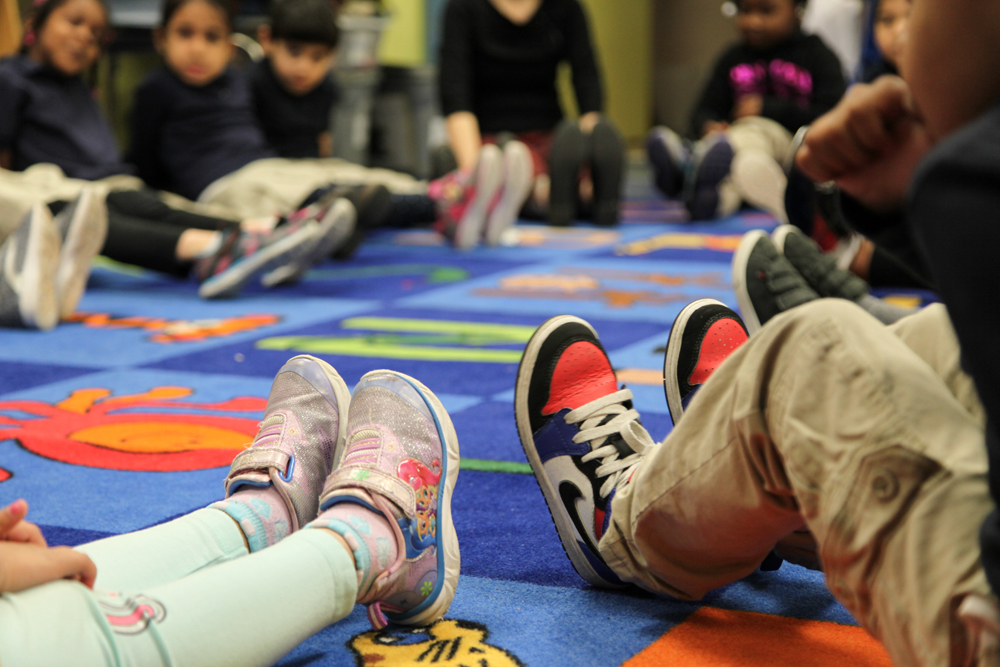 The children sing along with the artist to the tune of Frère Jacques, "I am ready, You are, too, Eyes on the teacher, We're going to learn." Everyone knows the song and everyone is excited to sing it—first in English, then in Spanish.
Estoy listo
Estás tambien
Ojos en la profe
Vamos a aprender
Quynn made up the song while teaching in the Summer Arts & Learning Academy last summer, but now sings it with students in lower elementary grades at every school she visits. Mrs. Jager, the Kindergarten teacher, likes it, too. She uses "I am ready" as a transition song all the time—and her students will remind her if she forgets!
The artist is not only here to teach the young students how to tap, she is here to build the teachers' skills and knowledge and demonstrate how to integrate the art form into their lessons throughout the year. This embedded professional development is something that distinguishes the Wolf Trap Early Learning Residency from other artist residencies.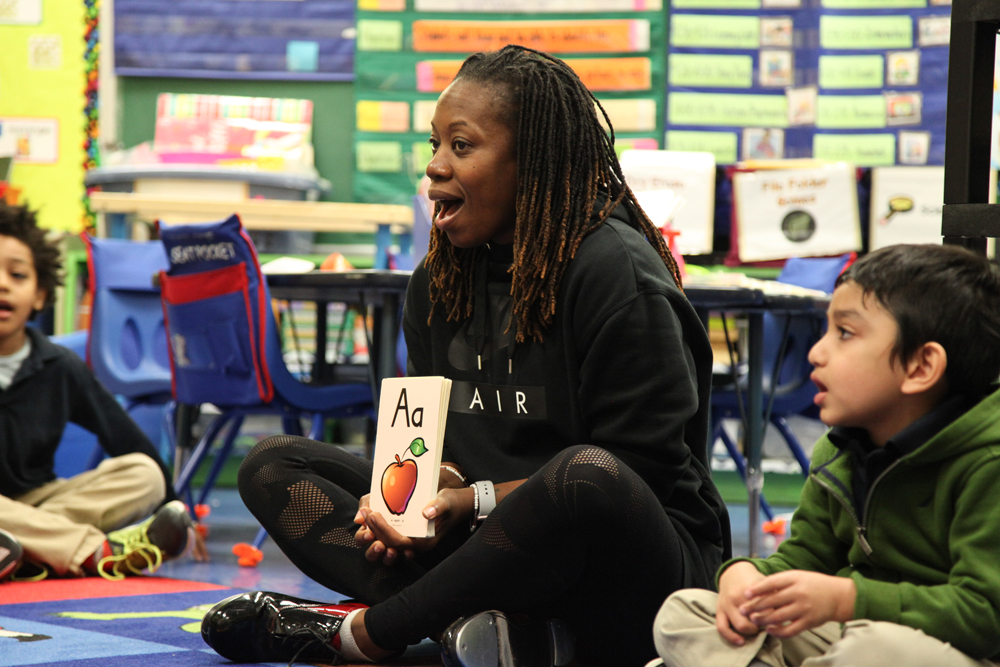 As Quynn leads the students in an exercise stomping out beats, another skill is being fortified. They are identifying patterns and practicing word sounds like "Apple, apple, ah, ah, ah," and "Bat, bat, buh, buh, buh." The classroom teachers and the artist work together to tailor the residency to each particular classroom—deciding how refined the dance movements should be for each age group and which literacy skills to focus on.
"The process is pretty new and different to me but I like it," said Quynn. The artist pays particular attention to teach the elements of her art form that educators will feel comfortable utilizing in the future—and not just off the cuff, but with some artistic integrity. "I think the embedded PD portion is a great way to keep the teachers involved and shows them how it doesn't have to be its own lesson but can be incorporated within what they're already doing. I never want them to feel like it's unreachable."
By the end of Quynn's residency in the Pre-K and Kindergarten classrooms, the students know how to keep a steady beat on their feet, and they remember a beat pattern and two basic tap steps. And the teachers can connect the art form to literacy—leading students to sound out words and sounds with their feet. "They both felt great and comfortable with everything we did in class and I could hear them using it after our time was over." They were ready.
Eighty-five percent of brain development occurs during the first five years of a child's life. Participation in the arts encourages positive growth in a child's emotional, physical, intellectual, creative, and social development. As the Maryland affiliate of the Wolf Trap Institute for Early Learning Through the Arts, Young Audiences expands access to the arts for Maryland's youngest students during the critical early learning years. Bring a Maryland Wolf Trap 16-Session Residency into your school.
Categorized:

News

Tagged:

artist-in-residence, arts integration, Baltimore City Public Schools, dance, early learning, kindergarten, literacy, Margaret Brent Elementary Middle School, Maryland Wolf Trap, pre-kindergarten, professional development, professional development for educators, Quynn Johnson, roster artist, tap dance, teaching artist, Wolf Trap
 
Growing Up Green: Hip-Hop Poetry and Composting
Teaching Our Youngest Learners Environmental Citizenship Through the Arts
Part 2: Local Ecosystems
This Spring, Young Audiences wrapped up the initial phase of its pilot programming for Prince George's County Public School District's new arts integration initiative, Growing Up Green. We introduced the program in an earlier blog post, but here is a refresher for those who missed it:
The initiative is part of an exciting new partnership between Young Audiences/Arts for Learning and Prince George's County Public Schools and is funded in part by a BGE Green Grant and the Chesapeake Bay Trust. The program engages kindergarteners in meaningful and authentic outdoor experiences that help connect them to their local ecosystems and inspire them to learn more about protecting our environment. The arts provide the vehicle that the students use to demonstrate and communicate their understanding to the greater learning community of their school.
Bomani, a Young Audiences Teaching Artist, began his pilot program by using poetry to investigate the process of composting with five groups of Kindergarten classes at three different schools: John Hanson Montessori, Oxon Hill Elementary, and Benjamin Foulois Creative and Performing Arts Academy. Over 80 kindergarteners had the opportunity to literally get their hands dirty in hands-on learning while understanding everything from what type of trash can be composted to why we need to grow food. Read on to hear more about Poetry and Composting from Bomani:
"Growing Up Green was a learning experience for me. I had done residences with kindergarteners before, but never where the final project had to narrate a sequence. Usually, when I'm working with kindergarteners, we are having fun working with rhyming words, and we can make up definitions for them and write like Dr. Seuss, creating an imaginary world.
This workshop offered something new, a tangible, in-your-hands experience that's different from my usual history- or social studies-based residencies. But what is the root of this imaginary world for this particular workshop? We start with a shared experience.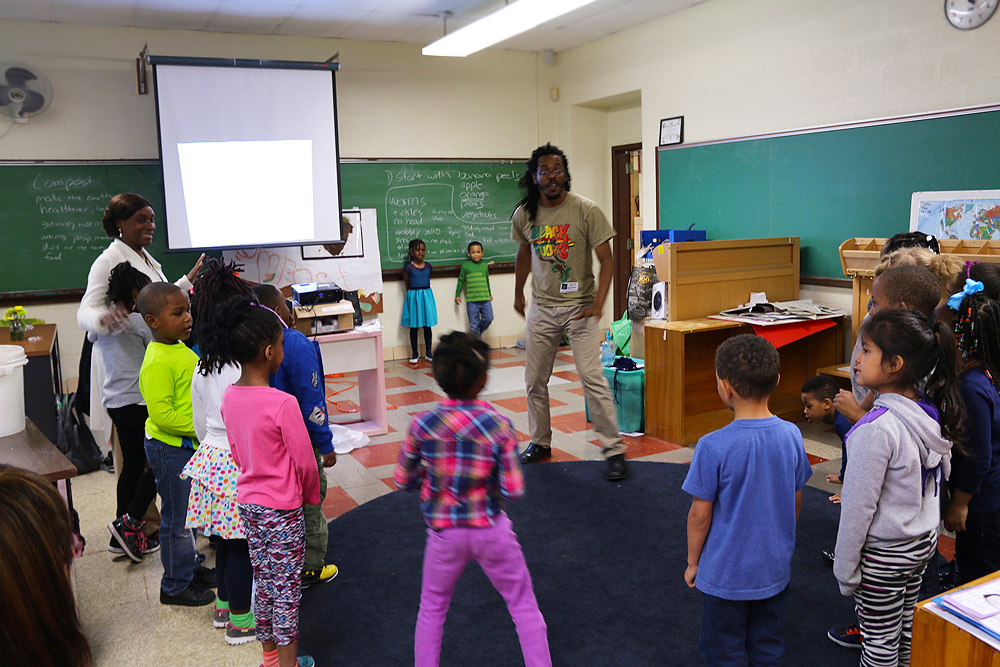 Students learn the ingredients and components to the composting process. I asked the students what they already knew, and then we would question and discuss the most important things. It doesn't really matter what the subject is, as long as kids have a shared experience to draw from, all getting to feel, touch, smell, discuss; when we start throwing out ideas, we can better interact with each other.
One of the reasons I love group creative-writing sessions is because the conversations that go on in a group setting are the same internal conversations that go on in a writer's head. Showing that process to young people in a physical way, where they are acting out how ideas are communicated — 'what about this idea, what about that idea, we should take this back, we should add that in there!' — helps them to better understand complicated topics like composting.
One student would forget one part, and another would remember and say, 'Oh you forgot the part about adding the paper!' And they would all respond 'oh yeah!' and a conversation about the process of composting would develop further, which would inevitably lead to other discussions surrounding composting, like 'Why do we need more trees? Why do we compost in the first place? Why and where do we grow food?"
The writing process began with the teachers and I adding the "odd" lines — the first line — and then students brainstormed the second line for the couplet, coming up with the rhyming components. At first, I was worried about how heavy-handed the adults in the room would need to be for it to make sense, but the students came up with some amazing things! Here's a great example:
"Put holes in the bin so the worms get air,
Holes in the bin show worms you care,
Put strips of paper and some leaves,
Paper and leaves come from trees,
Add food scraps and coffee grinds,
You just need some time
Put the top back on, they don't like sun,
Composting is very fun!"
Usually, there's one student in every class that starts off really nervous about moving their body, using their voice or raising their hand. One young lady at John Hanson Montessori was very quiet at first but over the course of the class, her teacher came up to me and said, "She's completely opened up!" With younger students, they typically have less fear than older kids, but for many of these children, English is a second language so it's sometimes hard to communicate quickly or expressively.
This one student was able to open up because I kept repeating, 'someone tell me a bad idea' or 'someone say something that's not exactly right yet, but you think it's almost there.' Giving the young lady that freedom made it easier for her to open up. She would raise her hand and say something, and I would say 'Oh! That's not quite right, but please keep trying, I love where you are going with that! Rethink that, talk to your neighbor and come back to me.' She got used to the idea of not being afraid of the wrong answer because we are all collectively looking for the right set of words.
There's a line in one of the songs where they rhymed the word "word' with "serve" as a near-rhyme. The teachers all agreed that "serve" was not the easiest to rhyme with, but when we asked the kids to vote, they picked "serve," so we went with it! I prepped the kids for this more difficult rhyme, saying 'you know, if it doesn't work out, it's okay, we can always back-track, but since you all voted on it, we'll try it out and see how it works.' I let them huddle up, and I got back a whole bunch of excellent ideas about how to use the word 'serve'! Below is the final line we used in the poem:
Composting is how we serve, and we use this rap to spread the word!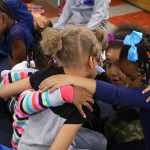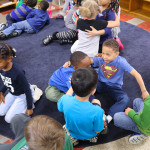 One of the side effects of this workshop, let alone the main idea of composting, is that it gets kids really excited about words and about articulating thoughts. Kindergarteners were constantly trying to find ways to tie in words to create new ideas, really stretching themselves and questioning the meaning of words.
In all honestly we probably did underestimate the ability of one 6-year-old to use 'serve' in a rhyme, but with 30 of them together all talking about it, they figured it out! Each rap came out really well!
——
Teaching Children Not to Be Afraid of Giving the Wrong Answers
Ever wondered why kids say they're bored at school, or why they stop trying when the work gets harder? In this essential video on Fixed vs. Growth mindsets, Educationalist Carol Dweck explains how the wrong kind of praise actually *harms* young people. This short video is essential viewing for everyone — from teachers and education workers to relatives and friends — which promotes GROWTH rather than "fixed" mindsets in students.
——
Help Fund This Program!
Your tax-deductible donation will help support programs like Growing Up Green.

Growing Up Green: Teaching Our Youngest Learners Environmental Citizenship Through the Arts
Part One: The Life Cycle of Plants
We think with our hands, and when students are immersed in a lesson together, they begin to make their own connections."
We are in the midst of pilot programming for Prince George's County Public School's new arts integration initiative—Growing Up Green, a Kindergarten-level, environmental literacy program. The initiative, part of an exciting new partnership between Young Audiences/Arts for Learning, the Chesapeake Bay Trust, and Prince George's County Public Schools, is funded in part by a BGE Green Grant and the Chesapeake Bay Trust.
The program engages kindergartners in meaningful and authentic outdoor experiences that connect them to their local ecosystems and inspire them to protect our environment. The arts provide the vehicle that the students use to demonstrate and communicate their learning to the greater learning community of their school.
Growing Up Green residencies are divided into four major themes—Habitats, Local Ecosystems, The Life Cycle of Animals, and The Life Cycle of Plants.
One of the first YA teaching artists to pilot this program was textile artist Pam Negrin. Pam chose "The Life Cycle of Plants" for her residency with the Kindergarten class at Rockledge Elementary School. "One of the tenants of this initiative is just getting kids outside!" With cuts to recess, these residencies provide purposeful outdoor experiences that directly engage students with their surroundings and sharpen their observation skills.
Along with being outside, one of Pam's favorite things about Growing Up Green is "giving students a chance to experience wonder." She and the students had several surprises while exploring the hidden parts of plants everyone gathers at the beginning of the residency. After reading about what constitutes a "fruit," students sort their treasures—dandelion, sweet gum fruit, crepe myrtle seed, milkweed—into the appropriate plant life phase: seed, seedling, mature plant, flower, or fruit. The students loved playing a game where they had to accurately categorize collected plant life alongside familiar food found in a grocery store by exclaiming "fruit!" or "not fruit!"
Early on in the pilot program, students gathered an assortment of "fruits" resembling spiky balls that fall from sweet gum trees. Even though most attempt to avoid these prickly pods, the students gave no hesitation in cracking them open to find hundreds of seeds! Once the plants were sorted, the students began to observe and draw each part. Using their original drawings as a visual guide, and after learning some basic embroidery stitches, they collectively stitched a large-scale embroidery depicting the life cycle of plants. "Kids are stitching around the table with each other, working in groups, exploring together. Really, collaboration is another strong aspect of Growing Up Green," says Pam. "We think with our hands, and when students are immersed in a lesson together, they begin to make their own connections."
Ultimately, Growing Up Green can naturally make children stewards of the environment, "not because we taught them preservation is important in a textbook, but because they were outside experiencing it for themselves." Pam adds, "this residency reminded me that the more immersed I can be in what the students are learning in their core curriculum, and the more I experience the wonder and excitement of that learning, the more I have to share with my students and the stronger the arts integration."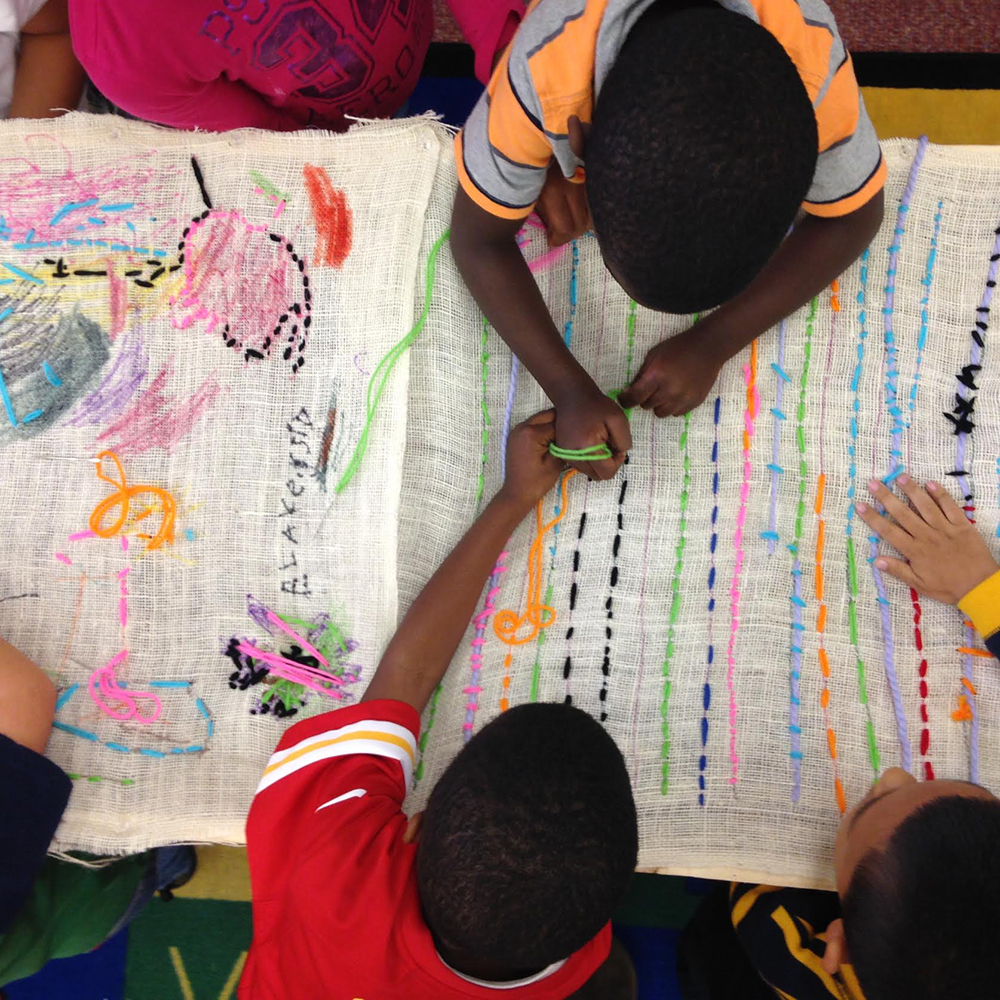 The program also provides teachers the tools to creatively engage students in curriculum-based learning through arts integration long after the residency has ended. In fact, one of Growing Up Green's primary missions is to ensure the program's long-term sustainability in the classroom. Once the residency ends, the arts integration techniques that were taught during the residency help teachers to more accurately and confidently employ environmentally based learning strategies into their current lesson plans. Ideally, once the piloting phase of the program is complete, Growing Up Green will become embedded into the core science and social studies curriculum of Prince George's County Public Schools.
By partnering with the Chesapeake Bay Trust to arm schools with relevant, local environmental data to meet district-level standards, and by doing our part to provide teaching artists and professional development in arts integration, this program could not be more equipped to succeed.
Video: Growing Up Green @ Rockledge Elementary
Growing Up Green aligns with Environmental Literacy Standards, Next Generation Science Standards, Common Core State Standards, and Visual Arts Standards.
Categorized:

News

Tagged:

21st Century Skills, artist-in-residence, arts ed, arts integration, BGE, Chesapeake Bay Foundation, Chesapeake Bay Trust, Common Core Standards, creative learning, early learning, environmental literacy, environmentalism, Growing Up Green, kindergarten, Meaningful Watershed Educational Experiences, Next Generation Science Standards, Pam Negrin, PGCPS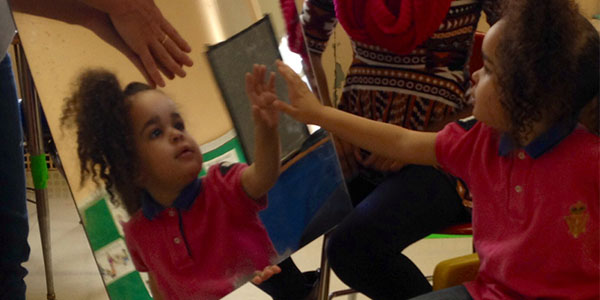 By Morgan Lyons, Kindergarten Teacher, William S. Baer School
When I first heard that an artist-in-residence program was coming to my school, William S. Baer, I was excited. I learned about arts integration while I was studying education in college and wanted to find a way to use the arts in my teaching, especially when I decided I wanted to teach special education. I feel that the arts are an amazing pathway, particularly for kids who might not necessarily understand the material when taught in a more traditional way. When I found out that this opportunity was being offered at my school, I was thrilled; I jumped at the opportunity.
As a relatively new teacher, I knew I wanted to integrate the arts into the curriculum in some way, I just didn't know how. Our curriculum is structure- and task analysis-based and there did not seem to be a lot of room for the arts, but Sue Trainor, the Wolf Trap-trained artist who I worked with during the 16-session residency, taught me how to make arts integration work for our program and how it could help our students.
The program began with Sue showing me her lesson plan, which we used for our first session with students. We continued to use Sue's plans for a few weeks. After every lesson we talked about how it went–what the high point was and what we could work on for the next session. As the program went on, it developed and changed so that I was giving more feedback and Sue was asking me more questions. I began to take more of the lead, and I grew from a consultant role on lesson plans, to writing the lesson plans with Sue, to creating the whole lesson myself. This was a great way for me to learn because I got to watch Sue, I collaborated, and then it was all me.
Sue taught me a lot of arts integration techniques that I continue to use every day in my teaching. We incorporate music and visual representation throughout the day which makes for more engaging activities. We sing through transitions and when we're teaching new material, such as shapes, letters, colors, and numbers.
One thing Sue and I collaborated on was the idea of using a mirror with my students. My students are kindergartners with autism. Students with autism often have a skewed perception of themselves and have a hard time making a mind-body connection. The mirror's reflection serves as an additional visual for them and provides a form of visual feedback. Rather than me just saying, "Touch your head," they actually see themselves do that motion and make the connection.
Sue also taught me what has become the go-to opening sequence for our classroom. It's a series of two or three short songs that integrate body movement, beat, and tone. This new practice has had a huge effect on my students, but it had an enormous impact on one student in particular.
See a sample arts-integrated lesson plan created by Morgan and Sue here!
Brittany was new to our school this year. She had never had a school experience, and she was very quiet and kept to herself. Sue came in and introduced the song and movement sequence to the students, and she asked them to mirror her actions. When Sue told students to "Show me your hand," students were asked to mirror Sue by raising their hands like she had raised hers. Brittany took to that, and she was soon asking for the song specifically by using sign language, which she had no exposure to before. Brittany was communicating and expressing her desire for the song; she was actively participating and engaging with her eyes. Had Sue not introduced this activity, Brittany may not have engaged with the group for quite some time. She has really benefited from the social lessons Sue brought to our classroom during this program.
My hope is that this experience and opportunity is available to as many teachers as possible, regardless of their academic area, because it has helped my classroom beyond words. I'm not only a personal advocate for the arts but an advocate for the arts in special needs programs.
We, as teachers, are here for the students, and whatever can benefit the students is what's most important. My kids are changing in front of my eyes because of what I've learned through this residency program. Because I gave it a chance and put in a little extra planning time, I have arts-integrated activities that keep my students engaged and entertained while they are learning.
To other teachers: Give it a try and you won't regret it.