Teaching a subject through a new art form feels less daunting after not only seeing a successful idea modeled in a classroom setting, but actually participating in the learning as a student. At Community Arts: Connecting Neighborhoods and Classrooms, the 13th Annual Arts Integration Conference at UMBC, academic teachers were given the opportunity to see and do in a number of classrooms on campus.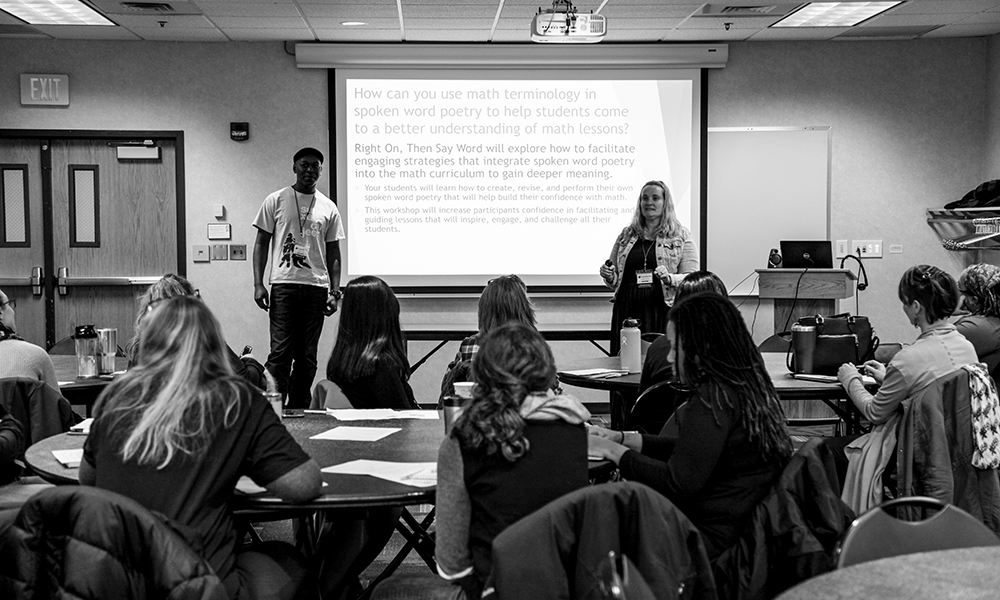 Workshop participants learned, for example, the art storytelling with Laura Wexler of  The Stoop Storytelling Series, how to connect ELA and STEAM with designing and building kinetic sculptures with FutureMakers, and ways to integrate theatre standards with language arts standards.
Participants in one class learned how to teach mathematics through wring poetry. Teachers of grade levels ranging from Pre-K through adult learners convened to learn from North County High School (NCHS) Algebra teacher Ashley Russell and Young Audiences roster artist and spoken word poet Femi the Drifish. Their workshop Right On, Then Say Word: Poetic Mathematics was developed through a lesson they have been successfully co-teaching since the 2017-18 school year.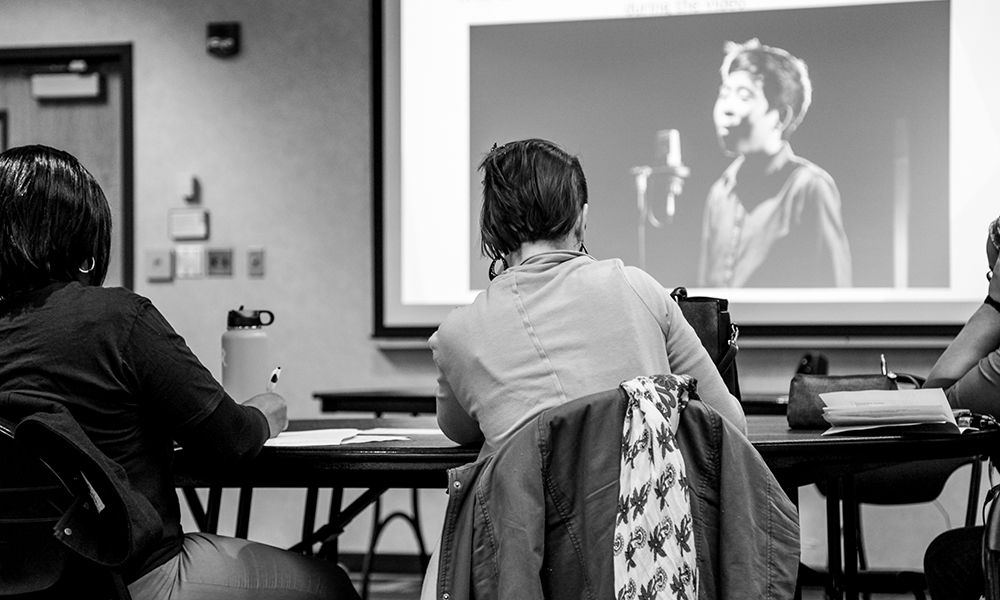 The pair shared their collective experience working with students and showed examples of student work and performances. Femi (his students address him as Mr. Fish) gave the teachers a small taste of his signature style and shared other arts-integrated lessons he's taught over the years, encouraging them to think about the intersection of language and math in word problems and popular mnemonic devices like PEMDAS (Please Excuse My Dear Aunt Sally).
At the end of the hour, the teachers had not only enjoyed their time, they learned to create, revise, and perform their own spoken word poetry using mathematical terms. They felt confident that they could use poetry to teach material in their own classrooms. And their students will most certainly enjoy the challenge, pride, creative thinking, and accomplishment that comes from learning through this art form.
You can read more about their partnership in the classroom and how students learn Algebra through the practice of writing and performing slam poetry here.
In 2017, North County High School Math Department Chair Amy Goodman began working to bring arts integration to all of the school's 9th grade Algebra 1 classes. Thanks to the Arts Empowered Minds Initiative, these students have studied with a variety of professional teaching artists. In addition to Femi the DriFish, Algebra 1 students have worked with TAHIRA, Skher Brown, and Kevin Martin. Since beginning this effort, the school's Algebra I PARCC scores have shown double-digit gains (not to mention, students nurtured their creative sides exploring storytelling, learning to play steel drums, expressing themselves through poetry, and practicing the art of Capoeira Angola).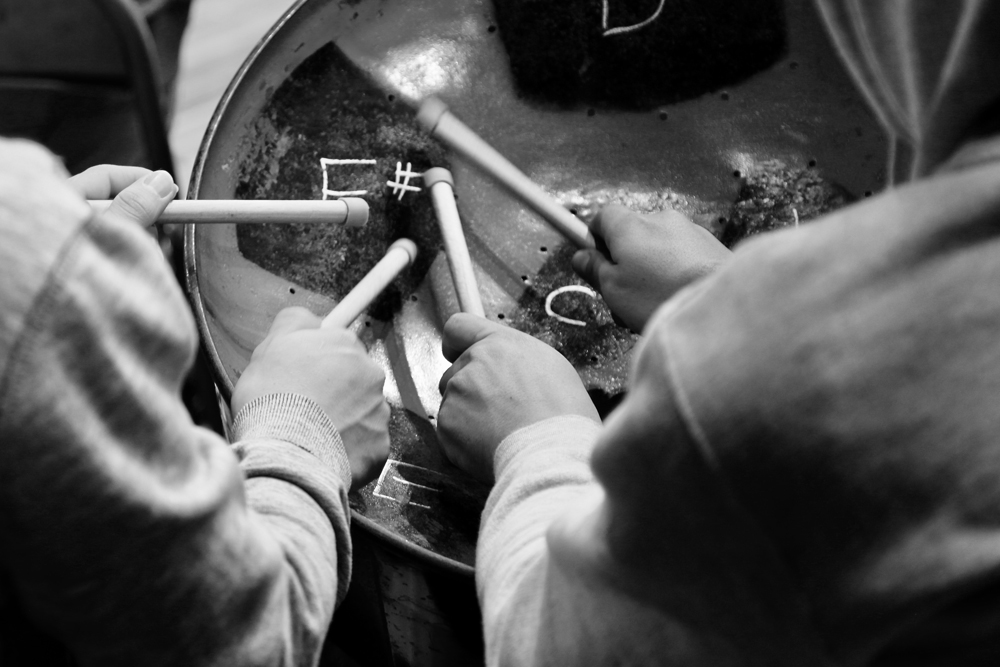 "Will I ever use this in real life?" A teacher could rattle off the professional fields that a mathematician could enter after pursuing a degree when students challenge, "Why do we have to learn this?" Or, they could show them what they can do now with the skills they are practicing. The arts are good for that, and YA roster artist Kevin Martin is an expert at teaching students how to employ their new mathematical knowledge in a very cool and tangible, real-world way.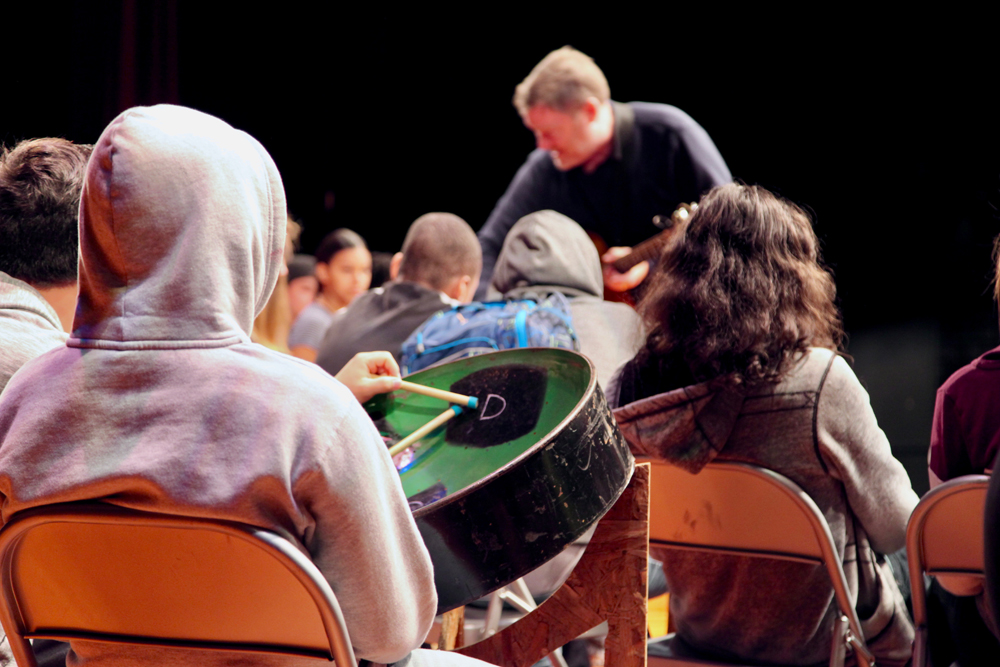 Kevin has been building and playing steel drums, also called steel pans, for more than 20 years. Through his company Rockcreek Steel Drums, the artist has built thousands of steel drum instruments for clients across the world, and now, he is sharing this knowledge through a residency with students at North County High School (NCHS) in Anne Arundel County. "A steel pan is really a musical sculpture," says Kevin. These sculptures are tuned instruments that have been methodically hammered into a very specific shape and thickness from the flat base of a steel barrel.
This residency came to NCHS thanks to professional development for teachers in arts integration as part of The Arts Empowered Minds Initiative. Through the initiative, schools are learning to use arts integration as a strategy for boosting student achievement and engagement. Classroom teachers and school administrators are building sustainable partnerships with teaching artists and arts organizations that inspire students and use the creative process to make meaningful, real-world connections to the curriculum.
Kevin worked with 9th grade algebra teacher Sarah Dobry to teach students how steel drum design and fabrication requires the same mathematical concepts explained in their textbooks.
Using careful measurements and the same tools and algebraic formulas that Kevin uses in his shop, the students learn to graph a drum's rate of change to see how the sides of the pan slope inwards at different rates. Because they're not just learning, but applying the strategies and formulas they've learned, students appreciate the instrument's transformation from flat to concave and the depth and location of each depression.
Of course, the class also learned to play the instruments. Pairs of students learned where to hit specific notes on the pan and how to control their drumsticks to achieve different effects, rolling them over a note to extend a sound, or striking it purposefully.
As the students gained confidence, they took turns demonstrating their ability. Ms. Dobry was impressed by her class' excitement and eagerness to participate, "The kids who are usually silent in math have been volunteering to be the example this week."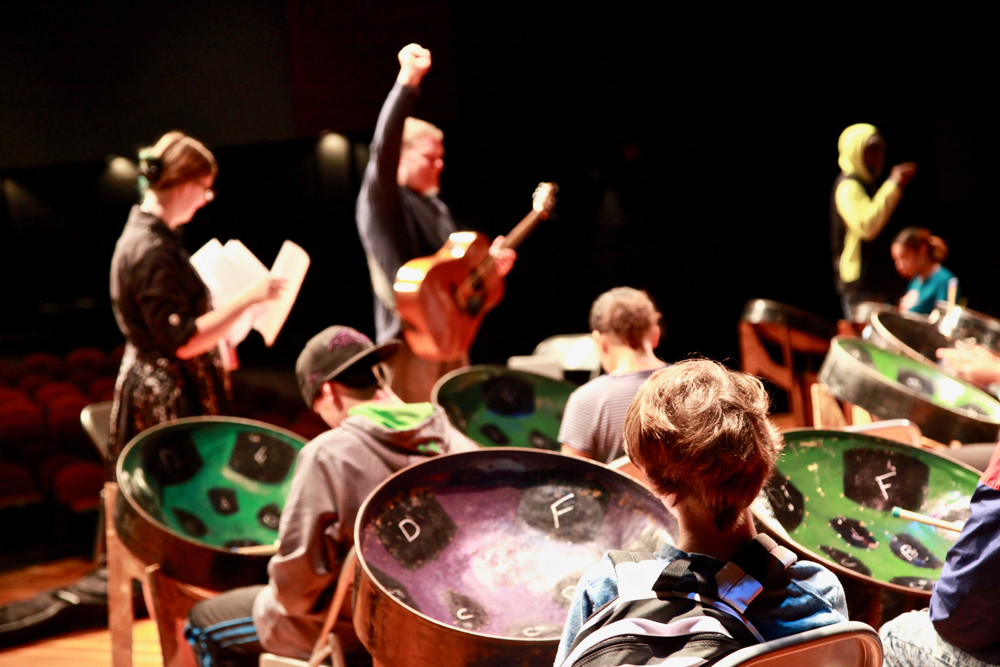 "As a math guy, I enjoy the challenge of learning the notes and shaping the metal," Kevin told Trumpf Express, a professional magazine published for the sheet metal processing trade. "As a musician, I try to recreate the essence of sound." The artist gave Ms. Dobry's ninth graders an introduction to what's possible when you combine an academic skill with the art form you love. And perhaps some of them even discovered a new talent.
The Arts Empowered Minds Initiative is the combined effort of many groups and individuals seeking to build a movement for increased equity through the arts in their community. With funding from the NEA in 2016, we built partnerships with Anne Arundel County Public Schools (AACPS), Chesapeake Arts Center (CAC), Arts Education in Maryland Schools Alliance (AEMS), Arts Council of Anne Arundel County, and University of Maryland – Baltimore County (UMBC).
The Arts Empowered Minds Initiative (AEMI) is aimed at ensuring equitable access to the arts for Northern Anne Arundel County Public Schools through in-school arts integration, out-of-school arts programming, and professional development for teachers. Now in its second year, the initiative has been expanded to include all twelve schools in the region thanks to generous funding from the National Endowment for the Arts!

Notable among the additional schools is the North County High School (NCHS). All students in every other school impacted by AEMI are zoned to complete their secondary education at this high school. North County High School's new designation as an AEMI school will enable local students to continue their learning through arts integration throughout their school years. This creates a unique opportunity for the school to serve as a beacon for arts engagement, not just for high school students, but for the whole Northern Anne Arundel County community.
NCHS is already home to a variety of performing band and orchestra ensembles, and offers students the opportunity to become involved in a number of in-school and after-school arts activities. "The medium of music is a fantastic way to teach some wonderful life lessons as part of the comprehensive program at North County," wrote NCHS Music Director Theresa Bange on the school's extensive music program's webpage. The school climate encourages a culture of respect for the arts in its many forms. NCHS has also shown a commitment to innovation, offering special programs including the STEM (science, technology, engineering, mathematics) Magnet Program, the IT3 (International Trade, Transportation, and Tourism) Program, and the Early College Access program.
This year, the high school will participate in several arts-integrated opportunities where artists will professionally deliver instruction through the arts. Math Department chair Amy Goodman is leading the charge of integrating the arts at North County High. She is currently coordinating a residency developed by YA artist and spoken word poet Femi the DriFish in collaboration with the school's Algebra 1 team as well as collaborating with theatre artist, storyteller, and YA roster artist TAHIRA to develop a residency through the Teaching Artist Institute (TAI). Also through TAI, 9th grade algebra teacher Sarah Dobry is collaborating with steel drummer, Kevin Martin, integrating music with the curriculum!
"It's all about creating opportunities," said Mrs. Goodman. She recalled her experience working with teaching artist Carolyn Koerber in the previous school year. "There was one student who struggled all year, but finally felt success working with Carolyn. Bringing artists into the classroom is an amazing opportunity for not only our students, but for faculty as well."
We are looking forward to sharing the collaborative work of YA artists and educators in arts integration at North County High School over the next few months and for years to come.
The Arts Empowered Minds Initiative is the combined effort of many groups and individuals seeking to build a movement for increased equity through the arts in their community. With funding from the NEA in 2016, we built partnerships with Anne Arundel County Public Schools (AACPS), Chesapeake Arts Center (CAC), Arts Education in Maryland Schools Alliance (AEMS), Arts Council of Anne Arundel County, and University of Maryland – Baltimore County (UMBC).
Categorized:

News

Tagged:

AEMI, Algebra, Anne Arundel County, Anne Arundel County Public Schools, arts, Arts Empowered Minds, arts integration, drumming, Femi the Drifish, high school students, Kevin Martin, Math, Music, North Arundel High School, performance, poetry, residency, spoken word poetry, steel drums, STEM, TAHIRA, theatre, trigonometry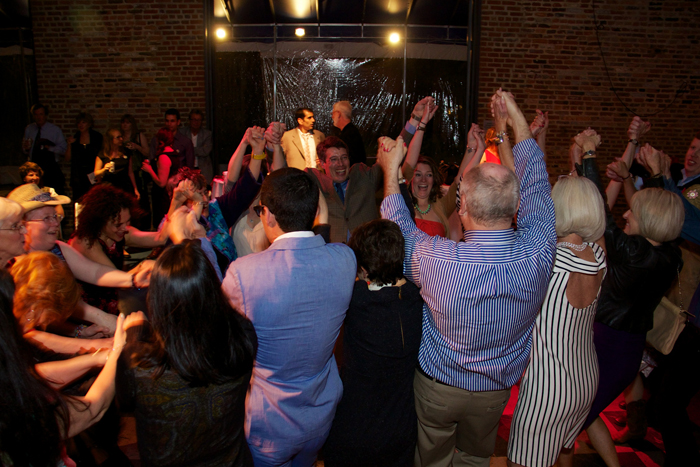 Taste the Arts X:
An evening of performance and culinary art!
Friday, May 6 at the Hippodrome Theatre in Baltimore
The lineup for our 10th annual Taste the Arts Fundraising Gala is set! We've put together another fantastic evening featuring award-winning artists and top culinary talent in Baltimore.
The best part? When you buy your ticket, you support Young Audiences' programs and mission to bring high quality, low-cost arts experiences to Maryland schoolchildren! Last year we delivered arts experiences to 183,153 students in Maryland. With your ticket purchase, we can keep it up – and do even more.
At Taste the Arts, we'll transform all three levels of The Hippodrome Theatre into a celebration of the arts through live performances and interactive arts experiences, with food and drink served on all three floors. Here's a taste of what to expect:
Taste delicacies from 25 restaurants:
Absolutely Perfect Catering
Alma Cocina Latina
Argosy Café
Baltimore Waffle Company
Blackwater Distilling
Blue Pit BBQ
Brio Tuscan Grille
Charm City Cakes
Charmington's
Chiapparelli's
Clavel
Gertrude's
Golden West Café
Heavy Seas Alehouse
La Cuchara
Maggie's Farm
Mother's
Teavolve
The Charmery
The Food Market
The Hipp Cafe
The Local Oyster
The Oceanaire
The Scratch Mill Kitchen
Tio Pepe
Wine from Noble Vintners
Beer from Union Craft Brewing
On the menu from Clavel is Cochinita Pibil, a traditional Mexican slow-roasted pork dish, with a side of Hex Ferments special slaw. The tapas-inspired menu from La Cuchara features Charred Broccoli Pintxo and Pickled Mushroom Pintxo. The Local Oyster will be shucking out sustainably farm-raised raw oysters. Maggie's Farm is serving chicken liver pate with fig jam on baguette and Heavy Seas Alehouse brings it home with Smoked Brisket Mac & Cheese. On the sweet side, Baltimore Waffle Co. will serve up Belgian Liege Waffles and Gertrude's presents a twist on a Baltimore classic with its Berger Cookie Cheesecake. Local winery, Noble Vintners, has graciously donated wine, and Union Craft will be on hand, offering their award-winning brews!
Don't miss 9 live performances and interactive art demonstrations, including: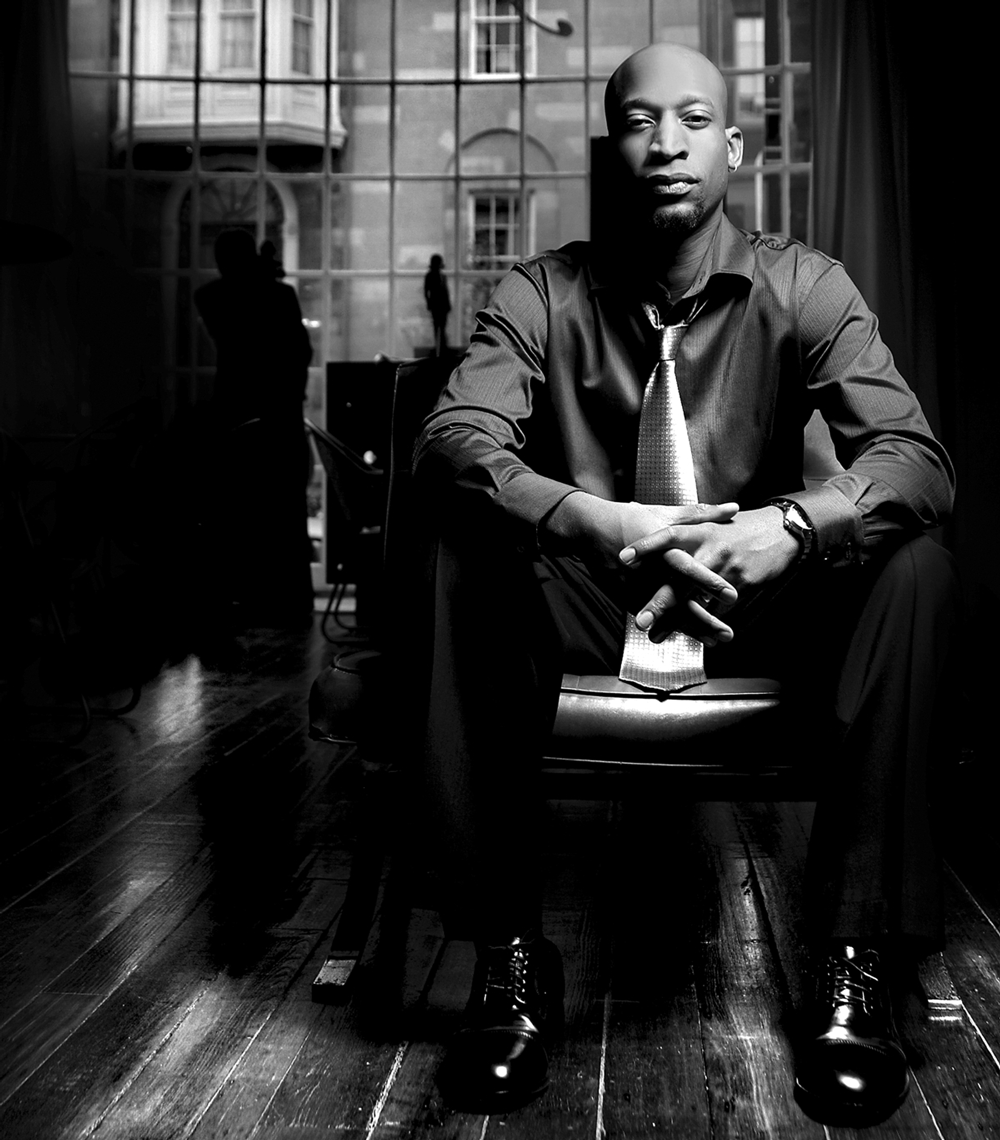 A collaborative music production composed and directed by Wendel Patrick, YA Artist and 2015 Baker Artist Award Winner, and performed by Peabody Institute musicians Jahi Alexander, Blair Skinner, Louna Dekker-Vargas, and Yoshi Horiguchi and YA artists Max Bent, Wendel Patrick, and Jamaal Collier—2016 Artist of the Year.
I don't want to give away TOO much. But at Taste the Arts, I'll be working with an arrangement from one of my favorite hip hop producers." —Wendel Patrick, 2015 Baker Artist Award Winner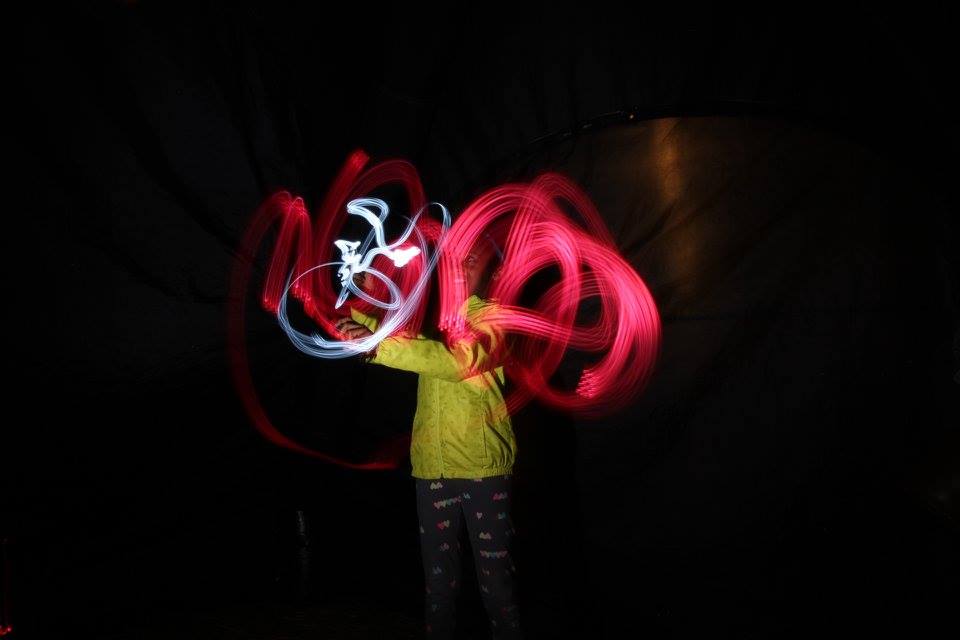 Interactive "light painting" with maker-educators FutureMakers (fresh from Light City!)
Get ready for light painting with LED brushes at Taste the Arts! You'll even be able to email your creation home!" —Matt Barinholtz, FutureMakers

Indian classical dance performance by NRITYA
I have had the opportunity to be a performer at several Taste the Arts over the years, and I am excited to be a part of the 10th Taste the Arts gala," she said. "When my students perform with me at the gala, it is a wonderful experience for them as they get to showcase their talent and culture through their performance to the guests. It is almost as if they are cultural ambassadors." —Lakshmi Swaminathan, NRITYA, as quoted in the article "Tasty fundraiser hits the Hippodrome" on Avenue News.com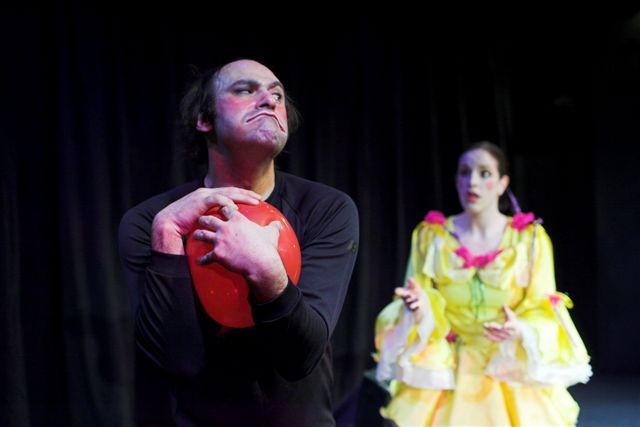 Pantomime theatre from DC's award-winning Synetic Theater
The Magic Balloon is a series of hilarious sketches synthesizing music, ballet, clowning, and audience participation. At Taste the Arts, you'll discover the art of acting without words and open the door to your imagination. 'Balloon' tells a wonderful story of a traveling actor and his magical trunk of tricks and toys." —Tori Bertocci, Synetic Theater
Plus:
Acoustic roots and blues music by Curtis Blues
Screen painting with John Iampieri
Performances by Thomas Jefferson Elementary/Middle School's String Ensemble and Kindergarten ballet dancers
Kevin Martin of Rockcreek Steel Drums performing with students from the Holistic Life Afterschool Program at Robert W. Coleman Elementary School
Taste the Arts also includes a live and silent auction with one-of-a-kind items and experiences and an awards ceremony honoring Maryland's arts-in-education leaders, including 2016 Artist of the Year Jamaal Collier, who has more than a decade of professional experience facilitating Hip Hop workshops and live performances across the state.
"I'm thankful to have an effect on kids' lives and for the effect they have on me. Every human has talent. YA helped me to build skill within that talent. I have become a better artist because of YA." —Jamaal Collier, 2016 Artist of the Year
Tickets are only $100 and ensure high-quality art experiences for Maryland schoolchildren. We're expecting hundreds of artists, educators, and arts supporters in attendance and hope to raise $150,000. Get your tickets now!
—
Can't make it to Taste the Arts?
You can still be part of our fundraising efforts by bidding on some fantastic items in our online auction—happening now through Thursday, May 5. There are still a bunch of great items available with low or no bids, and several new items were just added this week!
Categorized:

News

Tagged:

Baltimore City, Curtis Blues, dance, FutureMakers, Hip Hop, Jamaal Collier, John Iampieri, Kevin Gift, Kevin Martin, Max Bent, Music, NRITYA, Peabody Institute, percussion, Rockcreek Steel Drums, steel drum, Synetic Theater, Taste the Arts, theatre, Thomas Jefferson Elementary Middle, visual art, Wendel Patrick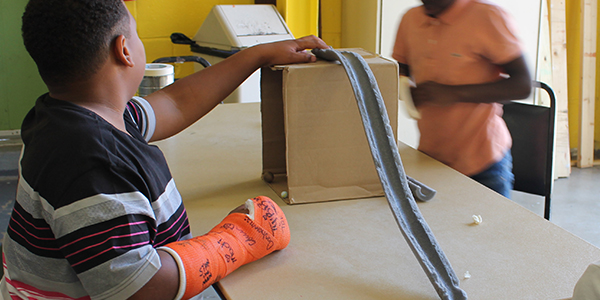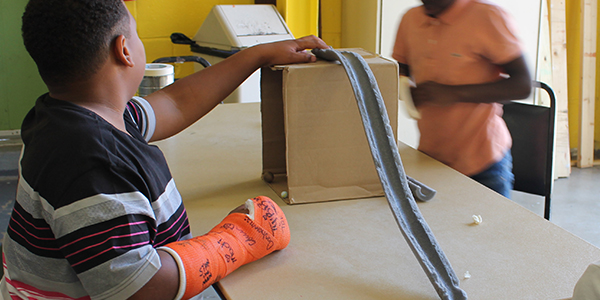 During the past few weeks, nearly 150 middle school students have dived into math and science concepts through the arts at the Young Audiences and Baltimore City Public Schools 22nd Century Pioneers Arts-Based Summer Camp. Students have learned how ratios are used in photography and how the physics of sound affect each note played on a steel drum. Through these art forms, and many more, students have been engaged in learning this summer so that they are prepared to hit the ground running this school year.
While most of the learning goes on inside the school, students have also had the opportunity to take their knowledge beyond the classroom walls on field trips. These excursions allow students to continue their hands-on learning in a new atmosphere, applying the skills and knowledge they've acquired throughout the summer.
The first trip was a visit to the Baltimore Museum of Industry, where students learned the ins and outs of technology and put their own engineering skills to the test. In one activity, students worked together in small groups to create a track that would carry a wooden ball and drop it into a can. This required them to go through the five steps of solving an engineering problem: plan, get materials, build, test, fix, and re-rest. Students were forced to adjust and readjust their designs before finally reaching their goal, usually resulting in loud cheers.
Students received another challenge: creating an artistic interpretation of the word industry. Groups joined together, combining their knowledge and creativity to come up with dances, skits, and songs that showed what they had learned that day.
See more photos from summer learning!
The following week, students traveled to Baltimore's Artscape, America's largest free arts festival organized by the Baltimore Office of Promotion and the Arts. Surrounded by artists of all disciplines, the students put on a show of their own at the Station North Stage, showcasing what they've been working on during their arts enrichment classes. The show opened with a lively Hip Hop dance performance from Jamaal Collier and Alicia Shaw's Hip Hop class. After the performance, one student explained the four pillars of Hip Hop, the most important one being knowledge. Next, Valerie Branch and Heather Tuttle's dance class got the crowd cheering with a dance set to Ariana Grande and Iggy Azelea's "Problem." Kevin Martin and Kevin Older's students also got to show off their steel drum skills.
Even those who didn't perform on stage took part in their own form of art-making. Throughout the day, Christina Delgado's photography students captured Artscape from behind the lens, while Danyett Tucker's illustration students filled up their sketchbooks with drawings of everything from festival attendees to graffiti on buildings.
Bridget Cavaiola's improv class performed an exercise called "Improv Everywhere." All over the festival, they held compliment battles, gave flowers to strangers, and posed as wax statues, making them the target of many curious stares and even a few pictures. See this group in action in the video below!
[youtube http://youtu.be/hg-sdwpGYQg]
Read more about the arts-integrated learning happening at the Young Audiences 22nd Century Pioneers Arts-Based Summer Camp site and see photos here.
Categorized:

News

Tagged:

22nd Century Pioneers Summer Camp, arts integration, Artscape, Baltimore City, Baltimore City Public Schools, Baltimore Improv Group, Baltimore Museum of Industry, Bridget Cavaiola, Christina Delgado, creative learning, Danyett Tucker, field trip, Jamaal Collier, Kevin Martin, Math, middle school students, science, summer learning, summer learning loss, Valerie Branch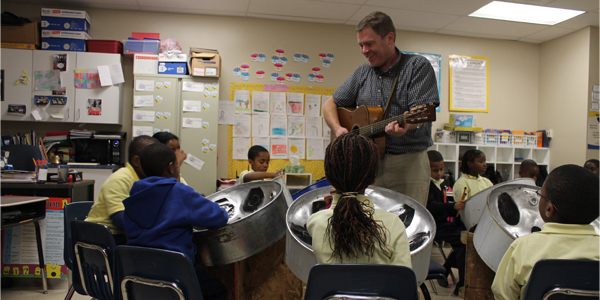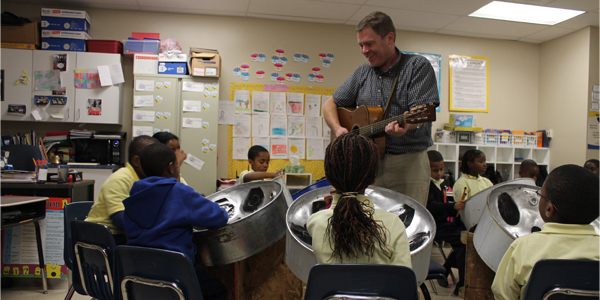 By Lindsay McLaughlin, Alternative Therapies Coordinator, The Pathways Schools
The Pathways Schools held its third annual Student Art Show on April 30. The event is a showcase for student creativity and artistic expression and is an opportunity to recognize standout partners, such as family members, Pathways staff and board members, businesses and agencies who employ or provide internships for our students, teaching artists who carry out residencies at our schools, and many others. This year's Community Partner of the Year was Young Audiences teaching artist and musician Kevin Martin of Rockcreek Steel Drums for his dedication to bringing steel drum music and the vitality of Caribbean culture and history to our students.
During his residencies with students, Kevin teaches the basics of the steel drum, melody, rhythm, and so much more. Our students learned about another culture and saw a different way of seeing the world and themselves. Kevin has an ability to connect with students through music. That ability, along with his patience and consistent encouraging attitude, has made Kevin a sought-after teaching artist here at Pathways.
A couple years ago, our Pathways teachers and therapists were looking for ways to bring music into our schools so I asked Young Audiences staff to recommend a musician who could connect with our students. Thus Kevin came to us. He has completed no fewer than five residencies at Pathways in four of our six schools during the past two years. Next year, he is scheduled for a residency at a fifth school.
We are very grateful for Kevin, his commitment and talent, and also for organizations like Young Audiences that advocate for and make it possible for artists to come into our schools, work with our teachers and staff, and enhance the education and indeed the lives of our students and staff.
There's a bigger picture here as well. As Pathways educators, we know that the best learning often doesn't take place behind a desk. Our students thrive in a variety of learning environments, including museums and libraries, to job sites, such as ships sailing the Potomac tributaries and production studios at local television stations. Similarly, they learn best using a variety of means, like while playing a steel drum or molding a mosaic tile. This is because as human beings we need many avenues to take in the world and to release the prodigious power of our imaginations. This is what art does for us. It is an accessible way for us to connect our minds to the world that surrounds us. It gives us a way to communicate who we are–our ideas, thoughts, new understandings, and what we perceive
This is why it is critically important that we keep the arts vibrant in our schools for our students. How much better it is to experience the vitality of Caribbean culture through a steel drum compared to a textbook. How much better it is to feel the edges of a mosaic piece and use it to create an image with personal significance than look at a geometry chart or the dictionary entry for "symbol." Art is how information becomes tangible and how knowledge becomes understanding. This is the sort of transformation that artists who come to work with our students facilitate every day. In turn, they are supported by dedicated arts educators and advocates who ensure that they are able to do what they do, particularly local and state arts councils and nonprofit organizations like Young Audiences.
Art–human expression in all its forms–should never be on the margins, whether we are talking about our communities or our schools. Thanks to the efforts of artists like Kevin and organizations like Young Audiences, it isn't. Congratulations to the Pathways Community Partner of the Year Kevin Martin.
Learn more about Kevin and his program offering for schools.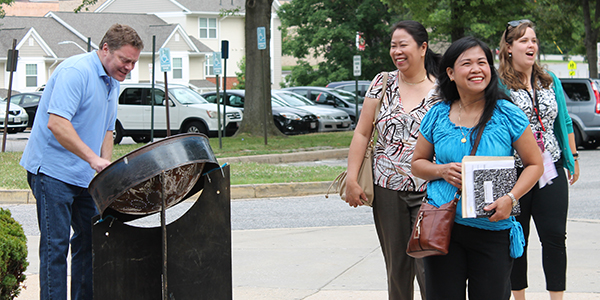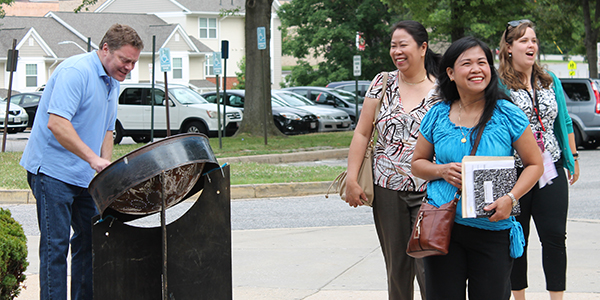 The school year may have ended, but for Young Audiences, that doesn't mean the fun, arts-integrated learning stops. Young Audiences has again partnered with Baltimore City Public Schools to bring arts enrichment activities to seven Baltimore City 22nd Century Pioneers Arts-Based Summer Camp sites. In addition, for the first time Young Audiences is also managing an eighth completely arts-integrated camp site at Edmondson Westside High School. The 22nd Century Pioneers Summer Camp is free to Baltimore City Public Schools middle school students.
At the Young Audiences camp, nearly 150 students will explore math and science concepts through the arts in classes and arts enrichment activities led by Baltimore City teachers and Young Audiences artists during the five-week program. Students can select the art form they will focus on during enrichment sessions, with choices including dance, photography, illustration and mural painting, theatre, Hip Hop, steel drum, or VEX robotics.
Because this is the first-ever Young Audiences arts-based summer learning site, we thought it deserved an equally spectacular kick-off event. As students arrived, what better way to greet them than with the arts?
On Monday, June 30, as students walked up to the school for the opening day of camp, the first thing that hit their ears was the sound of a steel drum being played by Young Audiences roster artist Kevin Martin of Rockcreek Steel Drums. Kevin has been building and playing steel drums for more than 20 years; this summer, he will show students how the instrument connects to math.
See more photos from the Young Audiences arts-integrated summer learning site!
On the way into the building, students passed the dancing Valerie Branch, a new Young Audiences artist whose energetic moves caused many to stop and watch. Valerie will get students moving while studying science this summer. Those walking in also got to witness the Hip Hop talents of musician Jamaal "Mr. Root" Collier, who will use his skills to bring math to life. Bridget Cavaiola of Baltimore Improv Group used improvisational theatre techniques to direct students inside the building. With her help, students will learn how theatre can make abstract science concepts concrete.
The excitement wasn't just at the front of the school. Once inside, students had the opportunity to take part in photographer Christina Delgado's photo booth, dressing themselves in hats and glasses before striking poses. Students will have the chance to go behind the lens with Christina to learn the art of photography and its connections to math. Visual artist Danyett Tucker will link illustration to science. As students looked on, she created a colorful mural with images of various art forms incorporated into the design, from music notes to microphones to Polaroid pictures. Students were invited to create murals of their own, as each table was decked with markers and a giant sheet of paper.
All children, regardless of their resources or where they live, lose some math skills during the summer. Studies show that economically-disadvantaged students also lose literacy skills during this "summer learning slide." Experts believe that the achievement gap between middle- and low-income students not only grows during the summer—it exists largely because of the summer.
Programs like 22nd Century Pioneers provide students with a safe place to go during the day, access to free healthy meals, adequate adult supervision, and positive, educational activities. This summer Young Audiences artists will connect students with new experiences through the arts as they learn about math and science in a new way and build their self-confidence as they gain knowledge and skills.
Check back in with the Young Audiences blog throughout July as we look at how these artist and teacher pairs are using arts integration in their classrooms.
Happy summer and happy learning!
Categorized:

News

Tagged:

22nd Century Pioneers Summer Camp, achievement gap, arts integration, Baltimore City Public Schools, Baltimore Improv Group, Christina Delgado, dance, Danyett Tucker, Edmondson Westside High School, Hip Hop, illustration and mural painting, Jamaal Collier, Kevin Martin, photography, Rockcreek Steel Drums, steel drum, summer learning, summer learning loss, summer learning slide, theatre, Valerie Branch
Young Audiences' artist roster includes professional teaching artists who are both highly skilled in their art form and passionate about engaging students in learning through their art. Our artists are experts at highlighting the natural connections between their art and the curriculum, including everything from world history to math to literature. Every Young Audiences program both shares skills specific to dance, music, theatre, or visual arts and offers students the opportunity to learn about other curricular subjects in a new way.
For Young Audiences artist Kevin Martin, art links directly to science. Kevin is an artist who specializes in building and playing the steel drum, an instrument that requires a vast amount of scientific knowledge in its production. Kevin was recently interviewed in Trumpf Express, a magazine dedicated to sheet metal processing, for his scientific expertise. In the article, Kevin points to studying the carbon content and thickness of the metal as well as balancing strength and flexibility as some of the essential aspects of creating a drum.
Kevin brings steel drum music into schools through assembly performances and hands-on workshops with students and educators. During residency programs like the Steel Drum Experience and professional development programs for educators, such as Steel Drums in the Classroom and The Physics of Steel Drums, Kevin brings dozens of steel drums into the classroom so students and teachers can try their hand at playing the instrument and experience how physics concepts play a role in the sound of the drum. As Trumpf Express notes, "last year, he visited 100 schools with up to 100 students at a time, and thanks [Young Audiences], Kevin is able to provide many with drums of their own."
Though Kevin is accomplished in both the science side of production and the artistic side of playing, when asked what he loves to do most, Kevin responded, "I love all of it."
Read the full article by clicking on the image below.
Watch Kevin speak about his passion for steel drums at TEDxChesterRiver here.
By Kevin Martin, Steel drum musician
Young Audiences artists and teacher partners have written case studies documenting their work in schools and their exploration of one essential question. Each study provides a snapshot of how the artist or teacher works with students to integrate the arts into the curriculum and provide opportunities for students to imagine, create, and realize their full potential through the arts.
Project or Program Summary
For the Harford County Public Schools Title I STEAM Institute in July 2012, four Young Audiences artists were brought together to work with a group of Harford County teachers to help them develop their arts integration skills.
I taught a two-session program called "The Physics of Steel Drums." Each session combined a steel drum rehearsal and a science lesson. I worked with the group to show how learning the steel drums could be combined with understanding the science behind the drums, working through basic wave theory. The program ended with a group performance of two songs on the steel drums and with small group demonstrations of wave theory using arts integration.
Purpose and Rational
As part of a year-long program to bring arts integration learning to all five Harford County Title I schools, this program showed teachers how to bring music into their classrooms by helping them begin to see themselves as musicians. By empowering the teachers with the ability to play and the confidence to perform music while learning science curriculum objectives, we can help empower them to bring that same experience to their students.
In order to develop their ability to use arts integration in their teaching, it's important for teachers to develop the confidence to take on arts projects that are new to them. The question that was explored with each group of teachers was: "Are you a musician?"
Surveys were taken at the beginning and end of this program to measure the change in how teachers felt about performing music and whether they can view themselves as musicians, even if this was their first musical instrument experience.
Analysis and Outcomes
What are your overall conclusions regarding the documentation gathered for this case study?
This program was successful in its goal of empowering teachers to have the confidence to use music performance in their classroom teaching. Specifically, this project helped to change their view of themselves as musicians and decrease their anxiety of performing in front of others as well as taking on other art projects in which they have no background.
What conclusions have you drawn from the responses to the assessment tools you have developed?
Teachers work hard to become experts in the field of study that they teach. It is part of "what they stand on" when they teach. One of the barriers to bringing arts-integrated STEAM (Science, Technology, Engineering, Arts, and Mathematics) lessons to the classroom without the aid of a teaching artist is that teachers can be uncomfortable teaching something in which they are not an expert. Many described it as feeling vulnerable.
By learning to play songs on the steel drum while learning core curriculum science objectives, the teachers agreed at the end of the program that it would be fun to try to incorporate other art forms like painting, acting, and dancing without having to be excellent at the art form themselves.
Back to the initial inquiry question, can it be answered?
Yes. When looking at the question "Am I a musician?" we started by listing what it would take for each teacher to answer "yes":
Be able to play songs well enough to perform.
Have the confidence to play those songs for other people.
Express oneself through music.
Each teacher, by successfully completing the program and through feedback given on a conclusion survey, achieved all three goals.
Summary and Conclusions
What was learned?
Teaching using arts integration is a great way to bring core subject material to life in the classroom and reach all types of learners. For classroom teachers to write and teach arts-integrated lessons, it is essential that they have the confidence and ability to take on projects that will require them to learn an art form with their class or even to be guided in art forms by their students who have specific art skills. By teaching teachers to play music and to see themselves as musicians we can achieve this.
What can be done differently in the future?
In the future, this program can be taken one step further by working with teachers with the instruments that they can get their hands on at their school to use in their classroom. During this program teachers learned how to play the steel drums and this is not an easy instrument to get a hold of for classroom work.
To help address this issue, Young Audiences has prepared a box of musical instruments that each of the five Harford County Title I schools can have access to for arts-integrated lessons.
I also would like to build into the program a final section where teachers can create a musical demonstration or activity for a subject of their choice.
How will this inform the work moving forward?
In February 2013, I worked with four of the five Harford County Title I schools whose teachers were trained at this program. I was able to work one-on-one and in small groups with teachers to help them start writing their own arts-integrated lesson plans using these instruments as well as those that the classes can make themselves.
Curriculum Connections
Music
Multidisciplinary Arts
Science Technology
STEAM
Learn more about Kevin and Rockcreek Steel Drums'  assembly, residency, and professional development programs.
Read other case studies written by Young Audiences teaching artists and teacher partners. 
By Jennifer Brumbalow, Imagine Discovery Public Charter School music teacher
In my experience as the music teacher at Imagine Discovery Public Charter School, a Young Audiences artist-in-residence program is a once-in-a-lifetime experience for teachers, the school community, and students. The in-depth program, which includes a series of sessions with a Young Audiences professional teaching artist, benefits students in ways you cannot imagine, including building self-esteem, developing critical thinking skills, and instilling a love for new cultures and art forms. It makes your school's existing music or arts program stronger as your students take ownership of their own education.
Imagine Discovery was awarded a Maryland State Arts Council (MSAC) Arts in Education Artist-in-Residence grant thanks to the grant writing assistance and expertise provided by Young Audiences in November 2012. The grant helped us fund a steel drum residency with Young Audiences artist and steel drum musician Kevin Martin. To kick off the program, Kevin performed an inspiring assembly to teach all students about Calypso music.
Our goals for this residency were to educate students about a new culture and expose them to a new type of instrument not traditionally used in our school. We hoped students would develop an awareness and appreciation for the steel drum and a desire to play and listen to Calypso music.To prepare for Kevin's residency, our students studied the history and evolution of the steel drum since its invention in Trinidad.
During the course of several weeks, third-grade students worked with myself and Kevin during five sessions. Kevin helped students learn to play six Calypso songs on the steel drum. Kevin also taught students about the various types of steel drums—which he makes himself—as well as other indigenous instruments of Trinidad. Kevin covered the history of Calypso music which traces back to the traditional "talking drums" of Africa.

Some of the most rewarding and exciting skills that the students gained during this residency were how to improvise to music and take pride in their work as they practiced—which took both hard work and patience. Pairs of students were assigned to each drum and learned to collaborate to prepare for the culminating performance of the residency.
As a conclusion to the residency, the third-grade students performed during a school assembly in November. Parents, staff, community members, and students were invited to attend this special performance. Some students overcame their stage fright and performance anxiety to experience the value of sharing a new-found skill with their parents, classmates, and community. It was amazing to see the deep personal connection that some of our students had to the music since they have parents or family members who are from, or live in, the Caribbean. This gave them a sense of pride in having their heritage represented in a positive and meaningful way.
As an arts teacher and the primary music teacher at Imagine Discovery, I feel that our parents and community showed an outpouring of support for the arts and this residency because of music's power to touch each person's life in a profound and personal way. Music and the arts can transcend all social, economic, and cultural barriers individuals may face.
A heartfelt thanks to the amazing third-grade teachers at Imagine Discovery who showed support and enthusiasm by encouraging their students during each step of the residency. They participated in all sessions and activities and provided critical help and feedback to myself and Kevin during classroom instruction. The continued support of the Imagine Discovery administrative team made this residency a greater success for teachers and students. Thank you to Imagine Discovery's PTA who matched funds with our Maryland State Arts Council grant to make sure this educational privilege could come to our school. Our students would not have been able to participate without the generous financial support of our PTA and its members.
Young Audiences can help your school apply for a MSAC grant to bring a program just like this to your school. Learn more about our grant funding opportunities here.