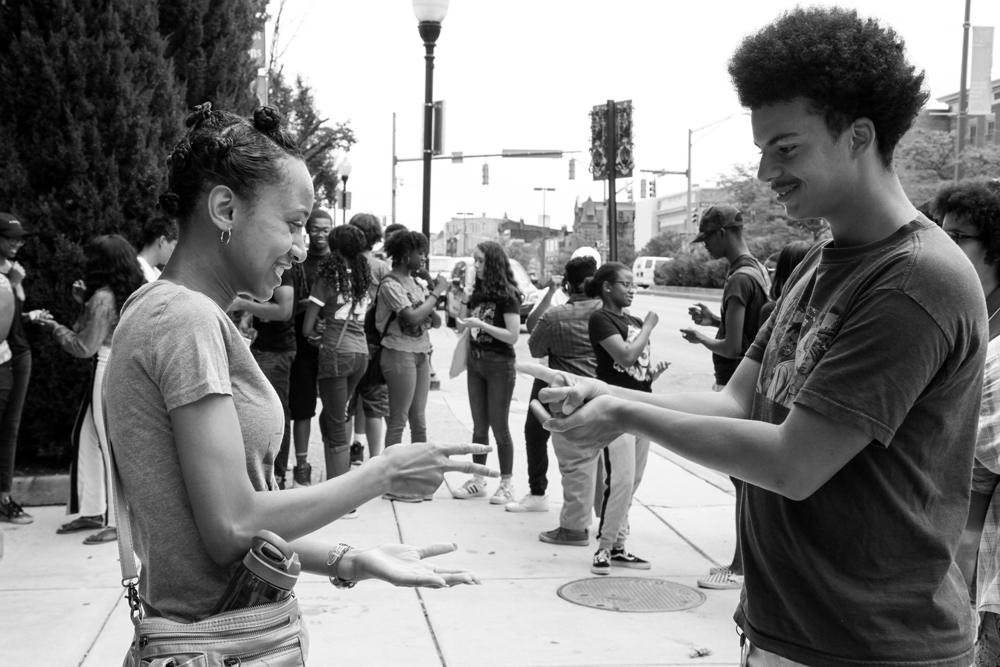 Written by Barbara Krebs,
Young Audiences volunteer and Sunburst Society member
Classes may be just about to wrap up, but for 33 Baltimore students who have accepted positions in the Bloomberg Arts Internship this summer, a different kind of learning experience is only beginning. Young Audiences, with funding from Bloomberg Philanthropies, established a now eight-week program three years ago to offer paid internships to rising high school seniors. Twenty local arts facilities and museums are currently providing jobs that offer a wide range of dance, music, art, theatre, cultural, and curatorial opportunities.
It's no great secret that internships are often viewed (and rightfully so) as stepping stones to higher education opportunities and greater career possibilities. Internships offer high school and college students crucial job skills and mentorship relationships that help them stand out in an often crowded job market. But paid internships can be few and far between.
The Bloomberg Arts Internship aims to make paid internships in the arts and culture field more inclusive and available to students who otherwise may not have the opportunity to network and build skills in that professional setting. 
An article–How Internships Are Changing the Art World–from Artsy.net has this to say about how intertwined the relationships and skill building are. "It's not only that your intern could be your successor, they might one day be your colleague," said Selene Preciado, program assistant for the Getty Marrow Undergraduate Internships in Los Angeles.
Indeed, they might! But these Bloomberg Arts internships go far beyond job training and networking, as important as these are. These students will gain familiarity and comfort with workplace etiquette, improve verbal and written communication skills, explore cultural assets in our city, develop critical life and work skills, and prepare to apply and transition into college. In addition, the program aims to encourage a more equitable and diverse range of staff and audiences among cultural institutions, while instilling in the students an understanding and appreciation of the important civic contributions of arts and culture.
That's a lot to learn in just eight weeks! And yet, these arts internships provide not just amazing arts education, the students also strengthen their:
computer capabilities (Center Stage – "how to use leading software for the industry")

 

research, interview, and publishing skills (Baltimore Office of Promotion & the Arts – "the student will research history, interview artists, and ultimately publish a youth-organized 'tour' of murals and sculptures")

proficiencies in following a project to completion (Maryland Film Festival – by curating and promoting short films, the student will "be involved in every aspect, from curation to marketing to execution.")

 
In short, skills to last a lifetime. In the Artsy article, Maxwell Anderson, president of the Souls Grown Deep Foundation in Atlanta said, "Museums desperately need talent in all sorts of positions–curators represent a fraction of the staff of museums. We'd be thrilled if an accountant emerges from [our program] and finds their way into the museum profession, but they're an accountant who has knowledge and experience in a particular cultural remit that otherwise they may not have."
In the short bios that the students provided, I noticed one recurring theme: learning. These are students who have a passion for learning, who will make the most of their internship, and who will carry what they learn with them into the future. I have no doubt that they will take this small stepping stone and use it to build a solid foundation in the years to come.
This summer, rising high school seniors in Baltimore City Public Schools will have the opportunity to work and learn in one of Maryland's stellar and well-respected arts and cultural organizations through the Bloomberg Arts Internship, a program designed to challenge and inspire students.
The 2019 Bloomberg Arts Internship worksites are:
Art with a Heart
Arts Education in Maryland Schools (AEMS) Alliance
Arts Every Day
Baltimore Clayworks
The Baltimore Museum of Art
The Baltimore Office of Promotion & the Arts
Baltimore Symphony Orchestra
Center Stage Associates, Inc. (Baltimore Center Stage)
Dance & Bmore
Evergreen Museum and Library
Everyman Theatre
Homewood Museum
Maryland Film Festival / SNF Parkway Theatre
Maryland Historical Society
Maryland Institute College of Art, Young People's Studios
Peabody Preparatory
Port Discovery Children's Museum
Reginald F. Lewis Museum
Single Carrot Theatre
The Walters Art Museum
Wide Angle Youth Media
Students will get paid, hands-on, meaningful experience learning about the many roles played behind the scenes at these organizations. They'll also complete a special project unique to their worksite placement!
Collin Snow Stokes, a 2018 intern at the Reginald F. Lewis Musem, interviewed and documented the thoughts and feelings of Lewis staff, visitors, and volunteers evoked by objects reflecting Jim Crow era stereotypes from their exhibition "Hateful Things."
Bella Smith, a 2018 intern at Evergreen Museum and Library, curated the exhibition "New Acquisition – Works by Aaron Sopher." She cataloged 34 of the artist's drawings, then transferred the catalogs to a digital file before selecting which works to exhibit, and matting, framing, and labeling the pieces for the show.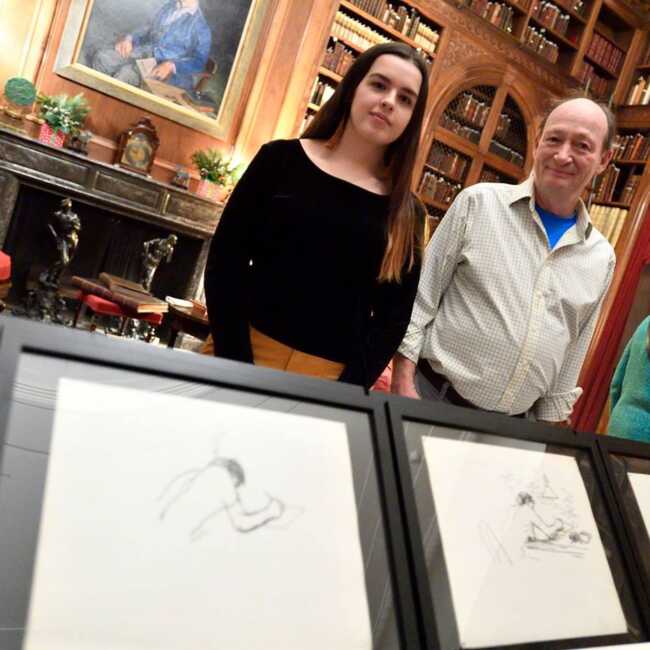 Internship projects vary among organizations to include production, education, development, community engagement, artist engagement, video, music, administration and more. At the end of the program, interns create final presentations highlighting their experiences, sharing with the community the new skills and interests that have developed over the course of their internships at each site.
In addition to gaining valuable work experience, Bloomberg Arts interns will be honing writing skills while preparing personal essays and receiving guidance in applying for colleges. They'll also have the chance to explore cultural institutions through field trips, and to see/hear/talk about works of art in various arts disciplines (visual art, music, theatre, dance, design, film/video, and technology).
The Bloomberg Arts Internship is managed by Young Audiences through the support of Bloomberg Philanthropies. There are only 35 spots available for rising seniors. Apply NOW!
Application Deadlines:
Early Bird: April 12, 2019
Final: May 6, 2019