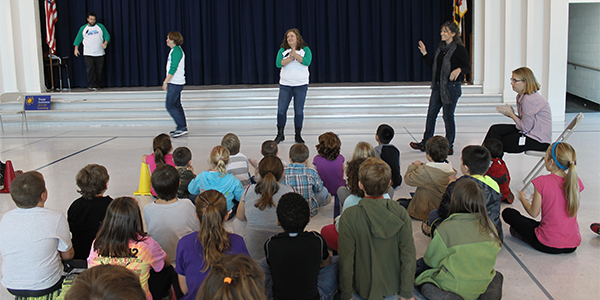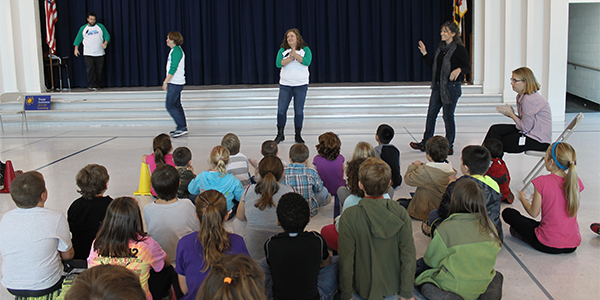 During the last two years, our roster has grown in size to encompass new artists, ensembles, and art forms. From slam poets to improvisers to Capoeira masters, these new artists are undeniably unique.
To introduce audiences to our new artists, we'll be posting interviews with those who recently joined our roster, giving them a chance to share more about themselves and their experiences with Young Audiences so far.
The Baltimore Improv Group is a talented ensemble that came aboard our roster in 2013, and their performances and residencies never fail to evoke laughter and learning. Read on to find out why they became a Young Audiences roster artist, what they learned through our Teaching Artist Institute, and why they believe improv works so well in the classroom.
What is your background as an artist?
​The Baltimore Improv Group is celebrating its 10th year as a theatre company in Baltimore. We started small but have grown close to 60 performers, and we perform 90+ shows a year, including our annual Baltimore Improv Festival. We also teach classes to adults, teens, and children. Our performers have studied and trained all across the country, and we continue to host the best improvisers in Baltimore. ​
How did you hear about Young Audiences?
​Our Education Director, Bridget Cavaiola, worked with Young Audiences for years in her position as the Residential Life Director for the Upper Chesapeake Summer Center for the Arts. The center would bring in Young Audiences artists to perform for its campers. She knew it would be a perfect fit for BIG and made the suggestion that we audition.
What made you decide to become a Young Audiences roster artist?
​Improv is such a natural fit with children. It encourages risk taking, creativity, and collaboration. We have hosted our own kids' shows and classes but knew this would be a perfect match for us. ​
Have you had any programs through Young Audiences yet? What was the most memorable part?
YES! We had more than 10 assemblies at schools this year and our first residency, too! We are looking forward to more in the coming school year. Some of our favorite memories are watching the students come up on stage and perform in front of their peers and receive that amazing confidence boost that comes from taking a risk within a supportive environment! We certainly have traveled Maryland quite extensively, and we will certainly remember the fun trek to Flintstone Elementary School in Allegany County!
You recently completed the Teaching Artist Institute Seminar this spring. What was your favorite part of the program? How has that experience changed your approach to a program or your teaching practices?
The Teaching Artist Institute is an amazing opportunity where artists, educators, and staff truly collaborate to help process, define, and designate the importance of art in the classroom. We loved the guided lessons, hands-on experience, and being around such amazing, talented individuals. We felt that this experience helped to shine a new light on our own experiences as a teaching artist.
What does your art form in particular teach students?
​Improv teaches a lot! Listening skills, taking risks, collaboration, the power of "yes," learning from failure and mistakes, and much more! ​
Why do you believe it is important for every student to have access to the arts?
​Art is the glue that solidifies education for so many kids. It allows them to access their own creativity and instills a level of respect and ownership over a child's education.
Learn more about the Baltimore Improv Group's offerings through Young Audiences here.
Keep an eye out for more interviews featuring our newest roster artists!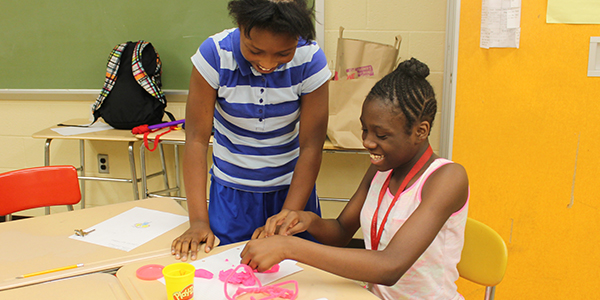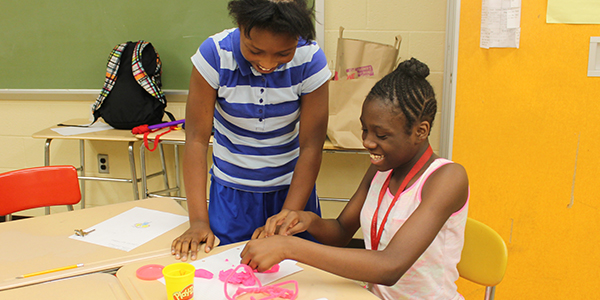 See photos from the Young Audiences arts-integrated summer learning site!
The summer can be a time for fun in the sun with family and friends, but for many students across the country, it is a time of uncertainty. Without school, many at-risk students are left without adequate supervision, access to regular, healthy meals, and opportunities to participate in engaging and constructive activities. On average, all children can lose approximately two months of learning from the previous school year during the summer months without engaging education activities, and for low-income students, the loss is even greater. More than half of the achievement gap between low-income students and their more affluent peers can be attributed to the unequal access to summer learning opportunities.
For five weeks this summer, Young Audiences again partnered with Baltimore City Public Schools to combat summer learning loss through a free math- and science-focused summer camp opportunity for Baltimore City middle school students. Young Audiences artists provided arts enrichment activities at seven Baltimore City 22nd Century Pioneers Summer Camp sites. In addition, for the first time, Young Audiences managed an eighth completely arts-integrated camp site at Edmondson Westside High School.
At the Young Audiences camp, morning math and science classes were co-taught by Baltimore City teachers and Young Audiences artists, who explored STEM subjects through the arts. Students had a choice in the art form they focused on during afternoon enrichment classes, including dance, photography, illustration and mural painting, improvisational theatre, Hip Hop, steel drum, or VEX robotics. The camp also included field trips, giving students the chance to apply their knowledge outside of the classroom.
The program was a learning opportunity for participating teachers as well, some of whom were new to arts integration as a teaching practice. Co-teaching with Young Audiences artists gave teachers the opportunity to try out a different way to approach each lesson, growing their knowledge of the arts and the natural connections that exist between core subjects and the arts.
In a recent survey of 500 U.S. teachers, 66 percent said it takes at least three to four weeks to re-teach content from the previous school year to get their students up to speed at the start of each new school year. At Edmondson Westside, the arts made learning fun and students both stayed intellectually engaged so they would not fall behind in their classes this coming school year, and also discovered a new way of learning through the arts. Students had the opportunity to develop their knowledge in math and science in a hands-on way, learning how the length of sound waves relates to the pitch of each note on a steel drum, or how a photographer or illustrator uses mathematical ratios to compose a piece. Students learned about themselves as they tried new things; took risks during classroom activities; and showcased what they had learned for others.
Read more about the Young Audiences arts-integrated summer learning site and see photos from this summer here.