Written by Barbara Krebs,
Young Audiences volunteer and Sunburst Society member
The thing I like most about Young Audiences' Impact Breakfast is that I never know what new insight I will take away from it. Sometimes I go home and think about the things I heard and saw, and something takes root and grows from my pondering. Other years it hits me immediately with, um, impact. This year's Impact Breakfast was of the second variety.
It started with the music. Because the day began with rain, award-winning Folk singer and guitarist Letitia VanSant welcomed guests with her songs in the lobby of the Vollmer Center, and not outside, like planned. She played and sang softly, setting a mood of serenity. Ahh, yes, very pleasant as I sipped my coffee. And then as I started looking at Maura Dwyer's handmade crankie, a wooden box containing an illustrated scroll that reveals a moving picture story as it is slowly wound by the artist, a very different style of music was unleashed–ragtime! Now that gets the blood pumping!
The guitarist's intimate melodies were quickly drowned out. Assessing the situation–and the weather, YA staff and board members moved the duo's entire set-up where they belonged all along–just outside, at the entrance of the building. And that improvisation really worked, as Letitia's musical style and the moving panorama that accompanied her songs connected naturally to the park-like setting surrounding the Vollmer Center. You can't control the weather, but you can spring into action when it changes for the better!
After listening to her a while, I wandered back into the building to take in some more ragtime and to look over the student works displayed downstairs. And that's when one of the accompanying quotes struck me. Labeled "What Students Have to Say," a 6th-grade improvisational theatre major stated, "My favorite major is improv because of how we can laugh and be silly. We can be anything because it is based on your imagination. In your imagination you can be anything and see anything." Exactly!
More improvisation followed as Mama Rashida and WombWork Productions performed. With Virtues as the theme and a backdrop listing a huge variety of positive qualities, she prompted the audience to participate in a call-and-response activity, shouting out "gratitude" and "unity" and "creativity" as we swayed in our seats and responded, "yeah, yeah!"
When it was time to hear Femi "The Drifish" Lawal speak, I have to admit I was particularly happy to hear from him. That's because I have been fortunate enough to have had the opportunity to observe him in action in the classroom, at Art Crawl and at introductory "house" parties that showcase what YA does. In all of these settings, he's a master at getting both kids and adults involved.
So I was both surprised and amused to hear him admit to "winging it" before he began working with Young Audiences. But what did not surprise me was to learn how his involvement with Young Audiences helped him hone and master his teaching style. He knew he was already positively impacting young lives in the classroom, but with YA's assistance, he learned techniques that extended what he could offer and bring out in the kids.
As a person who enjoys contradictions, I thought about the nature of improvisation. Yes, it is about doing things without previous preparation. Yes, it is about responding to whatever circumstance comes your way. And yes, it is about reacting to your imagination as the 6th grader said.
But… it is also about the preparation, oddly enough. When you prepare fertile ground for your imagination to take you places, you become increasingly comfortable with the journey, and you find new and creative ways to respond to real-world situations. When you learn classroom techniques that allow children to explore their worlds in different ways, you discover the power of improv paired with preparation. How it helps them rap their way to mathematical formulas, dance their way to literature themes and draw their way to social justice.
So at this year's Impact Breakfast, I learned that preparing for improvisation is not quite the oxymoron it appears to be. Because no matter how prepared you are, you need to be able to improvise when the moment calls for it. And no matter how stellar you are at winging it, preparation makes it easier to soar on those improv wings.
Visit our Flickr page to see more images from Young Audiences' annual Impact Breakfast.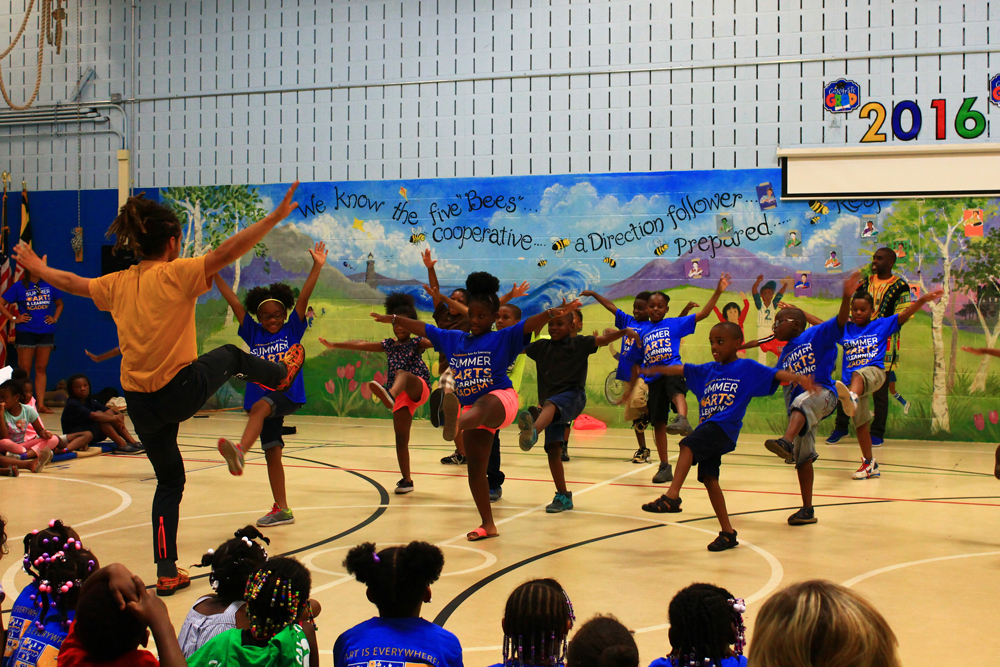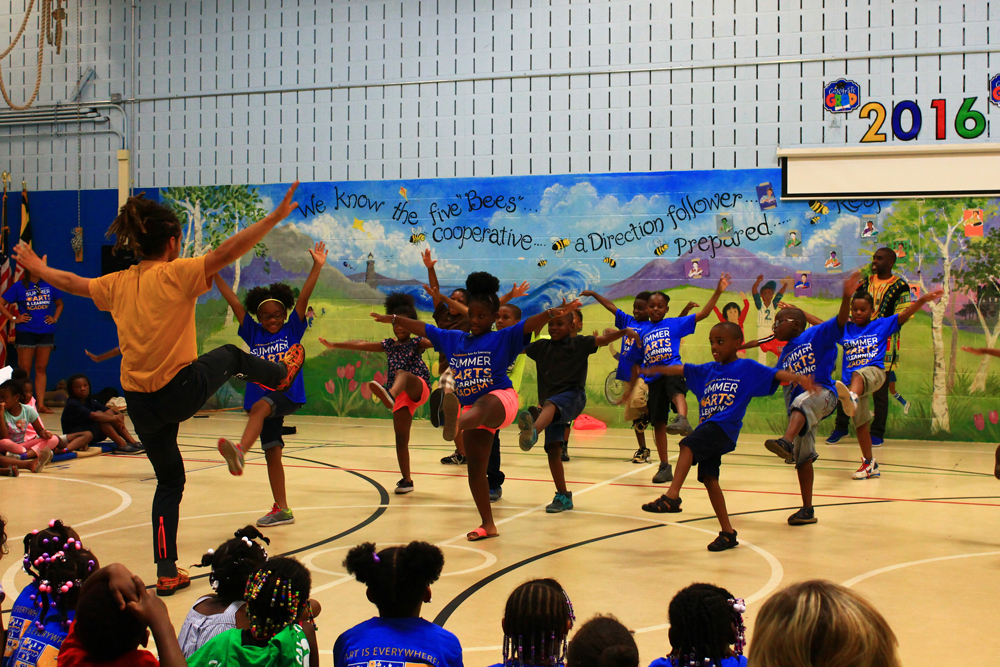 107 Maryland Schools Partnered with Young Audiences to obtain funding for Arts in Education Residencies through the Maryland State Arts Council Arts in Education initiative.
At Young Audiences, our philosophy is simple: the more arts-integrated learning experiences we can provide Maryland students, the better. We are thrilled to be doing just that with help from the Maryland State Arts Council (MSAC) 2017 grants! We teamed up with 107 Maryland schools to write MSAC Arts in Education Initiative grant applications and secure more than $124,000 in funding for Young Audiences artist-in-residence programs in the coming year.
MSAC grants help fund up to 30% of the cost of a Young Audiences residency program. With 194 total MSAC grants distributed this year, more than half were secured with support from Young Audiences!  We couldn't be prouder.
And the fit couldn't be better. Like Young Audiences' mission, the MSAC Arts in Education initiative is designed to promote, strengthen, and enhance the arts and arts education in Maryland's elementary and secondary schools. The grants will help fund Young Audiences artist-in-residence programs which bring professional teaching artists into classrooms to work alongside teachers and students. Teaching artists integrate their art form into the curriculum with hands-on, intensive arts workshops that engage students in creative experiences and bring joyful learning into the classroom.
The Young Audiences residencies resulting from these MSAC grants will be found in private, public and charter elementary, middle and high schools in counties that include Baltimore City, Baltimore County, Anne Arundel, Dorchester, Harford, Frederick, Montgomery and more. The art forms vary too, including residencies focused on dance, poetry, improv, steel drums, theater, music, sculpture, and photography.
For a full list of MSAC-funded Young Audiences residencies, click here. To learn more about Young Audiences artist-in-residence programs, click here.
Interested in bringing a Young Audiences artist-in-residence program to your school? We may be able to help you apply for grant funding! Email [email protected]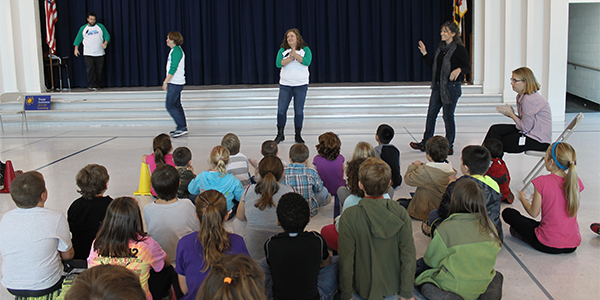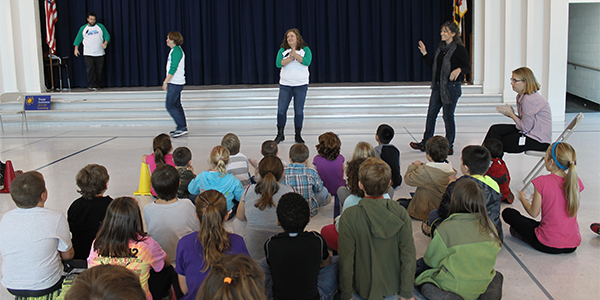 During the last two years, our roster has grown in size to encompass new artists, ensembles, and art forms. From slam poets to improvisers to Capoeira masters, these new artists are undeniably unique.
To introduce audiences to our new artists, we'll be posting interviews with those who recently joined our roster, giving them a chance to share more about themselves and their experiences with Young Audiences so far.
The Baltimore Improv Group is a talented ensemble that came aboard our roster in 2013, and their performances and residencies never fail to evoke laughter and learning. Read on to find out why they became a Young Audiences roster artist, what they learned through our Teaching Artist Institute, and why they believe improv works so well in the classroom.
What is your background as an artist?
​The Baltimore Improv Group is celebrating its 10th year as a theatre company in Baltimore. We started small but have grown close to 60 performers, and we perform 90+ shows a year, including our annual Baltimore Improv Festival. We also teach classes to adults, teens, and children. Our performers have studied and trained all across the country, and we continue to host the best improvisers in Baltimore. ​
How did you hear about Young Audiences?
​Our Education Director, Bridget Cavaiola, worked with Young Audiences for years in her position as the Residential Life Director for the Upper Chesapeake Summer Center for the Arts. The center would bring in Young Audiences artists to perform for its campers. She knew it would be a perfect fit for BIG and made the suggestion that we audition.
What made you decide to become a Young Audiences roster artist?
​Improv is such a natural fit with children. It encourages risk taking, creativity, and collaboration. We have hosted our own kids' shows and classes but knew this would be a perfect match for us. ​
Have you had any programs through Young Audiences yet? What was the most memorable part?
YES! We had more than 10 assemblies at schools this year and our first residency, too! We are looking forward to more in the coming school year. Some of our favorite memories are watching the students come up on stage and perform in front of their peers and receive that amazing confidence boost that comes from taking a risk within a supportive environment! We certainly have traveled Maryland quite extensively, and we will certainly remember the fun trek to Flintstone Elementary School in Allegany County!
You recently completed the Teaching Artist Institute Seminar this spring. What was your favorite part of the program? How has that experience changed your approach to a program or your teaching practices?
The Teaching Artist Institute is an amazing opportunity where artists, educators, and staff truly collaborate to help process, define, and designate the importance of art in the classroom. We loved the guided lessons, hands-on experience, and being around such amazing, talented individuals. We felt that this experience helped to shine a new light on our own experiences as a teaching artist.
What does your art form in particular teach students?
​Improv teaches a lot! Listening skills, taking risks, collaboration, the power of "yes," learning from failure and mistakes, and much more! ​
Why do you believe it is important for every student to have access to the arts?
​Art is the glue that solidifies education for so many kids. It allows them to access their own creativity and instills a level of respect and ownership over a child's education.
Learn more about the Baltimore Improv Group's offerings through Young Audiences here.
Keep an eye out for more interviews featuring our newest roster artists!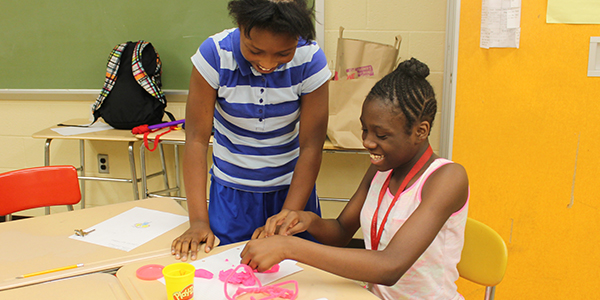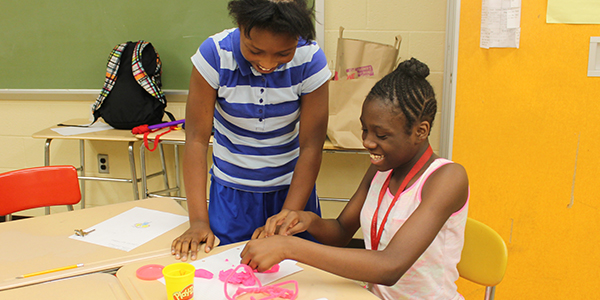 See photos from the Young Audiences arts-integrated summer learning site!
The summer can be a time for fun in the sun with family and friends, but for many students across the country, it is a time of uncertainty. Without school, many at-risk students are left without adequate supervision, access to regular, healthy meals, and opportunities to participate in engaging and constructive activities. On average, all children can lose approximately two months of learning from the previous school year during the summer months without engaging education activities, and for low-income students, the loss is even greater. More than half of the achievement gap between low-income students and their more affluent peers can be attributed to the unequal access to summer learning opportunities.
For five weeks this summer, Young Audiences again partnered with Baltimore City Public Schools to combat summer learning loss through a free math- and science-focused summer camp opportunity for Baltimore City middle school students. Young Audiences artists provided arts enrichment activities at seven Baltimore City 22nd Century Pioneers Summer Camp sites. In addition, for the first time, Young Audiences managed an eighth completely arts-integrated camp site at Edmondson Westside High School.
At the Young Audiences camp, morning math and science classes were co-taught by Baltimore City teachers and Young Audiences artists, who explored STEM subjects through the arts. Students had a choice in the art form they focused on during afternoon enrichment classes, including dance, photography, illustration and mural painting, improvisational theatre, Hip Hop, steel drum, or VEX robotics. The camp also included field trips, giving students the chance to apply their knowledge outside of the classroom.
The program was a learning opportunity for participating teachers as well, some of whom were new to arts integration as a teaching practice. Co-teaching with Young Audiences artists gave teachers the opportunity to try out a different way to approach each lesson, growing their knowledge of the arts and the natural connections that exist between core subjects and the arts.
In a recent survey of 500 U.S. teachers, 66 percent said it takes at least three to four weeks to re-teach content from the previous school year to get their students up to speed at the start of each new school year. At Edmondson Westside, the arts made learning fun and students both stayed intellectually engaged so they would not fall behind in their classes this coming school year, and also discovered a new way of learning through the arts. Students had the opportunity to develop their knowledge in math and science in a hands-on way, learning how the length of sound waves relates to the pitch of each note on a steel drum, or how a photographer or illustrator uses mathematical ratios to compose a piece. Students learned about themselves as they tried new things; took risks during classroom activities; and showcased what they had learned for others.
Read more about the Young Audiences arts-integrated summer learning site and see photos from this summer here.

By Stacie Sanders Evans, Young Audiences/Arts for Learning Executive Director
Last week I visited the classroom of teaching artist and improv master Bridget Cavaiola and science teacher Heather Tuttle, who are teacher partners in our 22nd Century Pioneers Arts-Based Summer Camp in West Baltimore. Like in all of our classes, these two teachers were "starting with the art" by warming up brains and bodies with the drama game "Big Booty." This particular game required kids to call on each other using a number instead of their name, and the goal of the game was to keep the it going as long as possible and as quickly as possible, without someone "messing up" by forgetting who had what number. (I realize this description doesn't explain why this game is called Big Booty but just stick with me here…)
The first time a student messed up in Big Booty, everyone clapped. I wasn't sure what was going on but smiles ensued and the game started over. Quickly another kid forgot which number they were and when their number was called, the game stalled. Once again everyone clapped and Bridget looked over at me to clue me in and said, "We celebrate our failures in here." The game continued, and as the kids' brains warmed up and the fear of making a mistake in front of their peers dissipated, the need to clap wasn't as frequent. When they did clap, they laughed, they shrugged it off, and they quickly moved on.
When it came time to move on to the science lesson, the teachers wanted to recap the lesson from the day before about the engineer design process. Bridget realized she had mistakenly erased the board which had listed all the key terms shared yesterday and Heather realized she forgot her notebook for reference. Oops! I don't think the situation could have been better orchestrated, in that moment Bridget and Heather, modeled "the way" by shrugging off their mistake and asked the class, "What can we do?"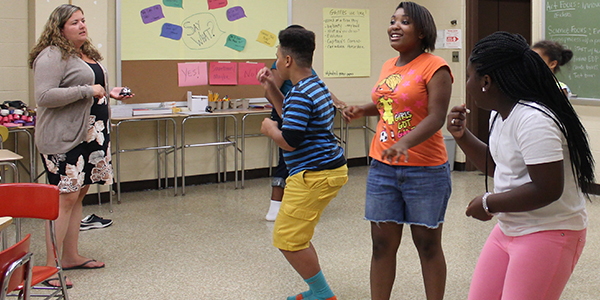 See more photos from the Young Audiences arts-integrated summer learning site!
The kids immediately started calling out the key terms they learned the day before. "Imagine!" "Investigate!" "Test!" In a quick minute all the key terms were there. I noticed each term was delivered with a gesture. The day before, the students came up with a move that conveyed the essence of each word. This lesson recap evolved into sixth-grade boys and girls (remember those awkward years?) moving their arms, hands, and heads in space as they defined the engineer design process.
Bridget and Heather and their sixth-graders are onto something. The simple act of celebrating failure creates a safe space for trying something, even if you are unsure if you are right or if you might look silly. Just imagine what is possible when you remove that fear–real opportunities for exploration, experimentation, reflection, and growth emerge.
Read more about the arts-integrated learning happening at the Young Audiences 22nd Century Pioneers Arts-Based Summer Camp site and see more photos here.