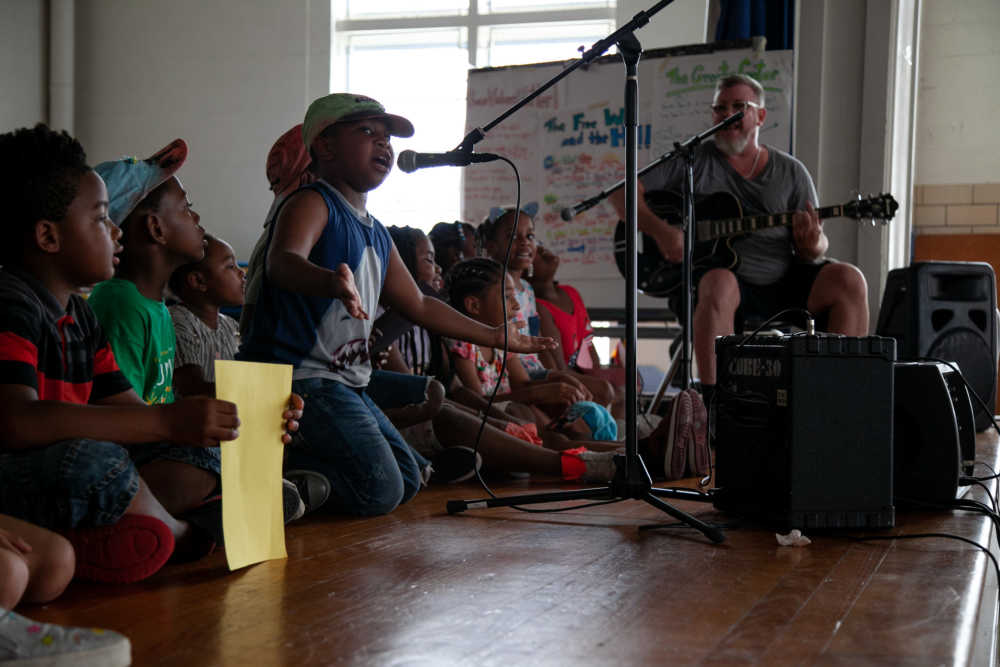 smARTbeats returns to WTMD on Saturday, October 19 during the weekly children's program Young At Heart! On this month's segment, host Lisa Mathews talks with Scott Paynter, or Scotty P as he's known around town, one of our talented teaching artists from Summer Arts & Learning Academy (SALA). He embodies fun and warmth in his classroom and on stage as a solo performer and as a lead vocalist with the world-renowned reggae band Jah Works. 
"Jah Works is a true grassroots success story that emerged from Baltimore's reggae scene over 20 years ago. This is music made by and for lovers of real, authentic reggae music. Consistently performing hundreds of shows a year worldwide, they have forged their sound in clubs, festivals and on the sun drenched beaches of Negril. Their sound is firmly planted in the roots of Jamaican music and culture, encompassing rock steady, reggae, and elements of dancehall and dub. What Jah Works does best is introduce the novice music listener to the fullness of reggae music and culture." —from jahworks.com
Scott's classroom in SALA is a creative and joyful place where music and children go hand in hand. Perhaps it's because he got his own start in music as a young child with a guitar he built from plywood and yarn. How awesome that every summer he helps more young musicians discover their passion for music and songwriting!
Scott doesn't just share his art form with students, he teaches them to demonstrate what they've learned through music. By writing songs about the books and stories they've read, children are able to dive deep into the different characters and their personalities—bringing them to life. Take this video, for instance, of Scott's students performing a song they wrote with the artist about a book they read together called City Green by DyAnne DiSalvo-Ryan.
It should come as no surprise that kids love coming to his class to sing and learn! Mr. P makes learning fun—and even though his time with them is relatively short, his patience and commitment to the students can be seen in the strengthening of their academic abilities, their understanding, and the genuine smiles on their faces.
Listen online now to the smARTbeats interview with Scott Paynter at WTMD.org
Young At Heart airs weekly on 89.7 WTMD from 7 to 8 am on Saturdays, featuring music that appeals to parents and children alike. Previous shows have featured music by Wilco, David Bowie, Andrew & Polly, Weezer, and others. 
By Curtis Blues, Young Audiences artist and one-man Blues band
Her face was hidden under rows of tiny, tight braids with small colorful beads on the ends. "Would you like to join the class and learn to play guitar?" I asked. Keeping her head down, she gave me no eye contact and shook her head "No." "I'll leave it here next to your seat, and if you decide you want to try it, you can pick it up."
Leaving the guitar next to her, I went back to the front of the room and led the rest of the class in the guitar lesson. After about 10 minutes, when I looked over at her, the guitar was in her hands. She was playing the rhythm I was teaching, along with the rest of the class. "Nice job, that's it, keep it up, you've got it," I said. A tiny glimpse of white flashed from behind the braids for the briefest second. It was a start.
Every school has students who are having trouble keeping up with their school's classes for serious personal reasons. Sharp Lendenhall is a school that exclusively serves students with special educational needs. It offers unique challenges and rewards for a teaching artist.
Elaine Tucker, the music teacher, invited me to perform for the small school in Baltimore, Maryland, last year with my assembly program on the history of acoustic Blues. Based on the students' enthusiastic response, Ms. Tucker invited me back for a more ambitious project: teaching guitar to third through fifth graders in a four-day residency. Elaine is an inspiring teacher and tireless advocate for her students' welfare. She had secured the rare treasure of beautiful guitars for the school through her personal effort in getting grants to buy guitars for the school. These children really need someone like her in their court.
Four days to teach guitar! I was intrigued by the challenge.
The first step was to help the students feel the work-song rhythm of the Blues in their bodies before even picking up a guitar. We all tapped our feet and swayed our bodies to the natural rhythms that gave rise to the Blues. Despite the students being antsy about getting guitars in their hands, I asked them to sing a call and response Blues song with me first. When they were ready I brought out the guitars.
I tuned the guitars in a traditional Blues "open" tuning which means that when you strum the strings you get a perfect chord. I was convinced that these students needed to hear a pleasing, full sound right from the start. With the more common standard tuning, the students must first master the difficult task of forming chords with their fingers before the guitar sounds "right."
To my delight most of the teachers picked up guitars and learned along with the students. This modeling was a huge asset to my program's success. Their participation demonstrated that learning new things is fun, and they were not afraid to look silly as beginners in a new task. We started slowly by transferring the beat from our bodies to the guitars with a rhythmic strumming pattern. From time to time I let them go wild like little rock stars, strumming patterns of their own choice, and teaching the rest of the class, including me, the patterns they had discovered.
While they strummed the guitar in the Blues rhythm, we sang our Blues song, which is the story of getting up in the morning, feeling upset, and then turning our day around by addressing the Blues and taking the power of our emotions back. It was the perfect description of what I saw in the transformation of the faces in the classroom:
When I woke up this morning, there was Blues all around my bed,
Went to eat my breakfast, there was Blues in my bread,
I said "Good morning Blues, Blues how do you do?"
"I'm doing all right, how are you!"
At the end of the residency, every class performed for the whole school. It was moving to see their pride in performance. Before I left the school for the last time, I asked the students, "Who believes that you can become a guitarist if you continue to practice?" When their hands shot up, I knew that this experience had changed how they saw themselves. Each had become the kind of person who can succeed at learning challenging new things.
Learn more about Curtis Blues' assembly, residency, and professional development programs here!