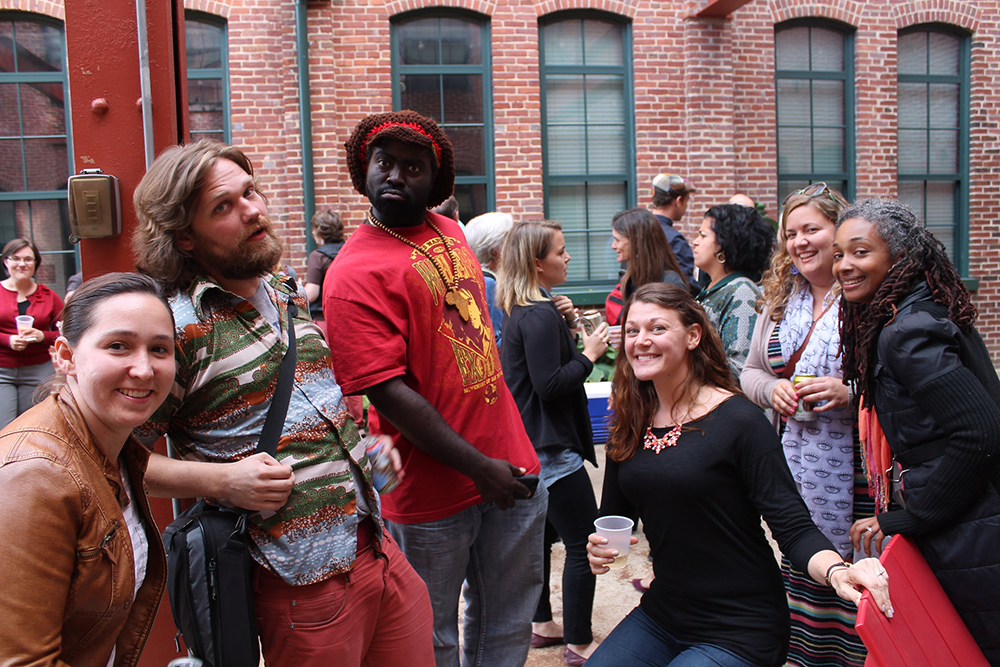 Our staff at Young Audiences do not just come to work. We come to support a mission: to transform the lives and education of our youth through the arts by connecting educators, professional artists, and communities. And we come with our hearts and minds and bodies ready to go above and beyond to realize this mission.
Micaela wrote, "When I started at Young Audiences six years ago, I thought we needed the arts to help students be more engaged in school and make learning more accessible. I had just been a teacher, and I saw changes in my students when they worked in the arts—new leaders emerged when we did a class talent show, and huge smiles appeared on kids' faces when they got "their own" recorders to take home from music class.
We need young people who not only have the skills needed to build a better world, but can imagine what that might look like. Artists in schools seems like one of our best shots at giving kids the space and community to become the wild, imaginative thinkers and doers that we all need.
These things are still true—the arts are awesome at engaging kids in school, providing an opportunity for students to do hands on work that is meaningful, visible, and matters. And, they spark joy in kids!
Today, though, I think there is more that I didn't realize a few years ago. I think we need imagination in volume and degrees beyond what I understand. We need young people who not only have the skills needed to build a better world, but can imagine what that might look like. Artists in schools seems like one of our best shots at giving kids the space and community to become the wild, imaginative thinkers and doers that we all need."
Our artists know how to use their art form to draw kids into the work, to get students to challenge and surprise themselves and proudly show off their achievements. They see how arts integration engages and motivates even the most reluctant students.
Spoken Word Artist Femi the Drifish told us, "I was working with 7th graders at Commodore John Rodgers Elementary/Middle doing an arts integration math program using rhythm, rhyme, and poetry. Going through what is common in a classroom, I challenged the students to use their algebra vocabulary to describe the city of Baltimore using the terms in creative ways—metaphorically, but in correct context.
There was one student, clearly the "too cool for school" type, who just wasn't participating in any activity that led up to the final writing exercise. Once the scaffolding was completed and students were set to complete their assigned writing prompt, I witnessed that one kid scribbling on paper in the corner by his lonesome, away from tables where students where gathered.
Upon completion, students shared their work trying to impress each other with the cleverness of their vocabulary usage in the Baltimore City descriptive poems, when he asked if he could share his poem.
I was surprised—just like his teacher and his class peers—and quickly encouraged him to step up to the front of the class to present before he decided to retreat into the disinterested facade he used during all the warmups. As he delivered the poem I realized that he didn't stick to the theme given, but instead described his love for the game of football using the math terms.
The class roared on cheers upon his completion and the teacher grabbed the poem from him to share with other teachers who wandered into the class to congratulate him."
Alice's year at Summer Arts & Learning Academy (SALA) meant so much to her. The program helped bring clarity to math concepts my daughter was struggling with through an art form she loves, she felt confident, and she felt like she was part of something larger than herself. It made her feel proud of herself and proud of her community.
She wrote, "A lot of people think of Baltimore as how the news shows and talks about it. The news tends to only show the little bad things about us. I wish people could just see what SALA is like. It's a perfect representation of Baltimore's youth! It shows that we are creative, compassionate, caring, and loyal." Now Rosario, my youngest daughter, looks forward to SALA every summer. And even though Alice is too old to attend, she volunteers in the program. "I can help and watch other children get the same great experience that I did."
As I've seen with my own children, arts integration is not just fun in the moment. These are experiences that shape students' mindsets, their education, their goals—experiences that students carry with them and inform their decisions for years to come. Please give today.
I have been a volunteer for Young Audiences for seven years now, ever since discovering them when Colette was in 10th grade, and was asked to speak at their Impact Breakfast. I learned then how much YA had already impacted her, as Colette was part of the PVA (Performing and Visual Arts) magnet at school. Teaching artists from YA were very active, and still are, with the PVA in Anne Arundel County.
But what really impressed me was YA's involvement at all grade levels and in so many schools across Maryland. By integrating the arts into core curriculum, kids learn in a way that helps them retain the information. Whether it's rapping their multiplication tables, dancing to showcase literature themes or creating mosaics to depict basic biology, the kids are learning because they're HAVING FUN!
As for Colette, she's finishing her senior year at East Carolina University, as an electrical engineer.  And she still benefits from the arts-integrated education she has received.  For example, although I may not comprehend the mathematical formulas in the papers I proofread for her, her PowerPoint presentations are so visually pleasing that I don't mind reading what I don't understand!  Seriously, I hope you'll consider donating today so that other kids can have the great experiences and training that she received as part of YA's arts-integrated education techniques.
Young Audiences has played a pivotal role in Alex's life, both past and present. As a child, he discovered his love of writing during a YA artist residency in his public elementary school. Nearly two decades later he works as a staff member with Young Audiences of Maryland.
He wrote "As an adult who was diagnosed with a learning disorder later in life, I can look back and say that my experience with YA was a turning point in my journey to know and love myself. When I had the chance to demonstrate my understanding by creating, rather than just consuming information, I found myself not only participating in class but thriving! I want to stress how much even a single experience can expand a young person's horizons of possibility, both for their education and their future."
Now, Alex coordinates YA's programming with schools in Prince George's, St. Mary's and Calvert County and writes fiction and poetry as well. "It brings me great joy to step into a school and know that a student will find a lifelong sense of meaning and passion because of our work."
Alex is an example of the power of arts integration in the life of our students, especially those who struggle to learn through traditional means. He is proud to "pay it forward" as a staff member and encourages you to support our work across the state of Maryland. Please give today.
Written by Stacie Sanders Evans,
President and CEO of Young Audiences/Arts for Learning
Belonging. That's the word that has been on my mind. Our founder, Nina Collier, understood belonging. She felt music belonged in schools, that artists belonged in a child's education. In 1950 she inspired a movement of artists-in-schools. What started in Baltimore has now grown to 30 Young Audiences–the largest arts-in-education network in the US.
Today, Young Audiences artists like Femi the DriFish and Valerie Branch ignite a child's desire to learn. Whatever our partner artists' art form is–hip hop dance or improvisational theatre–they use it to draw kids into learning. We train our artists to integrate their art form with whatever is being taught in students' literacy, math, social studies, and science classes.
We do that because when kids create something they get to make choices. They make meaningful connections. They express themselves. Choice and voice–that makes the learning matter.
When we, as a community, provide children with these kinds of opportunities, we are telling them, "You matter!" All of this, what we do, it nurtures the sense of belonging in our kids, artists, parents, and teachers. And it is belonging that I feel when I walk into one of our classrooms. Listen to how Tiffani, Dawn, and Valerie talk about our community in Together–we are their people–and we all belong.
Think back to when you were growing up. Who were YOUR people? What teacher or coach left their imprint. Who helped you become the person that you are today?  I bet that person made you feel visible. Known. That you belonged.
My moment was in ninth grade. I was struggling in many different ways and my drama teacher, Mrs. Howard, saw something in me. She knew how to draw that "something" out–just like the 200 artists (both YA roster artists and independent artists) we work with. In her class, I belonged. She cast me as Juliet in Romeo and Juliet. And that moment was like rocket fuel for me.
Belonging is a strong human need, particularly in our children. I see belonging as the net below the trapeze. When kids have that net of belonging, they are more likely to lean into learning–kids like Josh Ajala, who in Together, spoke about moving from the back of the class to the front–and his sister Tiffani Ajala–who was brave enough to apply for Baltimore Design School (and got the highest possible score on her fashion portfolio!) These are the courageous risks we want our kids to take so that they can grow.
But public education for the last 17 years, after the birth of No Child Left Behind, hasn't been focused on this. It has been about raising standards and increasing school accountability–measured through standardized testing. What do kids who are part of this system think about this? In Brenna's poem, she says students feel like they are just inputs and outputs in one simple equation.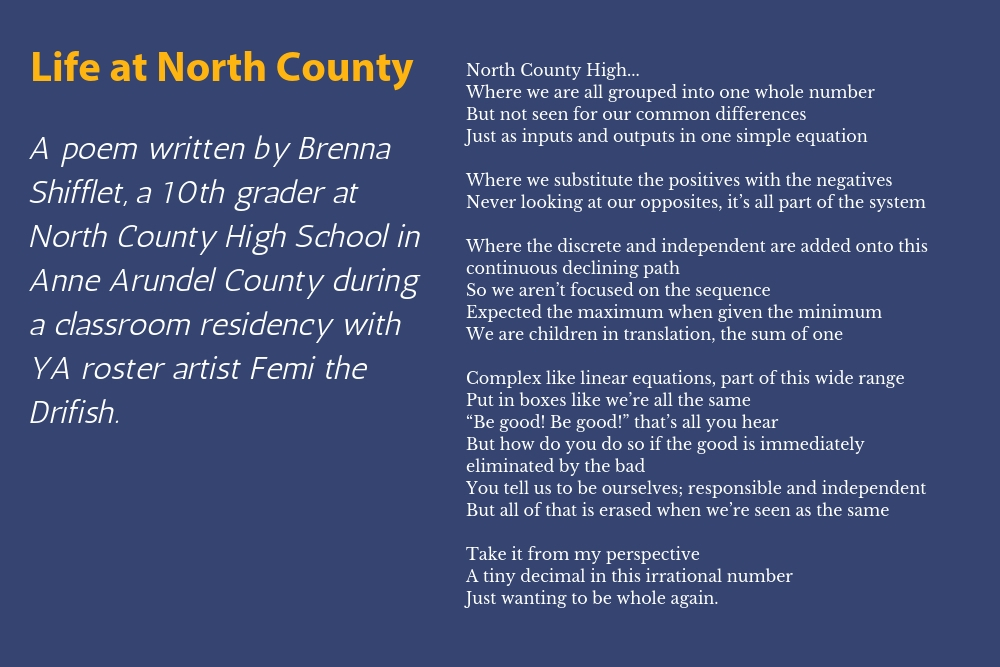 The outcomes we are seeing are heartbreaking and not sustainable as a society. Eight out of ten Baltimore City Schools students do not meet "proficiency" in math or reading. Nearly half of our children across the state entering Kindergarten are already behind. Four out of ten Maryland teachers leave teaching within five years because this isn't the equation they want to be a part of.
A different way is needed. Young Audiences is a different way. Our movement is to make sure all kids–and the people who teach them–are not treated like inputs and outputs but as the whole beautiful human beings that they are.
Today, thanks to our 450 school partners, our Sunburst Society members, and our game-changing evidence, our movement is growing. Outreach has doubled in the last five years. We impact the education of 191,000 children EVERY year–children in EVERY Maryland county.
We are on a mission to close the opportunity gaps in this educational system. We have four strategies:
Preventing summer learning loss by operating 20 summer programs across our city
Increasing school readiness through early childhood programs in four counties
Improving student engagement in learning by providing professional development to 500 teachers every year
Increasing equity in access to opportunity–more than 30,000 of our children are in under-resourced communities, so we provide more to them
We have made tremendous progress over the last five years but we can take this to a new level. Five years from today, I think we can change the educational trajectory of 50,000 more kids. Here is how we can get there:
Expand our evidence-based Summer Arts & Learning Academy in and beyond Baltimore City. This is the program that Tiffani, Alice, and Josh participated in that continues to have a ripple effect in their life. To expand to just one more school district, we have to find and train 20 more artists.
This Academy is only 25 days of a kid's life–and in that short time, we see lots of benefits. Imagine if kids had that kind of arts-integrated learning during the school year and school day? We want to launch year-round professional development and support for teachers and principals to make that happen. If we were able to add just one more person to our staff that focused on professional development, we could support 100 more teachers and principals every year.
To have the greatest impact on a child's potential, we need to invest early. (Did you know that 80% of the brain's synaptic connections are made by age 3?) In 2024, we want to bring our Baby Artsplay program to 5,000 infants and toddlers across Maryland and–to their very first teacher–their parents. This will require our artists to be trained in early childhood development.
Think back to your person–your Mrs. Howard. Think back to that feeling of belonging. Imagine if you could create that opportunity for someone else. For another Josh. Another Brenna. Take that opportunity and multiply it by 50,000. Fifty thousand children sitting in the front of the class, trying out for Baltimore Design School, reaching for that trapeze handle.
That is the opportunity in front of us. For Brenna, that is the equation she wants us to come together and solve.
Categorized:

News

Tagged:

Anne Arundel County Public Schools, Baltimore City, Baltimore City Public Schools, Bloomberg Arts Internship, community, Femi the Drifish, fundraising, Impact Breakfast, Maryland Public Schools, North County High School, Stacie Sanders Evans, Summer Arts & Learning Academy, summer learning, Summer READS
Written by Barbara Krebs,
Young Audiences volunteer and Sunburst Society member
The thing I like most about Young Audiences' Impact Breakfast is that I never know what new insight I will take away from it. Sometimes I go home and think about the things I heard and saw, and something takes root and grows from my pondering. Other years it hits me immediately with, um, impact. This year's Impact Breakfast was of the second variety.
It started with the music. Because the day began with rain, award-winning Folk singer and guitarist Letitia VanSant welcomed guests with her songs in the lobby of the Vollmer Center, and not outside, like planned. She played and sang softly, setting a mood of serenity. Ahh, yes, very pleasant as I sipped my coffee. And then as I started looking at Maura Dwyer's handmade crankie, a wooden box containing an illustrated scroll that reveals a moving picture story as it is slowly wound by the artist, a very different style of music was unleashed–ragtime! Now that gets the blood pumping!
The guitarist's intimate melodies were quickly drowned out. Assessing the situation–and the weather, YA staff and board members moved the duo's entire set-up where they belonged all along–just outside, at the entrance of the building. And that improvisation really worked, as Letitia's musical style and the moving panorama that accompanied her songs connected naturally to the park-like setting surrounding the Vollmer Center. You can't control the weather, but you can spring into action when it changes for the better!
After listening to her a while, I wandered back into the building to take in some more ragtime and to look over the student works displayed downstairs. And that's when one of the accompanying quotes struck me. Labeled "What Students Have to Say," a 6th-grade improvisational theatre major stated, "My favorite major is improv because of how we can laugh and be silly. We can be anything because it is based on your imagination. In your imagination you can be anything and see anything." Exactly!
More improvisation followed as Mama Rashida and WombWork Productions performed. With Virtues as the theme and a backdrop listing a huge variety of positive qualities, she prompted the audience to participate in a call-and-response activity, shouting out "gratitude" and "unity" and "creativity" as we swayed in our seats and responded, "yeah, yeah!"
When it was time to hear Femi "The Drifish" Lawal speak, I have to admit I was particularly happy to hear from him. That's because I have been fortunate enough to have had the opportunity to observe him in action in the classroom, at Art Crawl and at introductory "house" parties that showcase what YA does. In all of these settings, he's a master at getting both kids and adults involved.
So I was both surprised and amused to hear him admit to "winging it" before he began working with Young Audiences. But what did not surprise me was to learn how his involvement with Young Audiences helped him hone and master his teaching style. He knew he was already positively impacting young lives in the classroom, but with YA's assistance, he learned techniques that extended what he could offer and bring out in the kids.
As a person who enjoys contradictions, I thought about the nature of improvisation. Yes, it is about doing things without previous preparation. Yes, it is about responding to whatever circumstance comes your way. And yes, it is about reacting to your imagination as the 6th grader said.
But… it is also about the preparation, oddly enough. When you prepare fertile ground for your imagination to take you places, you become increasingly comfortable with the journey, and you find new and creative ways to respond to real-world situations. When you learn classroom techniques that allow children to explore their worlds in different ways, you discover the power of improv paired with preparation. How it helps them rap their way to mathematical formulas, dance their way to literature themes and draw their way to social justice.
So at this year's Impact Breakfast, I learned that preparing for improvisation is not quite the oxymoron it appears to be. Because no matter how prepared you are, you need to be able to improvise when the moment calls for it. And no matter how stellar you are at winging it, preparation makes it easier to soar on those improv wings.
Visit our Flickr page to see more images from Young Audiences' annual Impact Breakfast.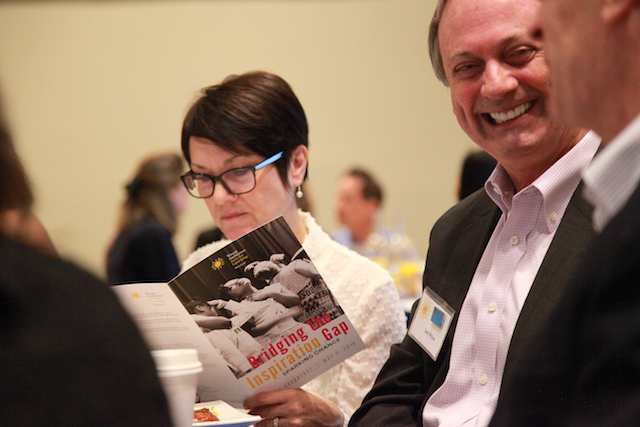 Written by Barbara Krebs,
Young Audiences volunteer and Sunburst Society member
Spark. Ahh, now that's a great word. Quick, simple, to the point.  And it's versatile – noun or verb – it's all good. And if you're a fan of onomatopoeia (and who isn't?), well, I think spark works well there, too.
If you attended the 11th annual Young Audiences Impact Breakfast, you heard that word a lot. First, from Stacie Sanders Evans, President and CEO of Young Audiences, whose drama teacher sparked a passion that would put her on the path to her leadership of YA. You heard it from Jaime Clough, a second-grade Baltimore City Public School teacher who taught in YA's Summer Arts & Learning Academy (SALA) and who has used the tools and strategies learned at SALA to transform her classroom during the school year. You even heard it from a student. High school senior Jahsol Drummond spoke about his experience developing his video and editing skills at the Center for Innovative Research in the Creative Arts (CIRCA) at UMBC  in last summer's Bloomberg Arts Internship. He shared his plans for the future as a college student (he was awarded a full scholarship to Bard College) and as a filmmaker. "My career has only just begun, and it's already so exciting," Jahsol beamed.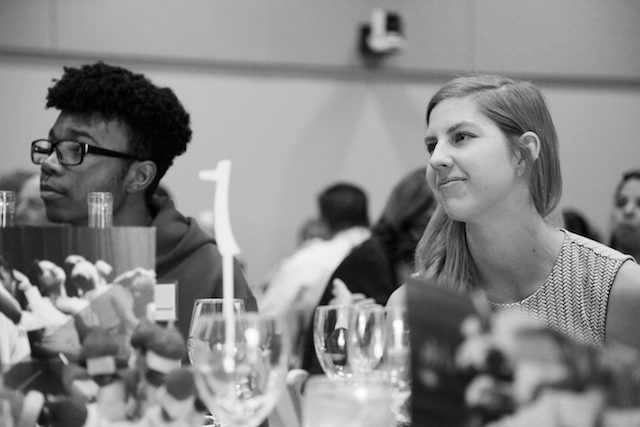 It is amazing where a spark will take you if you have the passion and determination to stoke the fire.
But, of course, the thing about the Impact Breakfast is not just the inspirational stories we hear from the presenters, nor is it solely about acknowledging the remarkable strides Young Audiences has made over the past few years in overcoming summer learning loss. These are important and wonderful things to witness, no doubt. But what truly struck me this time around was the synergy of people attending this event united by the desire to improve educational opportunities for the children in our communities.  
Seated to my right was Kariz Marcel, a DJ, music producer, teaching artist, and founder of the nonprofit Innovation Echo Alliance who is seeking ways to partner with Young Audiences and other educational organizations through his music industry connections. As he explained it to me, he was hoping to establish a roster of professional recording artists who would be willing to donate a small portion of their music royalties to these organizations as an ongoing and sustainable way to raise funds for education in our local schools.
Another gentleman at our table was Lieutenant Steven Thomas, a member of the Anne Arundel County Police Crisis Intervention Team.  He and his team identify youth who can be helped by, for instance, after-school programs, like the Police, Artist, and Community Engagement program (PACE), and then find ways to make these things happen.  For example, when it was discovered that transportation was an issue, they partnered with the school system to provide it.  That meant getting the school-approved CDL bus license so they could drive students on the county's buses.  A little spark of creativity to problem solve what might otherwise have been a deal killer. Instead, police officers are keeping local youth involved in enrichment programs.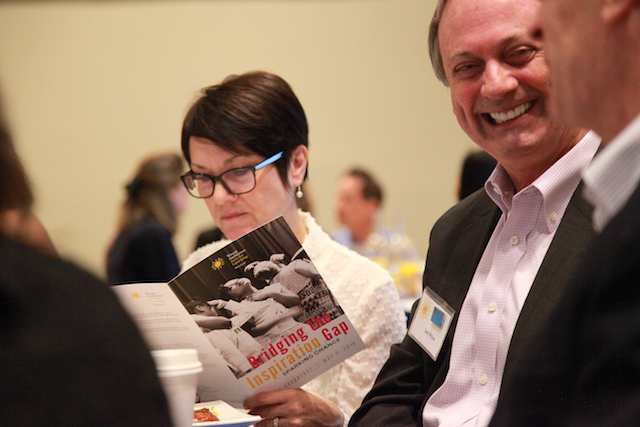 Likewise, I got a chance to talk briefly with Dr. Stuart Levine, President and Chief Medical Officer of MedStar Harbor Hospital, who I had heard speak only a week before at the unveiling of the mural that now sits in the lobby of the hospital's Emergency Department. This mural, which focused on how cells and viruses interact with human and animal bodies, was created by sixth-grade biology students from Brooklyn Park Middle School. The project was the result of a multi-week Young Audiences teaching artist residency in partnership with Arts Empowered Minds Initiative (AEMI). So here was yet another way that a group, which is pivotal to the lives and health of its local community, had found a way to connect with young students, perhaps sparking future collaborations?
And that is just a small sampling of the conversations I had at my table alone. As I looked across the room, I could only imagine what discussions, ideas, creative solutions, and inspirational tales were being shared elsewhere. Knowing that so many people had gathered because they have a passion to improve the educational lives of our youth, I came away from the event feeling recharged, hopeful and, yes, ready to find fresh ways to kindle the spark – in whatever myriad forms it appears – in my own life and those of others.
Indeed, there is no telling what particular spark at what precise table will catch fire and generate a lasting, positive impact. 
But that's the Impact Breakfast for you – a kaleidoscope of people who are sparking change and impacting the future for our children!
Categorized:

News

Tagged:

Anne Arundel County Police Department, Baltimore City Public Schools, Barbara Krebs, Bloomberg Arts Internship, community, Cylburn Arboretum, Development, fundraising, Impact Breakfast, Jaime Clough, Kariz Marcel, MedStar Harbor Hospital, PACE, Summer Arts & Learning Academy, summer learning, SummerREADS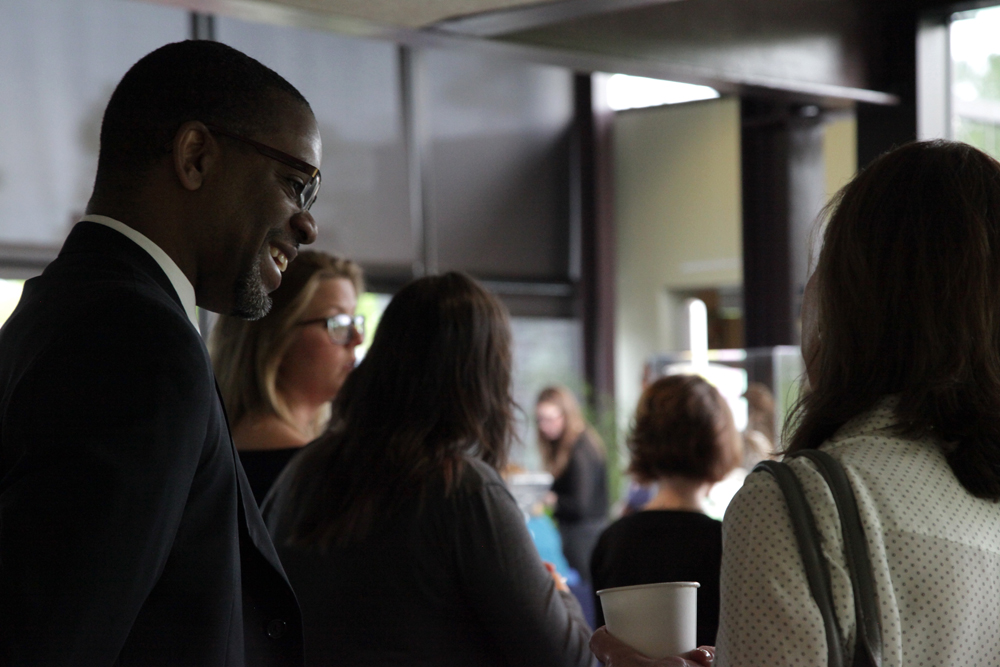 We are reminded every day of the irreplaceable support we receive from those who share in our mission to transform the lives and education of Maryland students through arts experiences. From teachers and teaching artists to principals, parents, and donors, our list of allies is long. And because of our allies, the reach of our impact is wide and growing even wider.
"Thanks to our amazing staff and board, and to our supporters, including our Sunburst Society, our outreach has grown by 400%," executive director, Stacie Sanders Evans, announced at the crowded Impact Breakfast last week. "Last year, we reached 191,000 students at nearly 500 schools with 225,000 hours of inspired learning! Also, we trained 1,096 teachers in arts-integrated instruction – so that means this kind of learning takes place even when our artists aren't in schools."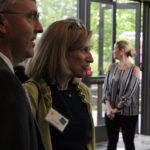 Our teaching artists live and breathe our mission through their work in classrooms every day. And that's just the beginning. While they may fly under the radar, our board of directors includes 23 of the most engaged, hands-on leaders and supporters we could hope for. Their commitment is extraordinary. Our board members can be found supporting our work in any number of ways including authoring blog posts, hosting On The Brightside events or leading full-day staff and teaching artist trainings. You may find them meeting with potential sponsors over lunch, inviting colleagues to our events, learning dance routines with their co-workers from a teaching artist, or even volunteering to make sock-puppets at our Family Engagement Night!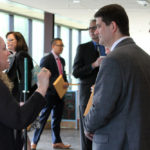 Our board members are proud of the work we all do and they are eager to say so. "Arts integration is when the arts are drilled down into an academic curriculum in a thoughtful and meaningful way – and that is what puts the 'Arts for Learning' in our name and what makes Young Audiences/Arts for Learning so exceptional," explained board member Tea Carnell at the Impact Breakfast. "What do the arts bring to a curriculum? Creativity, joy, and expression are the obvious ones. Arts integration brings mastery, perseverance, insight, focus, understanding, reflection, and problem solving."
It is this passion for arts integration and the desire to reach all children that drives each one of us at Young Audiences, but we wouldn't be able to do the work we do, and we wouldn't be able to reach the children we reach, without the unwavering support of our board members. "We are at this incredible moment in time. We have the evidence our programs work. We have a school system that is asking for help. All we need to do is bravely create the opportunities we know students need," Stacie Sanders Evans told supporters. "Young Audiences, its incredible artists, everyone in this room – YOU – can close the gaps for our young people."
And you are. Because of you, we not only met, we surpassed our Impact Breakfast's fundraising goal. From the bottom of our hearts, we extend a sincere thank you to our board, to Alan Hoff, chair of our major gifts committee, and to each and every one of our wonderful supporters. Visit yamd.org to learn more about the programs we offer and how you can help us reach even more children.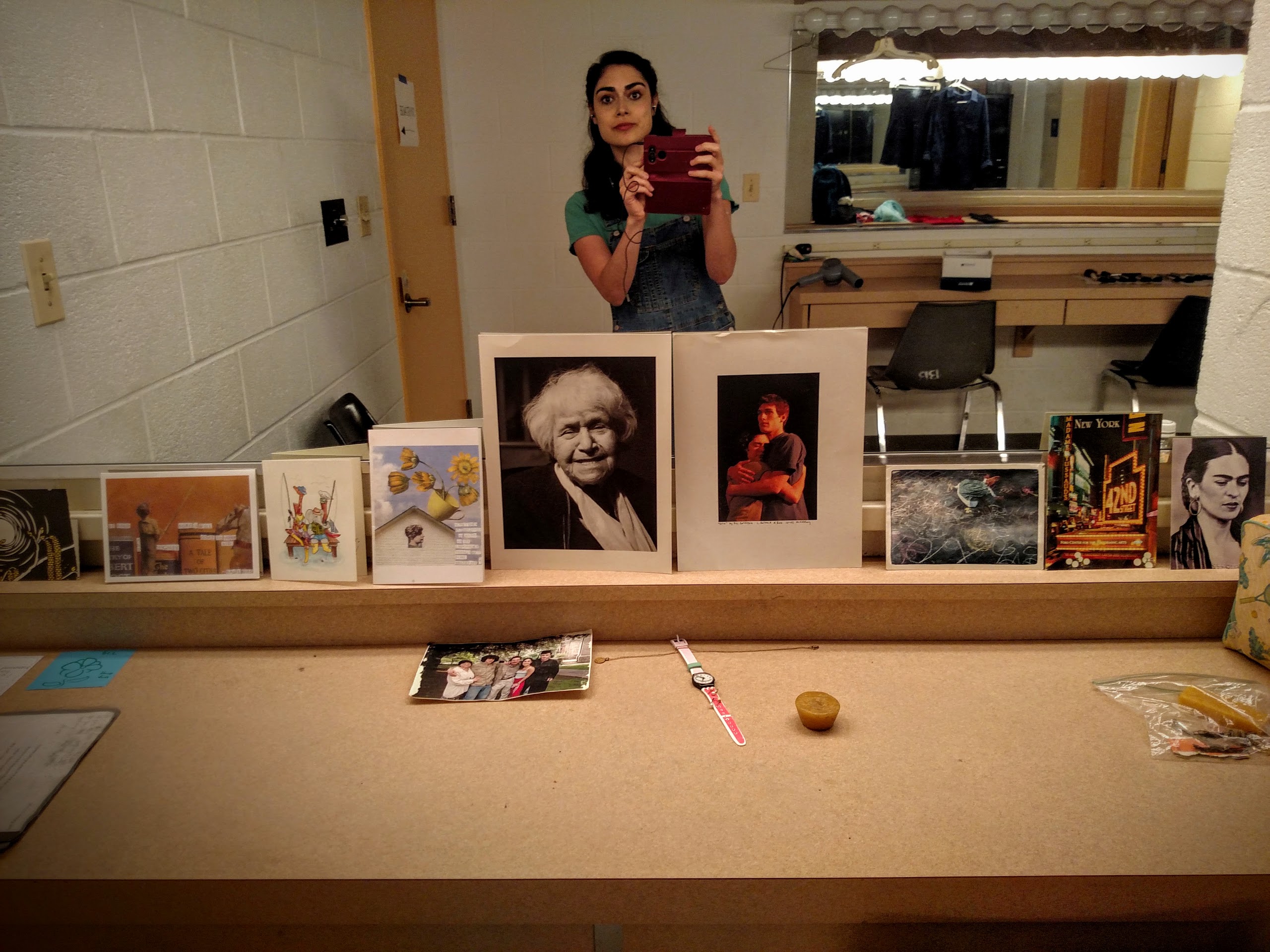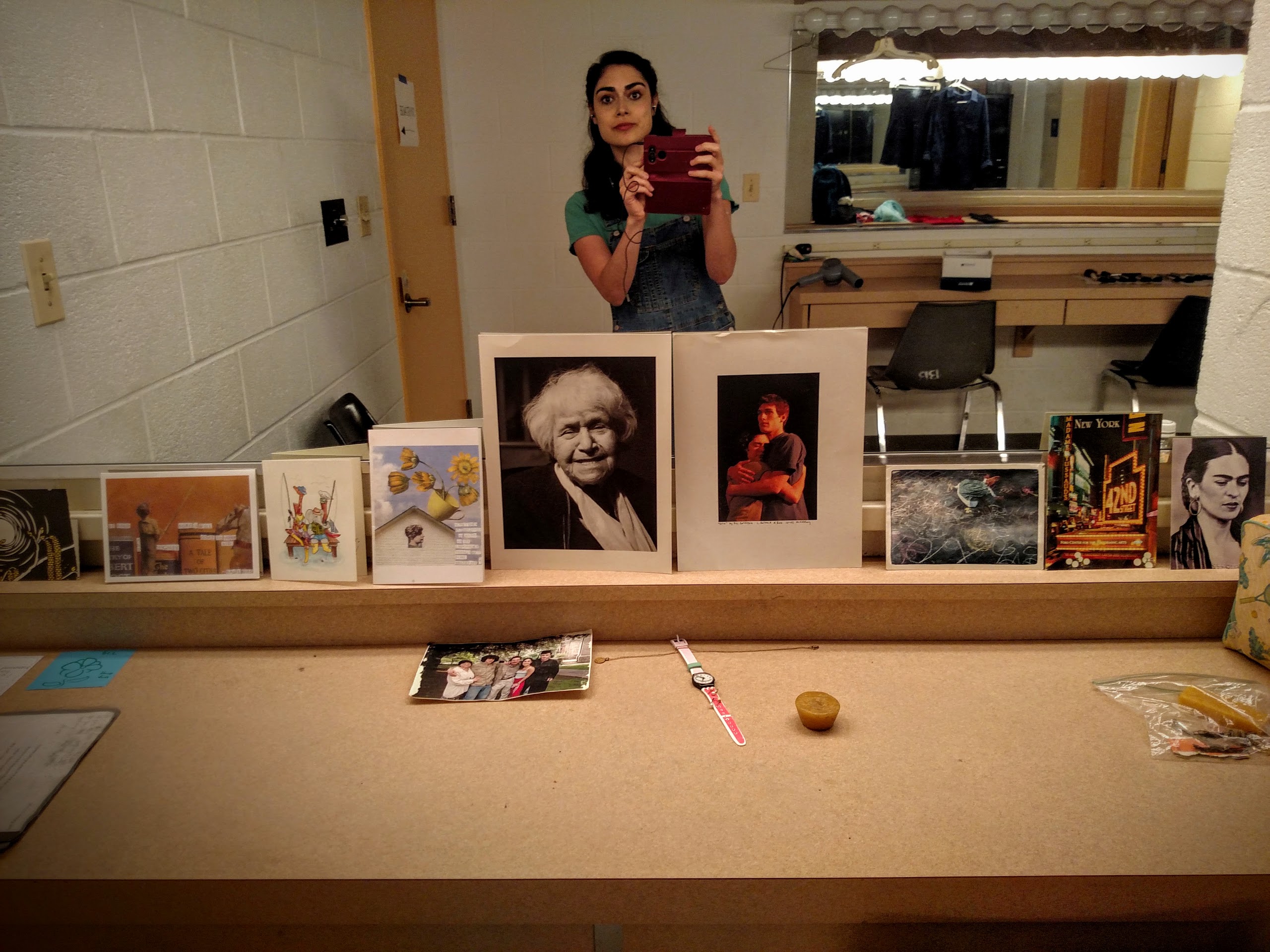 Written by Tea Carnell, an active Young Audiences board member, Chair of 50,000 Kids Committee, and member of the Literature to Life Fundraising Committee.
Last fall, I was lucky enough to see Literature to Life's staged presentation of Sue Monk Kidd's The Secret Life of Bees in Washington, DC at a fundraiser hosted by Laura Handman, daughter of Literature to Life's creator, Wynn Handman. Wynn Handman is also one of the founders of The American Place Theatre in New York City. That night, we were raising funds to bring this program to Prince George's County Public Schools where it was performed last week.
I was moved by The Secret Life of Bees because, among other things, it touches on themes relevant not only to the students, but to everyone: racism and prejudice, the power of women, the vulnerability of women, what is real versus what is presented to us, and guilt and forgiveness. These issues are weighty and the performance compels the audience to confront them, showing that performance can exceed entertainment and that life's biggest questions and broadest experiences can be captured and expressed. With the leadership of the teaching artist, Literature to Life creates an opportunity for students to consider and reflect. Wynn Handman once said, "There is so much noise in the entertainment world today, but where is the mind? We are not going for noise, we are going for the core. We do things that stay with youth, that get to them in a deep way…. That's how we connect with youth. There is nowhere to hide from the story once the actor begins." This opportunity is important for all students. And, it is especially critical for those students who don't have access to the arts.   
The performance of The Secret Life of Bees is accomplished just by one woman, Lily Balsen, playing all of the characters, and using verbatim excerpts from the novel. The actress spins these elements into a seamless production. I was lucky enough to see it again last week, on International Women's Day. Of course, The Secret Life of Bees is a novel about women, and written by a woman. The date of the showing was a coincidence – a little serendipitous.  Young Audiences/Arts for Learning was 'showing off' Literature to Life to a Baltimore-based audience interested in, and supportive of, arts in education.
This performance coalesced around the messages I had grown up with and personalized them for me with an immediacy that I had not yet experienced in the suburbs where I was growing up.
As I've thought about these wonderful performances, I have been reminded of the impact that a single play had on me as a child. I grew up just outside of Philadelphia in the mid-1970's. In 1976, my parents took us to see One Acre at a Time at Freedom Theatre. Freedom Theatre is a Philadelphia-based theater company whose mission is "rooted in the African American tradition." The play was intense, it made me uncomfortable, and the experience left me with lots to think about as a young person.  During my childhood, my parents tried to educate me and my brother about the importance of the Civil Rights Movement. I always understood what they were telling me and accepted that racism and discrimination were wrong. I don't remember the specific plot at this point. I do remember the impact of the emotion and passionate expression in the context of historical issues of race in the United States. This performance coalesced around the messages I had grown up with and personalized them for me with an immediacy that I had not yet experienced in the suburbs where I was growing up. That experience sits with me today and has left me with messages I don't think could have been communicated in a more compelling way.
Literature to Life brought me back to that experience of being a child, moved profoundly and enduringly by a performance. I feel strongly about the power of theatre in the lives of students. Theatre has many layers for students beyond audience: content, expression, production. Children benefit from them all – as young writers, performers, writers, artists, stage crew.
4,000 young people will experience the staged presentation Secret Life of Bees and, afterward, participate in a "talk back" with Young Audience teaching artist Molly Moores and the phenomenal actress Lily Balsen, who travels from New York for these performances.  The schools participating in the tour include:
Annapolis Road Academy
Bowie High School
Dr. Henry A. Wise, Jr. High School
International High School at Langley Park
International High School at Largo
Largo High School
Northwestern High School
Mount Washington School
Southwest Baltimore Charter School
I hope that Literature to Life will find its way to many more Maryland students.  To learn more about the program, visit literaturetolife.org.
If you are like me and care about the power of theatre, or more broadly about the power of the arts in our schools, I suggest you get to know more about Young Audiences/Arts for Learning at one of its regular Bright Side events. Bright Side events are not fundraisers, rather they are one-hour, fun, interactive presentations that go more in-depth about our work (including all of our programs beyond theatre with music, visual arts, and dance) and share stories of the people we serve. The next event will be on March 21st at 5:30 pm at Herman, Sessa & Dorsey in Hunt Valley (307 International Circle Suite 280, Hunt Valley, MD 21030). To RSVP for this event, please email Chaz Walters at [email protected].