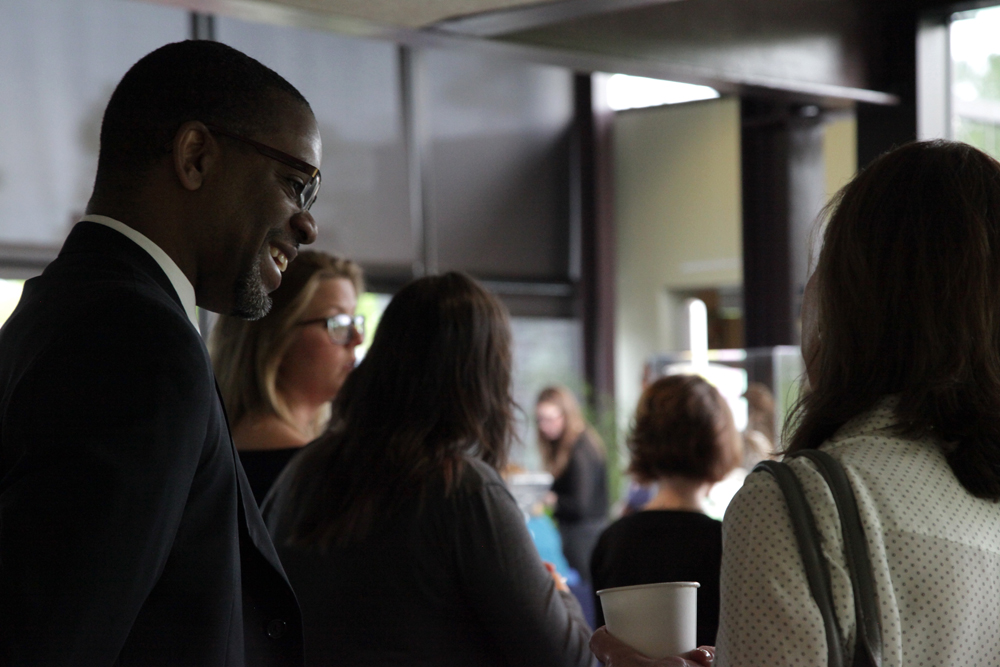 We are reminded every day of the irreplaceable support we receive from those who share in our mission to transform the lives and education of Maryland students through arts experiences. From teachers and teaching artists to principals, parents, and donors, our list of allies is long. And because of our allies, the reach of our impact is wide and growing even wider.
"Thanks to our amazing staff and board, and to our supporters, including our Sunburst Society, our outreach has grown by 400%," executive director, Stacie Sanders Evans, announced at the crowded Impact Breakfast last week. "Last year, we reached 191,000 students at nearly 500 schools with 225,000 hours of inspired learning! Also, we trained 1,096 teachers in arts-integrated instruction – so that means this kind of learning takes place even when our artists aren't in schools."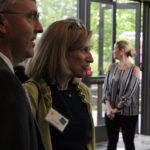 Our teaching artists live and breathe our mission through their work in classrooms every day. And that's just the beginning. While they may fly under the radar, our board of directors includes 23 of the most engaged, hands-on leaders and supporters we could hope for. Their commitment is extraordinary. Our board members can be found supporting our work in any number of ways including authoring blog posts, hosting On The Brightside events or leading full-day staff and teaching artist trainings. You may find them meeting with potential sponsors over lunch, inviting colleagues to our events, learning dance routines with their co-workers from a teaching artist, or even volunteering to make sock-puppets at our Family Engagement Night!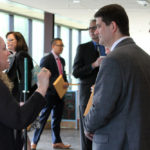 Our board members are proud of the work we all do and they are eager to say so. "Arts integration is when the arts are drilled down into an academic curriculum in a thoughtful and meaningful way – and that is what puts the 'Arts for Learning' in our name and what makes Young Audiences/Arts for Learning so exceptional," explained board member Tea Carnell at the Impact Breakfast. "What do the arts bring to a curriculum? Creativity, joy, and expression are the obvious ones. Arts integration brings mastery, perseverance, insight, focus, understanding, reflection, and problem solving."
It is this passion for arts integration and the desire to reach all children that drives each one of us at Young Audiences, but we wouldn't be able to do the work we do, and we wouldn't be able to reach the children we reach, without the unwavering support of our board members. "We are at this incredible moment in time. We have the evidence our programs work. We have a school system that is asking for help. All we need to do is bravely create the opportunities we know students need," Stacie Sanders Evans told supporters. "Young Audiences, its incredible artists, everyone in this room – YOU – can close the gaps for our young people."
And you are. Because of you, we not only met, we surpassed our Impact Breakfast's fundraising goal. From the bottom of our hearts, we extend a sincere thank you to our board, to Alan Hoff, chair of our major gifts committee, and to each and every one of our wonderful supporters. Visit yamd.org to learn more about the programs we offer and how you can help us reach even more children.
My name is Amanda Sessa and I am a student at the Institute of Notre Dame (IND) in Baltimore City. I am a member of the Shalom Club, a worldwide high school organization dedicated to peace. At IND, the Shalom Club partners with local charities to raise money for them.
For as long as I can remember my father, Thomas Sessa, has been on the board of Young Audiences/Arts for Learning. So, when the Shalom Club was looking to partner with a new organization, I automatically thought of Young Audiences. When I told the other members of Shalom Club about the work Young Audiences does to bring arts experiences to Maryland students, they jumped at the opportunity to partner with them because we believe that education is a gateway to peace in the world. Additionally, IND has focused on expanding its arts programs and its use of the arts to more fully develop the education of our students. Therefore Young Audiences was a perfect partner for IND and the Shalom Club.
On April 2, 2014, IND held a fundraiser called Bread and Soup Day organized by the Shalom Club. Prior to Bread and Soup Day, Young Audiences staff members Pat Cruz and Jess Porter (who is also an alumna of IND) came to our school to educate the students about Young Audiences and its mission. The response was overwhelming. On Bread and Soup Day we sold lunches to IND students and donated all of the proceeds (approximately $400) to Young Audiences.
I am very excited that I was able to connect IND with Young Audiences, especially because both organizations are dedicated to maximizing student achievement in Baltimore City and beyond. In addition to introducing Young Audiences to IND's 400 students and its faculty, I learned a great deal about the role that Young Audiences plays in educating Maryland's students, especially students of limited means.
I am lucky. I have always had an arts program in my school and assumed that all other students were also exposed to the arts. Pat and Jess showed me that many students–who often could most benefit from arts programs–do not have the chance to learn with the arts in school. I saw that my participation in middle school theatre performances and IND's Choral Performance class should not be taken for granted. These experiences have been some of the greatest educational opportunities for me but are not available to thousands of students throughout Maryland.
My teachers have used the arts, including music and dance, in so many ways. I learned the alphabet through the ABC song, danced to a song warning me about talking to strangers, and continue to use music and song to recall words in Spanish. In English class this year my teacher had us act out the plays we read so we could see the events as the author intended. When we were not reading, she would have us draw pictures of settings, characters, and symbols to depict the text in a different way. The arts make learning fun and interesting and these were some of the best assignments I was given. It saddens me that they are not available to everyone.
The Shalom Club and the IND community hopes that our donation will help fund the important work of Young Audiences. We hope that our efforts will allow Young Audiences to reach students who otherwise would never experience the power of the arts educationally or in their lives outside of the classroom. I am proud to have been able to make a contribution to Young Audiences' important work. I hope that IND and Young Audiences will continue to be partners for years to come.
Many thanks to Amanda Sessa and all the members of IND's Shalom Club for their support of Young Audiences and increasing access to arts-in-education programs for all Maryland students!