Written by Jaime Clough
The 2nd grade Baltimore City Public Schools teacher spoke about how the tools she learned at Summer Arts & Learning Academy have informed her teaching and transformed her classroom at Young Audiences' annual Impact Breakfast earlier this month.
"Buffalo Woman, go," Mr. Briggs nudged me. I stepped onto the stage, took a deep breath, and began my lines. I was eight and dressed in a leather Native American dress with beads and fringe. I was shy, but I had done the work. By the morning of the production, I had read primary texts, written a research paper, and created my own costume. So, when I stepped onto that stage, I was not timid or nervous, but passionate and proud. This was my first experience with arts integration.
Fourteen years after my role as the Buffalo Woman, I was accepted into Teach for America Baltimore and began teaching at Margaret Brent Elementary/Middle School in Charles Village. My students are diverse. One walked with her family from Mexico to America. One, who cannot yet read, learns in the same space as another, who is reading Harry Potter. Some of my students come to school without having eaten since the night before. Others rarely have clean uniforms.
I knew what I wanted to do in my classroom, but I didn't have the tools to execute my ideas.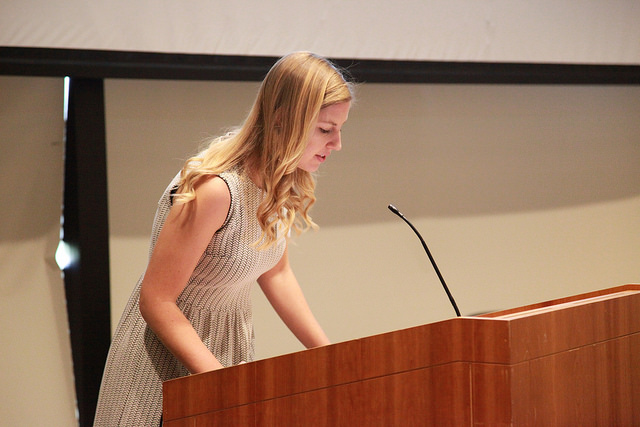 It was last March that I found Young Audiences. They matched me with fiber artist and Young Audiences teaching artist Katherine Dilworth, and together we went through a one-week professional development class. I learned how to use song and rap to teach students multiplication, and theatre to understand points of view in a story. During Summer Arts & Learning Academy, for the first time, I taught the way I had always wanted to teach.
As part of our literacy unit, students read City Green. To help kids understand the message of the book, "what makes a community?" and connect with the characters, Katherine and I planned a lesson around creating a community garden out of woven flowers. We'd use our art standards to create ABAB patterns and connect math standards for adding and subtracting the strings.  
We had one student in the class with lots of sensory difficulties. He had challenges with personal space, with expressing his emotions, and would often just put his head on his desk. As he began to wind thread through his loom to make his flower, I was ready for him to say, "It's too hard," and stomp away. After 15 minutes of weaving blues and purples, a pattern emerged. His flower was taking shape beautifully. He was adding and subtracting, counting his strings, and weaving the pattern. Absorbed in his work, he sat without prompting for the longest amount of time since I had known him. "Ms. Clough, look! Ms. Clough, I did it," he said. "I made my flower and it's so cool!" That was the spark.
From that moment on, my student was different. He raised his hand. He worked with partners. He asked questions about how to make his work better. Without that moment at the beginning of summer, we would not have seen a change in him. The arts gave both him and me the tools we needed to help him succeed.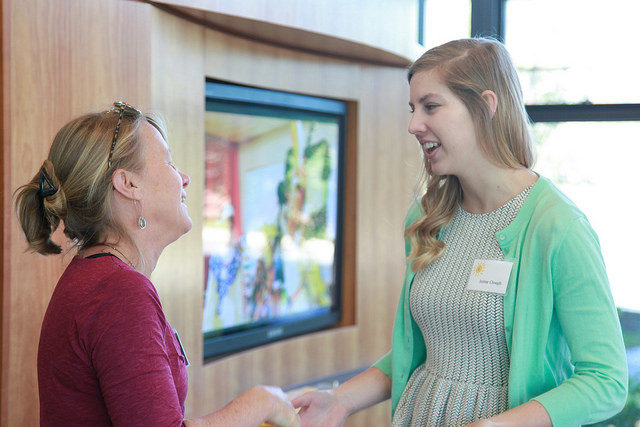 My classroom after SALA is a different world. Teaching through the arts doesn't just work for some students, it works for everyone. I have the highest engagement I have ever had, we are on track to grow two years in one school year as a class, and there is a spark in every single eye in the room when I write the lyrics to a "Ms. Clough Original" on the board. iReady, ANET, and DIBELS tests do not make us anxious anymore. When we walk into the computer lab, my students cheer because now they know they can do it. They are confident because they know their math and reading strategies from the songs, skits, and choreography we use every day. The successes and swagger among students in my classroom are because of the skills I gained while teaching with Young Audiences. Now, my dream is to be a principal so that I don't just have a classroom of sparks, but a whole school of them.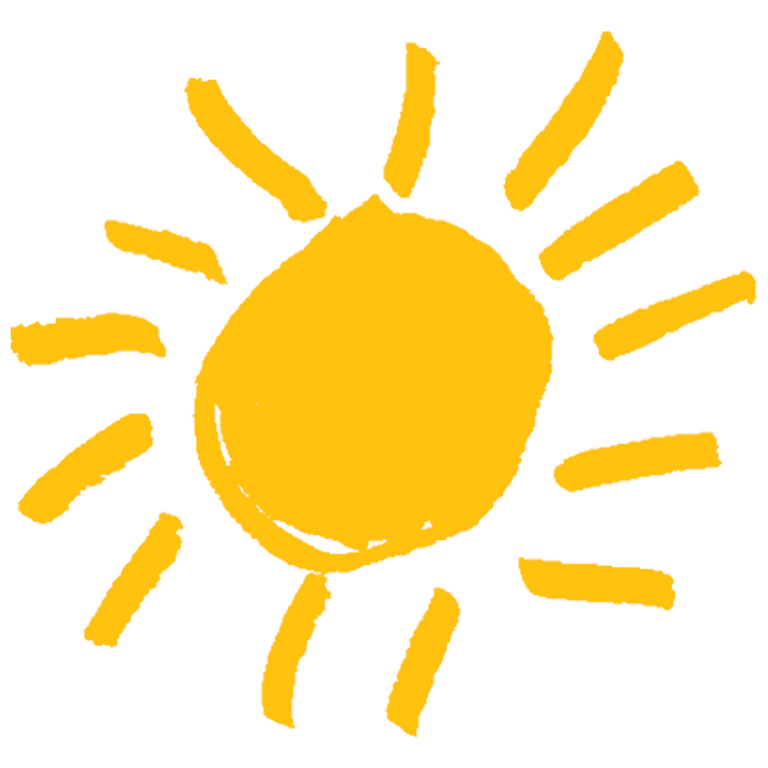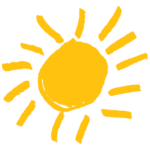 Jaime Clough is a 2nd Grade Teacher at Margaret Brent Elementary/Middle School and Summer Arts & Learning Academy Classroom Teacher. Her first-hand experience is a testament to the power of arts integration in the classroom and is an example of the incredible strides a class can take both emotionally and academically when children learn through the arts.
Written by Barbara Krebs,
Young Audiences volunteer and Sunburst Society member
If you follow education trends even a little, you can't avoid the STEM acronym. In fact, at many area high schools, getting a slot in the highly popular STEM (Science, Technology, Engineering, and Math) magnet program is tricky at best.
Why is that?  Why do people automatically assume that if you want your student to get ahead in life, your best bet is to seek out an education that prioritizes a STEM-based curriculum over one that values the humanities or visual and performing arts? Now, enrolling in a STEM-focused program is certainly not bad advice. But, it's definitely not the only path to success as one recent Washington Post article reported.
"Kids have been educated in a computer world.  But that computer world continues to threaten traditional jobs, so success will rely on the ability of students to innovate and use tools in a non-traditional way."
In the article, "The surprising thing Google learned about its employees – and what it means for today's students," the Post reported on a 2013 study that Google conducted on its own hiring practices. Its founders, with solid backgrounds in computer science, felt certain that only "technologists can understand technology." But after every bit of data was gathered and analyzed, the company discovered something unexpected. Of the top eight criteria considered essential for a top employee, STEM expertise rated… um… eighth.
This led to a deeper dive into the data, which ultimately led to Google re-evaluating its employment processes and putting more emphasis on hiring "humanities majors, artists, and even MBAs." Other companies (such as Chevron and IBM) have also discovered the positives of hiring liberal arts majors because they "prize their ability to communicate."
On a personal level, I feel very strongly about this. My daughter, Colette, spent seven years (three in middle school and four in high school) pursuing a Performing and Visual Arts education. She learned to sing, dance, act, write, and most importantly from my perspective, think creatively. And while she was singing and acting her way through high school, she was also taking AP Physics and Calculus and learning to wire circuit boards. So it didn't come as a huge surprise when she enrolled in Engineering as a college freshman.
While some people were shocked at the 180° turn she made, I viewed it as the logical conclusion to a style of learning that she honed as an arts major in high school. Combining a love of math and science with the arts is not as unusual as you might think.
"Finding a path to my final images is a complex choreography of math, my sensibilities as an artist/scientist, and the subtleties of the subject."
Take, for instance, Dr. Tim Christensen, biology professor at East Carolina University (ECU) and Senior Faculty Fellow in their Honors College (full disclosure – that's how I first met him, when touring ECU with my daughter, who was accepted into both ECU and their Honors College). Dr. Christensen is primarily a scientist but also an artist. Merging the two disciplines, he fully embraces and personifies the concept of STEAM (Science, Technology, Engineering, Arts, and Math).
I was immediately struck while perusing the awe-inspiring galactic photographs on his website, AstroWimp. "As an artist, I've been heavily influenced by my scientific training," he wrote. "To a scientist, images are 'data.' Standing in both art and science worlds, I attempt to convey the art of the data." In his role as teacher, Dr. Christensen transfers the wonder he experiences as a scientist and an artist to his students.
He readily admits that while he finds jumping back and forth between scientific and artistic worlds a natural leap, that is not the case with every scientist.  "Some are still wary of anything that can't be measured scientifically."  Nevertheless, he continues to champion the intersection of science and art, as evidenced in his own artwork. "Finding a path to my final images is a complex choreography of math, my sensibilities as an artist/scientist, and the subtleties of the subject."
Dr. Christensen is currently collaborating with a fellow faculty member, Daniel Kariko, Associate Professor of Fine Art Photography. Their project, dataSTEAM, "focuses on artists who work directly with scientists to develop a deep understanding of the data, preparing artists to contextualize data in their art, connecting both disciplines… art to science, and science to art."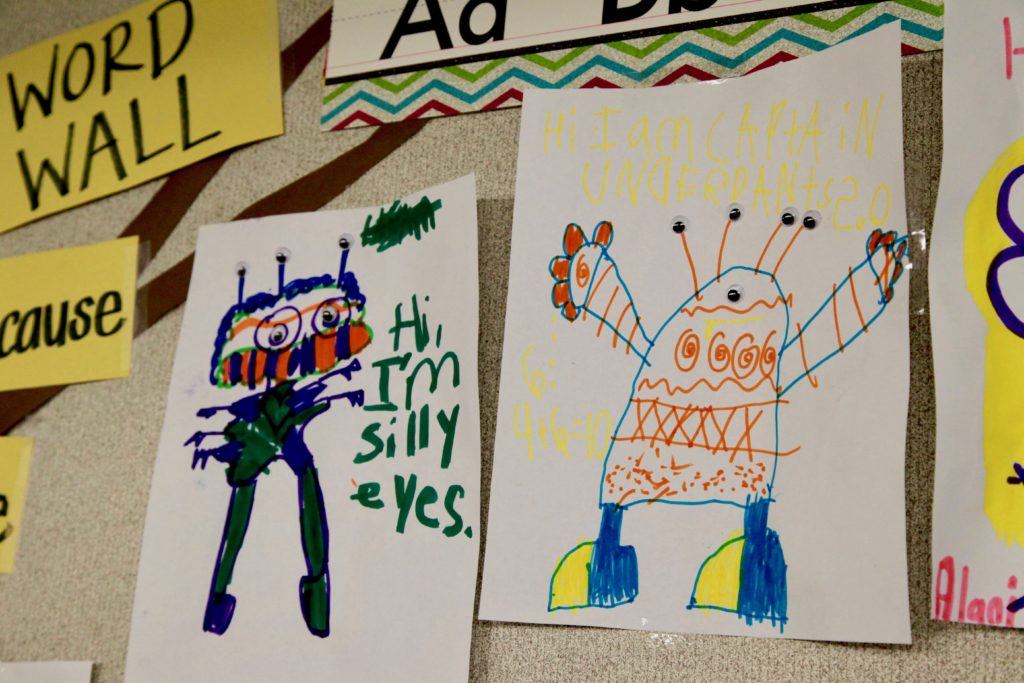 Starting in the fall semester, the two will "facilitate collaborations between Art and Honors/Science students" leading to a gallery exhibit at the university. But more important than the exhibition is, of course, the concept of cross-fertilization between the two disciplines.
As Dr. Christensen explained it, "Kids have been educated in a computer world.  But that computer world continues to threaten traditional jobs, so success will rely on the ability of students to innovate and use tools in a non-traditional way." He feels that merging science and art will create students who are quicker to think outside the box and can straddle both the worlds of imagination and hard-core data.
Similarly, what Google has identified as the top characteristics of successful employees are not unlike the same skills that educators and other business leaders identify as being critical to a person's success in careers, in college, and as a citizen: critical thinking, collaboration, communication, and creativity. These are behaviors that Young Audiences' teaching artists observe and nurture every day among students in arts-integrated classrooms. And so, for those folks who doubt the value of arts integration into core curriculum subjects such as science and math, the, ahem, data demonstrate that arts and science together create a more balanced individual who can successfully work in today's fast-paced, ever-changing work environment.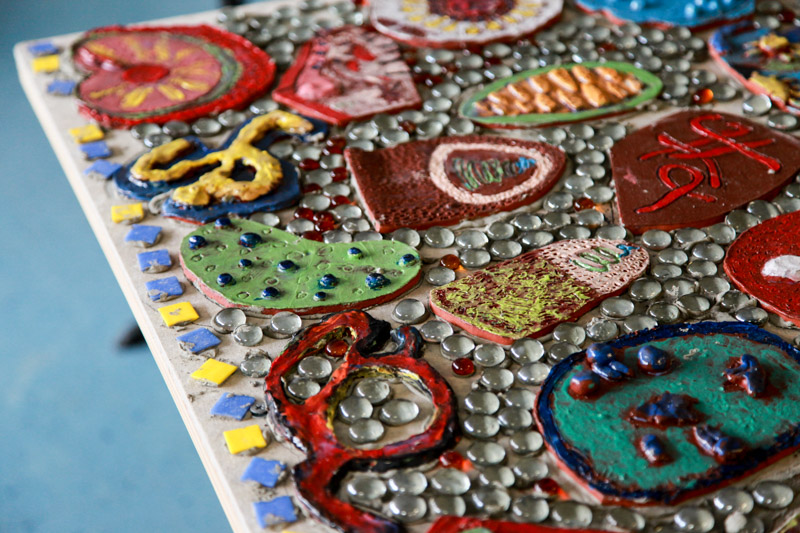 But don't take my word for it, just ask my daughter.  In a recent phone call, Colette was excitedly discussing her Statics class.  The definition of her Statics class from ECU's website- the analysis of equilibrium of particles, addition and resolution of forces, equivalent system of forces, equilibrium of rigid bodies, centroid and moment of inertia, structural analysis, internal forces, friction, and virtual work- left my head spinning.
When I commented on the apparent difficulty of the class, she assured me breezily, "Oh Mom, it's easy for me.  After all those arts classes in high school, I can see in 3-D."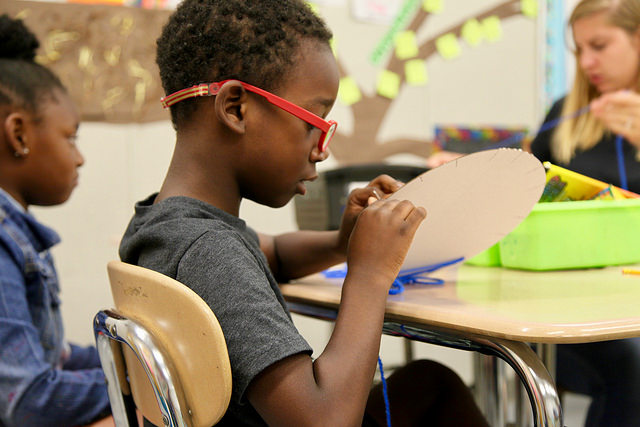 Written by Jaime Clough,
2nd Grade Teacher at Margaret Brent Elementary Middle School and
Summer Arts & Learning Academy Classroom Teacher
"This hit, that ice cold, Michelle Pfeiffer, that white gold." As soon as I heard the music echo into the buzzing auditorium, I knew it was time. Katherine Dilworth, my artist partner, and I put on our old lady gardener hats, fluffed our red feather boas, and strutted through the crowd of children gathered for the first day of Summer Arts & Learning Academy (SALA) at Thomas Jefferson Elementary Middle School. Waving and pointing to our new 1st and 2nd graders, we introduced ourselves as not just teachers, but people. We pulled out our best, but simultaneously horrible moves, and leaned into making ourselves look as silly and approachable as possible. It was fun, it was full of life, and we created it.
This scene, this first real moment of SALA, is a small snapshot of what the entire summer felt like for us as teachers working with Young Audiences. Neither Katherine nor I had ever worked at the Summer Arts and Learning Academy before and we were a bit hesitant about what fully integrating the arts into each lesson would look like, especially in dealing with Common Core math. Coming into this program, I had just completed my third year as a Baltimore City Public School teacher. I was less concerned with management, and more concerned with how to plan arts experiences all day, every day. Katherine has taught many residencies all over Maryland with Young Audiences, so she was more concerned with the management piece than with planning content. Young Audiences did a beautiful job of pairing us together because our strengths complemented each other perfectly and we filled in the gaps for each other seamlessly. Looking back, one of the massive assets of the SALA program is that teachers and artists work together so that the best of both art and content is intertwined beautifully into each students' day.
Another huge asset to SALA is the freedom we had in planning our content to help our students enjoy their experience through art. We had a variety of types of art involved in each day, from movements associated with how a plant grows to full projects like weaving flowers based on patterns to create a "community garden" like in our story City Green.
One of my favorite projects that we planned and implemented was a math lesson that focused on symmetry. Our math skill that day was understanding the value of the equals sign and how to make true number sentences. As a hook strategy to help students understand this concept, we let our class choose magazine photos that we had cut in half. Then, we taught them about symmetry and allowed them to try to create the second half of their picture so that both sides had equal patterns, lines, and shapes. Not only did this art connection engage our students so that they were excited once math started, but it gave them confidence and helped them understand much more clearly what it means for something (like a math equation) to "look equal."
Lessons and experiences like these projects enriched our students' understanding and knowledge in a way that I did not expect. This summer, I was able to clearly see how differently an arts-integrated classroom functions compared to a non-arts-integrated classroom. In an arts-rich class, students are more engaged, they have fun, they are more willing to take risks, and they come to see each other not just as students capable of learning, but as whole people capable of creating incredible things. On that first day of SALA, we were introduced to our students not just as teachers, but as whole people. Because of this, we were able to build more trusting and holistic relationships with them. This experience changed the way that I will teach, always, and I hope that it changed how my students feel about school and learning.
If you are a K-12 certified academic teacher interested in teaching in our 2018 Summer Arts and Learning Academy, email us at [email protected]. Professional artists interested in using their knowledge and expertise to transform the lives and education of City School students should visit Summer Arts Corps to learn about our paid training program. 
It was a summer filled with activity, singing, dancing, reading, creating, and sunshine. We witnessed the excitement of mastering new skills and discovering new talents. We felt the calm of classrooms illuminated with only the rays of light peeking in from behind drawn shades, students enveloped in peace, quietly drawing, ink and graphite on white paper.
When families initially enrolled their children in our Summer Arts and Learning Academy, we asked them why their child was interested in participating. Many stated that their children were creative and hoped that through the program, they'd be able to enhance their skills. Others emphasized the integrated academics or latent benefits of the arts. Some registrants celebrated the availability of the arts and educational summer program, as these opportunities are limited in Baltimore City.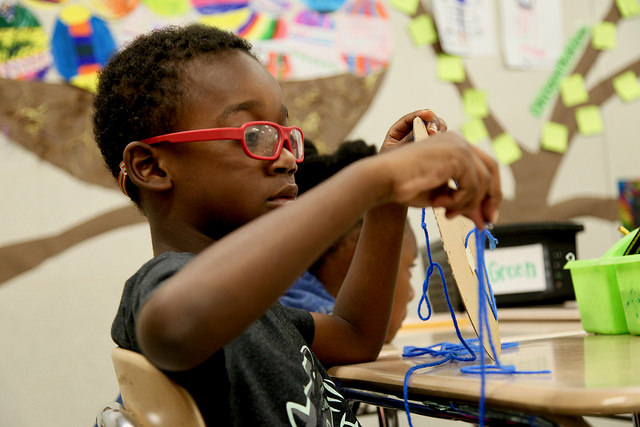 Did our Summer Arts and Learning Academy live up to families' expectations? Culmination ceremonies came to a close, classrooms were disassembled and packed up for next year, and students prepared for their next summer adventures. We asked parents and families if they'd give us feedback about their experience by filling out a survey. Their responses poured in- 413 of them to be exact. We discovered that in Summer Arts and Learning Academy, parents watched their children not only learn, but grow and thrive artistically, emotionally, and academically.
When asked about any positive changes they noticed in their kids, one parent replied, "An eagerness to attend school. IN THE SUMMER! Who knew?!"
87% of families who completed surveys told us that their child found something new that he or she has fun doing. "My son began to enjoy sewing and dancing," one parent told us. Another let us know that her grandson was very proud of the work he did in ceramics class. "He usually gives me all of his drawings and art projects, but he kept his claywork for himself."
Even when one particular art form grabbed a student's interest above all others, the children in Summer Arts and Learning Academy developed a deeper appreciation of and openness to all art. Students discovered that flexibility leads to new passions, discovery, and opportunity. "I learned that I am exceptionally good at ceramics. I knew I would like it but I didn't know I would actually be good at it," a rising sixth grader told us. "She was disappointed that the Coldstream Park site didn't offer theatre for older kids," her dad explained. "We're working on 'rolling with it,' though, and she ended up really loving African Dance and Ceramics. She would never have known, otherwise."
Parents told us that their kids were excited to get to the academy every morning, on time. When families reunited in the afternoons, kids would talk and talk about everything they did that day. When asked about any positive changes they noticed in their kids, one parent replied, "An eagerness to attend school. IN THE SUMMER! Who knew?!"
Upwards of 80% of parents who responded told us that they noticed an increase in their child's reading and math skills. With this strengthening of skills, their children became more confident. Of one student who enjoys writing poetry, we were told, "she will now actually share her writing with others." Many families reported their children not only enjoying reading but choosing to read books over watching television. Still others described students proudly reading on their own and teaching younger siblings what they had learned.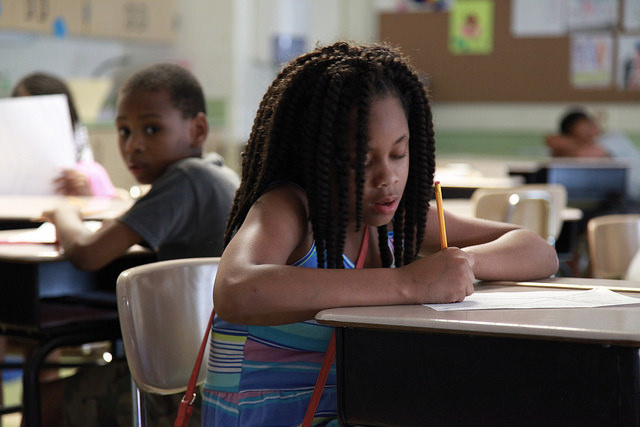 The positive changes parents noticed in their children exemplified 21st Century Skills, a set of higher order skills that have been identified by educators and business leaders as being critical to a person's success in careers, in college, and as a citizen. These are skills that typically cannot be measured through standardized testing and include critical thinking, collaboration, communication, and creativity.
Through Summer Arts and Learning Academy, students were introduced to many new ways of thinking, seeing, and expression. They learned to look at things from different perspectives through the eyes artists, characters in literature, and through new friends, which made their own experiences more joyful and meaningful. Children embraced their curiosity, asking questions, exploring, and researching independently. "My daughter is better able to integrate her love of arts (fun) with learning (not as much fun) and see ways to make learning something that's both fun and something she can accomplish," one mom told us.
Families described their students as being more social, friendly, outgoing, and connected. One student told her mom that she "enjoys being a loving and caring friend." Another student "wants to take care of the neighborhood." Students discovered that they liked working in groups and parents thought their children were now better able to deal with conflict. Through collaboration, the kids learned how to communicate, compromise, and achieve a common goal. They learned to 'roll with it', an enviable and necessary skill for 21st century children and adults alike.
Children in Prince George's County Public Schools know how to celebrate Earth Day! Through Growing Up Green, a PGCPS arts integration initiative, children in kindergarten classrooms learn environmental stewardship by experiencing nature first-hand, marveling in the wonders of our natural world, and nurturing a passion within themselves to respect and preserve it. Funded in part by a BGE Green Grant and the Chesapeake Bay Trust, the program engages kindergarteners in meaningful and authentic outdoor experiences that help connect them to their local ecosystems and inspire them to learn more about protecting our environment. The arts provide the vehicle that the students use to demonstrate and communicate their understanding to the greater learning community of their school.
At Mount Rainier Elementary School recently, YA roster artist Pam Negrin worked with young students to record their own observations of plant life over the course of her residency, The Life Cycle of Plants. On outdoor adventures, the class immersed themselves in the drama of nature. They set out to identify and explore the many characteristics of plant life in all of its forms: seeds, seedlings, mature plants, flowers, and fruit. Their drawings and observations were then rendered in colorful yarn, stitch by stitch into one large-scale embroidered mural for their entire school community to learn from and enjoy.
The children's work serves as a reminder of one of the biggest lessons even our smallest students can teach us. Just as this kindergarten class' finished mural is a collaborative effort, so is making our world a safe, strong, and healthy one for every living being. Happy Earth Day to all.
Pam Negrin's artwork includes embroidery, appliqué, drawing, collage, improvisational quilting, printmaking and sculpture. Her residencies transform classrooms into creative and collaborative handwork studios where students create something beautiful together. Schedule one of Pam's residencies for your classroom.
At the oldest public all-girls high school in the United States, students recently had the opportunity to work with fiber artist Pam Negrin to stitch the likenesses of important, black, female scientists onto one collaborative work of art. Along with partner teacher Jennifer Becker, and with help from both the science and graphic design departments, Pam worked with Western High School students on the large project from conception to realization.
"Many of these women truly were 'hidden figures' and one of the scientists, Stephanie Hill, was a Western alumna!"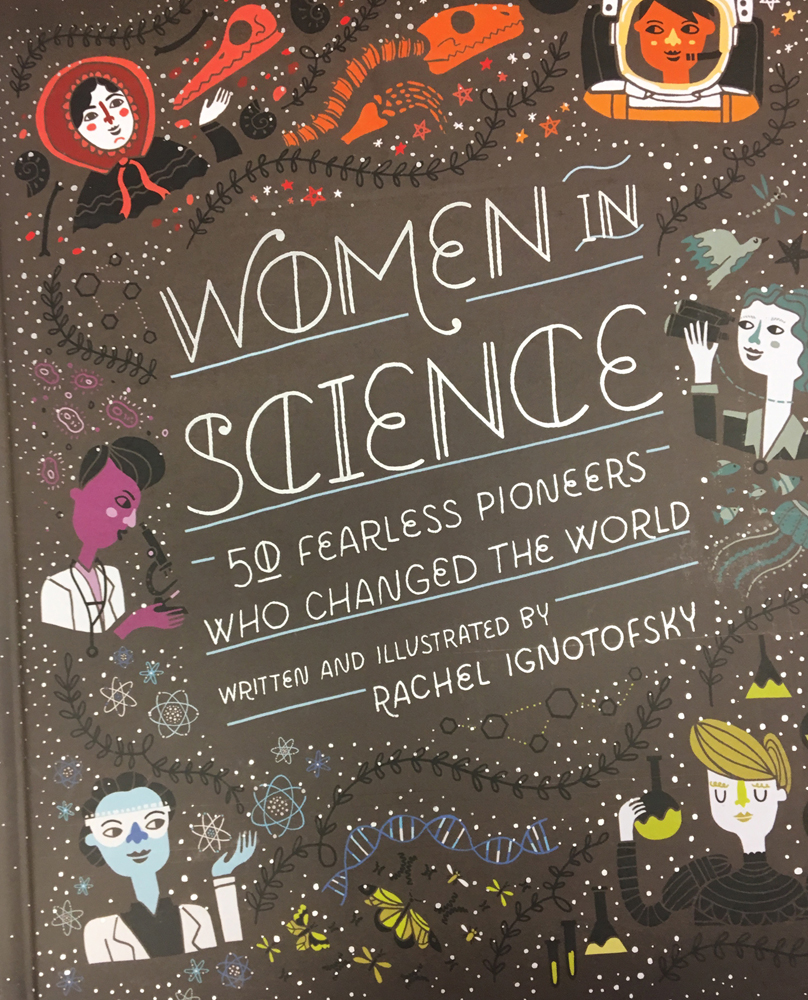 Drawing inspiration from the New York Times best-selling book, Women in Science, the group of students and teachers approached the project with reverence. "We lovingly call it our 'Women in Science Mural'," Mrs. Becker says of the artwork depicting portraits of women who paved the way for her students. "Many of these women truly were 'hidden figures' and one of the scientists, Stephanie Hill, is a Western alumna!"
Three different classes participated in this exciting project. "First, Western's lead science teacher, Ms. Washington, came up with a list of 25 women who have made important contributions in STEM fields," Mrs. Becker explained. "Graphic design students were tasked to research each of the 25 scientists, then collaborated with another group of students in a fine art class to turn these women into beautiful embroidered portraits."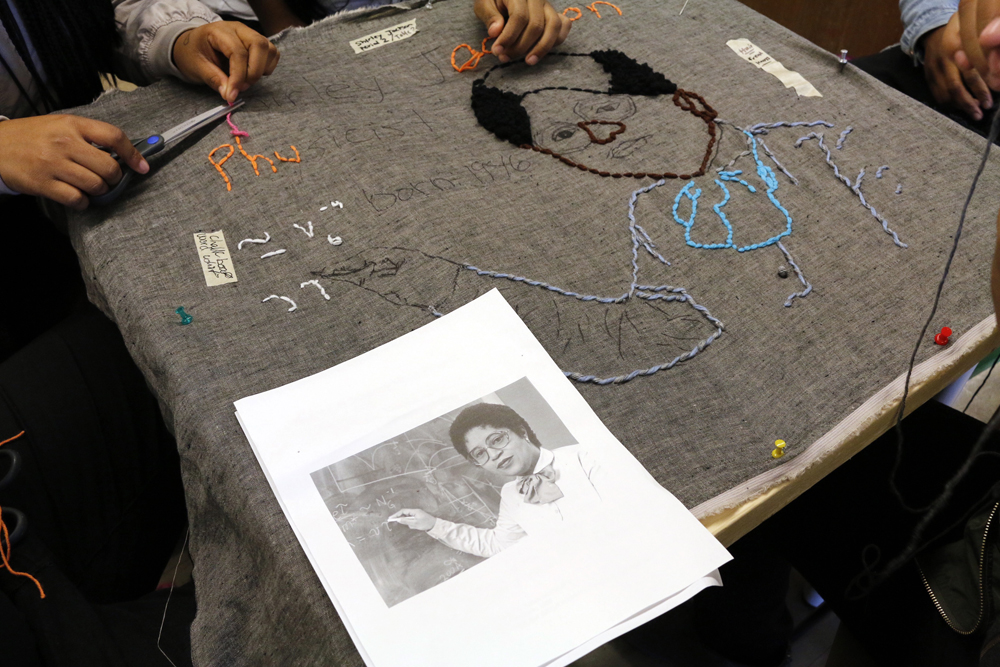 Pam taught the students how to project drawings onto fabric to create their own patterns. They learned various embroidery stitches to create different textures for hair, clothes, skin, and even a stitch for teeth! "Pam Negrin's residency was the highlight of our year. The students are eager to see their finished artwork on permanent display in the Science department."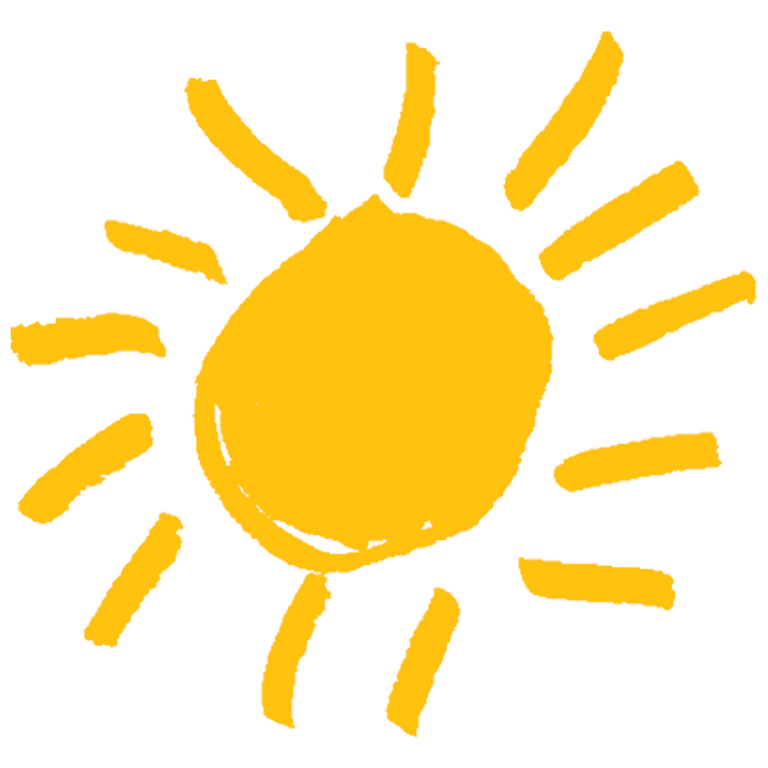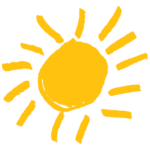 Pam Negrin's artwork includes embroidery, appliqué, drawing, collage, improvisational quilting, printmaking and sculpture. Her residencies transform classrooms into creative and collaborative handwork studios where students create something beautiful together. Schedule one of Pam's residencies for your classroom.
Baltimore students in Young Audiences Summer & Learning Arts Academy Outperform Peers
Baltimore City Public Schools students who participated in a new arts-related summer academic program from Young Audiences avoided summer learning loss and, in many cases, gained ground on their national peers in standardized testing, according to evaluations released Tuesday. The new findings showed potentially groundbreaking progress in tackling summer learning loss, a chronic challenge facing public schools.
The results, confirmed in two separate studies involving nearly 800 students, are significant because summer learning loss – particularly among students at or below poverty level – is among the most difficult challenges facing the Baltimore school district and other high-poverty schools across the country. During summer, students typically fall below where they ended the previous grade, setting them back as they start a new school year. In fact, a 2013 National Summer Learning Association (NSLA) survey of 500 teachers found that 66 percent reported the need to spend three to four weeks re-teaching students course material at the beginning of the year. Another 24% reported the need to spend five to six weeks doing the same.
"City Schools has enjoyed a great partnership with Young Audiences, not only during the school year but also the past two summers," said Dr. Sonja Brookins Santelises, chief executive officer of Baltimore City Public Schools (City Schools). "During the summer, Young Audiences reinforces key math and reading concepts through the arts and creative activities – and we're pleased with the results we've seen. When students participate in summer learning programs that help them move ahead or reduce learning loss, they start the school year off stronger."
The Young Audiences Summer Arts & Learning Academy (SALA), run by the Baltimore-based arts-in-education nonprofit Young Audiences of Maryland in partnership with City Schools, was free for students and held at four sites across the city: Gardenville Elementary, Thomas Jefferson Elementary/Middle, William Pinderhughes Elementary, and Fort Worthington Elementary/Middle. Eighty-eight percent of the participating students were from high-poverty Title I schools.
"These results were a pleasant surprise given that we generally expect that students will lose ground over the summer," commented Dr. Marc L. Stein, Associate Professor at the Johns Hopkins University School of Education, who conducted a separate program evaluation for Young Audiences which looked at participating students' academic skill and social-emotional development. "The Young Audiences summer program combines many of the best practices of summer learning programs and appears to be a promising model. These findings deserve to be investigated more rigorously to find out how and for whom the program appears to be working."
"This is not your typical summer school program," said Stacie Evans, Executive Director of Young Audiences. "We taught literacy and math through the arts every day and instruction was collaboratively taught by teaching artists and teachers specifically trained in arts-integration methods. If you walked into one of our classrooms, you might have seen students using hip hop music to help solve word problems in math, or creating dances to summarize and sequence main events in a story."
The Baltimore City Public Schools evaluation found:
For math, statistically significant results showed that students in grades 3-5 who regularly attended (defined as attending at least 75% of the program) the SALA improved 1.8% percentile points in national student rankings on i-Ready standardized testing from the spring of 2016 to the fall of that year. That compares to a decrease of 2.8% percentile points for city schools students who did not attend any summer programming.
In reading, SALA students in grades 3-5 with regular attendance fell only .8% percentile points while students who did not attend any summer programming fell 2.1 percentile points upon returning to school in the fall.
Results for all grade 3-5 students regardless of attendance rate showed SALA attendees falling just .3% percentile points in math and .7% in reading. These were significantly smaller losses than students with no summer programming (down 2.8% in math, down 2.1% lost in reading).
In literacy, only 3% of the students in grades K-2 attending SALA did not meet their benchmark goal (the empirically derived target score that represents adequate reading progess1) on the standardized DIBELS assessment in the fall after returning to school compared to 8.1% of students not attending any summer programming not meeting the benchmark.
Young Audiences external program evaluation found:
79% of students who attended at least 75% of the program and who took pre- and post-tests had a positive change from the first to the last week of the program on a curriculum based measure of mathematics.
Approximately 60% of students who attended at least 75% of the program and who took pre- and post-test writing prompts showed positive change in their structure and content of their writing.
71% of students who attended 75% of the program and were administered pre- and post-assessments showed growth in at least one out of three social emotional competency areas over the course of the program. The social emotional competencies studied were relationship skills, self-awareness, and goal directed.
"The arts offer an extraordinary opportunity, particularly during the summer, to reignite the joy of learning and to set young people on the right course to start the school year strong. These impressive results from Young Audiences mirror findings of the landmark Wallace Foundation study showing that elementary school students with high levels of attendance in high-quality, voluntary summer learning programs can experience benefits in math and reading," commented Matthew Boulay PhD, National Summer Learning Association founder and interim CEO.
Eric Harrell, father of 9 year-old Academy participant, Aria Harrell, said "Before this academy, I could tell that my daughter was struggling in math. By using the arts she was able to learn math in a different way-a way that worked for her. She has so much more confidence in her math class."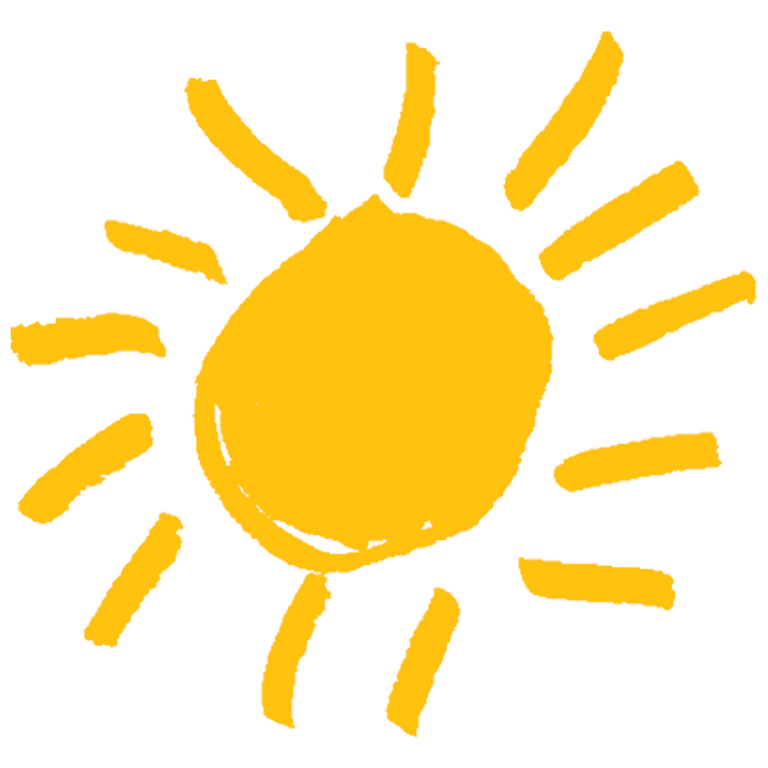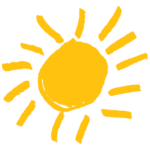 1 "Dibels Next Benchmark Goals and Composite Score, " Dynamic Measurement Group, Inc. (December 1, 2010). https://dibels.uoregon.edu/docs/DIBELSNextFormerBenchmarkGoals.pdf
Links to complete City Schools and Young Audiences Evaluations:

YAMD evaluation
Young Audiences' Summer Arts & Learning Academy is funded by Baltimore City Public Schools, The Abell Foundation, The Family League of Baltimore with the support of the Mayor and the City Council of Baltimore, The Alvin and Fanny B. Thalheimer Foundation and individual contributions to Young Audiences. All participants are students at a Title I Baltimore City Public School.
Categorized:

News, Press Releases, Summer Arts & Learning Academy, Summer Learning

Tagged:

arts integration, Baltimore City, Baltimore City Public Schools, ceramic art, creative learning, dance, fiber art, filmmaking, Hip Hop, movement, Music, National Summer Learning Association, painting, percussion, Piano, playwriting, poetry, singing, songwriting, sound production, spoken word poetry, STEAM, Summer Arts Academy, Summer Arts and Learning Academy, summer learning, summer learning loss, summer learning slide, summer slide, teaching artists, theatre, visual art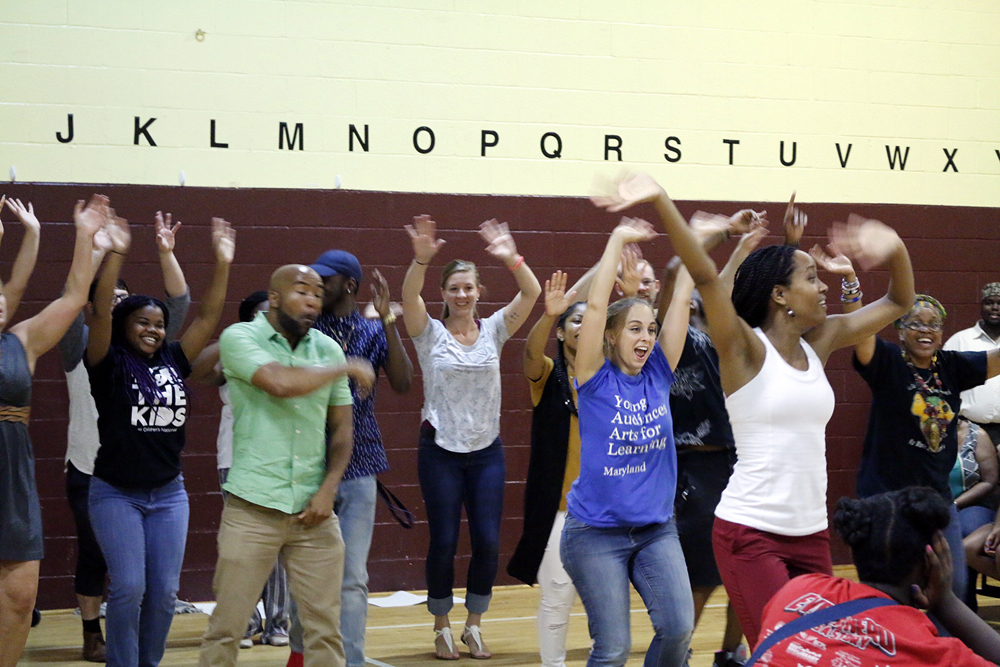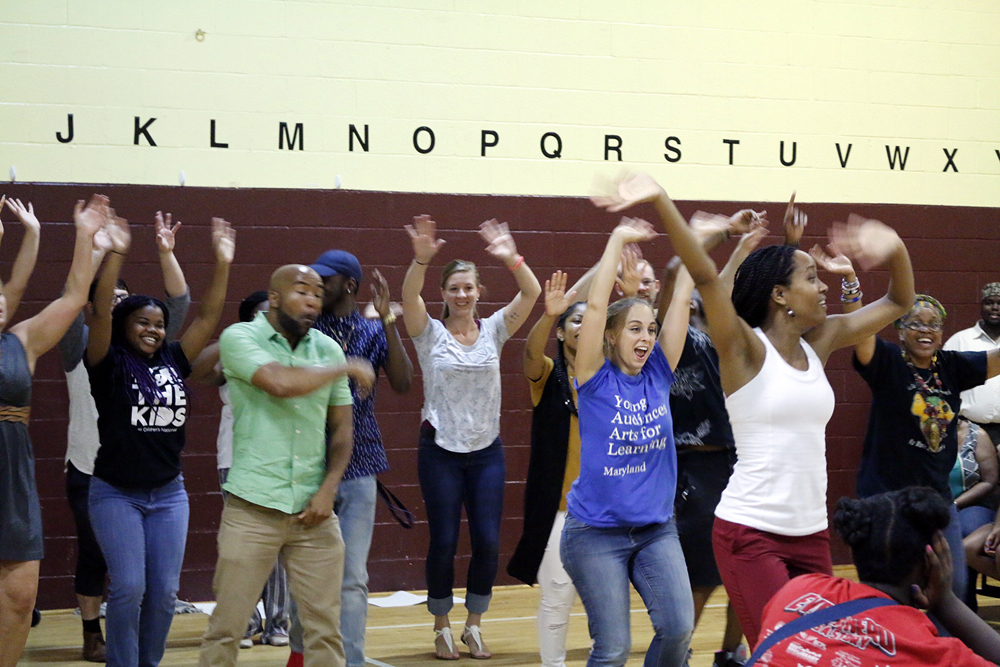 This morning, we kicked off our expanded Summer Arts and Learning Academy – a free, five week program immersing 900 City students in a variety of art forms taught by 36 locally-based professional artists. The full-day program welcomes students grades K-5, encouraging imagination, creation and expression through the arts, such as painting, songwriting, spoken word poetry, dance, piano, singing, visual art, sound production, playwriting, fiber art, and filmmaking.
Our kickoff this morning was a blast – welcoming students and their parents to the Academy's four sites with high-energy performances, live music, and vibrant interactive art demonstrations – giving them a preview of the truly unique and empowering experiences to come throughout the next five weeks.
Due to last year's success; with academic gains by students drawing from 93 different city schools—the district asked us to expand the Academy to four sites: Thomas Jefferson Elementary, William Pinderhughes Elementary, Gardenville Elementary and Fort Worthington Elementary.
Working with kids as they discover passions, refine creative processes and integrate arts in their everyday learning is an inspirational experience we and our Teaching Artists look forward to every year. We spoke with a few participating Teaching Artists about their plans and why the Summer Arts Academy is such a great opportunity for students and artists:
Scott Paynter, reggae singer:
I wanted to teach at this year's Summer Arts and Learning Academy to gain more experience working with Baltimore's greatest resource…it's children. My art form helps students express themselves through lyrics, it introduces them to cultures and people they've never encountered before, and it brings life to a classroom environment. Music is like a force of nature. It's everywhere you are if you pay attention."
Bridget Cavaiola, Baltimore Improv Group:
This is such a unique experience to provide our students with collaborative and engaging arts experiences that they may not get to during the school year. The mood and energy are contagious as you get to watch the students engage themselves in something in which they have passion."
Alden Phelps, musician:
My focus has always been on playing with words and the joy of language. Language is the foundation of how we communicate and function as human beings. Students who practice manipulating language, expanding their vocabulary, using rhymes, and counting syllables will better succeed in their regular academic work. Creative thinking opens up new pathways in our brains. There's also a wonderful freedom when a student can express an idea creatively. They synthesize their academic knowledge with skill in the arts, such as using color or figurative language, and the result is far more engaging to them."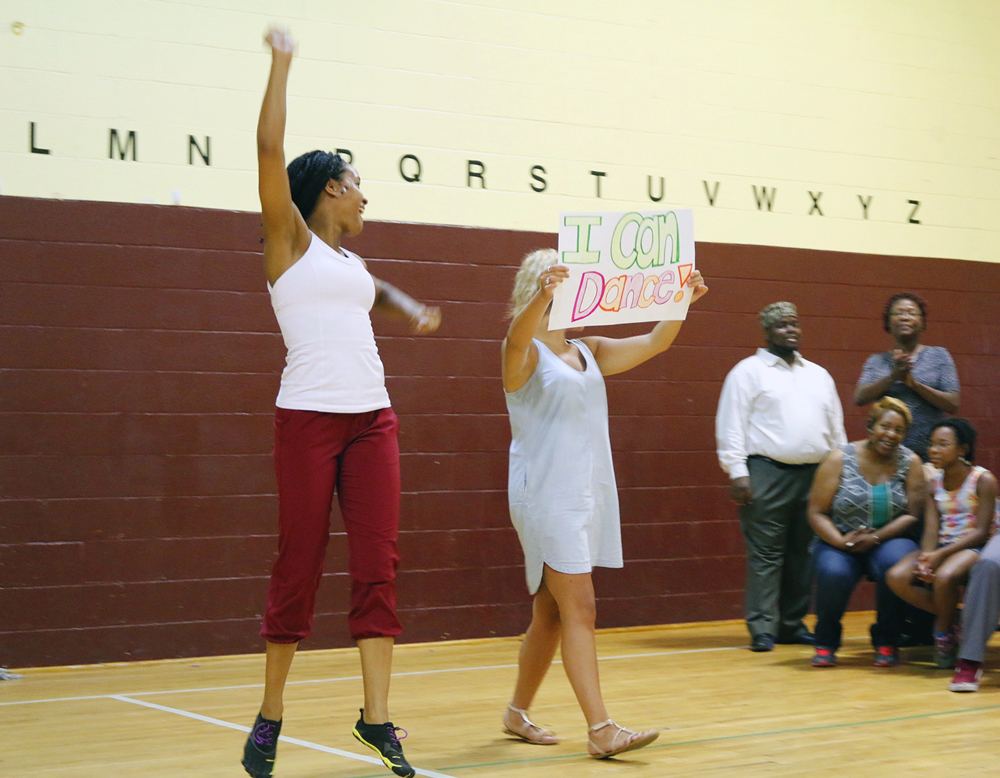 Students will imagine, create and express themselves through the arts, with a chance to concentrate on two art forms. The students even show-off their talents at Artscape, at pop-up performances in mobile art galleries around the city and at the August 5 final culminating event. We can't wait to see the students perform!
After this morning's successful kick-off event, led by teaching artists Valerie Branch and Sean Roberts, at William Pinderhughes Elementary, one parent said:
"I am just so excited to get to see my child perform soon. Seeing what the [teachers and artists] did just now, I know they are in trusted hands. It made me look at my daughter and think yes! This is going to be different, we are so excited! She LOVES art! I can't wait for the workshops too!"
Kicking off YA's Summer Arts Academy at #TJEMS with Femi the Drifish @BaltCitySchools #yamdsummer #SummerLearning pic.twitter.com/C8HwIkJ6MS

— Young Audiences MD (@arts4learning) July 5, 2016
Young Audiences' Summer Arts and Learning Academy is funded by Baltimore City Public Schools, The Abell Foundation, The Family League of Baltimore with the support of the Mayor and the City Council of Baltimore, The Alvin and Fanny B. Thalheimer Foundation and individual contributions to Young Audiences. All participants are students at a Title I Baltimore City Public School.
Categorized:

News

Tagged:

Alden Phelps, arts integration, Baltimore City, Baltimore City Public Schools, Baltimore Improv Group, ceramic art, creative learning, dance, Femi the Drifish, fiber art, filmmaking, Hip Hop, movement, Music, painting, percussion, Piano, playwriting, poetry, singing, songwriting, sound production, spoken word poetry, STEAM, Summer Arts Academy, Summer Arts and Learning Academy, summer learning, summer learning loss, summer learning slide, teaching artists, theatre, Valerie Branch, visual art