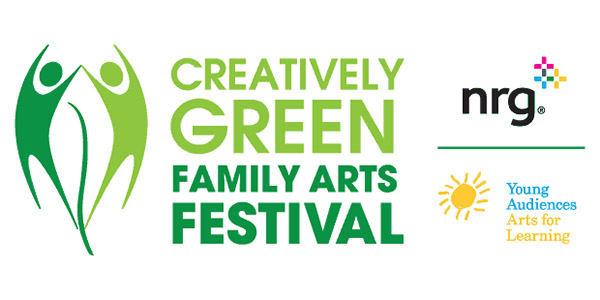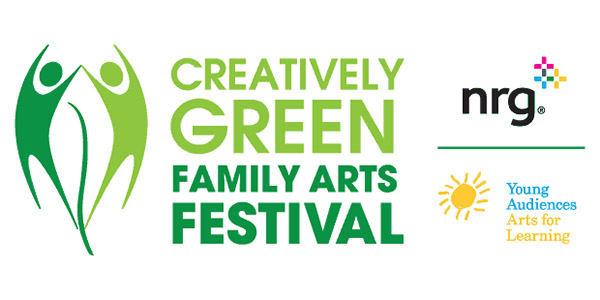 Young Audiences has announced two winning schools in the NRG Energy Creatively Green Award competition, sponsored by NRG Energy, Inc.: Chesapeake Public Charter School and Port Towns Elementary School!
Each winning school will host its own NRG Creatively Green Family Arts Festival for its school and community members with services worth up to $7,000. The two-and-a-half hour family arts festivals will consist of a performance by Young Audiences Blues musician Curtis Blues focusing on the importance of protecting the environment; hands‐on art making workshops led by a variety of Young Audiences teaching artists that promote environmental sustainability, from creating plastic monster puppets with old milk jugs to learning about kinetic energy through movement; and a community art‐making project to be played, displayed, or shared during the event. Each school has also garnered the support of a number of community organizations that will also be participating in the festivals.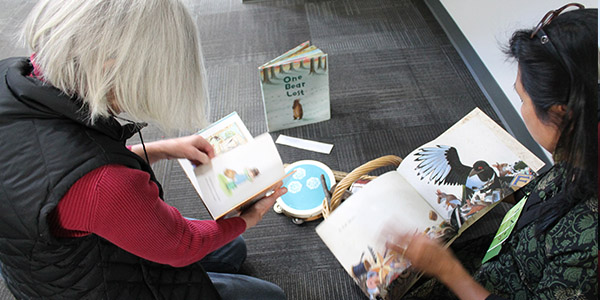 The festivals will be held in May 2015 but Young Audiences artists are already hard at work creating family fun performances and workshops for the events. Artists recently gathered at the Young Audiences offices to participate in the Irvine Nature Center's "Artistry of Nature" professional development workshop. Artists learned how to engage children in their environment, and even braved January's snow and ice to explore the natural world right outside the office.
Congratulations to the winning schools!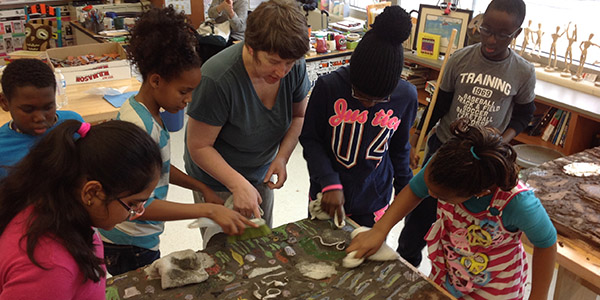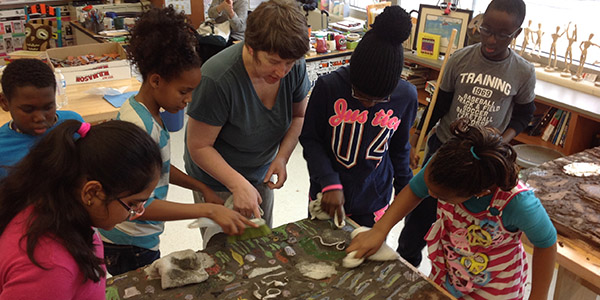 By Lori Mellendick, fifth-grade art teacher at Ducketts Lane Elementary
This December, my fifth-grade students gathered around a table functioning as young archaeologists, researchers, and artists. Their collaborative clay mural sat before them covered in grout waiting to be exposed. As my students began to buff the dried grout away, the ceramic animals they sculpted and arranged in the mural earlier in the fall began to pop through. My class had been working toward this moment since Young Audiences visual artist Amanda Pellerin first arrived as our artist-in-residence in October.
The massive four-by-eight-foot panels of the mural took up the entire floor. I didn't realize how busy my classroom could be as we built something so large. Slowly, a vast food web stretched across the mural revealing the entire habitat network of the Chesapeake Bay.
On this final culminating day, my students experienced what we like to call their "Aha!" moment. They took a step back and discovered harmony behind their mural as a collaboration. The looks on their faces expressed the "now we get it" type of feeling. They ended by celebrating each other by giving and receiving compliments of their work. The positive energy in the room was out of control!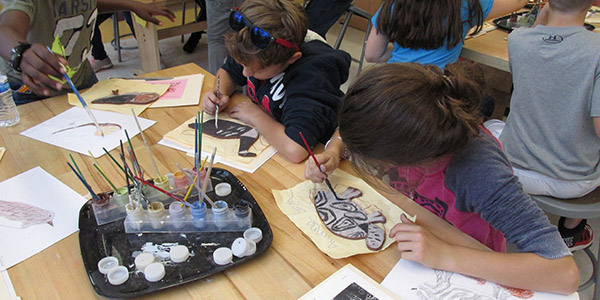 In October, my students had spent five days conducting research of Maryland animals surrounding the Chesapeake Bay as a theme. They built an understanding of how these animals survive depending on their diets. The students also investigated the Chesapeake's surrounding habitat by studying the water cycles, plants, and local natural resources. In order to display these facts on a visual web, the students had to be imaginative. This is where Amanda's expertise came in. Amanda guided students through the necessary steps to creatively assemble this piece of work.
There were times when kids pondered whether or not they should take an artistic risk by making verbal decisions in front of a group. When energy subsided, some surprising moments occurred when a few particularly shy students stepped up to the plate and made executive decisions for the group. It was a wonderful chance for students to express creativity in ways that they didn't expect to, especially within the subject of science.
I wanted to find a meaningful residency that would integrate the arts into the subject of science. I knew that this was the perfect opportunity to find a project that could cover environmental research in a creative way. Knowing Amanda's experience as a Young Audiences roster artist, I knew that the kids would get a lot out of the program.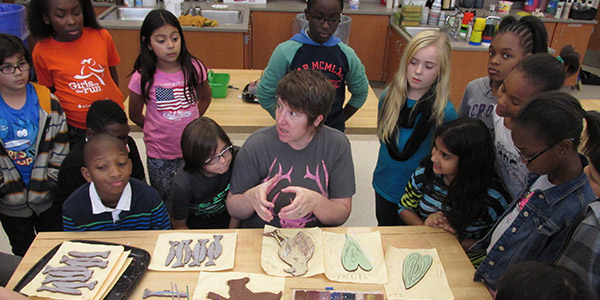 It was important to bring in an outside artist because it gave some of our teachers an understanding of how the artistic process works. Teaching children artistic behaviors is important because it demonstrates tasks such as researching, modifying, and executing that energy into a product. It doesn't work like a magic trick where *poof*, a beautiful piece of artwork suddenly appears. It takes work. It's similar to the scientific process. You formulate a hypothesis, test your theories, and then provide a conclusion statement in the end. In this case, our conclusion was a mural that demonstrated a deeper understanding of the Chesapeake Bay.
Using a tactile form such as clay, gave students a substantial gift in the end. Since these fifth graders will be going onto middle school very soon, I wanted to give them an opportunity to leave their mark upon the school. In April, there will be an unveiling of the mural in a reserved space across from a beautiful fountain. Strong light filters into this area which will give the mural the perfect spotlight that it deserves. We can't wait to put it up!
When you are studying something across the board of a curriculum, it resonates with children. It hits on so many different content levels. These experiences give so much more meaning to the students than you would expect. I immediately go back to my own experiences and remember the impact that resident artists had upon me in school. I wanted to give my students that same opportunity.
Learn more about Amanda and her programs for schools at yamd.org.
The following is reposted content from Young Audiences roster musician Alden Phelps' blog.
Westbrook Elementary School shines again!
Such a great time, as expected, at Westbrook. One of the best schools ever for me: great students, teachers, parents, and administration. A pleasure in every way, except…for the drive. Last week my power steering failed in one car and my fuel pump failed in the other car, on the DC beltway and on 95 South. A nightmare alleviated only by AAA and the anticipation of where I was driving to!
I again visited the school for a Preposterous Parodies residency program. This year's songs focused on different biomes: desert, grassland, ocean, rainforest, tundra, and forest. Each class tackled two of them.
See more photos from this residency here!
Once again the creative students at Westbrook Elementary have written some great parodies of recent hits. Great work, and many thanks to the fantastic teachers, parents, and administration, who made this residency such a pleasure to do! Below is just one example of a song written by the students. Click here to see the lyrics to all the parodies.
Desert (parody of "Treasure" by Bruno Mars)

Verse 1:
Really hot, burning hot, scorching hot in the desert
Dying for icy cold water in these places
Coyotes and gila monsters you could get so hurt
But you're fainting out here so you want to find an oasis
Pre-chorus 1:
I'm dy-y-ing
I know that I'm complaining but it's hot out here (hot out here)
I'm dy-y-ing
A scorpion just stung me now and I got tears (I got tears)
Chorus 1:
Desert, you may not survive
It's so hot there you could die
There are barely any trees
I need some water please
The wolves are after me, me, me
Verse 2:
Grassland, grassland, grassland it's so green here
I look around and I see no waving trees
Once in a while, there's a flaming fire
I'm freaking out it is going past my knees
Pre-chorus 2:
Oh graaaaass lands
I know you're unaware that cheetahs hunt their prey (everyday)
Oh graaaaass lands
Boy I'm gonna show you how it's cold all night (hot all day)
Chorus 2:
Grasslands, that is where we are
The grass is huge and tall
Wildebeests graze on their cuisine
African plains are clearly seen
The lions get a lot of pro-tein, tein
Bridge:
A spiny cactus, it's in the desert
If there's a sandstorm you'd better close your eyes
The grass is so tall, that you should measure
The bobcats stalk here, they paw at butterflies
Chorus 3:
Treasures, that's what these places are
Finding water's just too hard
Hottest and flattest lands I've seen
They are mostly brown and green
The conditions are hard and mean oh oh
Read more posts by Alden on his blog. Learn more about Alden's programs for schools offered through Young Audiences. 
Arts Education in Maryland Schools (AEMS) Alliance is hosting the September Maryland Arts Integration Network (MAIN) event on Friday, September 27, from 9:30 a.m. to noon, at the 149-acre Center for Maryland Agriculture and Farm Park in Baltimore County. The focus of the morning will be on environmental education and the arts. AEMS, the Maryland Association for Environmental and Outdoor Education (MAEOE), and Young Audiences are partnering to offer this program. The program will include strategies for integrating fine arts and environmental content, a networking session, and an opportunity to tour the facility and the park.
The networking discussion will be crafted to address the interests of arts and arts integration educators and science/environmental educators.
Registration:
A $10 donation will be asked for all MAIN Events. These monies will go to the host venue for light breakfast fare and any remaining monies will be donated to the host site to support programs in arts education.
Event details:
MAIN Event
Friday, September 27, 2013
9:30 am to 12:00 pm
Center for Maryland Agriculture and Farm Park
1114 Shawan Road
Cockeysville, MD 21030
To request a registration form, please contact Alexa Milroy at: [email protected].